This is a fairly powerful, completely white-hat link building technique, but not every site's cup of tea. If your site's got some popularity in its own field, or if your business is a very well known name in its industry, you can execute this advanced SEO strategy to rapidly build a ton of high quality links, and give a quick but powerful boost to the SEO of the entire site.
This method basically involves finding unlinked mentions of your site, your name, your brand name, on the web and turning them into links. While this may not be as simple as it probably sounds to you, I can guaranty it's not that hard either.
Step #1: Finding Unlinked Brand Mentions
To find unlinked brand mentions, you can use any or all of the following tools:
Google Search
The plain old Google search comes to your rescue when you're trying to turn mentions into links. It's recommended that you have some knowledge about Google's advanced search operators, if you really want to super personalize the search according to your own site. However, even if you don't, you can use a fairly generic template that more or less turns up pages, except from your own site, containing your brand name or whatever keyword you choose.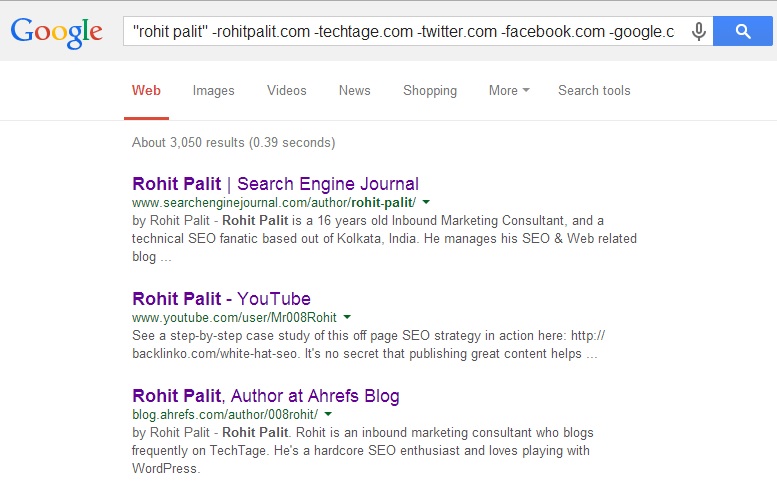 The general search query looks something like this:
"keyword/brand name/person name" -ownsite.com -twitter.com -facebook.com -google.com
It's basically looking for instances of that specific keyword, brand name or whatever on sites other than popular social networking sites and your own site (trying to turning mentions mentioned by you yourself into links on your own site doesn't make much sense, does it?).
If you're looking for recent mentions, you can modify the search and opt to include results only X days/weeks/months old. This is a great way to turn fairly recent mentions of you, your brand or a resource on your site into links to your site.
The reason I included the keyword between the quotation marks (" ") is because that'll stop Google from turning up results with keywords that are similar to yours. For example, if your brand name is "Car Entertainment Store", you definitely don't want results for car music shop.
The reason why I put a few domains right behind dashes ( — ) is easy to figure out. When you attach such things to your search queries, results from those domains don't show up, that's all. So, as I don't want results from the site I'm trying to build links to, and social networks (because we're trying to gain links from actual sites), it's convenient to exclude pages from these sites among the search results.
Ahrefs Alerts
Another way to find mentions is using Ahrefs' very own Ahrefs Alerts tool. Ahrefs Alerts crawler, which crawls web, news, blogs, forums, and the rest of the contents available on the internet, is said to return 90% more mentions than Google Alerts. It tracks mentions of keywords in your specified interval and notify you as soon as it finds a new one. The interesting thing about this tool is that it's able to track mentions even in real time, so it can help you get ready with your plan of outreach as soon as there's a new site mentioning your brand name.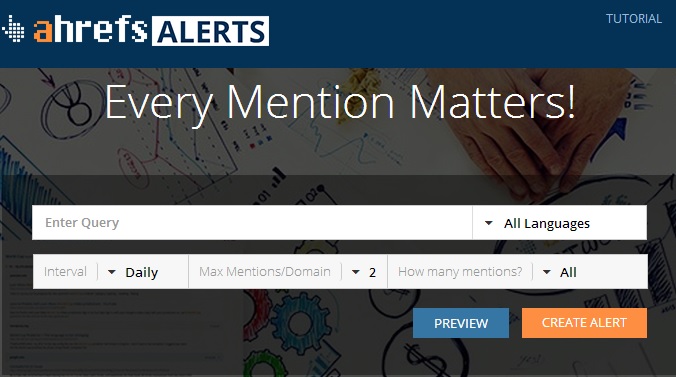 It also offers email alerts, so whenever your target keyword gets mentioned on the web, you're notified via email. Not only that, Ahrefs Alerts supports advanced search operators and even helps you build an advanced one using their intuitive query builder.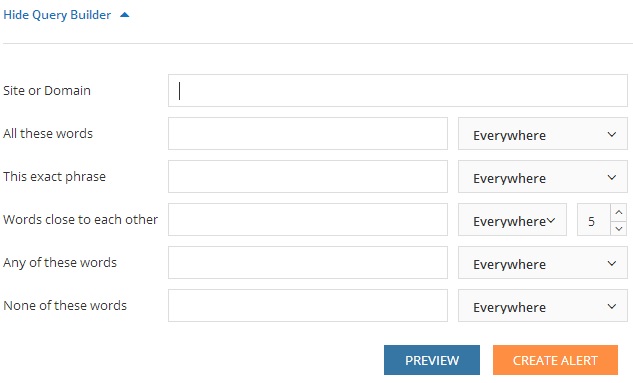 The most exciting part about Ahrefs Alerts, apart from the fact that it packs so many unmatched features, is that you can use it for free, although with some (still decent) limitations. If you require the tool for more volume of mentions or need the real-time tracking feature, you can seamlessly upgrade to a pro plan as well at any time.
Google Alerts
You can also use Google Alerts to get alerted via email once in a day or once in a week if your target keywords are mentioned anywhere on the web.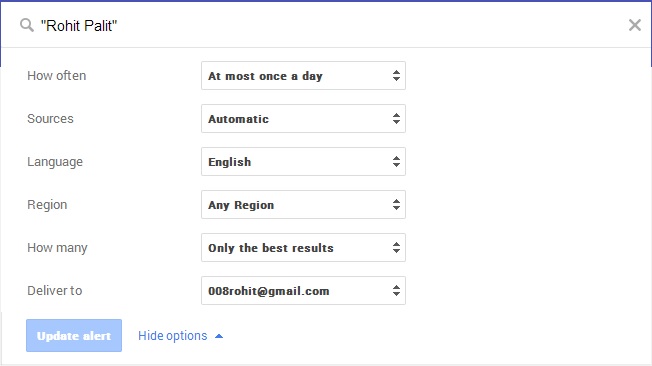 It gives you a lot of options to play with. One of the most useful ones is the sources picker, which lets you choose mentions on what type of sites to track (i.e. blogs, news sites, etc.). You can also track all mentions or only the most valuable ones on sites that are authoritative in the eyes of Google.
A Few Things to Keep in Mind
Keep in mind that not all mentions are worth trying for getting converted into links. If your site has a TON of mentions, you should keep a minimum criteria for authority of the site that's mentioned your site before you contact the site. Minimum criteria can be Ahrefs Rank of at least, say, 31 for instance. Alternatively, you might consider that you'll only try to get links from those shortlisted sites that have a Domain Authority of 30.
If your brand has hundreds or even thousands of unlinked mentions on the web, you might want to set priority to linking sites to determine which sites you should approach first.
Only approach sites that are well maintained and are likely to edit the page to link to you (in other words, has someone who has the time to edit the page). Don't approach press release and press release syndication sites and content scraper sites because no one will ever edit those pages again.
Here's a pro-tip from Evan Pryce of Suso Digital — Understand that in the search results, there'll also be pages that DO link to your site or internal page. To ensure that you don't waste your time manually opening and checking out ALL pages, you can right click on the search result itself and click on 'view source' or equivalent in your browser and do a quick find (ctrl + f) for your brand/keyword. If it's already linked, close the page source down and move on to the next SERP result.
Step #2: Reaching out to the Webmasters
Now that you've shortlisted sites that you'll approach for getting your site/brand mentions on them turned into full-fledged links, here's a few things to keep in mind:
Make sure your email is short and to-the-point.
As they've already mentioned your brand, chances are they won't hesitate much about linking to your site unless they have their own reasons of doing so.
If a site does hesitate, don't waste time on them and move on to the next target.
Generally, a >50% success rate is decent.
Here's a sample email template that you can use:
Subject: You forgot to link to [brand name / page] in your article/post/page about [topic]
Body: Hi [Webmaster],
I was just going through [post], and saw that you've mentioned [your site] in it. It's great to see our site featured on a great site like yours and I was just wondering if you just forgot linking out to our site in addition to mentioning it? I think you did, because a link would be appropriate at that place and would just allow your visitors to visit our site without having to make additional Googling.
Either way, have a great day and all the best for [their site]!
Regards,
[Your Name]
Conclusion
Turning unlinked mentions into links is a great way to build genuine links to your site. While unlinked mentions or citations do help too, especially in local SEO, they are still clearly not as powerful as links to your site.
Turning mentions into links only requires you to find some citations and contact the person responsible for the page to get it turned into a link — definitely a lot less hectic than creating a new content piece or performing broken link building. This is why it's a favourite way of link building of industry leading SEOs like Aleyda Solis who also talked about this technique in the expert round-up about building links without leveraging content.
So, what other ways do you think you can turn your unlinked brand mentions into links?