Everyone knows SEO is a fast-moving industry. Google is continually introducing new technologies and updating old ones to improve the quality of its search results.
In the past, some of these updates have massively changed the SEO game. But we think things are unlikely to be heading that way in 2021. It's more likely that existing trends will continue and that Google will continue refining rather than redefining the search landscape.
Given that prediction, here are a few SEO trends to keep in mind in 2021:
Between 2016 and 2019, the number of zero-click searches rose from 43.9% to 49%.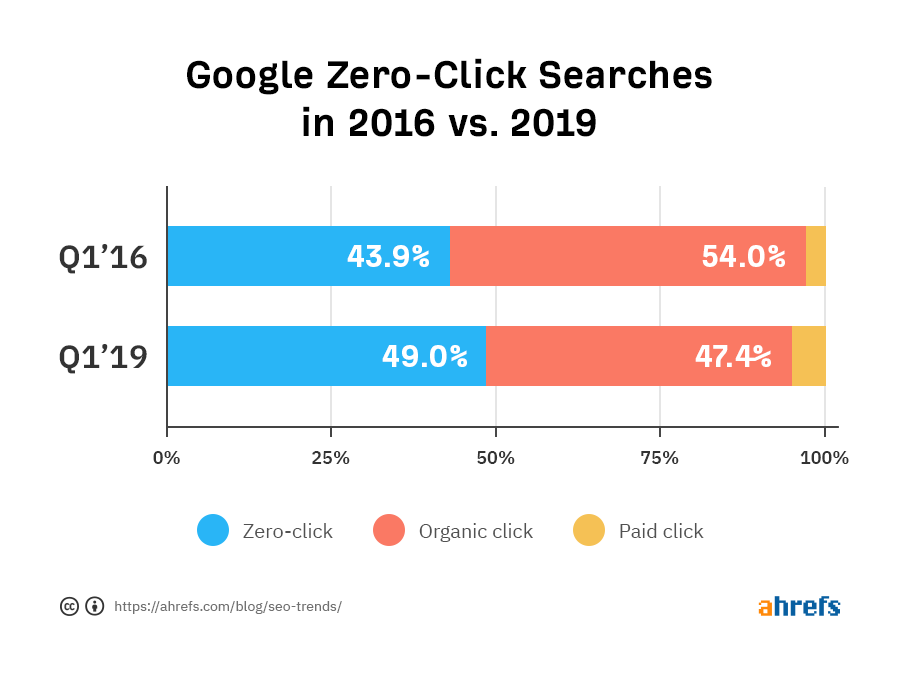 That's hardly surprising. Google is answering more and more queries in SERP features, and there's no need to click a result when the answer's right there.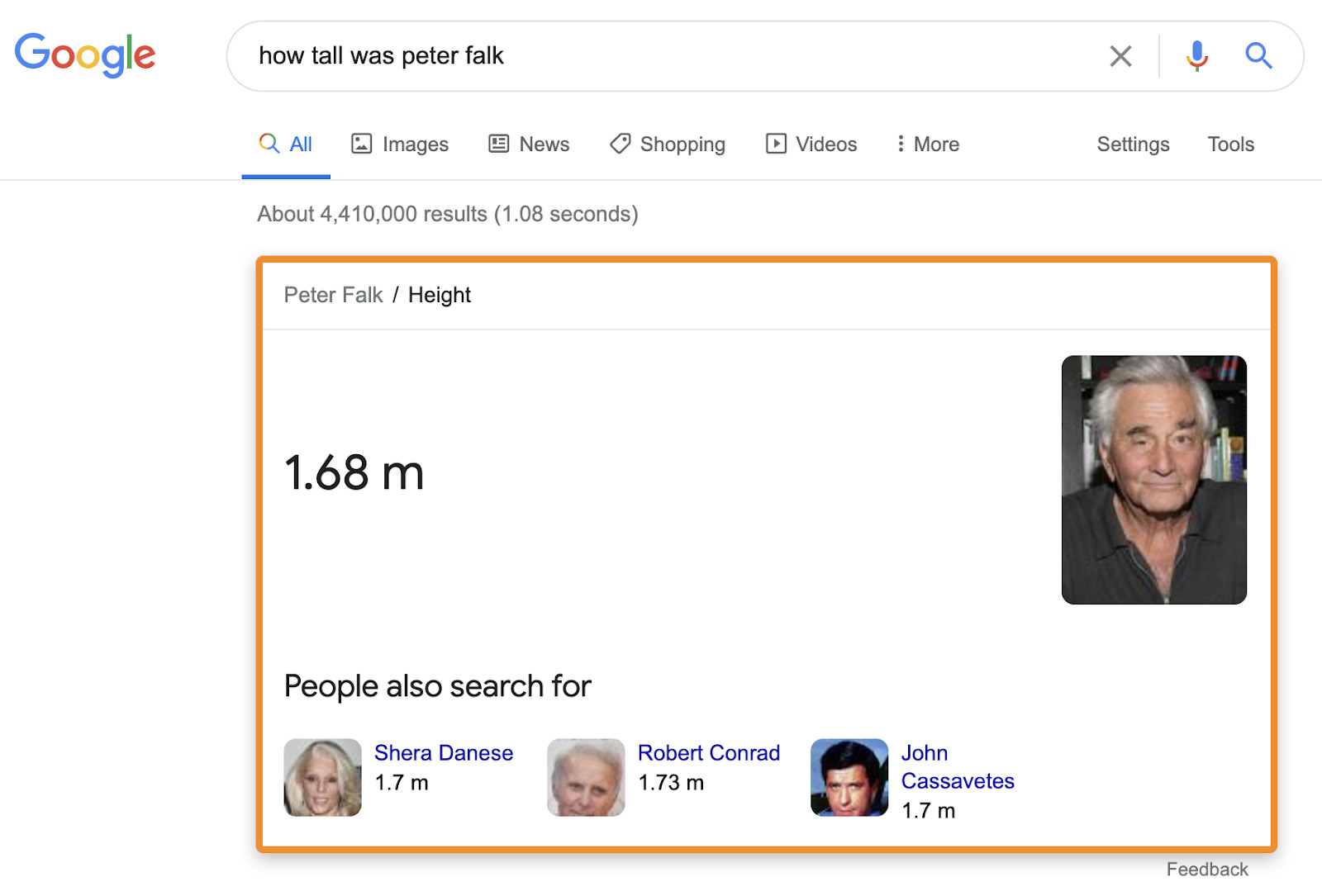 In the future, zero-click searches will only continue to rise as the Knowledge Graph grows and Google's algorithms get better at pulling answers from web pages for featured snippets.
What to do about it
Nothing you can do will change the percentage of zero-click searches, but you should keep them in mind during keyword research. If you're considering a keyword and most of the searches get no clicks, it might not be the best target.
For example, if we check the click distribution for "what does seo stand for" in Ahrefs' Keywords Explorer, an estimated 71% of searches result in no clicks.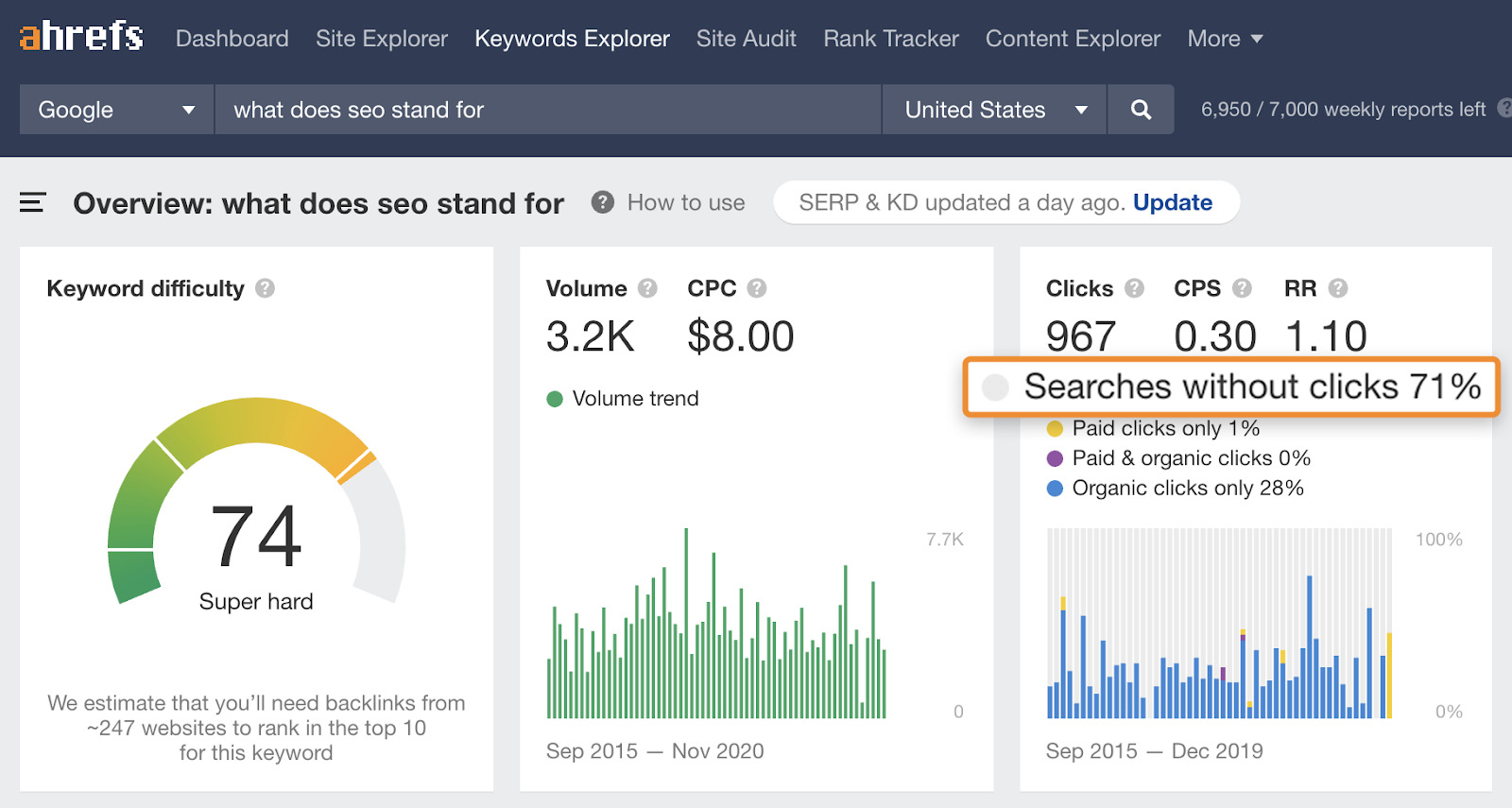 That's probably because Google fully answers the question in the SERP.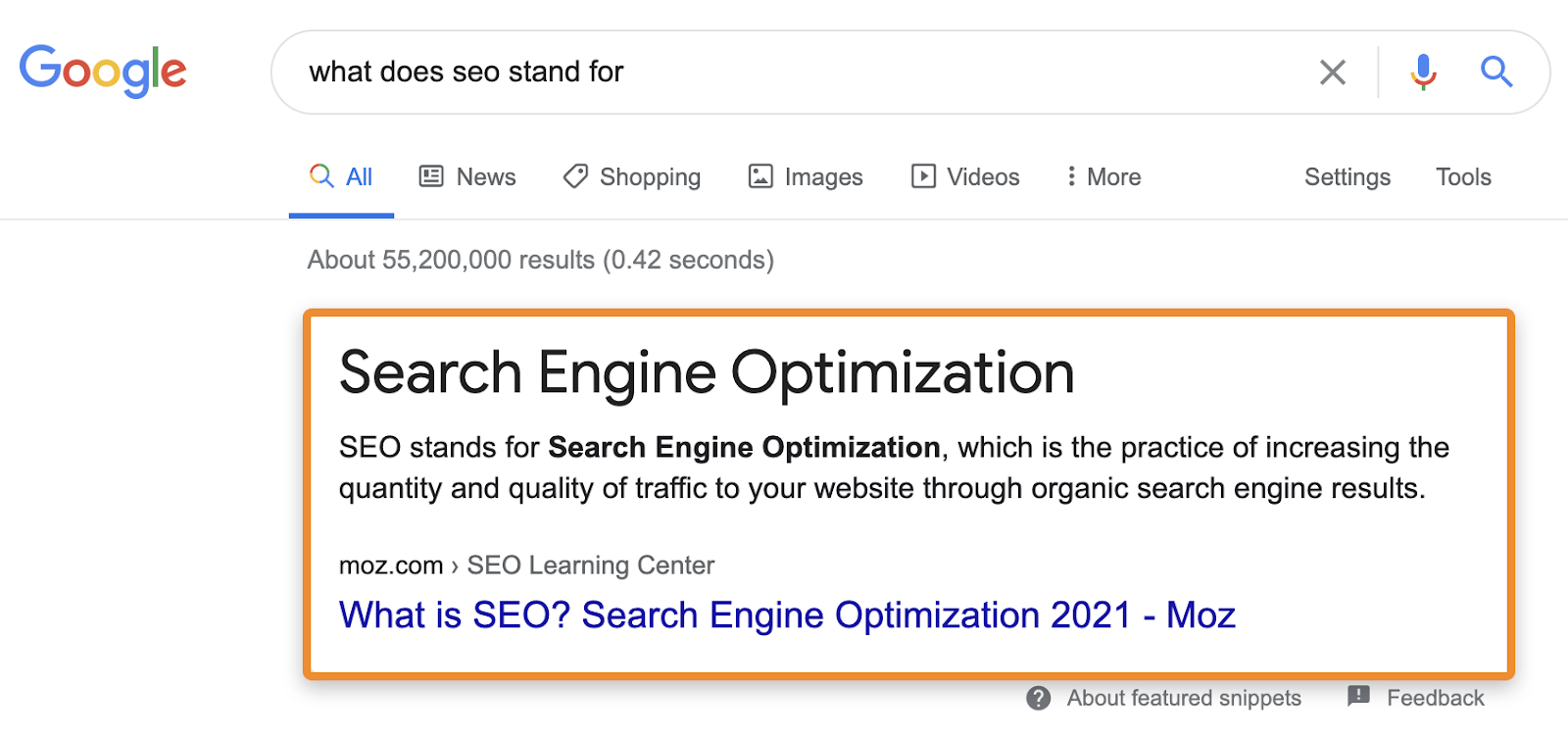 Now look at "SEO tips," where only 26% of searches have no clicks.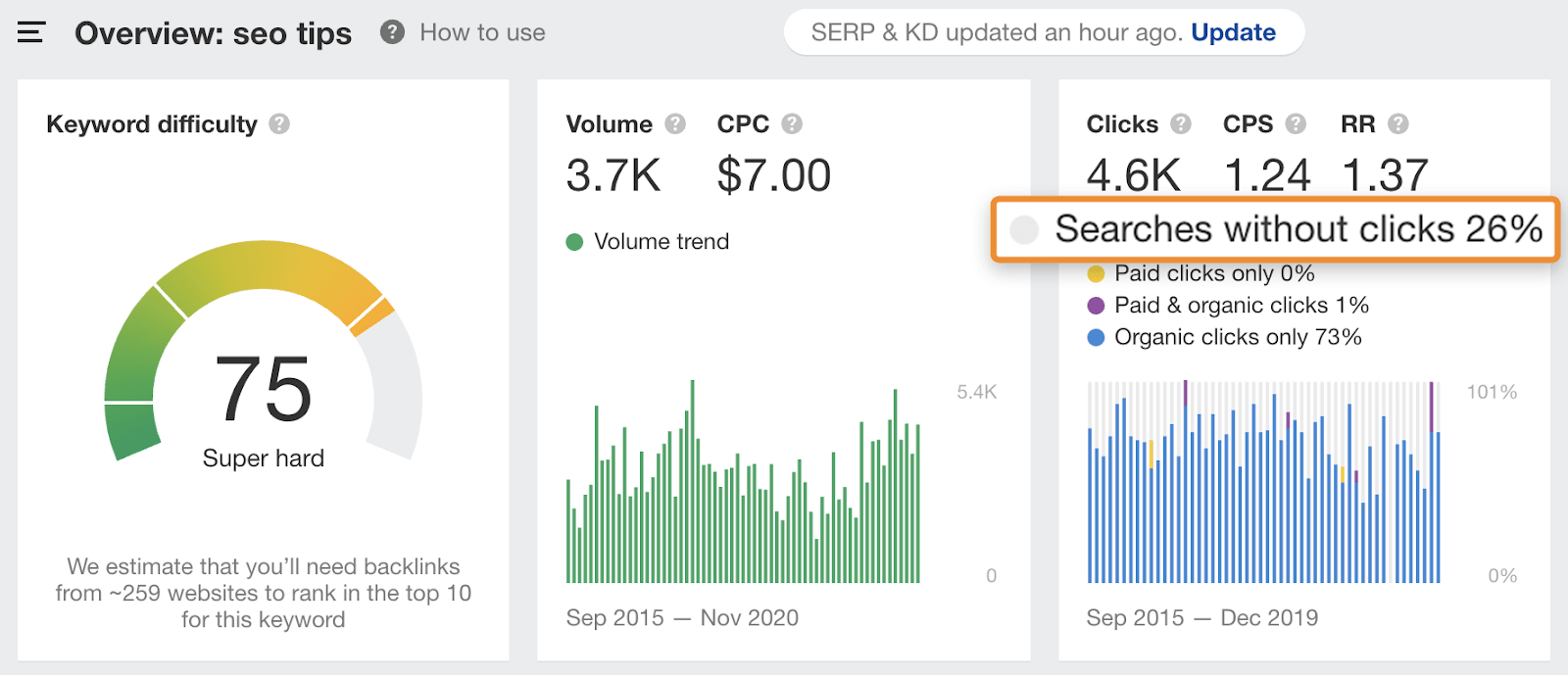 In this case, although Google attempts to answer the query with a featured snippet, most searchers will probably click because they need more details and visuals to help them put the tips into practice.
Does that mean it's completely pointless to target the first keyword?
No. Zero-click doesn't mean zero opportunity. There are other benefits to showing up in the search results, like:
Increased brand awareness. Because your domain name and favicon shows in the SERP.
Improved brand perception. If Google consistently pulls helpful answers from your pages, searchers may start associating your brand with being helpful.
Reaching more people. Not everything is about traffic. If you work for a non-profit or have a hobby site, reaching more people could be a worthwhile SEO KPI.
In 2019, Adobe found that 48% of consumers use voice for general web searches.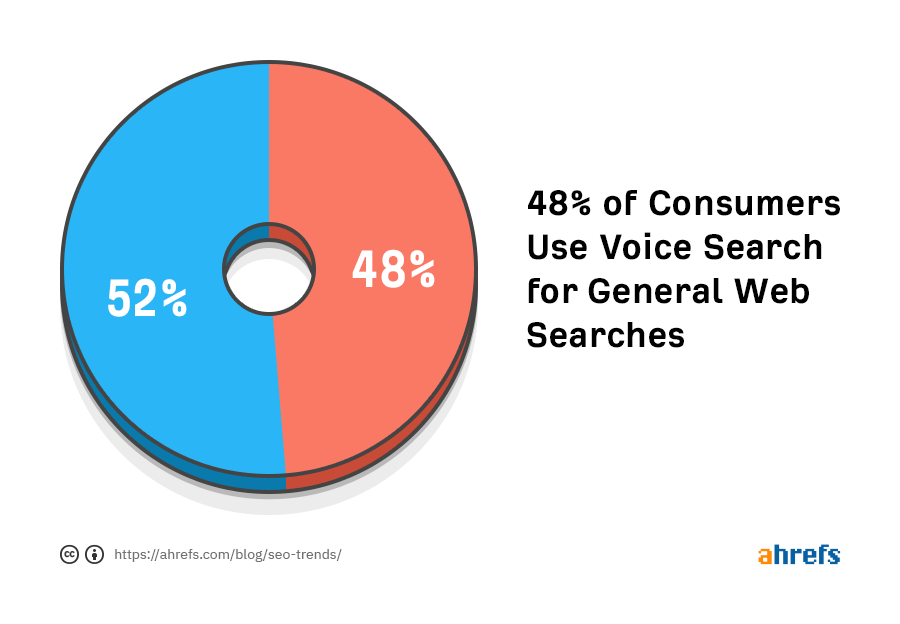 That number is probably even higher now, and with smart speakers predicted to reach 55% of US households by 2022, the popularity of voice search will only rise.
Because people perform voice searches with natural language, its increasing popularity is undoubtedly partly why Google is investing in technologies like RankBrain, BERT, and the Knowledge Graph.
These technologies are complex, but the short version is:
RankBrain and BERT help better understand the meaning of search queries.
The Knowledge Graph helps understand the relationships between entities like people, places, and things.
What to do about it
Although technologies like RankBrain, BERT, and the Knowledge Graph help power voice search, there's no way to directly 'optimize' for them.
But there are a few simple ways to optimize for voice search:
Get a Google My Business profile. Answers to questions directly related to your business, like directions and opening times, are usually pulled from here.
Make sure your page loads fast. Voice search results load 52% faster than the average page. And while this is just correlational data, we know that page speed is a ranking factor in organic search.
Get more backlinks. Backlinks help with rankings, and, according to this study, Google is more likely to pull voice search results from high-ranking pages.
Add schema markup. This is crucial if you're optimizing certain types of content like pages with recipes.
Be succinct. The average voice search result is 29 words. Again, this is correlational data, but who wants their voice assistant to answer with a novel?
Answer questions people are asking. Google can't rank your page for a query if it doesn't answer the question.
To find questions people are asking, check the Questions report in Ahrefs' Keywords Explorer.
For example, here are the most popular questions people are asking about the iPhone.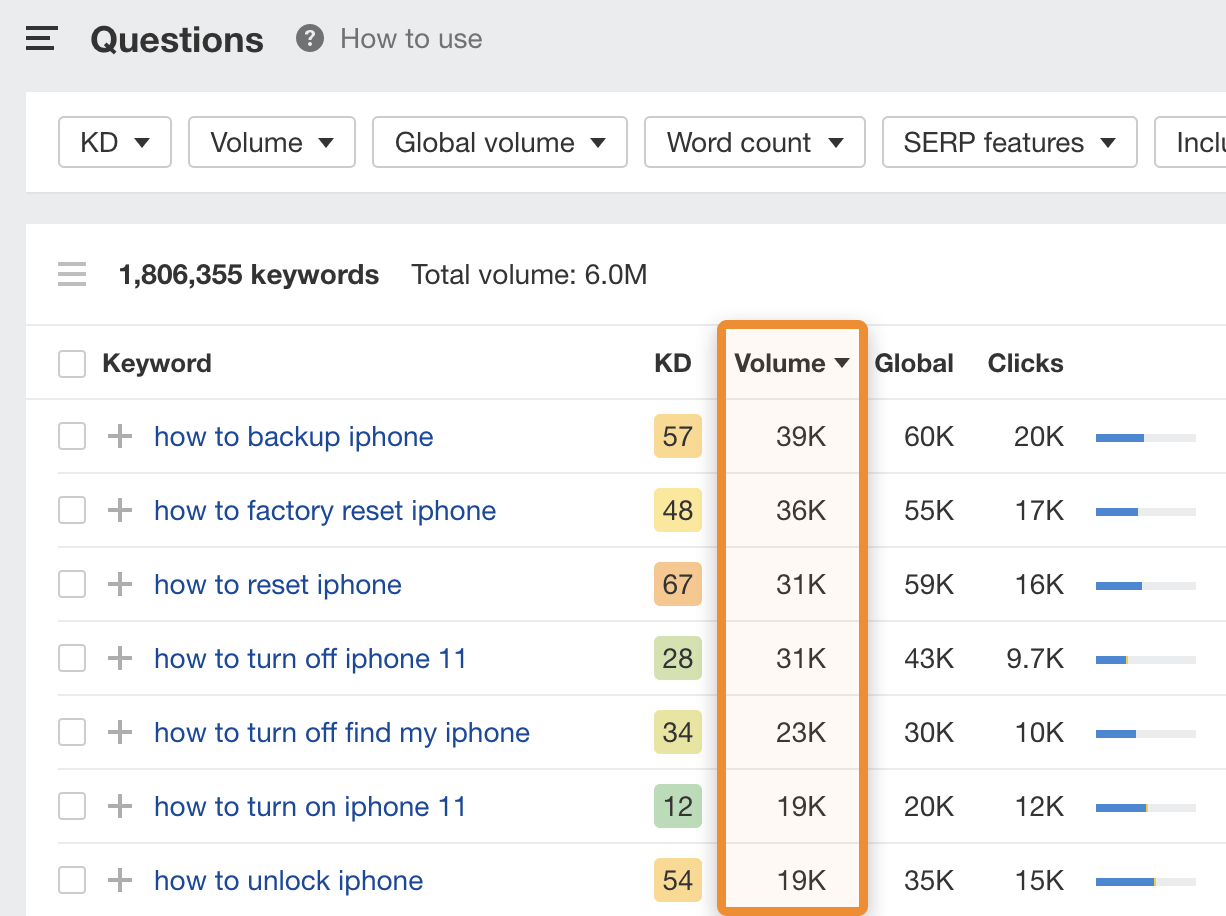 If you're not yet an Ahrefs customer, try our free keyword generator, which gives up to 50 suggestions.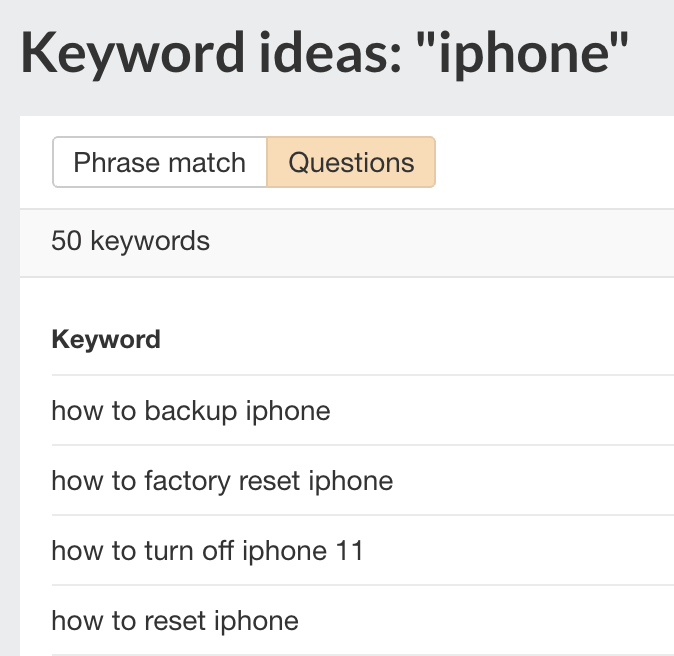 Google wants to rank content that provides a positive user experience. They say so on their page about how search works:

Google already uses signals like HTTPS, intrusive ads, and mobile-friendliness for this, but in May 2021, Core Web Vitals will be added to the mix.
What to do about it
Google will use three metrics to decide whether your page passes the Core Web Vitals assessment:
Largest Contentful Paint (LCP) How fast the largest element above the fold is loaded. It should be 2.5s or less.
First Input Delay (FID) How long it takes for your page to respond after a user interacts with it. It should be 100ms or less.
Cumulative Layout Shift (CLS) How much things move around during loading. It should be 0.1 or less.
To check these metrics for any page, use Pagespeed Insights.
To see all the pages on your website that need improvement, use the Core Web Vitals report in Google Search Console.
If any of your pages fail to pass the Core Web Vitals assessment, read our guide to improving pagespeed or talk to your developer.
Mobile-friendliness has long been important. Google officiallymade it a ranking factor in 2015 and switched to mobile-first indexing for new websites in July 2019.
Google defines mobile-first indexing as when it 'uses the mobile version of the content for indexing and ranking.' Right now, 70% of sites are already on mobile-first indexing, and Google plans to switch the remaining sites before March 2021.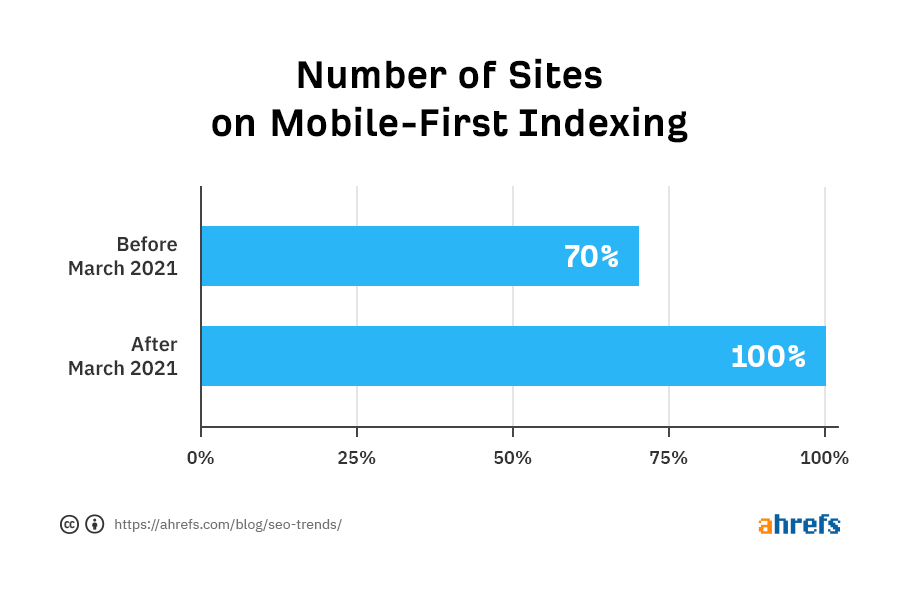 What to do about it
First check whether Google has switched your site to mobile indexing. You can do that in Google Search Console. Just go to Settings > Indexing Crawler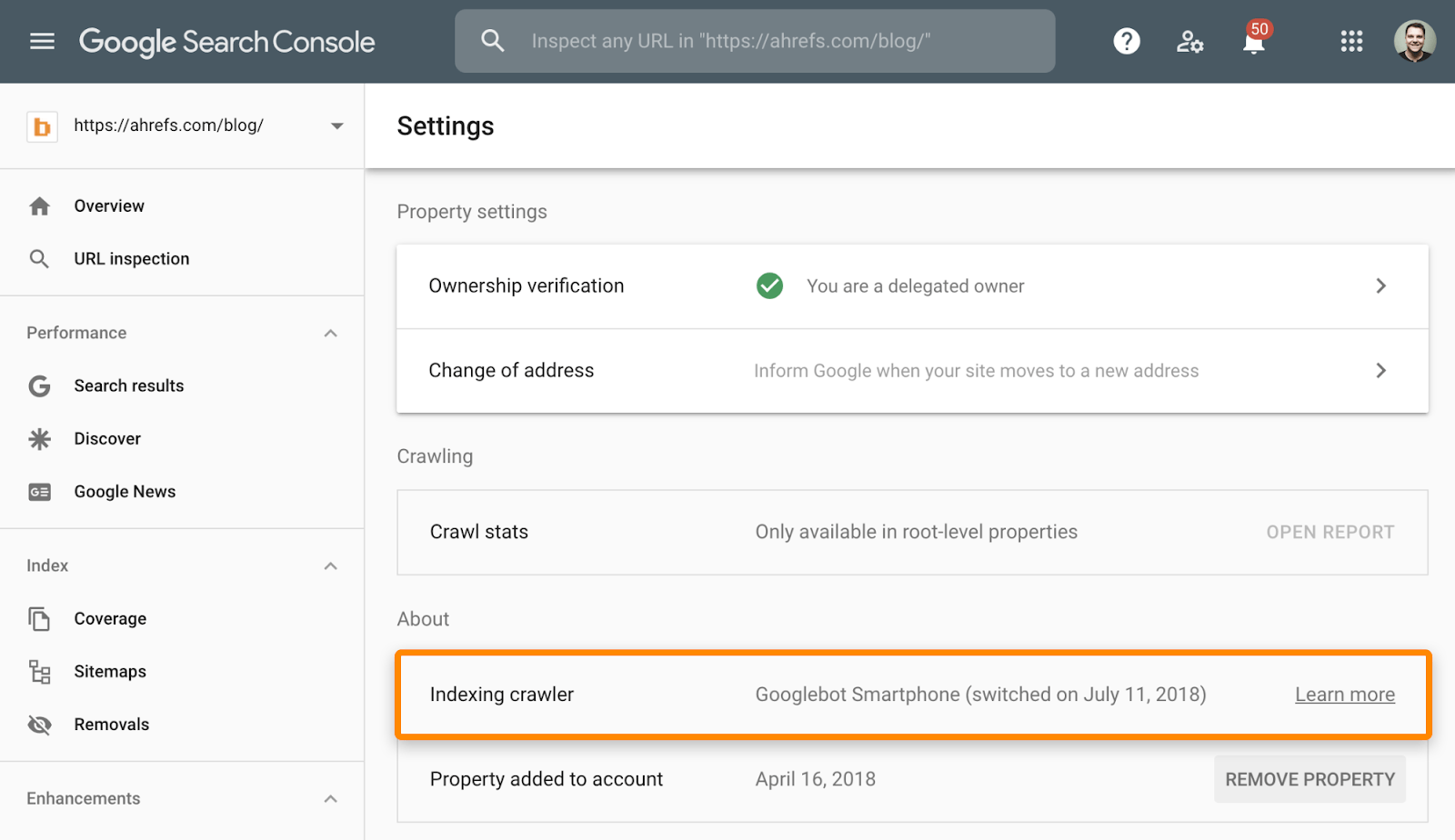 If you see "Google Smartphone," Google has already switched your site.
If the switch hasn't happened yet, make sure you're prepared.
There usually isn't much to do if your site is responsive. However, if you have an m-dot or complex website, you need to make sure there are no critical differences between your desktop and mobile site. To do that, crawl your website using a desktop user-agent using Site Audit in Ahrefs Webmaster Tools, then repeat the process with a mobile user-agent. You'll see any differences between the two crawls as 'changes.'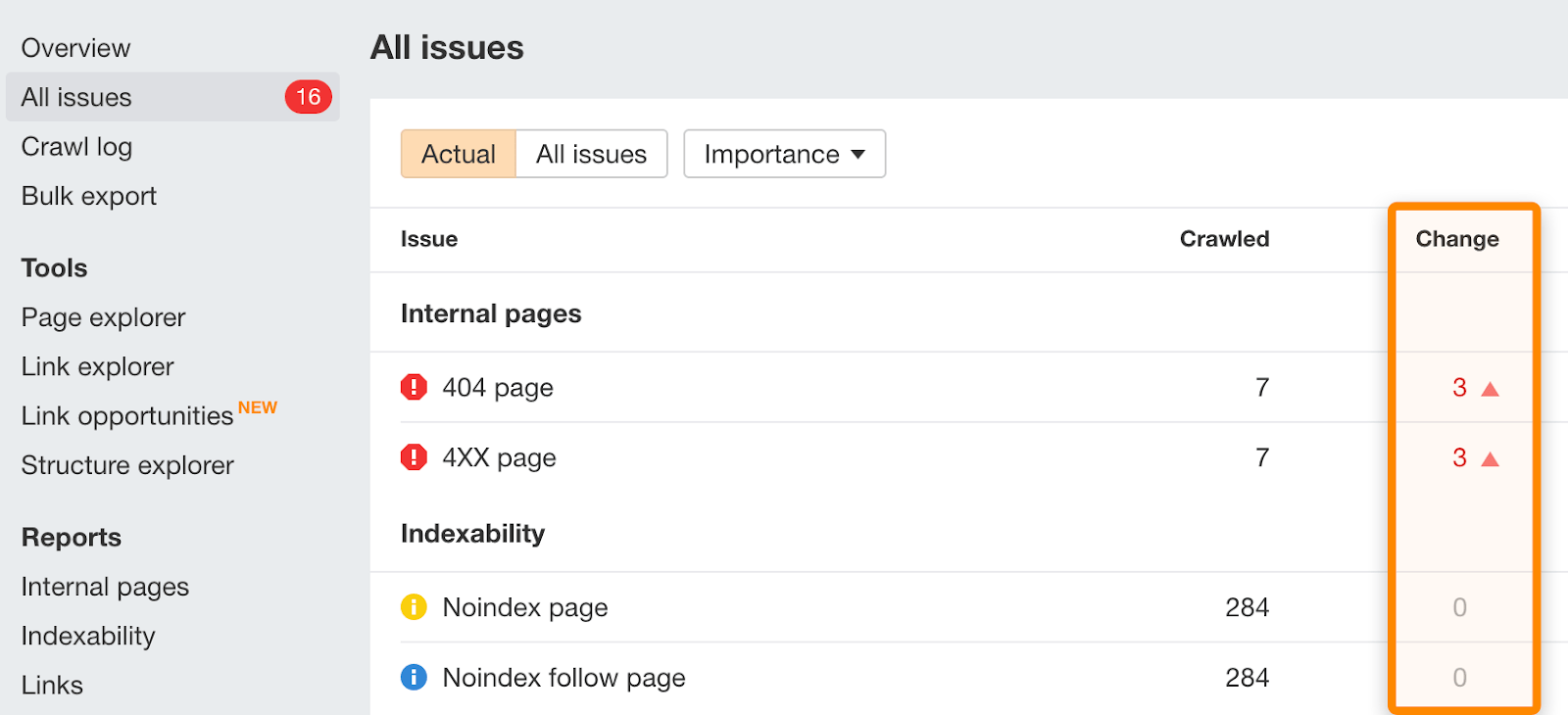 You should also check for alternate rules in robots.txt, pagespeed issues, and consistent navigation and internal linking.
Recommended reading: Mobile-First Indexing: What You Need to Know
E‑A-T stands for expertise, authoritativeness, and trustworthiness. Google talks about it a lot in their Search Quality Rater Guidelines (SQRGs)—a document used by human search quality raters to assess the quality of Google's results.
Despite what many people believe, E-A-T is not a direct ranking factor.
It works something like this:
Human search quality raters periodically assess the E-A-T of search results.
Google uses their feedback to identify tangible signals that align with E-A-T.
Google tweaks their search algorithms accordingly.
Google's Vice President of Search, Ben Gomes, puts it best:
You can view the rater guidelines [which talk heavily about E-A-T] as where we want the search algorithm to go. They don't tell you how the algorithm is ranking results, but they fundamentally show what the algorithm should do.
What to do about it
E-A-T is nothing new. SEO professionals have been raving about its importance for a while. Improving and demonstrating E-A-T might sound complicated, but there are a few tangible things you can do:
Update your content regularly. Google's SQRGs talk about this in the context of medical advice, but it likely applies to other topics.
Fact-check your content. Google talks about the importance of being factually-accurate in the context of scientific topics. But again, it's probably important for other topics. At the very least, linking to reputable sources is useful for visitors.
Stick to what you know. Nobody can be an expert in everything.
Get more reviews. Google talks about low ratings being evidence for a negative reputation.
Get more links and mentions. Google's Gary Ilyes once said that E-A-T is largely based on links and mentions on authoritative sites.
Recommended reading: What is E‑A-T? Why It's Important for SEO
Google Discover is a personalized mobile feed showcasing content about the things that interest you. It does this using activity data from Google's products (search, YouTube, etc.), location data, and topics you follow.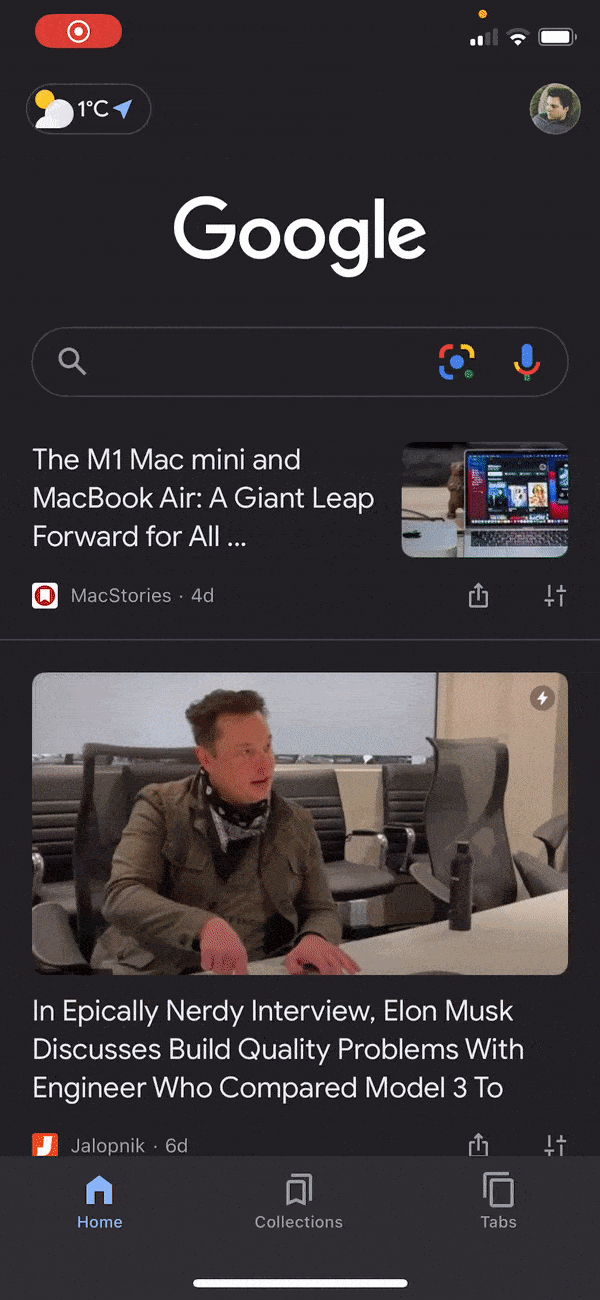 Nobody knows exactly how many people use Discover in 2021, but Google officially announced 800 million users in 2018—so it's probably way higher now.
In fact, Discover sent more than twice as much traffic to our blog in the second half of 2020 versus the first half.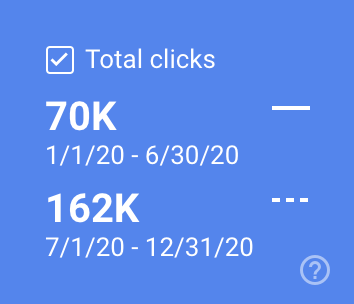 What to do about it
Unless you're far along in your SEO efforts, it's probably not worth spending too much time chasing clicks from Google Discover. But there are a few simple things you can do to improve your chances of showing up.
Meet Discover's content policies.Unless your content is indexed and meets these requirements, it won't show in Google Discover.
Have a fast, mobile-friendly website. Discover is a mobile-only feed, so mobile user-experience is important.
Use compelling titles. Make sure to describe your content accurately. Don't clickbait.
Publish content about popular topics. Either evergreen or trending.
Include large, compelling images. Google shows one of these in the Discover feed.
Demonstrate E-A-T. Google talks about this specifically in the context of Discover here.
Everyone knows that ranking in Google images can send traffic your way. In fact, we received over 16K visits from image search in the past three months.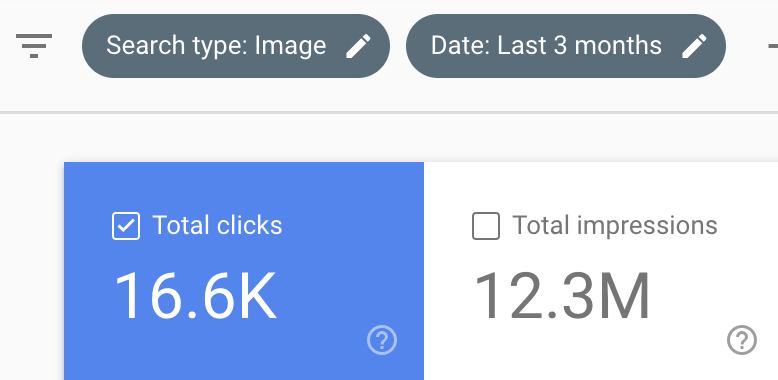 But image search is continually evolving and as it does, so does its potential.
For example, take Google Lens. Introduced in 2017, Google Lens makes it possible to 'search what you see.' Just point your smartphone camera, and Google will look for similar images and products.
What to do about it
Image SEO best practices haven't really changed, but they do become more important as image search evolves and usage increases.
For example, the results for a Google Lens search are images. If someone points their smartphone at a product that you sell, images from your product page might show in the results. If they decide they want to buy it, all they have to do is click through.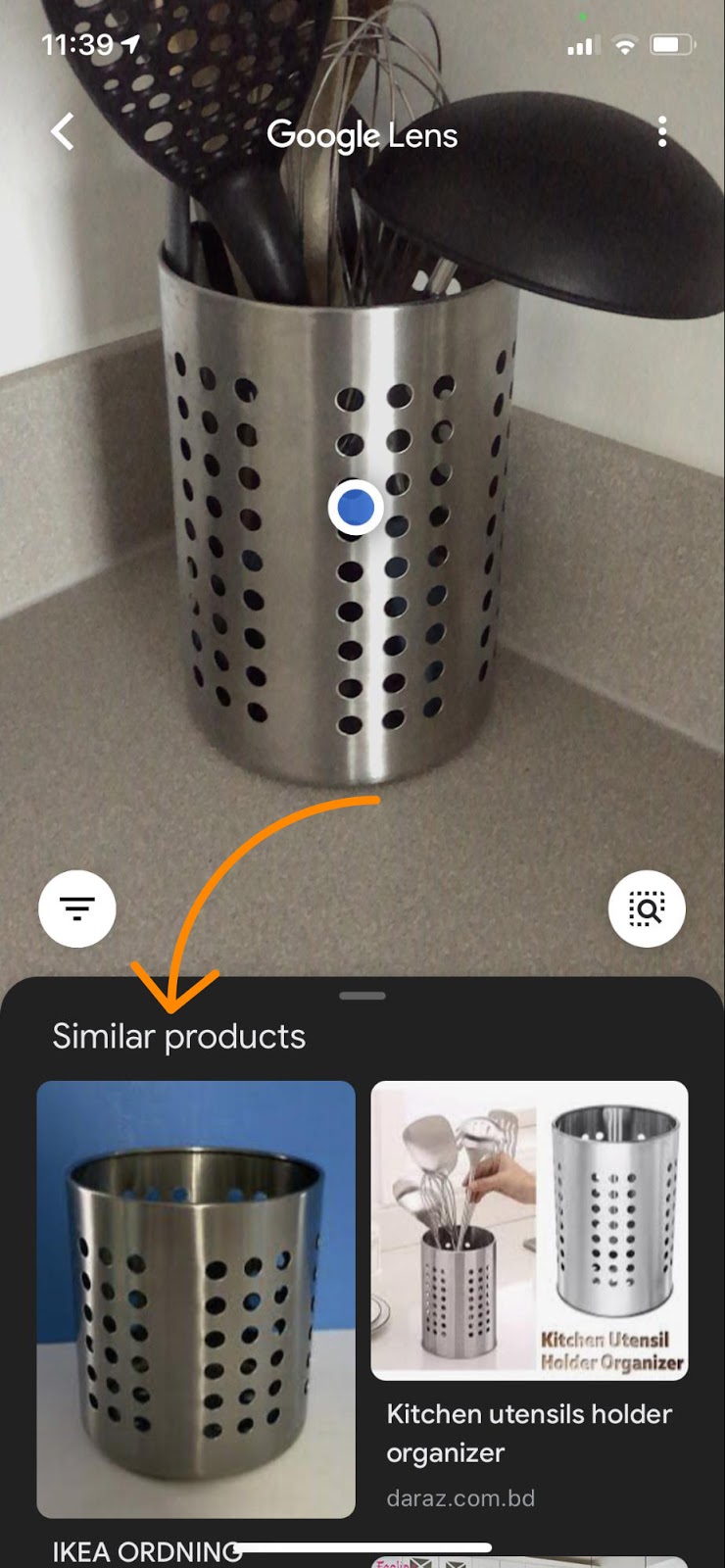 Google also often pulls images from product pages in regular image search—even for informational searches.
For instance, search for "wedding dress with detachable skirt." Given that there's an image pack at the top of the SERP, and the top pages are all lists, it's clear that this is primarily an informational search where searchers want inspiration.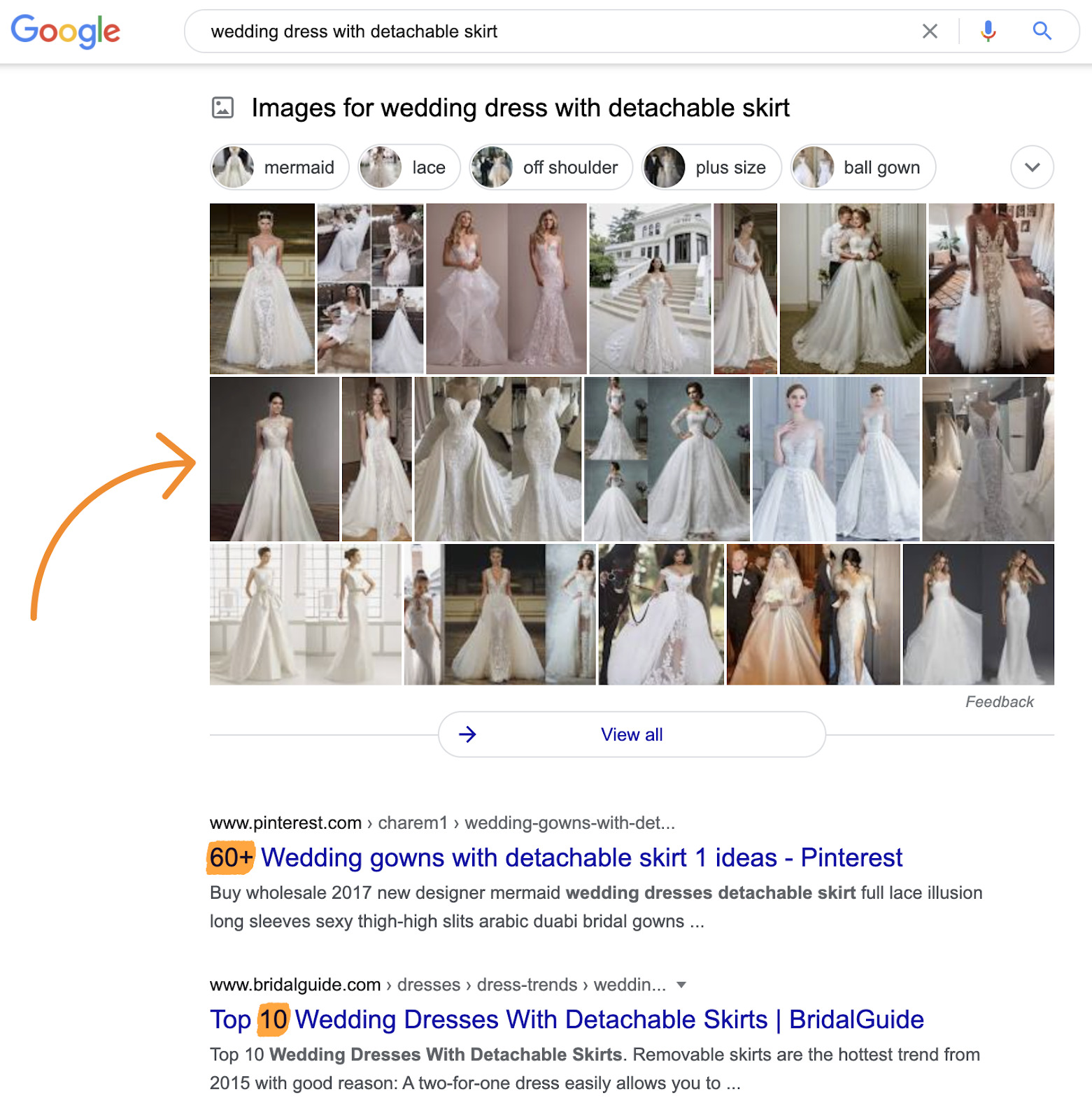 Yet, if you click through to the image results, you'll see plenty of images from product pages.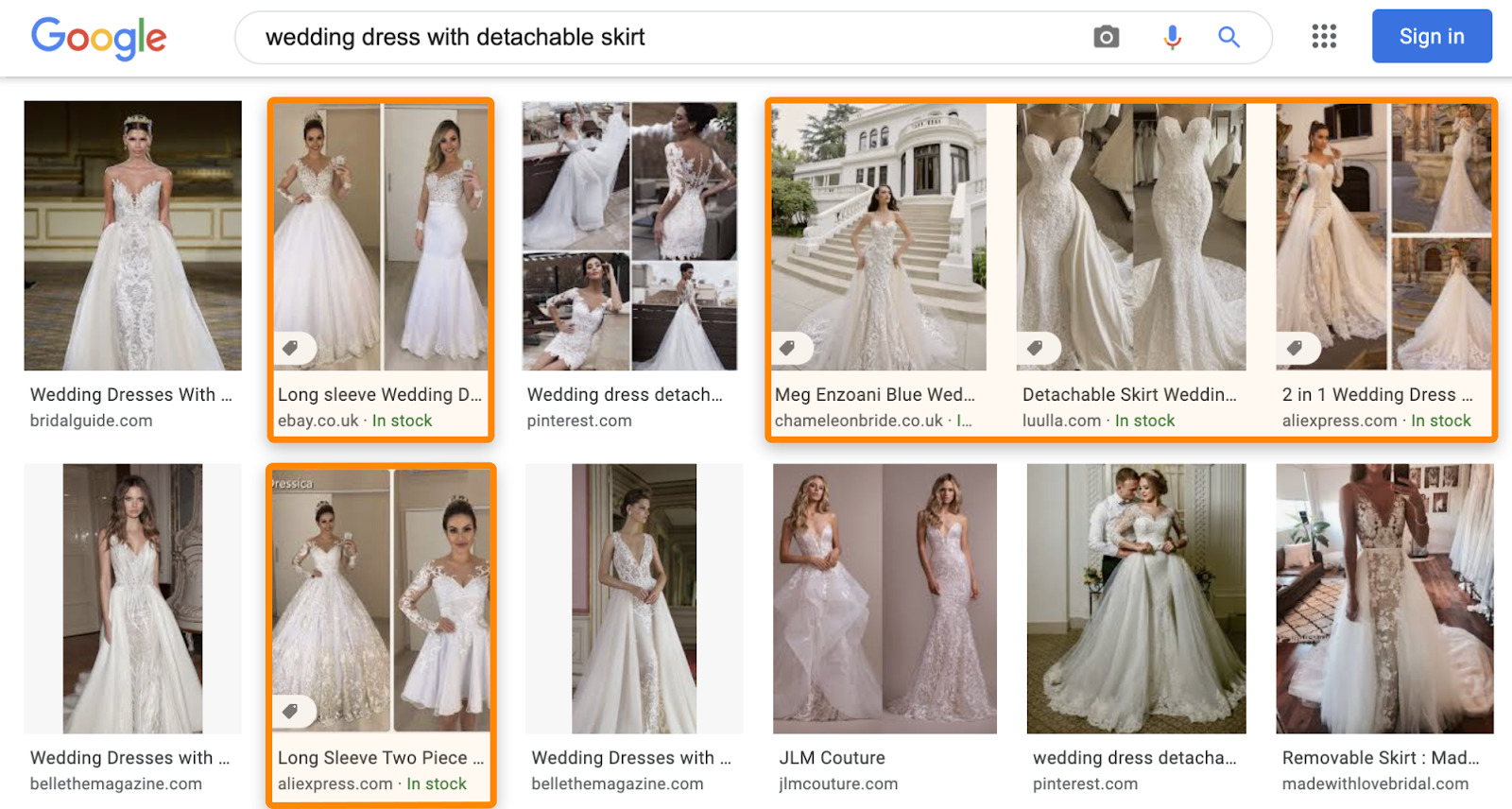 It's by using image SEO best practices like descriptive filenames, alt text, and product schema markup that these pages are able to rank in image search for such queries.
Search intent refers to the reason behind a search. Are people looking to buy something, learn something, or find a particular website?
For example, a person typing "buy iPhone 12" into Google is in buying mode, whereas a person typing "how to reset iPhone" is in learning mode.
Google describes understanding the intent behind queries as a "critical aspect of Search" and continues to invest heavily in technologies to help with this, like RankBrain, BERT, and the Knowledge Graph. We already covered these in the section on voice search, but they also help with regular search.
What to do about it
Make sure that your content aligns with search intent. Fail to do this and your chances of ranking are practically zero. If you're a regular reader of the blog, you'll know that we've been banging this gong for a while now—because it really is that important.
Google's search results are the best proxy for search intent.
For example, all of the results for "beats solo 3" are product pages.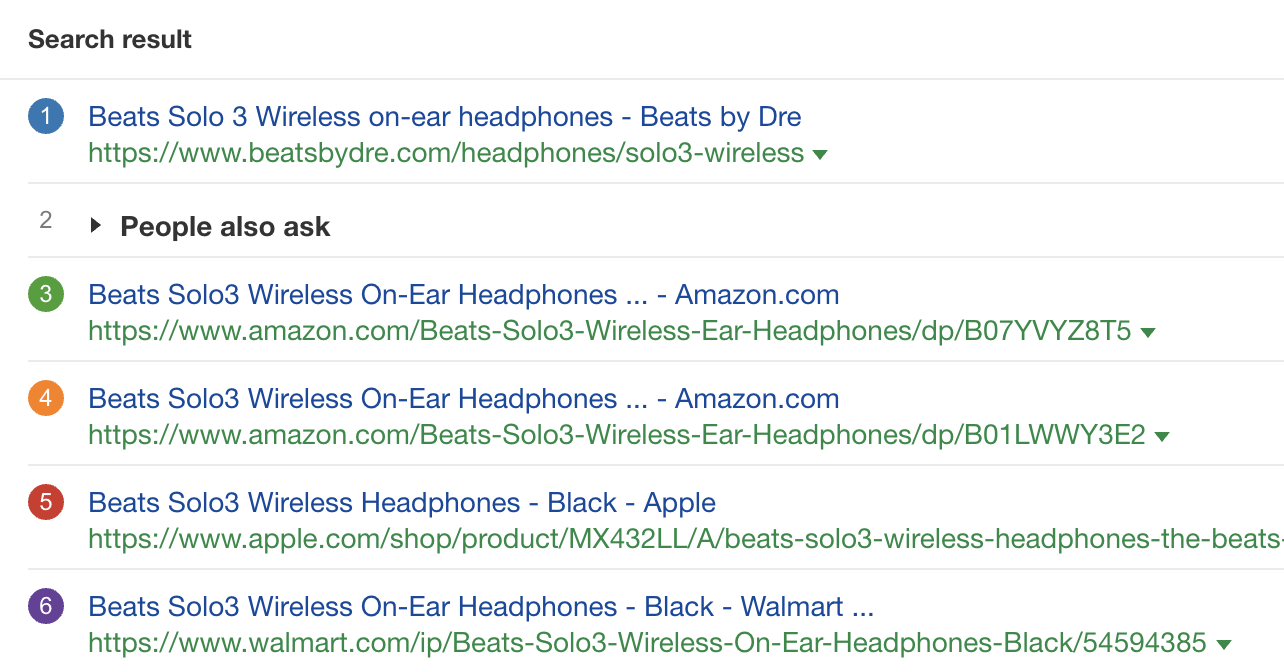 For "best beats headphones," the results are blog posts.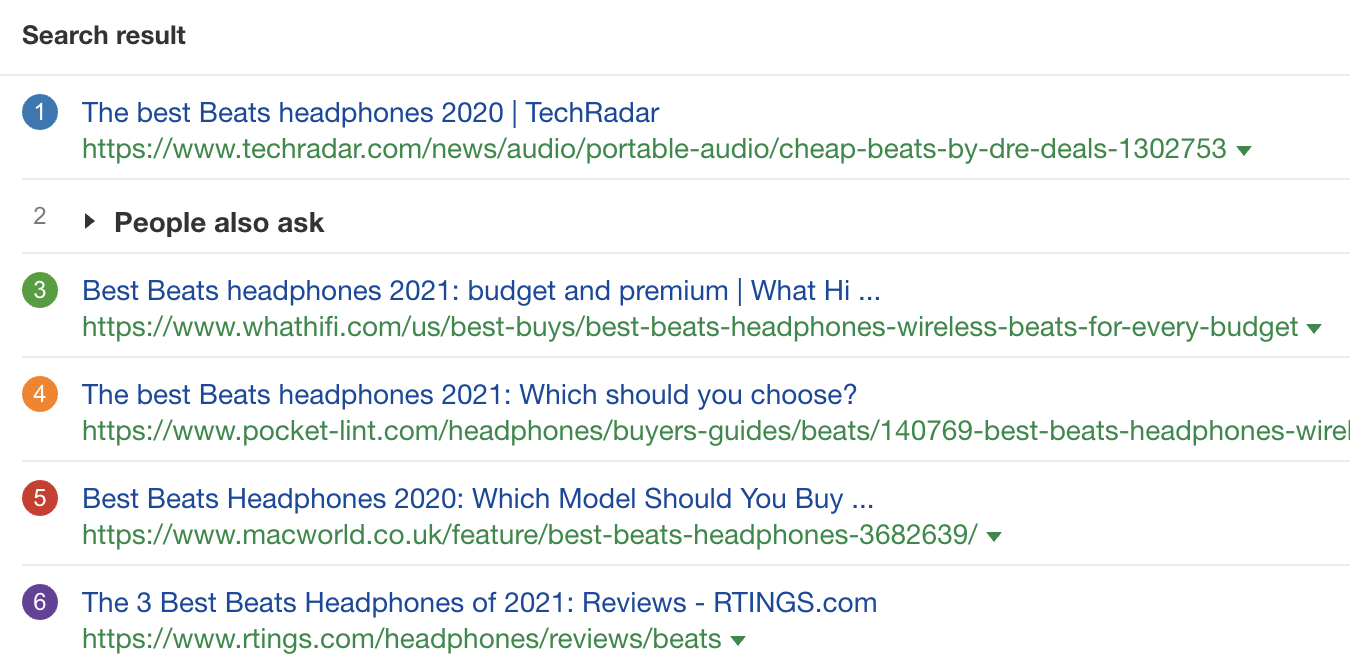 It's clear from these search results what type of content searchers are looking for, but there's more to matching search intent than matching content type. You should also align your content with the format and angle that searchers expect.
Learn more in our full guide to search intent.
Final thoughts
Knowing where the search landscape is heading is important. It helps you understand the big picture and optimize for the long-term over the short term.
Did we miss any important SEO trends? Ping me on Twitter.