Missed out on some SEO conferences in the first half of 2023? We handpicked a few more upcoming ones, sorted in chronological order of conference date.
| Conference | When | Location |
| --- | --- | --- |
| Benchmark Studios | Sept. 7, 2023 | Chester, U.K. |
| BrightonSEO | Sept. 14 & 15, 2023 | Brighton, U.K. |
| Chiang Mai SEO Conference | Nov. 6-10, 2023 | Chiang Mai, Thailand |
| BrightonSEO (U.S. edition) | Nov. 9 & 10, 2023 | San Diego, U.S. |
| State of Search | Nov. 13 & 14, 2023 | Dallas, U.S. |
| BarbadosSEO | Nov. 15-17, 2023 | Barbados |
| International Search Summit | Nov. 16, 2023 | Barcelona, Spain |
You can also download the full spreadsheet of SEO conferences in 2023/24 at this link.
Here's a quick rundown of how to use it:
1. In the setup sheet, filter by location, date, duration, currency, and/or cost.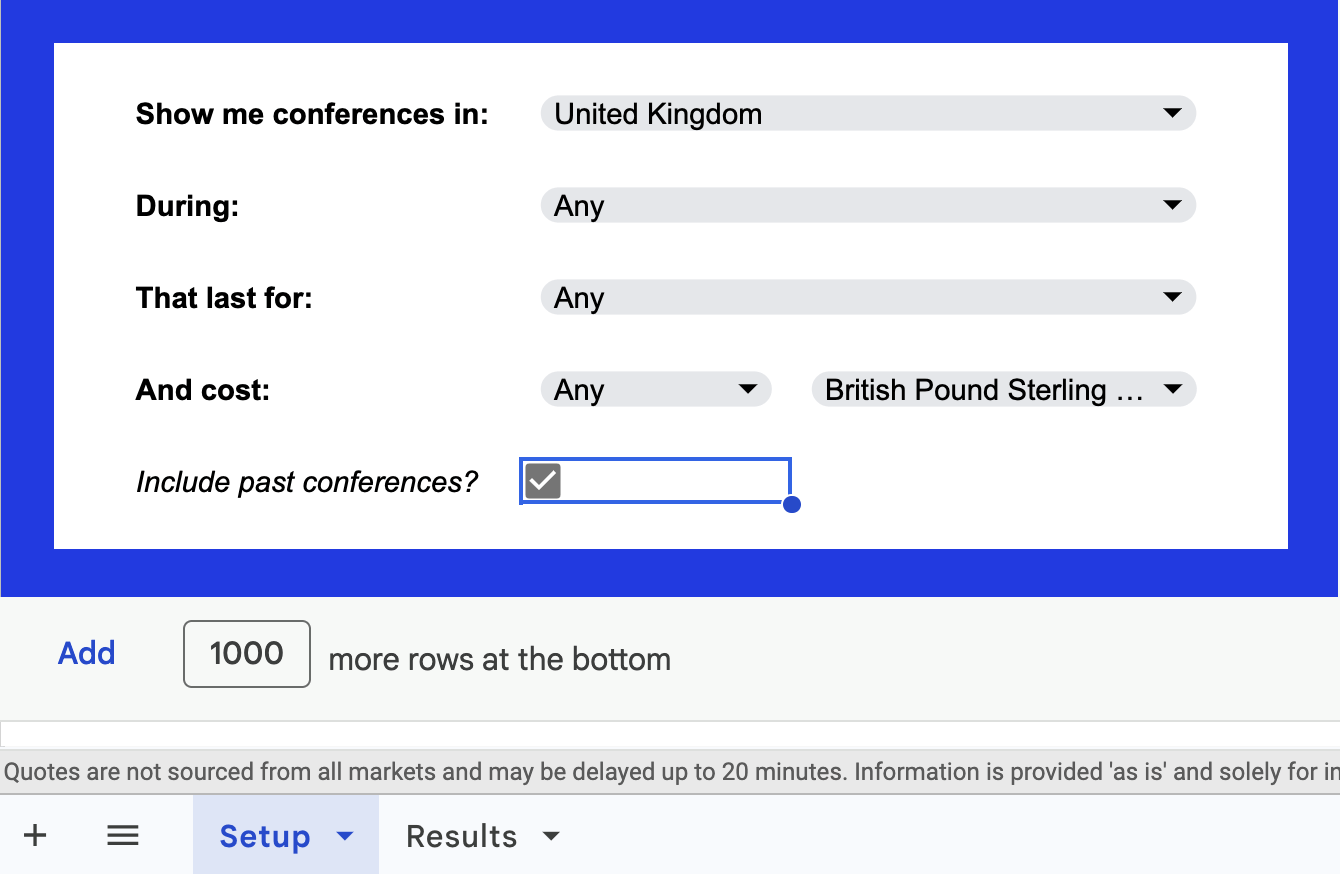 2. Pop over to the "Results" sheet. Voila!

Location: Chester, U.K.
Price: Free
Date: Sept. 7, 2023
Website: https://www.click.co.uk/benchmark-studios/
Speakers: Alan Reeves (Click Consult), Nick Wilsdon (Torque Partnership), and more
After running six editions of its namesake search and digital marketing conference, Benchmark is dialing things down in an intimate one-day event (complete with a free buffet lunch!).
Across five talks, you'll pick up tips on search marketing, content creation, and how AI and E-E-A-T intersect. Note that this event is tailored for practitioners in the professional services industry.
Location: Brighton, U.K.
Prices: From £285 before 20% VAT
Dates: Sept. 14 & 15, 2023
Website: https://brightonseo.com/
Speakers: Andrei Țiț (Ahrefs), John Mueller (Google), Anthony Leung (Mean Write Hook)
It comes as no surprise that BrightonSEO made our list: The biannual conference is well-loved by SEOs and marketers of all levels.
Here are some standout topics we reckon you may like:
Quick wins to improve your rankings (Andrei Țiț)
Teardown examples of money keywords (Chima Mmeje)
Mastering SEO indexation for e-commerce success (Ryan Hassel)
There are multiple ticket tiers to choose from, such as the "in-person friend" tier, which offers access to both the in-person conference and online replay.
Alternatively, go bigger with BrightonSEO's fringe conferences on Sept. 13—including MeasureFest, Search & Social Advertising Show, and the PR & Link Building Show.
Can't attend in September? Then make plans for its hybrid edition that's slated for April 2024. Dates will be confirmed at a later time.
Location: Chiang Mai, Thailand
Prices: From $397
Dates: Nov. 6–10, 2023
Website: https://chiangmaiseoconference.com/
Speakers: Tim Soulo (Ahrefs), Bibi Raven (BibiBuzz), Chi Khanh (Authority Site Master), Cyrus Shepard (Zyppy SEO), Kevin Indig (Growth Memo, ex-Shopify)
After a two-year hiatus, the well-loved Chiang Mai SEO Conference returns in an annual gathering of over 800 SEO entrepreneurs, agency owners, and super affiliates.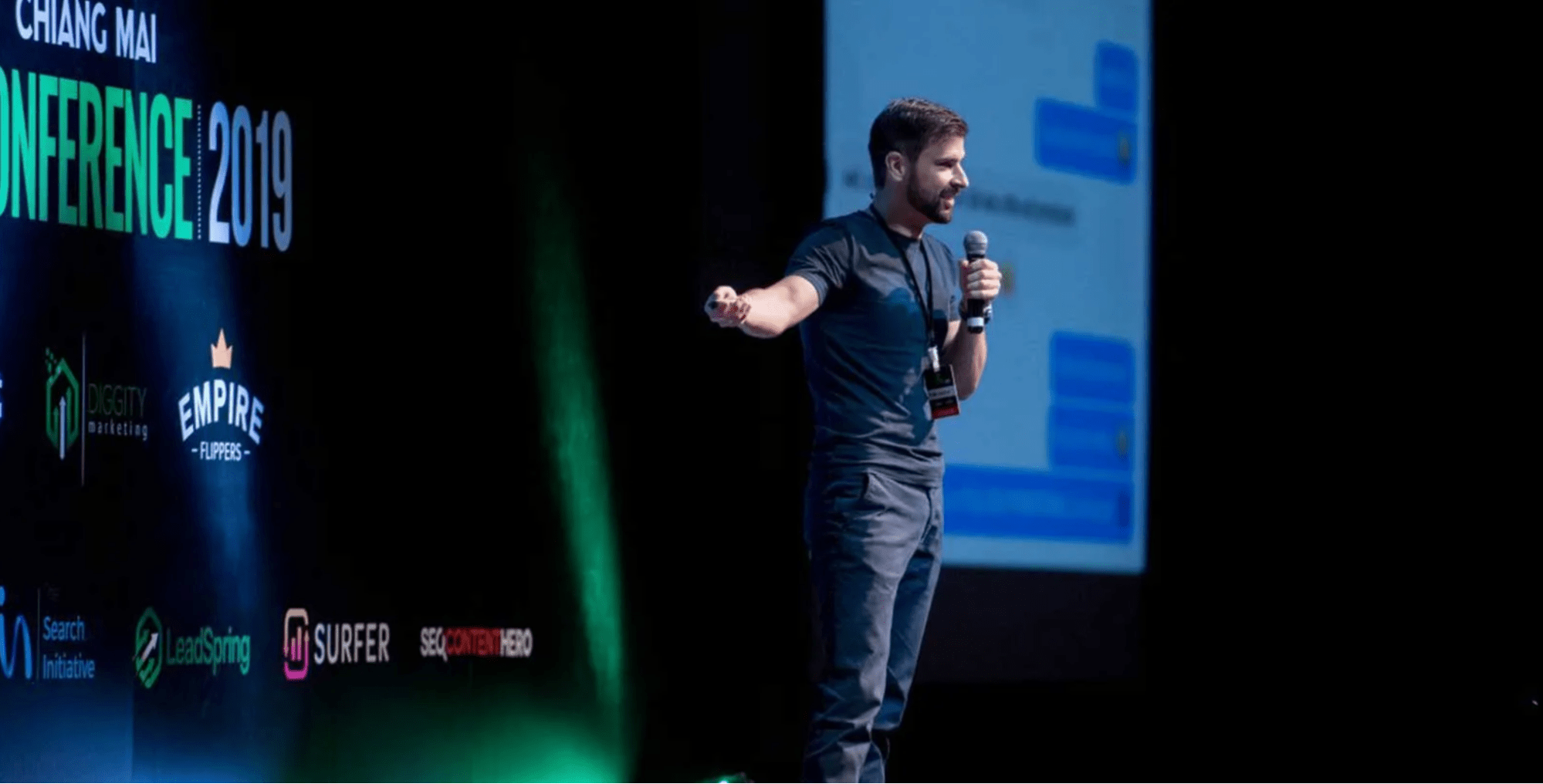 Organizer Matt Diggity has curated a strong roster of 15 brilliant speakers, so expect to leave with quality insights from some of the best-in-class marketers. If you manage to snag tickets before they sell out, you can gain access to networking events, workshops, and meetups all around idyllic Chiang Mai.
Location: San Diego, U.S.
Prices: From $425
Dates: Nov. 9 & 10, 2023
Website: https://us.brightonseo.com/
Speakers: Ross Hudgens (Siege Media), Jamie Indigo (Not a Robot), Cory Collins (Page One Power)
If you haven't heard, BrightonSEO is expanding across the Atlantic—to sunny San Diego. With over 70 speakers lined up for its inaugural overseas edition, we suggest planning your schedule ahead of time.
Here are some interesting topics:
Behind the screen: entities and generative AI (Jamie Indigo)
Building data that grows with you (Sam Torres)
How to drive product page rankings (Cory Collins)
Location: Dallas, U.S.
Prices: From $322
Date: Nov. 13 & 14, 2023
Website: https://www.stateofsearch.org/
Speakers: TBC (past speakers included Kristine Schachinger, Kyle Roof, and Tom Shapiro)
Organized by DFWSEM, State of Search brings together some of the sharpest minds in digital marketing.
It's the perfect opportunity to network with industry experts while taking notes on SEO, PPC, social media marketing, and yet more. Stay tuned for the full schedule.
Location: Barbados
Prices: From $250
Dates: Nov. 15–17, 2023
Website: https://barbadosseo.com/
Speakers: Aleyda Solis (Orainti), Marty Weintraub (Aimclear), Apurva Bose (Overtake Digital)
BarbadosSEO is the Caribbean's first digital marketing conference.
In its second annual edition, some of the most well-regarded names in SEO will convene to cover:
Counterintuitive SEO: going beyond best practices to achieve results (Aleyda Solis).
Hreflang: the good, the bad, the ugly (Judith Lewis).
State of the 2023 digital marketing universe and beyond (Marty Weintraub).
If you're a Barbados or Caribbean Community (CARICOM) national, consider joining in on their monthly BBSEO Local meetups at USD 5/session.
Location: Barcelona, Spain
Prices: From €145
Date: Nov. 16, 2023
Website: https://webcertain.com/
Speakers: Azeem Ahman (Azeem Digital), Kayleigh Dibble (Hotjar), Dan Taylor (SALT.agency)
Managing international websites and running global campaigns is tricky business. That's exactly what ISS has built its conference around: how to position your brand in global markets.
Across three tracks—International SEO, International Content, and Audience & Paid—you'll gain perspectives on SEO migrations and international indexing, among other topics.
Stay for the Q&A session with Google's Gary Illyes too. Tickets include networking drinks and six months' access to Webcertain's self-learning platform.
Final thoughts
Want first dibs on early bird discounts? Consider following your favorite SEO conference organizers on X (Twitter) or signing up for event mailing lists.
Recommend more conferences
Have an SEO conference worthy of mention? Submit your suggestion here!