"As u/djadstar says, Ahrefs is great for links, but not so much for rankings"
This is a comment I saw on Reddit the other day.
Followed by one from "djadstar" himself (when I asked him why he thought so):
"Well it's not your main tool, Ahrefs has always been a backlink checking and I would say you're the strongest one out there right now. However rank tracking isn't something that has been there from day one and may need more work."
At this point I'd like to step away from calling out anyone personally, because I actually see some kind of faulty trend in place.
I hear too many people saying this:
"You guys are the best for backlinks, but for keywords you're probably not that great."
That is terribly untrue and hopefully after reading what goes below, people who think this way will change their opinions.
What Is Organic Traffic Research?
Just in case you're new to this, let me explain how this works in an oversimplified way.
Let's say you own a blog about personal development and you want to rank on the first page of Google for keywords like:
"meditation for beginners"
"how to be confident"
"frugal living"
"motivational tips"
..and so on.
But when you put these keywords into Google, you see one site that consistently ranks on the first page.
That is ZenHabits.
And so you think to yourself:
"Looks like Zenhabits ranks in Google for thousands of great keywords related to personal development. I wish I knew all the keywords they rank for, so that I could plan my own content and outrank them for these keywords."
Well, there's a tool for that!
It's called "competitive intelligence tool" or "organic traffic research tool".
This tool monitors search engine results for millions of different keywords and takes notes of the sites that rank.
So if you enter the "zenhabits.net" domain it will show you all the keywords that it currently ranks for and the exact position it holds for each of them: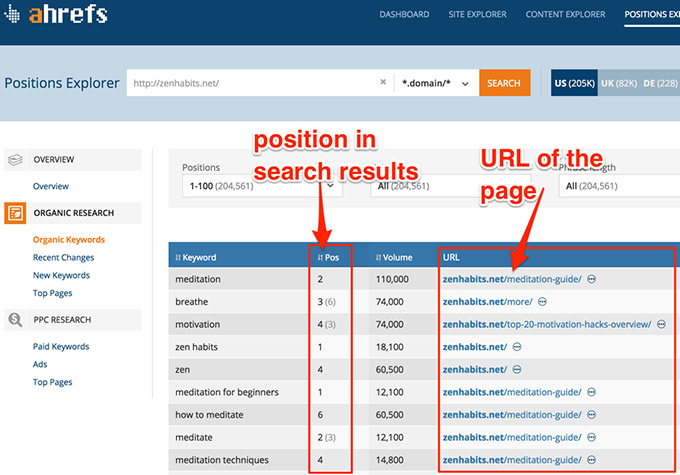 That was a screenshot from Ahrefs' Positions Explorer tool.
Now let me explain to you why I love it so much.
Reason #1: Impressive Coverage
Here at Ahrefs we have search data for 240 MILLION different search keywords. And that is for United States only (we have 7 more countries in our database).
To the best of my knowledge that is much more than any other similar tool has to offer.
So what does it mean for you?
Here's a great example:
Let's say I want to know which threads on the r/Entrepreneur subreddit are ranking on top of Google and the exact keywords that they rank for.
I put "https://www.reddit.com/r/Entrepreneur/" URL into Ahrefs > pick "Prefix" option > open "Top Pages" report: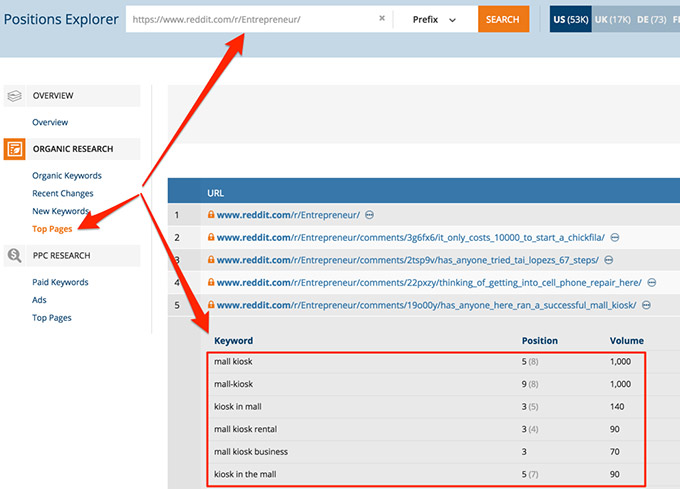 And done!
Because of the huge volume of keywords that we monitor, I was able to find 9180 reddit threads under r/Entrepreneur. Each of these threads ranks for dozens of great keywords highly related to entrepreneurship.
This little "reddit hack" can be your entire content marketing strategy for a new blog.
Just pick a subreddit, put it in to Ahrefs and you'll get a few hundred content ideas along with the exact keywords you should be targeting.
All in all we have 11,639,915 pages for the "reddit.com" domain in Ahrefs Positions Explorer: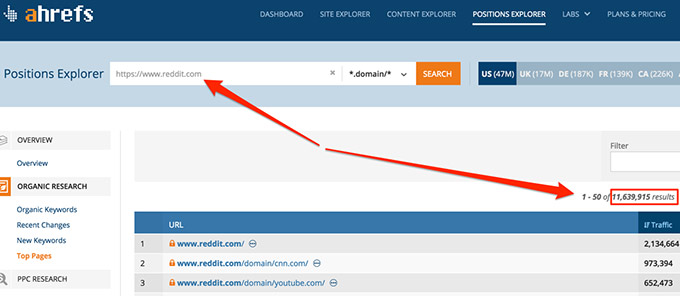 That's a ton of data for your content marketing team.
Here's another great example of how you can leverage our coverage:
The #1 result in Google for "content marketing" is this article:
http://contentmarketinginstitute.com/what-is-content-marketing/
Let's say I want to write my own post and rank it at the top of Google for that keyword.
Optimizing my article for the keyword "content marketing" is a no-brainer. But obviously it's not the only keyword that the original article is ranking for.
So what are these other keywords that I could rank for with my article?
Let's put the URL that ranks #1 into Ahrefs Positions Explorer and find out: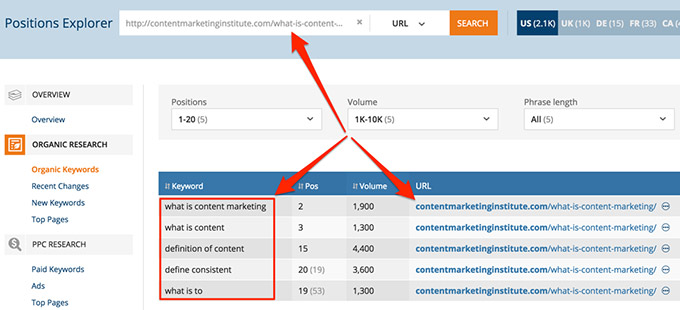 In addition to the keyword "content marketing", we can see that this article ranks for several other high-traffic search terms.
And I could rank for them too if I covered them in my own post.
The beauty of this method is that it can be applied to your existing content as well.
Find who's ranking above you, browse all other keyword that this page is ranking for, cover these topics on your page and watch how your organic traffic grows.
(I guess I need to record a video about this strategy)
Reason #2: Daily Progress
Did you notice that we have moved Ahrefs blog from "ahrefs.com/blog" to "ahrefs.com/blog"?
Let's see how that looks in Ahrefs' Positions Explorer:

Because we update the positions on many of the keywords in our database on a daily basis, we're able to build these pretty accurate graphs that represent the search visibility of a given website over time.
And not only can we do this for the whole website, we can also do it for individual URLs.
If we put the URL of the latest Backlinko article into Ahrefs, we'll see this neat graph:

Looks like this article was nowhere to be seen on 19 of January, but ranks for 322 different keywords today.
Now let's do the same for an article published at Buffer around the same time:

It didn't get much traction in the search results.
I guess the guys from Buffer might want to hire Brian Dean to consult them on how to get more SEO traffic to their articles (hint-hint).
In other words, if you need to sell someone your content marketing services, just put a few of their latest articles into Ahrefs, take screenshots and attach them to your pitch.
Reason #3: Rank Tracking on steroids
If you're working hard to push the pages of your (or your client's) website to the top of Google, you need to track your progress somehow.
That is exactly what the "rank trackers" were made for.
You create a list of keywords that you're going to compete for; you put them into a rank tracking tool and then you get weekly updates of how well you rank for these keywords.
But let's get back to my above example. The article that ranked #1 for "content marketing" was also ranking for hundreds of longer tail keywords.
How do you track all of them?
Just setup an alert in Positions Explorer and get notified of ALL keywords that your site starts ranking for.
Here's the most recent alert I got for ahrefs.com: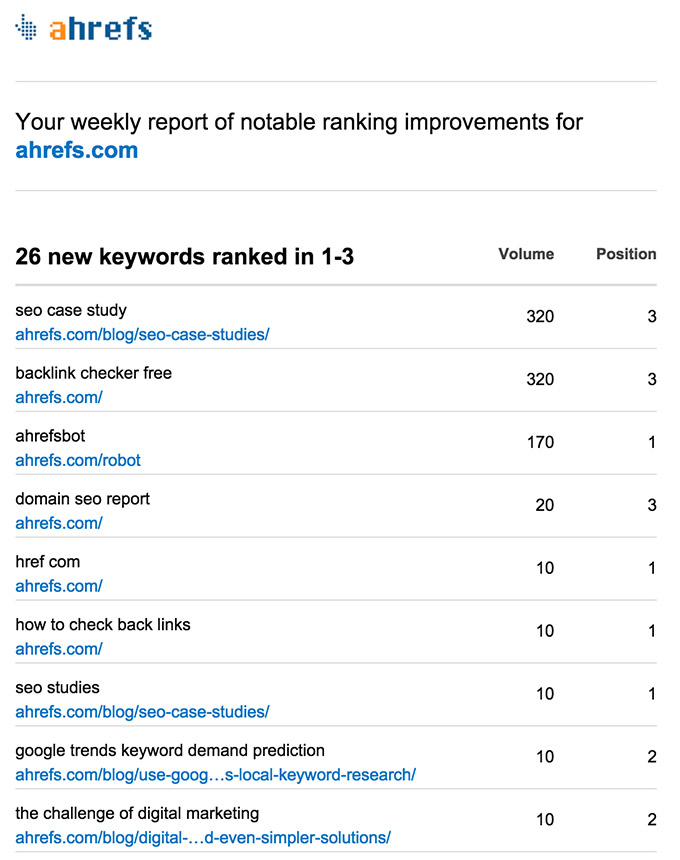 Looks great, right?
Let me explain how that works.
We monitor the positions of your site across millions of keywords, and send you a weekly email alert with all the improvements that we have noticed since the previous week.
These "keyword improvements" are broken down in three groups:
New keywords that just entered the "Top 3" search results;
New keywords that ranked in positions "4 to 10";
New keywords that entered positions "11 to 50".
Forward this report to your client and I promise he will be sending one of these your way…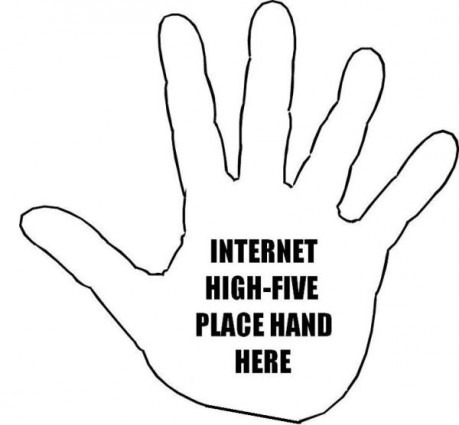 Trust me, I know what I'm talking about.
Recently I gave some SEO advice to my friend regarding his blog, and here's the alert he got shortly afterwards: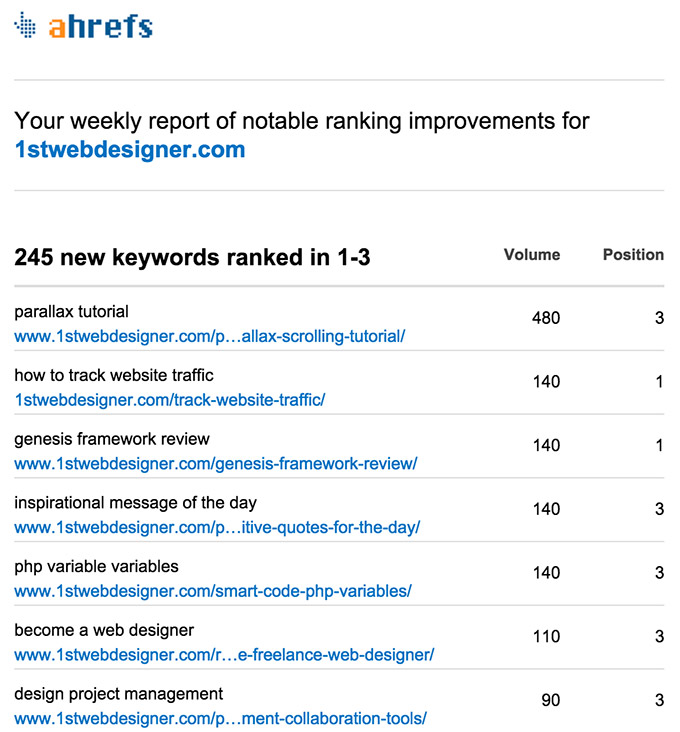 I wish I could attach a picture here of his happy face when he saw it.
Too often clients focus on the positions of a few highly competitive keywords, which are insanely hard to move.
Our "keyword improvement" alerts help them to understand that their site started ranking for hundreds of longer tail keywords that will bring just as much traffic to their website.
RECAP
Like I said in the intro to this article, a lot of people praise us for being the best backlink research tool in the industry and neglect all the other things that we do.
Well, when I reflect on my personal SEO routines, I realize that I use our organic traffic research tools just as much as our backlink tools (if not even more).
Thus I strongly encourage everyone to give this part of our toolset a spin and see how much value you can get from it.
Which brings us to…
THE BIG ANNOUNCEMENT
Previously organic traffic research wasn't available on our entry level plan called LITE, so you had to go for STANDARD and up if you needed it.
Well today we're opening the gates to our organic traffic research tools to ALL Ahrefs users!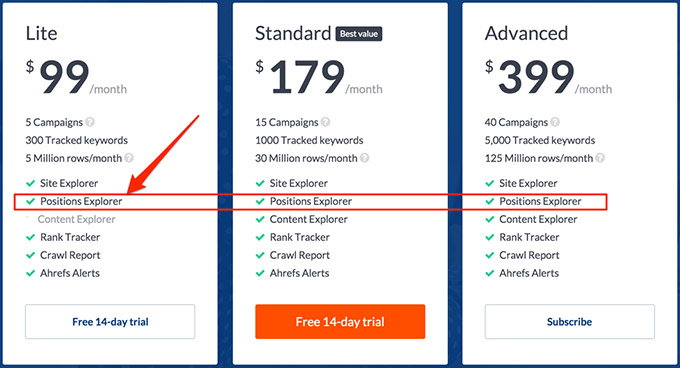 Hope you enjoyed this update and as always I look forward to your comments and questions below.