It all starts with the Keyword research
If you type "Keyword Research" into Google Search, you will find a million of tutorials, tips, services, tools (1,280,000 Results to be exact). Some of them are spot on, some are outdated, some are simple, and some are JUST STRAIGHT WRONG…
It can be hard to determine what is good, cheap and simple to scale, even for a seasoned Veteran.
The usual Keyword research tutorial will tell you how to find search terms with high volume and low competition, but it will not tell you how fast will you start to rank, how to increase your chances for a higher CTR (Click Through Rate) from SERP (Search Engine Results Page), or how to increase your chances for organic growth of the targeted keyword.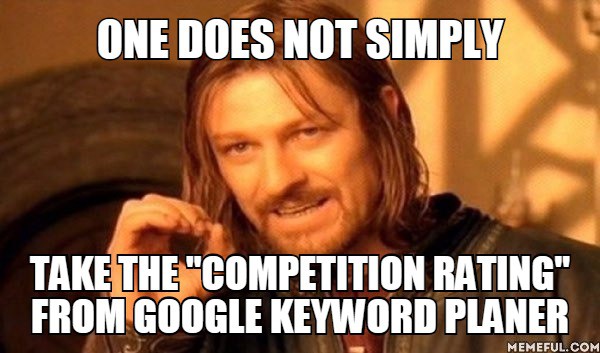 If you are already investing time in research, you can as well devote some more time and make it right in the first place.
In this post, I will cover the following:
Keyword research your Mama could do;

"

All organic" — How to prepare your page for growth;
Instant indexing and position tracking for free (Yey!).
Keyword Research Your Mama Could Do.
The first steps are always the toughest, so unless you are just brainstorming for new articles, you should already have an idea what you are going to write about, or even a content calendar full with topics for the next pieces of content.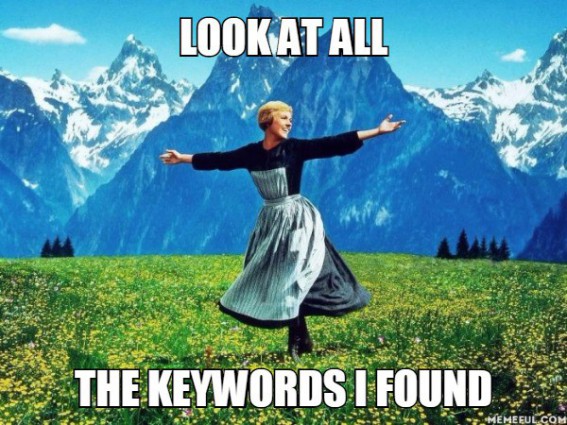 In case that you are out of content ideas, and you need to refresh your mind, or you just feel that it's time to find something new and exciting to surprise your readers, there is always the option to use different keyword suggestion tools and techniques.
In the next couple of weeks, I will write a blog series about SEO Freelancing, so while composing this tutorial, I will use the time to do the keyword research for the series, and present the steps as "real life" examples on how to do a Keyword research
Step 1 — Grab some ideas
Before you dive into keyword research, you will want to have a few ideas what you are going to write about at all. Start with a simple Excel sheet, and write titles as if you would start to write an article related to your website.
For my SEO Freelancing articles I picked, among others, the following:
How much are Freelance

SEO

services worth?
Must have tools for

SEO

beginners
Learn

SEO

from home: Resources, Tools, Communities
What to look for when hiring Freelancers online (UpWork, Fiverr, Elance)
How to stand out when applying for work as Freelancer.
Out of the Box ideas to find

SEO

clients.
Note: These are only working titles, which might change, merge, or be dropped at any time
After that, I wrote down a list of terms and related phrases for each of those work titles.
In the end, you will have something like this: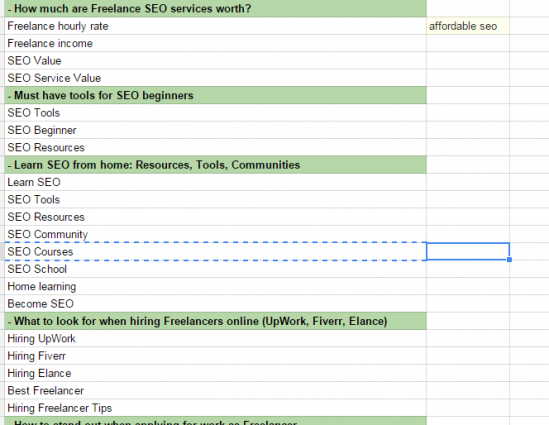 Note: "Keywords are defined by length into 3 groups: Head (1–2 words), Body (2–4 words) and Longtail (4+ words). While Head terms are getting a lot of search traffic, they are also highly competitive and the user intent is all over the place. Best is to optimize your content for a combination of Body + Longtail variations"

1.1 Find the main Keyword for your article
Have in mind, the above mentioned terms are only ideas, terms related to the topic which we choose to write about. In order to get the keywords we will need to refine our list first.
To do so, we will compare the terms in Google Keyword Planer for Volume first:

After that, we run a analysis with the top volume terms, in this case "Freelance Jobs", and go to "Ad Group Ideas".
We copy and paste the Ad Groups which fit our topic in a separate notepad sheet, which in this case looks like this: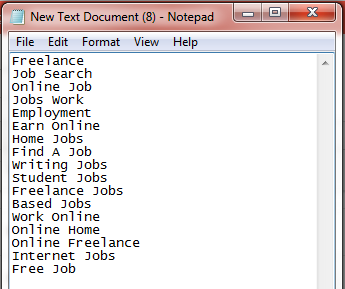 Since the "Competition" value is only related to advertisers, we will want to know what type of competition we will face with keywords from these groups. For this we will use the MOZ Keyword difficulty tool, and run all the categories through it:

Red marked are the 3 Categories which have a good search volume, relatively low competition and which fit with the topic of the article which we choose to create.
"Online Jobs" is beating the other two by pure volume numbers, so we will take it as our main keyword.
1.2 From main Keyword to Secondary and Longtails
Now, we would look in the keyword planer for secondary keyword ideas, but there are just to many, for secondary keywords, semi-irrelevant (latent semantic indexing) results.
Or we could extend our main Keyword with additional terms ourselves, but keyword suggestions tools do it faster than we could, and they will offer us options which we wouldn't think about.
There is only a handfull of decent keyword suggestion tools, 3 of my favourites are:
For the sake of this tutorial, I will only use Übersuggest, but you can test the SEO Chat tool yourself, and pick which one works best for you.
Keywordtool.io is extremely fast, and offers accurate search volume data + CPC values for the keyword suggestions, but, in the premium version only (88 USD per Month), even exporting the data as CSV is a premium service (48 USD per month)
Übersuggest allows you to start out with a Head term (In our case "Freelance") and navigate through the suggestion all the way to longtails.
Further, it allows us to chose different verticals (Shopping, Video, Images, Recipes and Web), and different languages for the Keyword suggestion.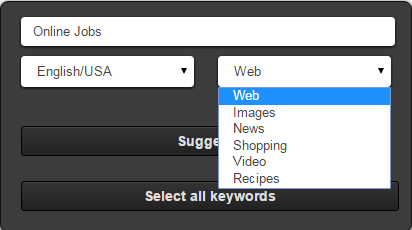 Once we have found a nice looking keyword we just need to click on the green (+) in order to add it to our list, or on the keyword to get additional longtail suggestions which contain the keyword.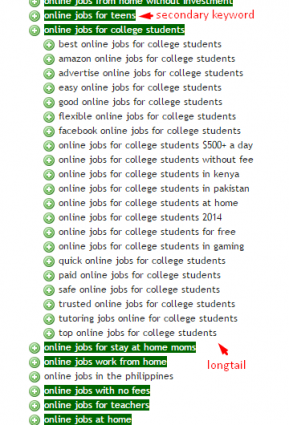 When we are happy with our list, and get all the nice keywords and longtails from our head term, we just click on "get", and our keyword list will pop up in a lightbox from which we can simply copy & paste it to our work document.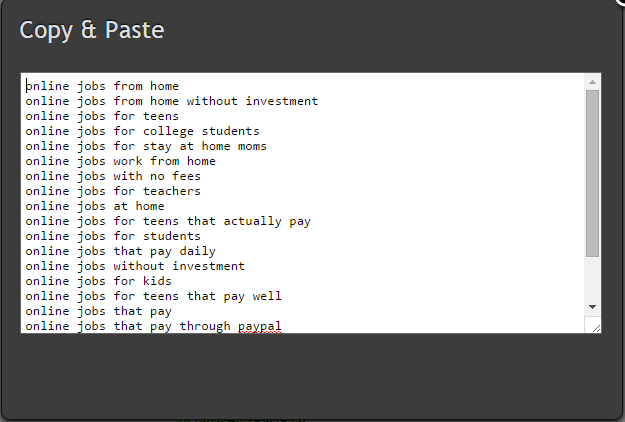 Step 2: Filtering the initial Keyword List
Now we should have a list of potential secondary keywords, and longtails for oiur post. The next step would be to define which of those "Body Terms" and "Longtails" even make sense to go after.
This is how my list for the term "Online Jobs" looks like: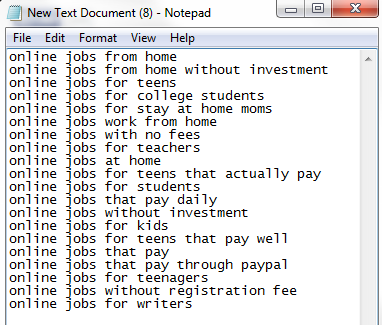 2.1 What is the value of Keywords
To define the value of a Keyword you need to consider 2 things:
Search volume per month
User Intent on search
While the search volume per month, can easily be found with the google AdWords keyword planer, or SEMRush keyword overview, determining if the User Intent is valuable for you, will require knowledge of your website and what you would like your visitors to do.
So, it is for you to decide if you want only readers for your content or buyers for your service.
The use of modifiers like: Cheap, Best, Buy, Find in combination with the head term will generate a keyword focused on buyers intent.
The use of geographical terms will create a localized version of the keyword: "Barcelona", "in Germany", "Hollywood, LA", etc… will create a longtail keyword with low competition, searched mostly by people who are potential clients for your localized service.
TIP: In many cases the value of the keyword is defined by the user action (Subscription, Buying of Products, Inquire for Services), in these cases it makes sense to create a Pay Per Click Campaign (Bing or Facebook due to lower Cost per Click) and calculate the conversion rate for the keyword before investing money and time in building organic traffic for the specific keyword.
Step 2.2 Researching the search volume for keywords
It is called SEO… but if we are honest, it should be called "Optimizing Websites for Google" — 70% of all search queries online are made on Google, so it only makes sense to go to the source and look for search volume.

Source: Netmarketshare.com
Google AdWords is a free tool created by Google for advertisers, and it provides many valuable information for publishers as well.
Two of the most valuable features of this tool are the keyword suggestion feature , and the keyword search volume over time.
Once logged into your AdWords account, you can find the keyword planer under the menu point "Tools"

The options in the initial search should be set for all languages, and no country restrictions if you are targeting global audience, in case you are working local, change the settings accordingly.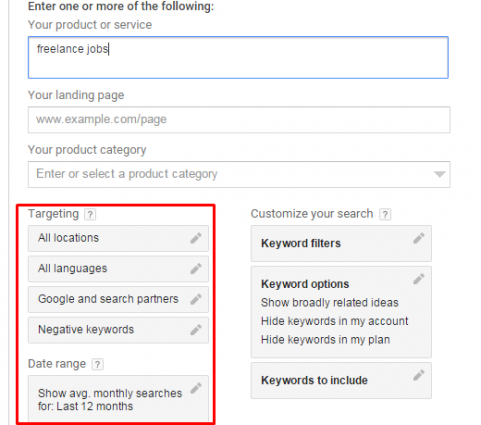 Once you clicked "Get Ideas" you will probably see a long list of related categories and the corresponding keyword volume, advertiser competition and proposed cost per click for Ads in the listed categories.
What you are searching for is located behind the "Keyword Ideas" tab, even though, a fast glimpse of the keyword categories can prove valuable from time to time, and give you new ideas for relevant keywords.
In order to do a fast scoop of search volume values for your list, just copy the content of your notepad list in the entry field, and you will have a result like this:

If you scroll down, you will find the your keywords with search volume, CPC and advertiser competition.
Note: Competition in Google Keyword planer relates to the competition among advertisers, not publishers. It can be a good indicator for the competition, but you will need to determine the keyword ranking difficulty in other ways.
Keep the Tab with your results open, and open a new window with MOZ Keyword Difficulty checker.
Step 2.3 Can you compete for the targeted keywords? — Analyze your Keyword difficulty
This is probably the most important question you need to answer before creating content. If you are competing against high authority websites, there is little to no chance that you will actually rank for your keyword in a traffic driving position.
The easiest way to find out how hard it is to compete for a keyword is with MOZ keyword difficulty checker.
The results for our initial list would look something like this: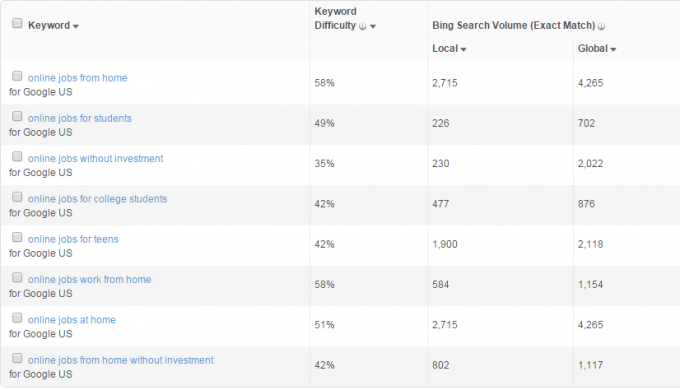 2.3.1 Defining your "Achievable Difficulty Rating"
While doing this keyword research, I stumbled upon an uncommon problem: I didn't know what difficulty rating values I could attack for http://ahrefs.com/blog
For most of us "difficulty rating" is not something we can naturally grasp, 20% looks easy, while 80% is probably impossible, but understanding where we exactly stand when competing for a keyword will save time and money, so I developed the following little test to determine an "Achievable Difficulty Rating":
Pick a few keywords you already rank for in the top 10 on pages with almost no backlinks pointing to them.
If you, for some reason, don't know for what Keywords the website you write at is ranking, you can always check Ahrefs Positions Explorer and pick 2–3 Keywords with a good organic standing, and see if the ranking pages have any backlinks pointing to them.
Run the

MOZ

Keyword difficulty checker on those keywords, and see what difficulty rating they are set at, deduct an average value, and you will have your "Achievable Difficulty Rating"
For Ahrefs Blog the "Achievable Value" is set at around 54% (actually 54% is pretty high), it is no wonder though, having in mind the massive authority of the Ahrefs.com domain.
SERP

Means nothing without any Click through rate.

In order to to make sure that we get most out of the CTR, we don't want any graphical or Google knowledge graph results showing in the SERP for the targeted keyword, since even if we rank in the top 10 for the keyword, the CTR is diminished to nothingness…

For Example: The keyword "Freelance Invoice" has a low difficulty rating of 31% and an average of 720 searches per month, but it also has graphical material above the first search results position:

You can also see this when you check the details of the keyword difficulty in MOZ.
TIP: Seolytics also provides an overview of Universal and Sponsored search results, for your Keywords, and is a good supplement for other SERP tracking solutions.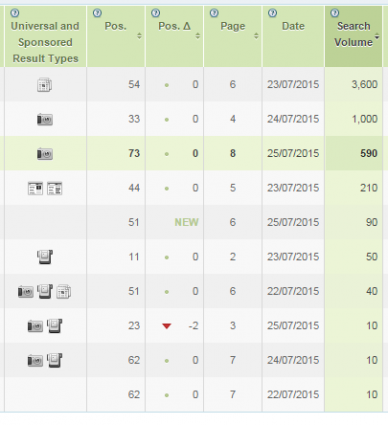 Step 2.3a You don't want to pay to play? — Keyword Research with free tools
MOZ is probably the best tool for keyword difficulty checking, but it comes with a price of 99 USD / Month in order to use it, if you don't want to spend 100 USD for keyword research, there are other options for you:
You can hire someone on UpWork who has a

MOZ

subscription, there are plenty of offers.
You can do it manually, it will take some time, and is not this accurate, but it is free.
In order to do a manual competitor difficulty research, you will need to install SEOQuake, a free Google Chrome extension. and do the following:

Run SEOQuake;

IF

you are targeting a country in which you don't live, install and use a

VPN

Service, since Google results are Geo targeted / Localized in most cases;
Search for the keywords one by one, and check the top 10 competitors, for Authority signals (Age, PageRank, Alexa Rank, etc);
If the competition looks fierce, drop it and move on.
Note: Optionally you can use the MOZ toolbar in combination with SEOQuake, but they tend to have conflicts from time to time, so in order to save time, rather use SEOQuake only.
You could go further in depth, and check the Trust Flow / Citation Flow / Domain Authority / Page Authority for the competing websites, or even the backlink structure, but it is not really needed, since you want to go for "low hanging fruits".
Usually if the competition looks tough, it is only worth it in the long run.
Your goal is to take bits of any market, not the whole market at once.
"

All organic" — How to prepare your page for growth

Once you have filtered your Head and Body Terms, and found the fitting Longtails, it is time to create a clear overview of Keywords you are going to target.

If you are going to create Evergreen content, you will want your main keyword to be broad, with a high monthly search volume, so that your page can grow over time.

Also, you want to have 3–4 secondary keywords to work with, as a base for different longtail searches.

In my specific case I choose the following:

Main Keyword: Online Jobs.

Secondary Keywords:
Online Jobs without investment
Online part time jobs
online jobs for students
The target should be to create a page that will rank fast for different longtail keywords, be of high quality to stimulate organic backlinking, and have it grow over time for the main keyword.
Note: If you rank well for Body Keywords, your ranking for different longtails which consist of the body keywords is automatically going up as well, Some of those longtails (around 15% as stated by Google John Willy, have never been searched before)
In case you are creating a landing page for a specific product, it is of benefit if you use a descriptive body keyword with buyer intent modifiers as longtails.
Those rank fast, get targeted visitors, and convert a lot better than broad intent keywords.
Optional, you can also check for Google Autocomplete Suggestions, which can be a true treasure chest of not so obvious longtail keywords with very low competition.
While Google will, sadly, discontinue their autocomplete API, we still have the choice of Bing, Yahoo and Amazon autocomplete solutions at our disposal, which basically do the same job.
A nice tool for instant suggestions based on autocomplete queries can be found here.
TIP: make sure to have a good volume of relevant content on your newly created page, a recent study by QuickSprout has shown that most top ranking pages for competitive search terms consists of 2000+ words of content.
Instant indexing and position tracking for free (Yey!)
Once you are happy with your page, and done with creating SEO optimized content, you are surely eager to know where you stand with it.
Can you start in top 20 to 40 (or even higher?) for the Main Keywords and work your way up slowly, while getting traffic from longtails, or have you utterly failed and landed on position 150+, where you will need a genuine wonder to push you up to a valuable SERP position.
A few months ago I stumbled upon this nice little trick about how to see the results of your work in less than an hour, and I am not selling you snake oil, you can test it yourself.
Step 1.
Create an account on whatsmyserp.com
Step 2.
Create an account on Reddit.com and get some Free Karma
Step 3.
Add your targeted keywords and most probable longtails in whatsmyserp.com, and make a first check. You will probably have no rankings at all unless your OffSite optimization lets you rank for some of them.
Step 4.
Search Reddit for your main keyword, and see in which sub-reddit has the term got most upvotes
Step 5.
Publish your post in this sub-reddit, and have the main keyword, and if possible a part of one of the secondary keywords in the submission title.
Step 6.
Ask your brother, mother, wife and kids to upvote it for you, till you have 5 upvotes, if noone wants to upvote, feel free to pray or beg your facebook friends.
Step 7.
Using Linkparser (Free Chrome Extension), check the title of the submission, if it turned to a DoFollow backlink. If it did, move to step 8, if not, beg for more upvotes until it changes from NoFollow to DoFollow.
Step 8.
Check your SERP standings for the list of keywords you added to whatsmyserp.com
And there you go! Your article was indexed, and you are probably having a decent boost for your main keyword from a high authority DoFollow backlink containing your targeted Keyword.
The magic behind it…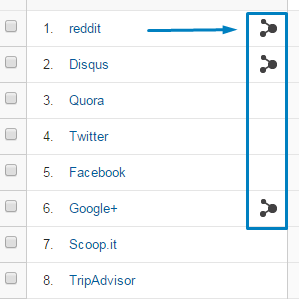 Reddit.com is one of handful of Google Social Data Hub partners, so they have instant and massive data transfers all day long.
Every submission on Reddit starts off as NoFollow, which changes after a certain amount of upvotes, it is mostly 3 to 5 upvotes on Reddit which will do the trick.
Once the title changes from NoFollow to DoFollow, Google crawler can instantly grab your page, the title becomes your anchor text, and supports the relevance of the keywords for the indexed content.
Some other options for fast indexing are:
Publishing content on a popular Google+ page;
Sharing your content from a strong Twitter account.
Now that you are all set, enjoy fast indexed and instantly ranking content!
I hope you enjoyed reading as I did enjoy the writing, so feel free to comment, you feedback is valuable to me.