Public relations (PR) is the practice of positively influencing a brand's perception by managing communications with the media and the general public.
Great PR can lift your brand awareness, build credibility, earn valuable backlinks, drive referral traffic, engage your target audience, and ultimately bring more sales.
In this article, you'll learn about these 9 PR tactics, which all include examples of PR campaigns:
Every writer needs expert contributions for their content once in a while. You can be that expert in your niche, and it's easy.
All you need to do is to subscribe to a feed of media inquiries via services like HARO, Sourcebottle, or ResponseSource.
Here's what the email feed with inquiries from journalists and bloggers looks like with HARO: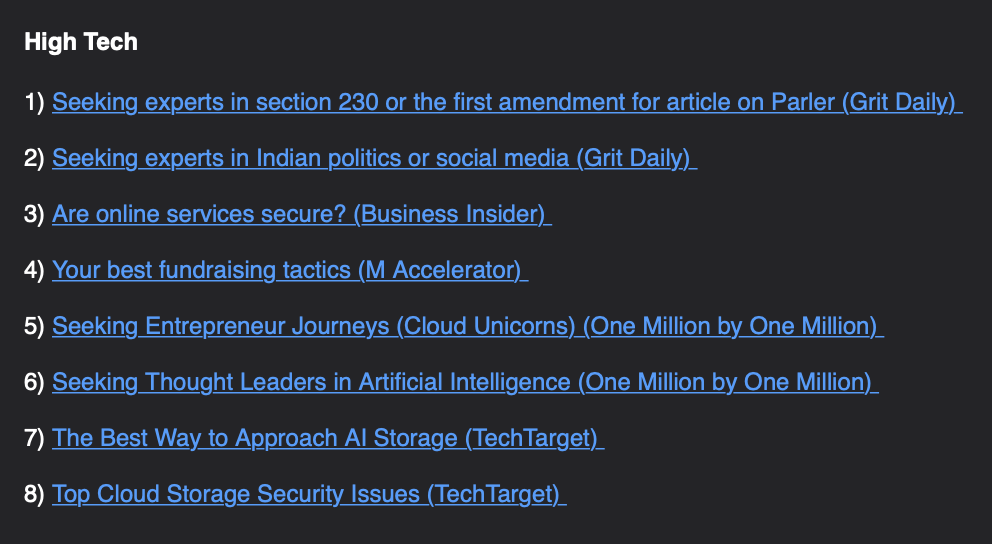 Your goal is to provide valuable information as fast as possible whenever you see a good opportunity.
This is a great link building and PR technique, especially for projects in their early stages. That's because your credentials and the value of the information you provide are what matters, not your actual website or content on it.
While you can become a paid subscriber to access features such as earlier inquiries or built-in keyword filters, I've had success using free versions. Here are a few tips from my experience:
a) Use keywords to filter through the feeds
HARO alone sends multiple emails three times a day. Skimming through all of these is a massive distraction for your day-to-day schedule.
To solve this, create email filters and conditions. These will limit real-time notifications to when the feed includes keywords relevant to your business.
Here's how to create a filter in Gmail:
Hit the caret on the right side of the search bar
Paste [email protected] (or another feed) into the "from" field
Add your keywords (using the OR separator) to the "Includes the words" field. Use quotation marks to consider multiple words as one keyword.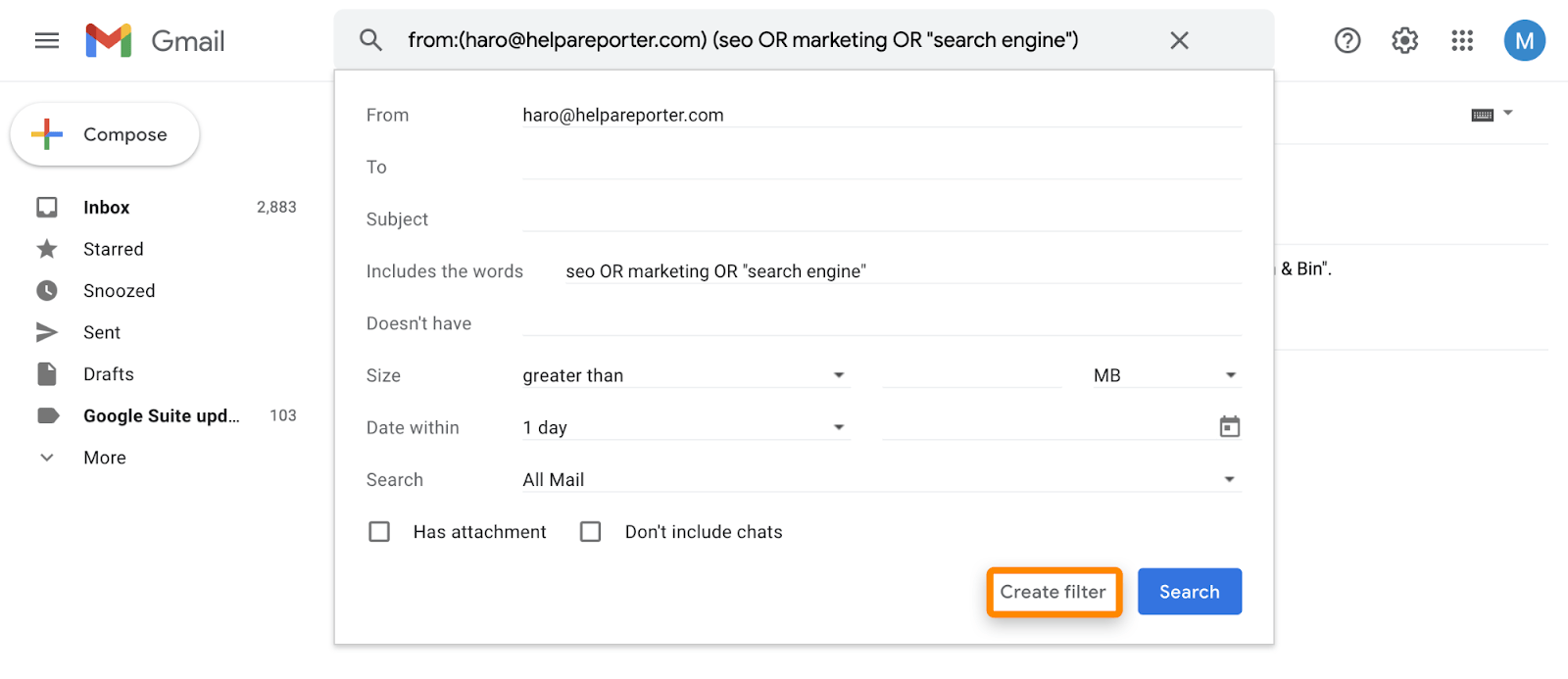 b) Check the publication's authority and history
You'll have to separate the wheat from the chaff. Since quickly sourcing information from experts is an easy way to create content, many companies exploit it. You should only respond to requests that come from authoritative sources or at least from those that are not overly reliant on HARO.
The second condition is easy to spot. Just open a few articles from the source and see if they often contain references to many other people and companies. You'll know which publications to avoid in your niche very soon from the feed itself.
Regarding authority, the best indicator is if you already know the publication. If it's new to you, check whether its content is high-quality.
In the end, you want your contribution to get solid exposure. While you can check how its social media posts are doing, one of the best indicators of source quality is how much organic traffic the website gets each month.
To check this, go to Ahrefs' Site Explorer, plug in the website and check their overview metrics: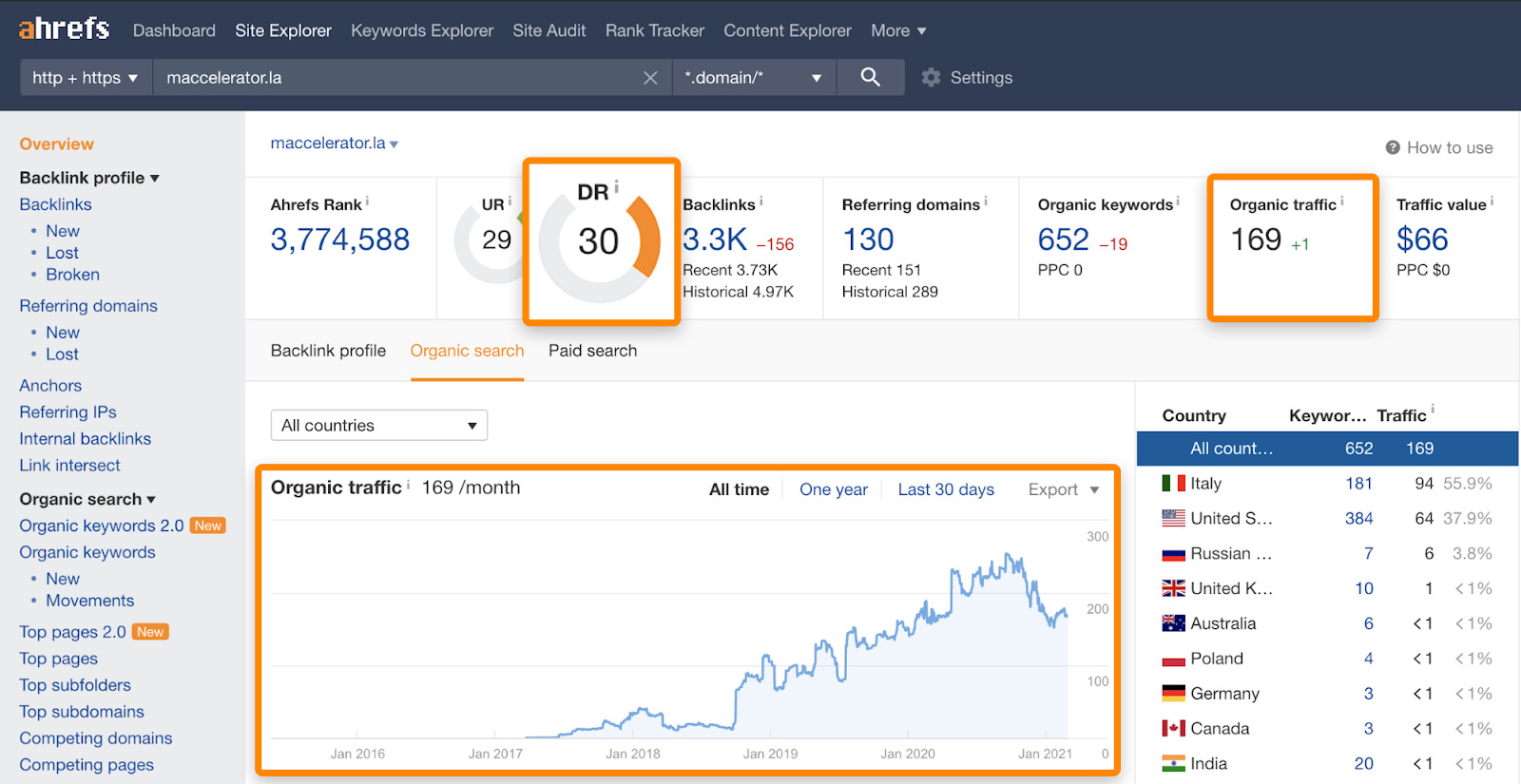 Make sure to check organic traffic estimations and their Domain Rating (DR). DR is an indicator of authority because it shows a website's popularity in terms of backlinks from other websites.
The screenshot above shows data for one of the websites from our HARO feed. In this case, I wouldn't bother responding because you can't expect many people to read that article. On top of that, the potential backlink wouldn't be very valuable.
c) Pick requests where you can provide truly great information
Even the most straightforward contributions take at least 15 minutes to put together. Make sure you maximize your chances of being selected by providing objectively valuable and preferably unique information.
d) Respond as fast as possible
Many people are monitoring the same niche as you. There are often tight deadlines to encourage you to respond ASAP but don't rely on the deadlines alone.
I've experienced writers telling me that they're already closed for more contributions before the actual deadline. The sooner you react, the higher the chance of being selected.
e) Get help from colleagues
Here's the result of a successful HARO submission for CDN77 (a company I worked for in the past):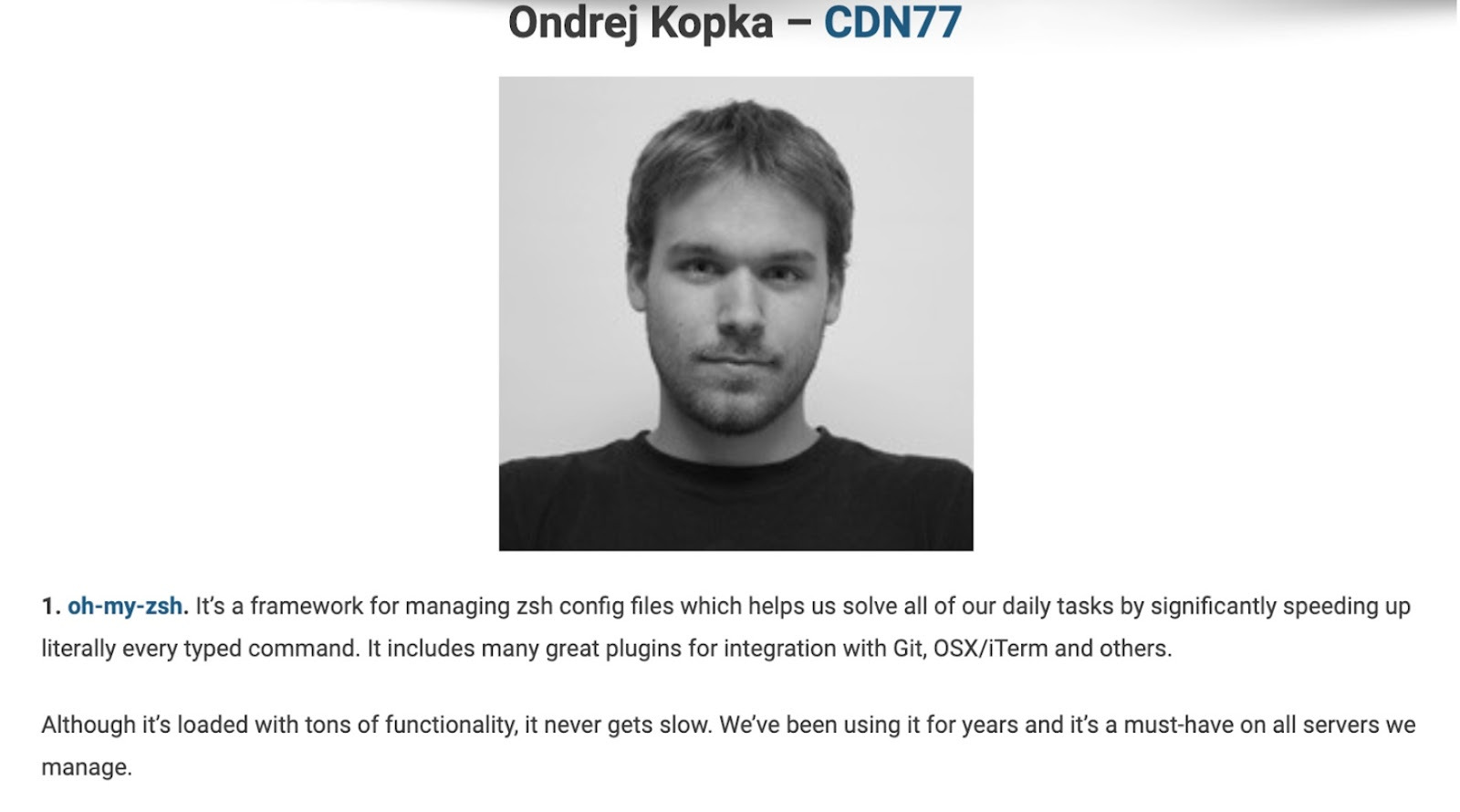 You'll notice that it's my colleague quoted in the post, not me. That's because I wasn't qualified to answer this question about the best tools for system administrators, so I asked my colleague to respond instead. Don't hesitate to do this.
f) Stick to the script
Journalists almost always disclose the format and conditions of the contribution in the inquiry: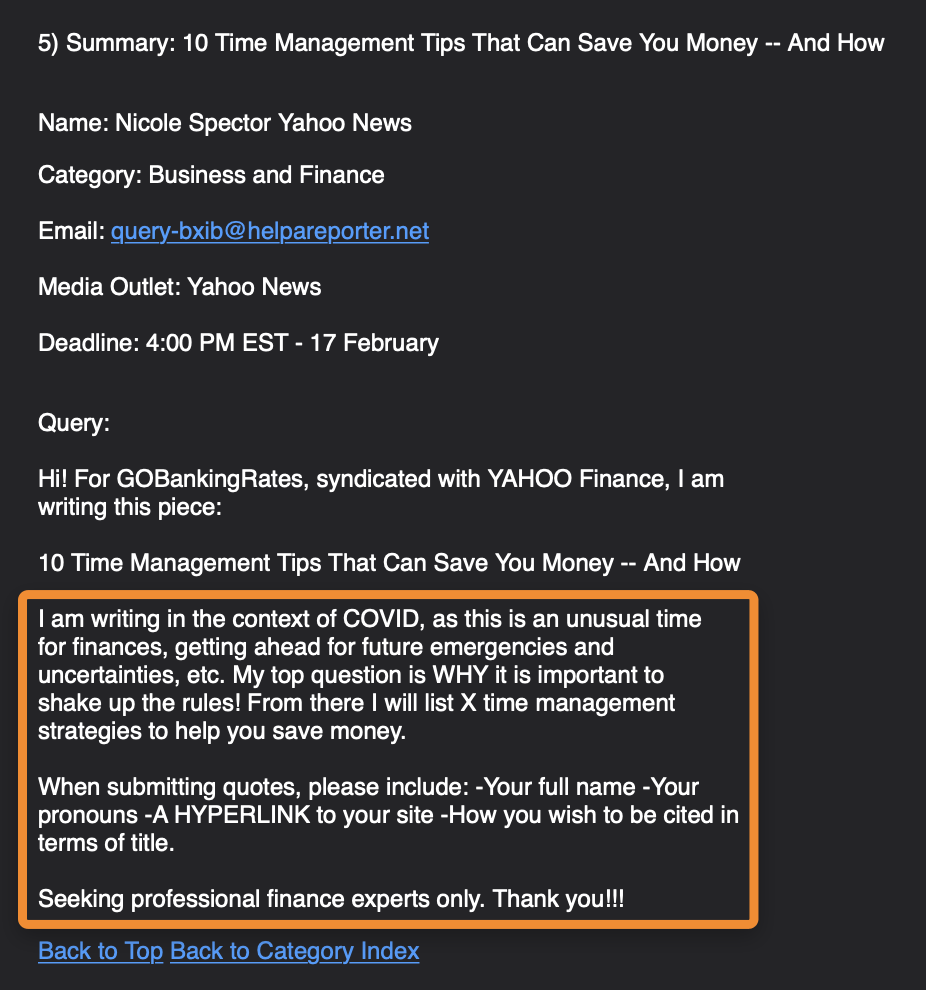 Don't deviate from them. What's more, try to provide everything the author could ever need to feature your contribution. That means including a very short bio, links to your website, a reference to your credibility on the subject, etc.
Recommended reading: How to Build Backlinks and Get Press Using HARO
Newsjacking is an always-on PR tactic. It's about monitoring live news and spotting opportunities to put your brand at the center of conversations by reacting with expert commentary and thought leadership pieces.
It means you have to be fast, reactive, and useful. But the rewards are huge if you can excel at these.
This is how Will Hobson, PR Director at Rise at Seven explained newsjacking to me.
Their newsjacking campaign for Ask Traders generated over 250 links, increased their organic traffic by 329% and conversions by 53% in six months, and consistently landed coverage in articles from big media houses, including these: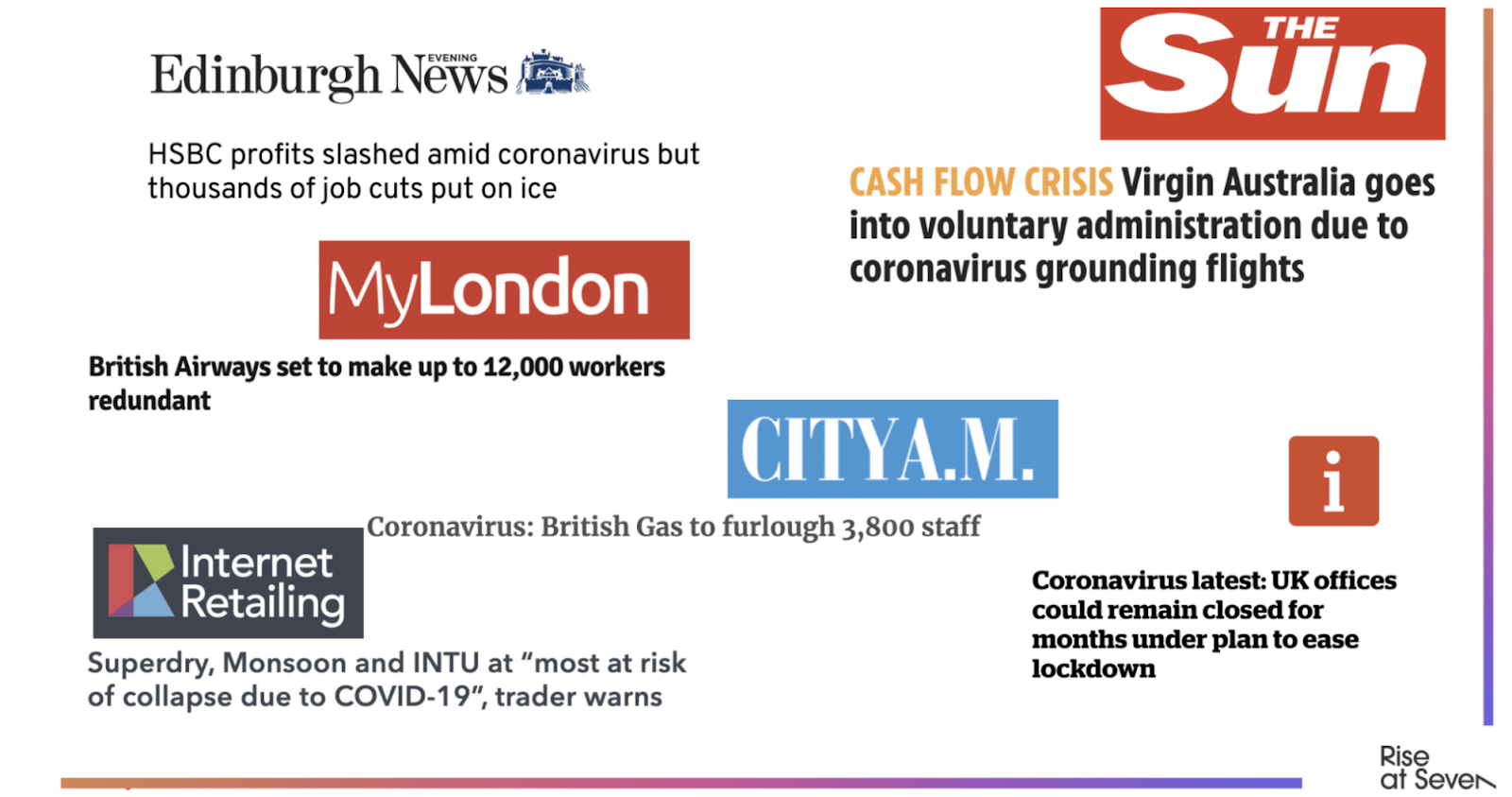 Here are a few of the top referring domains they scored: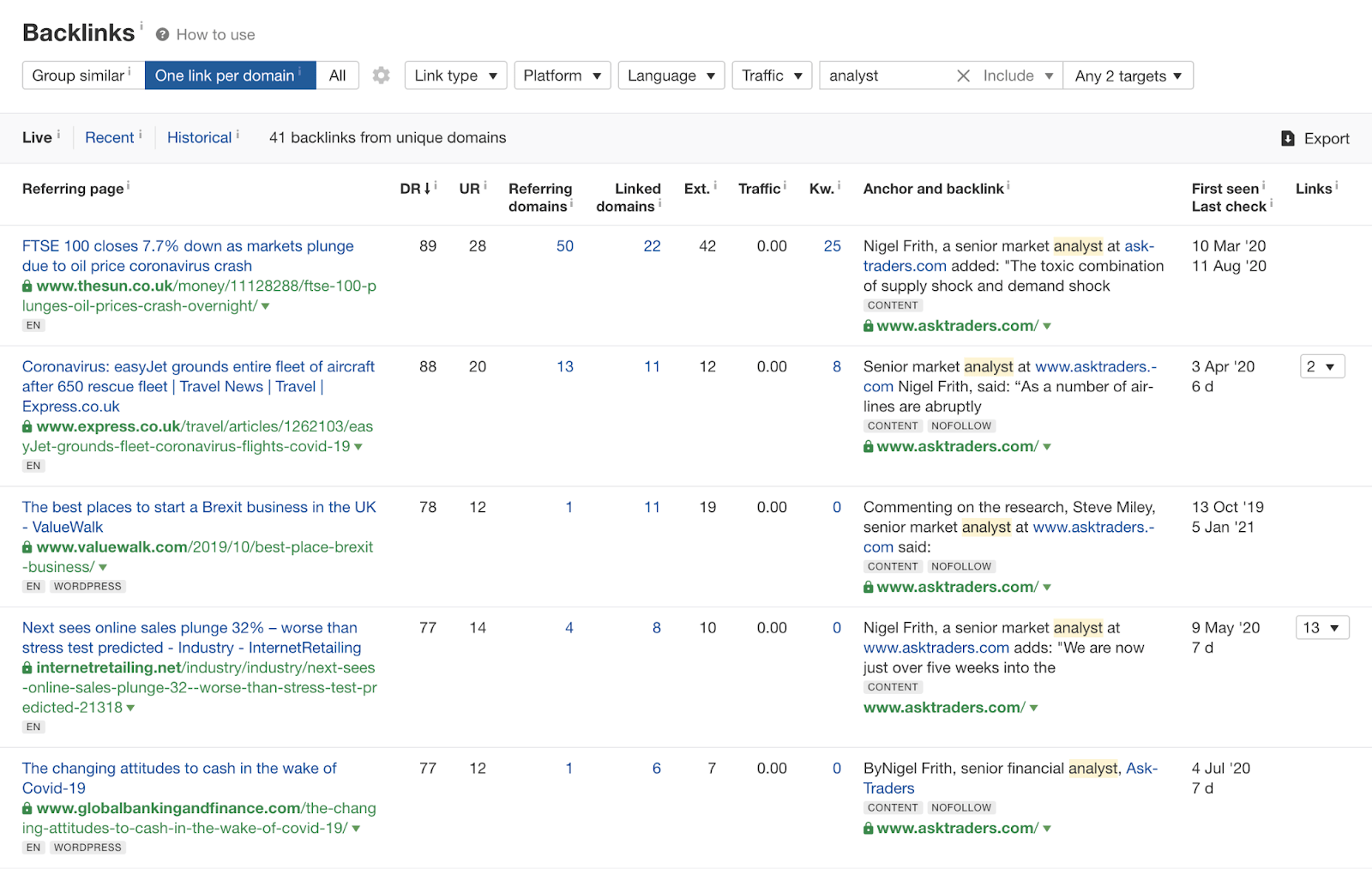 I asked Will to share their newsjacking experience and provide some tips on how you can do this. Here's what he said:
Newsjacking can be used in several industries, including finance, travel, cosmetics, sports betting, motoring, and consumer brands. It's especially successful within the financial sector with in-house experts available to share their insights, opinions, and wisdom on a range of topics from personal finance, stocks and shares, business performance, economic news, and more.
It's a perfect tactic to build expertise, authority, and trust in the eyes of both Google and the general public. Credible spokespeople can land links and brand mentions on hard-hitting news stories via useful insight and expert tips.
This can drive an increase in organic rankings pretty quickly, and of course, lead to more revenue.
There are two main types of newsjacking that we use at Rise at Seven for our clients, especially those in the financial industry:
Planned company reporting – commenting on key financial earnings results of large companies. You can often find these dates on their company reporting calendars and investor relations site. Here is an example of Tesco's financial calendar.
Reactive – commenting on breaking news stories in many industries such as retail, airlines, and banking. This can be anything from a high-street chain filing for administration to an industry strike like the one seen in the past with pilots striking at national airlines.
Monitor the media for newsjacking
Newsjacking requires a quick response, and the best way is to monitor the news the majority of the day. Find a way to consume the news and make it part of your routine; it doesn't matter whether it's via a news channel, radio, or social media.
A great approach is to monitor live news blogs throughout the day. Any breaking stories come through here, and most journalists use them as a source of their news. Examples in the UK are The BBC and The Guardian.
Prepare your commentary
You need to get a comment ready once you find your story. This comment might be bespoke or pre-prepared depending on the story. But what makes a good comment?
My biggest piece of advice when commenting on national financial news stories and any other consumer-related advice would be to make sure you give an opinion. Journalists are looking to add value to their story and not just relay what has happened. Make sure your comment ticks these three things:
What does this actually mean? What does this event you're commenting on mean to the consumers and wider audiences? Basically, how is it going to impact the average Joe?
What's your opinion? What is the opinion of your comment? Do you agree with what's happened?
What's going to happen next? What does the future hold for this brand/business? If a business is struggling financially after releasing its company earnings, give an honest opinion on whether you think it will recover and what could happen next.
Reach out with your comment
Once you have your comment ready for outreach, make sure you have a list built ready to contact. If the story is planned, aim for a list of 50 journalists who have written about the story in the past. If this is a purely reactive opportunity, make sure you contact everyone talking about the subject.
Once you have everything prepped, you're ready for the effective outreach.
This is self-explanatory. Take anything that's trending, use your creative skills to blend your brand's message into it, and you can get great exposure. And that can be in any format.
Remember the Peloton bike ad that went viral and sparked backslash? Ryan Reynolds leveraged that for his gin company by creating a follow-up ad starring the Peloton ad actress:
https://www.youtube.com/watch?v=H2t7lknrK28
But you can also go viral with a simple social media post. This is what McDonalds did with the mysterious monolith appearing all over the world:
welcome to McDonald's what can i get you? pic.twitter.com/iIgd8J5QIW

— McDonald's (@McDonalds) December 1, 2020
There are some long-term trends like the unfortunate COVID and home-office situation. This is what prompted creative strategist Sam Hennig to create the following campaign brief for KitKat as a play on their "Have a break" slogan: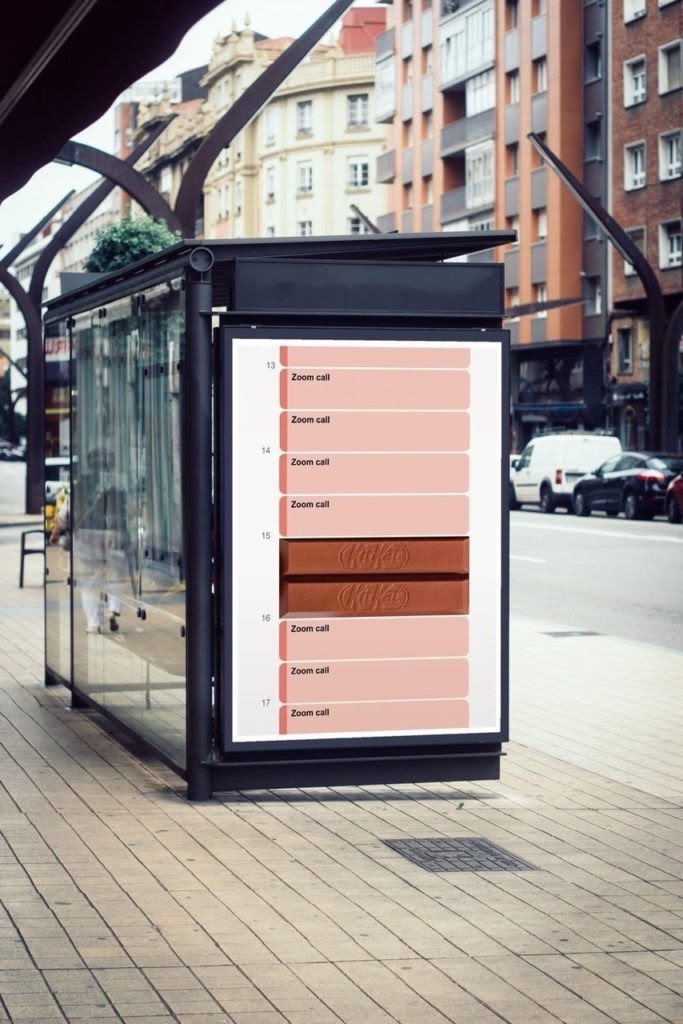 The options are virtually endless. All that matters is your timely response and creativity. You can use tools such as Exploding Topics to monitor what topics are quickly gaining popularity and traction.
Timing is an important variable when it comes to the previous tactics. But you can crush media coverage by pitching your resources at any time too.
A linkable asset is a type of content that writers tend to refer to, so it earns backlinks quite easily. They can be data studies, unique insights, infographics—anything that others find valuable for their audience.
Data studies work the best for us in the marketing and SEO niche: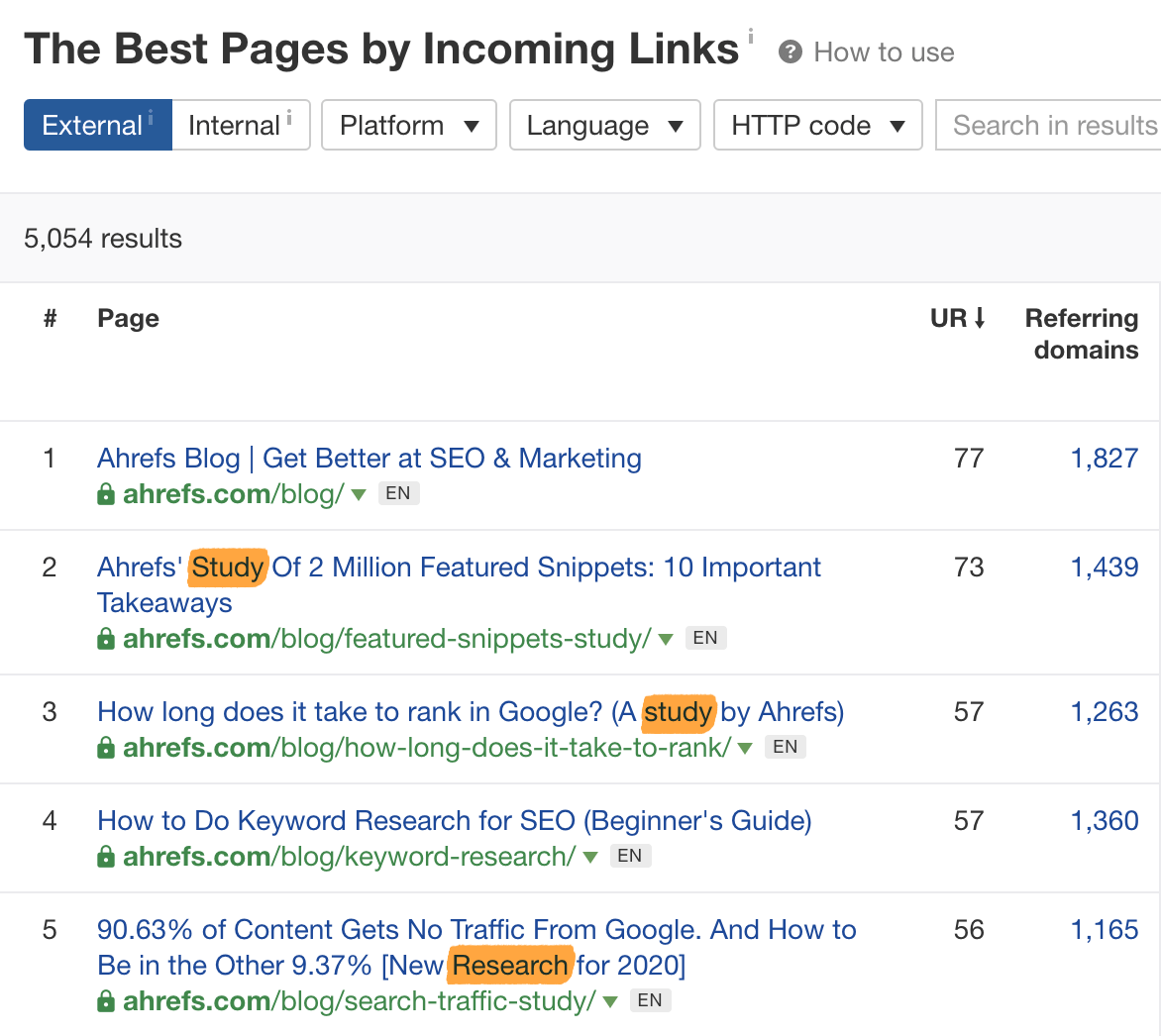 For example, our best linkable asset earned links from the following domains organically: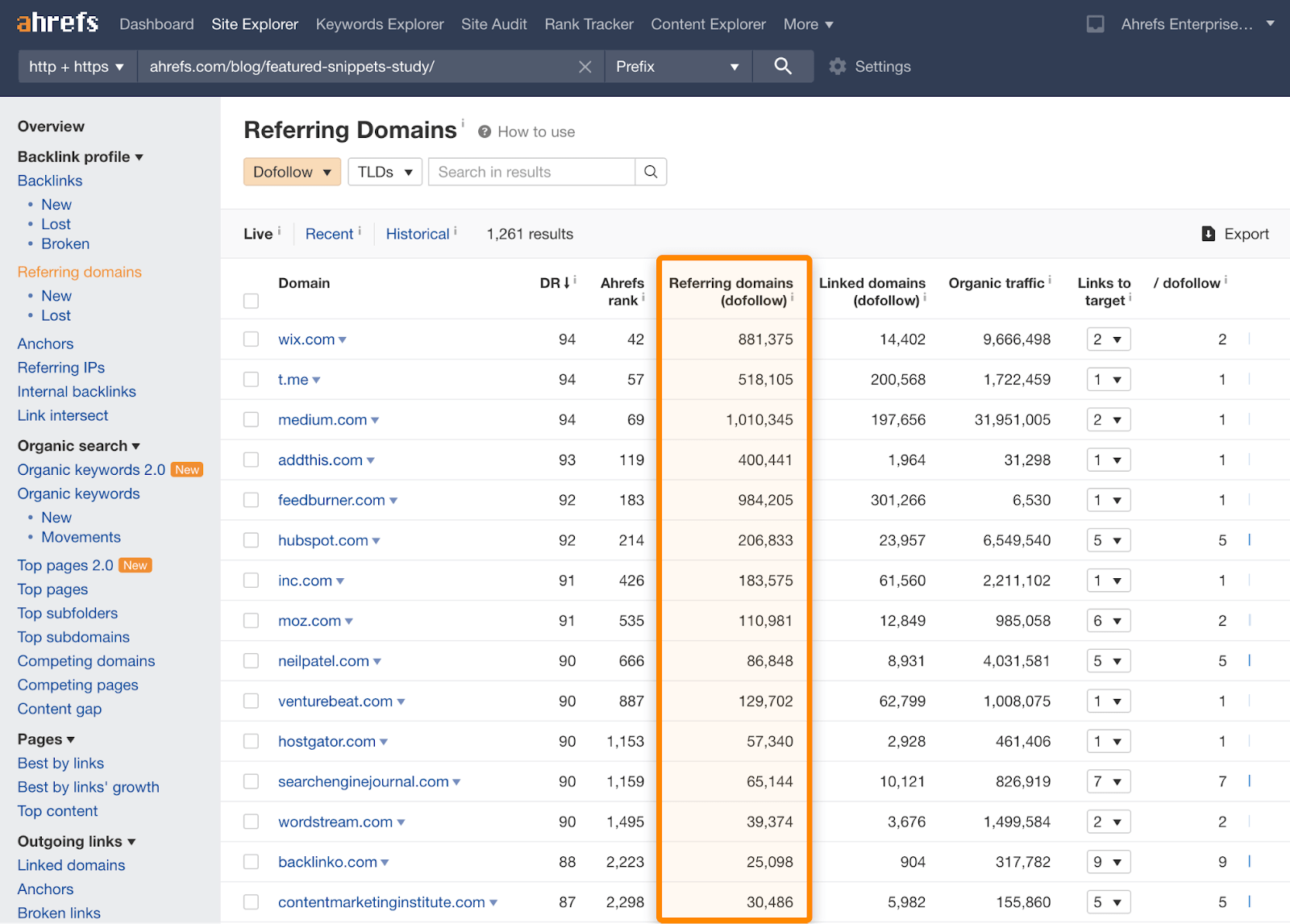 So imagine the coverage you can get when you do outreach.
Here's a simplified process for how you can do this:
a) Check what kind of content attracts links in your niche
Plug your competitors and other websites in your niche into Ahrefs' Site Explorer and check the Best by links report as shown above. Get inspired by it.
If you can come up with something completely unique that you believe is valuable for others to refer to, even better.
b) Publish your linkable assets
Make sure it's the best you can do. The person who is reading your outreach message should see what you're pitching immediately after clicking your link.
c) Reach out to people who might refer to that content
You need to do three things here:
Find journalists and bloggers who cover topics related to your linkable asset
Reach out to them with a compelling pitch
This phase is a topic on its own, so I'll just leave this with relevant resources that will get you to execute this tactic successfully.
I believe that having brand ambassadors is the best approach to influencer marketing.
A brand ambassador is anyone who's regularly in the spotlight representing a company. This is often an employee with the power to influence the community. But you can form these long-term partnerships with anyone. I'm sure you follow some influencers who've been promoting certain products for years.
For example, we have Patrick. He's one of the most well-known technical SEOs. He often speaks at SEO events, organizes them, and even moderates a popular industry subreddit called TechSEO.
In terms of paid campaigns, the best sponsorships and honest recommendations of our product come from our long-term customers:

The point is that you should get influencers to promote your products regularly instead of trying to run mostly ineffective one-off campaigns.
You have the best chance by reaching out to people who are already your customers. They might be already promoting it for free if they like the product. The prerequisite is to have a superb product.
Here's an example of Heinz's PR campaign with Ed Sheeran, who's a big fan of their ketchup:
https://www.youtube.com/watch?v=keOaQm6RpBg
Ed has done multiple campaigns with them and even has a Heinz ketchup tattoo on his body. You can't possibly have a better influencer fan.
Some brands share values and common traits in their audiences. Joining forces to appeal to both customer bases can work across niches for win-win campaigns.
The most utilized partnership is producing co-branded products. These are often limited editions with an urgency factor to its demand. Here's an example of Game of Thrones co-branded whisky: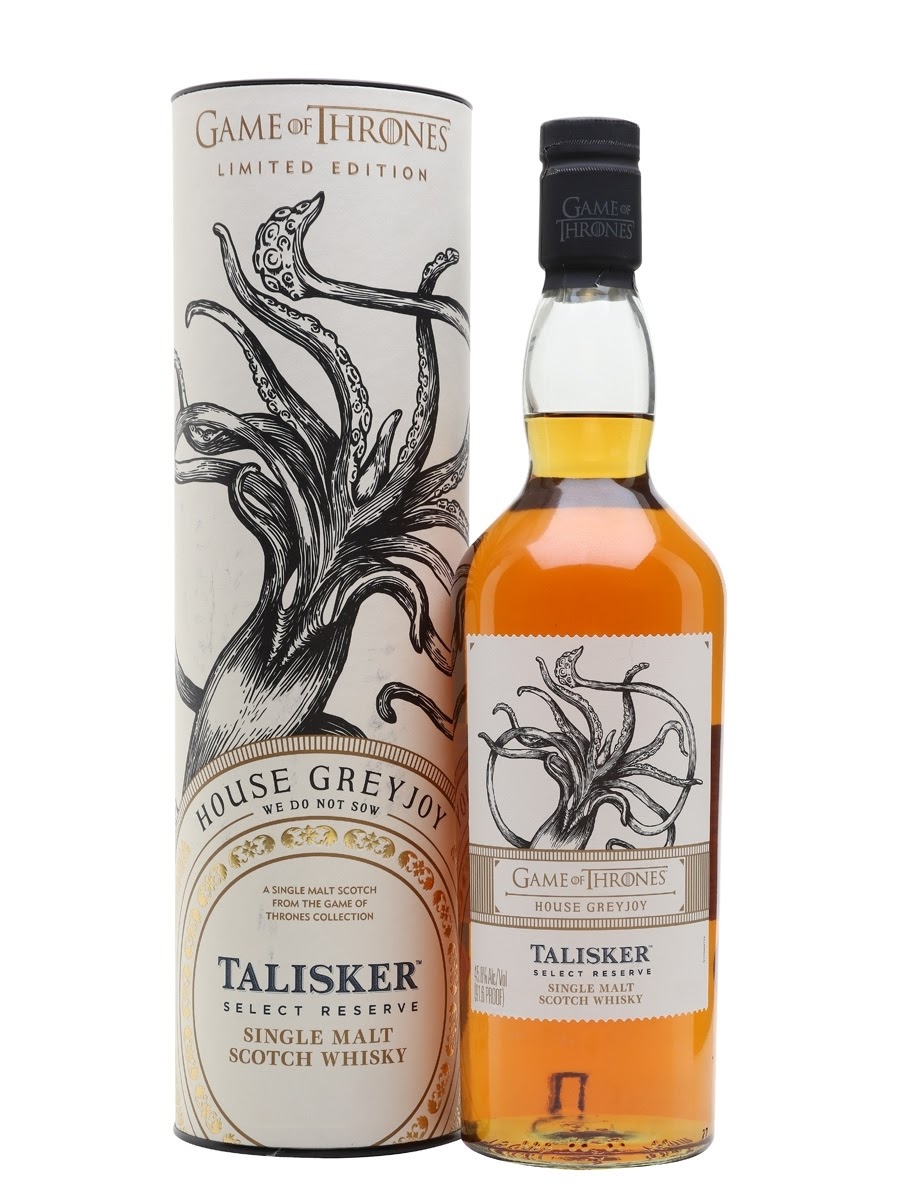 You can also create co-branded ads, as in this example from 2014 with Uber and Spotify. Back then, they were far from being the behemoths they are today:
https://www.youtube.com/watch?v=tBY5Lbcc5wE
Or you can go for the easy alternative and simply create a piece of content together. Webinars, podcasts, and articles are all excellent options.
Here's an example of a webinar co-hosted by ourselves and Buffer:
https://www.youtube.com/watch?v=xn2XCFqREbU
Buffer is a social media tool, so although we have a shared audience, we're not direct business competitors. And that's the trick: Partner with a non-competing brand, then create content about a topic where you can both naturally promote your respective products.
But how do you find such brands?
In the B2C industry, your choices are near-endless. You're looking for overlap in what the companies stand for (if anything) and what appeals to yours and their customer bases. The easiest way to get inspiration is to ask your customers.
The complementary product factor comes into play in B2B, though. If you need fresh ideas for companies you can partner with, use an audience research tool like Sparktoro. Here's an excerpt of what I get in the free version when I plug in ahrefs.com:
We already partnered with Buffer, but HubSpot would work too. And since Sparktoro complements our SEO toolset, it would fit the description as well.
A PR stunt is anything unusual a company does to create media buzz. It's a creative effort that sometimes defies traditional forms of communication.
This is best explained in a few examples.
We've all seen this one. Red Bull organized the highest altitude jump in history. This not only perfectly aligns with the brand, but it's also literally a stunt. And by the way, it was co-branded by GoPro for obvious reasons:
https://www.youtube.com/watch?v=dYw4meRWGd4
But you don't need to organize an event that costs millions. It can be just a slightly outrageous idea that you send out to the world:
Why should bread have all the fun, when there's Weetabix? Serving up @HeinzUK Beanz on bix for breakfast with a twist. #ItHasToBeHeinz #HaveYouHadYourWeetabix pic.twitter.com/R0xq4Plbd0

— Weetabix (@weetabix) February 9, 2021
Controversial and risky? For sure. Did it work? You bet. The tweet went viral and arguably contributed to a 15% sales uplift.
But you don't want to be doing this for sales uplifts. Using organic social media this way would be mostly a waste of time. The unquestionable benefit is the exposure in terms of mentions and backlinks received: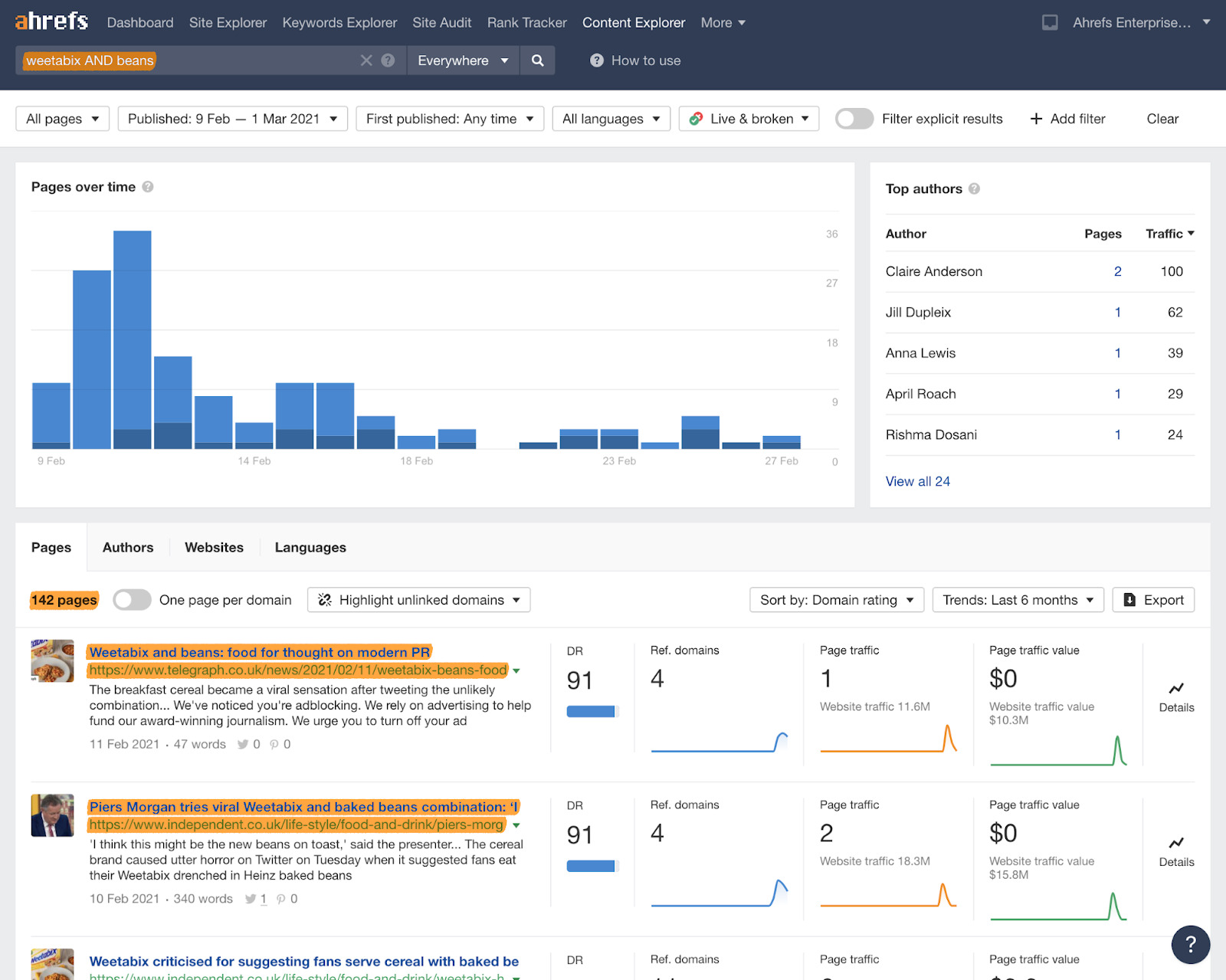 While these are great examples of PR stunts, keep in mind that your efforts to get earned media this way might not always end up in a positive light. Some PR stunts can be quite risky for your brand's reputation. People may not interpret your ideas as you intended.
Then we have guerilla marketing campaigns. These can overlap with PR stunts, but the difference is that guerilla marketing is mainly outdoors, low-cost, and even more unconventional and daring. Its goal is to surprise people, so it's usually very memorable.
Our coffee cups at BrightonSEO, the world's biggest SEO conference, were a subtle example of guerilla marketing. By replacing nutritional data with keyword data, we generated buzz and got people talking.
The coffee cups are so cool 😎 @ahrefs @brightonseo #BrightonSEO #brightonseo2019 pic.twitter.com/Dcmr2nZyuF

— Adam Najak ッ (@adamnajak) September 13, 2019
However, taking advantage of public spaces is a much more common use case. For example, you can do quite a lot with a simple crosswalk: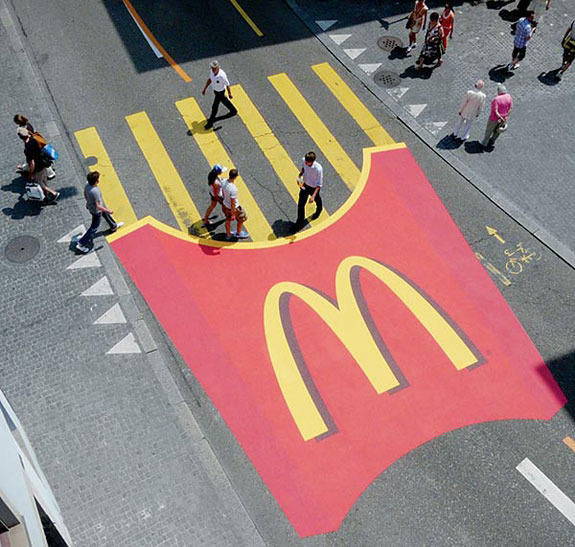 Creativity has no limitations here, as you can see in this recent promo of a new Marmite product: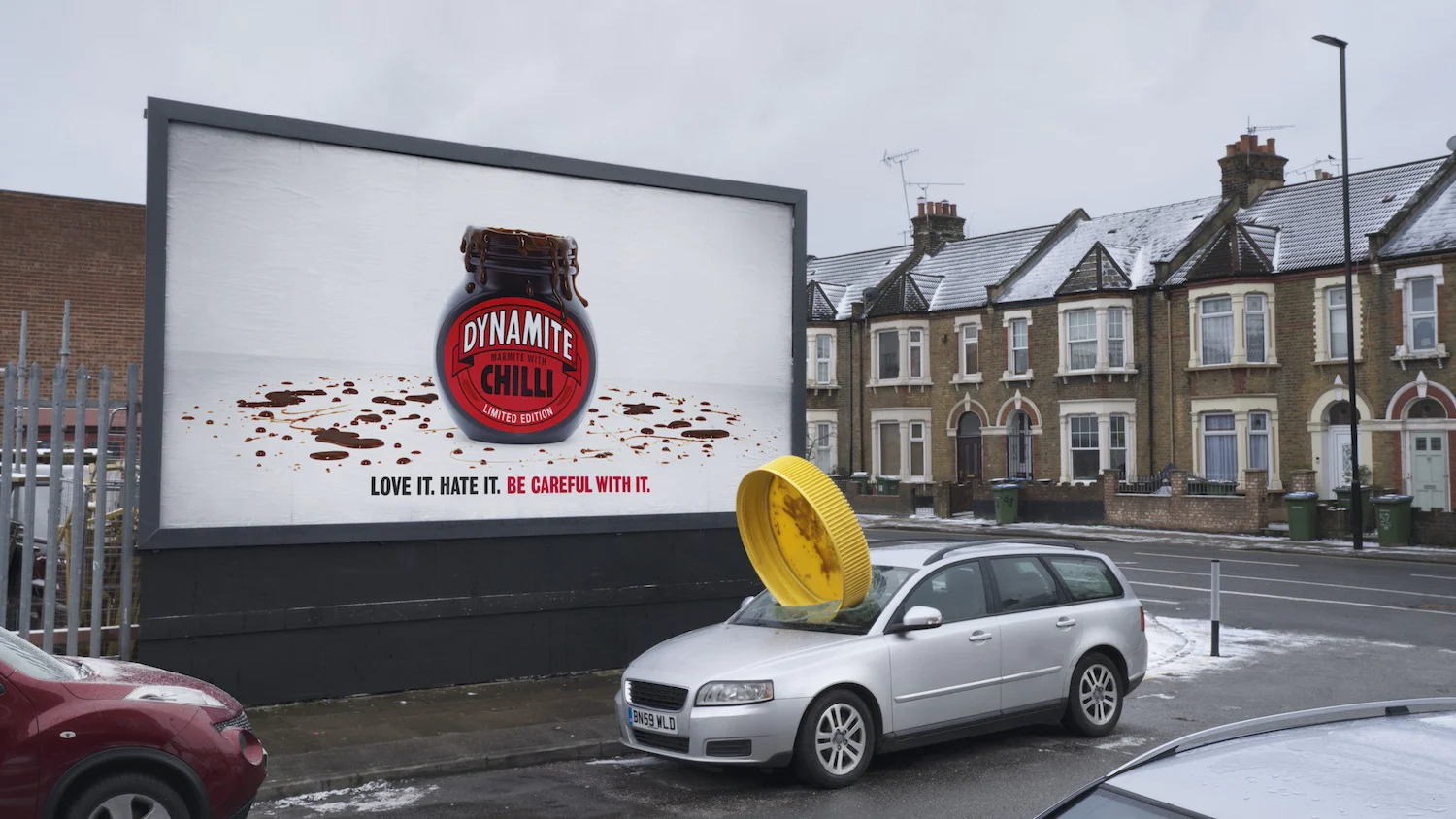 Let me kick this one off with a counter-intuitive mental exercise. Think about some brands you like and their brand purpose, mission statement, or what they stand for.
If you're like me, you won't be very successful. Most brands fail at communicating any reasonable brand purpose. Selling a product that solves people's problems is usually enough—no need for a higher good.
But because the competition is low, it's your chance to shine if there's any higher good close to you. Stand for something you truly believe in, walk the talk, and you're in for some great PR.
From the recent events and campaigns, the quarrel between the Reddit community and the corporate investment world is a great example. Reddit even made it into Super Bowl, the most expensive ad space in the world:
https://www.youtube.com/watch?v=_wkvH0qBMP8
If you check the short ad, it will make you stop it or look it up online later on. That's not a format you see every day. It was rated as one of the most effective ads during that day.
From a more long-term communication perspective, Patagonia constantly succeeds in making the point that they care about the planet and sustainability. This was their Black Friday ad, for example: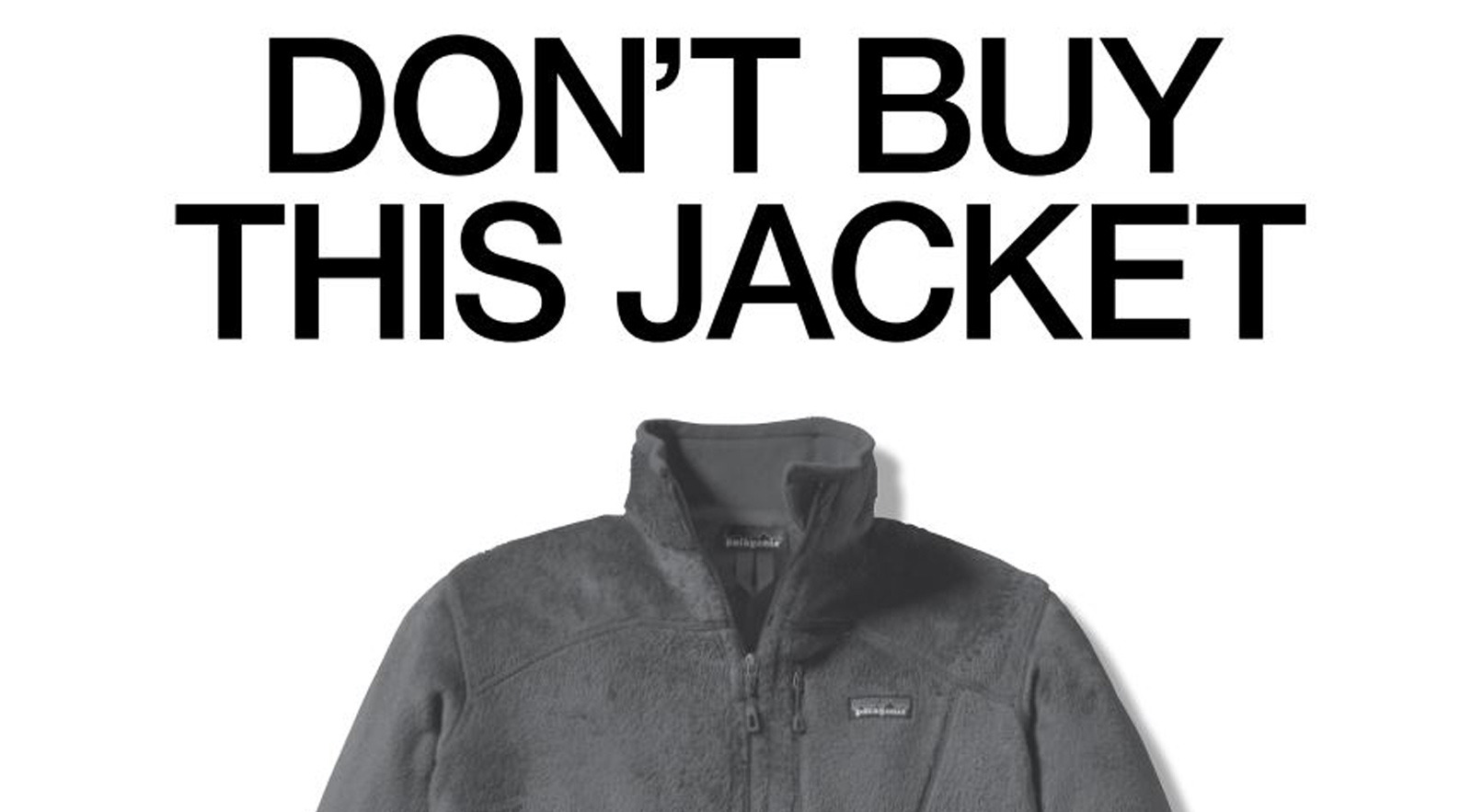 They don't even shy away from politics either. They went as far as to sue the Trump administration to support their environmental causes with this:
I don't know how this activism affected sales, but one thing is clear: Patagonia is consistent and believable in what they stand for. You can't say that about many other companies promoting a "higher good." Just recall some controversial Pepsi or Gillette ads.
Being able to turn an unfortunate event that can hurt your company's reputation into something good is undoubtedly challenging.
Here's KFC's famous response to the UK running out of chicken: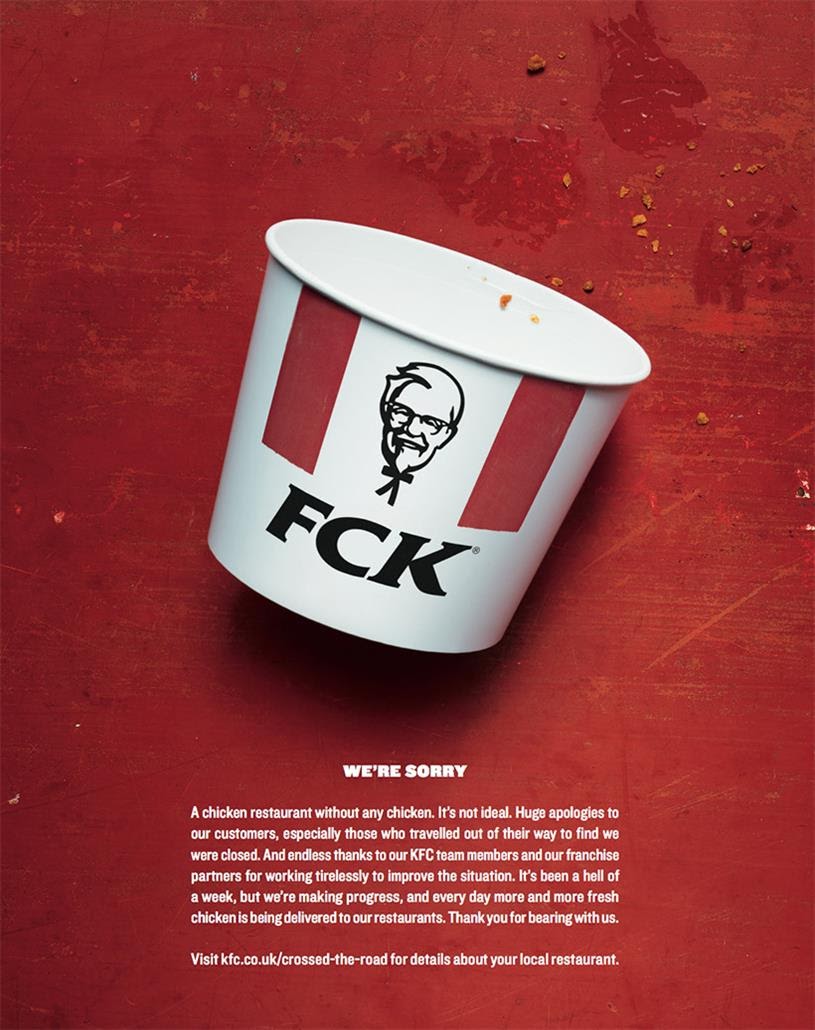 You obviously won't be able to turn everything bad around. The easiest and often the best solution is to accept your responsibilities and admit your mistakes.
You can often spot bad 'turning bad into good' PR in politics. I won't dive into this as it often includes distorting facts and manipulation. But it should go without saying that your efforts should be sincere.
Final thoughts
One thing is understanding PR; another is successfully executing on it. You can copy many marketing tactics, but PR usually requires way more creativity.
By all means, get inspired by looking up great PR campaigns in your niche. But you'll need to put in a lot of your own creative effort to make most PR tactics work. So good luck with that!
Got any questions? Ping me on Twitter.