As an online marketing consultant, I spend about 25% of any given workday simply answering questions.
With large companies and VC-backed startups, the questions tend to be highly specialized.
"How can we rephrase our value proposition to better connect with our audience?"
"How should we adjust the CTA for the bottom of the landing page versus the top?"
"What can we do to make our mobile pages convert better?"
For smaller or boutique businesses, however, the focus tends to be much broader.
"What type of content should we be publishing and how often?"
"Which inbound channels should we focus on first?"
"What's the most cost-efficient content strategy we can pursue?"
I've noticed over the years that with smaller businesses, the most pressing marketing question on their mind is, "What should I be prioritizing?" And what that really translates to is budget limitations. What they are really saying is, "I have a tight budget. What should I do first?"
So that's what we're going to look at today — 2 online marketing strategies that are best suited to limited budgets and smaller teams.
Online Marketing Strategy #1: Once-Per-Month Skyscraper Content
Content marketing has been all the rage for several years now. There are no shortage of articles, reports, and studies highlighting what this form of marketing can do for your business. And with the right strategy in place, content marketing can bring in a consistent, long term ROI for your company.
In my experience, however, most businesses are absolutely clueless about what "the right strategy" actually looks like.
Here's what most people seem to think content marketing means:
Post a 500 word blog post every week.
Share the post via social channels.
Create a checklist for people to download and display it in the sidebar.
Throw in a popup.
Done.
If you had started doing this in 2003, you'd probably be in a great position right now, because literally everyone who started a consistently-updated blog in 2003 grabbed a massive following. They'll tell you all about it too — even charge you for their course — and tell you all about how to write with focus and talk conversationally, because after all, that's all they had to do.
But you already know that's not enough. If you showed up to this game in 2010 or later, you are probably seeing little (if any) ROI on this sort of content marketing investment.
Here's why posting 500–1,000 words once a week doesn't work.
EVERYONE is doing that exact same thing.
More than 2 MILLION new blog posts hit the web every single day. And that number just keeps getting bigger. Click here to see how many posts have been written today alone.
Writing 500 words per week only works if you are pretty much the only person writing on that topic, but when you're competing with thousands of other sites, this sort of content strategy will get you lost in the noise.
So what should you do instead?
You should follow Brian Dean's strategy that he used to build Backlinko to 119k visitors per month. This strategy, in my opinion, is THE most effective content marketing strategy you can implement in 2016, and it also happens to be the most efficient. Here's the highlight reel:
Only requires 1 blog post per month
Simultaneously builds both SEO and social traffic streams
Perfectly facilitates email list building
Is the quickest way to begin ranking in even competitive niches
Brian succeeded in the SEO niche, which is one of the most saturated, competitive markets you can target. It worked for him, and I've seen it work for countless others in a wide variety of niches.
So let's take a closer look at what this strategy involves. You will follow the steps below once per month.
Identify a 2–4 words SEO keyphrase you want to target.
Find the most successful existing content related to that keyphrase.
Make something similar but 2–3 times better.
For every hour you spend writing the article, spend 4 hours promoting it.
That's it! That's the entire strategy. Simple, right? Let's take a closer look.
Step 1: Identify Your Keyphrase
One of the major problems I've seen in the modern content marketing landscape is a divide between good content and good on-page SEO strategies.
On the one hand, there are a lot of marketers still trying to utilize archaic SEO-stuffing strategies to get organic search results. These marketers tend to create or hire incredibly poor content that no one wants to actually read.
On the other hand, there's an entirely new breed of content marketers that don't have the first clue about SEO. They want to create good content that people share, and as a result, they completely miss out on the long-term benefit of organic traffic.
For fast, sustainable growth, you need both. You need great, shareable content that can also seduce Google's algorithms.
The best way to do this is to start the content creation process with a selected keyphrase. For smaller niches, 2–3 word keyphrases are fine, but most sites will probably want to go after 3–4 word phrases instead.
Brian Dean was able to get this Backlinko article ranked #4 for the ludicrously competitive keyphrase "link building" by focusing this content strategy around that keyphrase.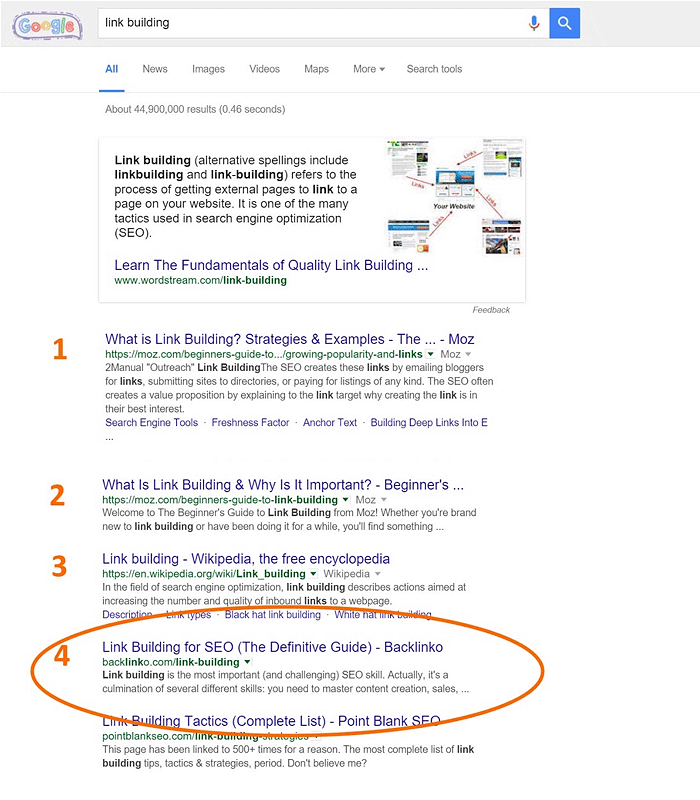 Incidentally, Ahrefs is Brian's go-to source for finding target keyphrases.
Generating Keyword Ideas With Ahrefs Keywords Explorer
Here's how to use Ahrefs Keywords Explorer Tool to generate a list of high volume phrases from an initial seed keyword in just a few clicks.
Step 1: Enter a seed word or phrase into keywords explorer and click search. In this example we will start with the seed keyword "online marketing".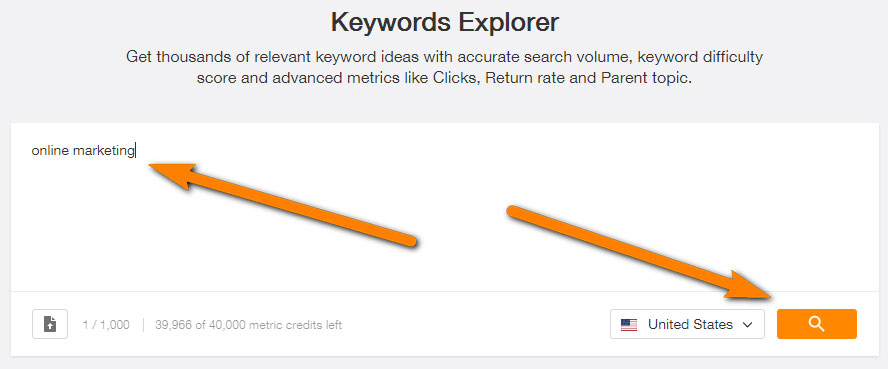 Step 2: Within seconds, Ahrefs will show you the overview of this keyword with its keyword difficulty, search volumes, and even a number of clicks it generates.

Step 3: Go to "Keyword Ideas" section, where you can choose from "Phrase match," "Having same terms," "Also rank for," and "Search suggestions" options. Or you can see "All" keyword ideas in one list.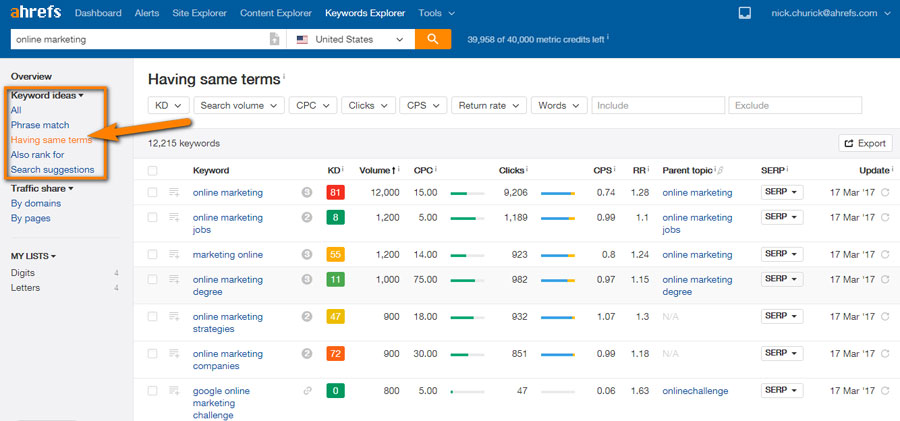 Step 4: Select keywords with good search volume, that are relevant to your business and create content to target them.
This is one of several strategies that we recently implemented here on Ahrefs blog to increase our search traffic by 89%.
Step 2: Find Successful Content
The next step is identifying content that has already proven successful in your niche, and by "successful" we're talking about social shares and SERP position.
The easiest way to start is to simply enter your keyphrase into Google and see what comes up. For example, when KlientBoost contacted me about putting together content around the keyphrase "landing page examples", the first thing we did was look at the SERPs to see what was ranking.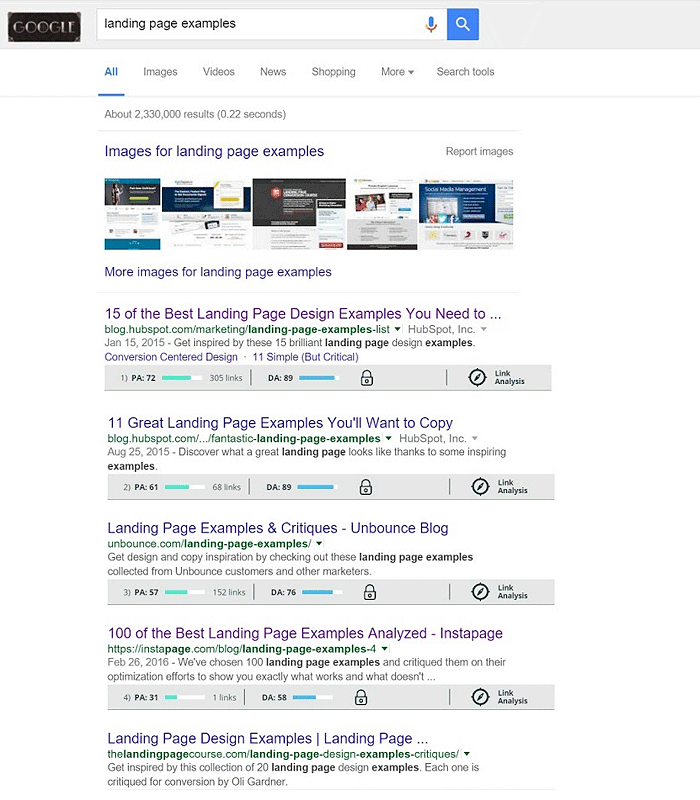 As you can see, most of the front page content pieces had around 15 examples. When we clicked-through to the 100-example post, we noticed that shares were relatively moderate (just over 400) and each listed example only had about 4 sentences of analysis. These findings suggested there was room to create something more compelling on this topic.
Next, we used Ahrefs Content Explorer tool to look at posts that had performed well on social channels specifically. Here's Tim from Ahrefs explaining how to do just that.
In the end, we weren't able to find any other compelling examples around our keyphrase, so we decided to go with a list post similar to what we found on Google's first page.
Step 3. Make Something A Lot Better
Once we've identified the type of article we're improving on, it's time to make it better… WAY better.
Making an article that is way better than a previously published article is called the "Skyscraper" technique and comes from the idea that if you want to get noticed, you have to build something significantly bigger than all the other buildings around you… like a skyscraper.
There's no universal way to make something "better", but doing the following usually helps:
Make it longer
Include more examples
Go more in-depth
Add visuals or other media
Include more case studies
Add a tool or interactive element
What we need here is something that is significantly better than anything that currently exists. It can't just be a little bit better. It needs to really blow the competition out of the water.
With KlientBoost, we decided to double the examples to 31 and offer some solid analysis and practical takeaways on every single example. While this is the minimum that could qualify as a "skyscraper post", it was the best we could do within the budget and you know what? It worked!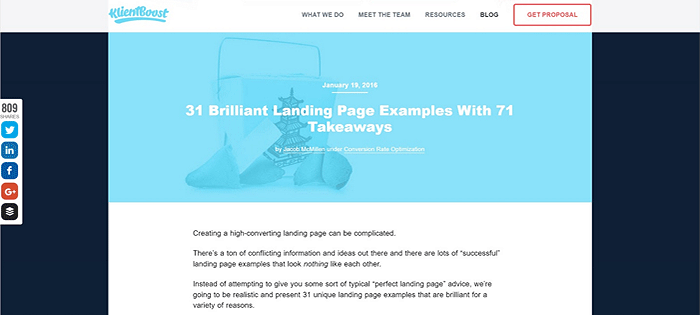 This post grabbed over 800 shares in the first month and a half, which is more than double what other blog posts on the site were receiving. It also made it to #14 in the SERPs in that time period — well on its way to a spot on the front page.
Step 4: Promote It
Many businesses are beginning to learn steps 1–3, and with each passing month, I see more marketers "get it" in this regard. Few, however, have learned to embrace the promotion aspect of content marketing.
If you want to get Backlinko-type results, you need to be spending 80% of your total content marketing time on promotion. Stop and think about that number: 80%. That means 4 hours talking to influencers, building backlinks, and pursuing social shares for every 1 hour you spend writing the content itself.
Few businesses even come close to doing this, but it's the ONLY way to get major results. Content promotion takes diligence and a little creativity. Here are a few places to start:
Mention or quote influencers in your content and then let them know about it
Search out dead links and offer your content as a replacement
Share your content in forums
Share your content in Facebook, Google+ and LinkedIn groups
Identify content curators and send your content to them
In essence, promotion is simply finding your audience and sticking your work in front of them wherever they're at. You spent the time to create some truly worthwhile content, so why not spend the time to get it in front of your target audience?
Online Marketing Strategy #2: Scaling PPC Campaign
When most new entrepreneurs or small business owners hear "paid advertising", the phrase "budget friendly" doesn't leap to mind. We tend to associate advertising with a large budget and a pay-to-play mentality.
In reality, PPC advertising is one of THE most budget friendly marketing strategies you can implement. In fact, I'd go as far as saying it should be the first strategy most businesses attempt.
Here's why:
It provides instant results
It requires minimal upfront investment
It has a high success ceiling
It is 100% measurable
Unlike with blogging, SEO, or general branding, PPC is one of the few channels that can provide you with instant results. You don't have to wait. You can get visitors to your site immediately.
If you have a good conversion funnel in place, this also means you can immediately begin generating sales, refining your funnel and becoming profitable.
While other channels require an upfront time and/or monetary investment, with PPC the only investment is the amount you spend on ads. If you are making a $30 margin on your product, you can spend $30 on ads and if you land one sale, you break even.
Unlike most things in life that require minimal investment and/or risk, PPC has a high success ceiling. When you lock in the right formula, you can scale that up as far as it will go. Scalable advertising mean you have massive potential with very little risk.
And finally, unlike many other channels, PPC is 100% measurable. You will know exactly how users are behaving with your ads and progressing through your funnel.
Instant results. Low risk. High reward. Easy to track. What's not to love?
As you can see in the above graphic, we can break down PPC marketing into 5 steps.
Select one or more PPC channel
Hone keyword and targeting options
Create and test ads
Create and optimize conversion funnel
Automate & track the process
Let's look at each of these options in further detail.
Step 1: Select Your Channel
There are countless PPC channels to choose from, and it can be a bit overwhelming for beginners. The key, as with most things in business, is to focus on one thing at a time. Pick ONE channel to start with and invest 1–3 months on that channel and that channel alone.
But which channel should you pick?
I'm going to help you answer that question by asking two questions of my own.
Where is your audience?
Are you the type who loves to tinker or prefers to follow the directions?
The most important question in all of marketing is "Where is your audience?" There's no point in mastering Facebook ads if your audience is on Instagram. Most niches will have hubs that are more conducive to their audience.
For example, my marketing content KILLS it on LinkedIn and Twitter, but gets crickets on Facebook. When it comes to my theological content, however, look at these numbers…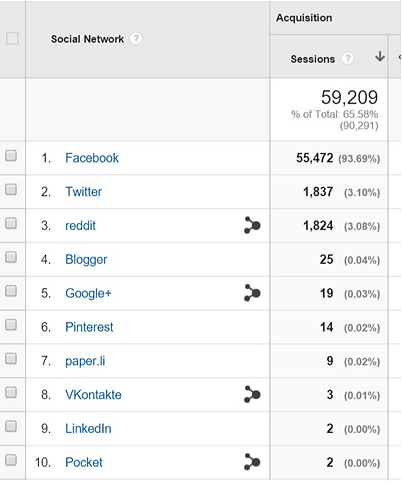 With numbers like this, it would make sense to pay attention to Facebook as my audience seems to be based exclusively on that platform.
But in all honesty, very few niches are this lopsided. You will probably have a number of viable options to choose from, which brings us to the next question:
"Are you the type who loves to tinker or prefers to follow the directions?"
There's a consistent trade-off in PPC. The longer a channel exists, the better it is understood. This means more documentation and in-depth directions for you to follow. It also means more competition and lower margins.
Google Adwords has been around for more than 15 years. That's 15 years of the brightest minds in the world figuring out exactly how much money can be extracted from it and building systems to take advantage of those numbers. You probably aren't going to be stumbling across get-rich margins while working your way through an Adwords tutorial.
On the bright side, if you are someone who is fantastic at following directions, there are a TON of resources out there for you to choose from. You can follow your way to profitability, and with scale, some meaningful income.
On the other hand, newer PPC channels offer the potential for much higher margins. No one has had time to document and optimize every nook and cranny of the system. It's up for grabs in a sense. If you are someone who thrives on tinkering and experimentation, this is a perfect opportunity for you to have a shot at higher margins on your ads.
So without further ado, here's a few older, better documented PPC channels:
Here's a few in the middle:
And here's a few relatively newer PPC channels to be explored:
Pick your poison and then it's time for step 2.
Step 2: Hone Your Targeting
Once you've selected your PPC channel, it's time to hone in on your keyword and overall targeting strategy.
You'll want to combine a mixture of personal research with strategies from your successful competitors. Look at what people are already doing and learn from their example while making adjustments where appropriate.
Keyword targeting is a doctorate of a subject, so instead of trying to pretend like I can give you something meaningful on this topic in 3 paragraphs, I'm going to direct you to some of the numerous resources Ahrefs has already put together.
Step 3. Create Your Ads
Now that your keyword targeting and selected ad channel is in place, it's time begin creating, testing, and optimizing the actual ads themselves.
To start with, find a successful ad being displayed on the same channel. For example, if you were wanting to run a Facebook sidebar ad, you would look at a few Facebook sidebar ads being used by successful companies, identify similar properties, and use those as your template.
But you won't just be creating one ad. That's one one of the biggest mistakes new PPC advertisers make. There's really no point in running a single ad.
Instead, start with 5–10 ads. Run them for 1–2 weeks, and then select the top 2–3 performers. Next, take the top performers and run them across 5–10 demographic/interest variations within your target customer profile. Select the top performing 2–3 demographic/interest profiles.
For example, if you are selling small business software to small business owners, you could run ads targeting any number of interest/demographic profiles:
Ages 20–25
Females, Ages 30–35
Males, Interested in SaaS, Apple, & Marketing
PPC advertising is about running multiple tests, selecting the top performers and then doing it again. Once you find an ad group that is achieving your margin targets, you can begin to scale up. Start slowly at first and never make a sudden, massive leap in your spending.
Even when you find profitable ads, don't stop optimizing. Successful ads always have a shelf life. Ad elements to test include:
Headline copy
Descriptive text for native ads
Ad placement
CTA
Posting time
Target demographic
Target interests
PPC is a curious mixture of active monitoring and automation, but we'll get to the automated part in just second.
Step 4. Optimize Your Funnel
As Ryan Deiss says via Digital Marketer:

This might shock you but you

DO NOT

have a traffic problem. You might have a business model problem, an offer problem or a measurement problem. But you

DO NOT

have a traffic problem.

Here's why…

What if I told you that every time you get a visitor to a web page you make $10 in profit? Could you get traffic to that web page?

Heck yes you could. You could pay up to $10 to get a visitor to that web page and still break even. In fact, you'll be able to pay more than $10 to get a visitor to that page when you truly understand the whole of Customer Value Optimization.
Your funnel determines what you are able to pay to acquire customers via PPC ads. PPC traffic is highly targeted, so you should be bringing in primed leads. The question then becomes, "Can you convert those leads?"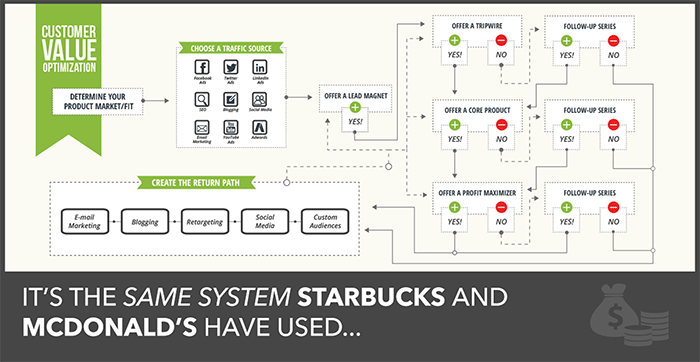 This is the same system you will be using whether you are bringing in PPC traffic or blog traffic from the first online marketing strategy. At it's core, it looks like this:
You'll need some tools to start with, so I've made a few recommendations:
The better your funnel converts, the more room for error (and profit) you have with your PPC campaigns.
Step 5. Track & Automate Your Bidding
Successful automated bidding is what separates the masters from the pretenders. The more you understand a given PPC system, the easier it is to put your campaigns on autopilot in between your regularly scheduled analysis and adjustment.
That said, becoming a "master" is typically nothing more than mastering an effective suite of tools. Each channel will have a unique set of tools available to you, so it's up to you master those tools and learn to scale your bidding.
If you're targeting Adwords, Google's flexible bid strategies provide a host of advanced options, which I cover in detail here. If you're looking outside Adwords, KlientBoost lists pretty much every PPC tool in existence here. Just remember that the newer the channel, the less instruction you will find on using it effectively.
Conclusion
In this day and age, a limited budget is no reason to tamper your marketing aspirations. There are plenty of options available and the two online marketing strategies discussed here are virtually guaranteed wins if you can give them the focus they deserve.
If you can, incorporate both of these strategies together. With a once-per-month blogging strategy, you'll have plenty of time to get started with your PPC efforts as well, and a combination of great blog content and paid traffic is an ideal recipe for explosive growth.
But I'd love to hear from you. What are some of the strategies that have managed to land you some big wins despite a limited budget?