There are many tools and features in Ahrefs that can help boost your SEO/marketing efforts. But to a complete newbie, our SEO platform can seem overwhelming.
So if you lack experience in SEO tools like Ahrefs, I have selected 11 simple and super actionable use cases that you can try right now and get immediate value from.
Here they are:
Every business owner wants to know how their competitors are doing.
Are they getting more traffic than me?
Is their traffic growing, or has it hit a plateau?
Will I beat them at my current growth rate, or should I work harder?
Ahrefs' Site Explorer helps you answer these questions by showing you how much search traffic your competitors get and allowing you to benchmark your own search traffic against them.

As seen from the screenshot above, our own website (ahrefs.com) gets over 1 million visits per month from Google search. Back in 2019, we surpassed one of our main competitors (moz.com) in terms of organic search traffic.
There are two important caveats, though:
Ahrefs only reports the search traffic of a website. It does not account for direct traffic, referral traffic, traffic from social networks, etc.
The traffic numbers in Ahrefs are estimates. These estimations will often deviate quite a bit from the actual numbers that you see in your Google Search Console. But that discrepancy should stay consistent for all websites within one niche.
Let me give you an example to better explain that second point.
Let's say Ahrefs shows 20% less search traffic than what your website gets, according to Google Search Console. What this means is that our tool would likely under-report the traffic of your competitors by that same 20% too.
DID YOU KNOW?
In a recent study by the folks at AuthorityHacker, Ahrefs' traffic estimations were the most accurate and most consistent among all major SEO platforms.
After you identify how much search traffic your competitors get, the next step is to study which of their pages account for the majority of that traffic.
Ahrefs' Site Explorer can answer this for you in a heartbeat. Just open the Top pages report, and you'll see a list of your competitors' pages sorted by the amount of search traffic they get.
For example, 33.3% of all search traffic to this very blog comes from five articles: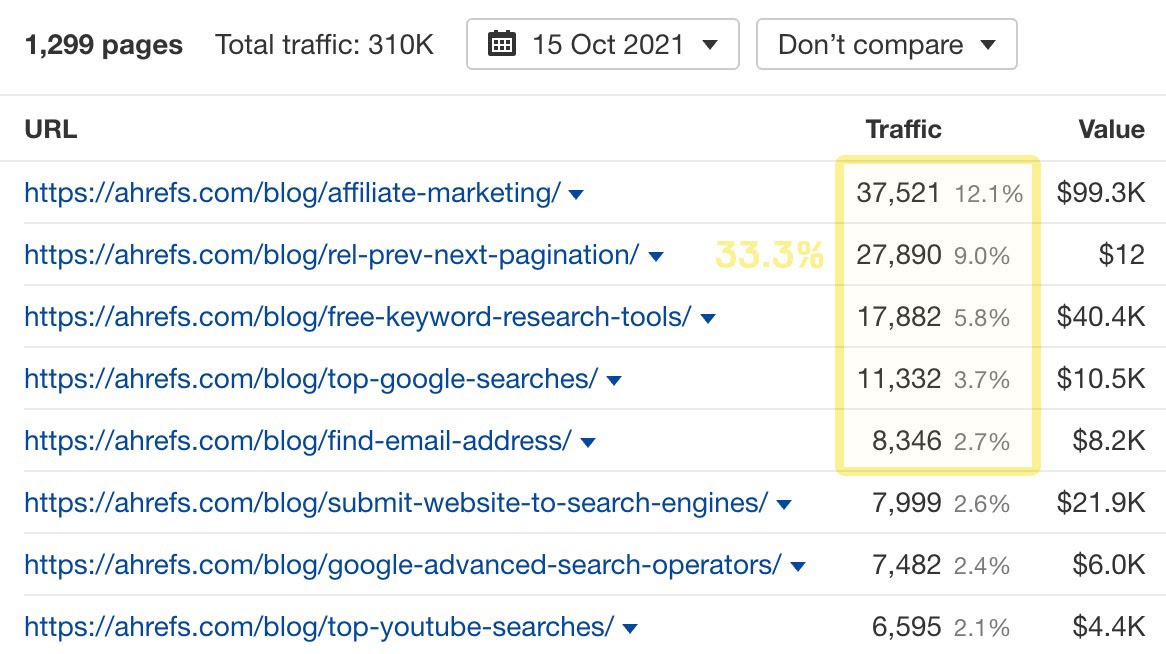 You can get lots of insights about the marketing and business strategies of your competitors by studying their top-performing pages:
Which pages bring the majority of their search traffic?
How much search traffic goes to their homepage vs. other pages?
How much search traffic do their product pages get?
What stages of the buyer's journey have they targeted with their pages?
Studying what works for your competitors will help you make better marketing decisions when planning your own strategy.
One of the keys to growing your traffic from Google is to study the popular searches in your industry. This is to ensure you'll be creating content about things that many people are searching for. In SEO, we call it doing keyword research.
Ahrefs' Keywords Explorer lets you gauge the popularity of any search query and helps you discover thousands of relevant keywords that you may want to target.
For example, the keyword "bitcoin" gets an average of 6.5 million Google searches per month in the United States alone. And its global search volume is 25 million searches per month.
If you own a website in the cryptocurrency space, I'm sure you won't dream of ranking at the top of Google for the keyword "bitcoin." The competition is too fierce, making it literally impossible to rank for that keyword.
But there are tons of searches that contain the word "bitcoin" in them that even a brand-new website may be able to rank for.
The Matching terms report in Keywords Explorer gives you a whopping 558,968 keywords that contain the word "bitcoin" ordered by their monthly search volume: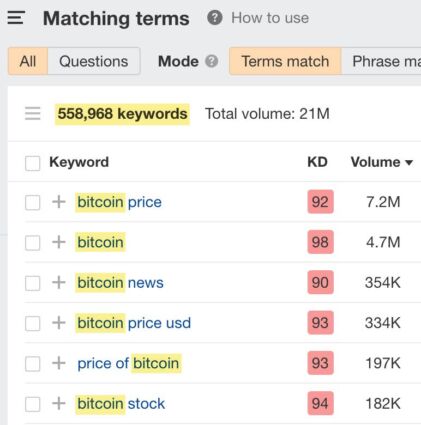 DID YOU KNOW?
Ahrefs boasts the largest database of U.S. search queries. It contains over 4 billion keywords as of October 2021 (with millions of new queries added every month).
You may also want to check the Related terms report in Keywords Explorer, which shows you keywords somehow relevant to the word "bitcoin" but do not necessarily contain that word in them: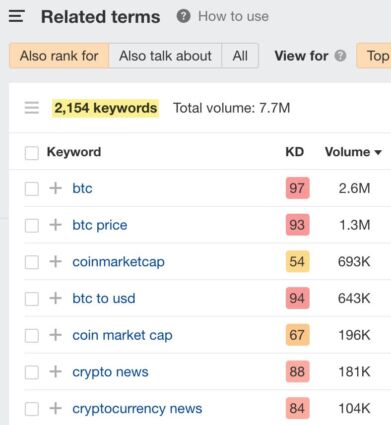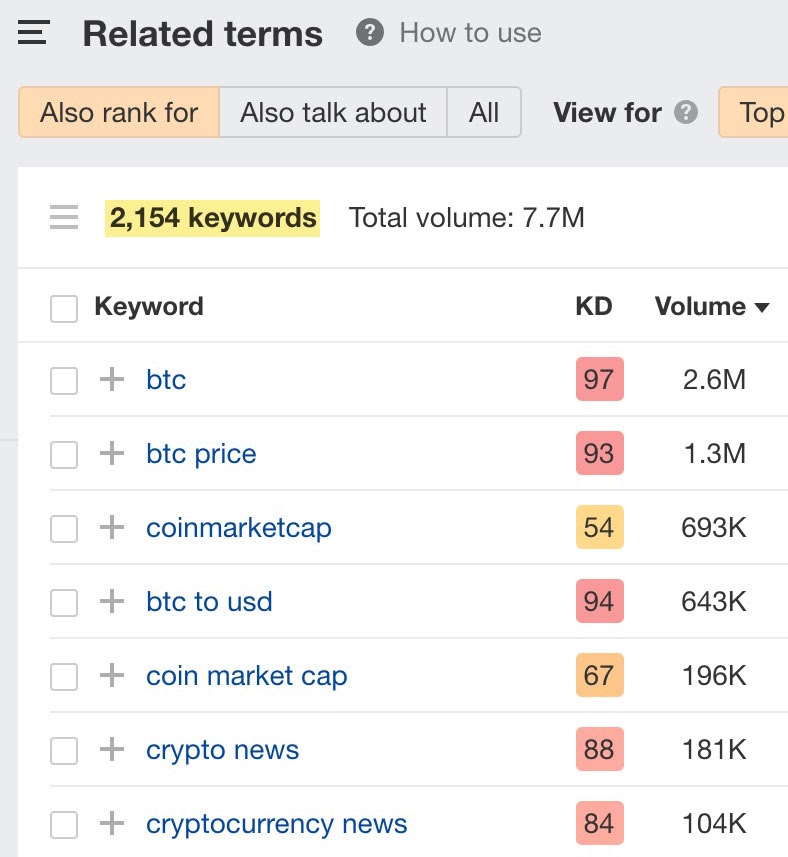 When selecting keywords to target, we tend to look at their monthly search volume as an indication of how much search traffic they may bring us.
But the search volume of an individual keyword can be rather misleading. This is because webpages never rank for just one keyword.
According to our own study, a page that ranks #1 for some keywords will also rank highly for about a thousand other similar keywords and get traffic from them.
For example, let's look at the keyword "submit website to search engines."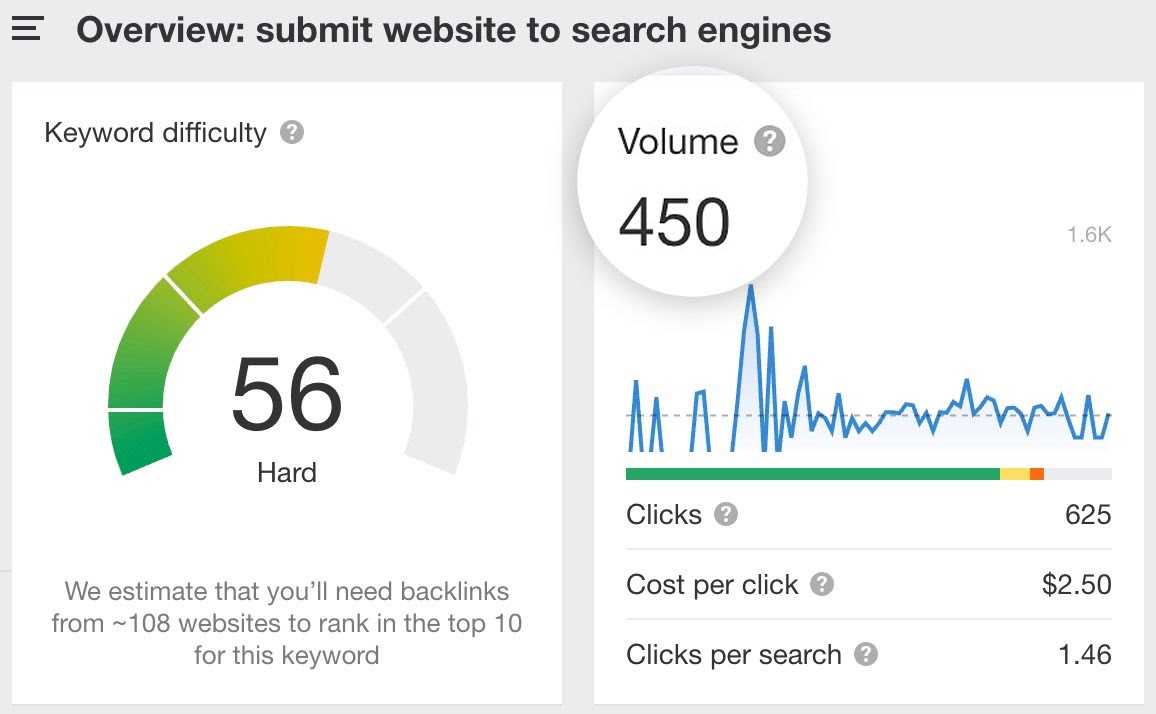 It gets just 450 searches per month in the U.S., according to Keywords Explorer.
But if we scroll down to the SERP overview report, we'll see that the #1 ranking page for this keyword (which happens to be from this very blog) gets 5,893 visits in the U.S. alone and ranks for a total of 1,224 keywords.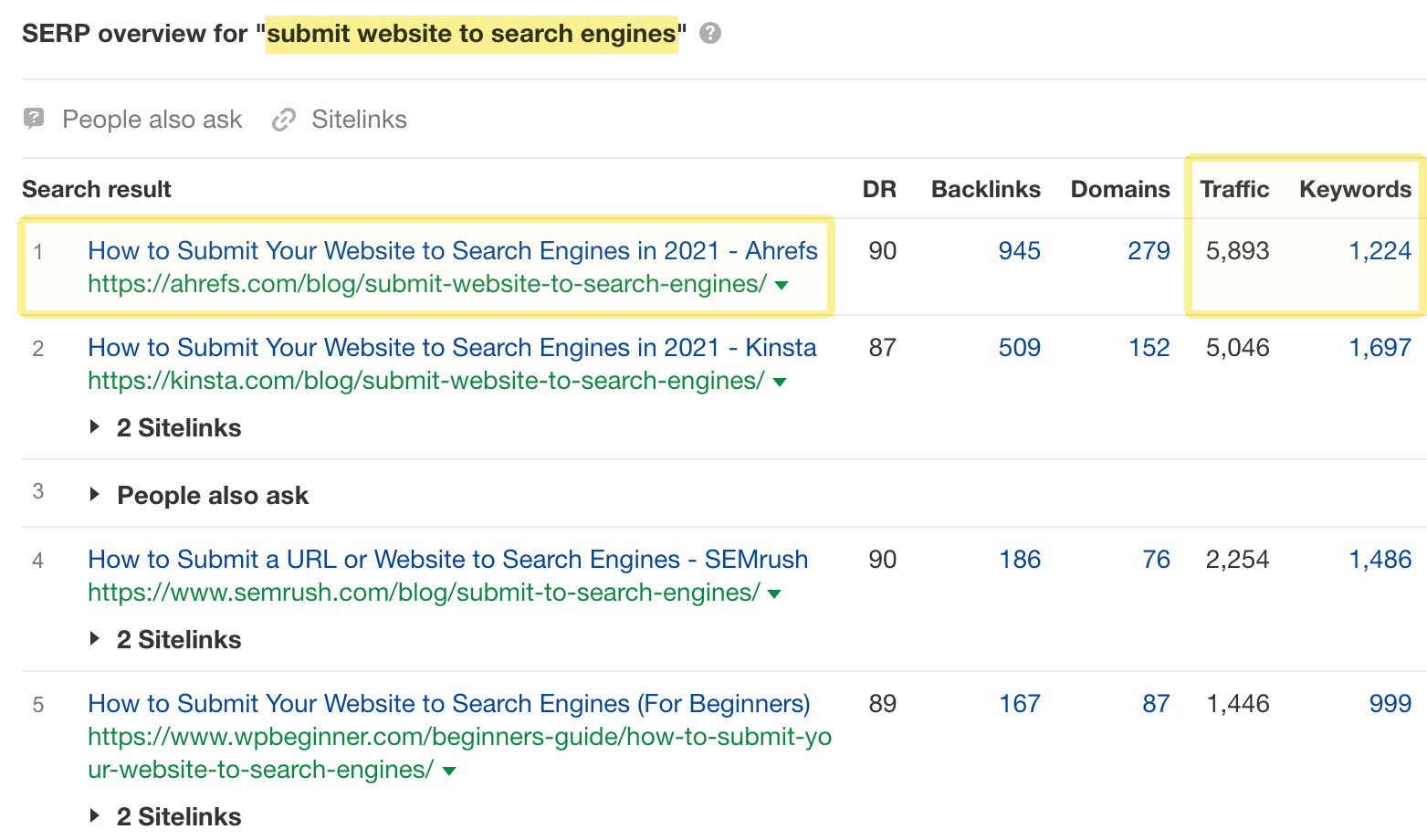 Here are some of these "extra" keywords that it ranks #1 for and gets traffic from:
As you can tell, "submit website to search engines" is just one of many ways different people phrase their searches. And if your page happens to rank high for this search query, it will inevitably rank well and get search traffic from all these variations too.
That is why it is important that you don't make your SEO decisions based purely on the search volume of an individual keyword alone.
You should make it a habit to examine the top-ranking pages and see how much total search traffic they get from all the variations of that search query.
In Ahrefs' Keywords Explorer, we actually have a handy metric just for that, which is called Traffic Potential.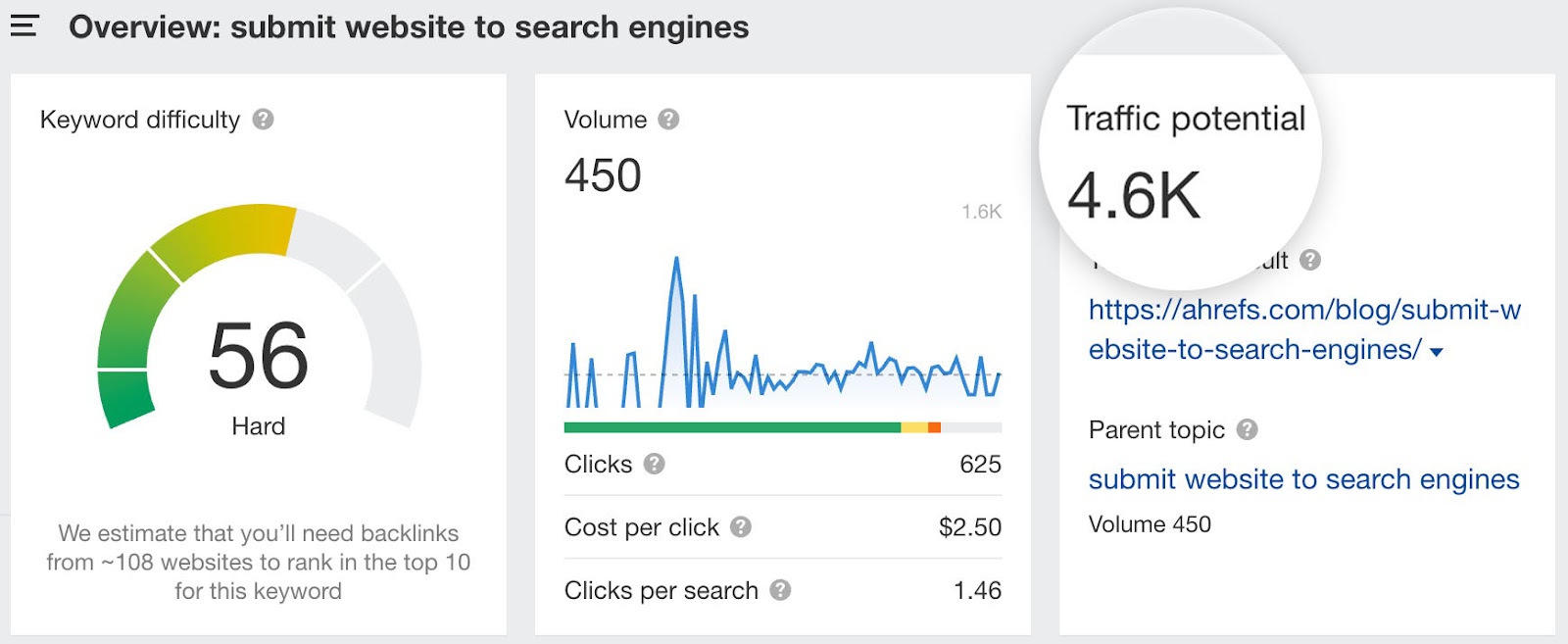 This metric shows you how much traffic the #1 ranking page for your target keyword gets in total, which is often a much more insightful and actionable number than the search volume of that keyword.
Google has a daunting list of recommendations, which webmasters have to follow in order for their websites to appeal to the search giant.
And it's a real shame if your beloved website with all its useful information does not get the search traffic that it deserves because of a bunch of pesky technical SEO issues.
Ahrefs' Site Audit will help make sure that doesn't happen. It will scan your website for over 120 common SEO issues and provide detailed recommendations on how to fix them.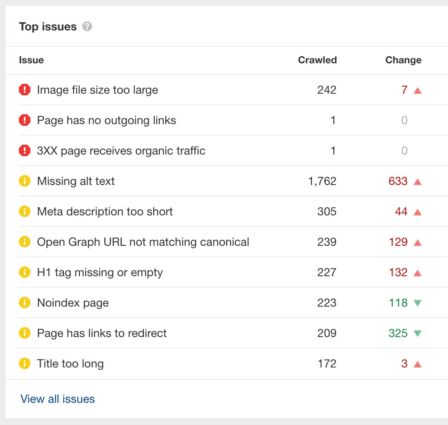 You can also set up recurring website audits and monitor your SEO Health Score over time. This is especially useful when there are many people in your company who can make changes to your website and, in doing so, may accidentally break things.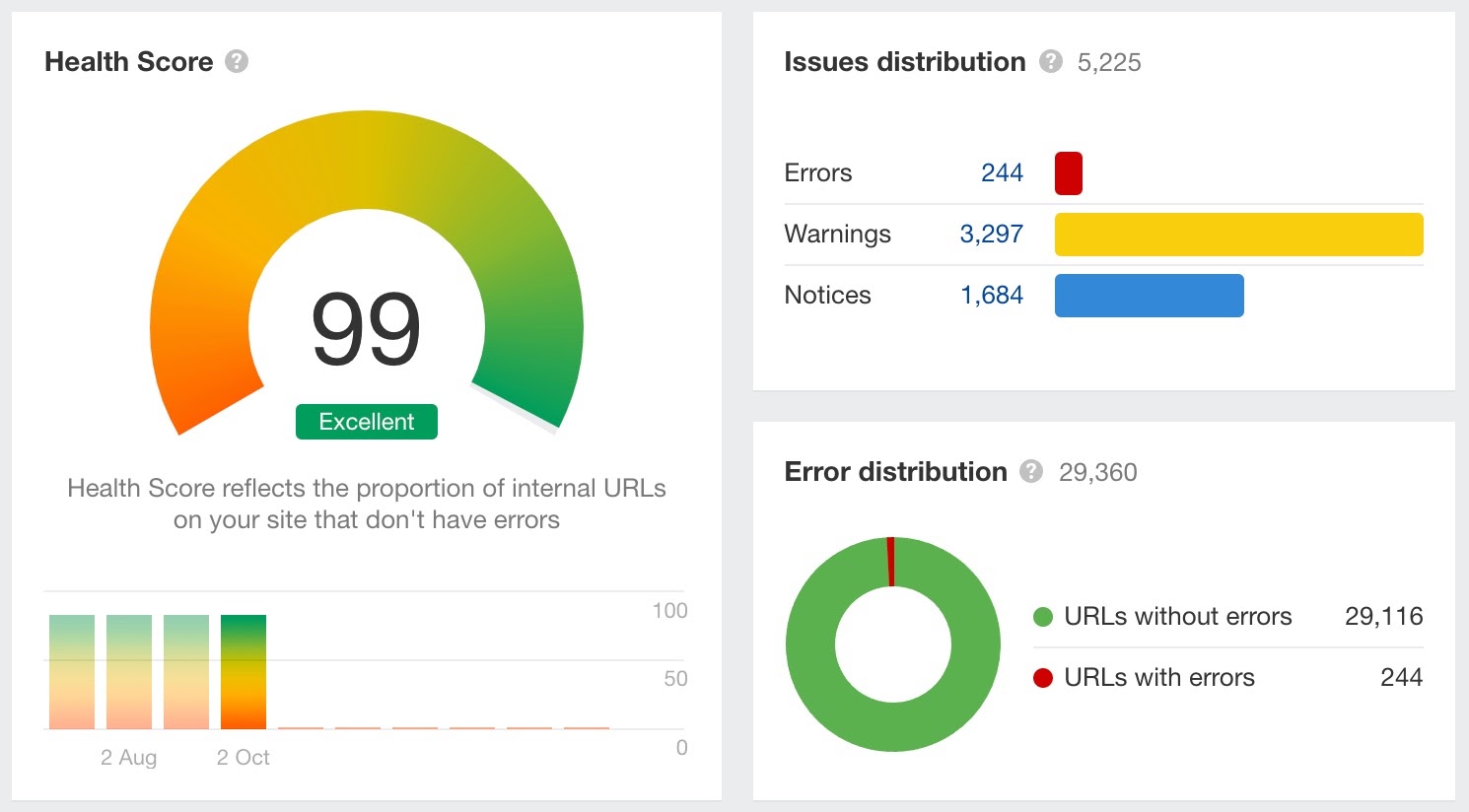 Some keywords are incredibly easy to rank for, while others are pretty much unattainable—even for big, authoritative websites. But how do you know which is which?
In Ahrefs' Keywords Explorer, we have a handy metric called Keyword Difficulty (KD) score. It scores each keyword on a scale from 0 to 100, with the latter being the hardest to rank for.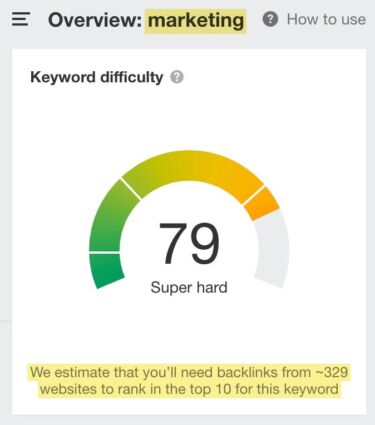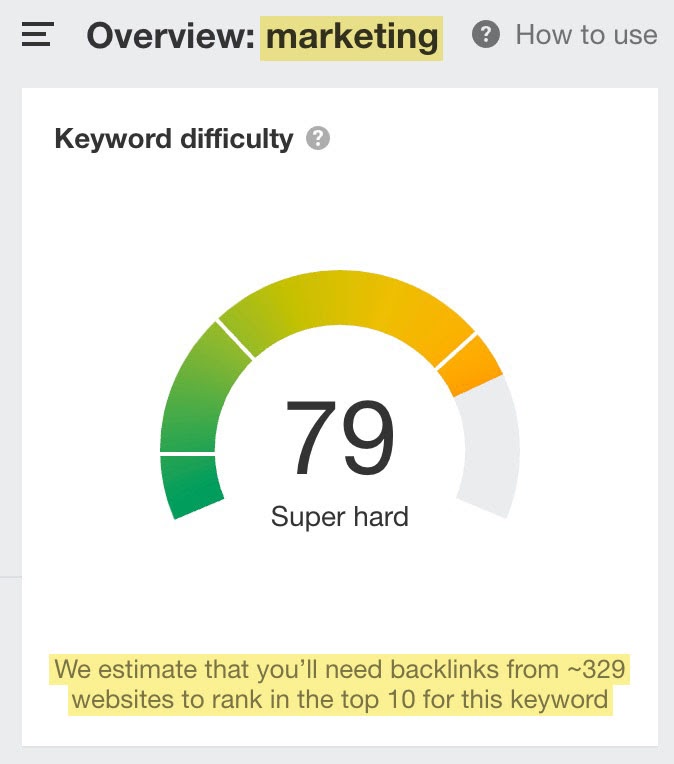 As you can see in the screenshot above, the keyword "marketing" has a KD score of 79, which is considered to be "super hard."
And there's also a short explanation, which goes right below this number:
We estimate that you'll need backlinks from ~329 websites to rank in the top 10 for this keyword.
Let's break it down phrase by phrase because it explains how our KD metric works.
"We estimate" – Our KD metric is merely an estimation. Google uses hundreds of different ranking factors, which vary depending on the search query. No tool can be 100% accurate in predicting a keyword's ranking difficulty.
"You'll need backlinks from ~329 websites" – We know for a fact that backlinks from other websites are one of Google's most important ranking signals. It is quite unlikely that you outrank the top-ranking pages unless you get as many (or higher quality) backlinks as they have.
"Rank in the top 10" – There's absolutely no way to predict if you will ever rank #1 for a keyword. But ranking in the top 10 is much easier to predict.
That being said, we don't advise our customers to make important SEO decisions based on this simple two-digit number alone. The real ranking difficulty of a keyword is much more complex and nuanced than that.
Ahrefs' KD metric is incredibly useful when filtering through thousands of keyword ideas and finding the so-called "low-hanging fruit."
For example, there are almost 2 million search queries in Ahrefs' database that contain the word "marketing." But only 29,000 of them have a KD score of less than 5 (i.e., very easy to rank for).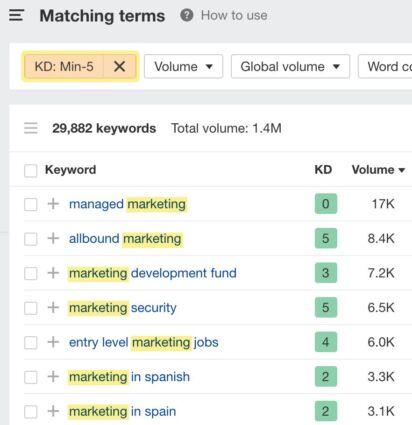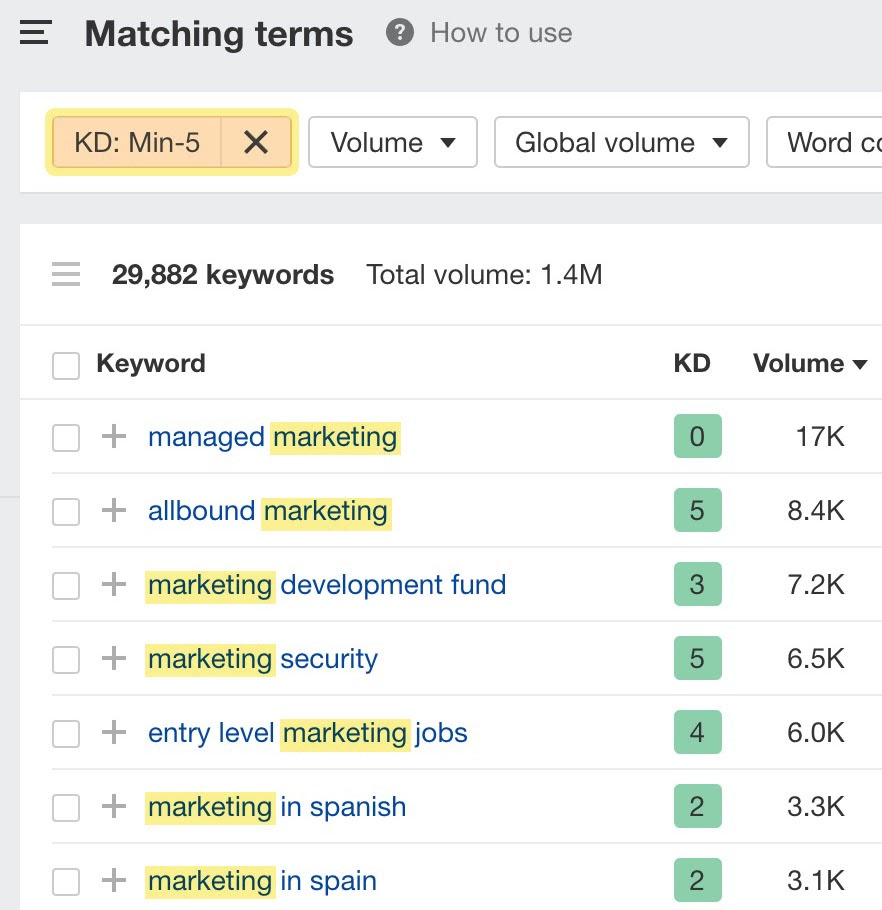 But don't get too enamored with low KD keywords. If some keywords have a high KD score, it doesn't mean you should avoid it. It just means that it will take a lot of work to rank for it. And the sooner you start working on that, the sooner you'll get there.
One of the most common jobs of an SEO professional is to figure out where the top-ranking pages got their backlinks (and how to get the same backlinks for their own page).
Ahrefs' Site Explorer is an absolutely indispensable tool in such a situation. Just take the page that ranks #1 for your desired keyword, plug its URL into the tool, and go to the Backlinks report.
For example, there are 526 pages (coming from unique websites) that link to the #1 result in Google for the keyword "SEO training course" with a followed link: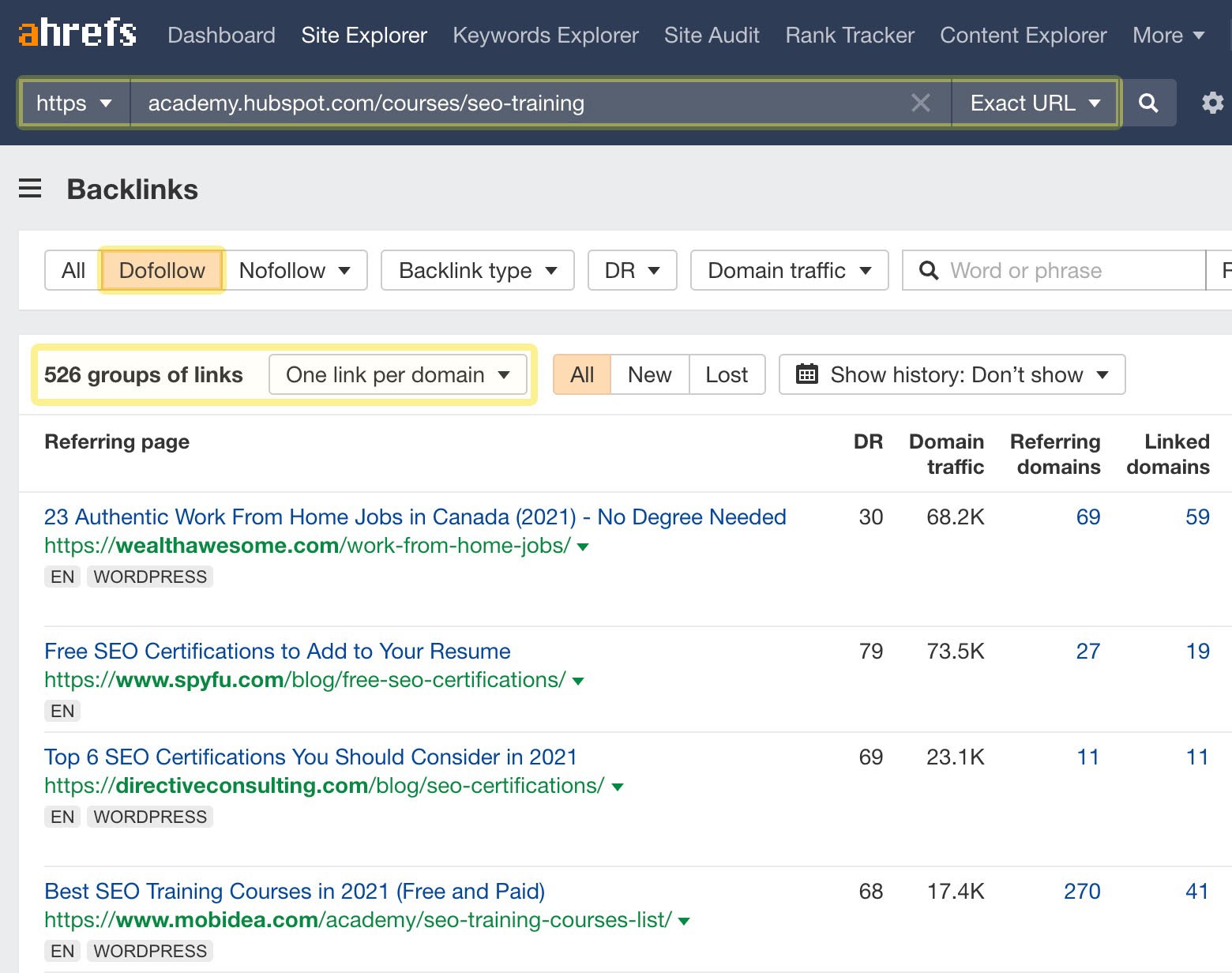 We have our own "SEO Training Course" here at Ahrefs, and we really want it to rank well in Google for the respective search query. So being able to find all pages that link to our SEO competitors is incredibly valuable.
We'll then need to reach out to the owners of these pages and make a case for including our SEO training course right next to the one they're already mentioning. If we manage to get links from their pages, it will help us rank higher for that keyword.
DID YOU KNOW?
Ahrefs has the largest database of live links. We put a lot of effort into frequently recrawling our entire backlink index so that our data always stays up to date. Also, we don't report links that are no longer there.
If you want to grow the authority of your website in the eyes of Google, you have to publish the kind of content that other people want to link to from their own websites.
But how do you know what people in your industry are likely to link to?
Easy! Just study the websites of your top competitors and see which of their pages have attracted the most links. You can do that by plugging their websites into Site Explorer and accessing the Best by links report.
For example, here are the most linked pages on this blog: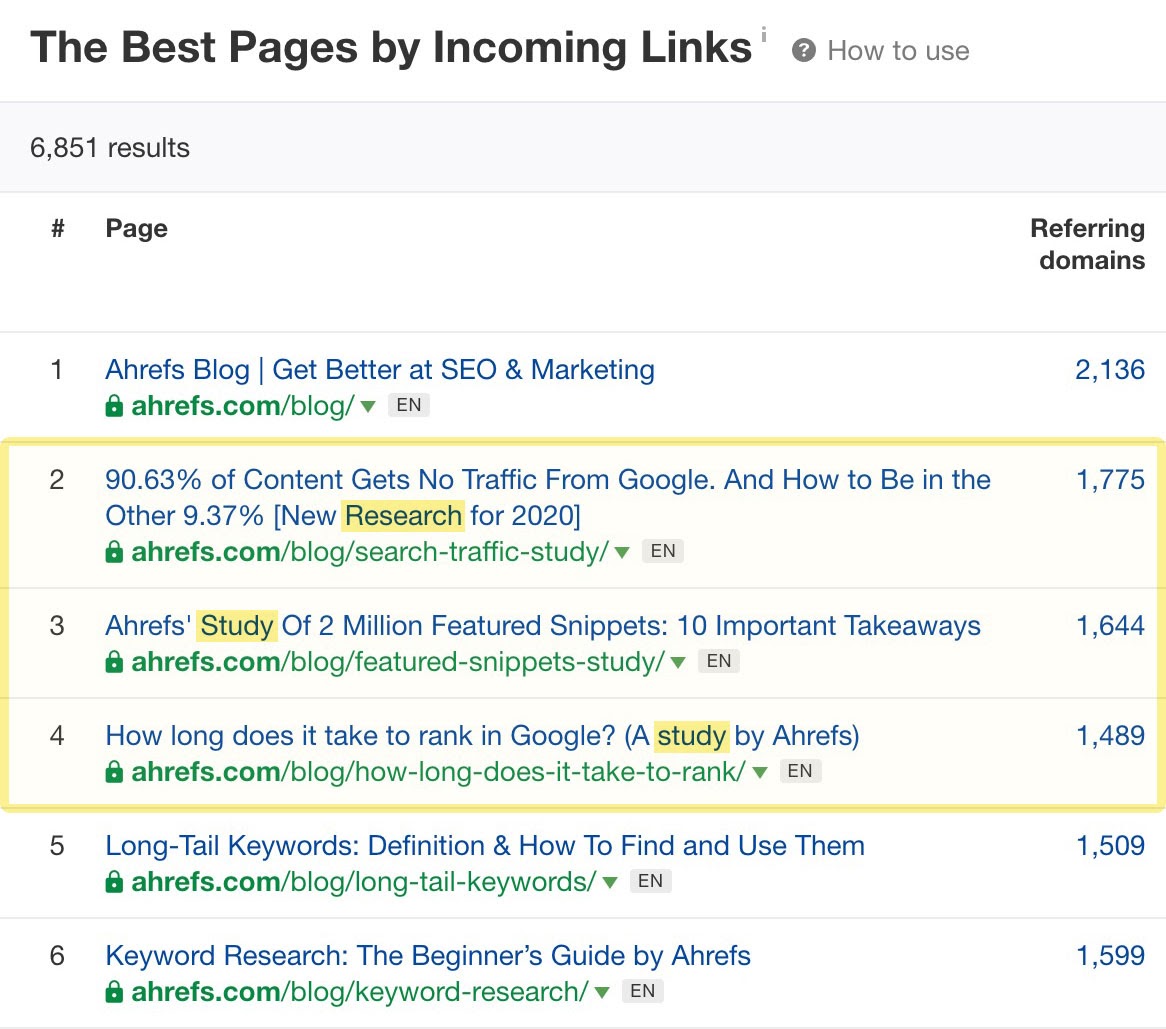 As you can see, 3 of the top 5 most linked articles on Ahrefs' blog (excluding our blog homepage) are data research studies. This suggests that data research studies are what attract backlinks from people in the digital marketing and SEO industry.
Try that with the websites of your top competitors, and I'm sure you'll find some patterns of the kinds of pages (or resources) that attract backlinks in your industry.
Even if it's fairly new, there's a good chance that your website is ranking in Google for a bunch of keywords. It may not necessarily rank on the front page, but there are nine more pages of search results where it may be hiding.
The Organic keywords report in Site Explorer will show you nearly all of the keywords that your website is ranking for in Google.
For example, even my long-abandoned personal blog still ranks #1 for a bunch of keywords: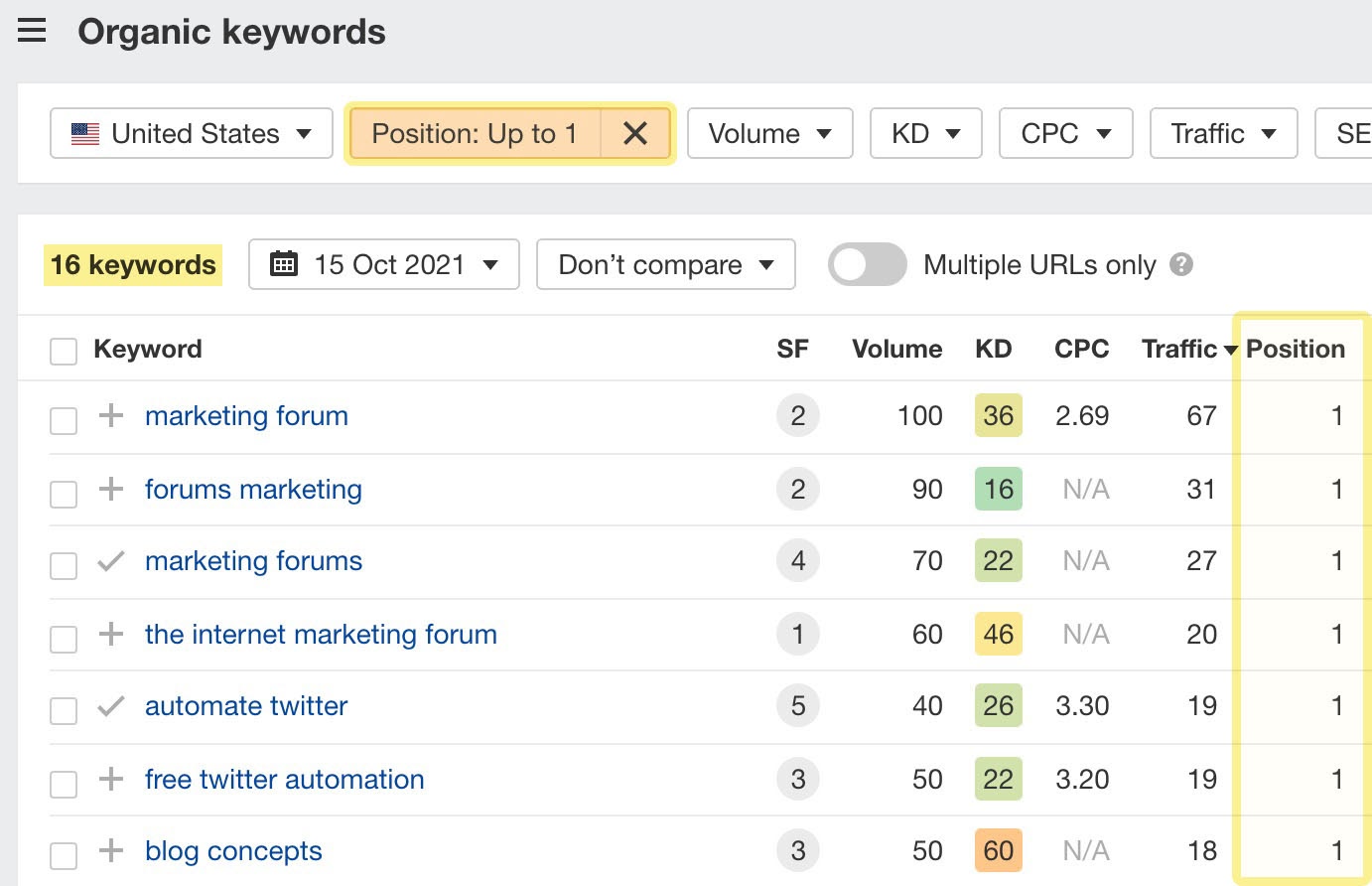 And I can easily see my entire ranking history for any of these keywords if I click on the "Position history" button:
In a similar fashion, you can plug your competitor's website into Site Explorer and see all the keywords that they rank for, along with their ranking history.
And if you have a list of your most important keywords that you want to keep a close eye on, you can add them to Ahrefs' Rank Tracker.
A "gap" in content strategy is when your competitors are all ranking for important keywords that bring lots of valuable traffic to them while your own website doesn't have any pages that target those keywords.
To help you solve this problem, we have a report inside Site Explorer called "Content Gap." It looks for keywords that all your competitors are ranking for, but you don't.
Here are the results of running the report between our own blog and three of our competitors' blogs: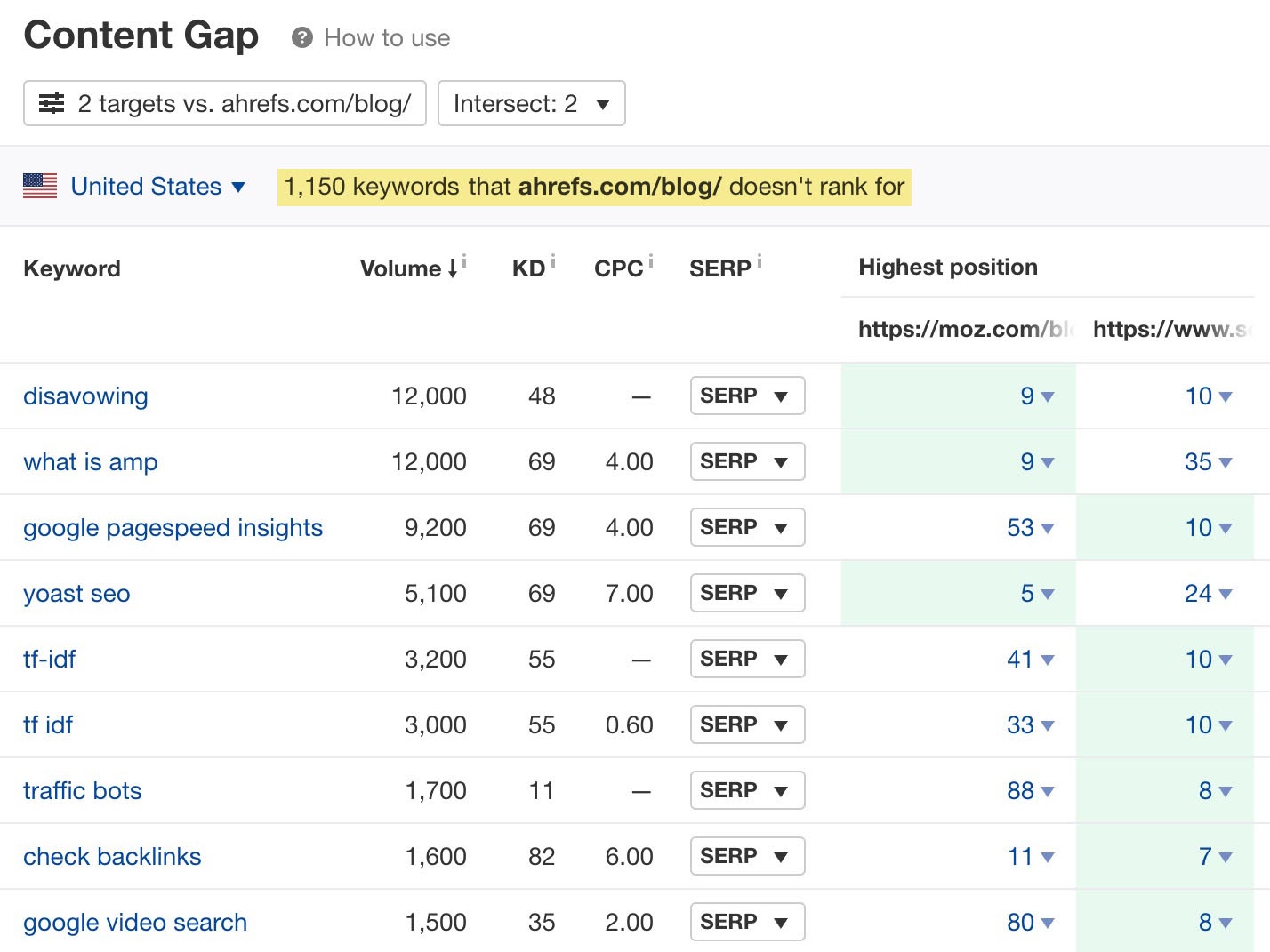 As you can tell, there are quite a few high-volume keywords that two or three of our competitors are ranking well for, while our own blog is nowhere to be seen.
Try this with a few of your own competitors and see if you can find some important topics that you'll want to target on your own website.
Let's say you're doing SEO for a productivity app. Wouldn't it be useful for you to get a list of all websites that mentioned the words "productivity app" somewhere in the content?
I'm sure it will be. This is because you can then reach out to them and try to negotiate and get a link from their website, right?
Well, that is exactly what Ahrefs' Content Explorer can help you with. Just do a search for "productivity app," and you'll get a list of over 78,000 pages that mention this phrase somewhere in their content.
But you probably don't need that many. No worries. You can use a bunch of filters in Content Explorer to trim that list down to the very best pages only:
Domain rating: 40 to 90
Website traffic: From 1k
Language: English
Exclude subdomains
Exclude homepages
One page per domain
Filter explicit results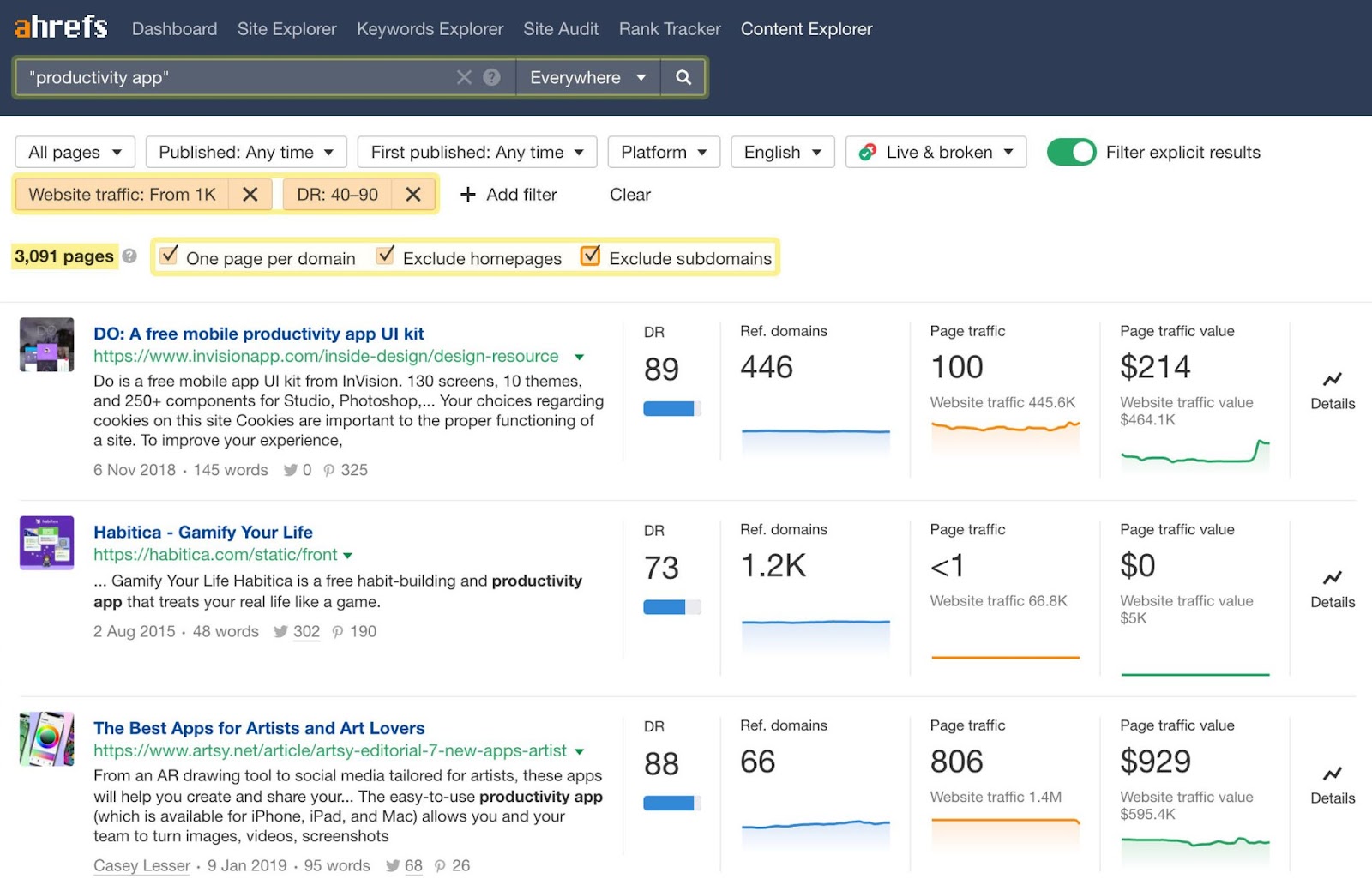 These settings will leave you with just 3,000 out of 78,000 pages. And you can always tighten your filtering even more if you need to further shrink your list of link prospects.
Final thoughts
So that was a list of 11 simplest and most actionable use cases of Ahrefs that were selected with the SEO newbies in mind.
Most of the use cases are basic, but that doesn't mean they're ineffective. You'll be surprised how far you can get if you put them to action.
Got any questions? Feel free to ping us on Twitter.