Do your competitors rank at the top of Google for your target keywords? Then they likely have a solid backlink profile.
Links are perhaps the most crucial piece of the SEO puzzle—you'll struggle to rank without them.
How do we know this? Because Google told us.

I can tell you what they [the top ranking factors] are. It is content. And it's links pointing to your site"
Sidenote.
Even without Google's admission, this is probably the thing we're most certain about in the SEO community. Links are the basis of
Google's PageRank algorithm
, and SEOs have been seeing positive correlations between links and rankings since, well, forever.
But the fact that your competitors have tons of backlinks is a bad thing, right?
Not exactly.
If people are happily linking to your competitors, chances are they'll be happy to link to you, too.
(This is especially true if you create even better content than your competitors.)
In this article, I'll run you through seven actionable ways to figure out who is linking to your competitors and how you can replicate their links.
But first, you need to identify who your competitors really are.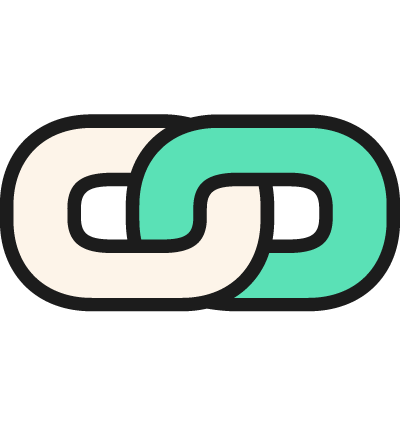 New to link building? Check out our
How to identify your competitors (hint: there are TWO distinct "types")
Do you think you already have a good idea of who your competitors are? Not so fast.
Most sites have two "types" of competitors.
You can steal links from both types, but the approach will be different for each.
But before we get to the explanations, make a copy of this Google Sheet—you'll need to record your competitors as we go through this section.
IMPORTANT: Make a copy of the Google Sheet… don't request access to the original!
To do this, hit File > Make a copy…

Give the template a name, choose where you want to save it (on your Drive), then hit OK.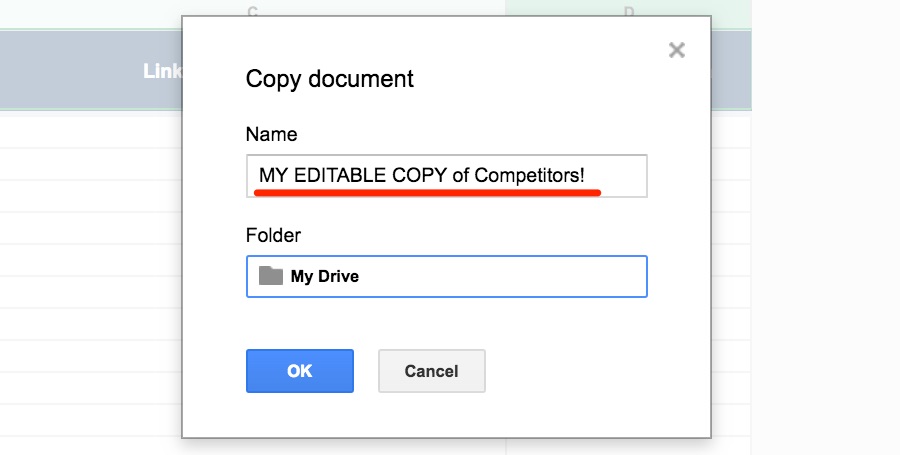 You will now have a fully-editable copy of the file on your Google Drive.
Please do not request edit access to the original document. We cannot grant this permission as it will destroy the original template for everyone else.
Plus, it sends me annoying email notifications. So please don't do it! 🙂
Here's an explanation of the type competitor "types":
1. Domain-level competitors
These are the sites that compete with you in the SERPs, on the whole.
By that, I mean they're not just competing with you for one or two search terms, they're competing with you for many search terms across many pages.
Here's how to find your domain-level competitors:
Go to Site Explorer -> enter your domain -> Competing Domains.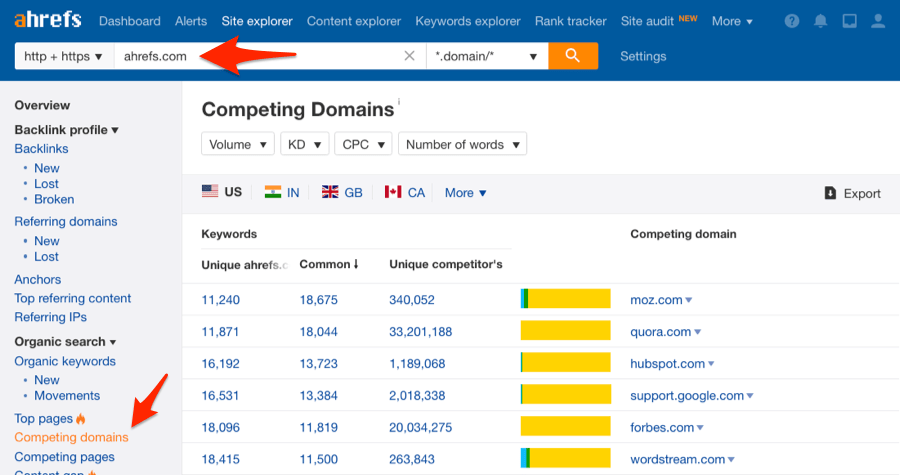 By default, this report shows a list of competing domains sorted by the number of common keywords (i.e., keyword overlap).
You can see that, unsurprisingly, moz.com is our most significant competitor in the SERPs.
But there are a few indirect competitors in there, too—backlinko.com, hubspot.com, wordstream.com, etc.
Sidenote.
You'll also notice sites like quora.com, support.google.com, and forbes.com in this report. I wouldn't class these as domain-level competitors—yes, they compete with us for a lot of keywords topics, but they are quite generic sites that fall outside of our niche. This is illustrated by the fact that there is very little green in the keyword overlap visualization (i.e., the blue/green/yellow bar you see above.)
For example, we compete with wordstream.com for 11.5K+ common keywords!
If they're ranking for that many keywords (which they are), they most likely have a ton of backlinks.
This leads us to an important point:
Domain-level competitors aren't always your "traditional" real-world competitors. I.e., they're not always competitors in a business sense; they may just be competing for many similar keywords.
Sidenote.
Wordstream
don't sell SEO tools like us—they sell PPC products and services. But they're a competitor in an SEO sense; they're competing for similar keywords and are in a similar niche, meaning that the tactics they use to obtain backlinks may work for us, too.
Make a note of the five most-relevant competitors in the Google Sheet, like so:

That second-to-last column—i.e., the link to Site Explorer—will be filled in automatically as you add competitors.
IMPORTANT! That final column lets you tag whether or not each site competes with you in a business sense—make sure to do this.
The aim is to loot backlinks from all of these sites. Stay tuned to learn how. 🙂
2. Page-level competitors
These are sites that, while perhaps not competitors on the whole (i.e., regarding sitewide keyword overlap), still compete with you on a page-level for specific topics/keywords.
For example, we have a post with 12 SEO tips, which targets keywords like "SEO tips."
But here's the thing: while entrepreneur.com isn't a domain-wide competitor, they still compete with us for this term. Their list of SEO tips ranks in the top 10, above us!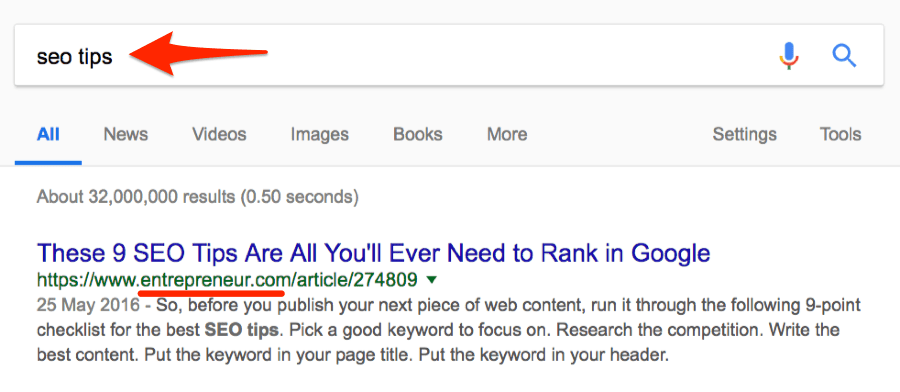 Here's how to find page-level competitors:
Pick a page/post on your website, then paste the primary keyword for which you're trying to rank that page (e.g., "SEO tips") into Keywords Explorer.
Then scroll down to the SERP overview.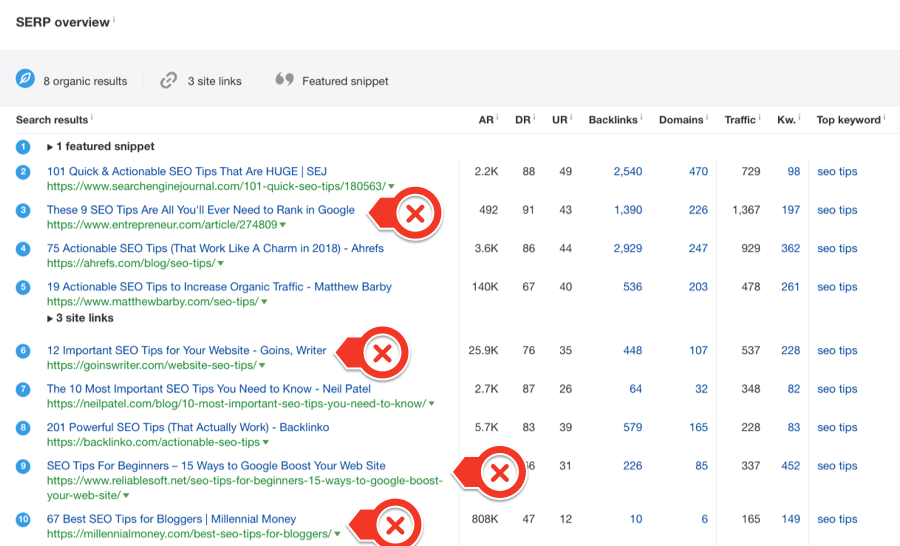 All of these are page-level competitors.
You'll see some overlap between domain-level and page-level competitors (e.g., searchenginejournal.com also showed up in our domain-level competitor analysis) but some—such as the ones highlighted above—are only competing on a page-level.
Make a note of any relevant, page-level competitors that rank above you for your target terms, along with the number of referring domains to each page, like so:

Sidenote.
It's fine to include pages that reside on domain-level competitors; chances are there will be some overlap. Oh, and if you want to include more than one page, you can—just filter the "my page" column to see your data for each page individually.
Right, let's get to the tactics! 🙂
1. Uncover THOUSANDS of potential link opportunities by researching your competitors' homepage links
Look at the anchors report for your domain.
Site Explorer -> Backlink profile -> Anchors.
You'll probably notice that the vast majority of links use branded anchors.
Sidenote.
Don't forget to select "URL" mode from the drop-down, rather than the default "domain/*" mode—this will ensure that you're only viewing links to your homepage rather than every page on the domain.
This is because people tend to link to home pages when making a general mention of a brand, rather than something more specific.
Thus, analyzing your competitors' homepage links will tell you where they're getting mentioned.
For example, moz.com—one of the domain-level competitors from our spreadsheet—has been mentioned on 20K+ websites.

Because we know most of these links are brand mentions, the question becomes this:
"Why did they mention them [Moz], but not us [Ahrefs]?"
This is what you need to find out and fix.
Here's how:
Enter one of your domain-level competitors from the spreadsheet—ideally one marked as a "direct" competitor in the final column—into Site Explorer.
Then go to the Backlinks report (and add a dofollow filter).
You will now see all the backlinks pointing to your competitor's homepage.
Sidenote.
The "Content" filter is pretty useful—it filters for links that appear in the main content of the page. Right now, it's not possible to add "content" and "dofollow" filters simultaneously in the
Backlinks
report. But if you do want to do this, try filtering by "content" backlinks only, exporting the data, then filtering by dofollow-only links in Excel or
Google Sheets
.
Next, sift through these and attempt to answer the question above (i.e., "why did they mention, and link to, my competitor… but not to me!?"). You can usually figure this out relatively quickly by looking at anchor text, surrounding link text, and the page title.
Answering this question will uncover some link looting opportunities pretty quickly.
For example, here's a list of content marketing tools from Curata that mentions Moz, but not Ahrefs:
We could probably get a link from this exact page by reaching out (to Curata) and suggesting that they might want to add Ahrefs to their list, too.
Here's a link on Buffer where Rand Fishkin—the founder of Moz—is quoted: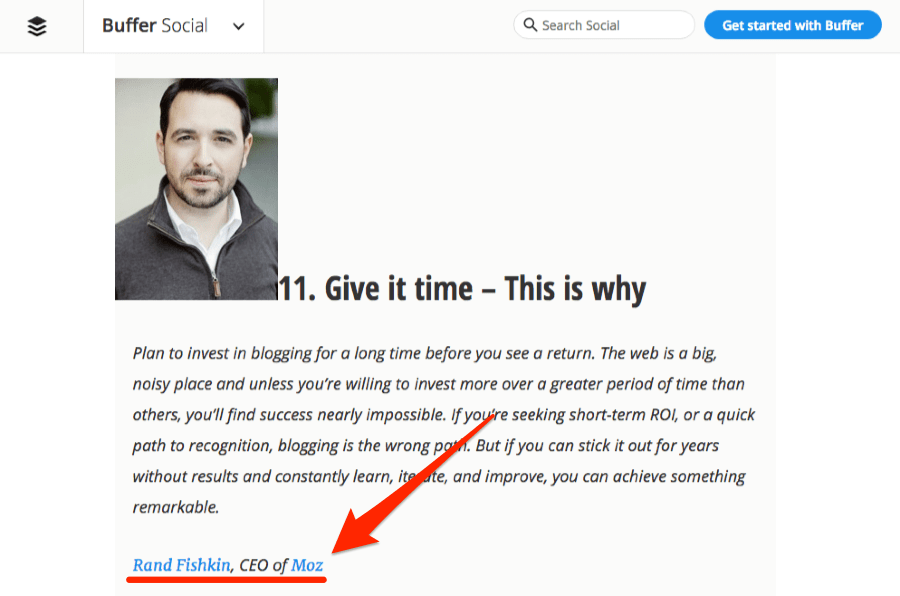 Again, let's reach out!
"Hey, Buffer! Josh< [Hardwick] from Ahrefs here—want one more tip to add to the list!?"
QUICK TIP: SEARCH FOR FOUNDERS' (AND OTHER COMPANY REPRESENTATIVES') NAMES TO QUICKLY FIND QUOTES AND TESTIMONIALS
Do you know who founded or co-founded the competition?
Search for their name(s) in the Backlinks report—this will uncover links that exist because the founder was quoted or gave a testimonial.
You can then reach out to these sites and offer a quote or testimonial.
Note: Do this only when it makes sense. Don't go offering quotes for articles that haven't been updated in 6 years. Or testimonials for products/services you have never used.
Bottomline: learn why and where your competitors are getting mentioned, then copy them.
2. Find Your Competitors' Guest Posts… Then Write for the SAME Sites!
Guest blogging remains one of the simplest ways to build high-quality links to your site.
It's highly likely that your competitors are using this tactic right now.
(You may have even spotted some guest posts when looting through your competitors' homepage links.)
Below are three simple tactics you can use to pinpoint competitors' guest posts with ease.
Method 1: Use Google advanced search queries
Your starting point for finding competitor guest posts should be Google search.
There are several queries you can try, but I find this one to be the most effective:
"Author name" + "guest post" -site:competitordomain.com -site:https://twitter.com
And here are the results for Benjamin: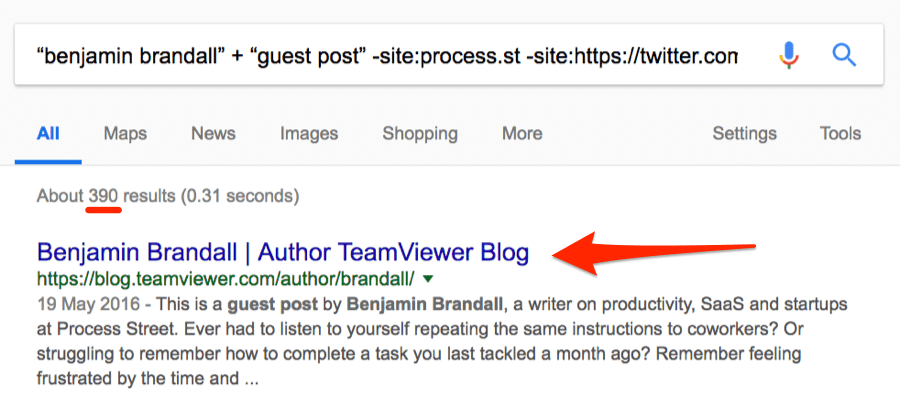 You can use another search query that can often surface some additional results.
"Author name" + inurl:author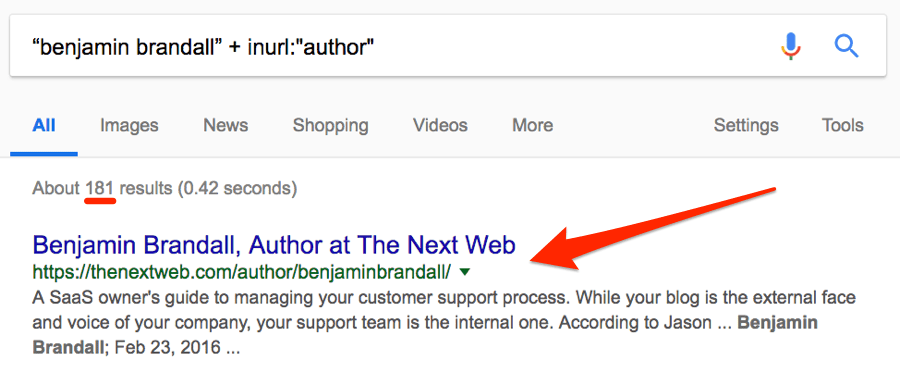 Method 2: Use reverse image search
You can use Google's reverse image search (right-click an image while using Chrome) to find posts containing the author's headshot.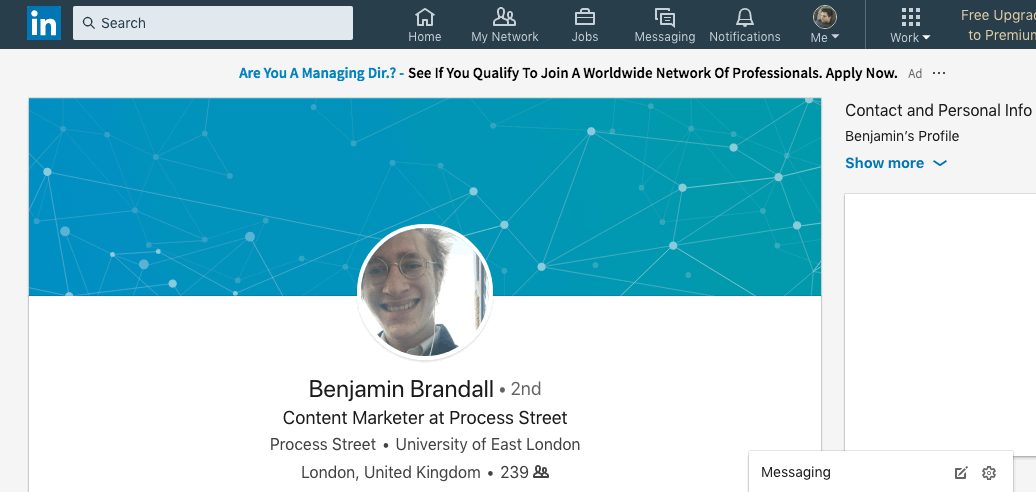 Looking good, Benjamin!
Sidenote.
This method is also useful for finding "expert roundup" contributions.
Method 3: Use Ahrefs Content Explorer
You can also use Ahrefs Content Explorer to find content written by a particular author. Just like Google, this tool has a bunch of advanced search operators.
Let's try the following query:
author:Author name
Here's what we found for Benjamin.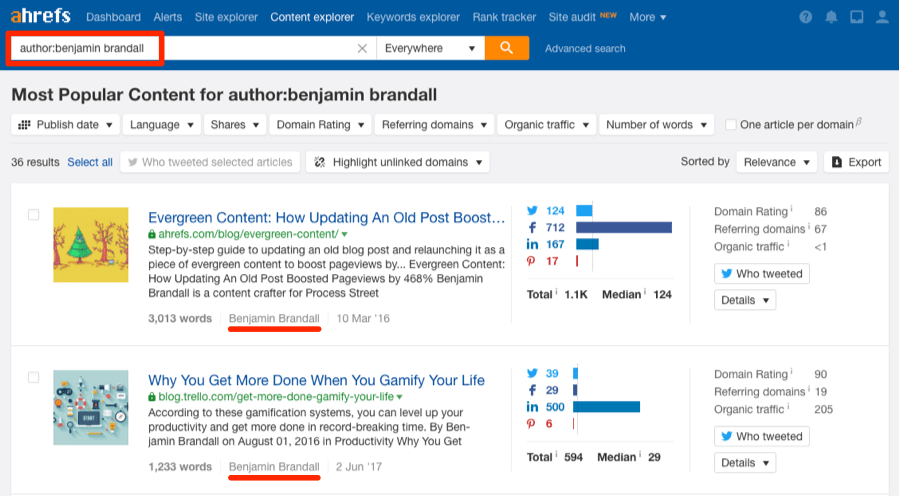 Bottomline: if your competitor has already had a guest post accepted on a particular site, then there is a good chance you can get published there, too.
3. Find Your Competitors' "Superfans"… Then Build Relationships with Those People!
I'm a BIG fan of Ryan Stewart (Webris).
His SEO-related content is some of the best on the web, in my opinion. (I think it's his love of Google Sheets that does it!)
BUT, it seems I'm not the only one—the rest of the Ahrefs team also appear to respect his work.
That's probably why we've linked to Ryan's site, WEBRIS, a lot!

Long story short, we're superfans!
But what's the use of this knowledge?
Well, imagine if you could identify your competitors' superfans, would it not then make sense to build a relationship with that person?
Yes, it would. Here's why:
If they're linking out to your competitor (a lot!), surely you could convince them to link to you too, right? - This is especially true if you're creating similar, perhaps even superior content to your competitor.
If you can make them superfans of your brand, too, they'll likely also link to you (a lot!) - We don't link out to Ryan because he asks us to, we just read this content, enjoy it, and end up referencing it in our posts.
Here's an easy way to find your competitors' superfans:
Go to Site Explorer -> enter your competitor's domain -> Best by Links.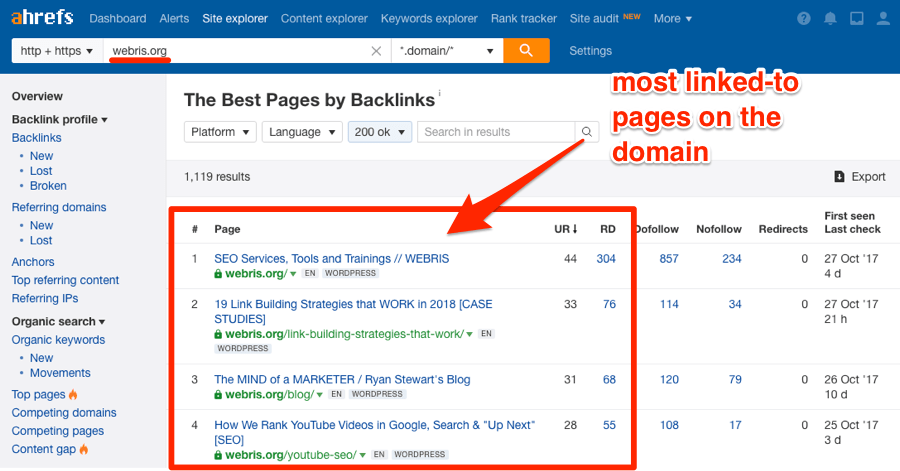 Then add a HTTP status 200 filter to clean up the results.
Copy the first ten URLs and paste them into the Link Intersect tool.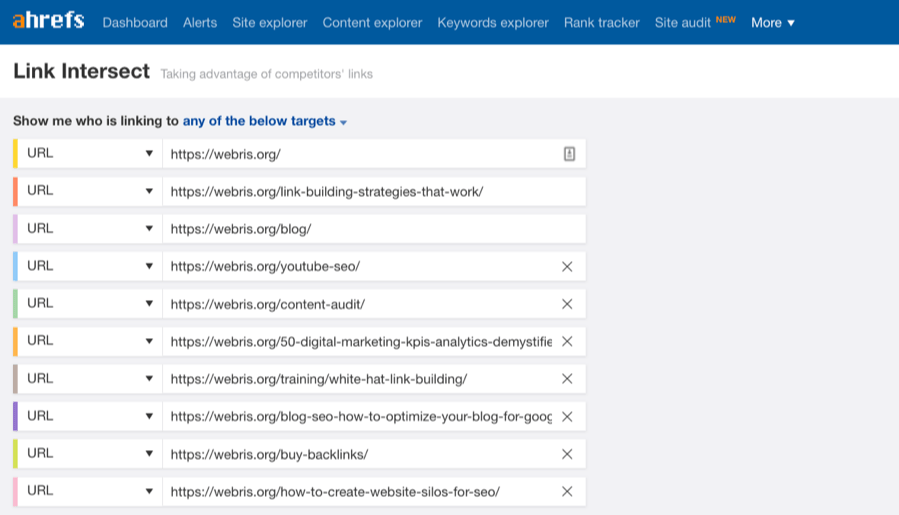 Sidenote.
Link intersect tool is available on Ahrefs Standard account or higher.
IMPORTANT! Make sure to select "URL" in the mode drop-downs. And select the "show me who is linking to any of the below targets" rather than "show me who is linking to all of the below targets."
Hit "show link opportunities."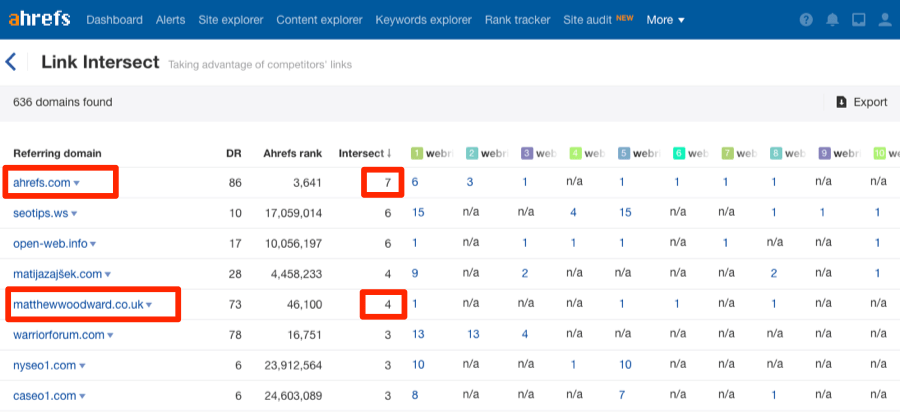 You can see that we're a superfan, as we link to seven of Ryan's top ten most linked-to pages. But it looks like Matthew Woodward is also a superfan, as he links to four of the pages, too.
Sidenote.
They're not visible in the screenshot above, but Robbie Richards and Nathan Gotch (Gotch SEO) also appear to be superfans, as they're each linking to three of Ryan's posts.
Bottomline: it's well worth forging relationships with so-called superfans of your competitors. People with whom you have genuine relationship will almost certainly link to you at some point or another.
4. Spot Easily-Replicable Link Opportunities by Finding Sites That Link To More Than One Competitor
If a site is linking to more than one of your competitors, you'll want to try and get a link from that site, too.
These "hubs" can be fertile ground for link building.
So let's switch gears for a moment and assume I have a website that sells quadcopters.
How can I find sites that are linking to 2 or more of my competitors?
Easy. Use Ahrefs' Link Intersect Tool.
Here's the process:
Go to the Link Intersect tool -> enter all of the domain-level competitors (from the spreadsheet) -> select "all of the below targets" -> Show link opportunities.

In this instance, we find 14 domains that link to all of our competitors.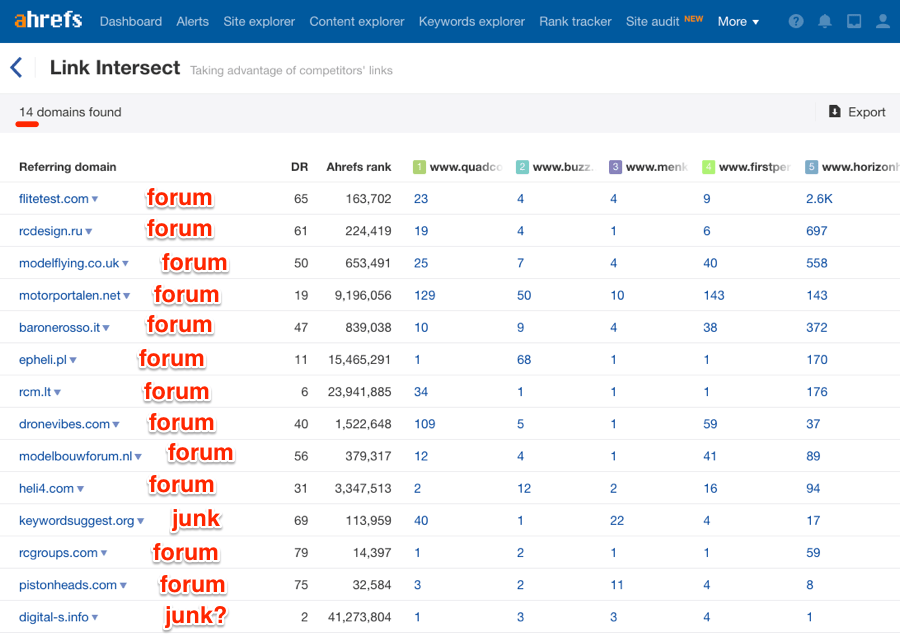 Most of these links are forum links, but you will often see sites like YouTube, Reddit, and Pinterest in there, too.
To view individual links, click on the numbers.

In the example above, the Link Intersect tool found 14 sites that link to all five domains. I already checked each of them and discovered that:
12 of the domains were forums;
2 were junk.
We could easily grab 12 of those links (i.e., the forum links).
And before you say "forum links are junk"…
These look like niche relevant forums—the kind where our potential customers are likely to hang out.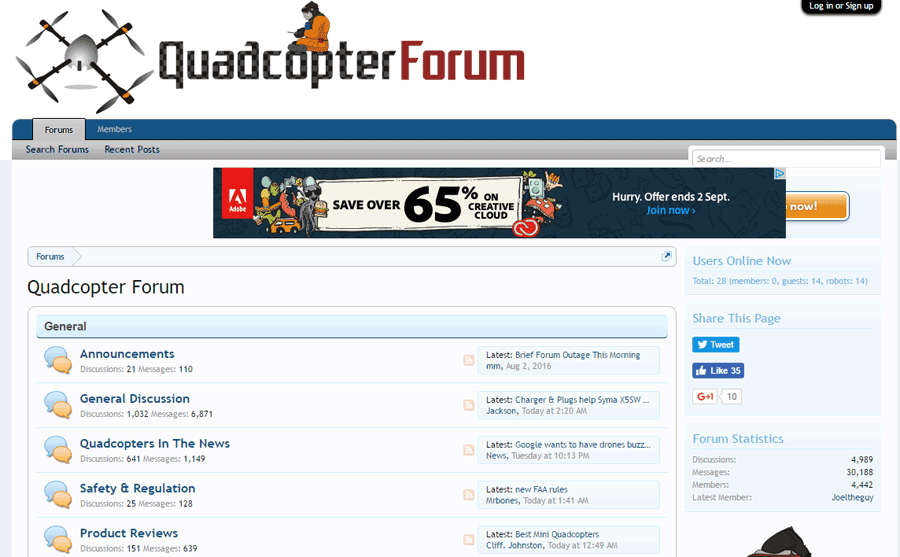 And that's exactly where we want to be promoting our business.
Our customers are there. Our competitors are there. So we should be there, too!
But wait, we can widen the search even further: just run the search with the Link Intersect Tool set to show sites linking to ANY of the domains.
Tools -> Link Intersect -> Enter domains -> Set to "any of the below targets" -> Show link opportunities.

This time we will get a lot more results, sorted by the number of intersects.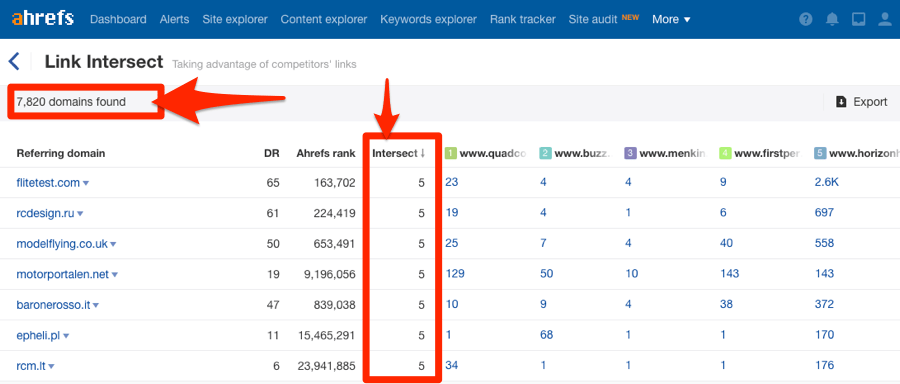 Sidenote.
By the number of intersects, we mean the number of competitors (of the five we entered) that each site links to. As you move further down the list, you'll notice that these numbers slowly start to reduce, until you get to sites with only one intersect—i.e., they only link to one of your competitors. In general, the easily-replicable links are likely to fall in the 3+ intersects range.
By working your way through this report, you'll find some backlink looting opportunities.
What's more, these "link hubs" can also give you a real insight into a niche. I already mentioned forums above, but you might also discover:
News sites/blogs covering your industry;
Industry-specific portals/communities (e.g., inbound.org for marketing);
Quality industry specific directories.
Bottomline: these are all places where your potential customers are likely to be. And all places you should be promoting your business in the future.
5. Steal Links from Page-Level Competitors (by Creating Something Even Better!)
We're all familiar with the skyscraper technique, right?
Find your competitor's most linked-to content > create something even better > steal their links.
It's a great way to build backlinks as you already have a list of sites that you can reach out to once your content goes live.
Here's how to find your competitor's most popular content with Ahrefs:
Site Explorer -> enter a domain-level competitor -> Pages -> Best by links.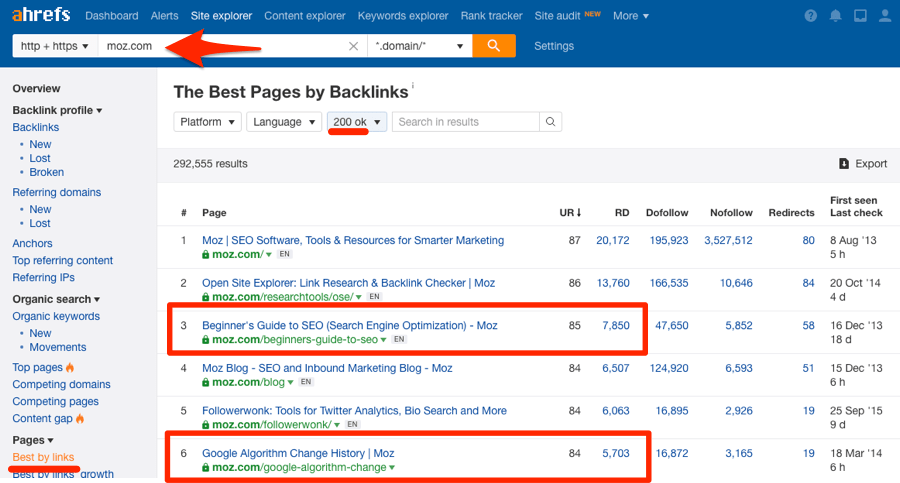 Sidenote.
Once again, it's worth adding a HTTP status 200 filter to clean things up a bit.
As you can see, this will usually kick back a few irrelevant results such as your competitor's homepage and blog. But there are still some good opportunities in there:
Beginner's Guide to SEO (Search Engine Optimization) [7,850 ref. Domains]—we agree that this guide by Moz is fantastic, but we have an equally excellent guide to learning SEO on our blog. So, effectively, we already have the "skyscraper" content created here.
Google Algorithm Change History [5,703 ref. Domains]—this is another fantastic piece of content, but it's very extensive. Perhaps we could publish a more succinct piece (e.g., "Everything You Need to Know About Google's Algorithm Change History (in X minutes)."
Those are really rough ideas, but you can see how this works; we make something better and nab the links for ourselves.
Quick tip: Find more links to steal from other similar pages
You've found one page with a ton of backlinks (that you can steal).
But why limit yourself to stealing links from just one page?
Here's a simple trick to broaden your horizons:
Keywords Explorer -> paste in page title -> SERP Overview
This will show you the top-10 ranking pages for that topic.
You'll notice that, in most cases, the other nine results will be very similar to the page you originally found (in the Best by Links report).
And these pages are also likely to have plenty of links pointing to them.
So you can steal links from these pages, too!
Bottomline: find your competitors' most popular content, make something even better, then steal their links. (And if you want even more link opportunities, find similar competing pages and steal their links, too!)
6. Track Your Competitors' NEW Backlinks… Then Jump On Any New Opportunities
Many of your competitors will be attracting new backlinks regularly.
But this is a bad thing, right? Not always.
Here are two reasons why:
It proves that people are linking out in your niche—some niches are super-reluctant to link out; if your competitors can get links, it means there are links to be had. (Unless they're just buying links, of course).
It provides you with a constant stream of new links to loot—competitors attracting links like crazy? Loot the heck out of them!
You can do this by setting up alerts for your competitors' new backlinks.
Here's how:
Alerts -> Backlinks -> Add Alert.
Here, you can add the domain (or URL) that you wish to monitor, choose the frequency of alerts, then you're good to go.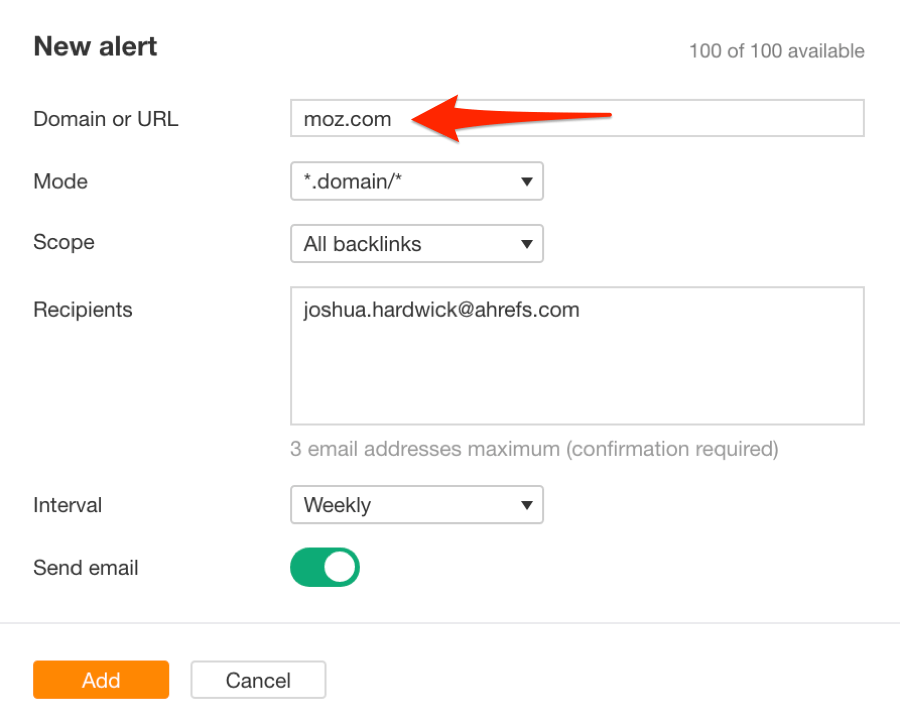 But here's the thing:
If the competitor you want to keep an eye on has a strong, popular website that gets thousands of backlinks every week, it's going to be extremely hard for you to go through all the links Ahrefs will report.
That's why it's much more logical to set up alerts for specific URLs (i.e., page-level competitors) instead.
Let's say we were trying to attract new links to our list of SEO tips.
We could set up backlink alerts for these specific pages:

Sidenote.
Now you see why we recorded page-level competitors in our Google Sheet! 🙂
Then, as soon as Ahrefs sends you a new notification, reach out to the linking website and explain how your content is better, implying that it is much more deserving of their link (note: your content must be objectively better, otherwise don't even bother reaching out.)
Bottomline: you will now have a nearly neverending list of link-looting opportunities delivered straight to your inbox every day/week/month/etc.
IMPORTANT! You have to react to these fresh opportunities as quickly as possible. Newly-published content is more likely to be modified by its author/publisher, so don't hang around!
7. Find Your Competitors' Broken Links… Then Nab Them For Yourself!
Broken link building gets a bad rap.
But it can still yield results… excellent ones!
A good place to start is to check for broken links pointing to your competitors. We can do that with Ahrefs' Broken Link Checker or Site Explorer.
Jumping back to quadcopters for a moment, here is a quick example:
Site Explorer -> enter a competitors domain</str -> Pages -> Best by Links -> add a 404 filter.
(That last part—the 404 filter—is the real gem here; it means that you'll see the most linked-to broken pages on the site.)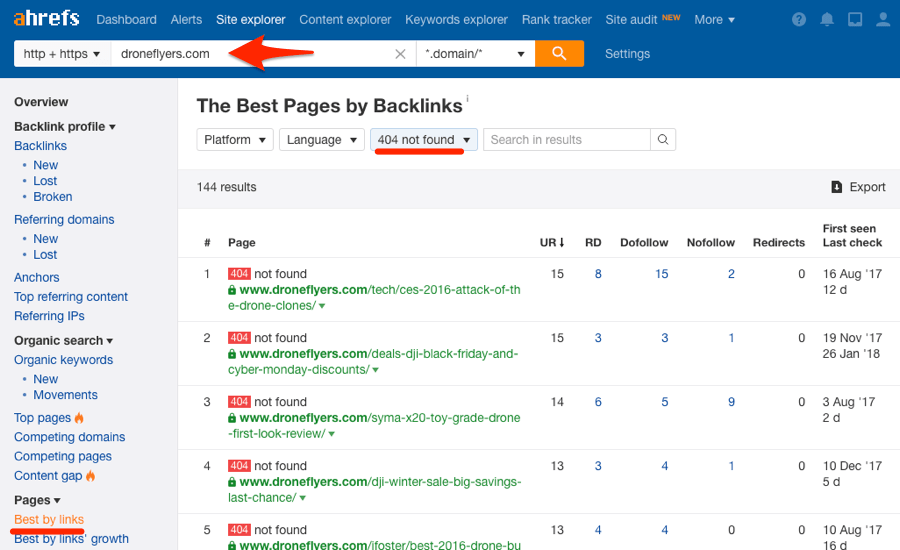 A click on the number of referring domains will show you which websites link to these broken pages.
This opportunity looks good:

It looks like there used to be a Drone Buyer's Guide at droneflyers.com, and this page still links to it. So we could create our own guide, then reach out to the site and offer our content as a fix for their broken link.
In fact, we could do that for every website that still links to that dead page.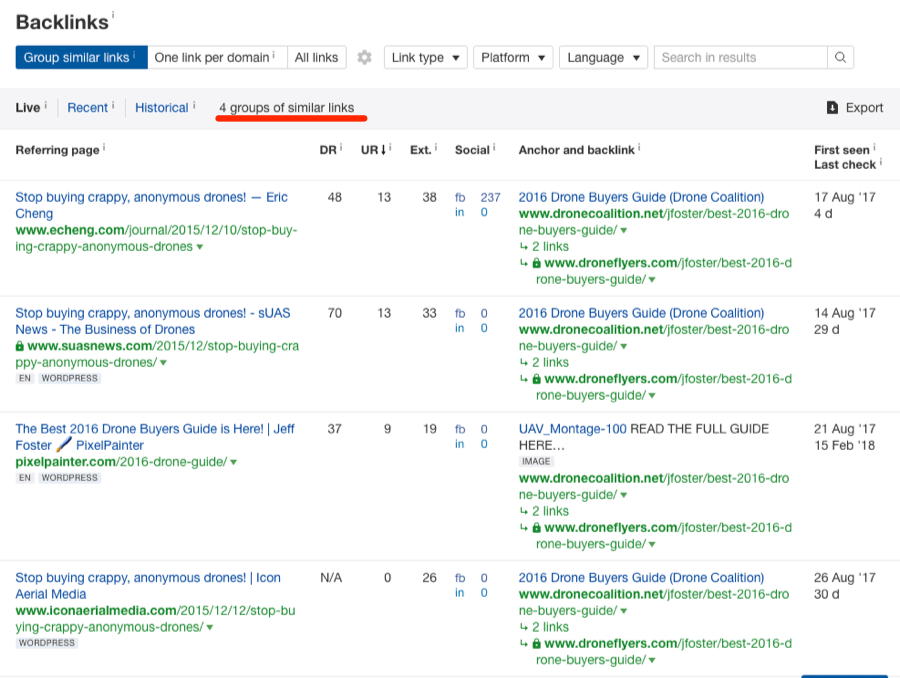 Four links may not sound like a big win, but remember that this wasn't the only broken page.
What's more, you'll sometimes be lucky enough to uncover a broken page with hundreds or even thousands of links.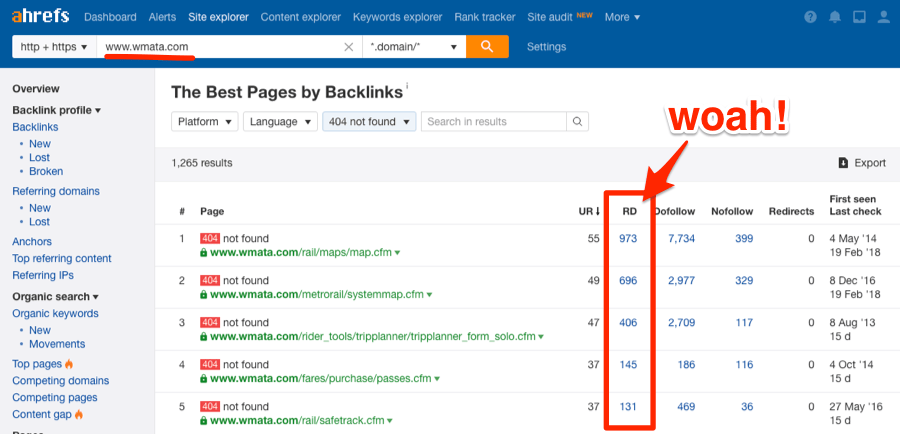 Bottomline: find broken pages with a ton of links in your niche, replicate the content (if you don't have similar content on your site already), then loot the links!
(Check out our full guide to broken link building for a deeper insight into this strategy.)
A Quick 'n' Dirty Guide to Qualifying and Prioritising Link Prospects
Just because you CAN replicate your competitors' backlinks doesn't always mean that you SHOULD.
Some might be total junk.

Others might be good links, but almost impossible to replicate.

That's why you need to qualify and prioritize all opportunities.
Qualifying is easy… just ask yourself this question: "if Google manually reviewed the page, would they have a problem with the link? Does it appear to be natural?"
Prioritizing is a little harder… the fact that you want the link doesn't mean that (a) you deserve it, (b) it'll be easy to replicate.
You should, therefore, focus on links that you can actually get. (And are likely to get.)
Here's are the basics:
Links you can probably get—Links such as those from niche-relevant resource pages, guest posts, forum links, some quotes/testimonials, blog comments (yes, these are still worth having for the referral traffic alone!), etc.
Links you probably won't be able to get: Links where they had to do something special to get a link, such as launch an expensive PR campaign or attend a specific event (in the past).
Links you definitely won't be able to get: Links that are part of a blog network that is owned by your competitor. (These are links that you probably don't want anyway.)
To be honest, you need to use your own judgment for this. A link that is a perfect fit for one site might be a terrible fit for another.
Just don't pursue low-quality, spammy links—these won't help at all.
Notice any patterns? That's a good thing!
Replicating competitor backlinks is all well and good, but there's a deeper end-goal here: to gain an understanding as to how your competitors build their links on the whole.
This means not looking at backlinks in isolation, but instead obtaining a high-level view of the strategies and tactics that the competition are using with success.
Do this, and you will understand which link building tactics (and content types) you should focus on in future.
So how do you do this?
Well, if you follow all of the tips above, you likely won't have to make any special effort to understand what does and doesn't work in your industry; you will learn this as a result of following the specific tactics above.
You may notice that your competitors are writing a lot of guest posts.
Or that they're getting links from a lot of industry-related forums (e.g. car forums).
Or that, for whatever reason, your industry loves to link to listicles, or infographics, or case studies.
(Case studies and original research tend to attract lots of links in the SEO industry, for example.)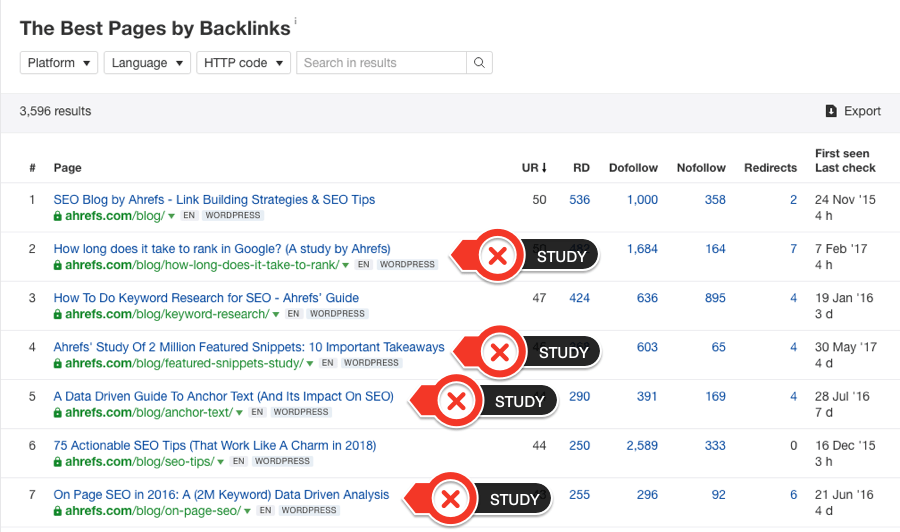 Sidenote.
That top page is the blog homepage, so it's doesn't really count; this means four of our six most-linked-to blog posts are studies of some kind.
Bottomline: use these insights to influence not only the link building tactics you pursue but also the type of content you create in future.
Final thoughts
It's possible to build some great links by looting your competitors' backlinks.
But, it's highly unlikely that you'll outrank them solely by doing this—they'll always be one step ahead.
In reality, the best you can hope for when looting your competitors' backlinks is to successfully loot a decent percentage (20-30%?) of their links. And if you only have a fraction of the links that your competitors have, well, you probably ain't going to outrank them.
That's why you should use competitor links as a "base," then utilize other link building tactics to get MORE backlinks than your competitors.
Do this, and you'll be unstoppable! 🙂