The success of your
influencer marketing
campaigns is tied to whom you collaborate with. And finding the right influencer is far from easy.
To help you, we've mapped out six steps you can follow to find the right influencers.
But before that, let's understand whom you'd describe as the "right" one for your brand and why it's so important.
Simply put, the right influencer is one whose followers are:
Authentic.
Relevant to your brand and consistently resonate with the content produced (including sponsored posts).
While it's easy to get carried away with an influencer's audience size, it's important to analyze followers further to check whether they're a right fit for your brand or not.
Failing to collaborate with the right influencer can end up burning money and hurting your brand's reputation. Remember, today's influencers are considered brand ambassadors.
Whether you're looking for influencers for your very first campaign or have been through the process multiple times, it's recommended that you don't avoid any step. Below are six easy steps you can follow to find the right influencers.
1. Define the campaign objective and goals
The objective behind your influencer marketing campaigns and the goals you want to achieve determine which influencers and channels you should go after. Hence, it's important to define them before starting your research.
Today, brands run influencer marketing campaigns for new product launches, promoting a sale, brand-building, and more. The goals also vary—from getting more app installs, to website visits, to impressions, to lead generation.
For example, for promoting a Christmas sale, you'll look for Instagram influencers who promote different products on their stories, hence driving instant traffic. Remember, these goals will also help you evaluate the performance of your marketing campaign after you run it.
2. Figure out your budget
The next step is to allocate a budget for your campaign. Your budget depends on various factors, including the:
Type of influencer (mega, micro, macro, etc.) you're collaborating with.
Number of influencers.
Niche.
Platforms you're targeting.
Etc.
While there's no one way to figure out the budget, you can calculate potential conversions from your campaign and accordingly allocate the budget. But this solely depends on your goal. Sometimes, brands run influencer marketing campaigns solely for brand awareness; for this, calculating ROI can be difficult.
In some cases, brands run influencer marketing campaigns to get a better ROI (when compared to paid advertisements). So you can keep that as a benchmark when calculating the budget too.
Type of influencers
The easiest way to group influencers is on the basis of their audience size. Knowing the different groups will help you plan your strategy better. Here's the breakdown: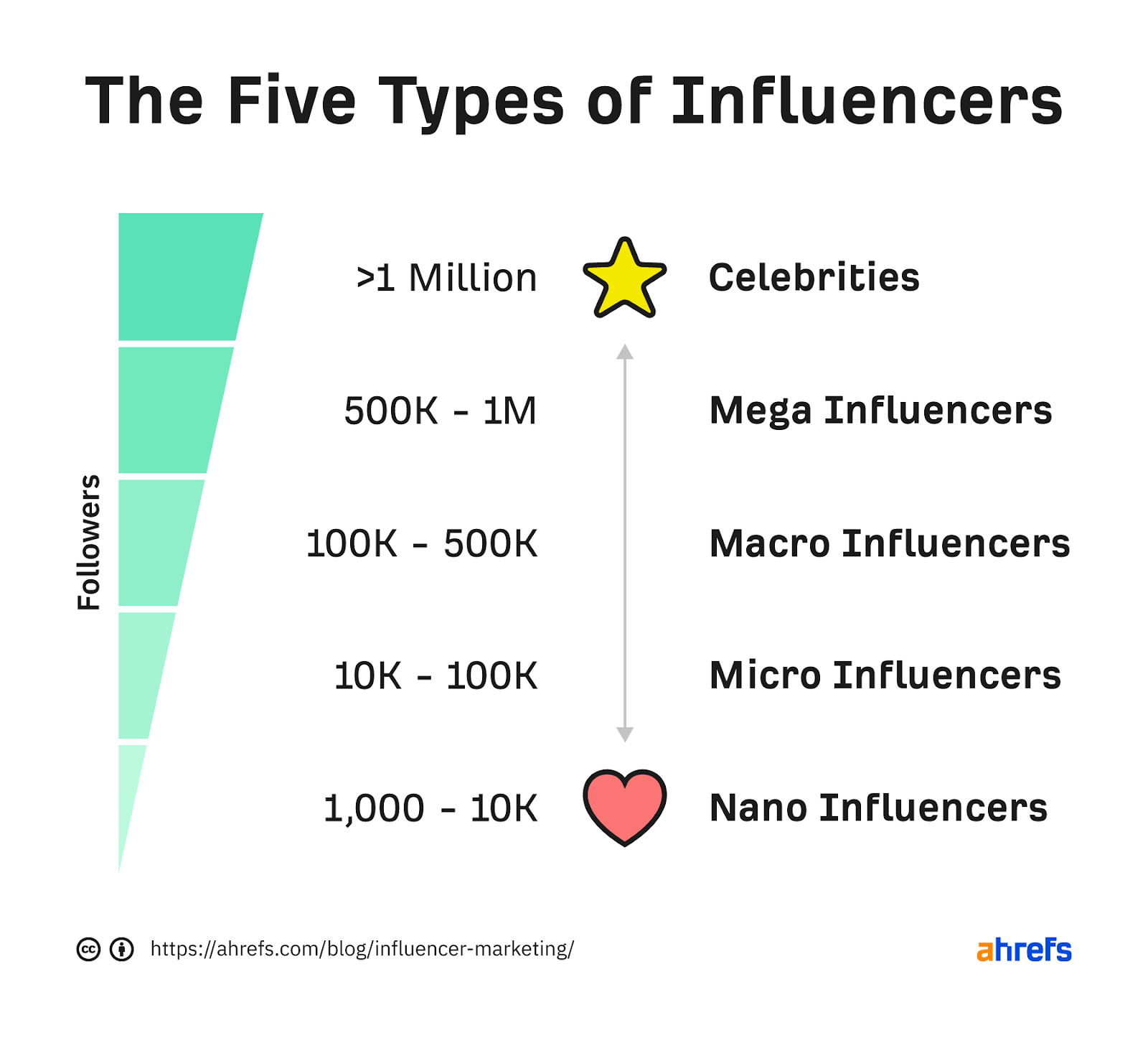 3. Look for influencers
A. Look for people who've written about your topic
A quick way to find influencers is by creating a list of people who actively produce good content in your niche. Just a few searches on Google and YouTube can help you discover popular content pieces and their authors.
However, a simpler way of finding authors is by using Ahrefs' Content Explorer, a searchable database of ~11 billion pages. Here are steps you can follow:
1. Open the tool and search for your topic
2. Switch the search mode from "Everywhere" to "In title" for the most relevant results and then hit "search"

3. Click the "Authors" tab to see a list of top authors and the number of content pieces they authored

You can also export the list and further filter the list to find relevant influencers according to your criterion. For example, you can filter authors who have more than 10K Twitter followers.
B. Search through popular platforms
If you're looking for influencers in a particular niche, there's no better way than to go through the platform itself and search for relevant topics and hashtags. In addition, you can also try the below tools and strategies.
Social Blade (for YouTube)
Social Blade is a platform that tracks statistics and analytics for YouTube channels. You can easily use it to find the top YouTubers in your niche and across different regions. It also helps you narrow your search by searching your topic as a tag.
The lists of channels can be further sorted by Social Blade rank (its own influencer score), subscriber count, and video views. Social Blade's paid tier starts at $40/per year.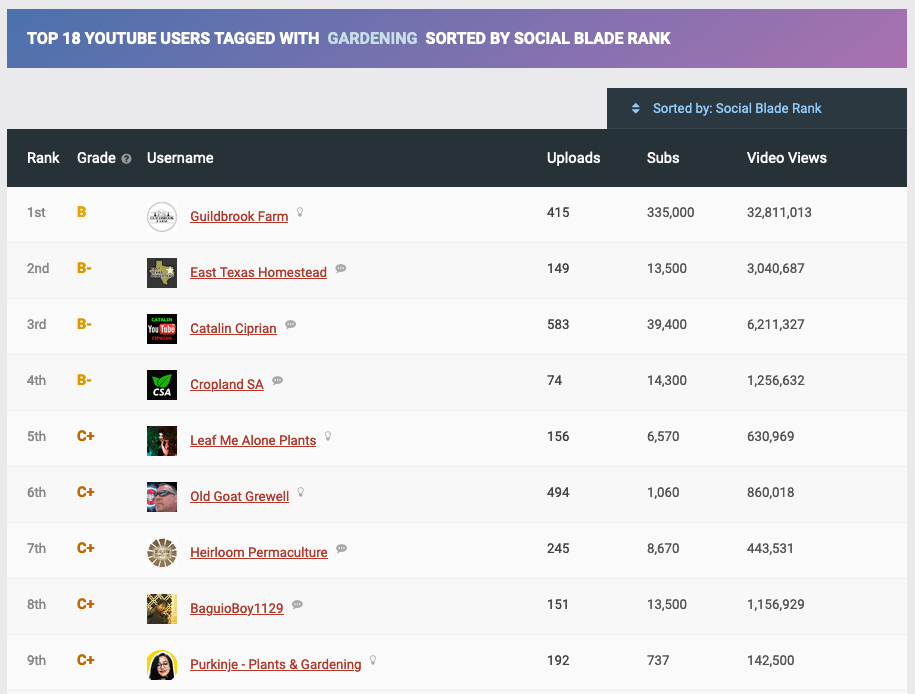 Followerwonk (for Twitter)
Followerwonk is a lightweight search engine for Twitter accounts. Just drop a keyword into the search bar to find profiles matching your desired follower count, tweet frequency, account age, and "Social Authority," which is Followerwonk's own influencer clout score.
Followerwonk's free tier covers 50 searches daily, which should be enough for most people. For unlimited results, upgrades go for $29–$79/month.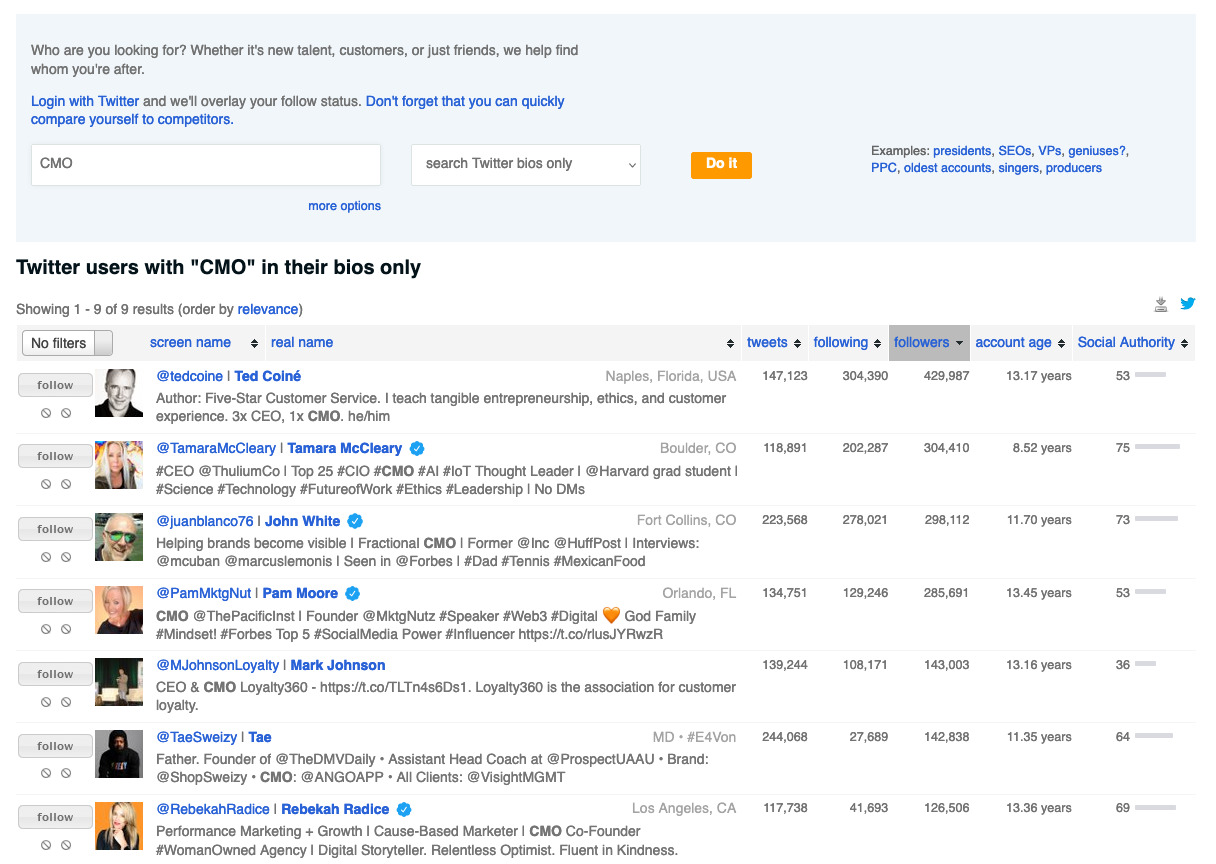 Search for sponsored hashtags (for Instagram)
One quick way to find Instagram influencers is by searching for sponsored hashtags of successful sponsored campaigns in your niche. Oftentimes, brands use a unique hashtag for all posts as part of a campaign.
trendHERO (for Instagram)
If you're looking for a platform that helps you find, analyze, and outreach Instagram followers, then you need to try trendHERO.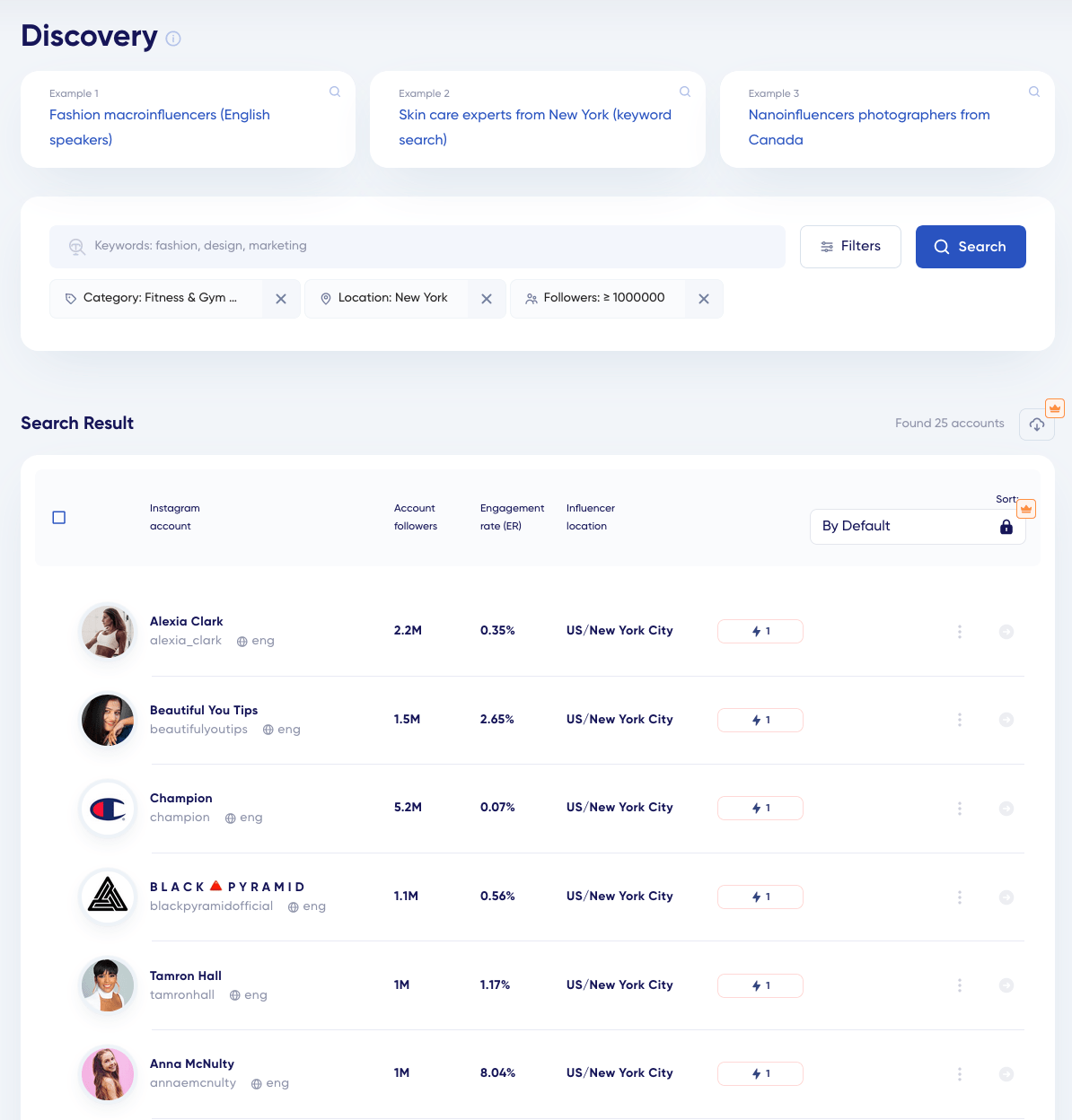 Apart from the above features, there's a fake follower and competitor analysis tool. trendHERO provides a 14-day free trial with the option to analyze one Instagram account (up to 10K followers) for free. Its paid plan starts from $10/month.
Social Blade (for TikTok)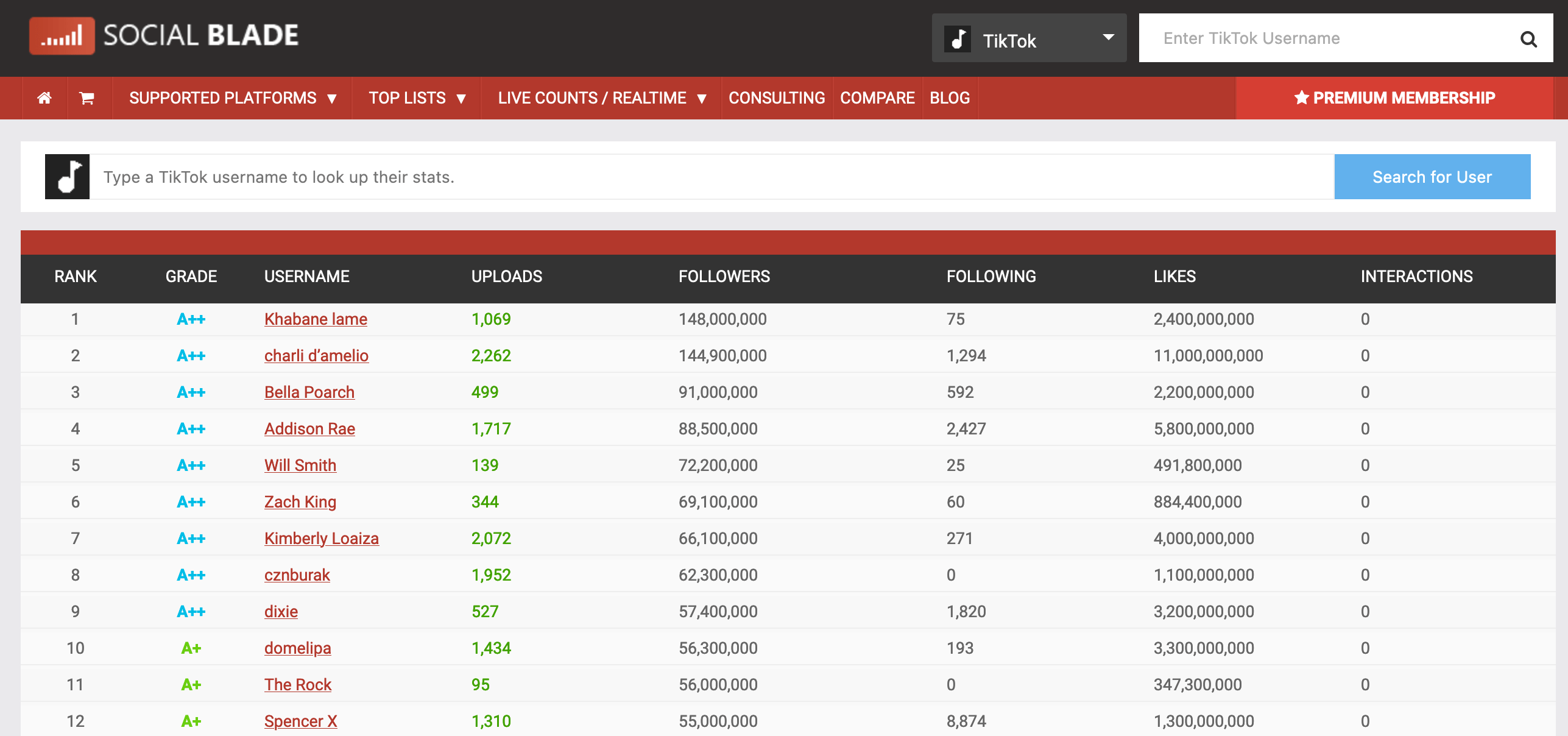 Apart from YouTube, Social Blade also allows you to search for specific TikTok accounts and analyze their audience growth. You can look at metrics like monthly gained followers, daily follower growth, and more.
C. Leverage tools
Apart from the above list of tools that help you discover influencers, there are a few tools that can help you manage your influencer campaigns end to end, right from analyzing followers to outreach.
SparkToro
It's one of the best tools to find influencers in your niche. You can get started by just entering what your audience frequently talks about. For every search, it lists down popular social accounts, podcasts, and websites the audience follows.
Unlike other tools that rank influencers on the basis of followers, SparkToro provides you an estimation of the percentage of audience in a particular niche following a certain account. See what Rand Fishkin, co-founder and CEO of SparkToro, had to say about the same.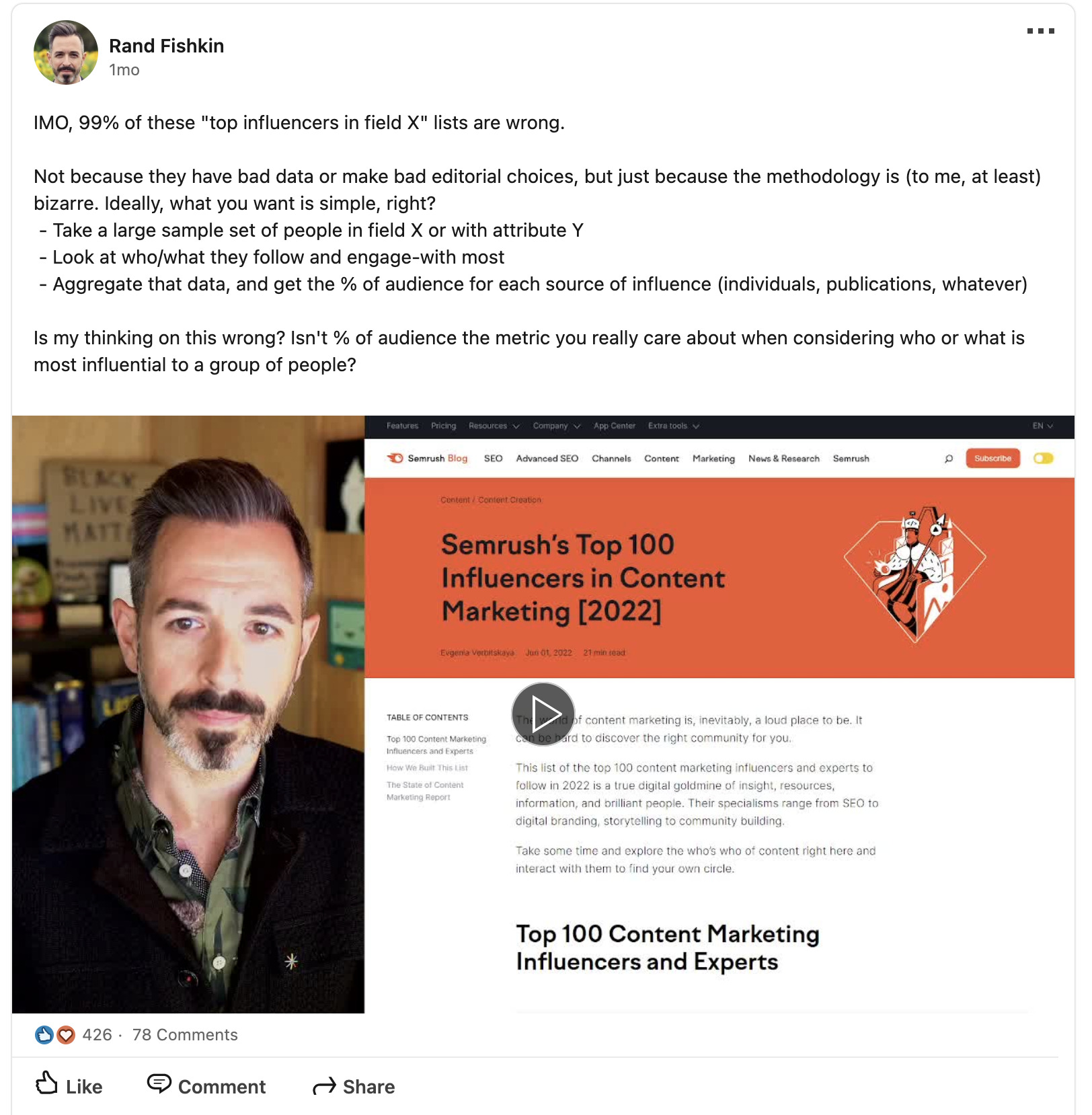 To further analyze, you can explore the social, websites, podcasts, and YouTube tabs on the left side. When searching for social media influencers, you can remove business accounts by setting the account type to individuals only.
To help you further understand the engagement and relevance of the account, the tool gives a SparkScore to each influencer.
LinkedIn
If you're looking for B2B influencers, you cannot go wrong with LinkedIn. It provides multiple parameters to filter your search. For example, you can filter the influencers on the basis of their industry, language, and more.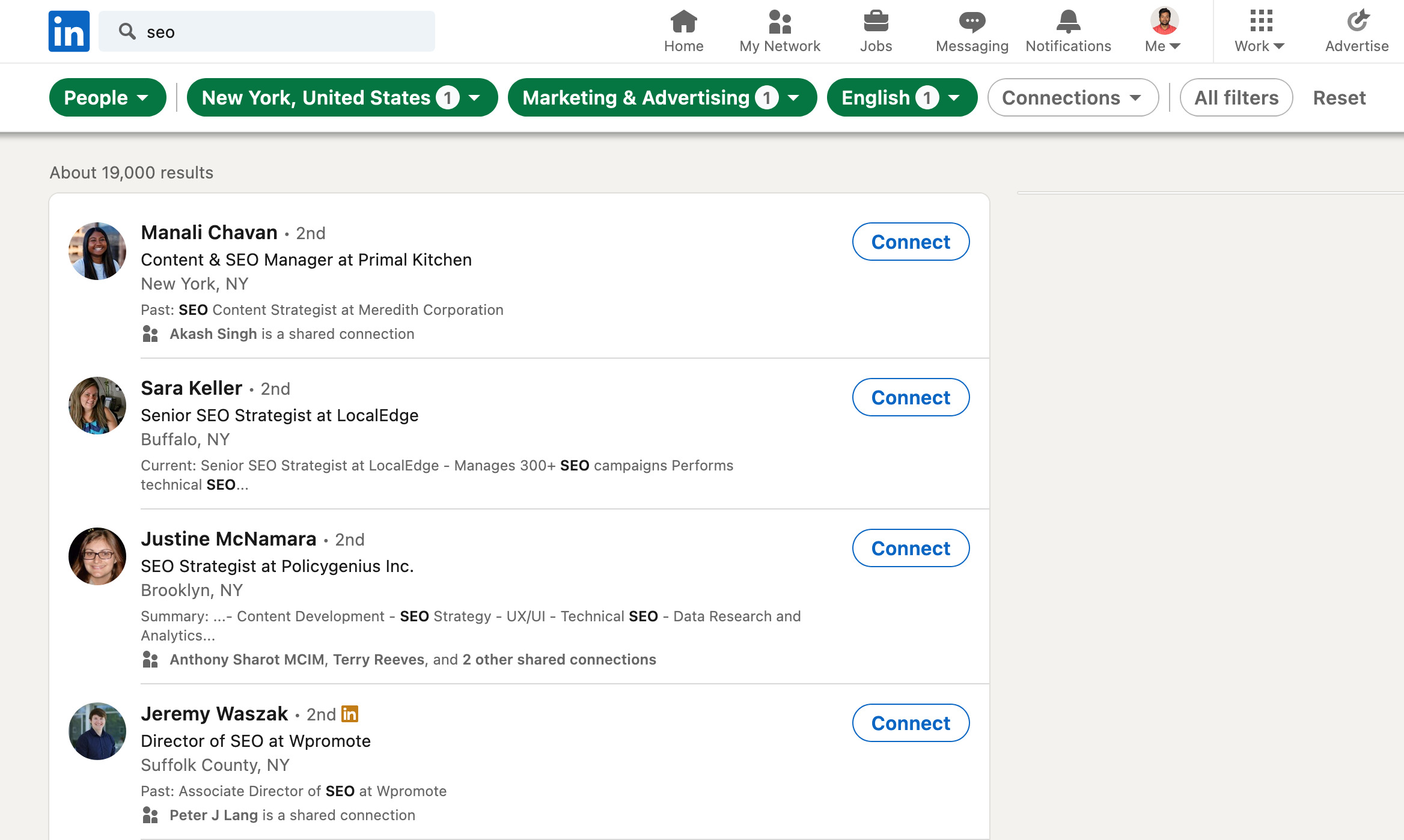 However, you may need an additional layer of filtering after exporting data from LinkedIn.
Heepsy
Heepsy is a platform that allows you to find, analyze, and organize Instagram, YouTube, TikTok, and Twitch influencers. It has a database of over 11 million influencers.
It's one of the few tools in the market that can help analyze your audience and aid in outreach too. If you're looking to scale up your influencer marketing, you should definitely explore Heepsy.
Klear
Klear allows you to manage your influencer marketing campaigns under one roof. It not only helps you discover, analyze, and manage influencers but also communicate with and measure the impact of your influencer marketing campaigns.
4. Reverse competitor backlink research
Most influencers link back to a common URL when promoting the product/brand from their content.
For example, Skillshare, which is a popular sponsor among YouTubers, has 3,000 backlinks to its sign-up page. Just by analyzing these backlinks, you can discover potential influencers.
You can easily accomplish this using Ahrefs' Site Explorer. Here are the steps you can follow:
Go to Site Explorer and enter the common URL on the search box with "Exact URL" selected
Click on "Backlinks" to look at all the backlinks
You can choose additional filters like DR and type of backlink (nofollow or dofollow) to further narrow your search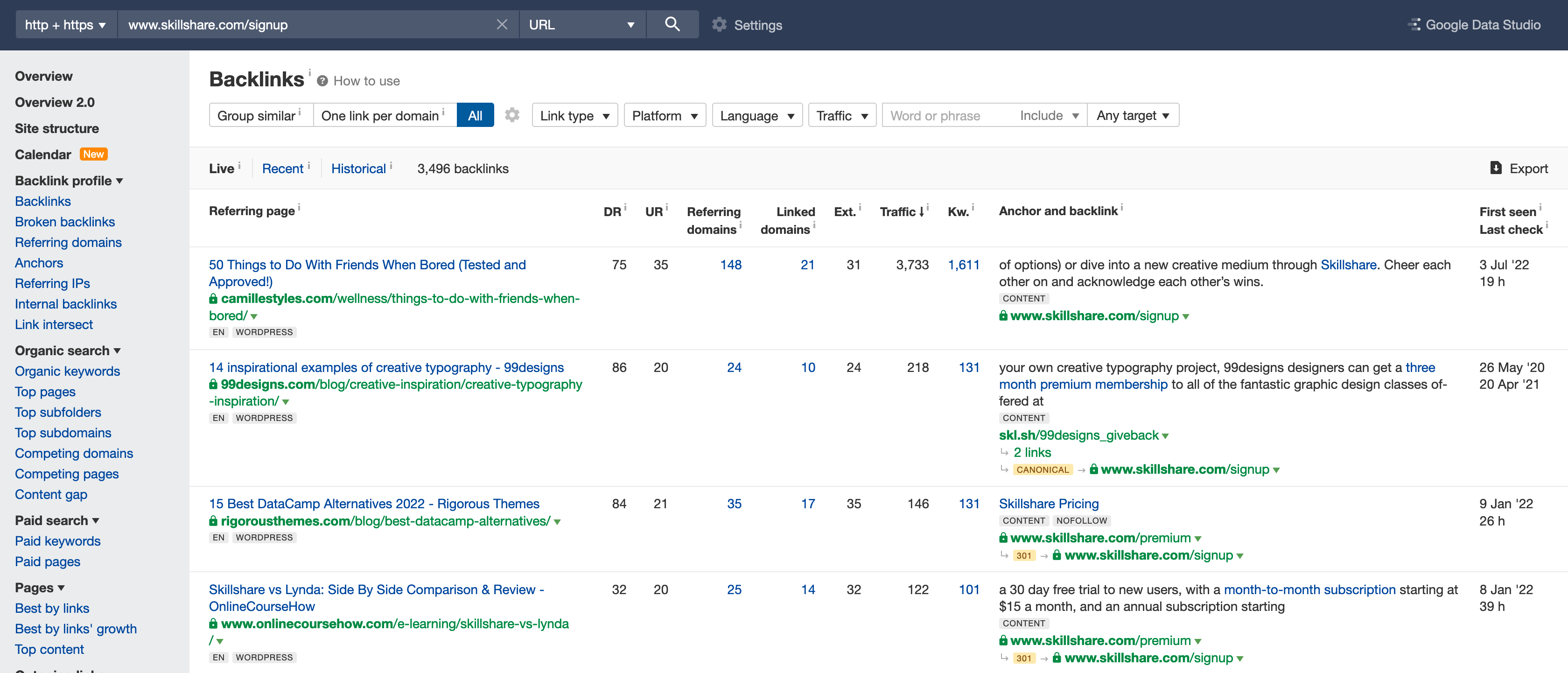 Most of the time, influencers link to the sign-up page or the homepage. You can also set up alerts on new backlinks using Ahrefs Alerts.
5. Look for brand ambassadors proactively
A lot of the time, collaborating with brand ambassadors can have a larger impact than influencers. Unlike influencers who've never used your product/service before, brand ambassadors already understand the value of your product/service. Hence, they can go above and beyond when promoting it.
While discovering brand ambassadors may not be hard, as they'll eventually reach you through email or social media, we recommend finding them proactively through the following popular methods:
1. Monitor social media for people who've given a shout-out to your product/service or sent you a message – To automate this process, you can leverage social media monitoring tools such as Mention.
2. Keep an eye out for reviews or mentions in the form of an article or a YouTube video – To automate the process, you can set up an alert for web mentions on Ahrefs. Just set up a new alert for mentions by adding relevant keywords and choosing how often you want to receive these updates.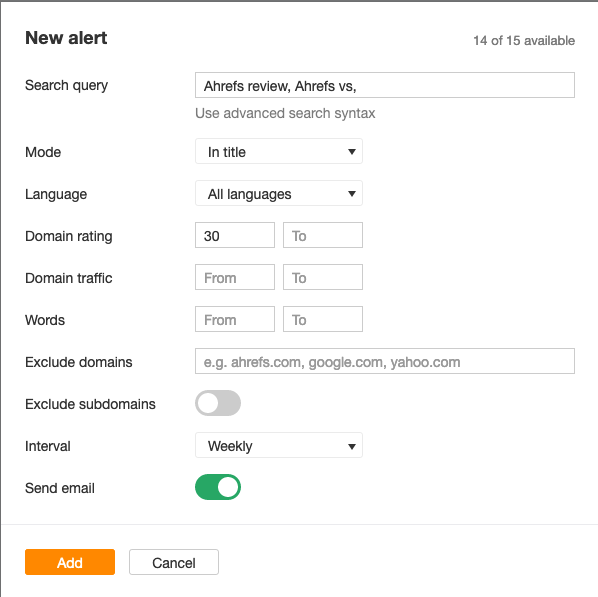 3. Keep an eye on newsletter mentions in your niche – The most effective way to do this is to subscribe to all the popular newsletters.
Generally, a good practice is to keep a record of your brand ambassadors so you can reach out to them when you plan to run a new campaign.
6. Get recommendations from your audience
Sometimes, finding influencers can be as easy as putting out a social media post or email to your subscribers and asking them which influencers you should partner with.
I know this sounds too good to be true, but Ahrefs did exactly that on Twitter and was overwhelmed with responses.
Not only did it find influencers quickly, but its tweet also went viral and got hundreds of responses.
We'll be reallocating our paid traffic budget (~$200k💰) for December away from the Google/Facebook—and into sponsoring the industry's best creators and thought leaders.

— Ahrefs (@ahrefs) November 24, 2021
Remember, when writing the post, you need to provide enough information to your readers so that you only get relevant suggestions. For example, Ahrefs mentioned the following in the post:
Budget
Type of influencers
Channels
Also, remember to ask your readers to amplify your tweet to increase your reach.
After building your influencer list, don't start your outreach instantly. I recommend going through an extensive vetting process. This is because the last thing you want your campaigns to reach is fake followers.
During the vetting process, you should look at metrics like:
Engagement rate – This number denotes the level of engagement generated from a piece of content. You can calculate this at a post level or an account level. For example, the average engagement rate on Instagram is 0.98% (Sprout Social).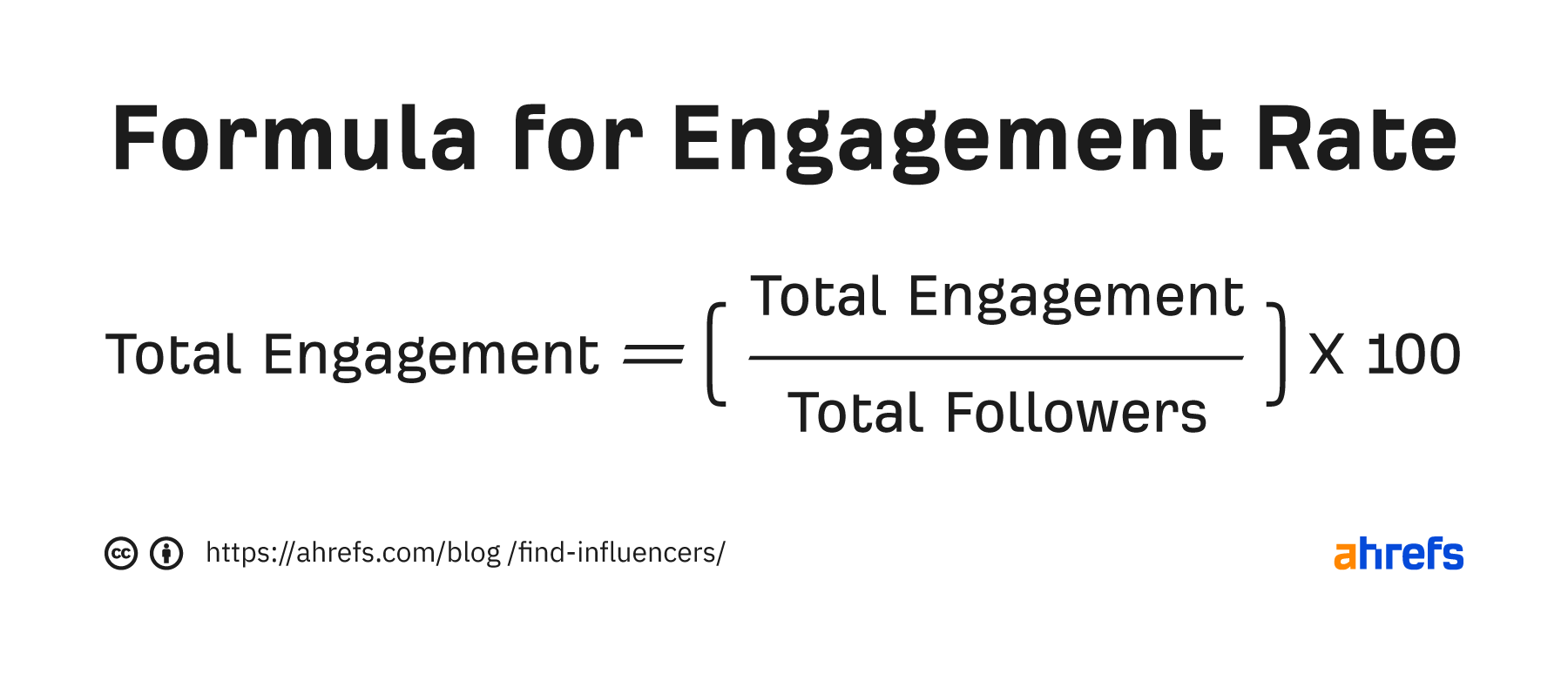 Engagement quality – This is the percentage of real/active followers among the total engaged followers. While finding this manually is difficult, multiple tools can help you find the engagement quality for a certain account.
Growth rate – This shows the number of subscribers added by an influencer in a certain period of time. Social Blade, for example, shows the growth rate for an influencer both daily and monthly.
A lot of the tools we've covered above can easily help you find the above metrics. However, you can also find these metrics manually by going through the profiles. Sometimes, just a glance is enough to differentiate an authentic influencer from a fake one.
Also, remember the niche also has an impact on the engagement rate and growth. Hence, compare influencers and their engagement rate/quality only within the same niche.
Before reaching out to influencers, you should also look at the sponsorships they've done before and if your brand values align with theirs. If they don't, you're better off not collaborating with those influencers.
In a digital world, everything you publish online is reflective of your brand. One small mistake is enough to create outrage and tarnish your brand. This holds true for whom you collaborate with too. Hence, it's important to take enough time to analyze influencers before collaborating with them.
Final thoughts
If you want to run successful influencer marketing campaigns, you need to look beyond relevancy and follower count.
Even when you have the budget to collaborate with a mega influencer, you can get a better result by collaborating with multiple micro influencers.
Hope our guide helps you find the right influencers and that it answered a few questions you had before reading this article.
Got more questions? Ping me on Twitter.