Keywords are the words and phrases that people type into search engines to find what they're looking for.
For example, if you were looking to buy a new jacket, you might type something like "mens leather jacket" into Google. Even though that phrase consists of more than one word, it's still a keyword.
Of course, nobody outside of the SEO industry tends to use this terminology. Most people would call them Google searches or queries. Just know that keywords are synonymous with both of these things.
In this guide, you'll learn: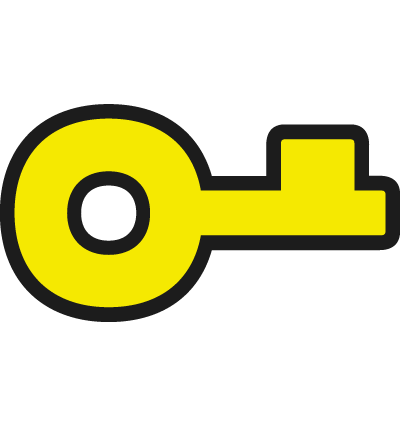 New to keyword research? Check out our
Keywords are important because your website can show up when people type them into search engines.
For example, if you Google "how to do SEO," we appear at the top: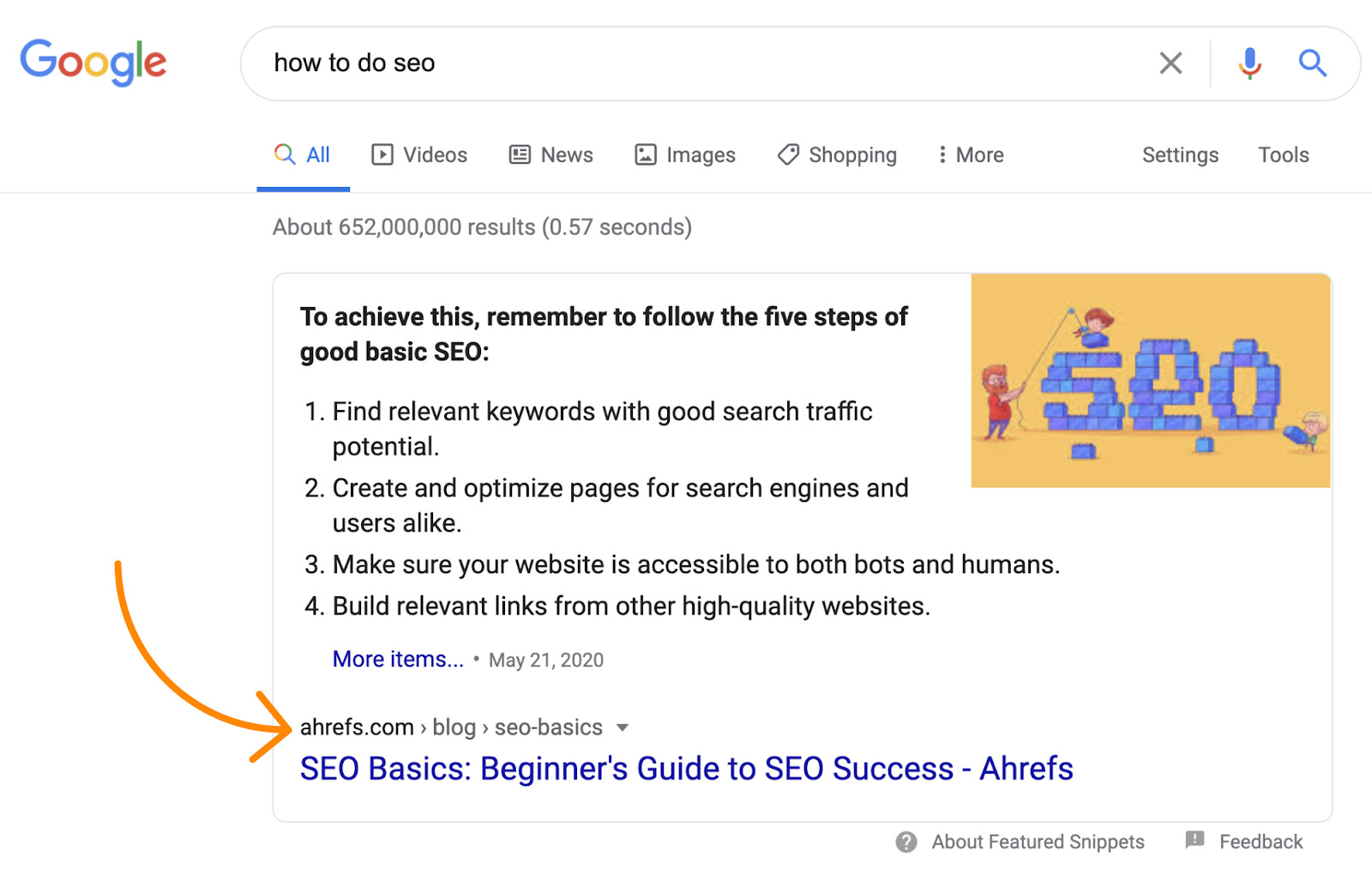 Because this keyword gets an estimated 1,700 monthly searches in the US, showing up at the top of Google sends many visitors our way. In fact, we've had over 900 visits from this keyword in the last month.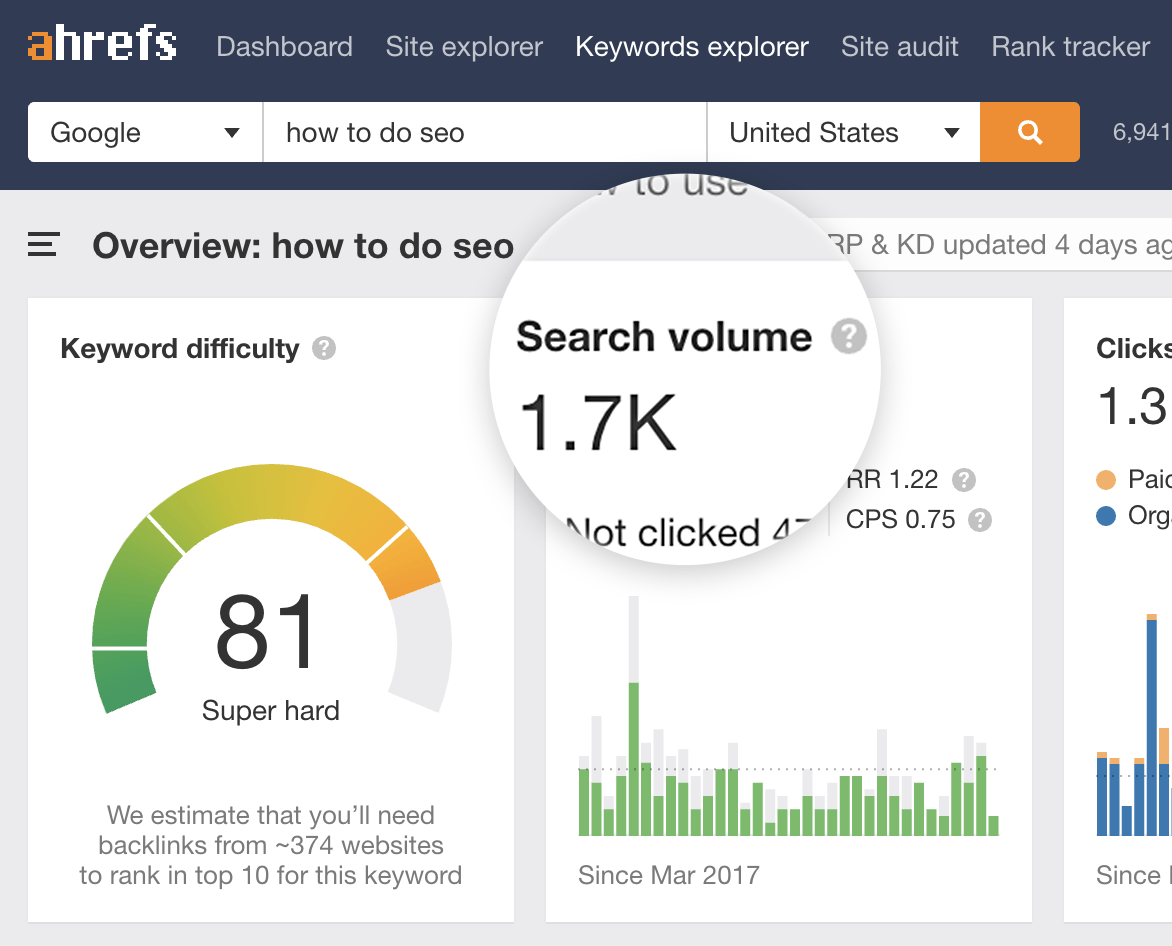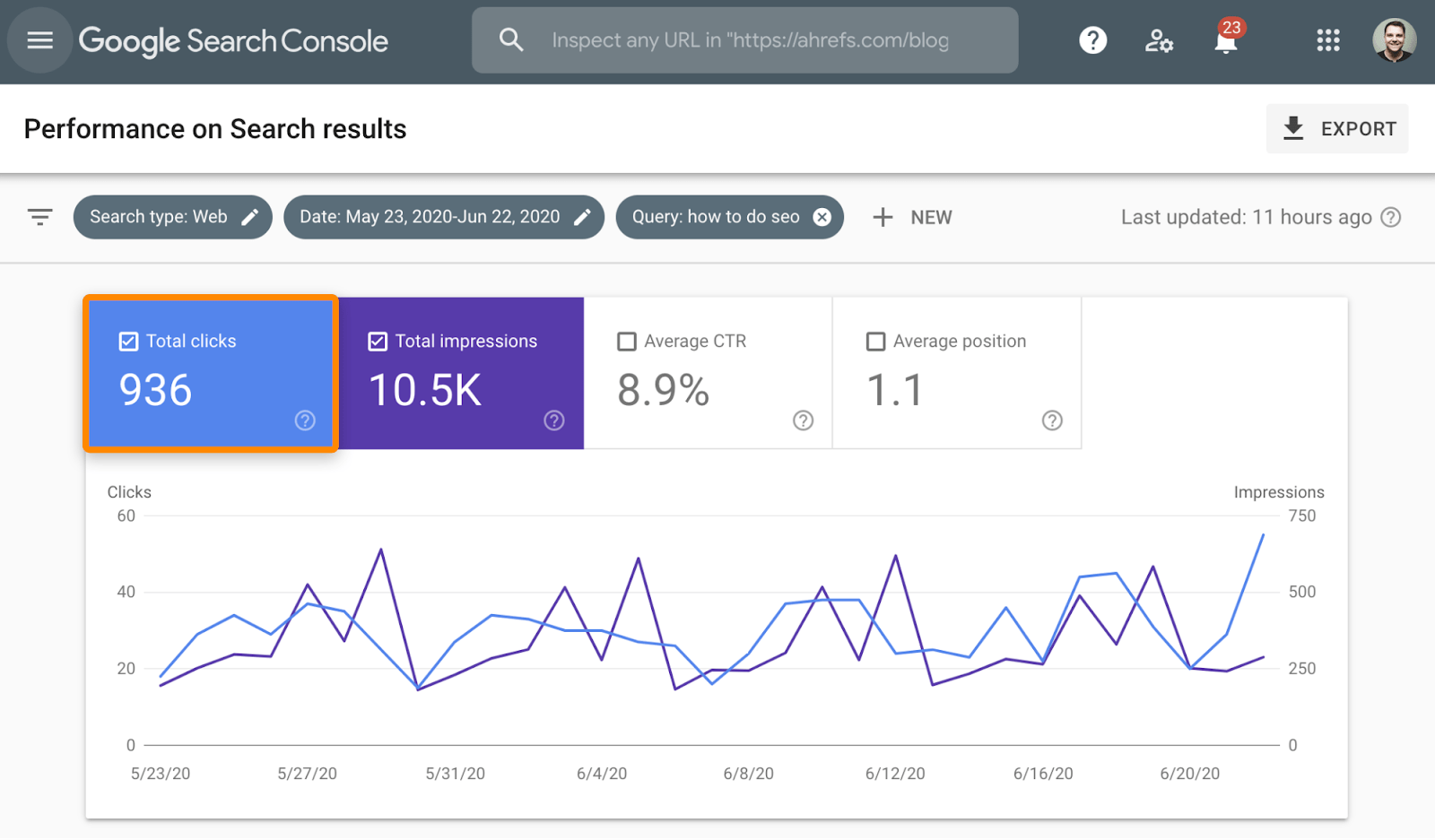 Showing up at the top of Google for a relevant keyword might send lots of traffic your way, but how do you do that?
There are two ways.
Pay-per-click (PPC)
PPC is where you pay Google to show your web page in the results for specific keywords. For example, if you sell email marketing software, you could bid on that term and appear at the top of Google's search results when people search for it.
That's what Campaign Monitor does.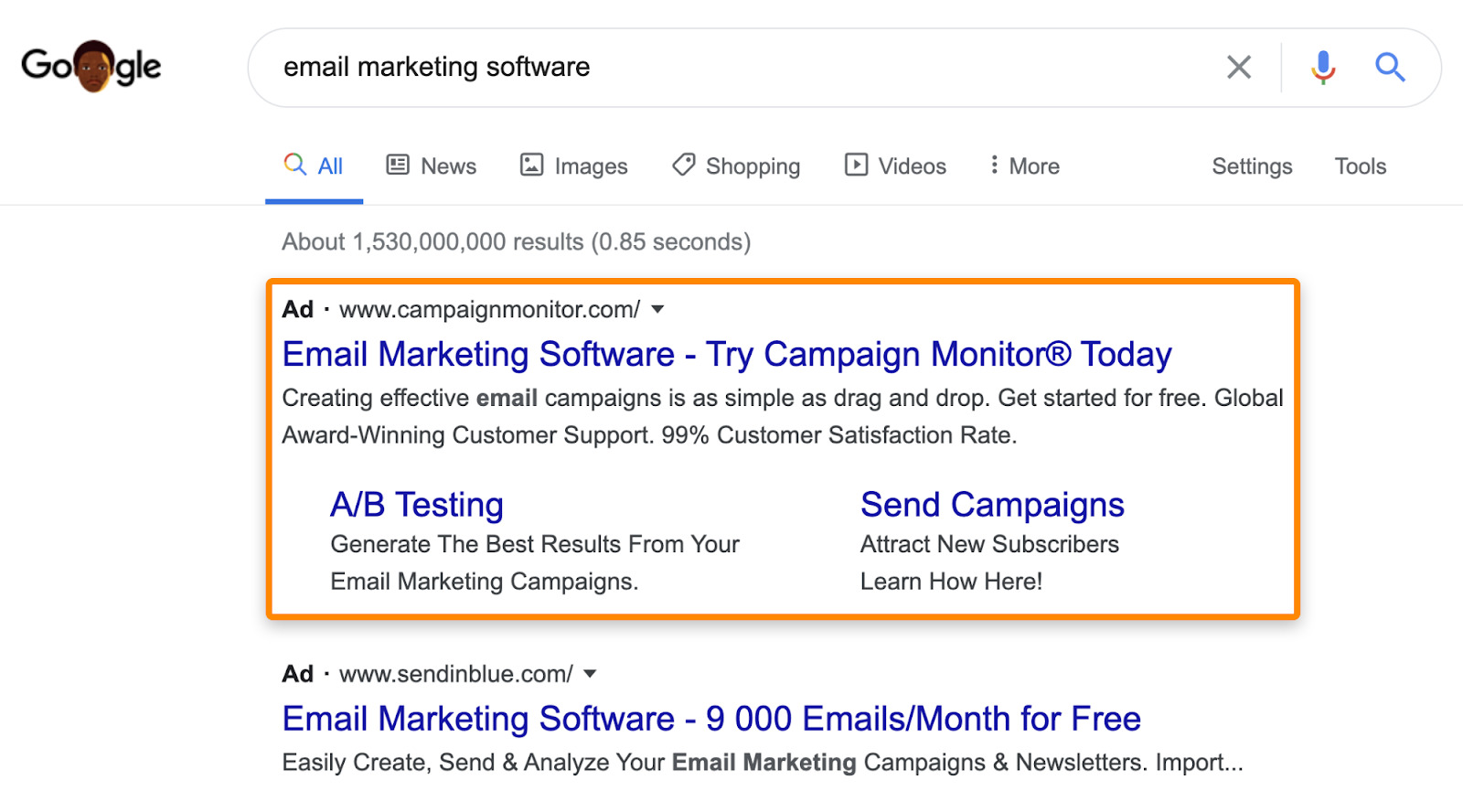 This is known as PPC (Pay Per Click) advertising. Google has a platform where you can choose keywords to bid on. Google then displays your ad in the search results. Every time someone clicks that ad and lands on your website, Google charges you money.
You can tell paid results apart from organic (non-paid) results because they're marked as ads.
Search Engine Optimization (SEO)
SEO is the process of optimizing your web pages to rank in Google's organic results. And Google's job is to rank the best, most relevant results for every search query.
If Google deems your page the "best" result for the right terms, you'll get a consistent stream of 'free' visits to your website.
For example, the Ahrefs blog gets an estimated 383,000 organic visits from Google every month.

We rank #1 for keywords like "SEO audit":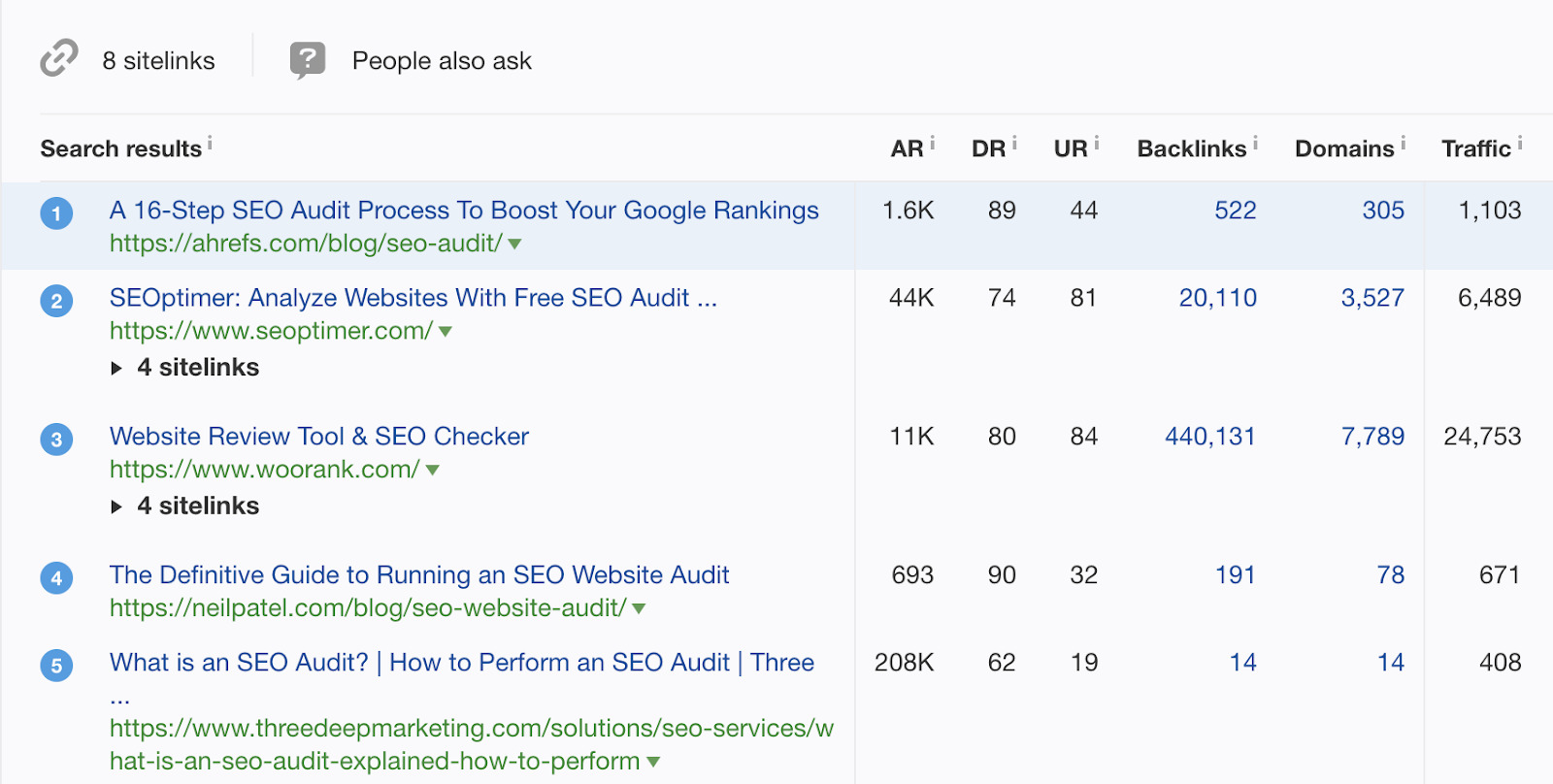 "Keyword research tools":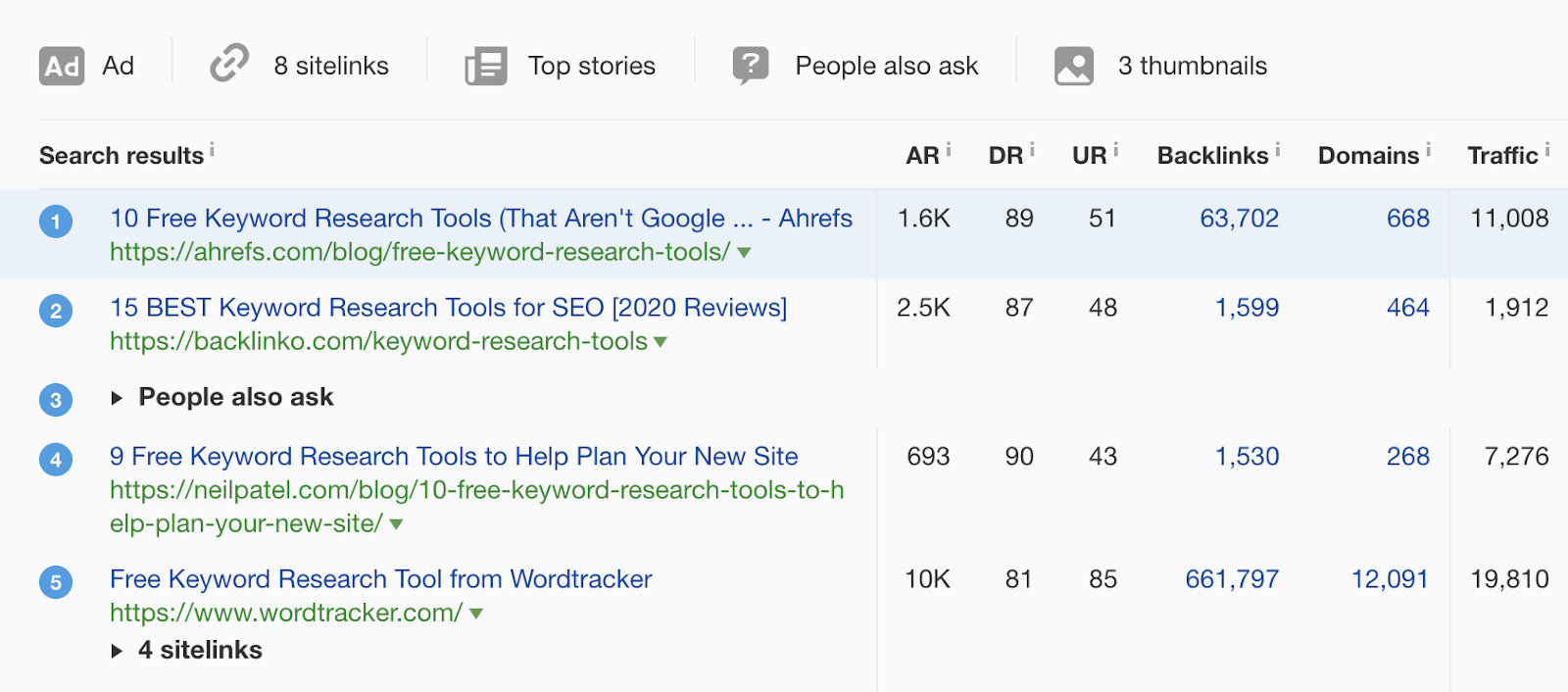 And "local SEO":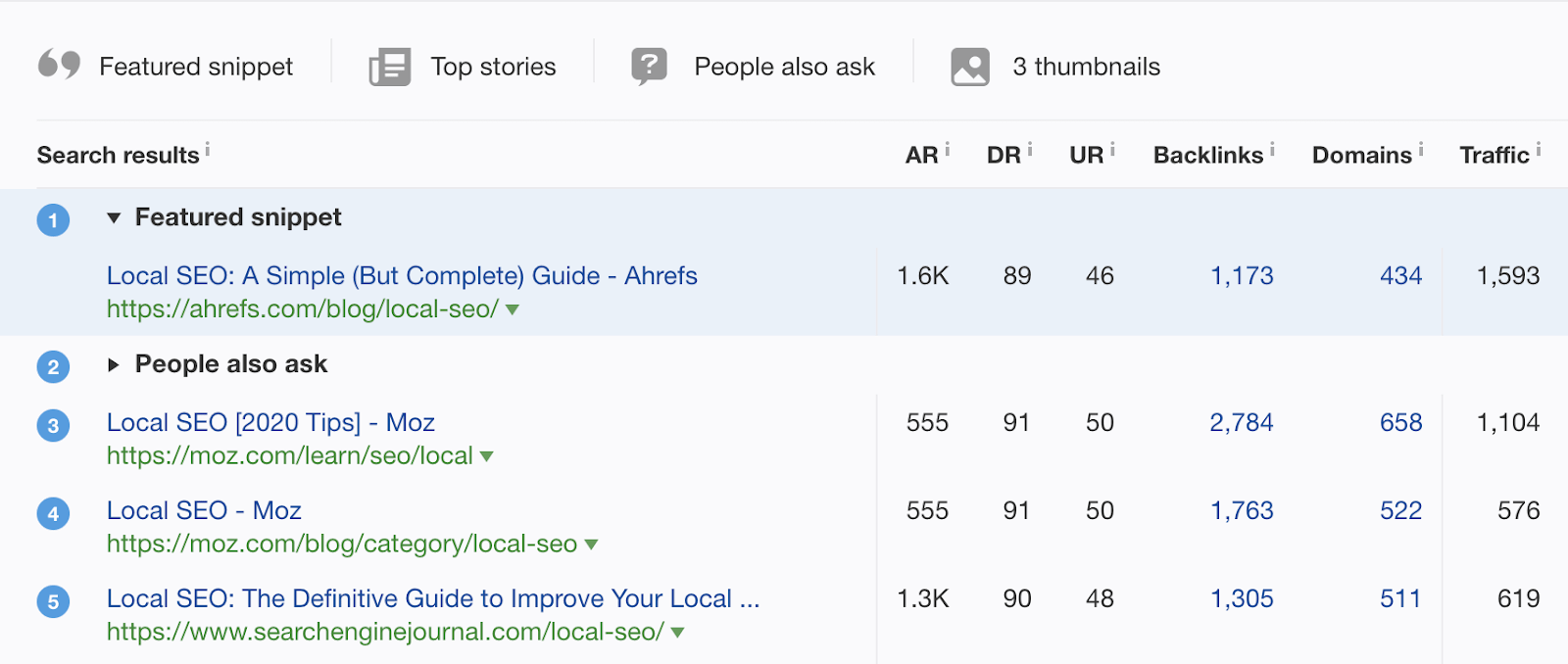 Given that we sell SEO tools, all of these keywords send potential customers our way and contribute to our bottom line.
Most people have some idea of the keywords they want to rank for in Google. But it's impossible to know everything people search for. That's why it pays to do some research to find more keyword ideas.
There are many ways to do this, but the easiest method is to use a keyword research tool.
Most of these tools work in the same way. You enter a few broad keywords related to your industry called seed keywords, and the tool kicks back some related keyword ideas.
For example, say that you sell headphones online. Your seed keywords might be "headphones," "earbuds," "earphones," and "beats."
Let's pop those into Ahrefs' Keywords Explorer, then take a look at one of the keyword ideas reports.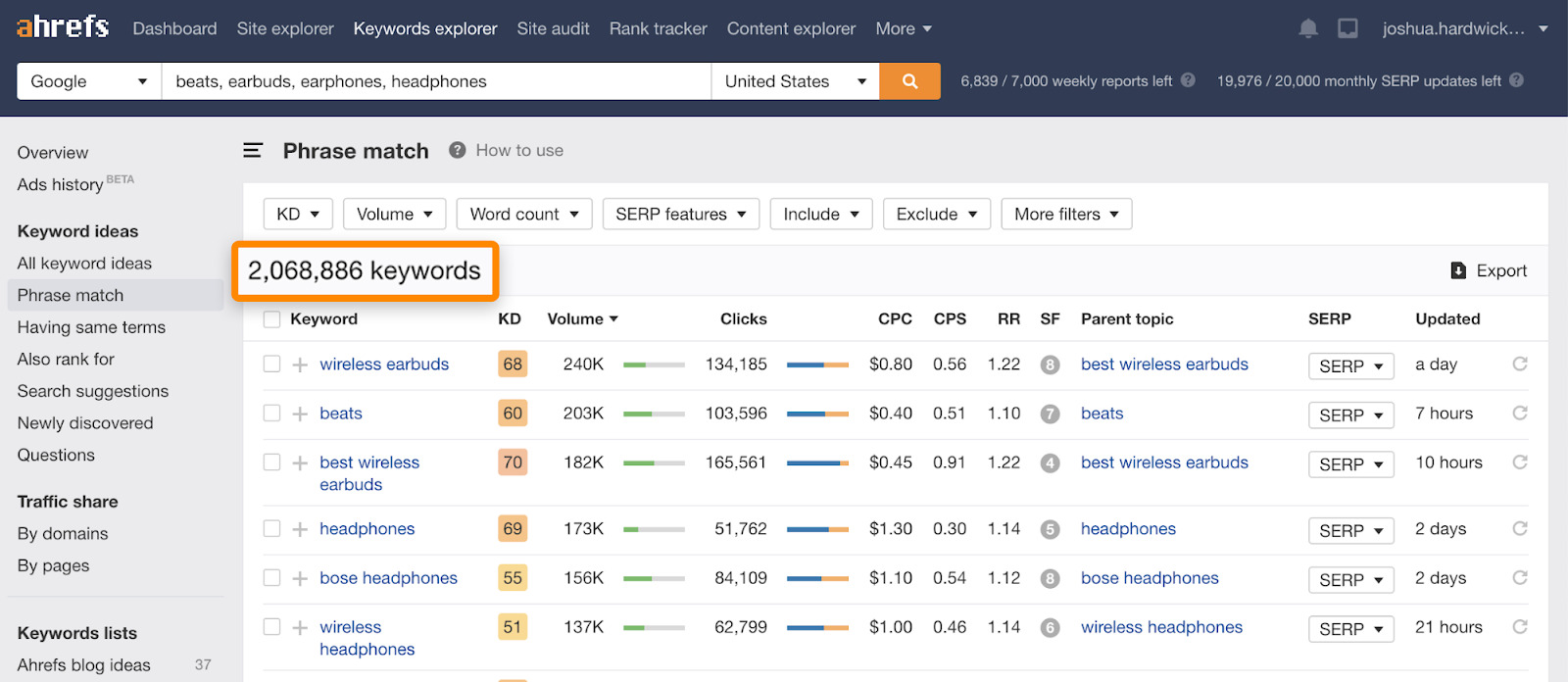 Right away, we see over two million related keyword ideas complete with monthly search volumes, the average cost per click (CPC) for paid ads, and tons of other SEO metrics.
Nobody can rank for every keyword, and nobody can bid on every keyword. For that reason, it's important to choose your battles wisely. Let's look at a few keyword metrics and attributes to help you choose the best ones.
Search volume
Keywords vary in popularity. For example, there are an estimated 35,000 monthly searches for "how to post on instagram." But only 1,200 for "how to get backlinks."

Does that mean it's better to rank for "how to post on instagram" than "how to get backlinks?" Not always. There's no point ranking for that first keyword if you sell SEO software like us. It might bring lots of visitors, but none of them are likely to buy what we sell.
You need to find keywords that bear some relevance to what your business does, then judge them relatively.
For example, there are 2,200 searches for "SEO tips" every month vs. 350 for "image seo."

As it would make sense for us to show up in Google for both of those keywords, we should probably prioritize the first one. Why? It has more searches. We'd probably get more traffic from ranking #1 for that keyword than the other one.
You can check the search volume for almost any keyword in Ahrefs' Keywords Explorer. Just type in your keyword, choose a country, and you'll see country-specific and global volumes:

IMPORTANT
Although search volume is a good predictor of traffic potential in general, it's not perfect.
Just take a look at these two keywords: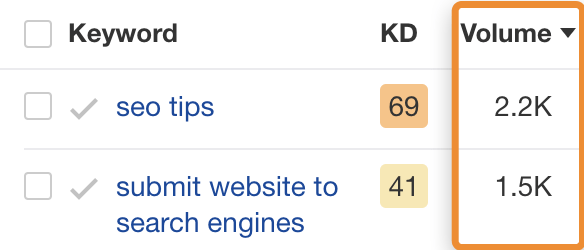 Judging by their search volumes, you'd guess that the top-ranking page for "SEO tips" would get the most organic traffic. But if we check the current top-ranking pages for each term in Site Explorer, we see that the opposite is true.


Learn more about why search volume isn't always a good predictor of traffic potential in these two posts.
Search intent
Imagine that you sell robots vacuums online. Looking at the search volume for "robot vacuum," it seems like a decent keyword to try to rank a product page for.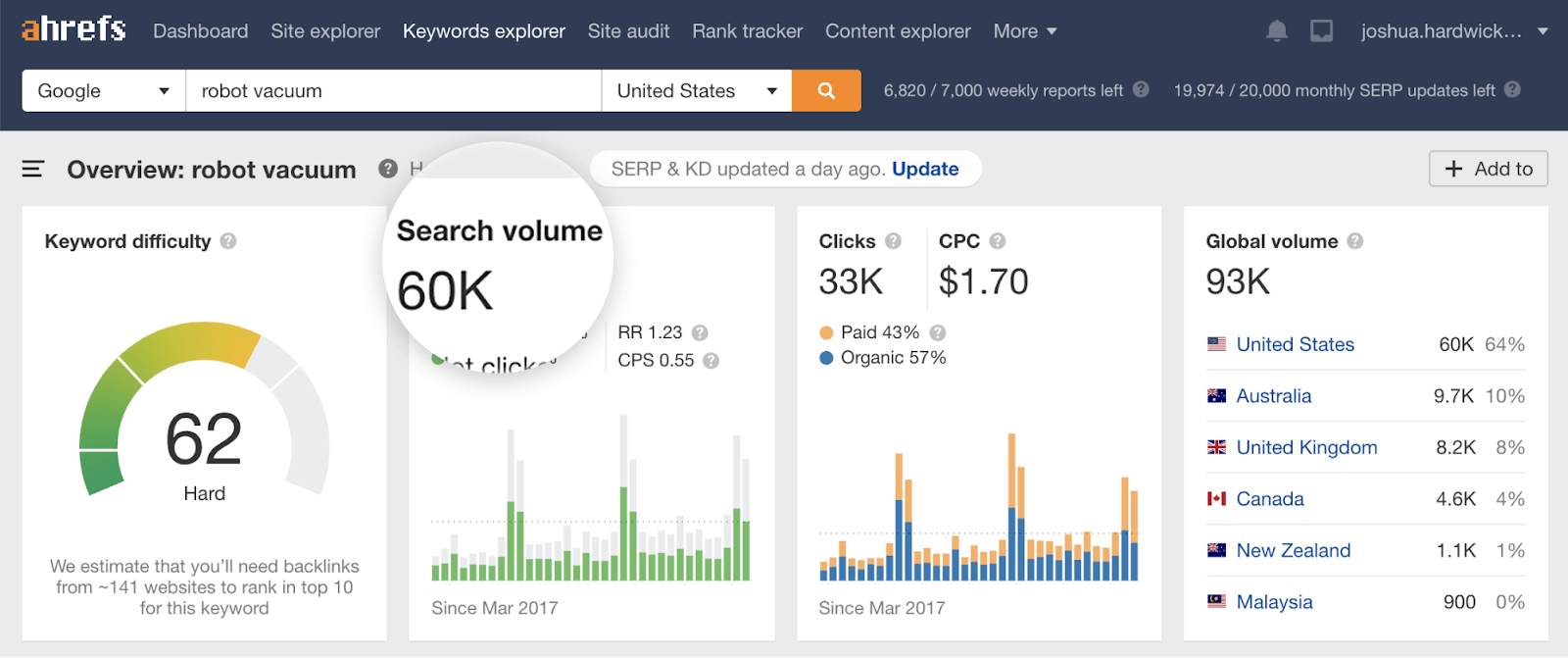 After all, people searching for "robot vacuum" are probably looking to buy one, and you sell them. So what's the problem?
The problem is that most of the people searching for this keyword aren't ready to buy. They're just looking for reviews and insights into the best models available.
How do we know? Look at the search results in Google.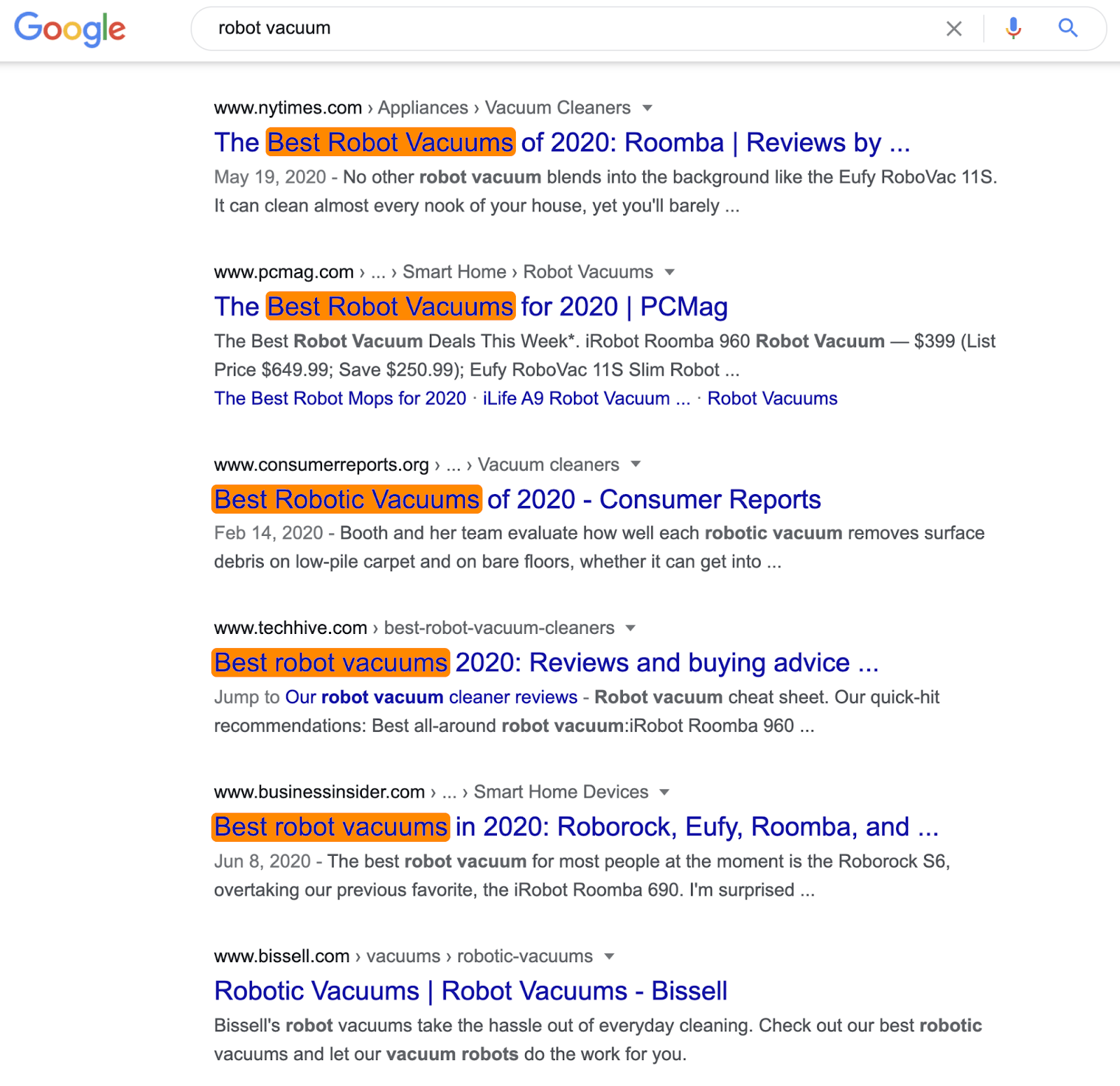 You can see that almost all of them are curated lists of the best robot vacuums by consumer review websites. That matters because Google's job is to deliver the most relevant search results to users. If most of those are lists of the best robot vacuums, then we can assume that's what searchers want to see.
In SEO, this is known as search intent.
If you want to stand the best chance of ranking for your keywords in Google, you need to create content that aligns with intent. In other words, don't try to rank your homepage for a keyword where searchers are looking for blog posts, and vice versa.
'Value'
People often get hung up on search volume and intent without stopping to think about a keyword's value. That's a mistake.
Let's say that you sell pizza ovens online. You might see a keyword like "pizza dough" with its 43,000 monthly searches and think that trying to rank for it is a no-brainer.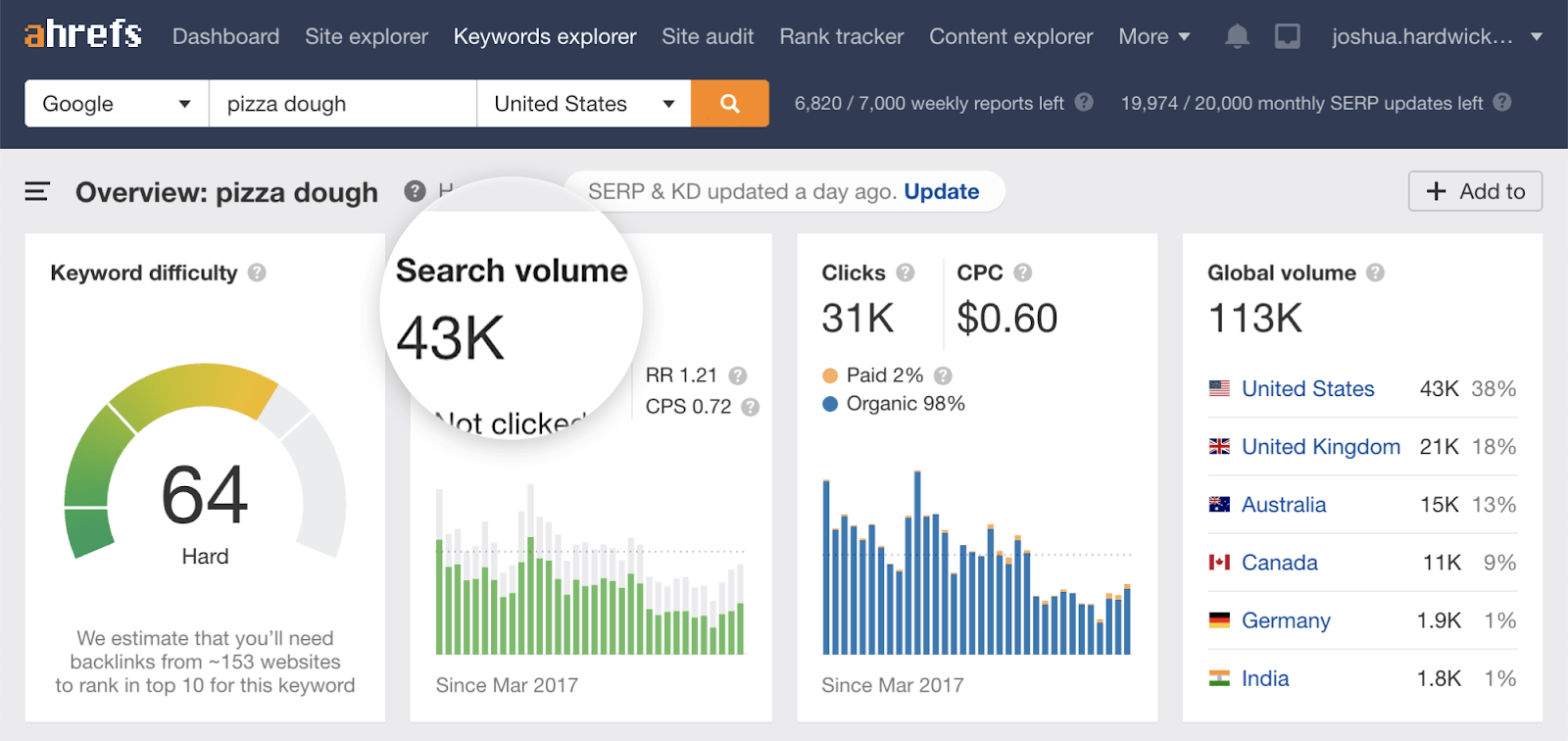 But, you have to ask yourself how many of those people are likely to want to buy a pizza oven? The realistic answer is probably none. Most are almost certainly just looking for a quick recipe. It's unlikely that they'll want to drop a few hundred dollars on a pizza oven anytime soon.
So how do you judge a keyword's value?
If you're analyzing keywords in bulk in a keyword research tool like Keywords Explorer, you can look to CPC for a very rough sense of 'value.' This shows how much advertisers are willing to pay for a click from the keyword, on average.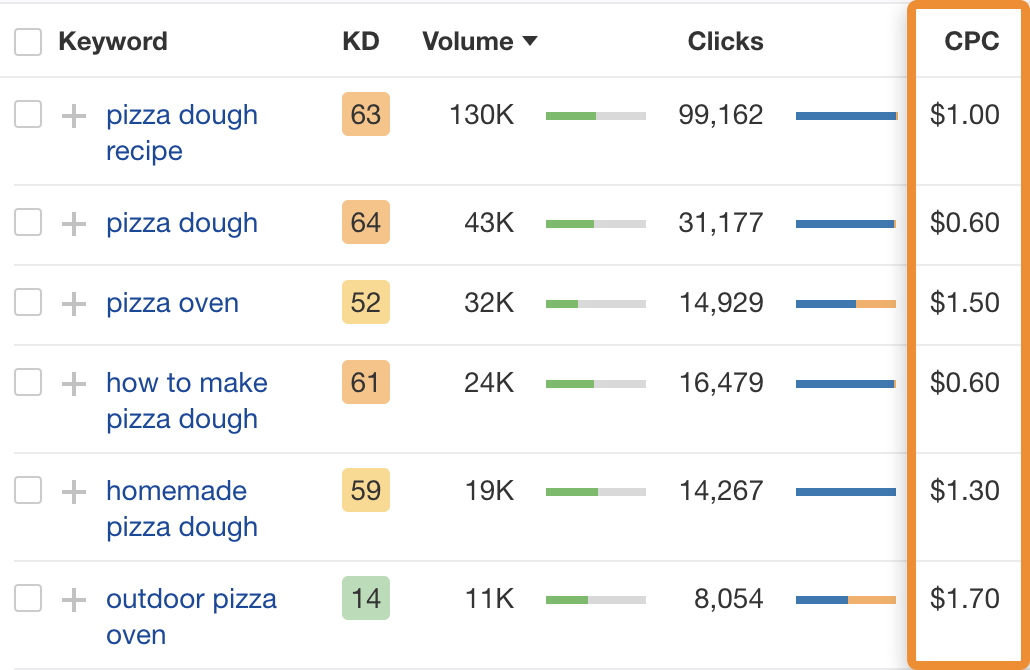 The idea here is that if people are willing to pay good money for clicks, there must be some value in the traffic from that keyword.
However, things aren't quite this simple. Just because a keyword has value for one person doesn't necessarily mean it has value for you.
Take "link building service," for example: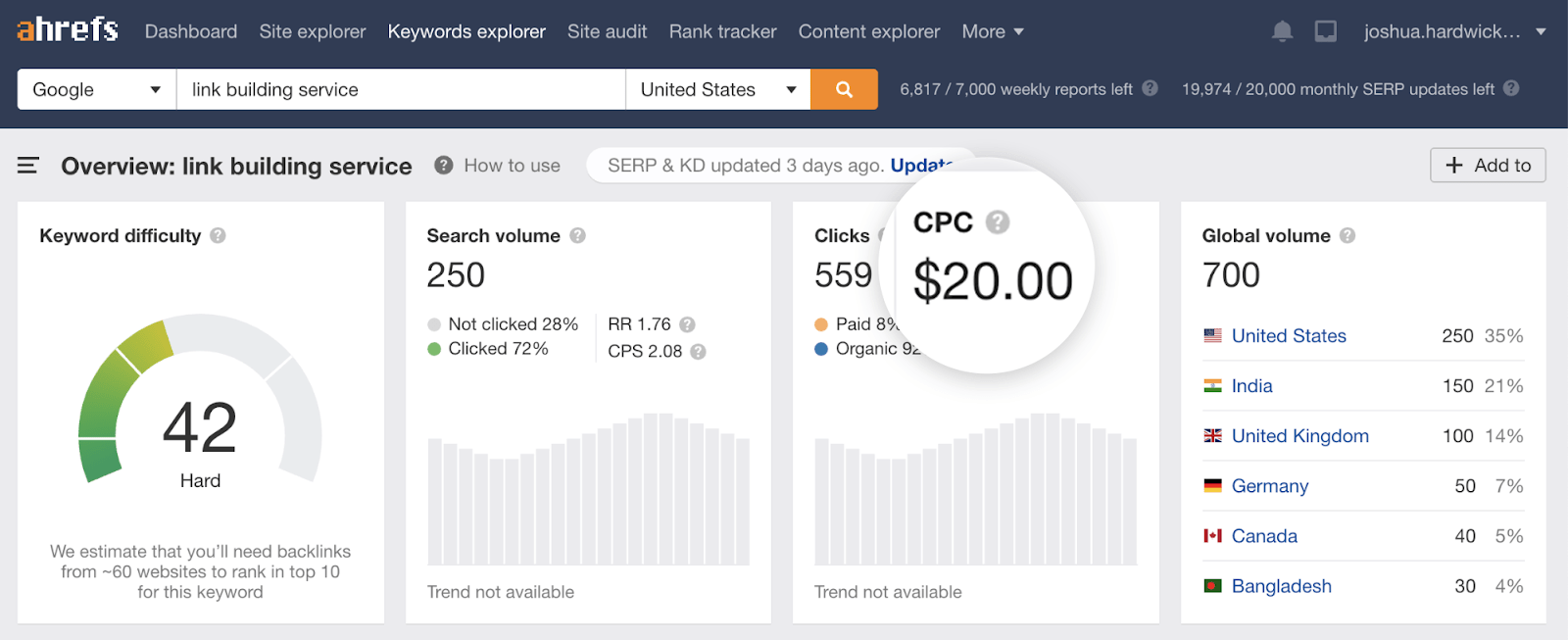 It has a high CPC, and it's easy to understand why. There's a lot of money to be made selling link building services, and the companies that do so are willing to pay good money for this traffic.
However, because we don't sell link building services, it doesn't hold much value for us.
Keyword Difficulty
Let's say that you've found the perfect keyword. There are lots of people searching for it, your page matches search intent, and it seems valuable. You should go after that keyword, right?
Not necessarily. It depends on how difficult it will be to rank for.
For example, look at "mortgage payment calculator":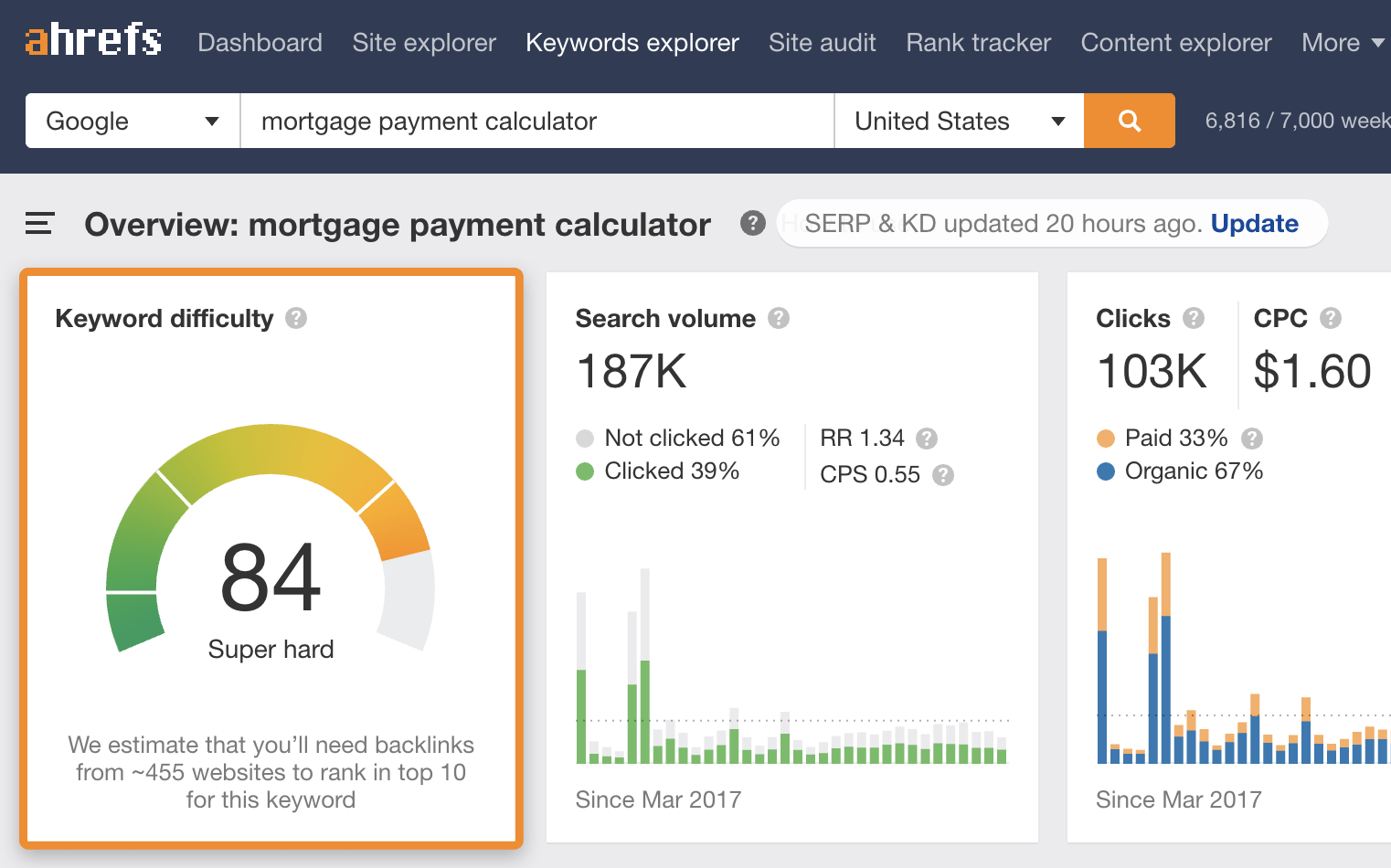 It has a Keyword Difficulty score of 84. Given that our scale runs from 0-100, that's pretty high. It means that many of the top-ranking pages have lots of links from other websites. Because backlinks are an important ranking factor, it would be hard to outrank the other pages without getting lots of high-quality links.
That said, there's more to ranking in Google than getting backlinks. So while Keyword Difficulty is useful for getting a rough sense of ranking difficulty, there are other things you should take into account.
Learn what they are in our full guide to assessing keyword difficulty.
Most guides say that you need to do these kinds of things to optimize for keywords:
Include the keyword in the title tag
Include the keyword in the URL
Mention your keyword throughout your page
Include long-tail keywords in your copy
Although it does make sense to do many of those things, they're not the primary way you optimize for a keyword.
The primary way to optimize for a keyword is to match search intent.
We talked about this a little earlier, but it's important to stress just how important this is. If you're trying to rank for "cast iron skillet" with a blog post, it's probably not going to happen. Google knows searchers are in buying mode, not learning mode. That's why the top five results are all product and category pages from ecommerce sites.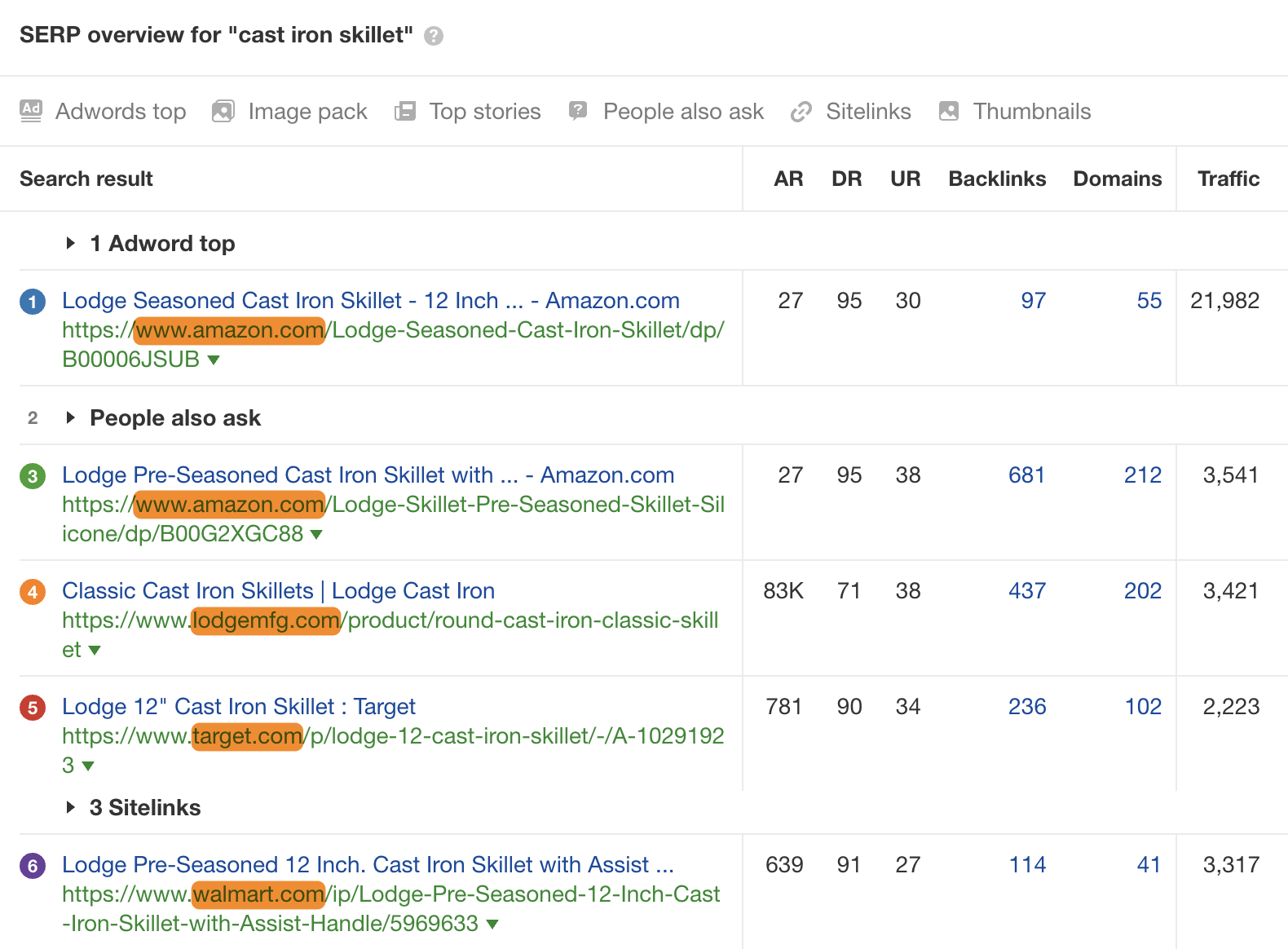 But matching search intent isn't just about creating the right type of content. You also need to talk about the things that searchers are expecting to see.
For example, let's say you want to rank for "backlinks."
You can see from the current top-ranking pages that searchers want a blog post, so you know that's the type of content you need to create. But what exactly should you write about? What should the angle of your post be?
You can get a sense of this by looking at the top-ranking pages.
In this case, almost all of the posts have the same angle: "what are backlinks?"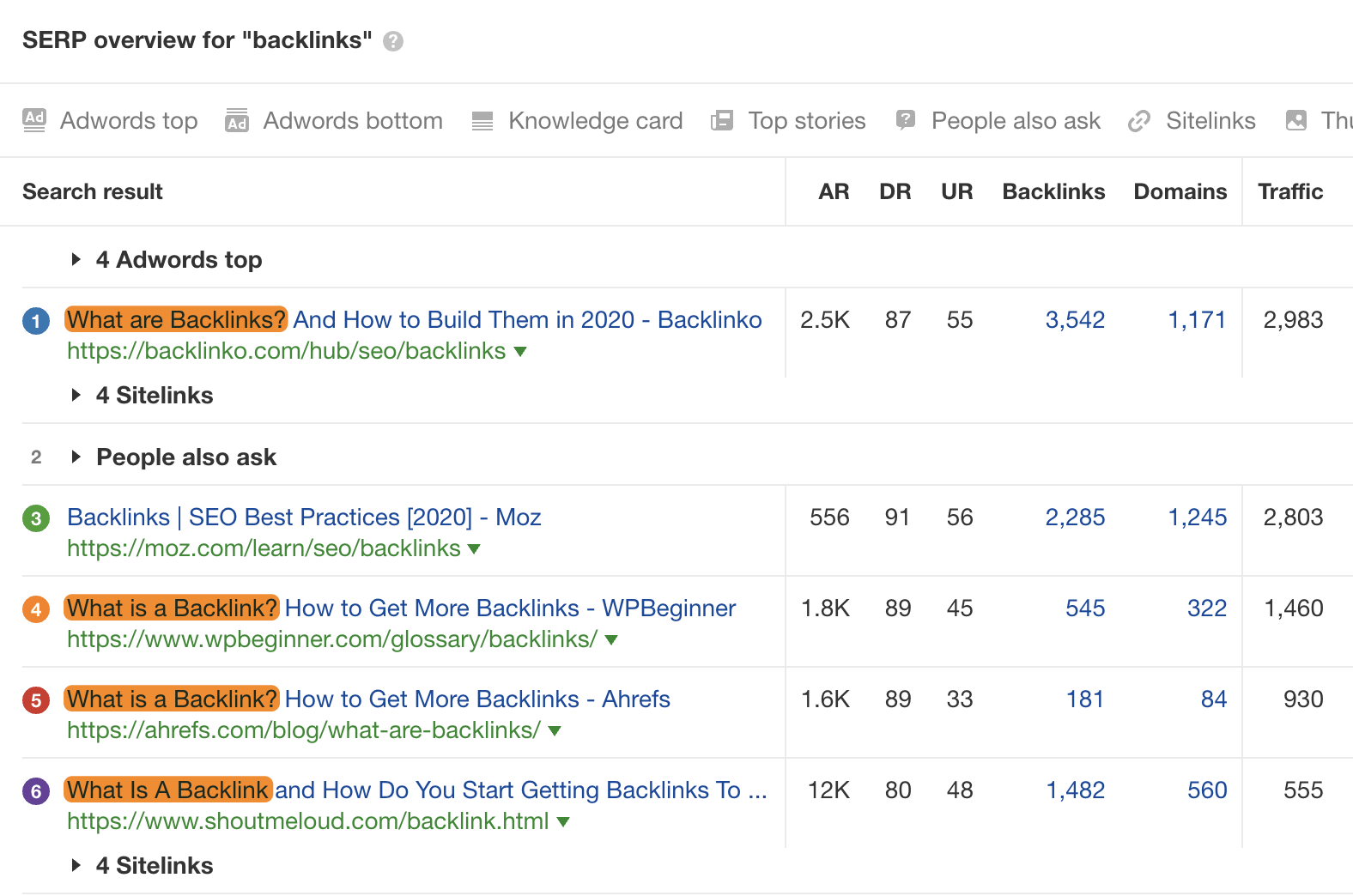 To stand the best chance of ranking for this query, you'd want to follow suit.
But don't stop there. You should also check what else the top-ranking pages cover. For example, nearly every page that ranks for "backlinks" covers three subtopics:
What are backlinks?
Why are backlinks important?
What types of backlinks are there?
That tells you that most searchers want to know the answers to those questions, so you should include them in your post.
Recommended reading: On-Page SEO: An Actionable Guide
If you've read anything about keyword research before, you might have come across the term long-tail keywords. Most guides define these as keywords that consist of lots of words, but that's not entirely accurate.
Long-tail keywords are search queries with low individual search volume. While it's true that longer, more specific keywords tend to have lower search volumes, one and two-word phrases can be long-tail keywords.
In fact, there are over 350 million one and two-word phrases in our database with fewer than ten monthly searches.

People also say that long-tail keywords are easier to rank for. That can be true, but not always. It's more accurate for what we like to call "topical long-tail keywords" than "supporting long-tail keywords."
Confused? Let's take a brief look at these two groups.
What are supporting long-tail keywords?
Supporting long-tail keywords are unpopular ways of searching for a popular topic.
For example, look at these keywords: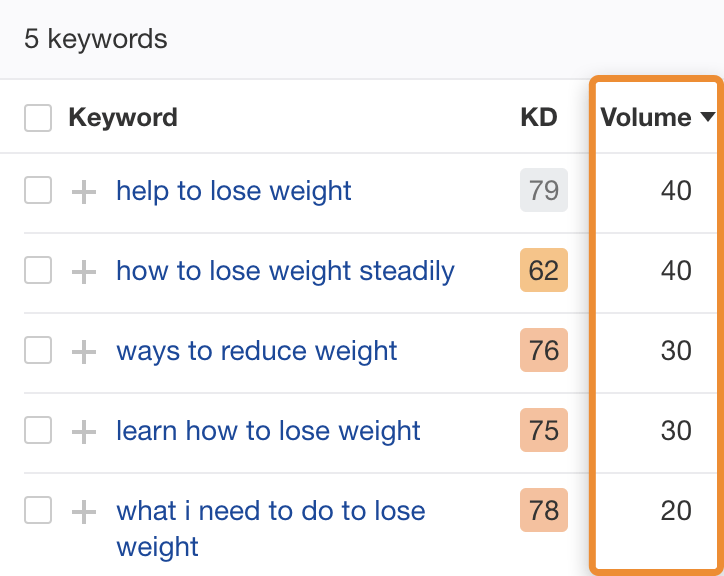 Each of them has fewer than 50 monthly searches, but they're all just less popular ways of searching for "how to lose weight"—a keyword with 89,000 monthly searches in the US.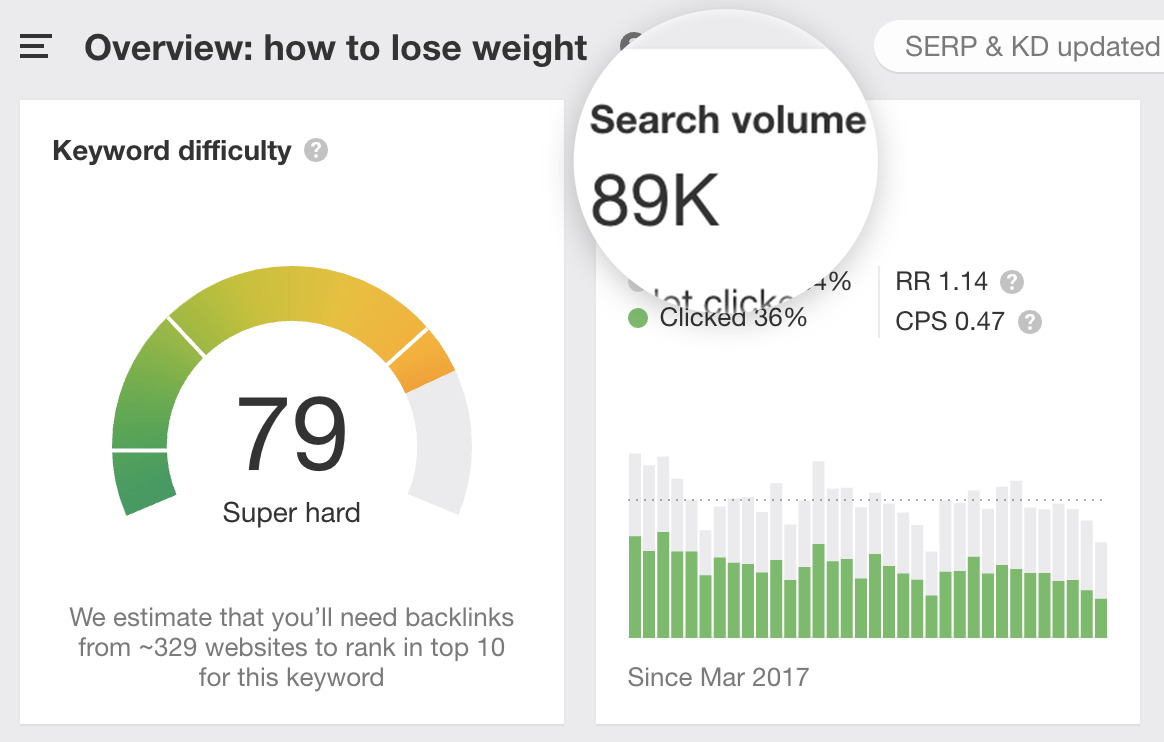 Google knows this, which is why the same page ranks #1 for all of those queries.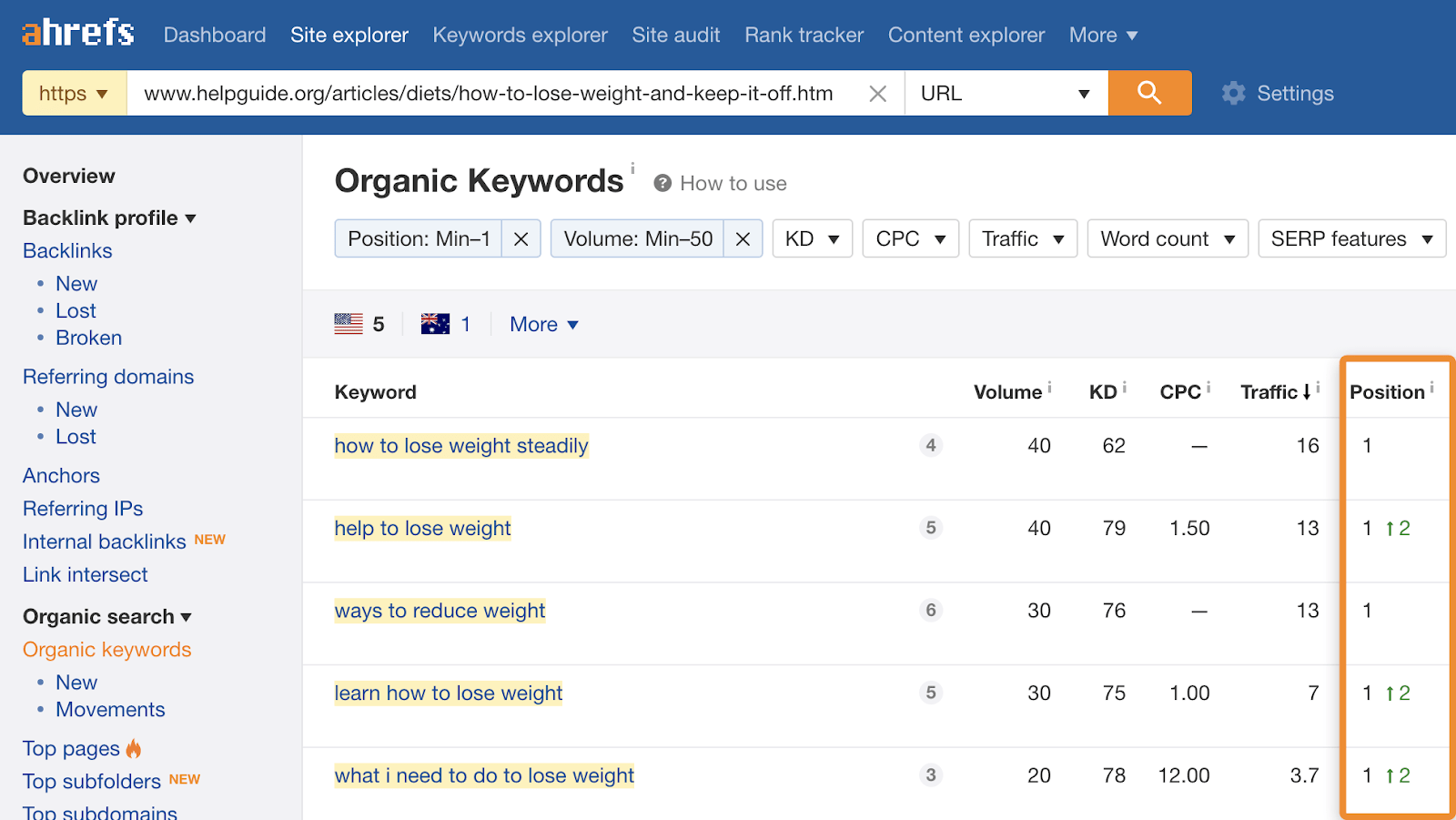 This isn't uncommon. Our research shows that the average top-ranking page also ranks for around a thousand other keywords in the top 10: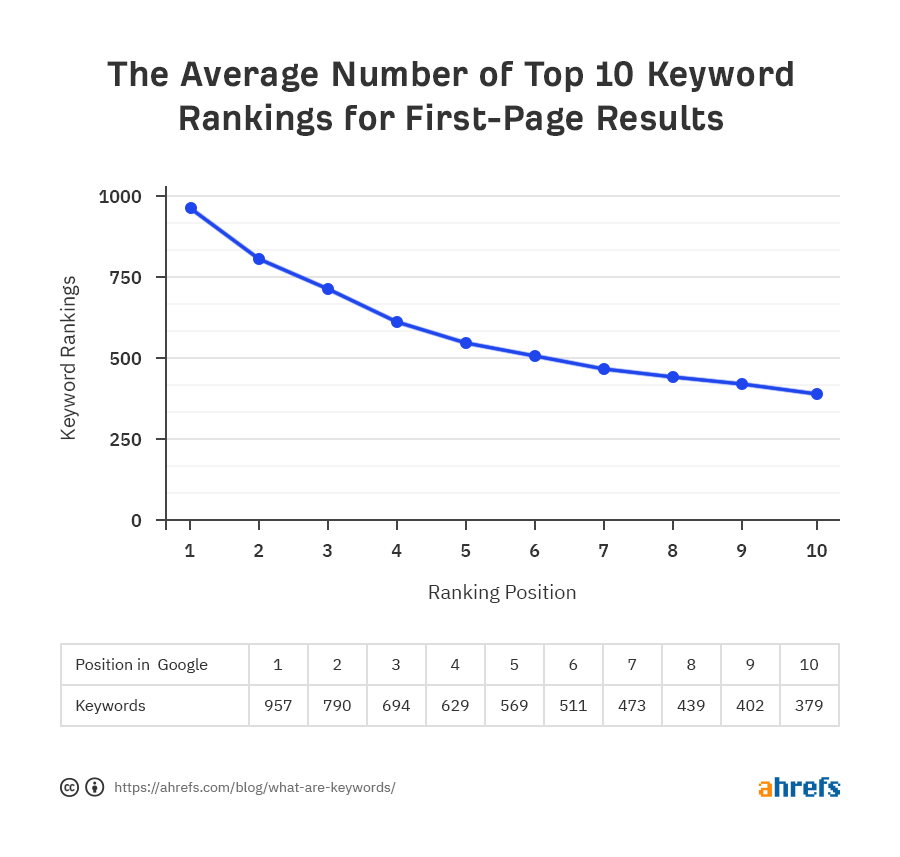 There are two lessons to learn from this:
The first is that ranking for supporting long-tail keywords is usually no easier than ranking for the most popular way of searching for the topic (e.g., "how to lose weight"). You can see evidence of that if you compare the Keyword Difficulty score for "how to lose weight" to the other long-tail variations above. They're all high.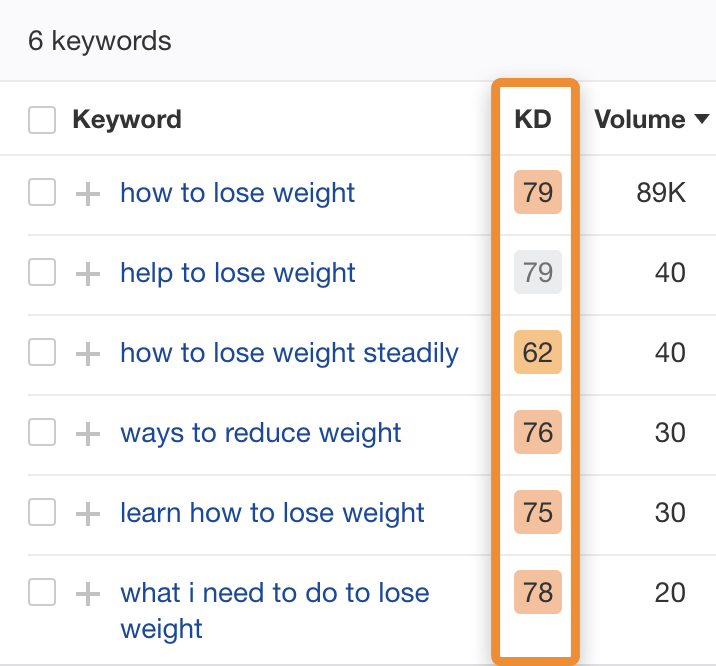 The second is that you shouldn't optimize your page for a supporting long-tail keyword. You should optimize it for the most popular way of searching for the topic.
What are topical long-tail keywords?
Topical long-tail keywords are those with low individual search volumes that represent the most popular way of searching for a topic.
A good example of a topical long-tail keyword is the query, "keyword cannibalization":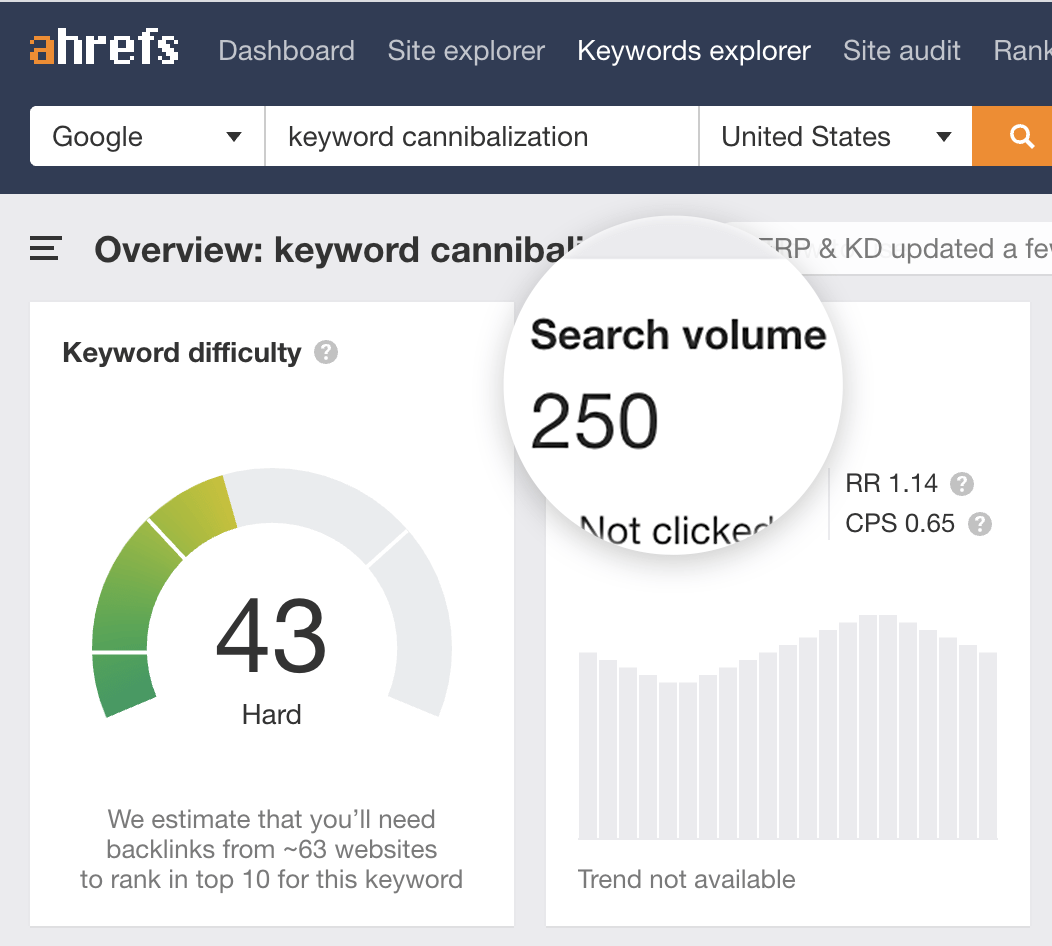 It only gets 250 searches a month, but that's not because there's a more popular way of searching for the topic. It's because so few people care about the topic that it only gets a handful of monthly searches.
There are two lessons to learn from this:
The first is that topical long-tail keywords are often easier to rank for because they're less competitive. People aren't willing to invest a lot of time and effort into ranking for topics with low traffic potential.
The second is that topical long-tail keywords can send tons of traffic to your site. You just need to rank for lots of them.
You can find topical long-tail keywords in Keywords Explorer by searching for a topic, then filtering for low volume and low-difficulty keywords. If the "Parent Topic" matches the keyword itself, it will usually be a topical long-tail keyword.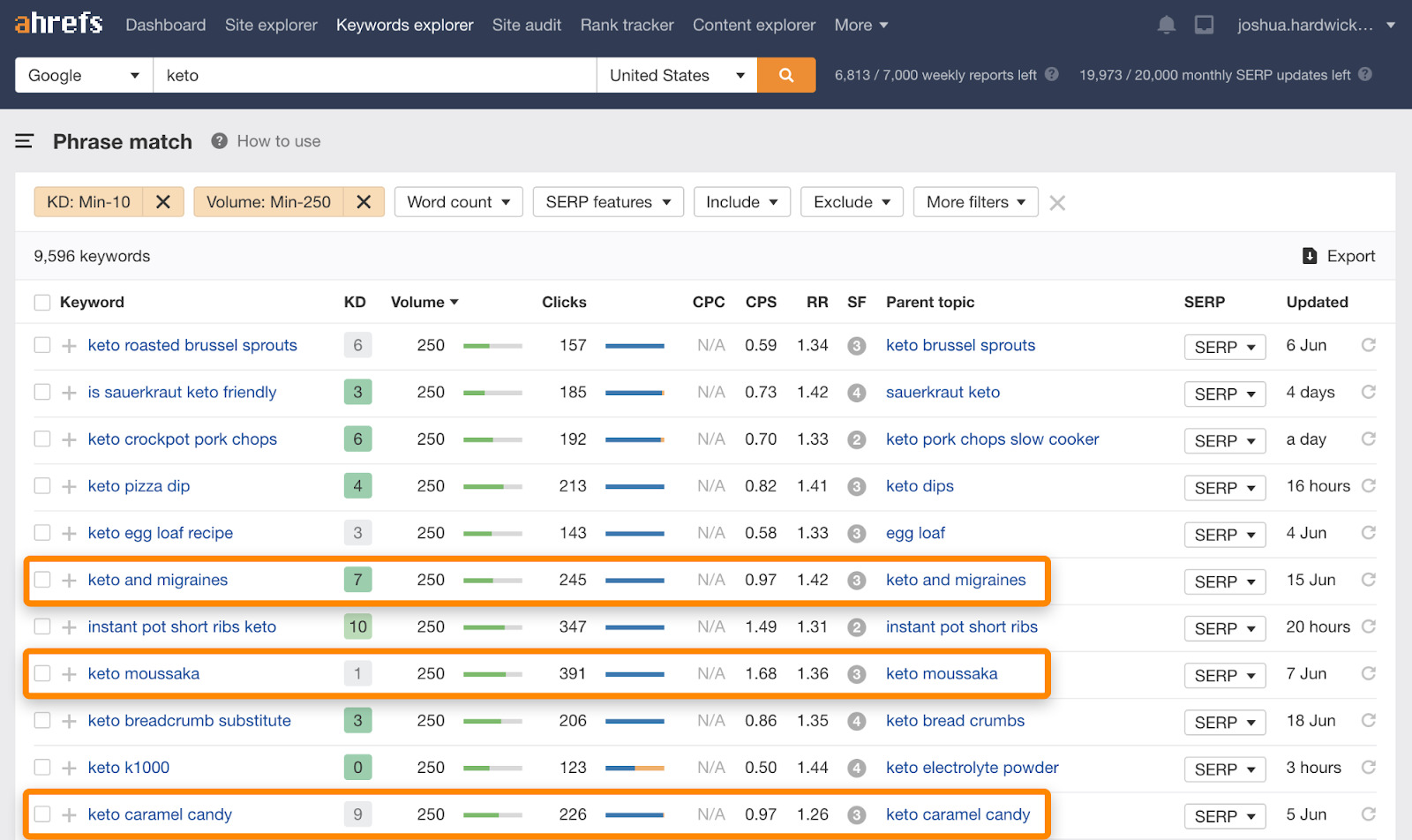 For example, the Parent Topic for "keto and migraines" is the same as the keyword.
If we look at the search results for this keyword, we see multiple pages getting a few hundred visits per month while having few backlinks.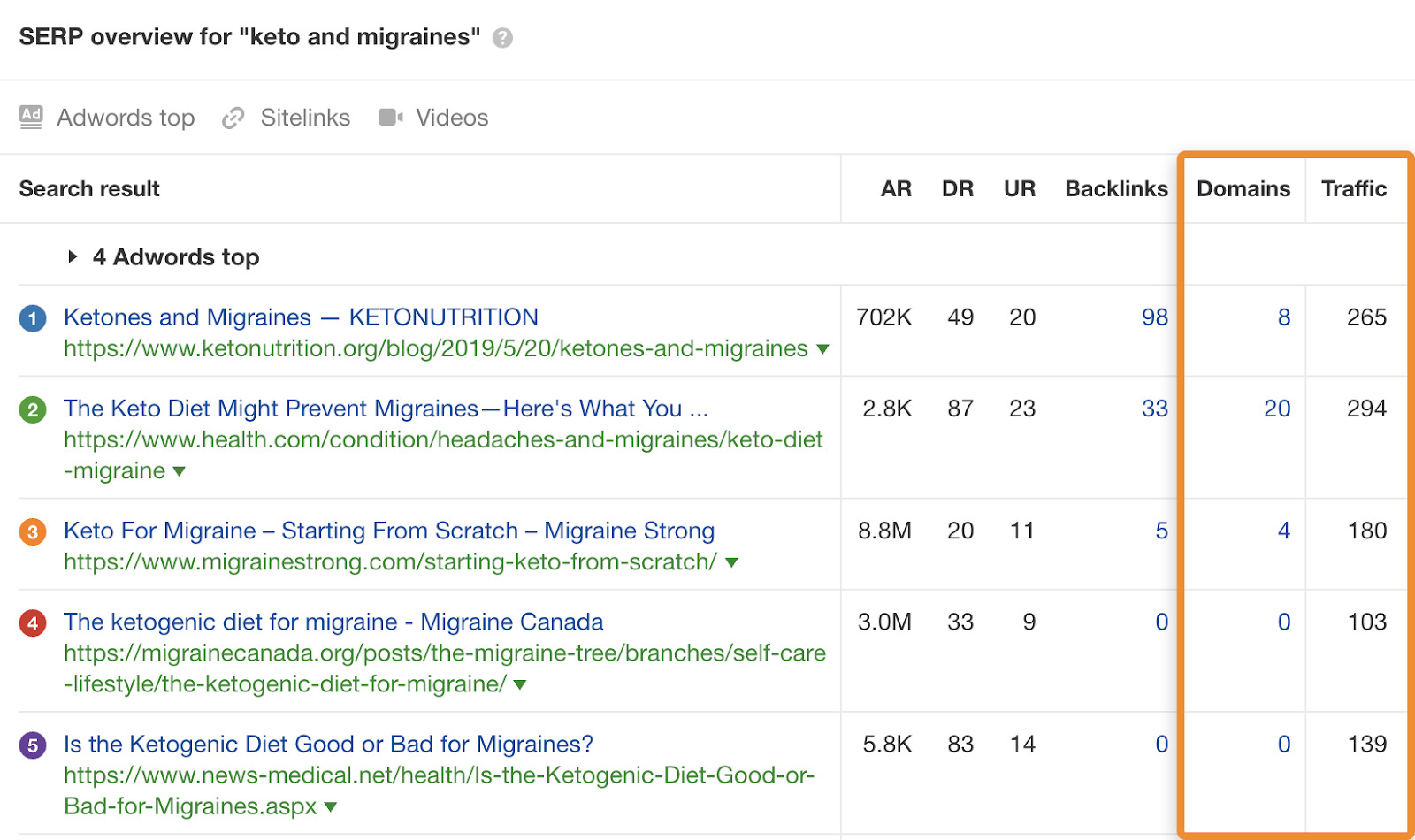 It would probably be quite easy to rank for this keyword even with a relatively new website, as long as your content was well-optimized.
Final thoughts
Keywords are the foundation of SEO. You can't possibly create or optimize content for search engines unless you know what people are searching for and what they want to see.
Looking to learn more about keyword research? Read our complete keyword research guide.
Looking for some quick keyword research tips? Here are 6 of them.
Got questions? Ping me on Twitter.