SEO is a difficult task to do on your own. So having a team can make ranking on Google much easier.
But how do you build an SEO team? Is it worth the investment? Where do you find the people you need?
Today, we answer all these questions and more.
Should you build your own SEO team?
Is building an SEO team even worth it? The answer depends on your goals and budget.
Hiring a team is right for anyone who wants to build and scale their SEO while also training people who will become assets to their company.
It is not for those who aren't willing to go through the lengthy process of finding, hiring, managing, and potentially firing people and going through the whole process again.
It's also not right for those looking to minimize their in-house overheads, as they'll typically pay a $30K-60K salary per team member, plus an additional $2.5K to $4.5K per year in SEO tools. This means building a team (1-10 people) will range from $32.5K to $300K+ per year.
Here are the benefits of building an SEO team:
You get full control over your SEO.
You're not reliant on third parties for your business's income from search, as is the case when hiring an SEO agency.
You'll often save money (compared to hiring an SEO agency, which usually costs anywhere from $3K to tens of thousands of dollars per month).
On the other hand, hiring an SEO agency means a lot less work finding and training employees, less overhead, and you can have an expert come in and do everything for you.
PRO TIP
One way to save money on an in-house SEO team is by utilizing freelancers. You can hire a full-time SEO team lead, then use freelance writers to create content. This way, rather than having a full-time writer who may not have enough work to fill those hours, you can use the freelancers on an as-needed basis.
How to structure your SEO team
If you've decided building out an SEO department in your company is the right move, you need to fill four key roles. This doesn't mean you need four people (one person can technically fill all roles); it just means you need to fulfill these tasks.
Your SEO team structure needs the following four roles:
Manager/team lead
Web developer(s)
Content team
Outreach team
You need developers to fulfill technical SEO requirements, a content team (writers and designers), and an outreach team to promote your content and build links. Lastly, of course, you need someone to manage all these people so things move smoothly.
Note that you don't need to hire a giant team to get this done. You can hire one or two people to do many of these tasks. It just depends on your financial resources and how competitive your keywords are. More on that later.
How to build an SEO team
Building an SEO team falls into three steps:
Determining your goals and hiring needs
Finding your talent
Setting up your task management software to manage it all
1. Determine your goals and hiring needs
The size of your team depends on what you're trying to do and how much money you have.
The first thing you should do before hiring anyone is to figure out your competitive landscape. You can do this using Ahrefs' Keywords Explorer and Content Gap tool. You're trying to figure out three things:
What kinds of keywords am I going after?
How competitive are these keywords?
What roles do I need to fill the most?
For instance, if you currently have a lot of content but it's not ranking, you'll need to allocate more budget to link building, especially if you're targeting highly competitive keywords. But if you don't have much content yet, your focus should be more on building a content team.
There are two quick ways you can use Ahrefs to determine your team needs:
1. Use the SERP overview in Keywords Explorer to determine if you need links
The SERP overview allows you to see what pages are ranking for a given keyword and how many links those pages have. You can also see each page URL's Domain Rating (DR) score.
Using this tool, you can determine if your pages need more links in order to beat the competition. For example, if we take a look at the keyword "seo tools," we can see that Ahrefs is currently in position #6, with 1,389 backlinks from 450 referring domains.

The competitors beating us have thousands more links than we do, so this tells us that we may need link building to rank higher for this keyword. (I say "may" because Google's search algorithm is complicated, and we can never say with 100% certainty that one thing alone is the cause of rankings.)
If you have a lot of content already and—after reviewing your keywords—find, on average, you're not beating your competitors due to a lack of backlinks, then you should prioritize putting together a link building team.
2. Use the Site Audit tool to check your technical SEO
Ahrefs' Site Audit allows you to take a peek inside your website's technical SEO.
When you run an audit on your URL, you'll be given a Health Score that shows you how healthy your site's technical SEO is. This score is based on a variety of factors, including page speed, CSS and HTML, meta tags, and more.

If you run an audit on your site and find that you have a poor score, you know you need to hire a developer to help take care of your technical SEO issues. Better yet, you can give them the audit report. They will know exactly what they need to do in order to fix your site's issues.
2. Find your talent
Once you've determined who you need, you have to learn how to find and hire them.
There are many ways to find people to work for your company. These include searching online job boards, asking friends and family, going through talent agencies, etc.
A few great options include:
Indeed or Zip Recruiter for general job listings
ProBlogger or Mediabistro for finding writers
Upwork or Fiverr for hiring freelancers
You can also check out some of these job boards for marketers. This "job boards" article is written for marketers looking for a job, but you can go to the boards as an employer as well.
Note that the quality of people you attract from these job boards is directly related to the quality of your job listing. If your listing doesn't sound interesting and enticing, the higher-quality candidates won't even apply. Feel free to borrow our SEO specialist job description template.
If you need more help figuring out how to hire great people, I strongly recommend the book "Who: A Method for Hiring." It was written by Geoff Smart and Randy Street, two serial entrepreneurs who developed a four-step process for finding, hiring, and retaining the best talent.
3. Set up your task management software
Once you've found your team members, you'll need to keep them organized and efficient. This is where task management software like Trello or Asana comes in.
I've used both. But I prefer Asana, as it's more robust. You're able to build to-do lists, Kanban-style boards, projects for specific tasks or teams, and more.
Here's an example of the board-style project page: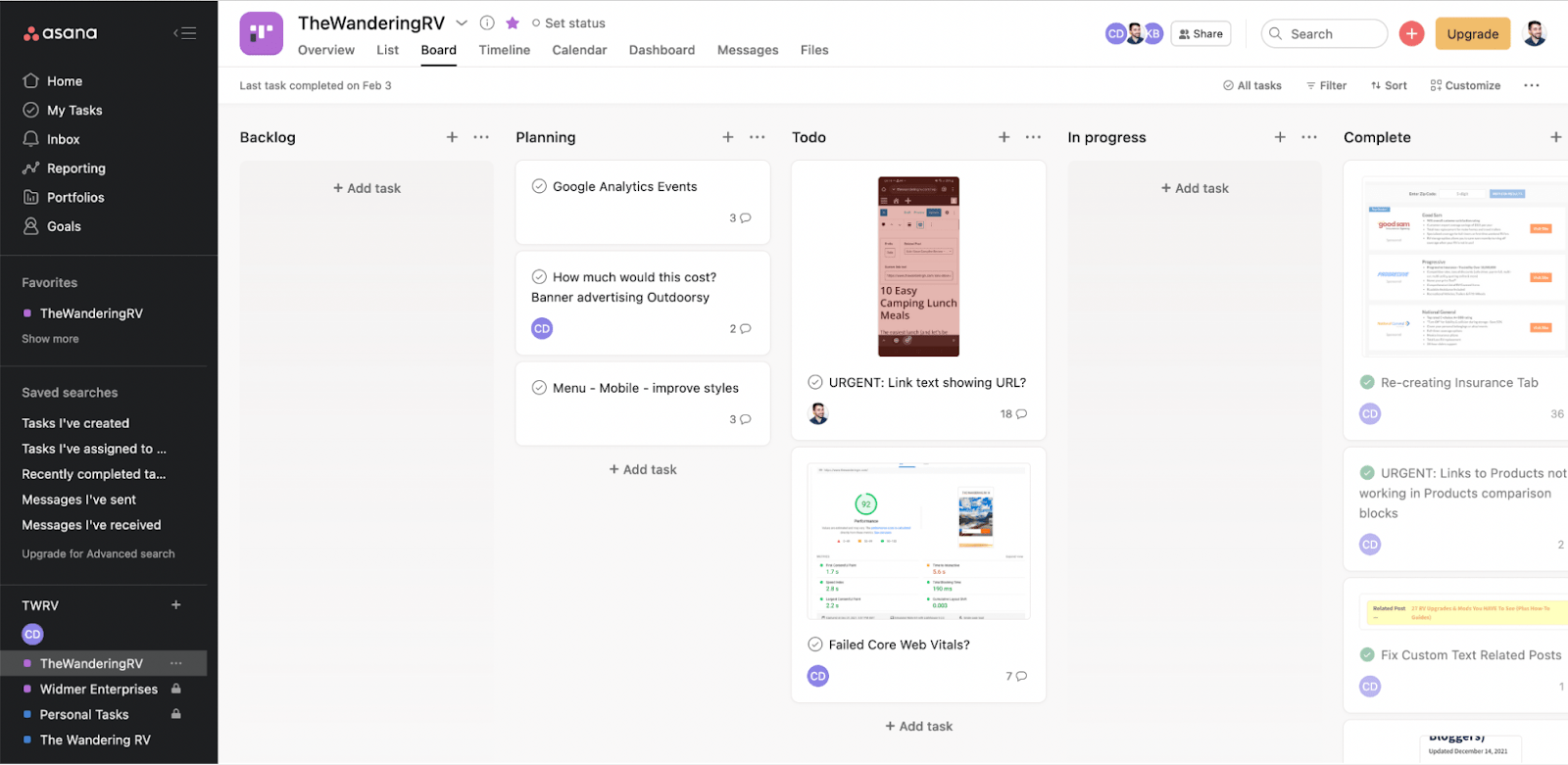 Inside Asana, you can create different projects for different teams within your business, which you can see in the bottom left corner of the screenshot above. I have separate projects for separate businesses, as well as a "personal tasks" project for things I need to take care of that my employees and colleagues don't need to see.
For your SEO team, you can create a team called "SEO," then create projects for each SEO process.
For example, you can create a "Content" project, which only includes the content team and the upcoming, in-progress, and finished content; a "Developer" project to assign tasks to and work with your developer; and an "Outreach" project for link building and content promotion.
Here's an example of one of the content planning boards I use in Asana:

From there, your SEO manager can have access to and oversee each project. They can comment directly on the tasks within Asana to keep everyone moving. But I also recommend setting up a chat channel like Slack for real-time communication that's faster and less cumbersome than comments or emails.
Need more help with Asana? Here's an excellent video overview on how to set it up and use it:
https://www.youtube.com/watch?v=iKsO9zx9n2Q
Final thoughts
Building an SEO team can help you "outscale" and outpace your competitors on Google's search results page. And having an in-house team gives you a competitive advantage. This can also save you some money—especially on things like link building, where links can go for hundreds of dollars apiece (if you pay someone else for them).
However, it is a big commitment to hire and manage an entire department, so this method isn't for everyone. Think long and hard about which method is right for you before you make a decision.
Want to learn more? Check out some of these other great guides to SEO: