Everyone knows that structuring your website in a logical way is as important for users as it is for SEO, and "siloing" is one way many SEOs recommend doing this.
But I think that "siloing" is a terrible idea and isn't something you should do.
In this post, I'll explain why that is and what you should do instead.
But first, let's make sure we're on the same page…
Silo structure in SEO is a type of website architecture where you group, isolate, and interlink content about a specific topic. This creates clean, distinct sections of related content on your website.
Here's roughly what SEO silos look like in practice: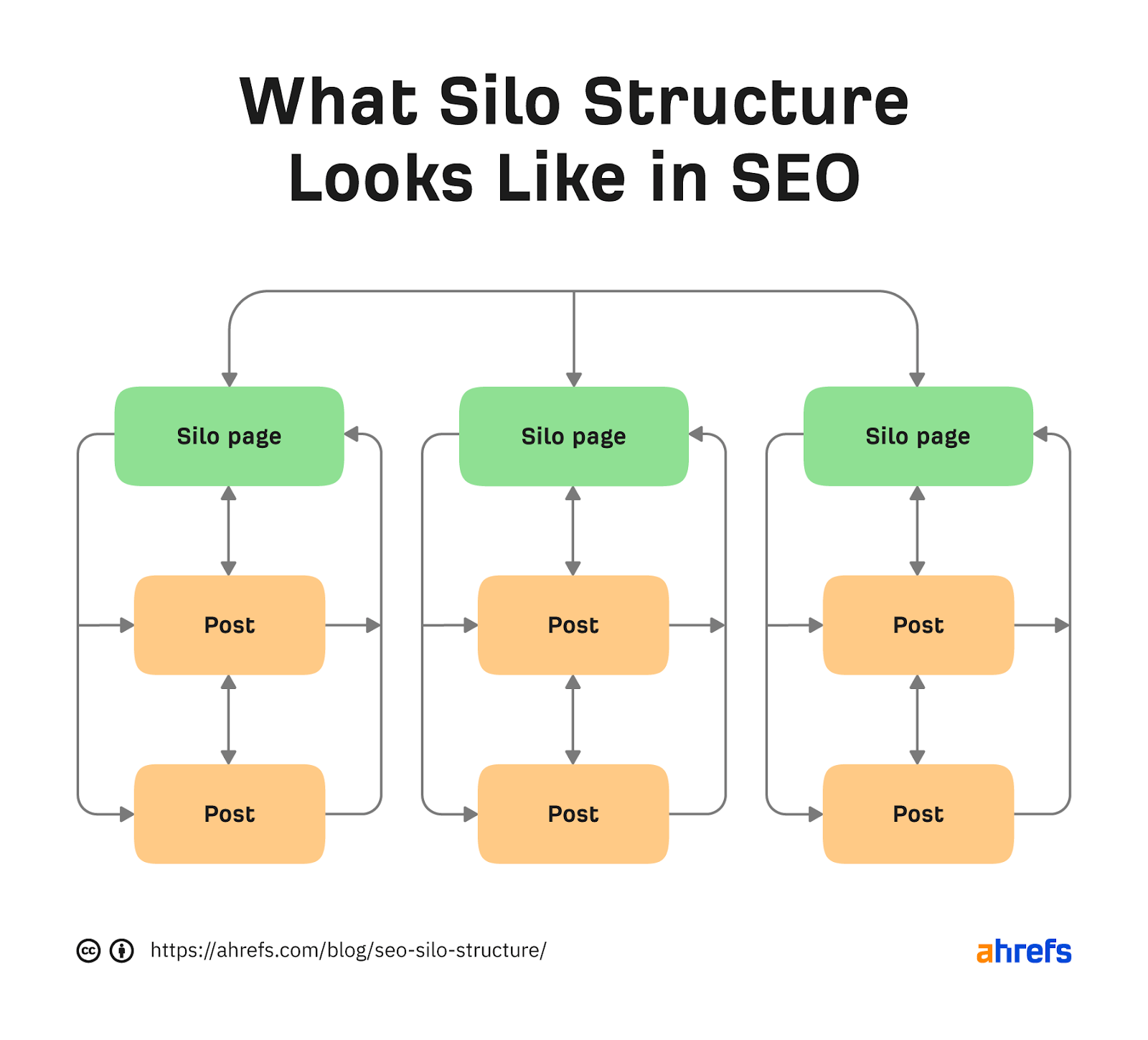 You can see that each silo consists of a main silo page and related content, all of which are interlinked. However—and this is a crucial point—the content in one silo does not link to the content in another silo. That's why it's called silo structure, as the content is literally isolated in silos.
If we run a quick search in Content Explorer, we see over 11K published pages containing the phrase "silo structure" and the word "SEO."
The reason for its popularity is the perceived benefits, which usually go something like this:
1. It helps Google to find your pages
Internal links are one of the ways Google finds new pages, so it's best practice to ensure that all of your pages are interlinked in some way or another.
Siloing can help with this because it creates a logical hierarchical structure with consistent internal linking.
2. It boosts rankings
There are two main reasons why siloing may help to boost rankings.
Better flow of PageRank
PageRank (PR) is Google's formula for scoring the value of a page based on the quantity and quality of pages linking to it. Backlinks are how PR flows into your site, and internal links are how PR flows around it.
As all pages in a silo are interlinked, siloing helps PR flow between them.
In effect, if one page in a silo attracts lots of high-quality PR-boosting backlinks, some of that PR is shared with other pages in the silo through internal links.
More contextual internal links
Silos are groups of related content. This means that the internal links between pages within them are usually contextually relevant. In other words, siloing creates internal links to and from pages about similar or related things—and usually with relevant anchors, too.
Both of these things help Google to understand the context of a page, as John Mueller explained in this Webmaster Hangout:
[Internal linking] also helps us to get a bit of context about that specific page. And we get some of that through the anchor text … and some from understanding where these pages are linked within your site.
For example, if you knew that a page had these internal anchors…
The company founded by Steve Jobs
The iPhone manufacturer
CEO, Tim Cook
… you could probably figure out that it's about Apple.
The same would be true if a page had internal links from pages about these things:
3. It creates a good user experience
Internal links aren't just useful for SEO; they also help users to navigate your website.
For that reason, siloing can improve user experience, as it effectively brings topically similar pages closer together. In other words, siloing places content about Steve Jobs, iPhone, and iPad fewer clicks away and helps you find relevant content more easily.
Given the potential benefits of siloing, you may be wondering what the problem is and why it's not something I'll recommend.
The answer: Forbidding internal links between silos is silly and doesn't help SEO or users.
For example, let's say you had these three silos: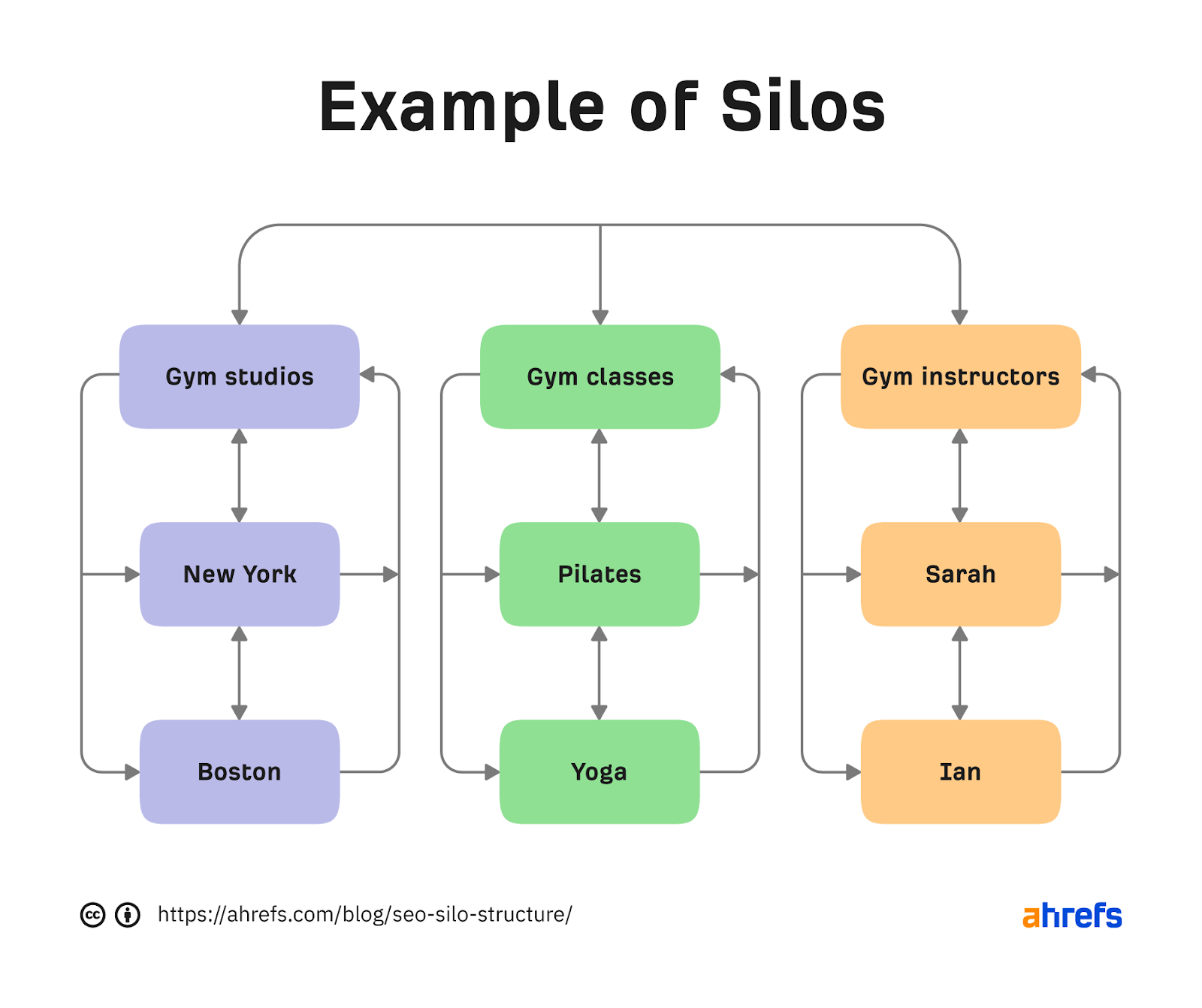 Very neat. But what if Sarah teaches Pilates at the New York studio? Wouldn't it make sense to internally link Sarah's profile, the class she teaches, and the studio she works at?
Of course. But this would ruin your "silos."
It's worth pointing out at this stage that some SEOs disagree with the idea of restricting internal links to silos, including Gael Breton from Authority Hacker:
Historically, when reading about SEO silos, you've probably read about the idea of 'keeping link juice in the silo' and only internally linking to pages that are in the same site section.

We disagree with this.

We believe that, in content, as long as it contextually makes sense to link to another page of your site, you should do it.
However, the reality is that once you do that, you're no longer siloing. You're effectively just using a traditional pyramid site architecture, which is recommended by pretty much everyone, including John.
The top down approach or pyramid structure helps us a lot more to understand the context of individual pages within the site.
With silo structure out of the window, let's look at a few simple best practices for planning and structuring a website with SEO in mind.
1. Use a pyramid structure
Pyramid site structure puts your most important content at the top, followed by your second most important content, your third most important content, etc.
This is how most websites are structured.
For example, here's what a website selling home furniture may look like: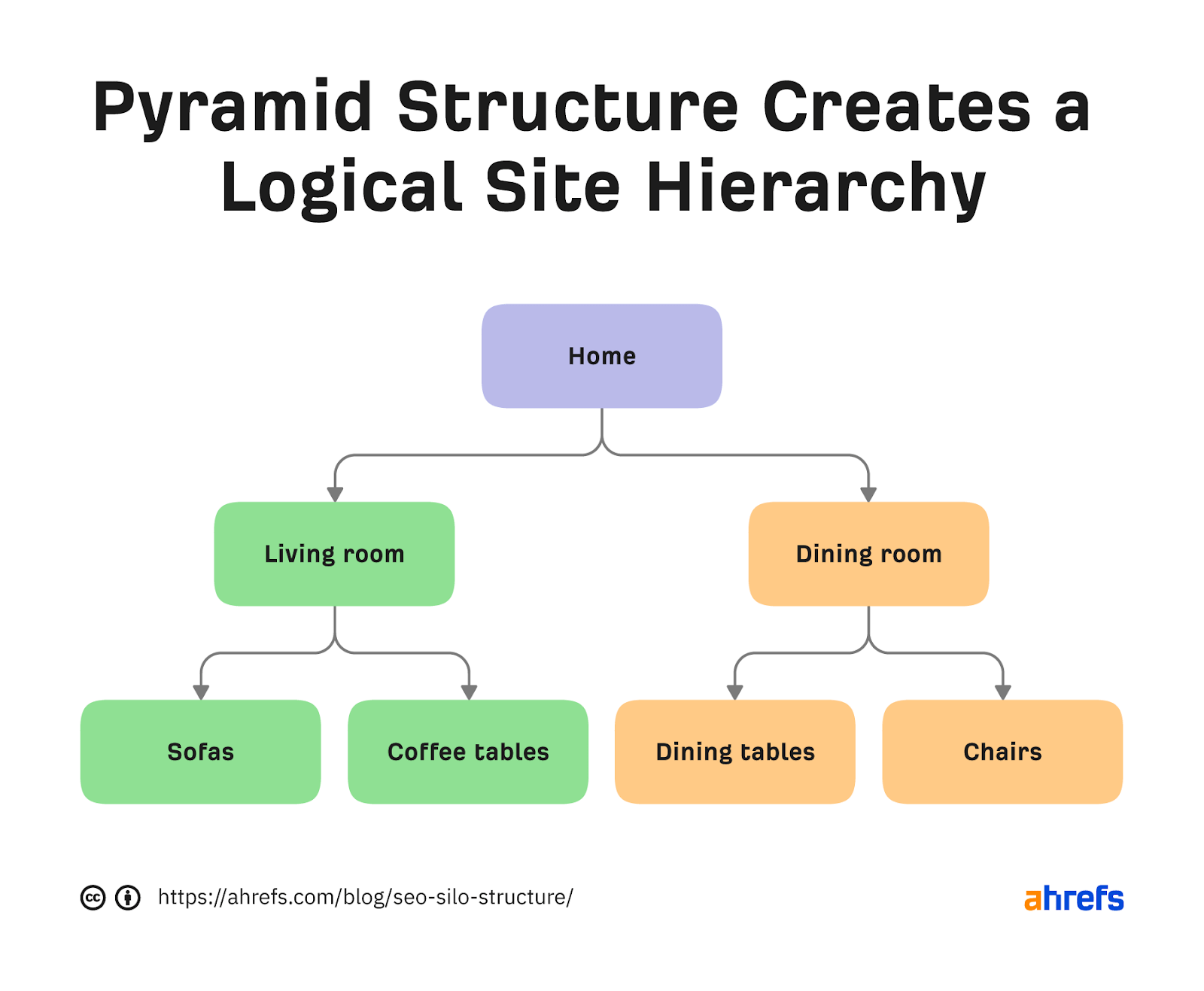 You can see that the internal linking structure resembles a pyramid.
Here are the benefits of pyramid site structure:
Easy to navigate – Visitors start on the homepage, choose a category, then dig deeper.
Good PageRank flow – Site homepages tend to get the most backlinks, so having important content close by makes sense.
Internal links are contextual – Categories link to their respective subcategories and vice versa.
You'll notice that those three benefits pretty much align with the perceived benefits of silo structure. It just doesn't have the downside of prohibiting internal links between silos, which brings us neatly to…
2. Internally link where relevant
The main problem with SEO silo structure is that it prohibits linking relevant contextual opportunities outside of the silo. Using a pyramid structure with no such stipulations solves this.
For example, let's say that you have some dining room chairs and a sofa in the same style. You can happily internally link between those pages despite them being in different areas of the site.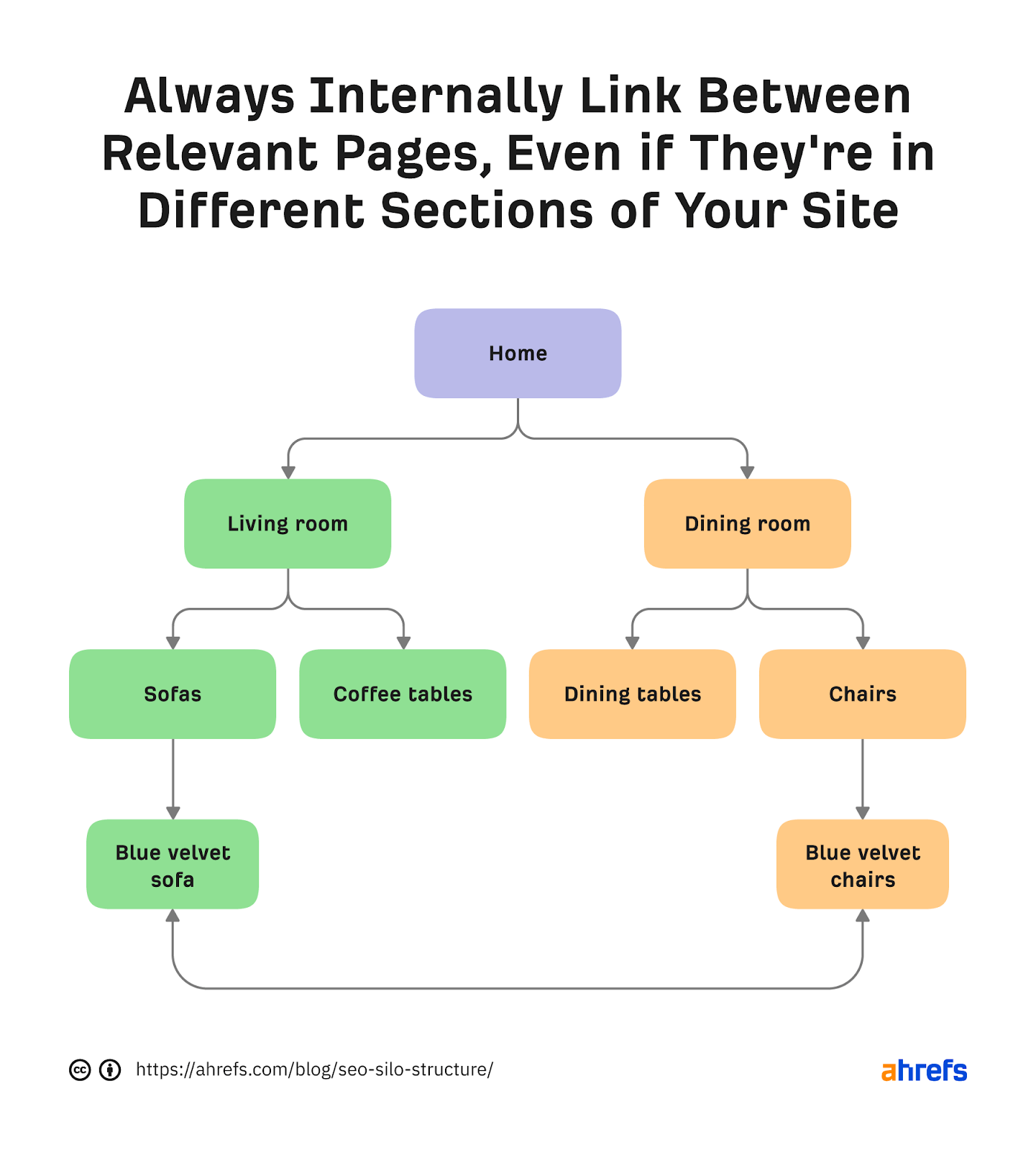 This is better for users and your bottom line.
If you want to find relevant internal linking opportunities, there are a couple of ways you can do that using Ahrefs' Site Audit (get access for free with Ahrefs Webmaster Tools account).
The first is using the Link Opportunities tool, which suggests where you should add internal links.
For example, here the report is suggesting we link from our SEO glossary to our meta robots guide:

This is because our meta robots guide ranks in the top 100 for "meta robots."
The second is using the Page Explorer tool, which allows you to search for mentions of any word or phrase on your website.
For example, if we search for mentions of "search quality rater guidelines" on the Ahrefs blog, which is a keyword we're targeting in our QRGs guide, we see a mention in our list of Google ranking factors.

It probably makes sense to internally link from here, as it may help boost our page in Google.
3. Create content hubs for blog content
Blog content typically suffers from a lack of contextual hierarchy because it's published chronologically. You can solve this by creating content hubs out of related posts.
Content hubs are similar to silos in that they are interlinked collections of related content.
Here's what they typically look like: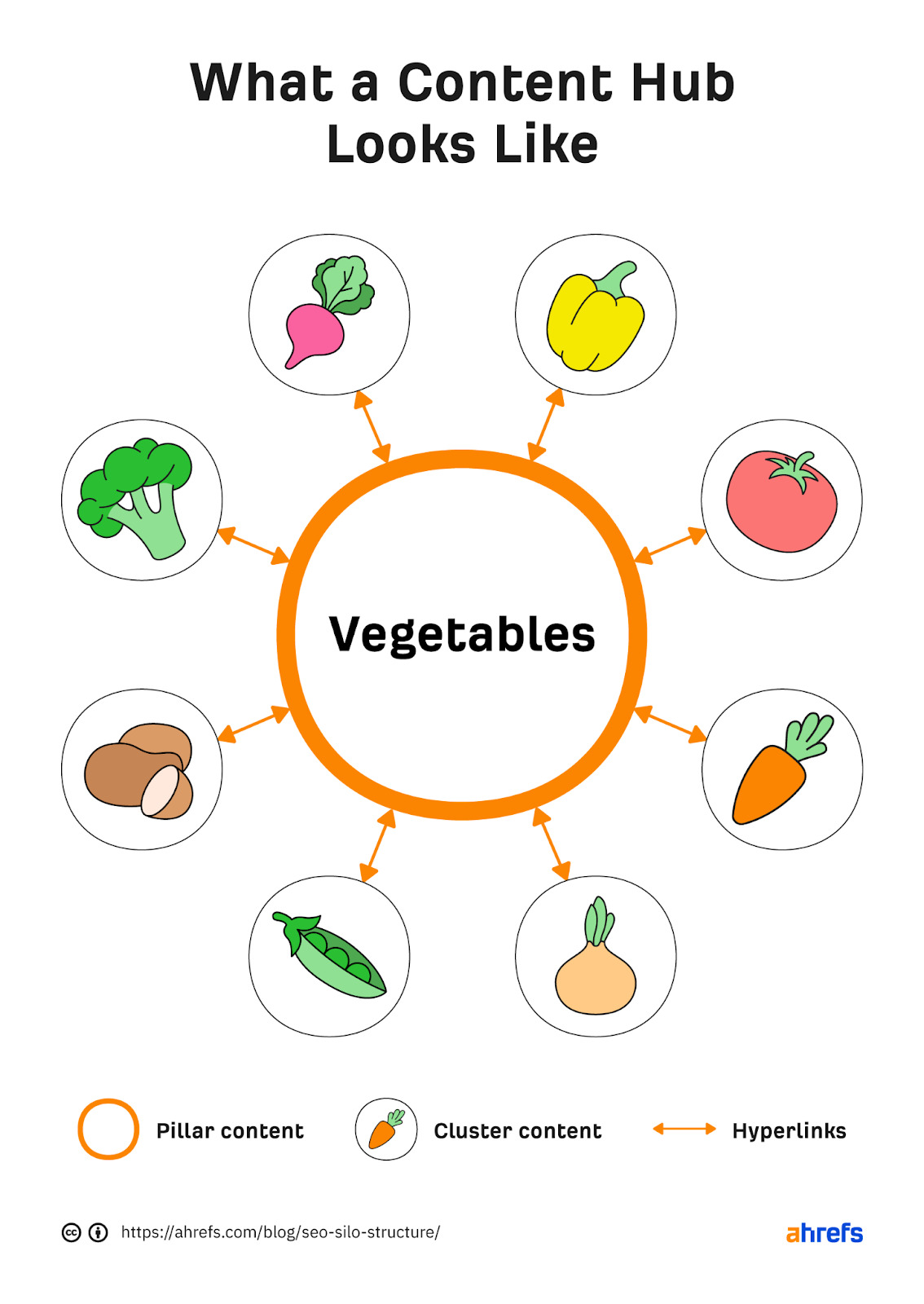 The only true difference between hubs and silos is that you're free to link between content hubs.
For example, let's say that we have two content hubs: one about fruits and the other about vegetables. Given it's a common misconception that tomatoes are vegetables, it may make perfect sense to internally link from the post about tomatoes to the vegetable hub page.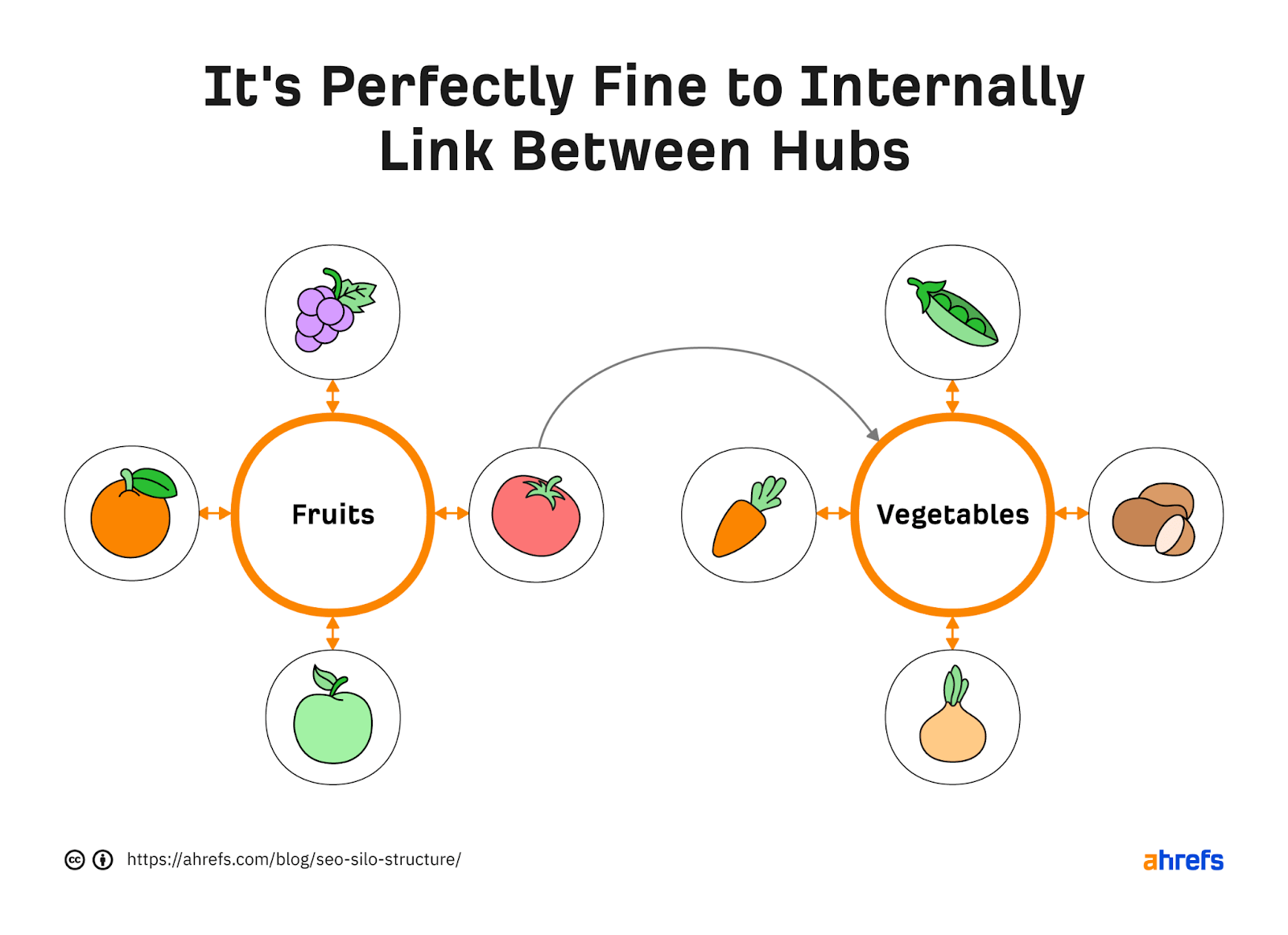 You're free to do that with content hubs because, unlike with siloing, there's no rule that you can't.
In effect, content hubs give you the best of both worlds; related content is grouped and interlinked (as is the case with silos), but you're also able to internally link between pages where it makes sense.
Recommended reading: Content Hubs for SEO: How to Get More Traffic and Links With Topic Clusters
4. Make sure important content isn't too deep
Deep content is harder for users to find, but it's a common misconception that this is also true for search engines. As long as your content is internally linked, Google will be able to find and index it.
The problem is that Google may not prioritize the crawling or indexing of deep content because it assumes it holds little to no value for searchers.
This is why you need to ensure that important content is not buried deep in your site.
You can see how deep your content is at a glance using Ahrefs' Site Audit. Just go to the Structure Explorer and toggle the "Depth" tab.

For example, you see above that most of the pages on the Ahrefs blog are between one and three clicks from the seed (in this case, the blog homepage). However, a few pages are 5+ clicks away, which probably isn't ideal for important content.
You can see the pages in each depth bucket by clicking on the corresponding part of the visual representation.
For instance, if we click on the "5" bucket for the Ahrefs blog, we see only archive pages: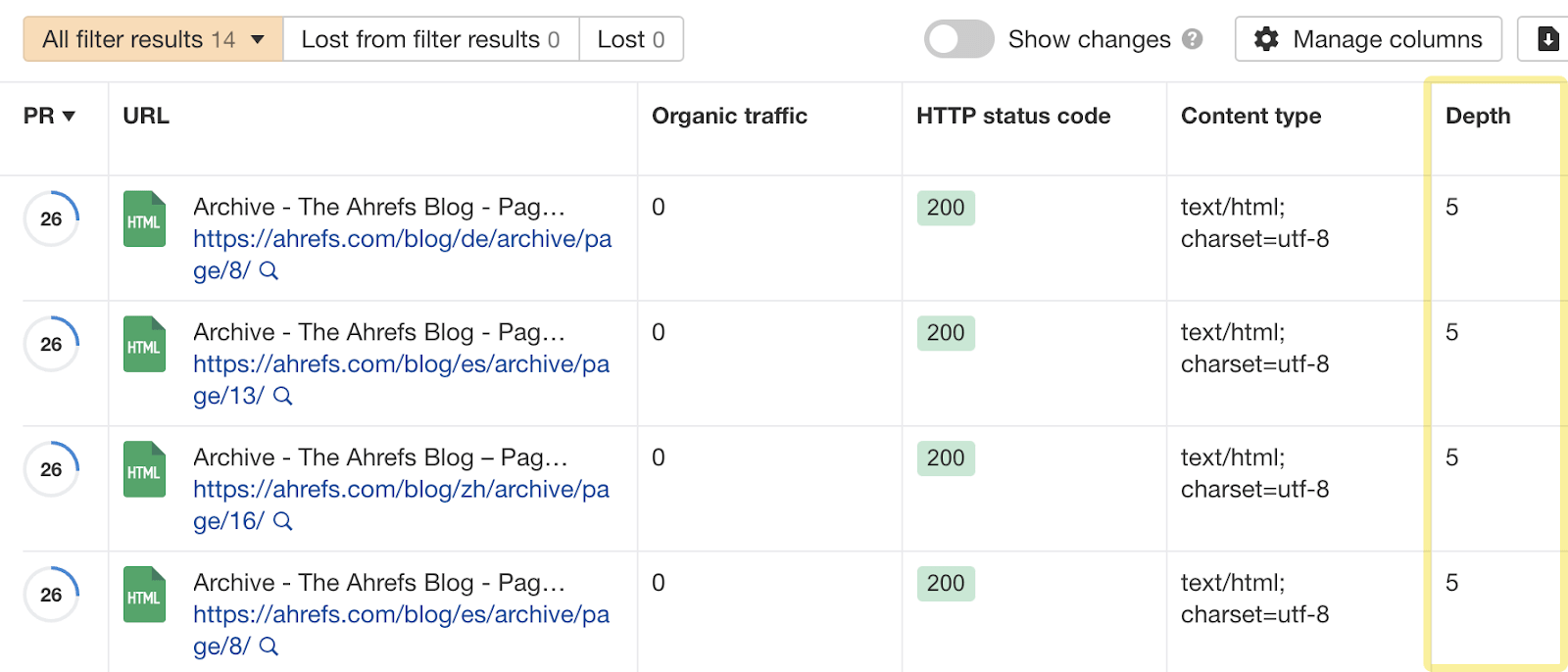 As these pages aren't particularly important, the depth probably isn't an issue. However, if we saw important pages or posts here, we might consider adding relevant internal links to them from other content higher in our site's hierarchy.
Final thoughts
Organizing your content makes sense, but siloing your content doesn't. All this does is preclude you from internally linking to your content from relevant and contextual locations on your site, hindering SEO.
My advice is to organize your site roughly in a pyramid structure, group related blog or informational content into hubs, and then simply internally link to and from pages wherever it makes sense. This is not only best for SEO, but it also makes your site easier for visitors to navigate.
Got questions? Disagree? Ping me on Twitter.