Search engine optimization (SEO) is the practice of growing a website's traffic from organic search results.
Here are the four general steps of the SEO process:
Get your technicals right - make sure your website is crawlable and indexable.
Find a keyword to target - the topic of your page and the main source of organic traffic.
Create an optimized page - both users and Google want useful and interesting content.
Build links to the page - links are one of the most important ranking factors.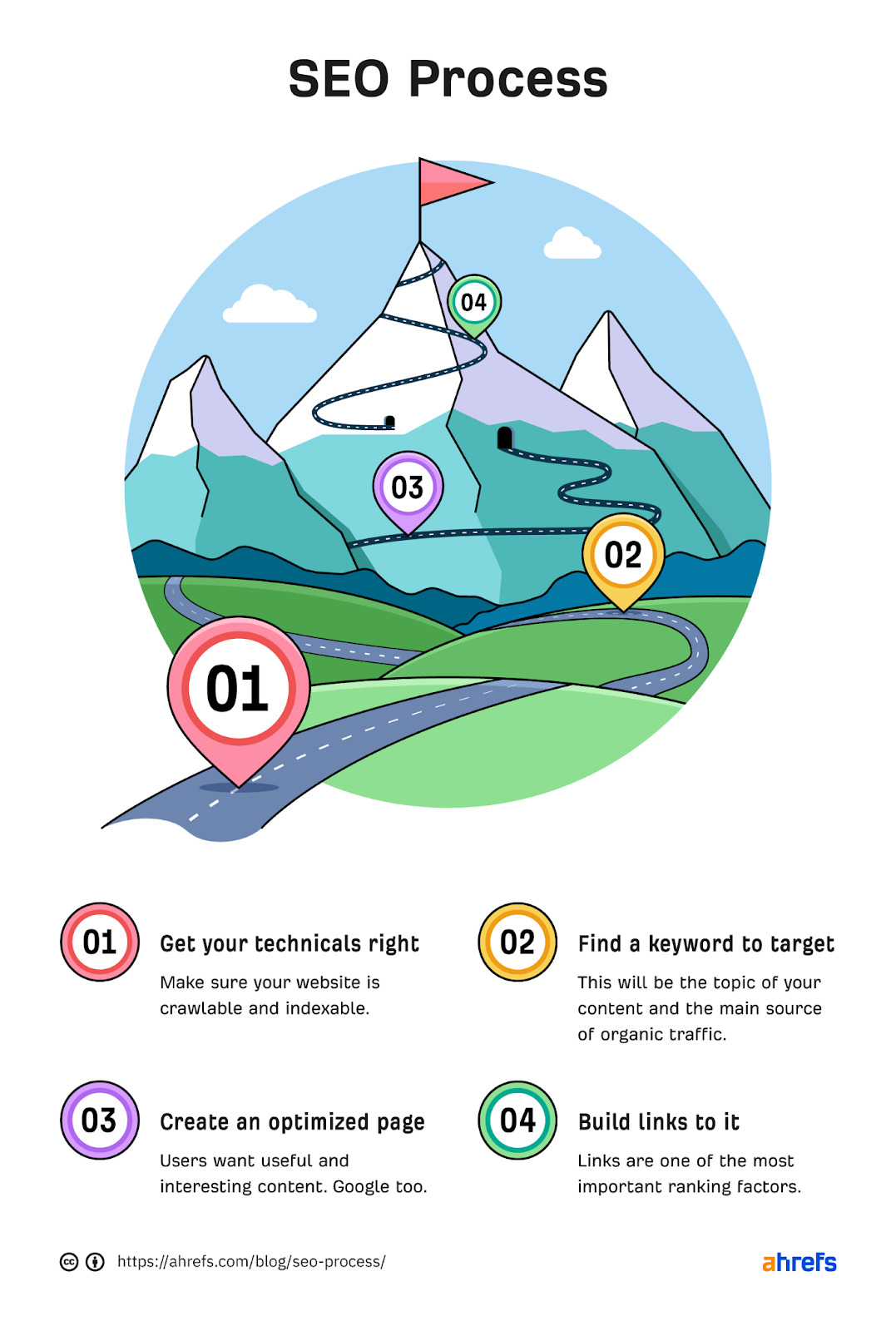 In this article, I'll explain and demonstrate how this process works using some of the SEO tactics Ahrefs used to grow into a 9-figure SaaS company.
Technical factors can impact your rankings or even prevent your site from appearing on Google's search result pages.
To rank your content, Google needs to:
Find and crawl your content – You won't rank if your content is inaccessible to Google (this may be because of a disallowed Googlebot).
Index your content – We're talking about the master list of all pages that Google keeps in order to display them for relevant search queries. Google may not to show certain pages if it thinks those pages are not the main version of the content (see canonicalization for more info) or if the Googlebot is blocked.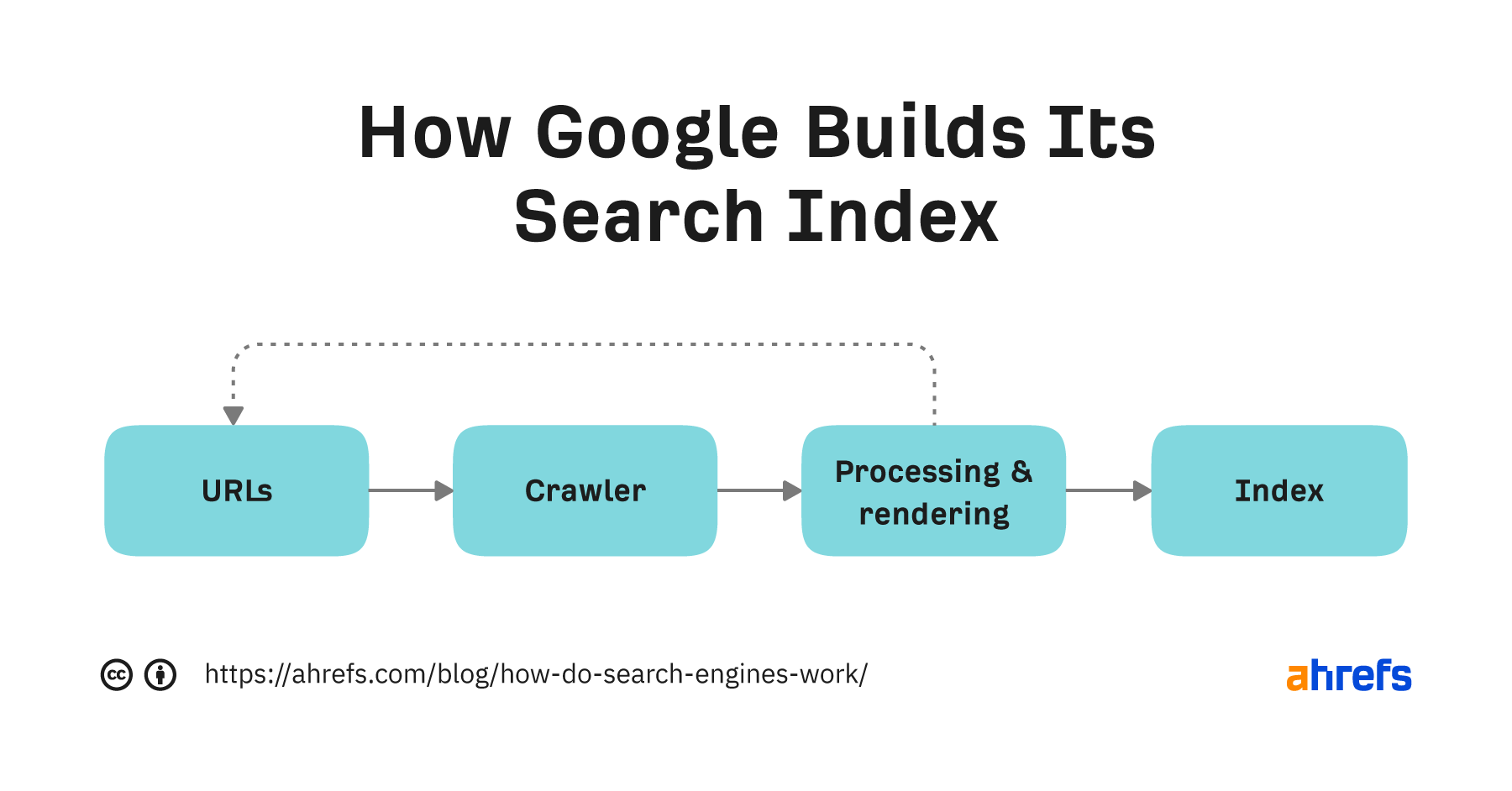 In most cases, unless you've specifically instructed Googlebot not to crawl and/or index your site, your pages are ready to show up on the search engine results pages (SERPs). Keep in mind that it may take some time before Google indexes your content.
The easiest solution to technical SEO issues is to get SEO auditing tools and fix any problems they report back to you.
Two tools we recommend are Google Search Console and Ahrefs Webmaster Tools (they're free). You can also set up Bing Webmaster Tools if you want to monitor your performance on Bing.
For example, to find sitemap issues in Ahrefs Webmaster Tools:
Open

Site Audit

Go to the

All issues

report and scroll to the

Sitemap

category

Click on the found issues and see the affected pages. You can also see the recommended solution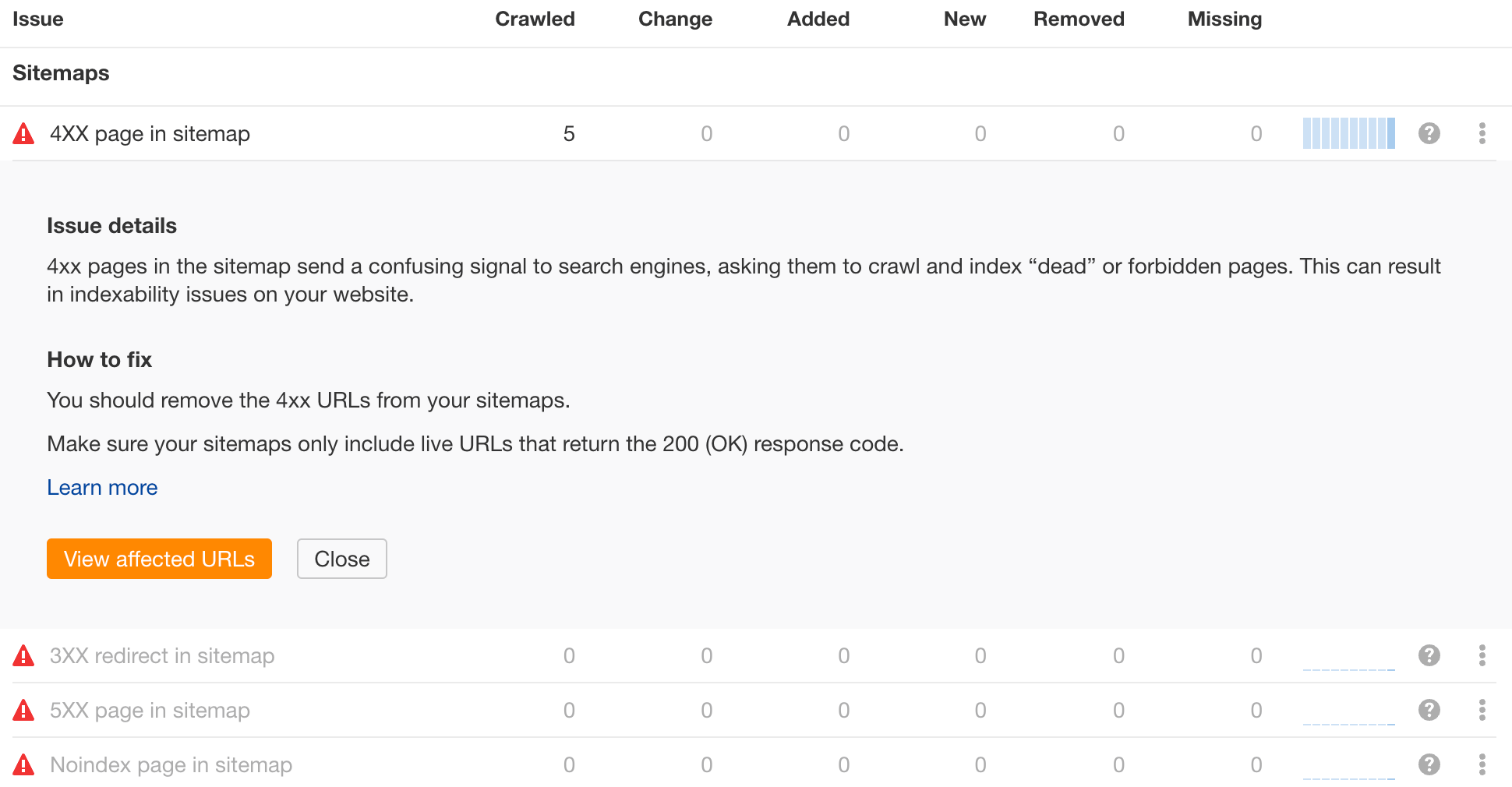 To get traffic from search engines, you need to create content about something people search for.
To illustrate, the content on our blog alone brings us an estimated 256.9K organic visits every month. That's because we create content designed to rank for keywords with search demand.

This is where keyword research tools, such as Ahrefs' Keywords Explorer, come in. With the help of such tools, you'll easily find hundreds or even thousands of keyword ideas.
For example, entering the main focus of our blog, SEO, in Keywords Explorer reveals over 395K keyword ideas.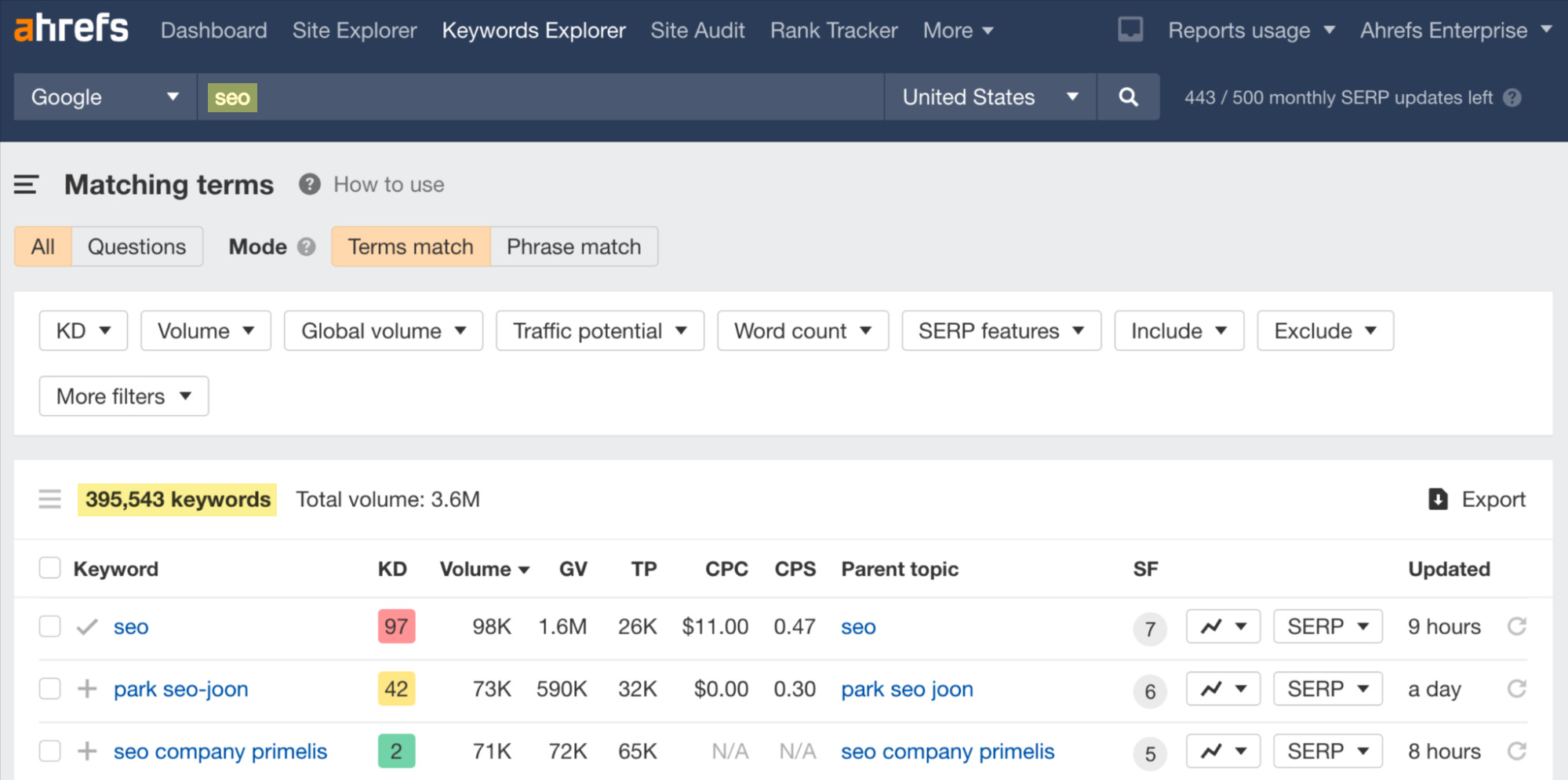 395K keywords are probably a bit too many to manage, and probably not all of them would be a good fit. So here's what to consider when prioritizing keywords:
Search traffic potential – Search traffic potential (not to be confused with search volume) tells you how much traffic you can potentially get from a keyword.
Business potential –

Topics with high business potential can convert a good portion of your visitors to customers. Topics with low business potential will make it tough for you to feature your product/service.

Ranking difficulty – The more backlinks the top-ranking pages have and the more renowned the competing brands are, the harder it will be for you to rank.
Search intent – The reason behind the search. Usually, it's one of three things: finding a specific website, learning something, or buying something.
Here's an example. One of the keyword research methods we use is to look for search demand for specific niches or industries in our area of business. For this, we filter for keywords that include the word for.
For instance, the ones highlighted display considerable Traffic Potential (TP), have no extreme ranking difficulty (KD), and have high business potential for us.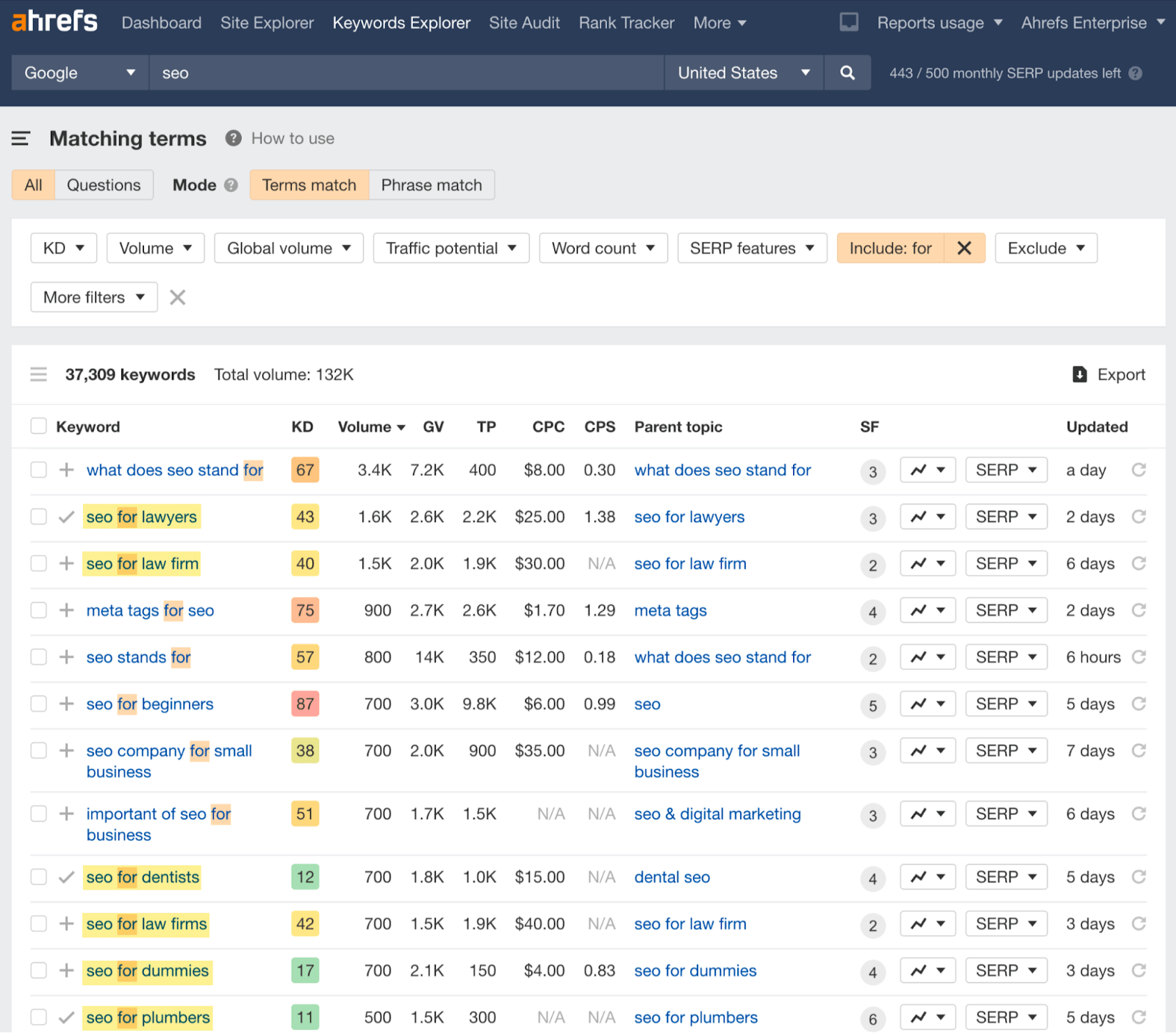 Keywords that tick all of the four things above are an ideal situation, but that doesn't happen all of the time. Mostly, SEOs and content marketers need to go for compromises, e.g., targeting a keyword with high business potential but lower traffic potential.
The content of a page is something that allows Google to "connect you" with the searchers.
The more interesting and useful your content is, the better. And that's because quality content is something users expect and search engines need to provide. In fact, Google admits that content is the most important ranking signal.
How Google exactly ranks content is kept a secret. But they actually provide a hint on the five things that determine which results will be shown for a given search query:
Meaning – How well a page matches searchers' expectations.
Relevance – Does a page contain relevant information, e.g., words, phrases, and even pictures and videos relevant to what the searchers are looking for.
Quality – Content also needs to be helpful. To determine content quality, Google will take into account both factors occurring on the page (e.g., E-E-A-T, clear and organized form, freshness) and those occurring outside the page (backlinks, which we'll talk more about later).
Usability – If your pages and your competitors' are equal in every other way, Google may allocate a higher ranking to pages that it finds more accessible (e.g., mobile-friendly, secured with an SSL, fast loading).
Context and settings – Google may customize search results based on users' search history and their current whereabouts.
Let's take a look at an example of optimizing a page for search.
In the case illustrated below, the search intent seems to favor listicles for the keyword "free seo tools". Because of that, we had little chance of ranking with a product landing page, even though we offer free SEO tools. So we decided to target the keyword with a content type more aligned with search intent. It now ranks #1 and brings about 1.3K organic visits each month.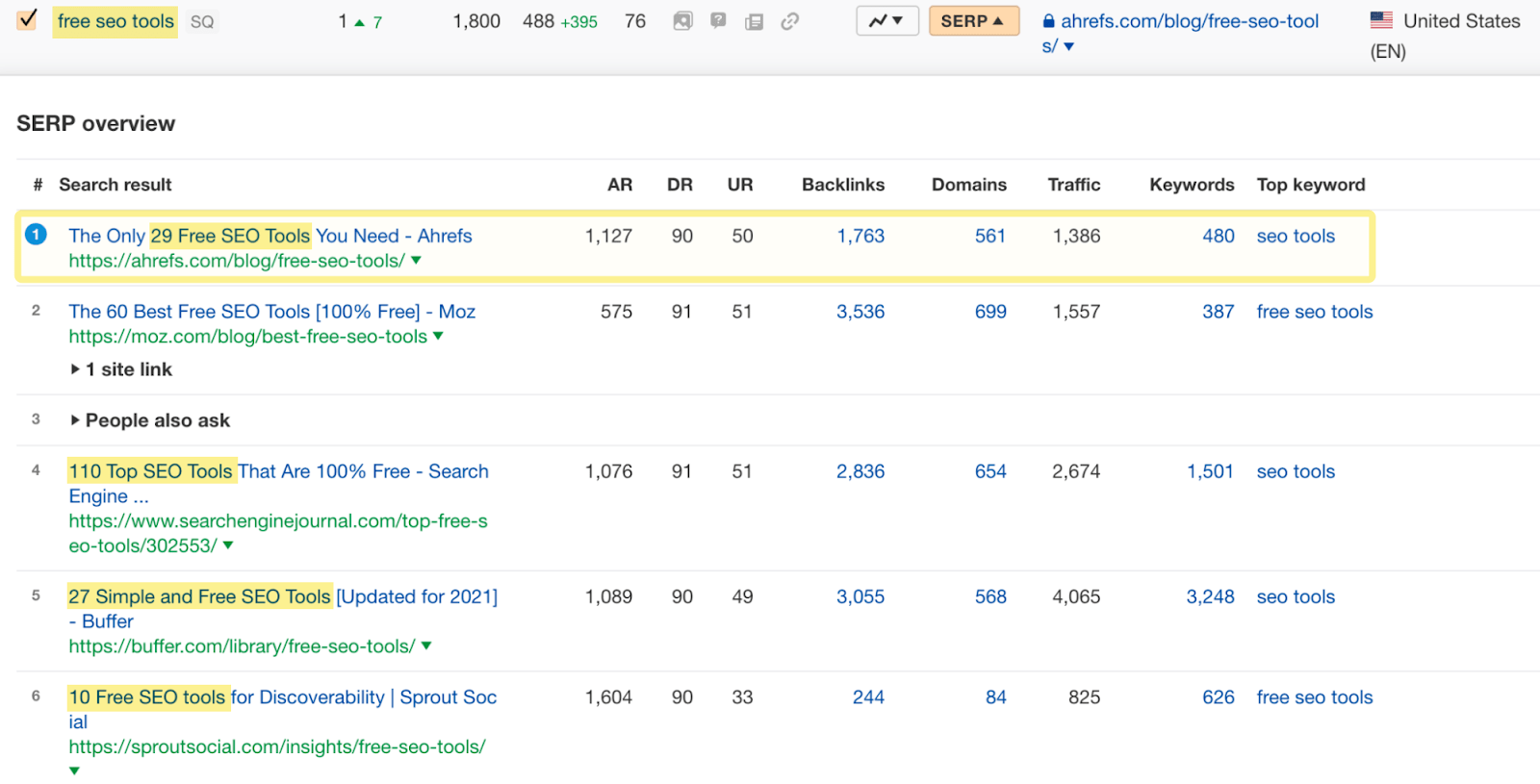 There are many techniques SEOs and content marketers use to adhere to Google's guidelines - too many to explain in this short article. If you want to take a moment to learn about them, see the video below. Otherwise, let's move on to the next point: building links.
https://www.youtube.com/watch?v=ZWiNz-7gZ24
Sidenote.
Not all SEO efforts are used for ranking higher in the search results. Some of them optimize elements that are not ranking factors but are visible to the user and can increase the chances of the site getting a click. Examples are the
meta description
,
schema markup
, etc.
You'll need two types of links: internal links and backlinks. Both are ranking signals, with backlinks being one of the major signals in SEO.
Internal links
Internal links are links from other pages on the same website, e.g., a link from one article to another on our blog.
Their main roles in SEO are to help search bots crawl pages more efficiently and pass link equity from linking pages.
Because of the above reasons, you probably won't find an article on our blog without at least one internal link pointing to another article or a product landing page.
By having internal links, we can create a situation where a page with a lot of backlinks can give a much-needed boost to newer pages (see the middleman method for more details).
Here's an example interlinking tactic. Including a link to our guide on SEO in the blog's navigation automatically creates an internal link from every blog post to that guide, helping it to rank higher.

Backlinks
Backlinks are links from external websites. They act as votes. The more "votes" you get, the higher your chance of outranking the competition.
Backlinks impact rankings and rankings impact traffic. So, generally speaking, the more backlinks you get, the more organic traffic you can generate.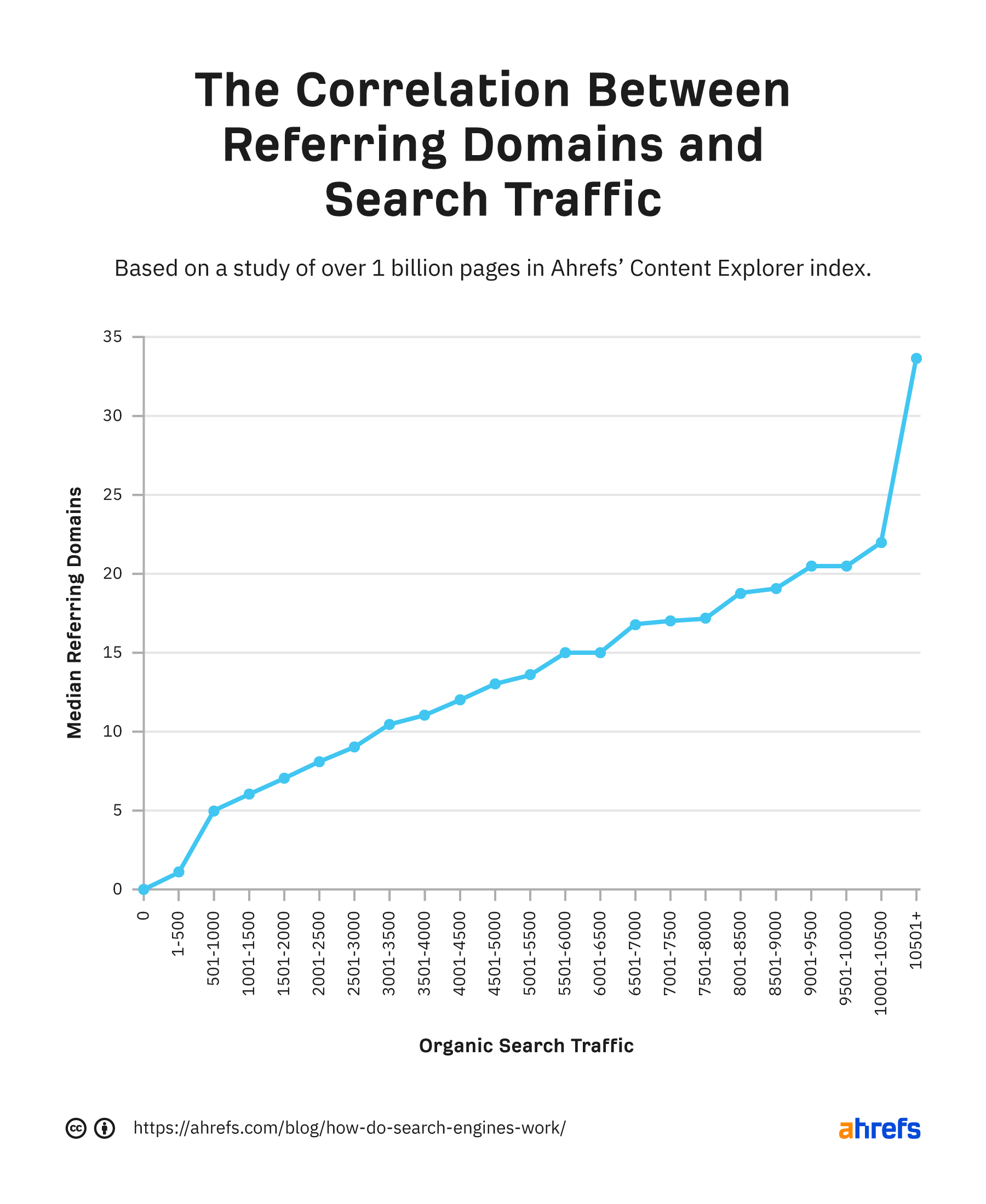 The difficulty here is that you can't fully control backlinks. You can either earn them organically (wait for people to discover you and link to you) or build them (ask people to link to you). Let's look at that in more detail.
In the picture below, you can see examples of our case studies that continue to earn backlinks organically. Publishing original, unique data is one of the best ways to attract backlinks.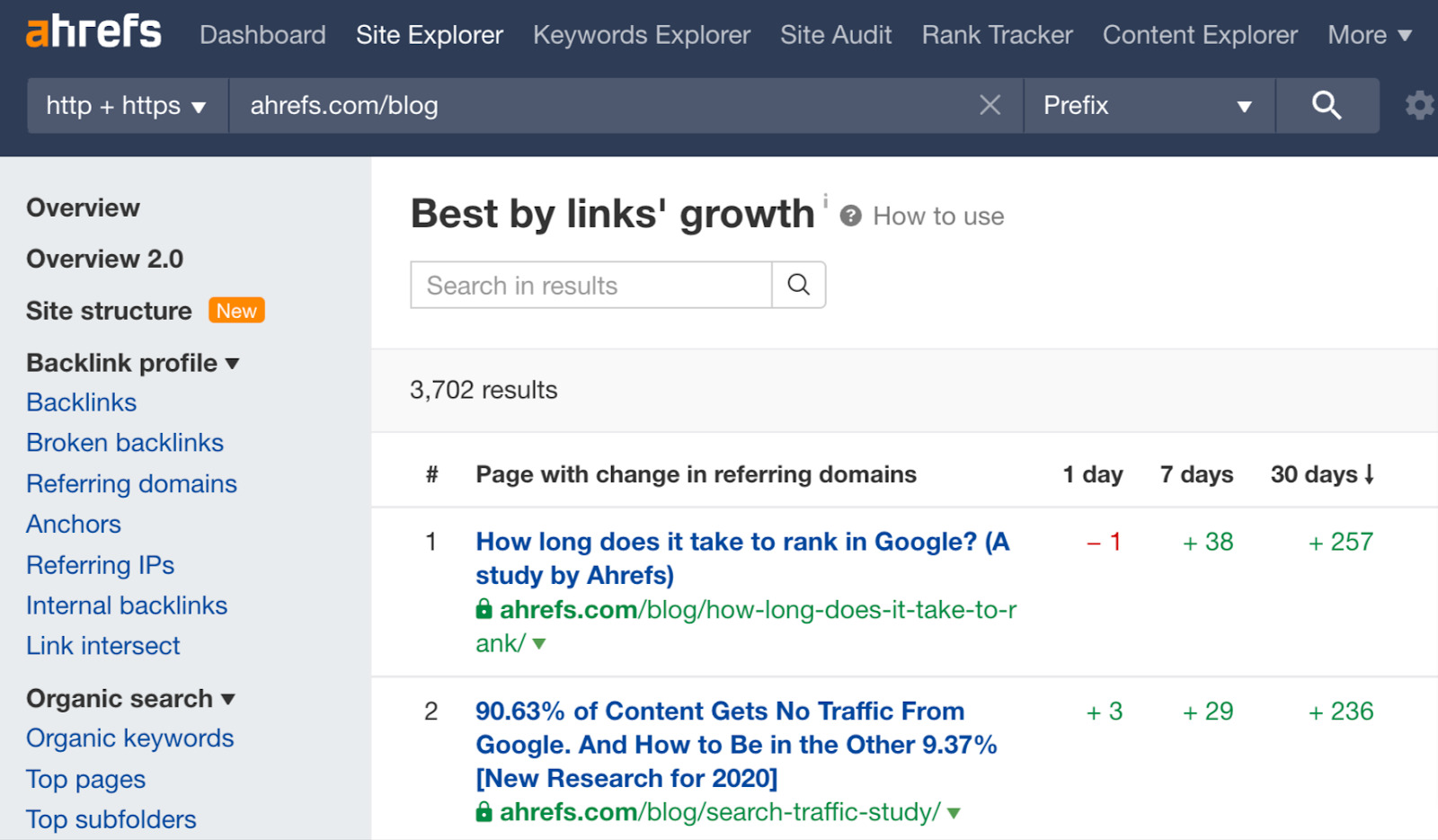 And here's an example of a content piece created specifically for an outreach campaign. Unlike the previous examples, it didn't need any original studies: 63 SEO Statistics. Our process was:
Researching most cited SEO statistics among the top-ranking articles.
Finding and including their more up-to-date versions in our article.
Asking people who linked to websites with outdated statistics to link to our article instead (that's the outreach part).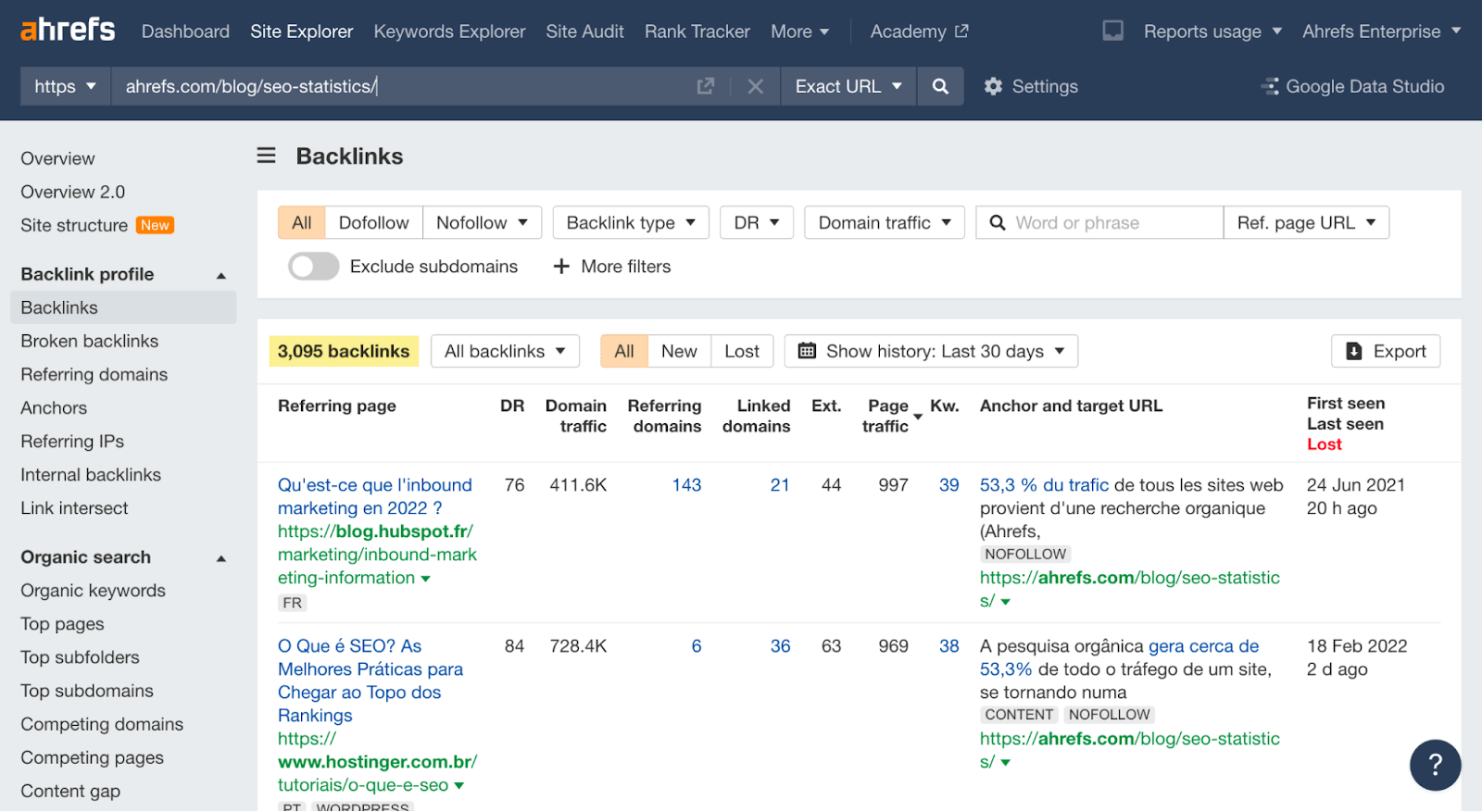 Regarding backlinks, it's important to know that not all links will carry the same weight.
Generally speaking, the best links you can get are "followed" links placed within the main content and those that come from relevant, authoritative websites.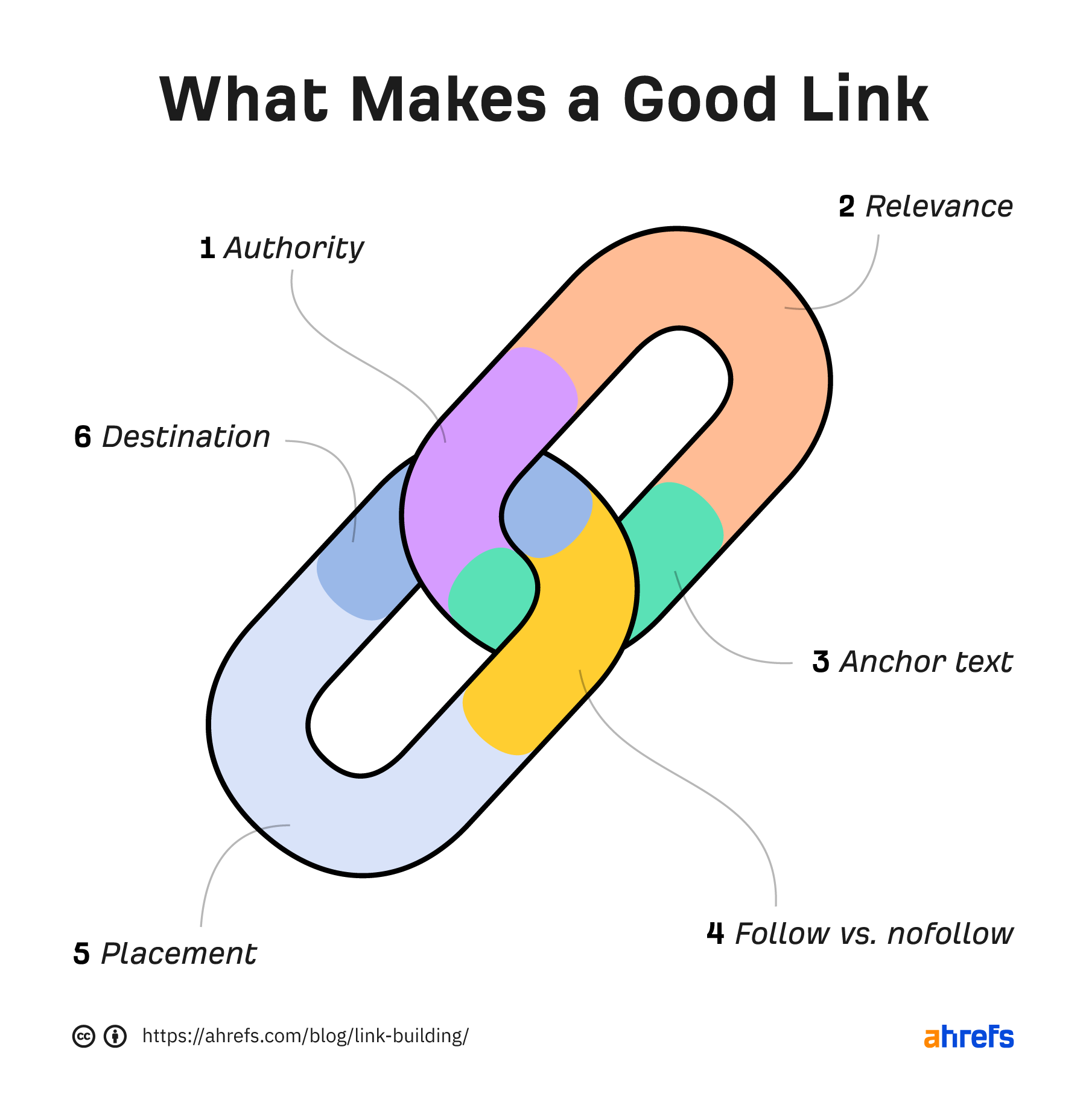 Head on to the guides listed below if you want to learn more about backlinks and link building.
Before your jump into the process, it's good to have realistic expectations in terms of the time and money needed to do SEO successfully.
When it comes to the results, SEO is usually a lengthy process. We learned from over 4k respondents that it typically takes between 3 - 6 months.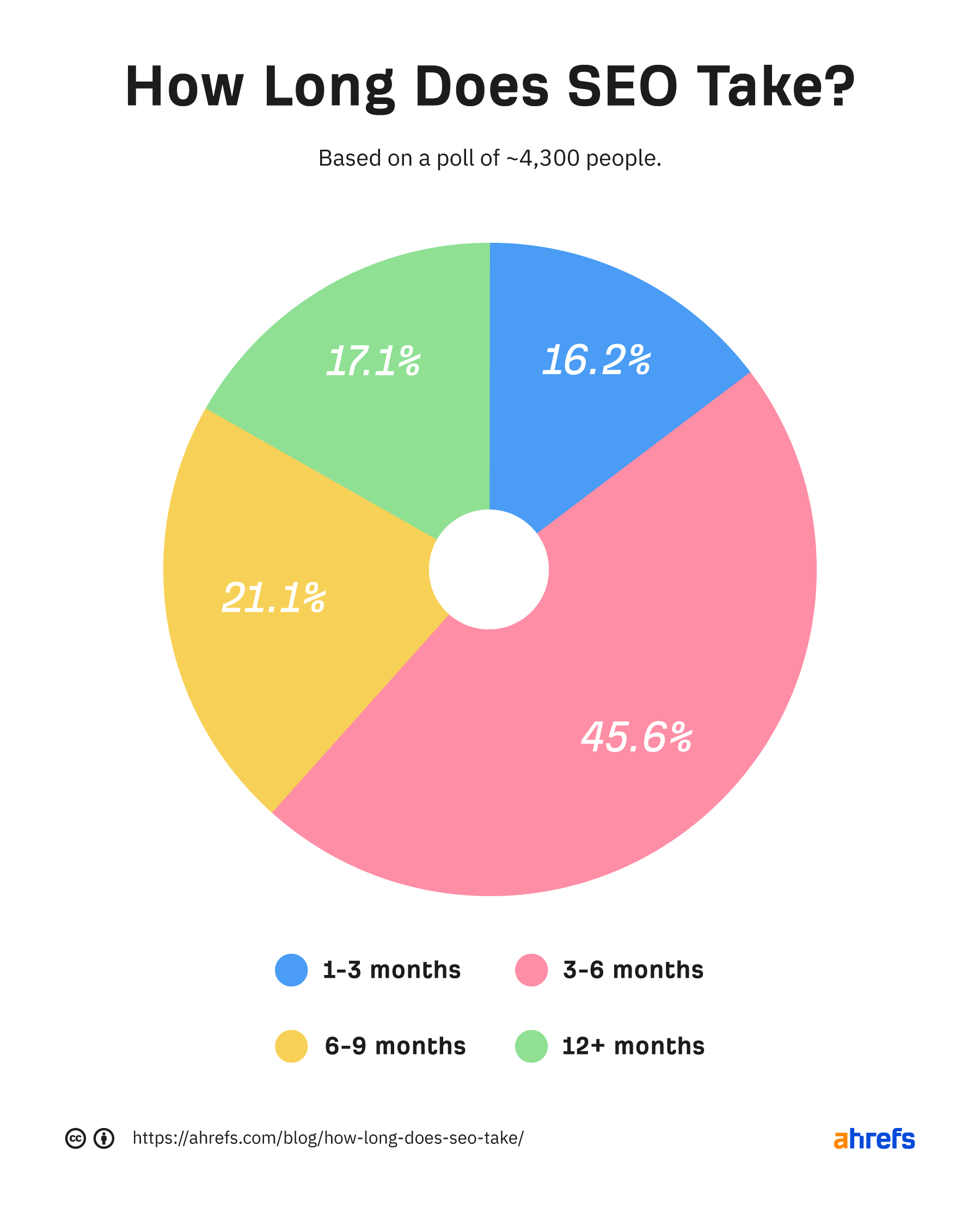 Here are a couple of other things to know when it comes to the time involved in the process:
Crawling a page can take Google anywhere from a few days to a few weeks (

source

). So it seems that there's a "natural delay" in SEO that comes from the technology itself.

According to our study, only 5.7% of pages ranked in the top 10 (for at least one keyword) within no longer than one year.
As for the cost of SEO, the least costly option is doing SEO by yourself - all you need is time to learn and experiment and tools that fit your budget.
Alternatively, you can consider hiring an agency, a freelancer or a consultant. Read our full study on SEO pricing to know what costs to expect.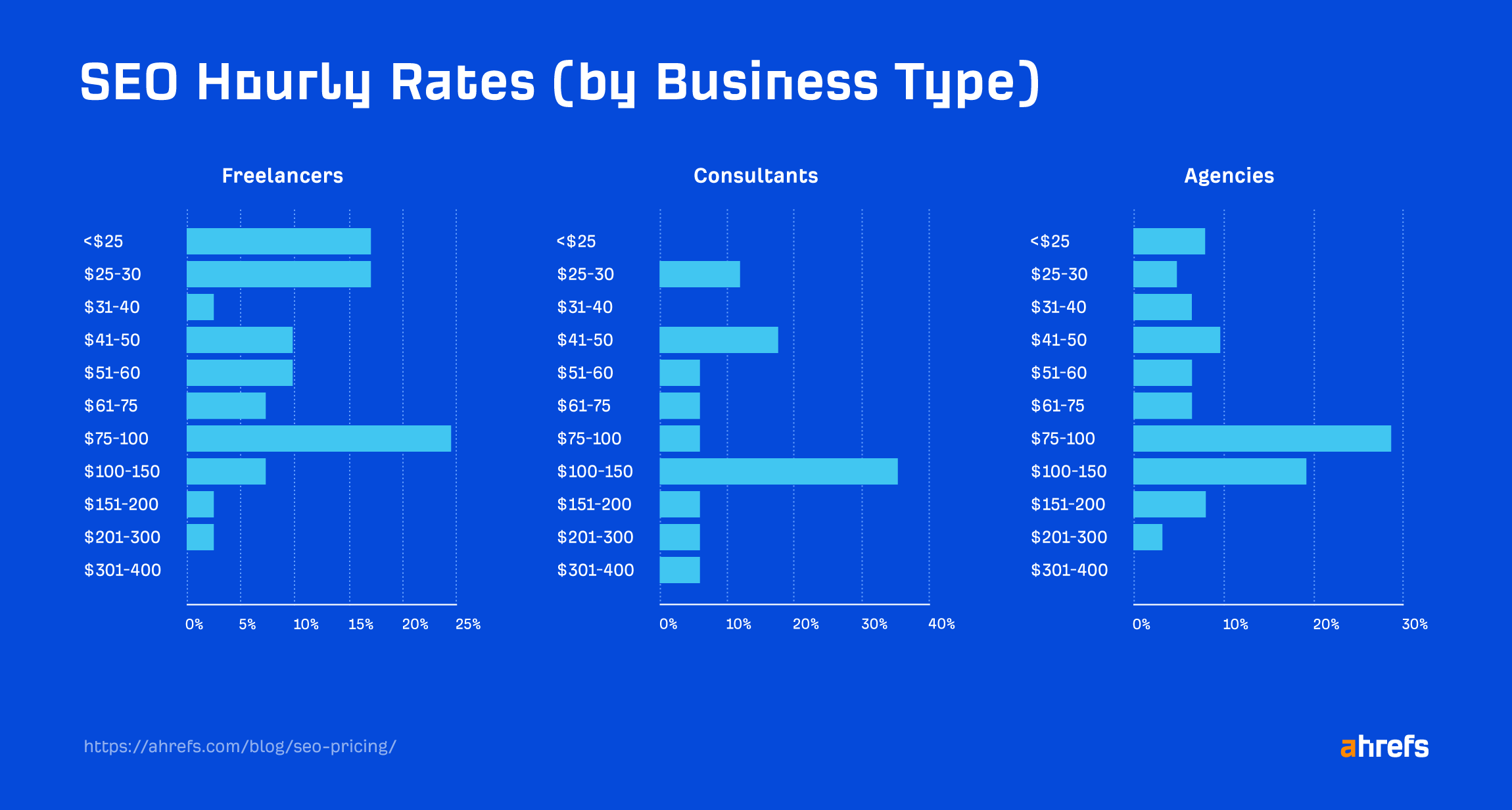 Final thoughts
Monitor your results on a regular basis because search engine rankings tend to change. For this, it's best to use a tool that tracks your ranking history and shows how you stack up against competitors (see our Rank Tracker, for example).
And because rankings change, be ready to regularly revisit step 3 to improve your content and step 4 to build more links.
Got questions or comments? Ping me on Twitter.