Content marketing and SEO are often seen as synonymous, but that's not the case. While it can be difficult to differentiate between the two in some instances, the truth is they're two different marketing approaches.
However, they do fuel each other. And when strategically combined, they can maximize your results, including increased traffic and conversions.
This article will teach you when to combine the two and the exact framework you need to follow to get the desired results. Let's start by understanding content marketing and SEO first.
What is content marketing?
Content marketing is the process of creating and distributing valuable and relevant content to attract, convert, and retain customers so you can increase revenue and ultimately grow your business.
Here's an example: At Ahrefs, we create content that teaches users how to solve different problems and grow their website traffic using our tools. That's content marketing.
What is SEO?
SEO (search engine optimization) is the practice of optimizing a website to increase the quantity and quality of its traffic from a search engine's organic results. It involves keyword research, content creation, technical audits, and link building.
Since finding information in search engines is one of the top ways users discover web content, SEO is critical if you want to increase your website traffic organically.
When should you combine the two?
SEO as a distribution channel for content marketing is a no-brainer if your audience is searching for solutions to problems that your business helps solve.
For example, a lot of our potential customers are searching for terms like "keyword research," "link building tips," and "seo basics" in Google. So we create relevant product-led content targeting these keywords and optimize them to rank on Google to attract and convert these users.
This blog that you're reading, for instance, is an excellent example of this. As you read, you'll also understand how we're using this article to market our products.
How to get started
Now that you have a clear understanding of when to combine SEO and content marketing, let's go through the exact step-by-step framework you need to follow.
We'll cover finding the right topic idea, tips for creating informational content optimized for SEO, and more.
Let's dive in.
1. Find the right keywords
A common mistake marketers make is creating content around keywords that lack informational intent or, even worse, creating content without doing any keyword research first.
Before you create anything, you need to find informational keywords your audience is searching for that represent problems your business can help solve. These are the keywords that can drive profitable customer action.
You can find informational keywords by using Ahrefs' Keywords Explorer. Here's how:
Enter your seed keyword
Go to the Matching terms report
Add keyword modifiers like what, who, guide, how, and tips to the "Include" filter and select "Any word"
You'll now see a list of keyword ideas with informational intent to potentially create content around.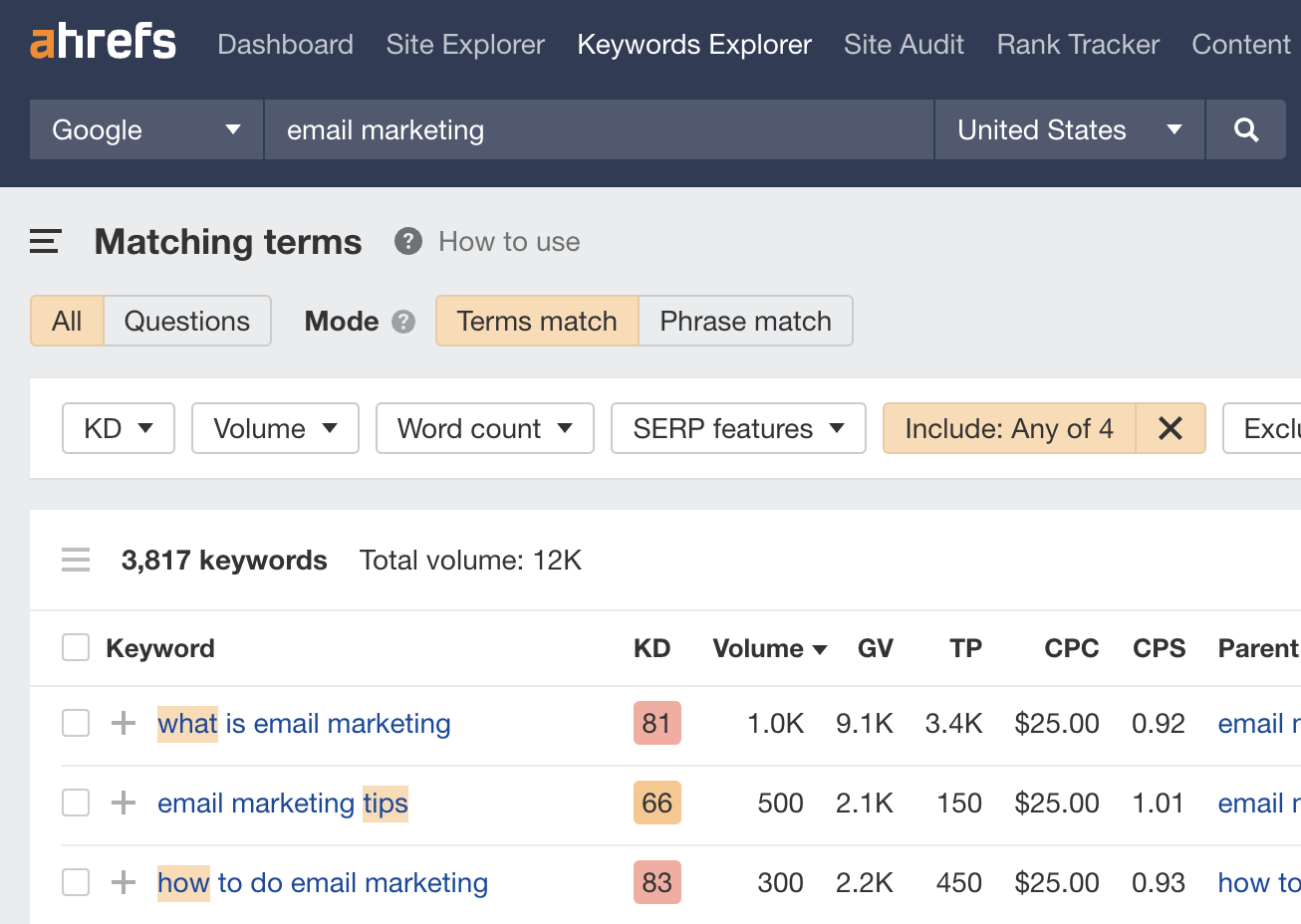 2. Analyze and match search intent
Writing a helpful article or a guide targeting a particular keyword is not enough to rank. You need to analyze search intent and match it. While often overlooked, this is critical to SEO.
For example, when people search for "bounce rate," they want to understand what bounce rate is and how to measure it.
However, when searching for something like "reduce bounce rate," users already know what bounce rate is and are looking for advanced tips on reducing bounce rate.
Hence, the content format and the angle need to be different in each case.
An effective way to match the search intent is by analyzing the search results for what we call the three Cs of search intent:
Content type
Content format
Content angle
Content type
Content type refers to the overall type of content in the search results. You'll usually see blog posts or videos when it comes to informational keywords.
For example, when we search for "email marketing," the results are blog posts: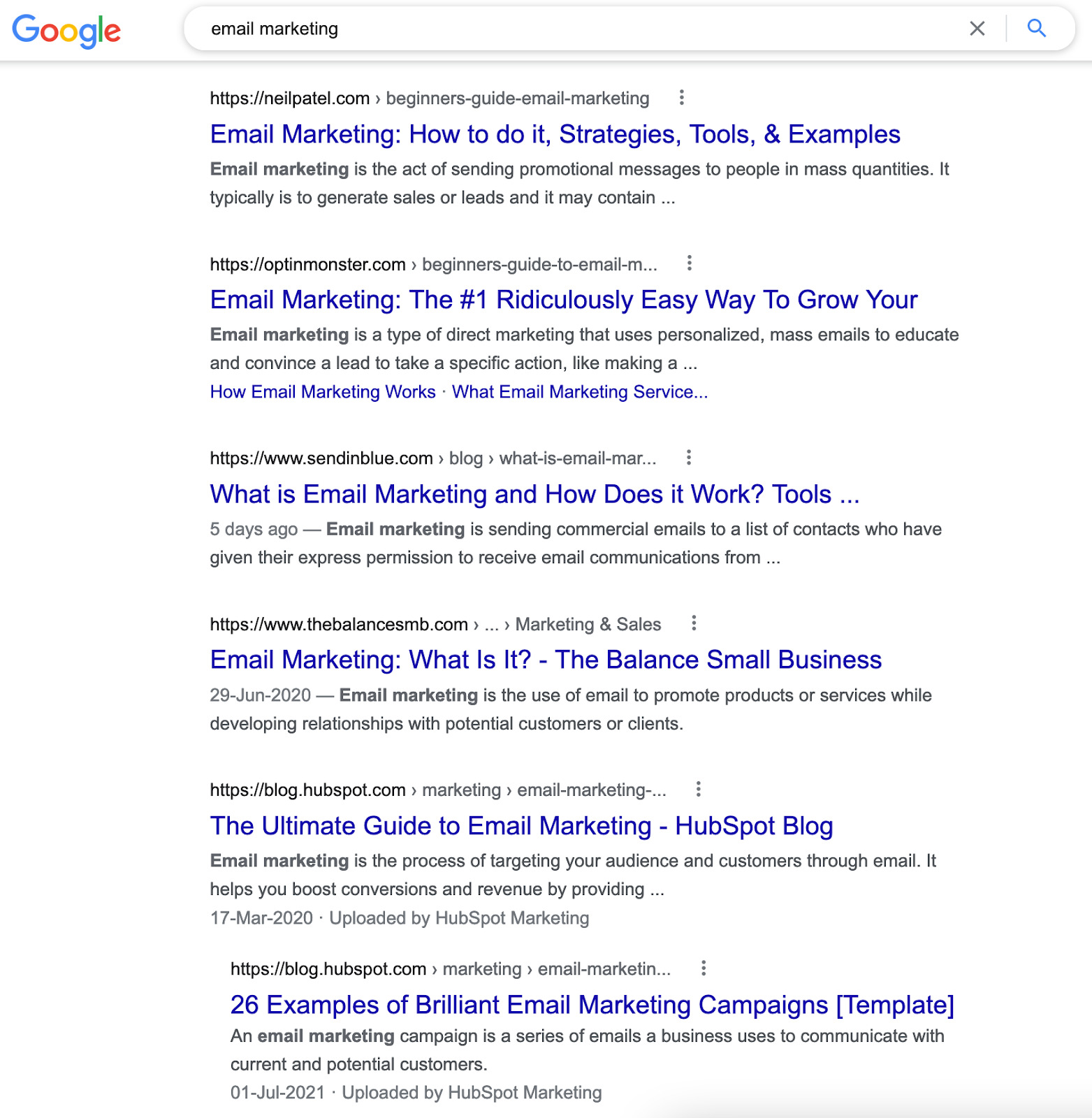 On the other hand, a search for "how to put up a shelf" yields mostly video results: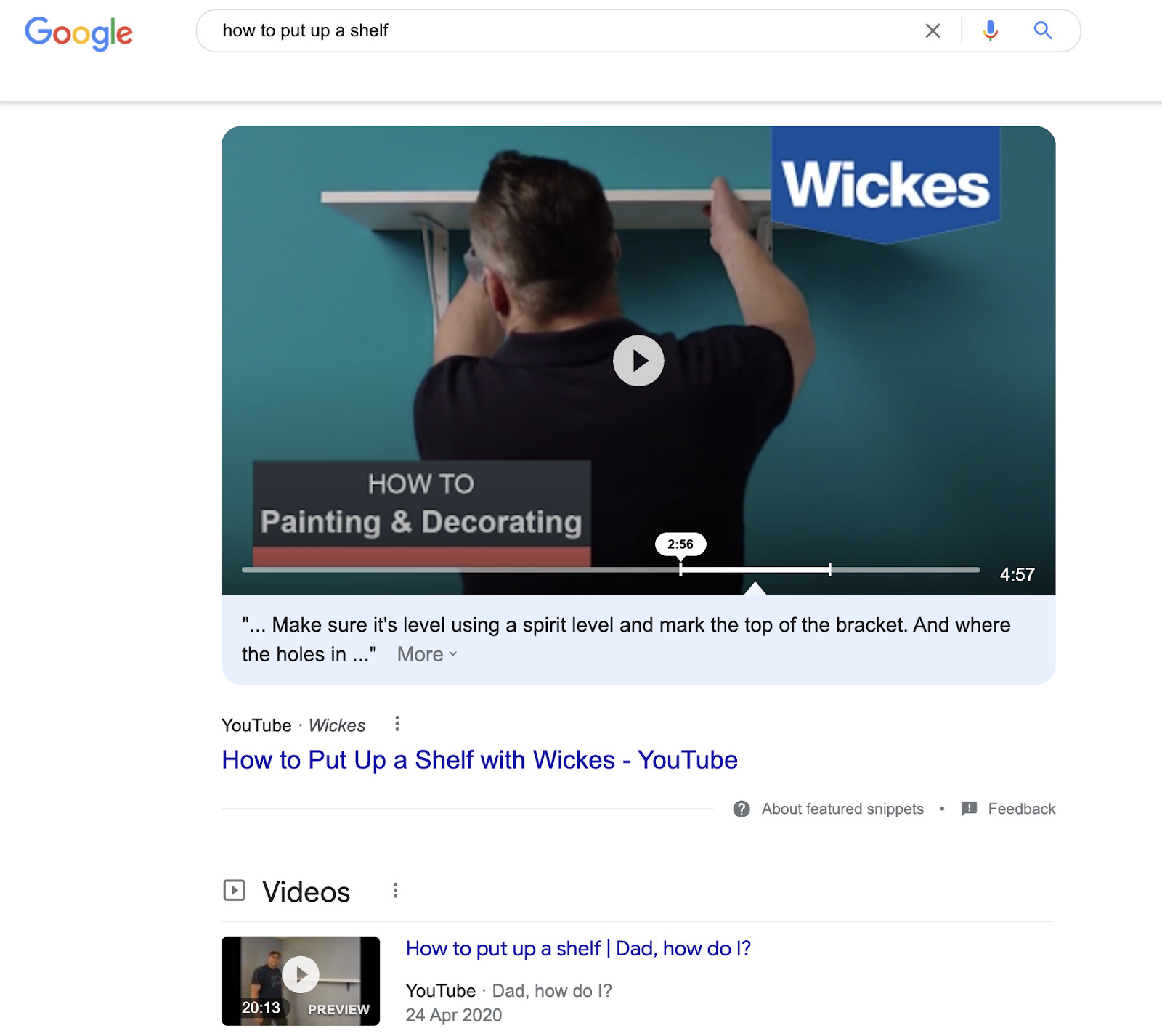 Content format
Content format refers to the overall format of the top search results. It's usually the following:
Listicle
Guide
Comparison
Review
For example, guides are the dominant format for "content creation."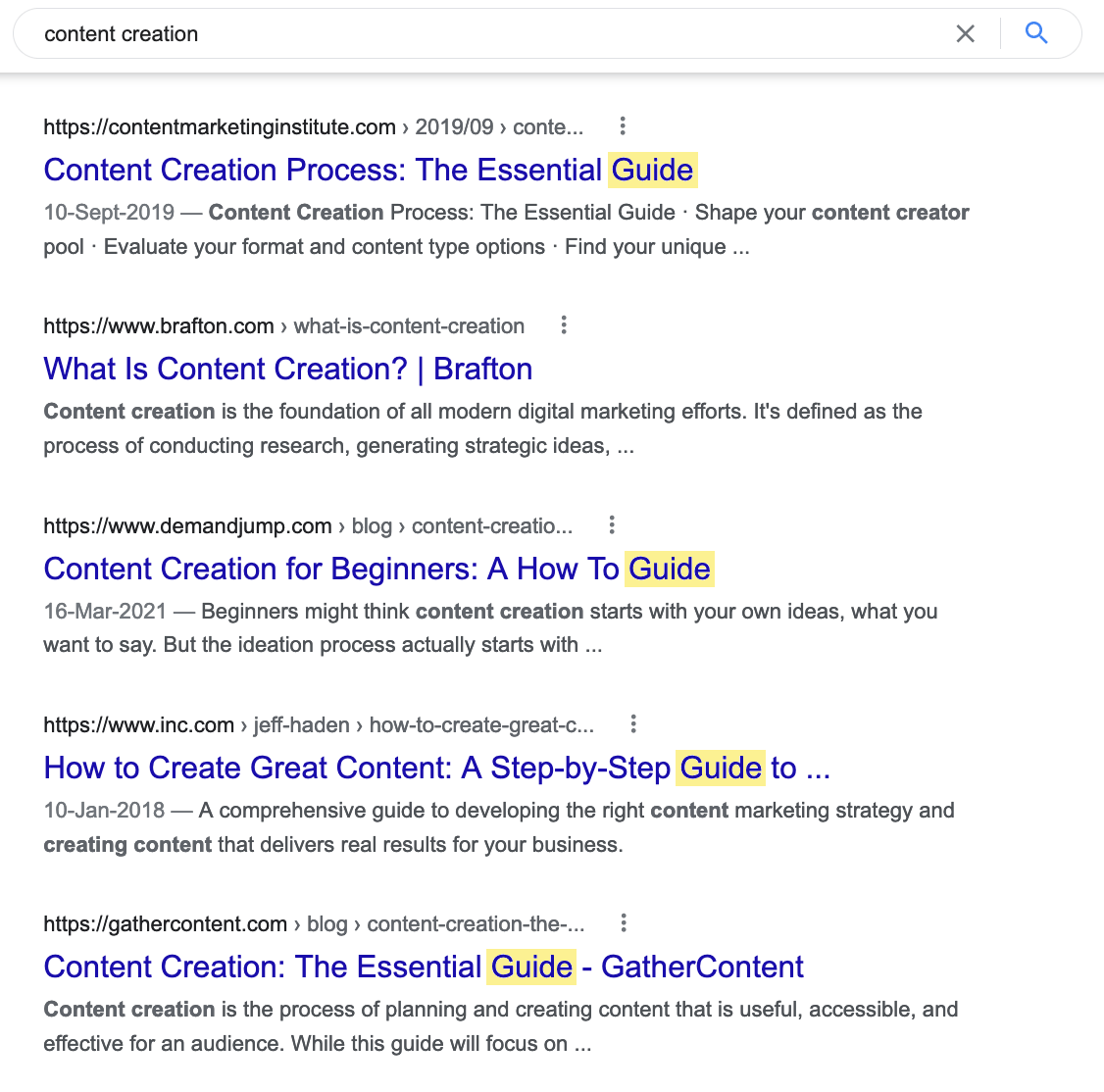 Content angle
Content angle refers to the unique selling point of the content. Since it largely depends on the topic, it's difficult to "bucket" into a few types as we did for type and format.
To understand the content angle, you should analyze the top results.
For example, the dominant angle for "content strategy plan" focuses on development steps.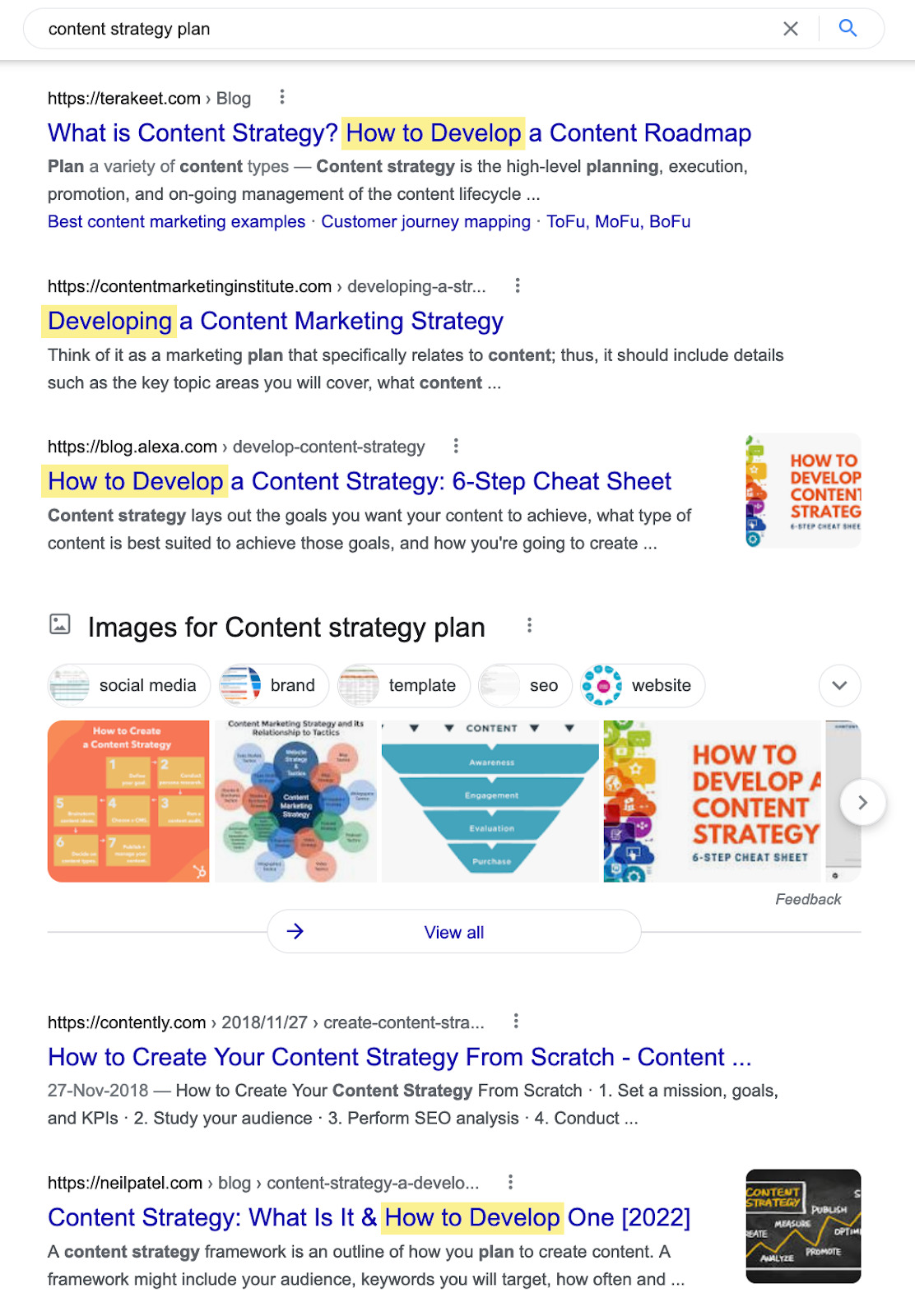 3. Prioritize according to "business potential"
To attract the right audience and drive engagement, you need to focus on keywords with "business potential." In other words, keywords that represent problems that your product or service helps to solve.
For example, we recently wrote a guide on "keyword cannibalization" because the topic has both traffic and business potential for us. The keyword gets 600 monthly searches, according to Ahrefs' Keywords Explorer, and the problem of keyword cannibalization is one that our tool helps to solve.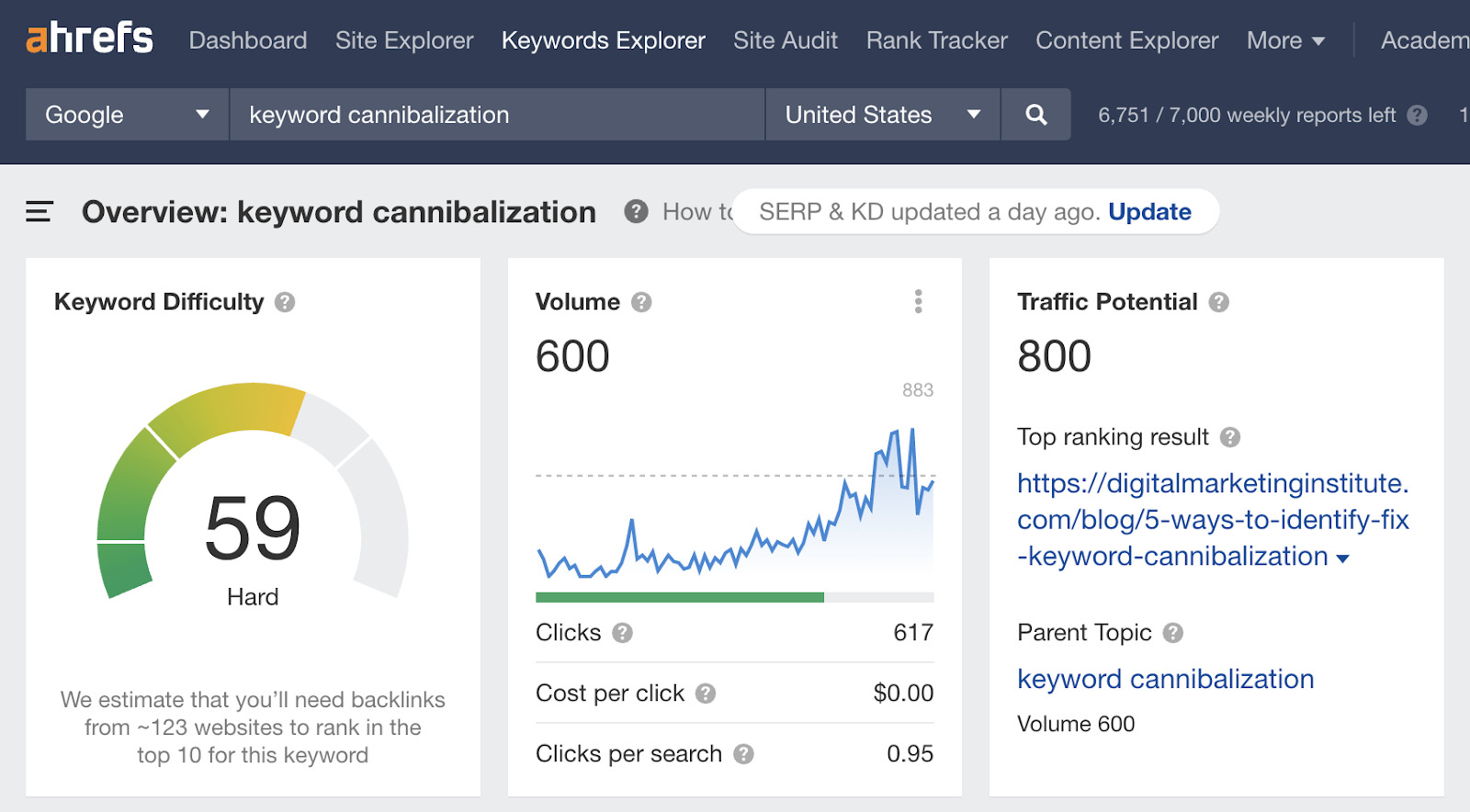 So when we saw that searchers were looking for how-to guides explaining how to solve keyword cannibalization, it became clear this was a high "business potential" topic for us.
Here's the scale we use to score topics at Ahrefs: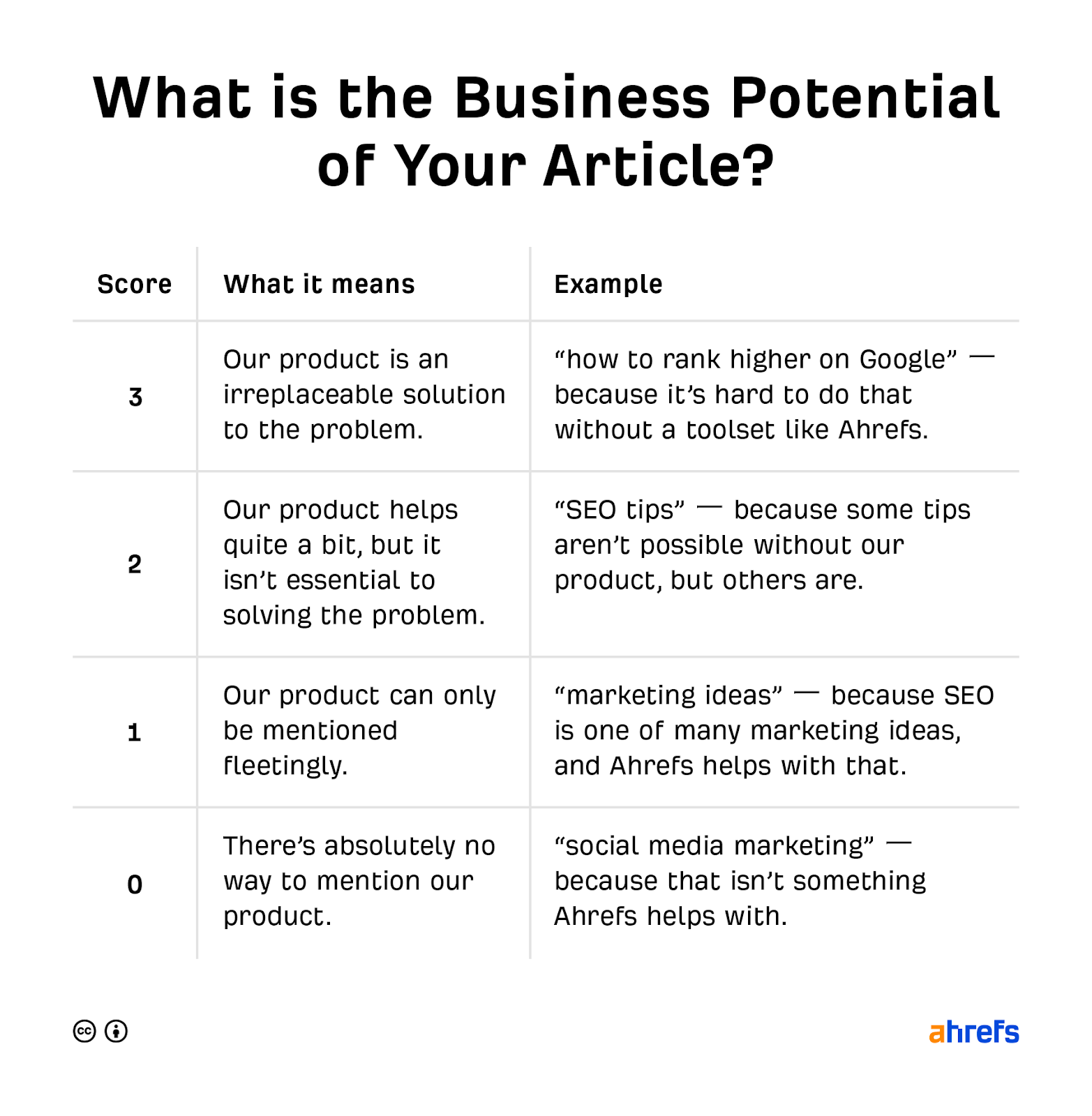 4. Craft valuable product-led content
Now that you've identified a great content idea, the next step is to start working on it. A great piece of content is relevant, original, product-led, and resonates with your target audience.
For those unaware, product-led content strategically talks about the product and uses it to make an argument, solve a problem, or help readers achieve a goal.
In our opinion, three essential elements make a piece of content great.
Authority
Whether you're creating content in-house or with the assistance of external agencies, you need to ensure that content is being written by someone who's an expert in the niche and has a good understanding of your product.
Without that, it will be impossible to weave your product or make compelling arguments in the article.
Here are a few useful tips for adding credibility to your article:
Collaborate with different people like the product and tech teams within your organization to get unique perspectives and gain knowledge
Talk to influencers in your niche and get their insights by connecting with them over email and LinkedIn (example)
Never hesitate to write your own opinion, as you don't necessarily need to agree with everybody (example)
Create in-depth content
Your content piece should focus on answering all the questions a reader may have when searching for a particular topic.
You can find important subtopics to include using Ahrefs' Content Gap tool in Site Explorer. Just paste in a few top-ranking pages for your target keyword and leave the bottom field blank. You'll then see the keywords those pages are ranking for: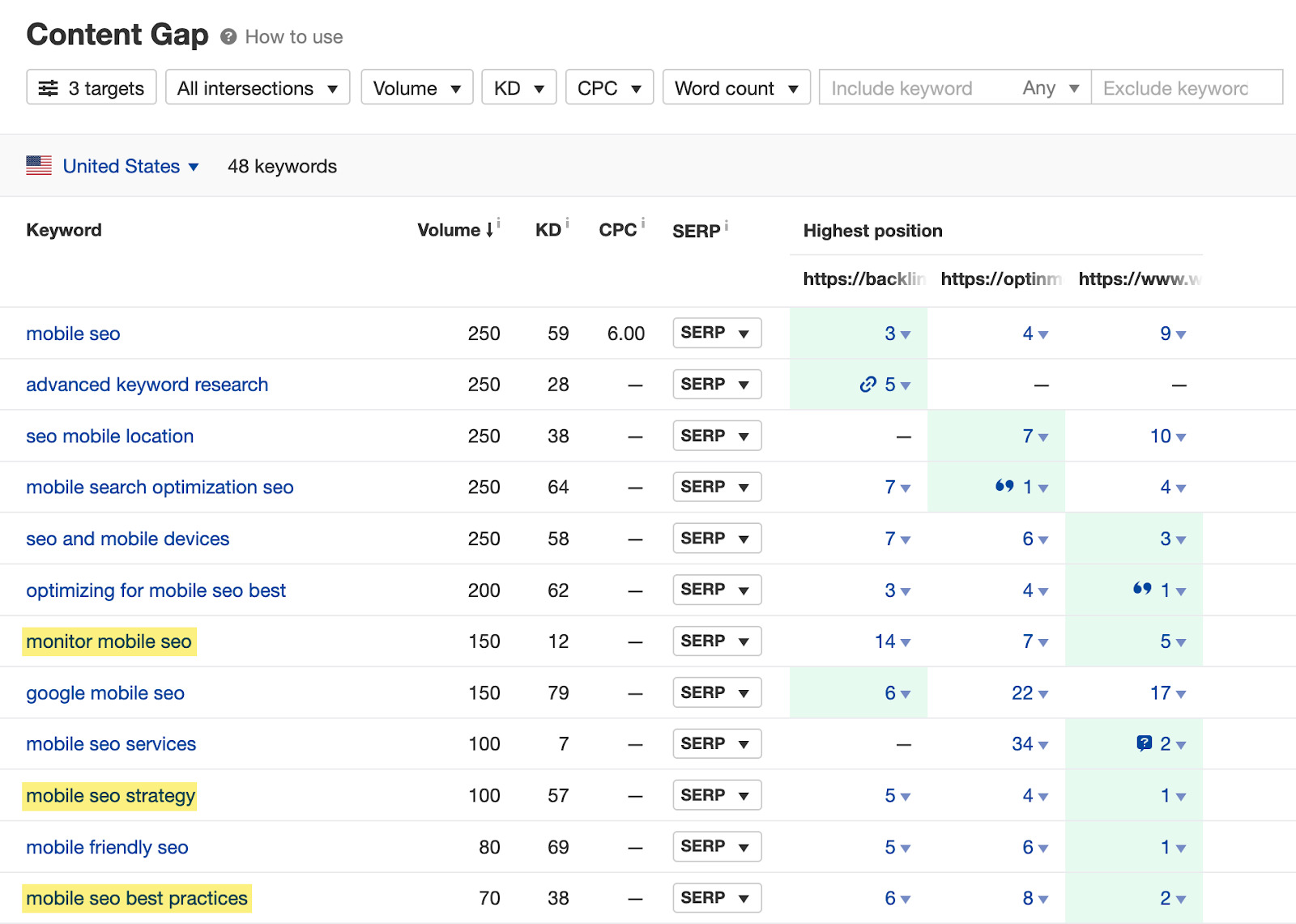 In the example above, we enter a few of the top-ranking pages for "mobile SEO."
A quick glance at the report shows these posts talk about the following subtopics:
Mobile SEO strategy
Mobile SEO best practices
These are probably worth including in an article about mobile SEO.
Weave your product in the content
The most important part of any content marketing strategy is to drive profitable customer action. Writing in-depth guides or blogs that don't talk about your product until the conclusion won't drive the expected engagement or conversions.
Hence, you need to focus on writing product-led content.
In our articles, you'll always find multiple instances of us talking about how our tool can help you solve a particular problem (as you must have seen multiple times in this article).
A direct benefit of this is customer acquisition and retention.
Remember that the idea is not to oversell the product but to educate users on the possible ways to solve a problem (with or without your product).
5. Update content as your product evolves
To get maximum engagement and conversions from your content pieces, it's important to update them according to your product improvements and feature additions.
Depending on how drastic the change is (whether it's a product update or a complete product revamp), you may need to:
Update step-by-step instructions on using the tool for a particular use case.
Add new product screenshots.
Add a new section explaining a new feature.
Update a product tutorial video.
While these may come across as small changes at first, doing so consistently will help you extend the life of your best blog content and increase the results it gets you over time.
For example, let's look at our beginner's guide to link building, which was first published six years ago and has been updated regularly since then.
If you check the page's organic traffic over time in Ahrefs' Site Explorer, you'll notice there has been a gradual increase in traffic since 2020: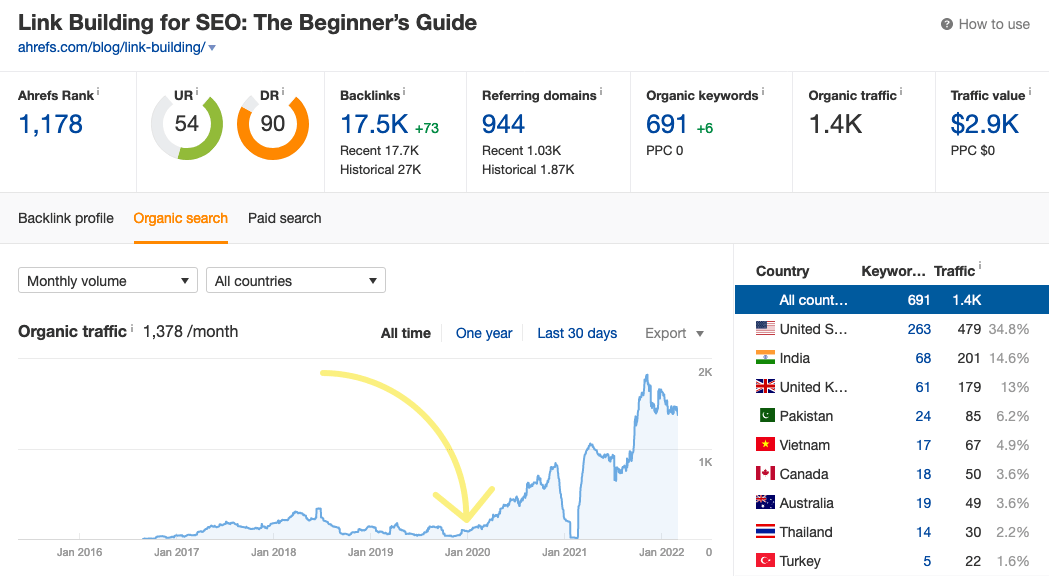 In fact, the blog ranks #6 for the term "link building."
However, this growth would have been impossible if we hadn't updated the content with the latest trends and covered how our new features could be leveraged for link building.
6. Build an owned audience through email opt-ins
Even if you rank #1 on Google and drive tons of organic traffic to your content, the reality is most readers won't sign up for your product or service right away. If they aren't ready to decide, no number of pop-ups or banners can influence them.
But you can encourage them to subscribe to your newsletter or weekly blog updates. At Ahrefs, we have a simple, non-intrusive form in the sidebar. There, our readers can enter their email addresses to get our weekly content updates.

This method allows you to build an owned audience through SEO-focused content marketing.
In turn, you can now:
Drive traffic to your new content pieces instantly.
Nurture readers before they become customers.
Conduct surveys that can be leveraged to improve your content, get new content ideas, and gain insights for data-driven studies.
Final thoughts
Leveraging SEO as a distribution channel for your content marketing efforts is a smart move if people are searching for topics with "business potential." It's the bread and butter of our content marketing strategy here at Ahrefs, and it's worked well for us.
Got questions? Ping me on Twitter.