But what makes a good affiliate marketing website? What products does it promote? And how does it get people to visit and purchase its recommendations?
To answer these questions, let's take a look at some well-done affiliate marketing examples and dissect what makes them so successful.
The Barbecue Lab is a fairly traditional affiliate marketing example. It reviews and promotes home barbecue grills and cooking accessories.
What makes it stand out is its combination of YouTube videos and search engine optimization (SEO) to create a multi-faceted marketing strategy and capitalize on two different (but complementary) platforms.
It ranks for over 18,000 keywords on Google…

… while also having over 60,000 subscribers and nearly 6 million views on its YouTube channel:

It also does an excellent job with YouTube SEO to create videos focused on keywords people are searching for on the video platform, like "smokeless fire pit."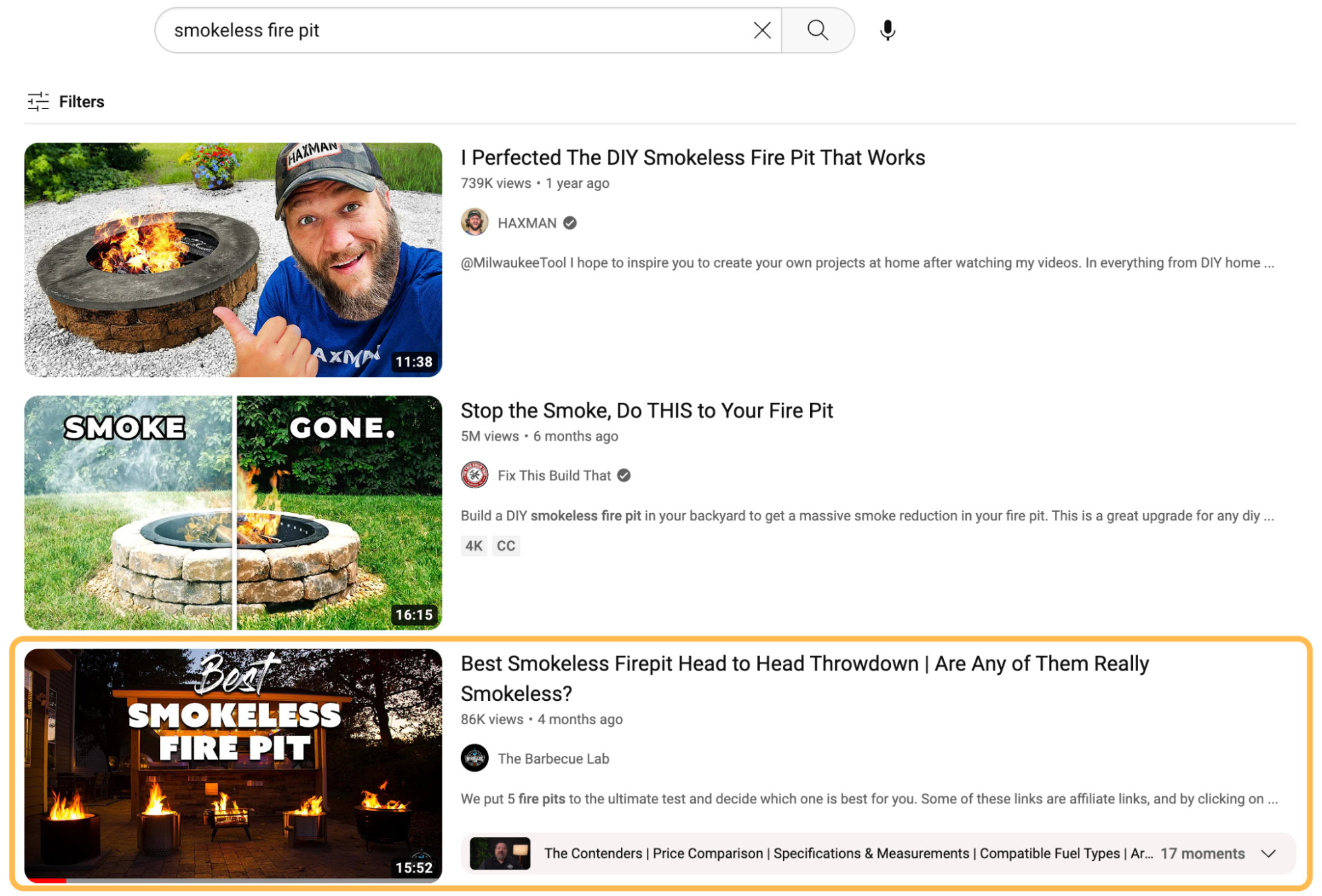 But it doesn't stop there. Not only does this video rank well on YouTube, but it also helped the site capture two first-page ranking positions on the SERPs—one from its blog post and one from its YouTube video: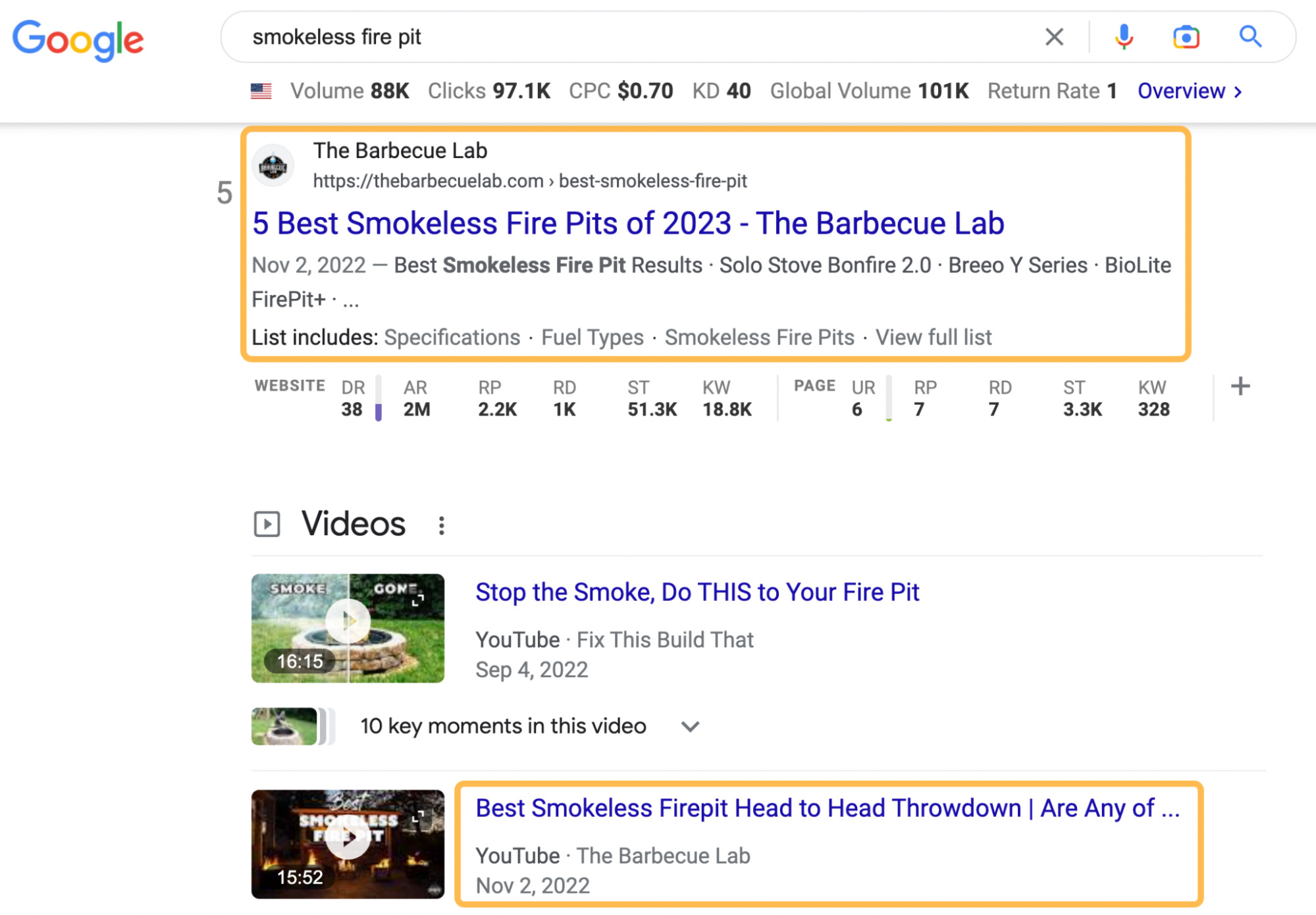 You can implement this combination approach on your own affiliate marketing site by using Ahrefs' Keywords Explorer.
Type a broad keyword you want to rank for in Keywords Explorer (like "coffee maker"), then go to the Matching terms report under "Keyword ideas."
Finally, tick the box under SERP features > Videos.
Click Show results and you'll be shown keywords that include YouTube videos in the search results. These are keywords you can potentially rank for multiple times—once with your website and again with your YouTube video(s).
Finally, create a combination of a YouTube video and blog post for the target keyword, then cross your fingers you're blessed by the Google Gods…
… or just follow our SEO checklist to increase your odds.
If you're on a tight budget, we also have a free keyword tool to find keywords people are searching for on both Google and YouTube.
Bank My Cell does affiliate marketing a bit differently. Rather than promoting affiliate products and making a commission on those sales, it's an affiliate for phone trade-in companies.
It also built landing pages with custom widgets to help people quickly and easily find trade-in values (and offers) of their used phones.

This affiliate is so successful because it did two things really well:
Published hundreds of content pages to establish topical authority and rank for thousands of relevant keywords
Used PR and statistics pages to build thousands of powerful backlinks to its website
If we look at its backlink profile in Ahrefs' Site Explorer, we can see it got links from leading sites like Whatsapp, Wikipedia, Adobe, and more using statistics pages: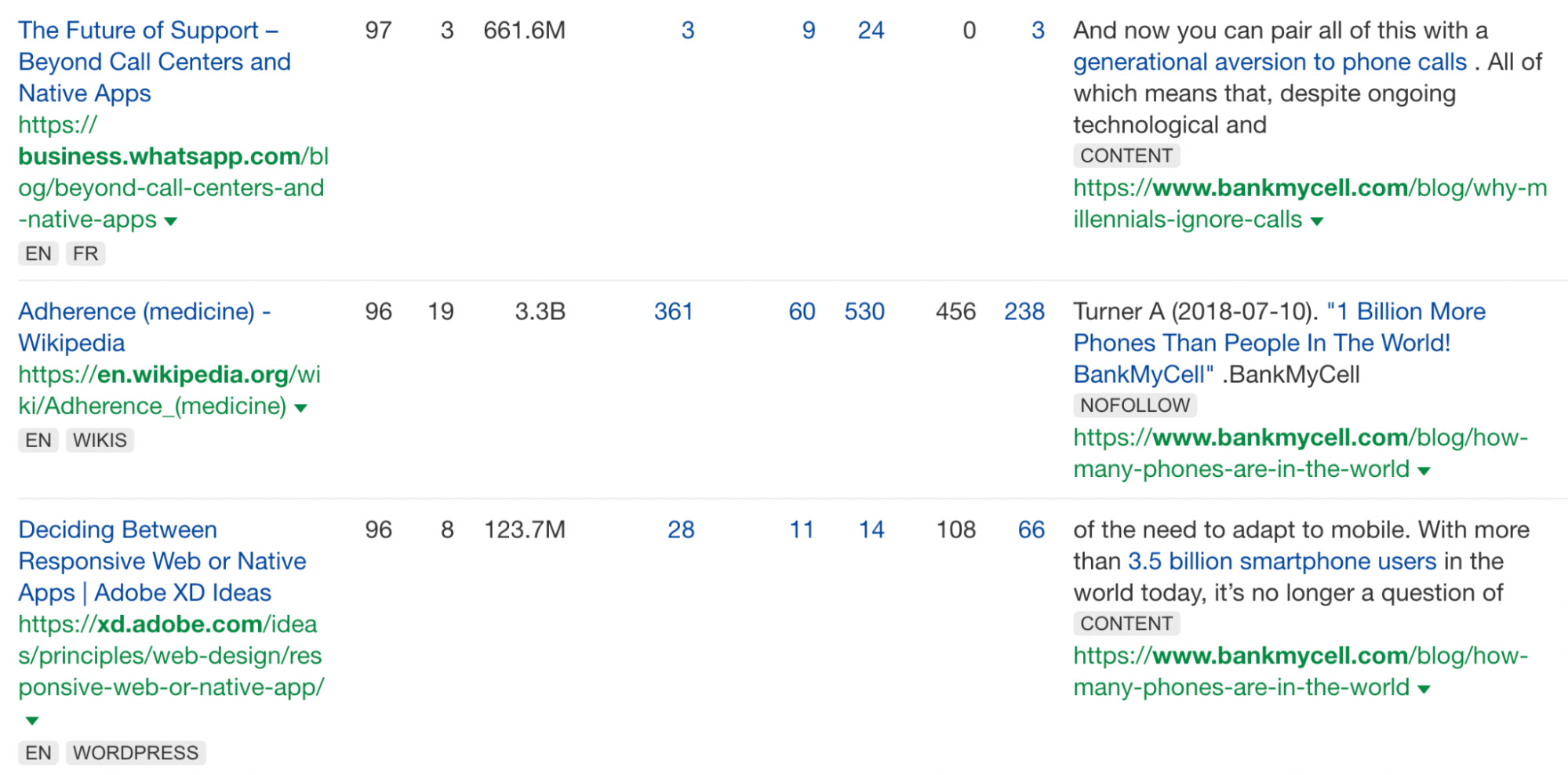 Want to copy this tactic? Read our case study on how we used a stats page to build 32 links.
Simply Insurance is a bit of an enigma. It has managed to compete in one of the most competitive affiliate niches to exist online today—insurance.
It ranks on the first page of Google for highly competitive keywords like "renters insurance 100000," with an estimated Keyword Difficulty (KD) score of 64:

Its secret? No surprise here—content and link building.
It hustled to write more guest posts and acquire more links through direct outreach than nearly any site I've seen. According to owner Sa El, the team managed to write over 1,000 guest posts and collect over 2,200 referring domains in just two years.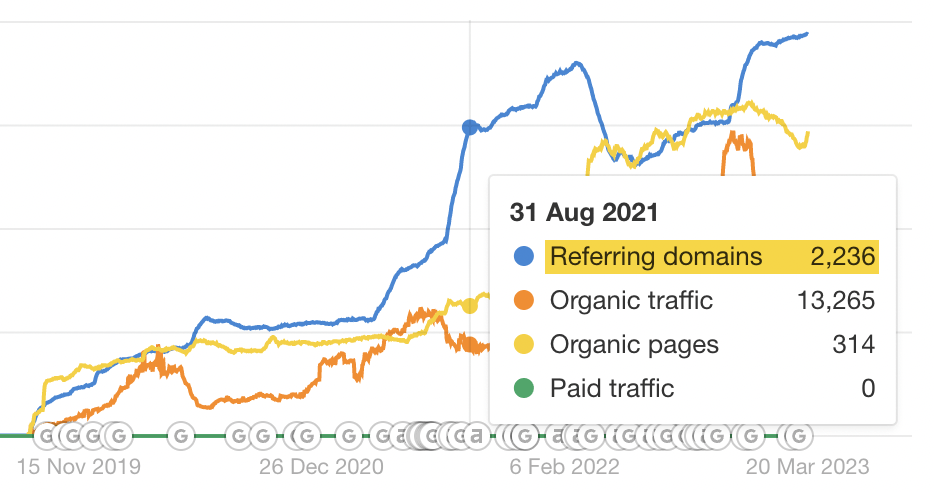 Some of these guest posts are from relevant and respected sites like Rocket Mortgage and Intuit.

Interested in this tactic? Check out guest blogging at scale from our SEO video series:
Hobotech is one of my favorite examples of a high-ticket affiliate marketer. He's a YouTuber who films reviews and comparisons of expensive electricity-related products like lithium batteries and solar power stations.
The products he makes videos about typically cost thousands of dollars and have up to a 10% commission rate—which means he's making hundreds of dollars on every sale.
One of his most popular videos is his review of a portable solar power station that sells for over $2,000. That video received nearly half a million views and, if I had to guess, earned him tens of thousands of dollars.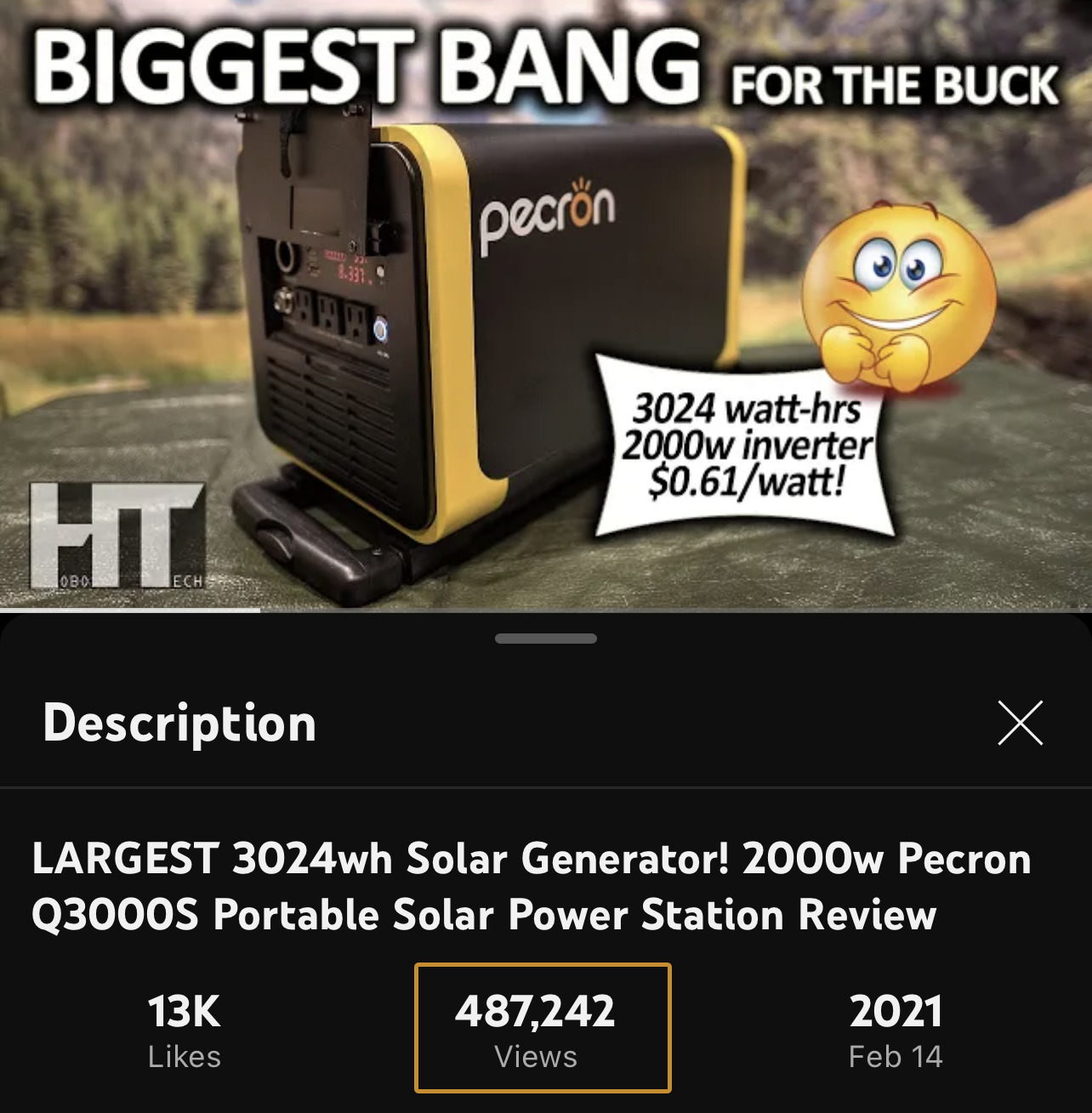 He doesn't use fancy editing or the latest and greatest camera gear. His videos have pretty lackluster lighting. He isn't trying to be overly entertaining.
So why do the videos do so well?
He shows the products in ways that only someone who clearly knows what they're talking about would or could do (like voltage and capacity tests).
He breaks down complicated subjects in ways that anyone can understand.
He will tell you NOT to buy something if it isn't actually worth the money (even if the companies pay him a lot of money to say otherwise).
All of these things add up to make him a trustworthy source of information, yielding him more subscribers and more profits.
Scotty Kilmer is a mechanic in his sixties with over 40 years of experience in his trade. He's an awesome YouTube personality, and his video content is (in my opinion) a blessing for ordinary people who need to learn how to work on their vehicles and save money on shop costs.

He's managed to accumulate over 5.5 million YouTube subscribers due to the quality of his videos. Like Hobotech, Scotty takes complex subjects (like changing your engine's spark plugs) and turns them into something anyone can do with the proper tools.
His affiliate strategy is simple: teach people how to do certain tasks on their cars, then link to all the tools and parts needed in the video description.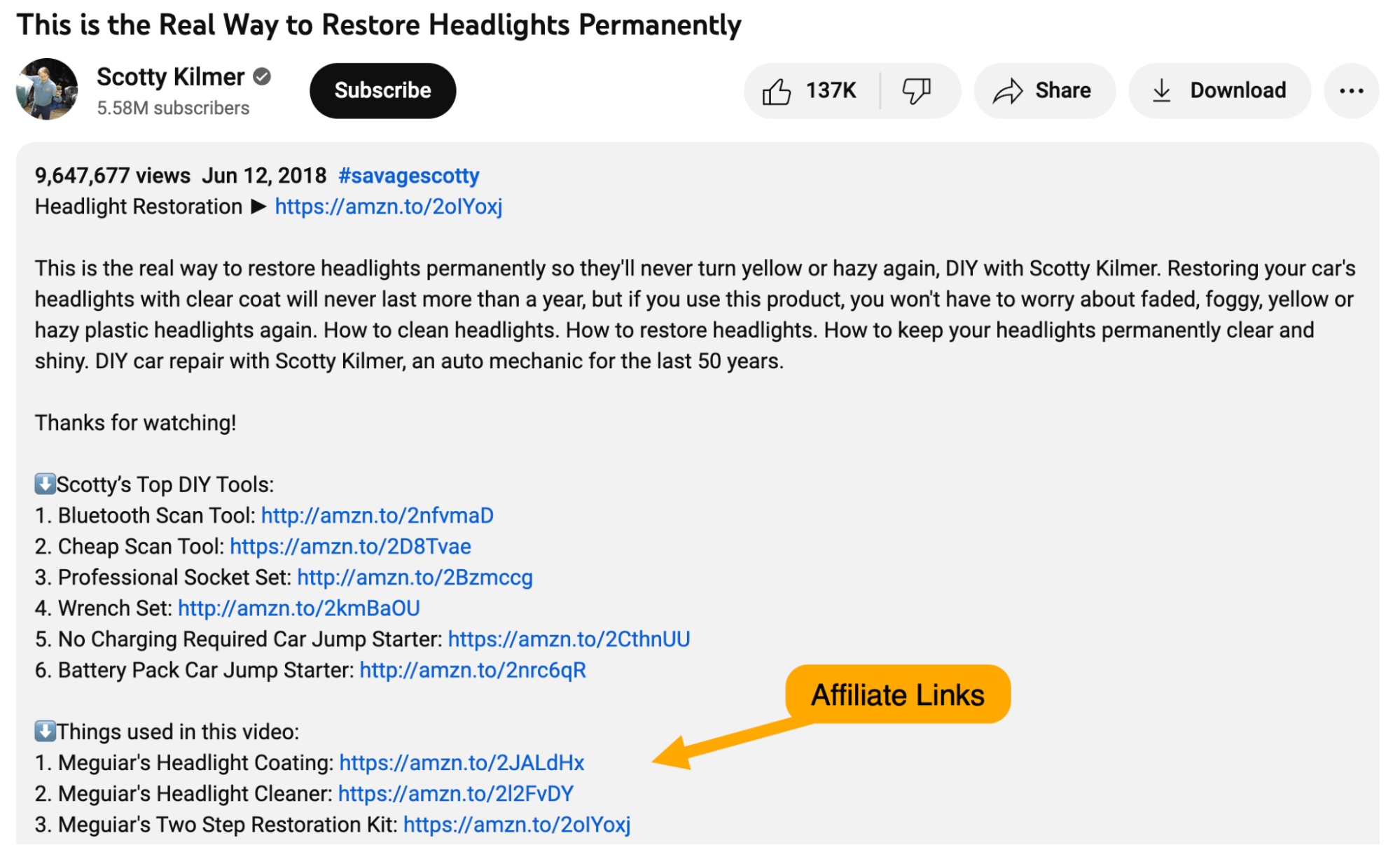 The takeaway here is to create really high-quality content.
Scotty's successful because his channel has some of the best guides on the internet for DIY mechanics. I've watched hundreds of his videos to fix my vehicles, and I've never once felt like he was pushing me to buy anything I didn't need.
If you haven't heard, Wirecutter is a giant affiliate marketing website that sold for $30 million in 2016 and made over $20 million in 2018.
It's most well known for doing product reviews… a lot of product reviews.
In fact, it ranks for nearly 5 million keywords and receives over 16 million visits per month—and that's just from Google.

How did it manage to become a Google juggernaut? We wanted to find out, so we did a full case study on Wirecutter's SEO strategy. Here's an excerpt of what we found:
1. It prioritizes E-E-A-T signals by talking about why you should trust it and how it came to certain conclusions on each review page: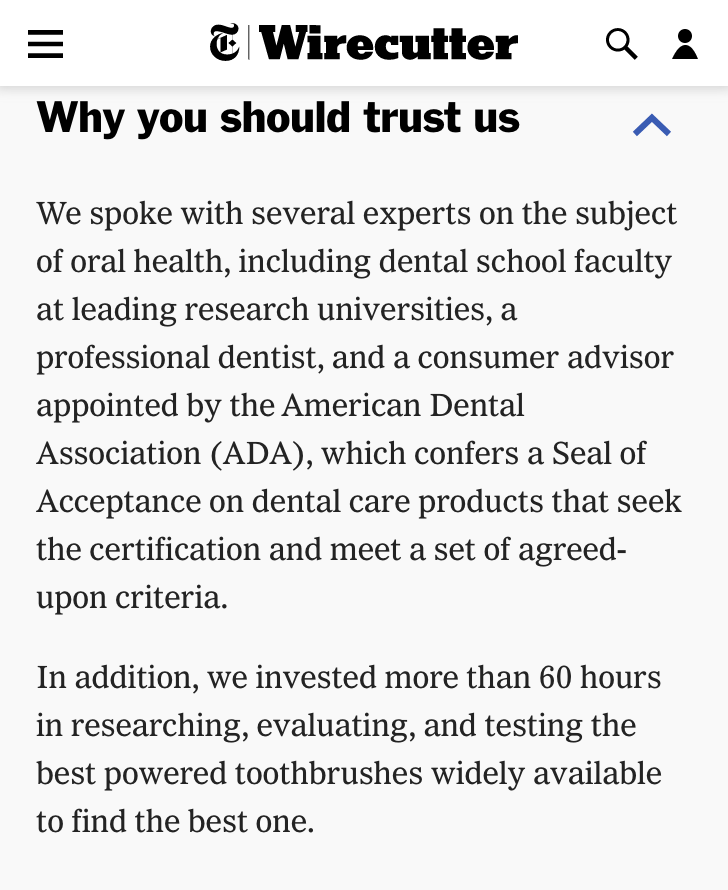 2. It provides a great user experience with an ad-free, mobile-friendly layout.
3. It has excellent website navigation and category pages.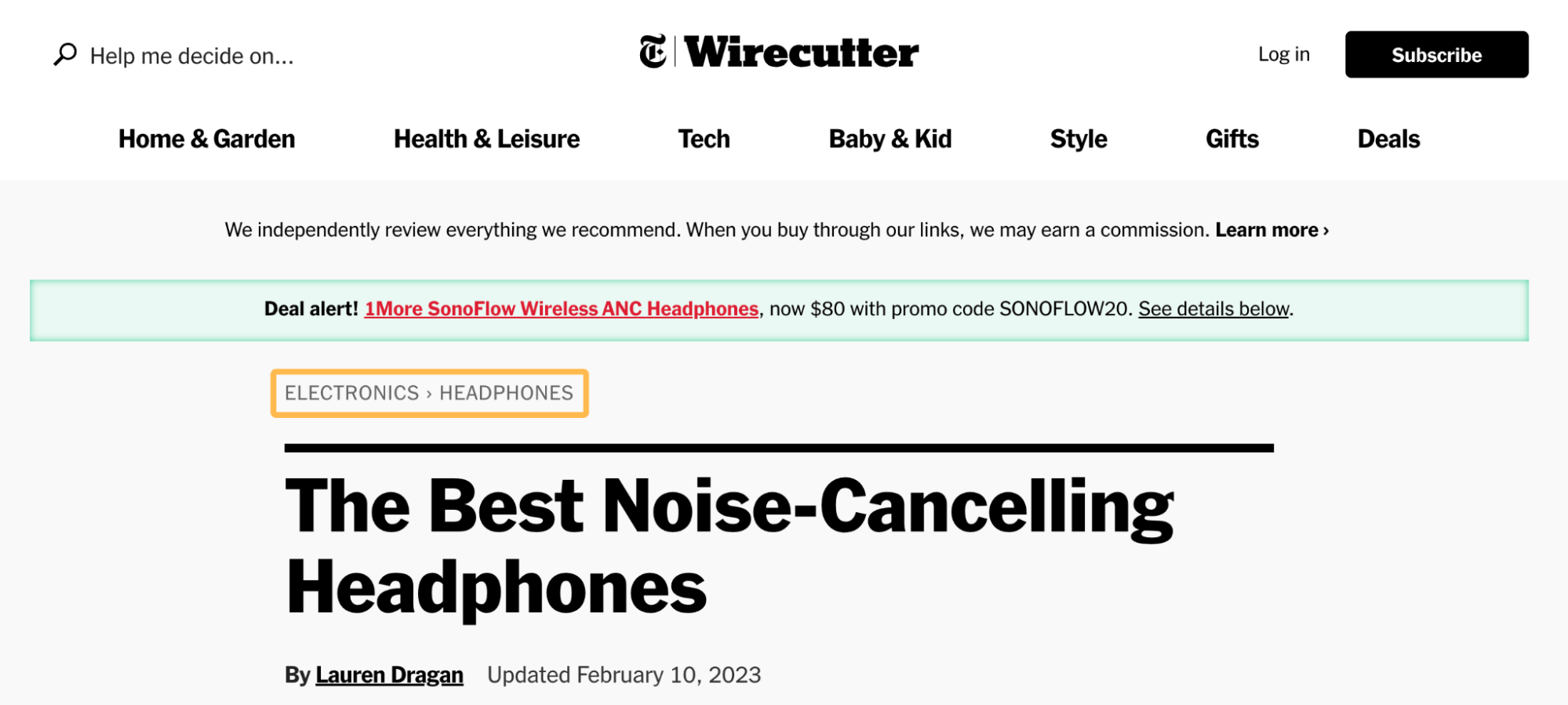 4. It frequently updates its content; in fact, it updated five pieces of older content for every new article published in 2022.
5. It's great at distributing its content to a lot of people through social media and its email list.
All in all, it simply did a lot of things right. It started out just reviewing tech products, then expanded to cover virtually every kind of product. There's a lot you can learn from the site's success.
RTINGS (or "ratings") is another gigantic product review site similar to Wirecutter. It's not quite as big (it "only" gets 8.7 million traffic per month), but it still has a lot to teach.

We also did a case study on RTINGs.com to see what made it so successful. Here are the takeaways:
1. It started with a scalable website structure. It also makes excellent use of category pages. Here's a bird's-eye view of the structure the site uses: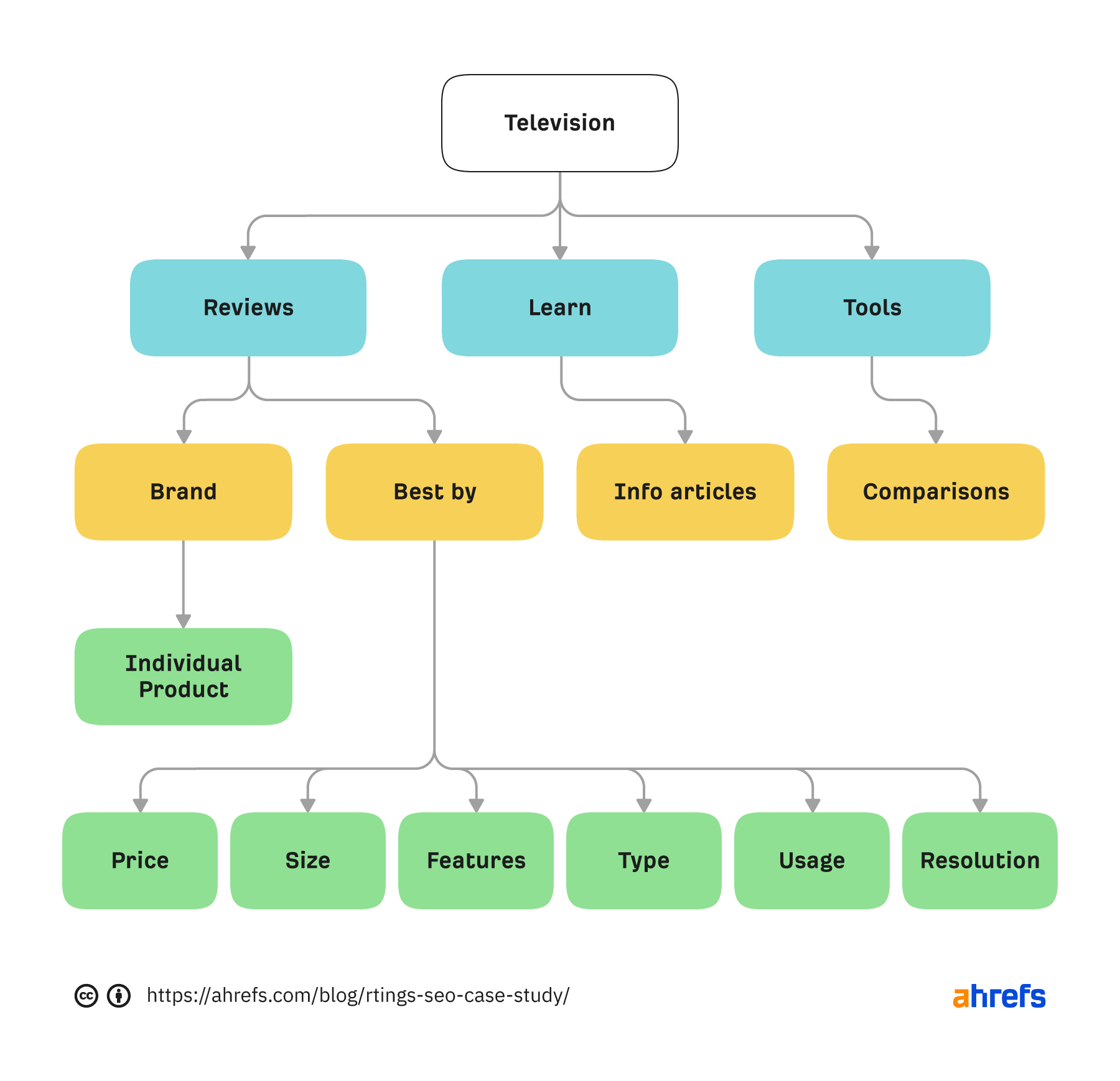 2. It uses programmatic SEO (​​a method of generating many pages from a set of data using automation with the goal of ranking on Google) to mass-create comparison pages like this one: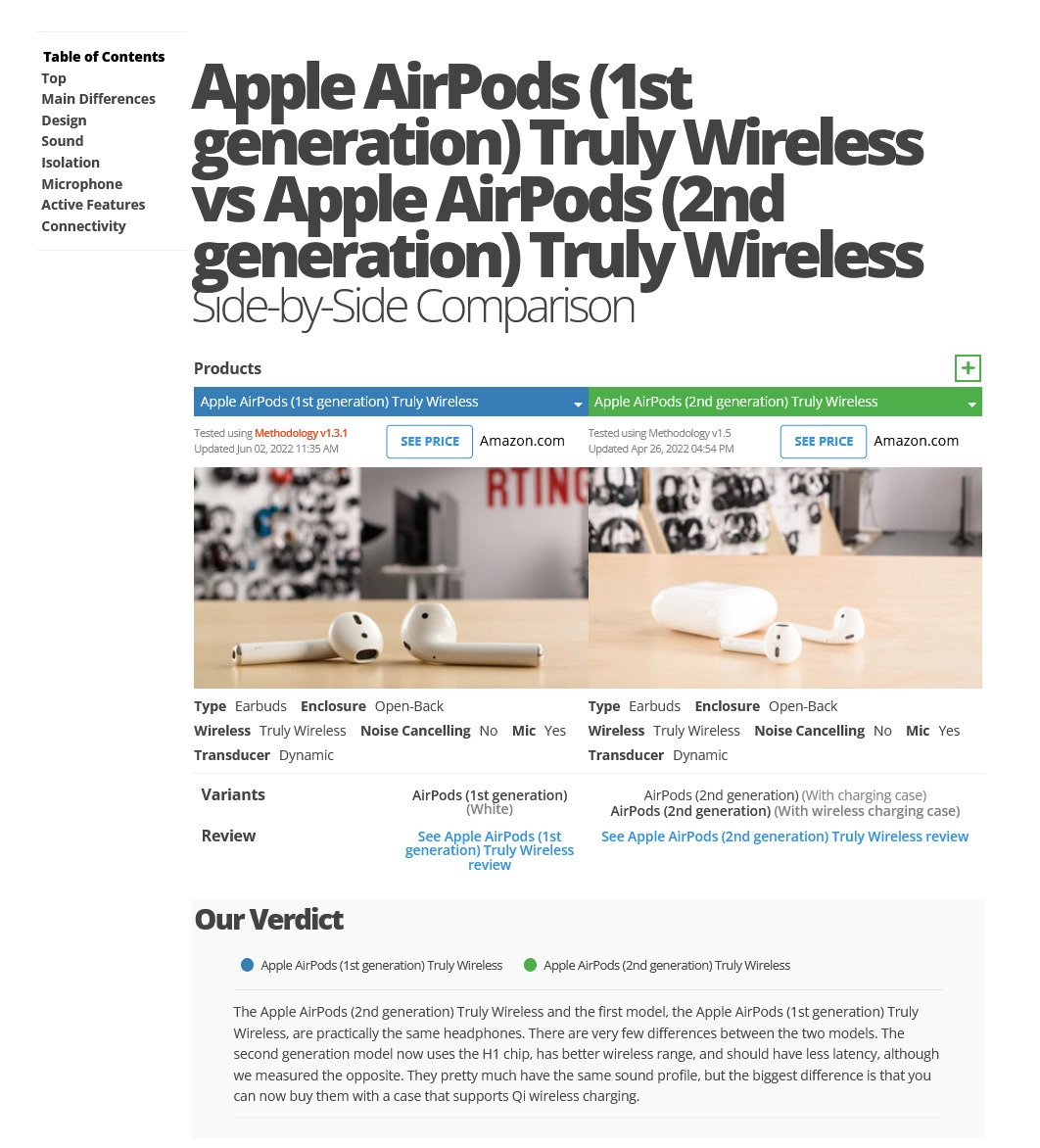 3. It has an excellent internal linking method that allows it to stitch things together in a way that's easy for visitors (and Googlebot) to find content.
4. Like others on this list, it uses a combined approach that includes YouTube SEO. It double-dips on many keywords in the search engines.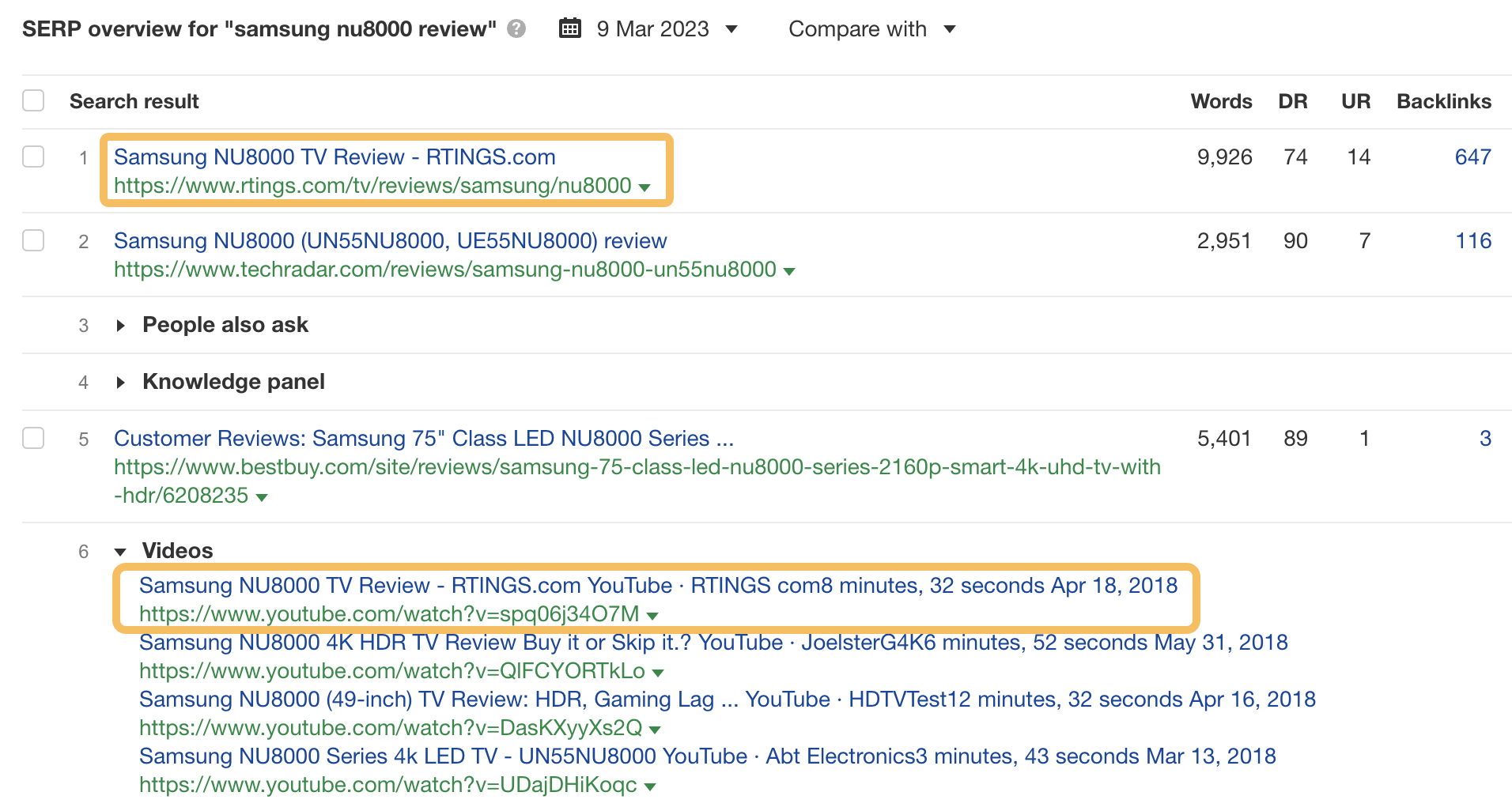 And that's about it. Though, I wouldn't follow its strategy of being a broad review website without massive capital to back it up. But you can definitely follow its lead when it comes to website structure and navigation, and possibly even use programmatic SEO to create a lot of fairly high-quality pages at scale.
Final thoughts
If you're interested in becoming an affiliate marketer, it's important to study what's working. While there are many different approaches to succeeding as an affiliate, there are a few things that are universal to success. You should:
Create content that's really damn good. Don't be afraid to go the extra mile because that's what will help you stand out.
Make it easy for users (and Googlebot) to navigate your website. Plan your website structure hierarchy before you build out your site.
Consider investing in video content to build trust with your audience and double-dip in the Google search results.
Find unique and interesting ways to build backlinks to your content at scale.
That's all I've got. I hope you enjoyed these affiliate marketing examples and learned a thing or two.