There is a reason they say you should keep your friends close but your enemies closer.
By analyzing your business competitors, you can learn how to build quality content that will gain huge amount of traffic and more importantly — convert readers into customers.
That's exactly what we did with our recent SEO campaign and the result was a knockdown.
Here's how we did it.
Wait. Is content still king?
Being perhaps the most important part of your digital marketing efforts, content marketing is still highly undervalued.
You often hear the phrase "content is king" but this phrase is meaningless without some concrete advice attached to it.
Understanding Content Marketing
The web is filled with low quality content that provides zero value. Or perhaps it provides value but doesn't drive any traffic or sales.
So why do companies spend so much time on producing content that doesn't give them any results at all?
We've been there too.
Writing low quality content for too long just because we believed that content was king when it came to SEO.
However, what we've learned is that content is not king unless it's top-notch content. So let us rephrase:
Awesome content is king.
About us
Northmill is a Fintech company founded in Stockholm 2006 with a vision to simplify everyday financial services.
We offer modern online loans and have 150 000 customers in three countries. The strategy is a multi brand concept which currently operates under the following brands: Credway, Easycredit and Credigo.
Our content strategy
Our marketing team has a clear philosophy when it comes to creating content. We aim to create valuable content that strengthens our brand, leading to new customers in the long run.
Our sites are filled with a lot of relevant information about lending money online on our static pages, but we also have a news section where we create content related to our main topic: private economy.
An uphill struggle
It was a real struggle getting people to associate themselves with our brand on social media. For a long time we only had around 100 followers on Facebook.
Gradually we understood that, as a lender, you don't go about bragging that you just got an approved loan. The behavior is just not the same as when you buy a couple of nice sneakers and you go ahead and press the share-button on Facebook.
Awesome + content = brandbuilding
With our content marketing strategy we create such brilliant content that people actually are willing to relate to our brand in a whole new way. When we provide value to people through our content we strengthen our brand and increase the chance that readers will convert into customers in the future.
Today, we'll give away our secrets.
In this case study we'll walk you through our recent SEO campaign and show you how we managed to create a single piece of content that:
1. drives a ton of traffic
2. builds our brand
3. converts into new customers
Step 1: Know where your competitors get their traffic from
We had previously written two articles that contained information about tax refund in Sweden. They neither ranked, nor provided any other kind of value.
Competitve analysis
Using Ahrefs Site Explorer, we noticed that one of our main competitors gained a lot of search engine traffic from keywords related to the same topic as our poorly performing article about tax refund.
2 things you should do
1. Get an overview of the organic traffic your competitors are currently receiving by entering your competitors domain name in Ahrefs Site Explorer. Then click on "Organic keywords".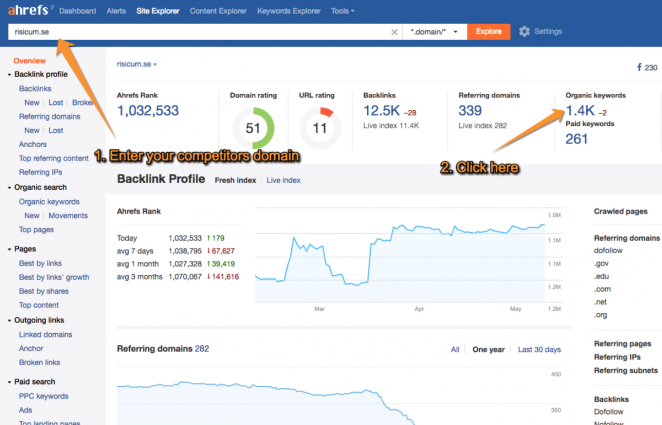 2. Sort on "Traffic" and start analyzing the results. The rectangles show all the search terms related to tax refund.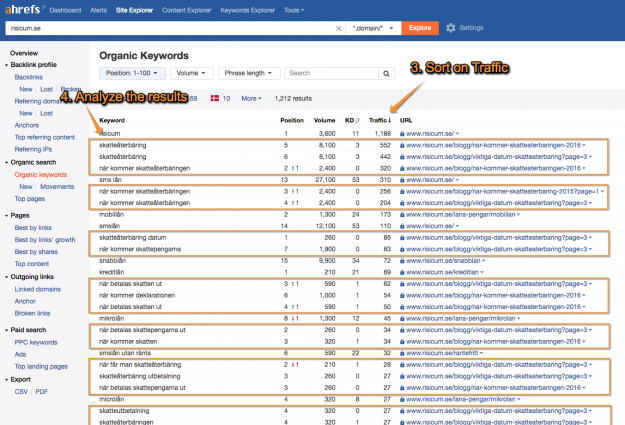 As you can see, our competitor gets most of the organic traffic to their page from phrases related to tax refund.
Indeed, 18 out of 27 top search results for their overall organic traffic are phrases related to tax refund (in Swedish "Skatteåterbäring").
Combine multiple tools for the best results
After taking a look at the column "Volume" in the above picture, we wanted to confirm the data with Google's Keyword Planner Tool. As you can see below the numbers from Ahrefs and Google Keyword Planner Tool are consistent.

So what next?
The plan was crystal clear. We needed to combine our current articles into one improved article and make it better than all the other search results in the SERP.
Now this first phase is the most important phase so do not start the writing process unless you get all the information you need. The better research you do, the better result you'll get.
Tips:
Never start writing until you've conducted a thorough research
Always have a clear concept before writing
Step 2: Conduct detailed keyword research
The plan was to give Google a reason to make our page rank higher than the others and we knew that we had to create an awesome page with fresh and unique content that was better than everything else in the SERP. A method often referred to as the skyscraper technique.
A manual look on the SERP had the Swedish Tax Authority (Skatteverket) on top and then our competitor, followed by one of Swedens largest newspaper on position 2 and 3. Our own pages about tax return didn't rank well at all.
We started to read everything they had on their pages, analyzed their content, their titles, the meta description, the headers and everything else we could think of.
We needed to set a goal before we started to write and to do that we had to know what keywords and phrases to aim at. For this, we used Ahrefs Keyword Explorer Tool, Über Suggest and Google's Keyword Planner.
Enter the keyword you think is the main one in Keyword Explorer.
Choose your country and then sort on volume.
Start analyzing the results.
Tips:
Always provide the web with unique content
Create better content than the others
Analyze titles, meta, headers and content on the sites that ranks
Making the right conclusions
In Ahrefs we could see that the keyword "skatteåterbäring" was the biggest one with 8,100 monthly searches.
We also noticed that the term "skatteverket deklaration" had 6,600 monthly searches but when we searched for that term on Google we discovered that all the first page of the search engines results came from the Swedish Tax Authority (Skatteverket). We therefore decided not to target that phrase.
You can't be meticulous enough
A lot of marketing programs out there are awesome but there's no software that is 100 % accurate and perfect — not even Googles own tool which is known to miss out on longtails.
This is why we always try to confirm results by using more than one source. In this case we used Übersuggest not only to confirm the data that Ahrefs presented but also to find out if we missed out on any important keywords or phrases.
The findings were amazing…
1. Go to https://ubersuggest.io/ and enter your main keyword. Go ahead and click on "View as text".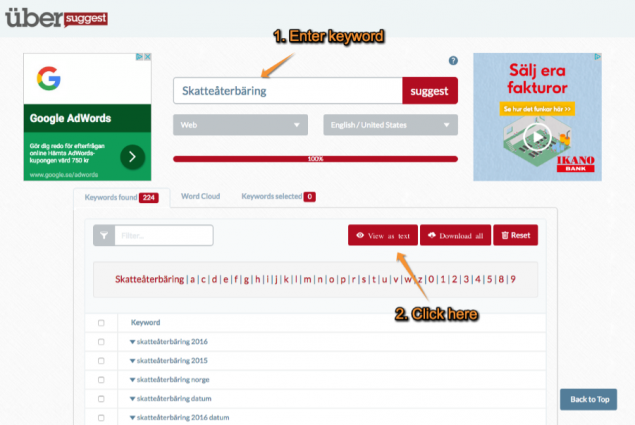 2. Copy all the content in the popup and go to Google Keyword Tool.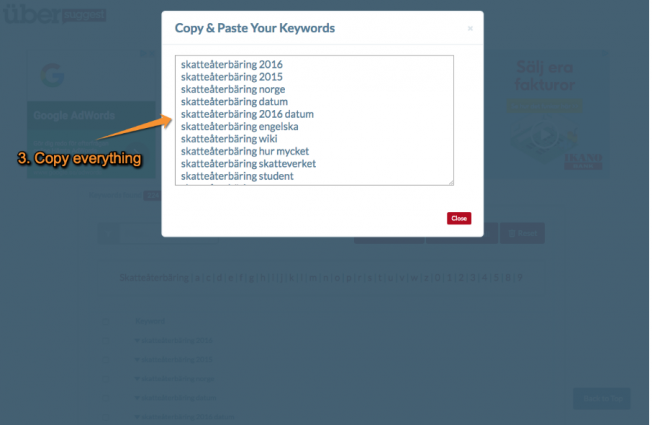 3. Paste all the words you copied from Übersuggest into Google Keyword Tool and start analyzing.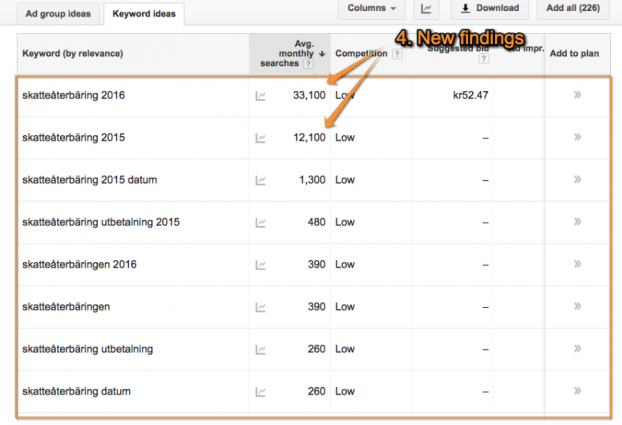 We found out that the terms "skatteåterbäring 2016" and "skatteåterbäring 2015" (which means tax refund followed by year) had major monthly search volumes. We also know that Google likes fresh content, and that fresh content gets premiered especially if a searcher ends the search with a year or date.
Now we knew what keywords to target. Our goals became:
Top 3 for term "skatteåterbäring 2016" (33,100 monthly searches)
Top 3 for term "skatteåterbäring 2015" (12,100 monthly searches)
Top 3 for term "skatteåterbäring" (8,100 monthly searches)
Tip:
Always set a goal before you start
Step 3: The Writing
With the research completed we needed to get down to business and start writing.
To make sure the two other poorly written articles about tax refund didn't cannibalize on this new content, we decided to create a whole new page with a fresh URL and redirect the old ones to the new URL. This way we concentrated all our content that's related to tax refund on a single page.
Once that was done we started to work the magic and a couple of days later the article was finished. On November 2nd we published the content about tax return.
It includes all the valuable information searchers need, images, table of contents and awesome content.
Tips
Make sure not to have more than one page that targets the same keywords. Better to have one strong page than three weak.
The journalist v.s the content marketer
Just because we've published an article it doesn't mean we're done. For a journalist, the publishing is where the job ends. For a marketer this is where everything begins.
The Content Marketer starts with a kind of reversed engineering method to try to understand what the target audience wants to read about and then ends up publishing the article.
We constantly follow up on the results and improve them. This is a part we call "communication with Google". Once the Googlebot indexes our page we'll know whether it's good or bad and we'll know what to do because Google tells us what to do in different ways.
Tips:
Don't consider you article finished just because it's published
Keep a close eye on it and try to understand Google's verdict
Step 4: Monitor and Optimize
In our case, we published the article on November 2nd and waited for Google to act. At the end of January we started to analyze the results again and on January 31st we adjusted the article and worked with the details.
Behavior
We use Google Analytics to get an insight into user behavior to learn how we can improve the article.
We could see that a visitor spent 4:45 minutes on average on the page and that they were bouncing like crazy. We could also see that the exit frequency was 94.14%.

Our analysis told us that a visitor comes to this page most likely to know when she will get her tax refund. The high bounce rate was expected and the same goes for the exit frequency.
Despite this we tried to improve the results. We wanted to know if we could improve the numbers so we added the top bar and the overlay at the beginning of March.
As you can see we managed to improve both the bounce percentage and the amount of exits from 93.57% to 92.13% and 93.32% to 91.48% respectively. Another interesting insight was that the average time on site decreased. Whether it's a good or bad thing could be discussed.
Our conclusion was that we had made the page more user friendly by adding the top bar which gave the user the opportunity to get a fast answer of her question. This lead to a lower time on page. In other words, a good thing.
Related search terms
A good tactic we used to increase the relevancy of our article was to see how Google had interpreted our page and the keywords and phrases it had associated with it. This helped us to make the article even more relevant. For this we used Google Search Console data which we have synchronised with Google Analytics.
1. Go to "Search Traffic" and then "Search Analytics" in Google Search Console
2. Click on "Pages"
3. Click on the page you'd like to analyze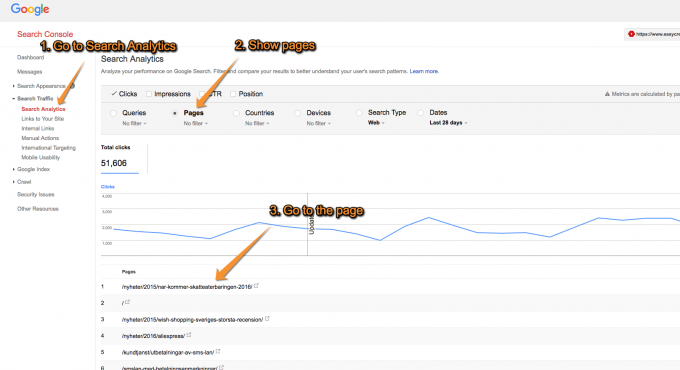 4. Click on Queries
5. Start analyzing
In the fifth step you'll see the queries searchers execute that made them land on your page. This is very interesting because according to Google these phrases are relevant to your article.
What we did was to analyze the whole query list and then added words and phrases to the article to make it super relevant.
First page results
Once we were done with these adjustments we waited. And suddenly something happened. On February 12th we climbed to position 7 on first page with one of the main keywords, "skatteåterbäring".
We had reached a milestone — page one. But we were not done yet.
As a Content Marketer you have to be stubborn and patient before you see the results you want.
In our case we kept on improving the copy, the design, and adjusted details even further. And guess what?
March 12th we reached position 8 on the first page with the keyword "skatteåterbäring 2015" and by April 4th the same keyword climbed to position 4.
A very interesting thing to see was how fast we climbed to position 1 for the biggest keyword "Skatteåterbäring 2016".
Tips:
Have patience when it comes to Google
Never stop improving your content
Wow! What if we could convert the visitors into customers?
Suddenly, our article about tax return drove thousands of visitors every day.
Taking this even further we started to ask ourselves what should be the next step? How could we leverage even more and use all this traffic to actually get more customers? We had to be able to do something more than brandbuilding with the huge amount of traffic volume we were receiving.
This page had earned us 121,883 unique page views in just a few months. Now for a large country it may not be that much but for a small country like Sweden with a population of 9 million… it's awesome!
Long term v short term benefits
Our philosophy is to provide valuable information so that the visitor gets a state of the art experience and remembers us in the future. Hopefully when the customer needs a loan she will recall our brand.
A lot of people have been telling us that we're crazy because we invest a lot of time in writing content and they often say: "Why put so much effort in something that does not create customers?"
So, maybe there was a happy medium. Combining the long term effects of brand building and converting more first time visitors into customers.
Step 5: Converting readers into customers
To create great content you need to understand the visitors intent. So start by asking yourself why they make a certain search query in the first place. Once you understand that you can continue with your seo strategy.
In our case we understood that the searchers intent was to know when they would get their refund. So on March 3rd we added a top bar that takes the reader further down on the page and gives them the answer to their question.
In other words we tried to provide the answer faster and at the same time engage them on the site.
Once we knew why the visitors searched for phrases like tax return we could assume that some of them need the money immediately. Therefore we assumed that there is actually a demand for money and therefore we would offer to lend them money with a discount.
But at the same time we don't want to bother them too much when reading about tax refunds as not all of them will want to borrow money.
On March 9th we decided to insert an overlay that appears once the customer wants to leave the page and on that overlay we wrote:
Waiting for your refund? We offer 10 % discount on all our loans. Apply for free.
Here's what happened after adding the top bar and the overlay. Of course we don't know if this is a result of the bar and the overlay. We'll let you be the judge of that.
When we started to write this piece we had the three goals which I mentioned earlier. But once we saw how many new visitors the article brought to the site and we became greedy (in a positive sense), we wanted to get out more than branding from this whole project. And we did.
Believe it or not, this time our greed resulted in conversions. We actually managed to create a new page with the goal to rank and build our brand which also converted visitors to new customers. Awesome!
This result meant something more than these numbers. For us, this lead to a new mindset because now we actually know that there are ways to convert visitors of a brand building articles into customers.
The final results
Our goals before we started to write were:
Top 3 for term "skatteåterbäring 2016" (33,100 monthly searches)
Top 3 for term "skatteåterbäring 2015" (12,100 monthly searches)
Top 3 for term "skatteåterbäring" (8,100 monthly searches)
We managed to get top 3 positions and reach 2 of our 3 goals (we wont give up unless we reach 3 out of 3).
But besides our initial goals here are some other amazing results:
1,415,825 total impressions in the SERP
121,883 total unique visits
700 clicks on overlay
287 new customers (!)
This project became such an success that it is now one of the most visited pages on our site. When we analyzed what we thought Google related our site to we started to wondering if there was any risk here. Could this major page make Google think our site is more about tax refund than loans?
An interesting question actually. We could write a whole new article about it but the short answer is you don't have to worry about that as long as you:
a) tell Google that the page is not as important as your main pages
b) don't do anything shady
Editor's Note
This case study is another great example of the power of combining thorough keyword research with great content.
However, you may have noticed that the keyword difficulty score for these search terms was quite low.
As Tim revealed yesterday, content alone will not normally be enough to rank for more competitive terms. As KD increases, more backlinks are required to reach the top spots: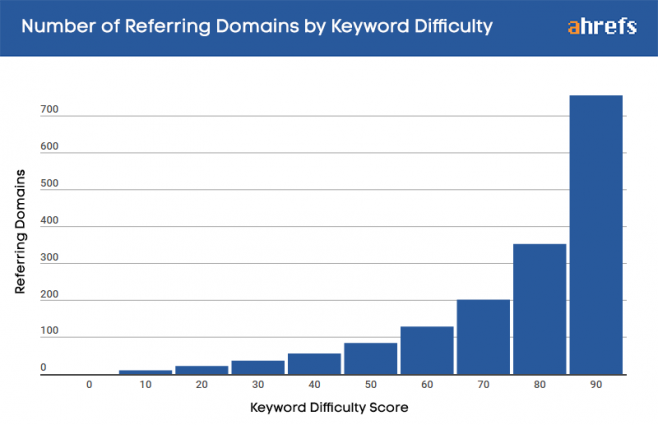 The takeaway is clear.
To get the most out of your own search engine optimization campaigns, you should combine:
1. Detailed keyword research
2. Creating 'Best' available content for each target keyword
3. Pro-active link building/content promotion
Indeed, that's the very strategy we have been following here on the Ahrefs blog.
Conclusion
Content Marketing is a fundamental part of online marketing and SEO. Everyone can create fantastic content that results in new visitors, links, mentions, collaborations or new customers. But it's not easy and it takes time.
You need to build up an awesome team that can create a content machine which iterates this working method over and over again.
Everyone can do this™. (All rights reserved…jk)
So, what's the topic for your next SEO campaign?