The 4 Ps of marketing is a model businesses use to control and optimize the essential factors of marketing a product or a service. The four components of the model are product (what you sell), price (how much you sell it for), place (where you sell it), and promotion (how you get customers).
Jeremy McCarthy originally proposed this type of marketing mix in his 1960 book, "Basic Marketing: A Managerial Approach." Since then, the model has been widely adopted by marketers and it's still used today.
In this article, you'll learn how to connect each of the 4 Ps into a coherent strategy to effectively promote and sell your product or service in four steps:
Most of you probably already have a product or service in mind—or at least an idea for it. After all, that's the first step in the marketing mix. But before you move on to the next step, take a moment to double-check you're on the right track. At the very least, you should be able to answer these fundamental questions:
Who is the target market?
How big is the market?
What features does the market demand and value?
How is your product different from the competition?
Learning the answers to these questions is a job for market research, which you can learn more about here. If you don't have time for that right now (it can be pretty time-consuming), write down your best guesses so that you have something to work with. You can always refine it later on.
Here's what things might look like for our product: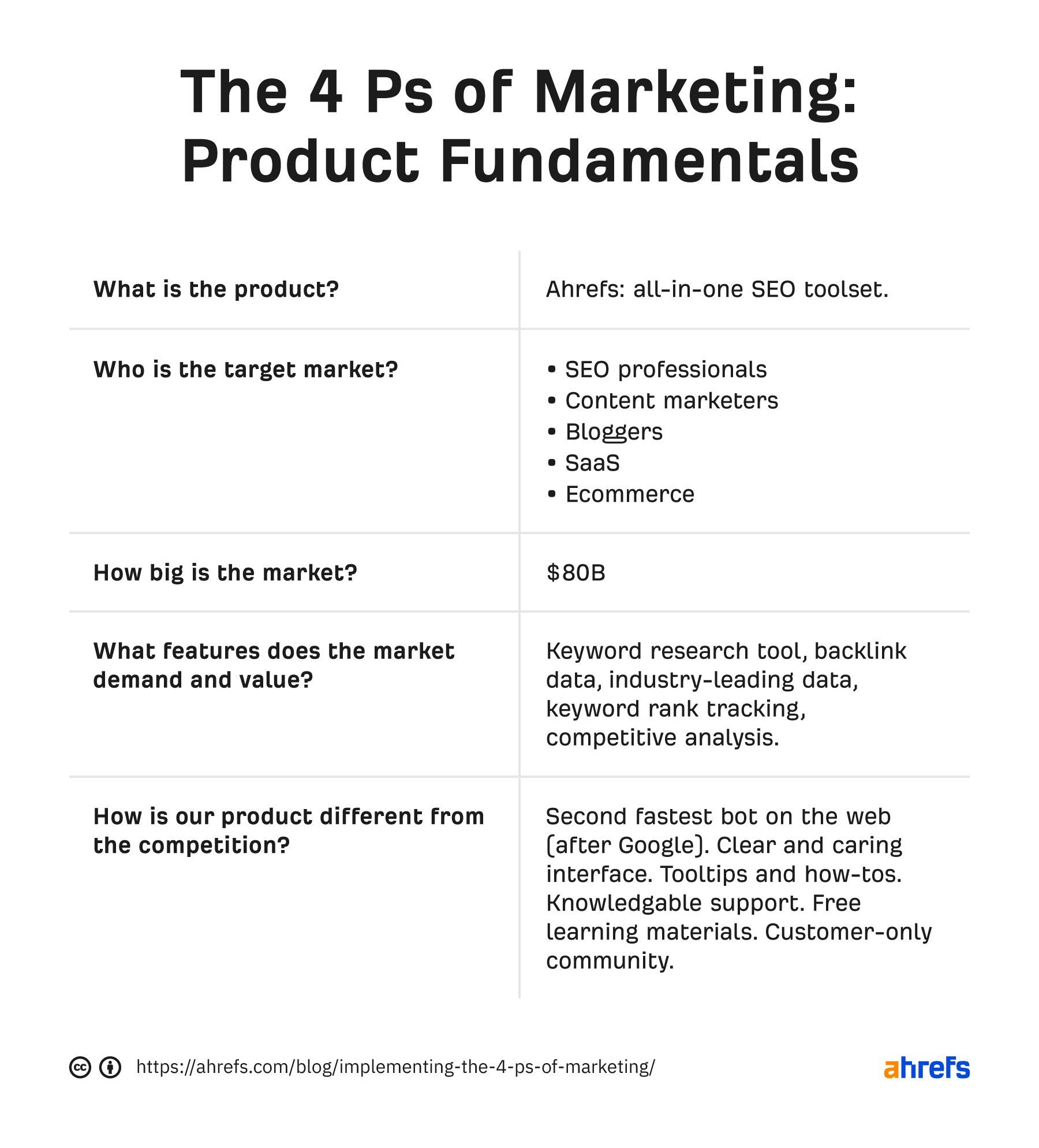 Price is the cost your clients will pay for a product or service, and it needs to be linked to both the real and perceived value of your offer.
Here are a few questions to ask yourself when deciding on price:
What costs do you need to consider? (supply costs, staff, distribution, etc.)
Will it be enough to make you profitable?
Will your target audience be able to afford the product?
How will the price be perceived in relation to its benefits and your competitors?
The main problem you need to solve here is how to connect your business costs with what your customers perceive as value.
The answer for our product was: data. Data is what our customers need, and at the same time, data is what creates cost on our side.
So we decided to tie the price of Ahrefs to data limits and data update frequency.
Then we decided to divide the pricing into four tiers (plus a custom enterprise plan). The cheapest plan is suitable for basic SEO needs and smaller marketing departments, while the most expensive plan reflects the needs of SEO agencies and big marketing departments.
To make things simpler and even more beneficial to our customers, every paid customer gets all the features Ahrefs has to offer.
Let's also touch on the affordability issue. In other words, how do you make sure your product will be affordable for the target market?
One way to do it is to simply ask. You can survey or interview your target audience. For example, you can use the Van Westendorp model to determine the optimal price point. The model is based on these questions:
At what price would it be so low that you start to question this product's quality?
At what price do you think this product is starting to be a bargain?
At what price does this product begin to seem expensive?
At what price is this product too expensive?
Or you can listen to what people are saying on social media about similar products. But be careful with that. It's hard to find people who publicly express their satisfaction with the price of something unless they get a bargain. You're more likely to see people complaining.
However, if you're lucky, you'll stumble across lively discussions about pricing in your product category.
Here's a good example (be aware it contains some strong language):
https://www.youtube.com/watch?v=zvPkAYT6B1Q
It's also a good idea to do benchmarking. We did that when setting the price for Ahrefs. Using comparable pricing to our then super-profitable competitor Moz decreased our chances of making a huge pricing mistake at the very beginning.
The place is about where and how customers buy your product or service. Think in terms of the type of shops, cloud vs. downloadable, staff needed, and possible fees to intermediaries.
Key questions this part of the process needs to cover:
What are your potential customers' shopping habits?
Where does your competition sell its products?
Where can the customers get the best buying experience and after-sales support?
Do you need sales reps or will it be self-service?
How much revenue will you need to give up to offer the product via a particular distribution channel?
I recently wrote a post about creating a go-to-market strategy where I explained distribution models and how to choose the right one in more detail. So check that out if you want to learn more about this.
But just so have an idea of what to expect, here's a table summarizing distribution models: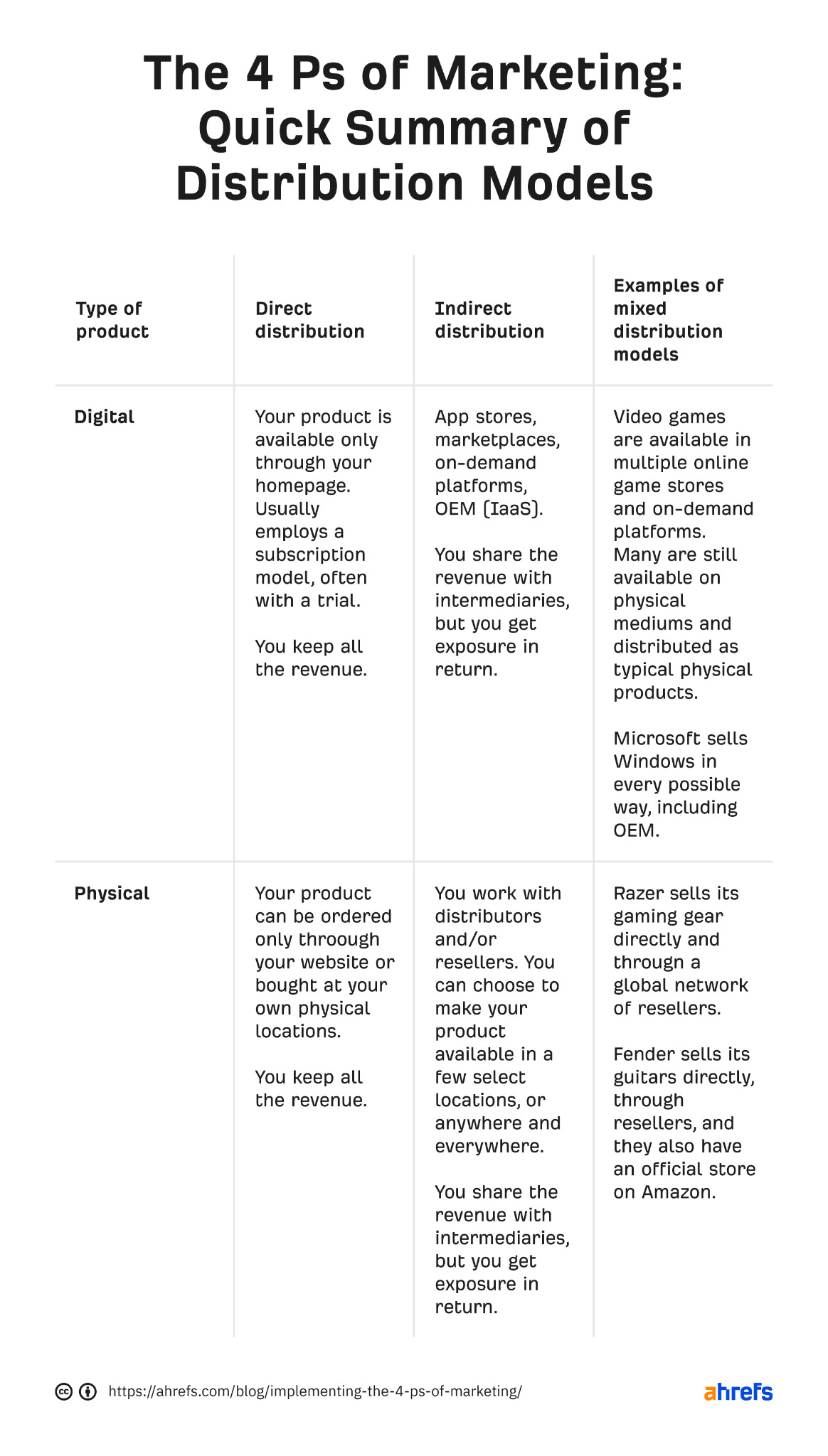 Salesforce is an excellent example of a company making a strong connection between product and place. When starting out, they decided their product would be unlike anything on the market—a SaaS CRM sold on a subscription basis. This choice cemented their distribution model and made the place aspect of their marketing mix their brand differentiator.
Not only did this decision make Salesforce the company it is today, but it also shaped the industry for those who came to market after them. Now every CRM is a SaaS CRM.
Salesforce went even further by creating a strong connection between product and promotion (another "P"). They "translated" their product architecture into a promotional campaign called "The end of software," which attacked the traditional software distribution model.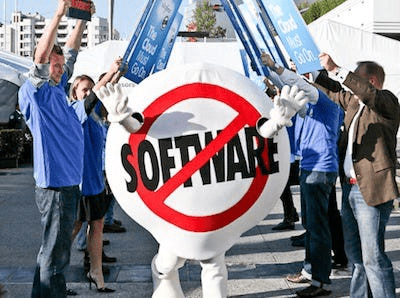 The takeaway here is that the right distribution model is greatly influenced by product type. Whenever you see more than one place you can sell your product, consider the costs and benefits. Maybe you'll run into a goldmine as Salesforce did.
Promotion refers to the tactics you need to use to reach the target market with your message. Think advertising, blog posts, social media, PR, etc.
Your promotion strategy needs to answer:
Who are you trying to reach?
How are your competitors reaching their customers?
What is the typical buying journey of your prospects?
What budget and staff do you need?
What type of tactics can you use to fill the marketing funnel?
Let me show you how we at Ahrefs answer some of these questions in our promotion strategy.
The cornerstone of our promotion strategy is content marketing. There are a few reasons we chose this type of marketing.
First, lots of people are searching Google for solutions to problems our product solves.
For example, there are an estimated 450 searches per month in the US for "how to rank higher on Google":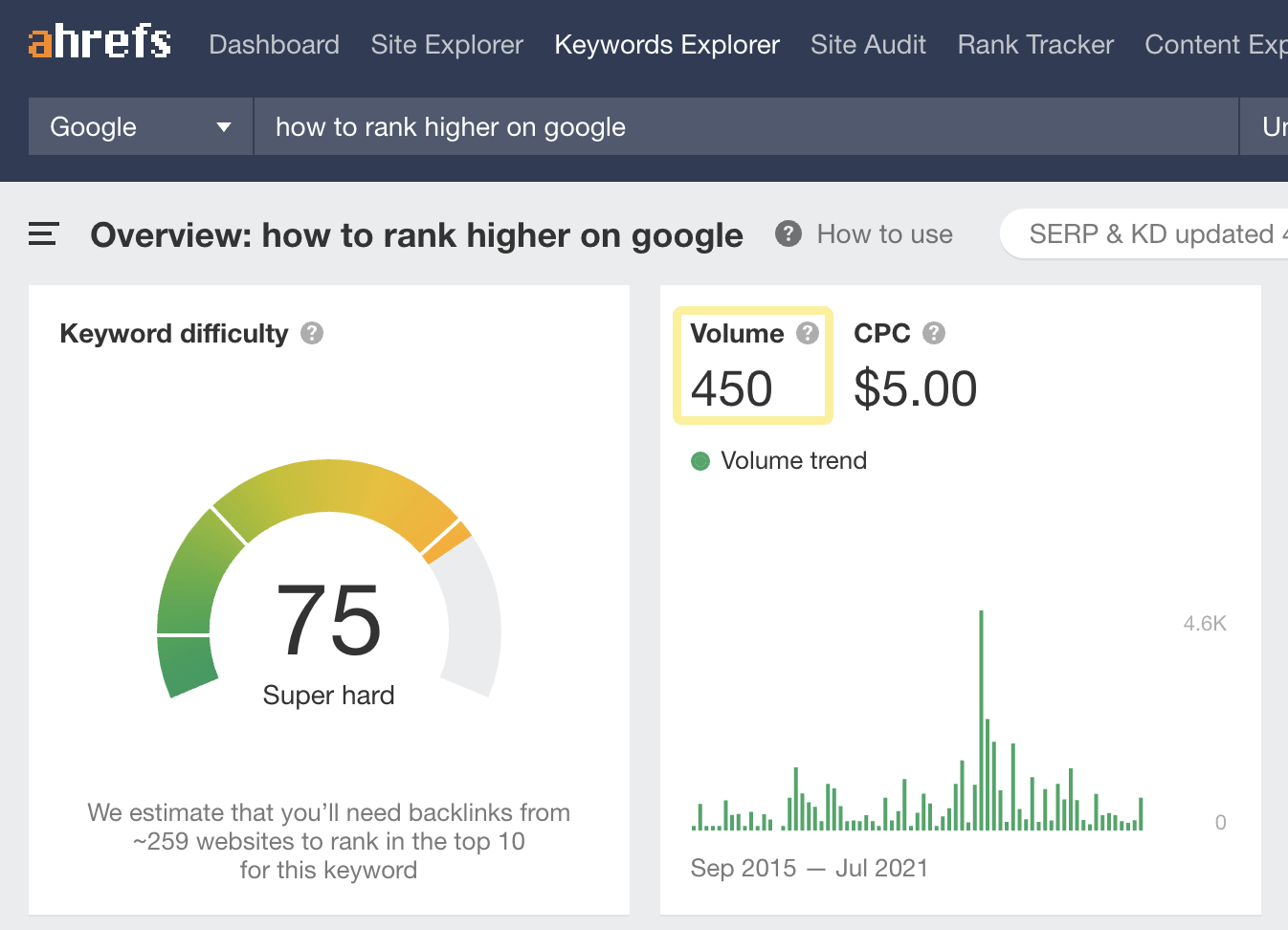 So we wrote a blog post explaining how to solve this problem with Ahrefs, which now ranks #3 for this keyword: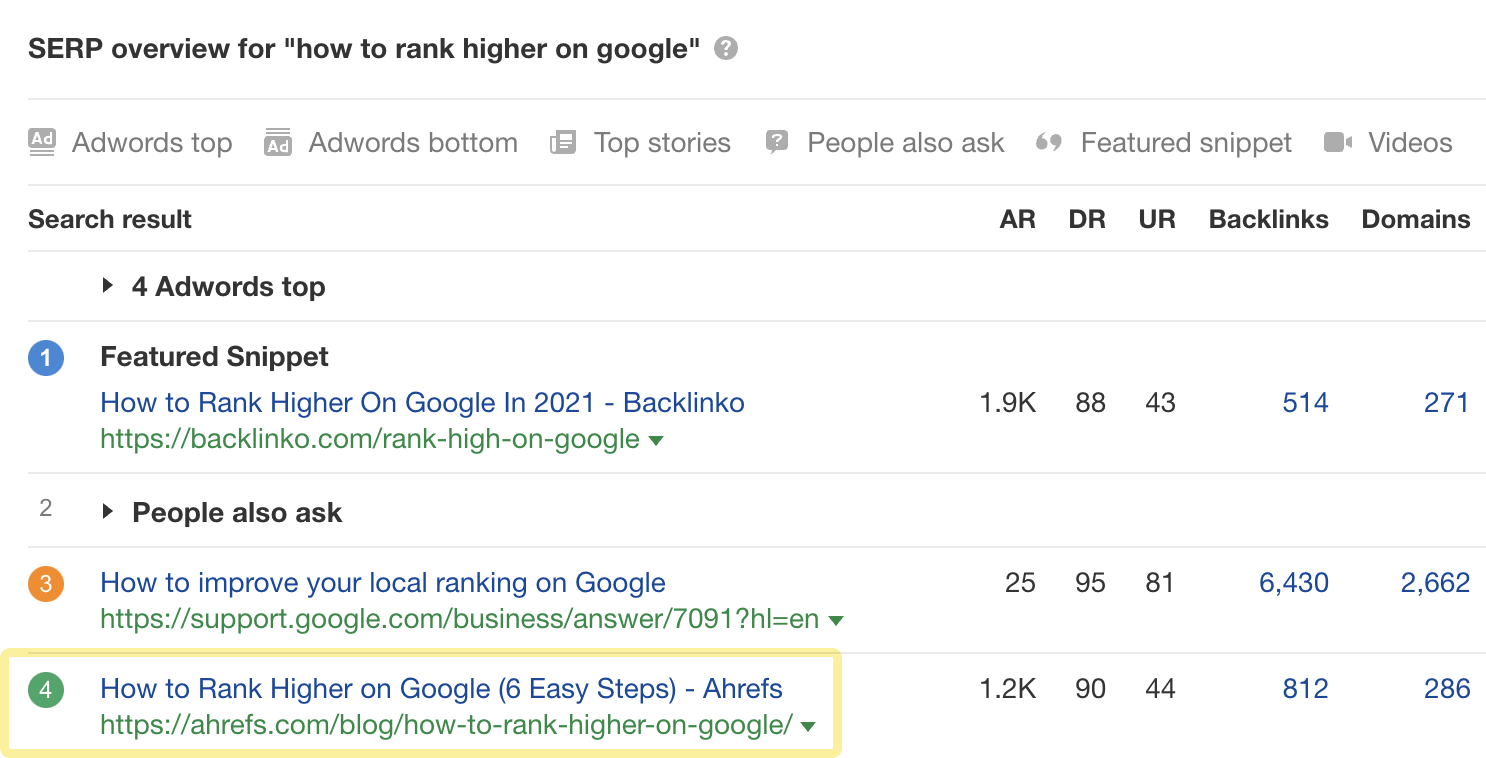 We've done exactly the same thing for hundreds of other relevant topics with search demand. As a result, our blog now gets hundreds of thousands of visits from organic search every month.
Second, since Ahrefs is an SEO tool, what better sales pitch is there than us ranking for every SEO-related topic ourselves?
By showing that we can rank our content using our very own tools, we create a strong connection between the product and promotion within our 4 Ps model. That strong connection acts as a reason to believe in our product's value and gives us plenty of case studies to cover on our blog.
And finally, let's consider our distribution model. Since our product is self-service and we sell it only through our website, we need a mechanism to bring our target market to us. Content marketing solves this problem.
Let's take a look at the three core elements of our content marketing strategy in more detail.
Free tools
We currently have 14 free tools that showcase features from our core paid tools. These allow us to connect the Ps and use our product as a promotion vehicle to:
Increase brand awareness by ranking for relevant searches, like "free backlink checker."
Reduce friction by allowing potential customers to try before they buy.
If you're curious how much traffic our free tools bring us, take a look at the Top pages report in Ahrefs' Site Explorer for our domain.
Here's a sneak peek: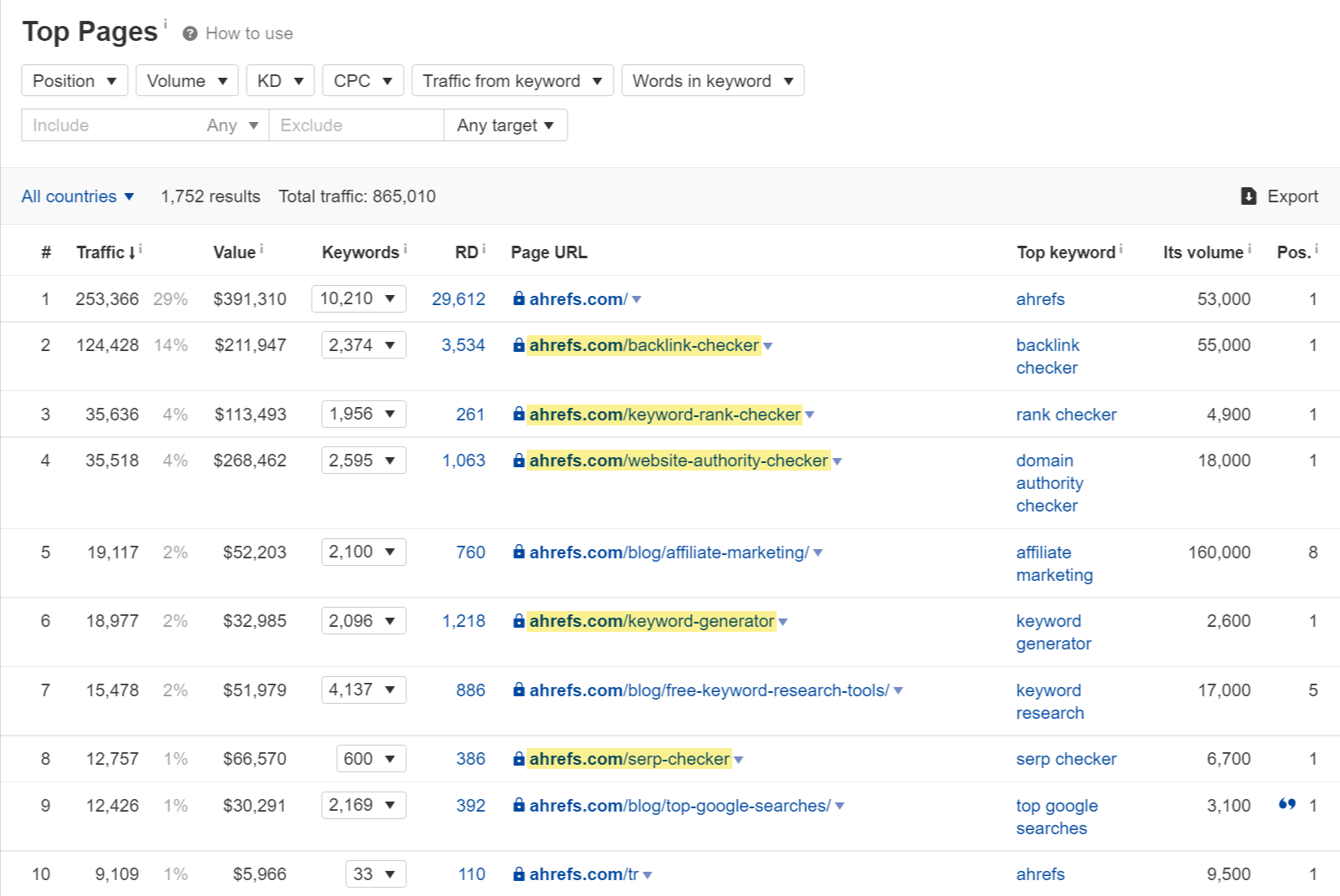 Blog
Our blog also sends tons of targeted organic traffic our way: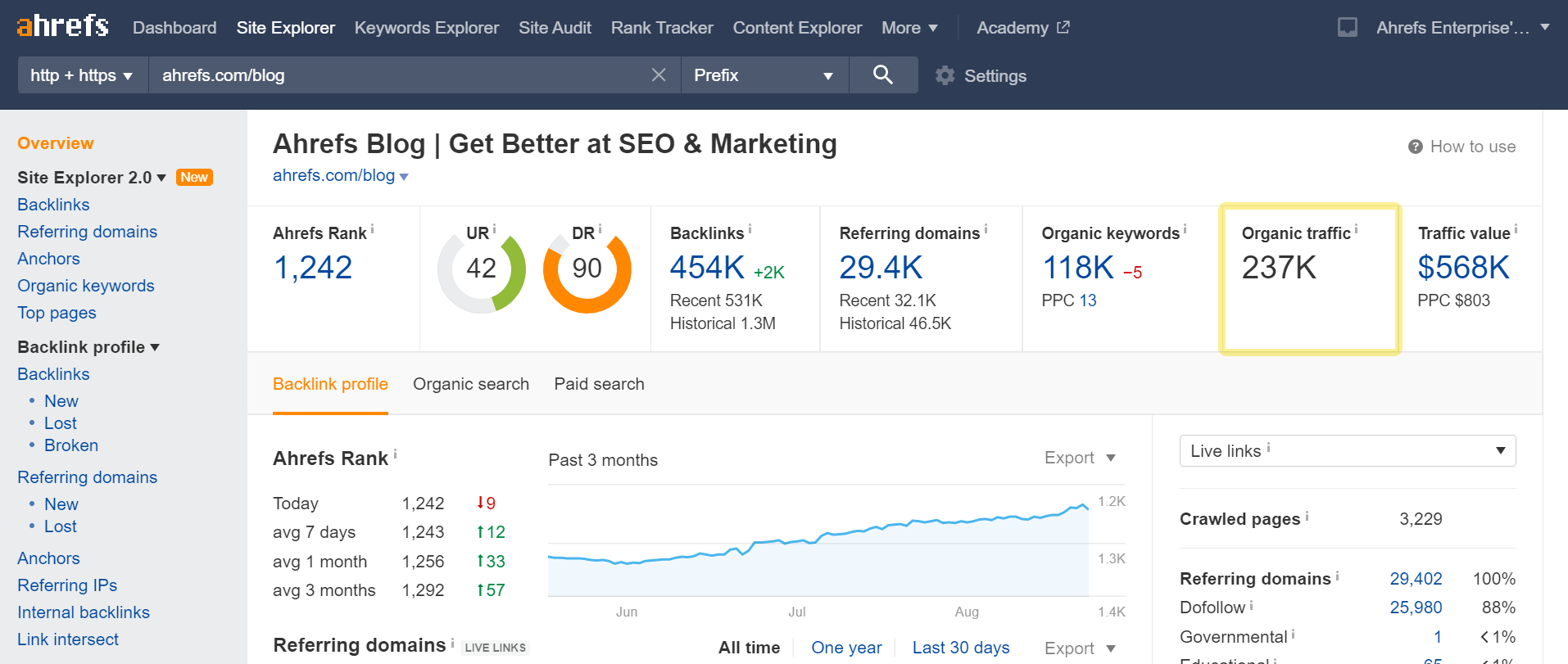 This is because we keep our blog business-oriented. You won't find us blogging about company retreats, office dogs, or how to remove a background from an image. Those first two topics have no search demand, and the latter has no 'business potential.'
'Business potential' is what we use to gauge the likelihood of our readers discovering our product through an article about a particular topic. We judge it on a four-point scale: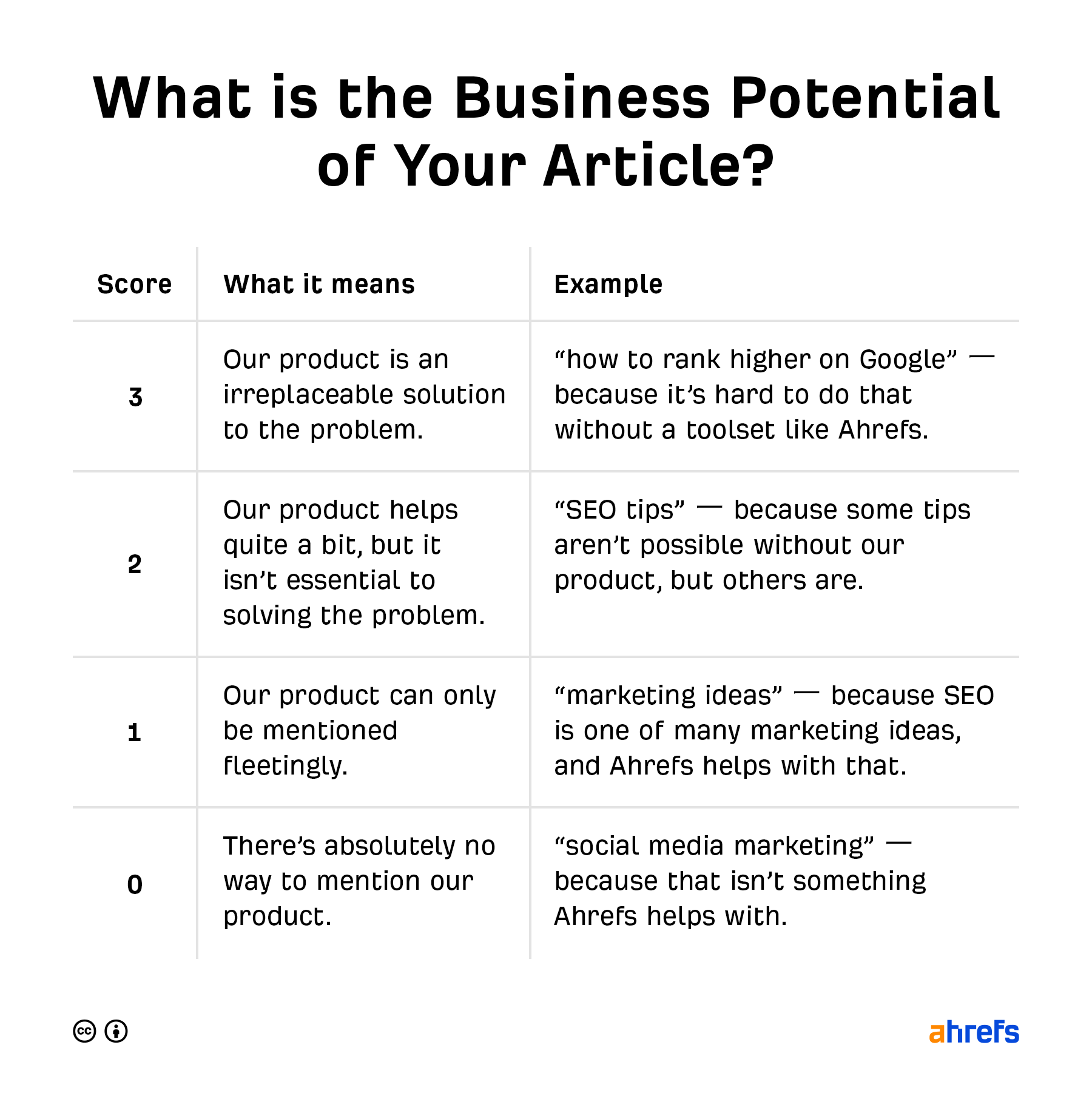 So although an article explaining how to remove a background from an image could send us lots of organic traffic, there's no point in us writing about it because it has zero 'business potential.'

Instead, we mostly write about topics that score a two or a three on our 'business potential' scale. An example is "SEO audit," which we've ranked quite consistently for over the years: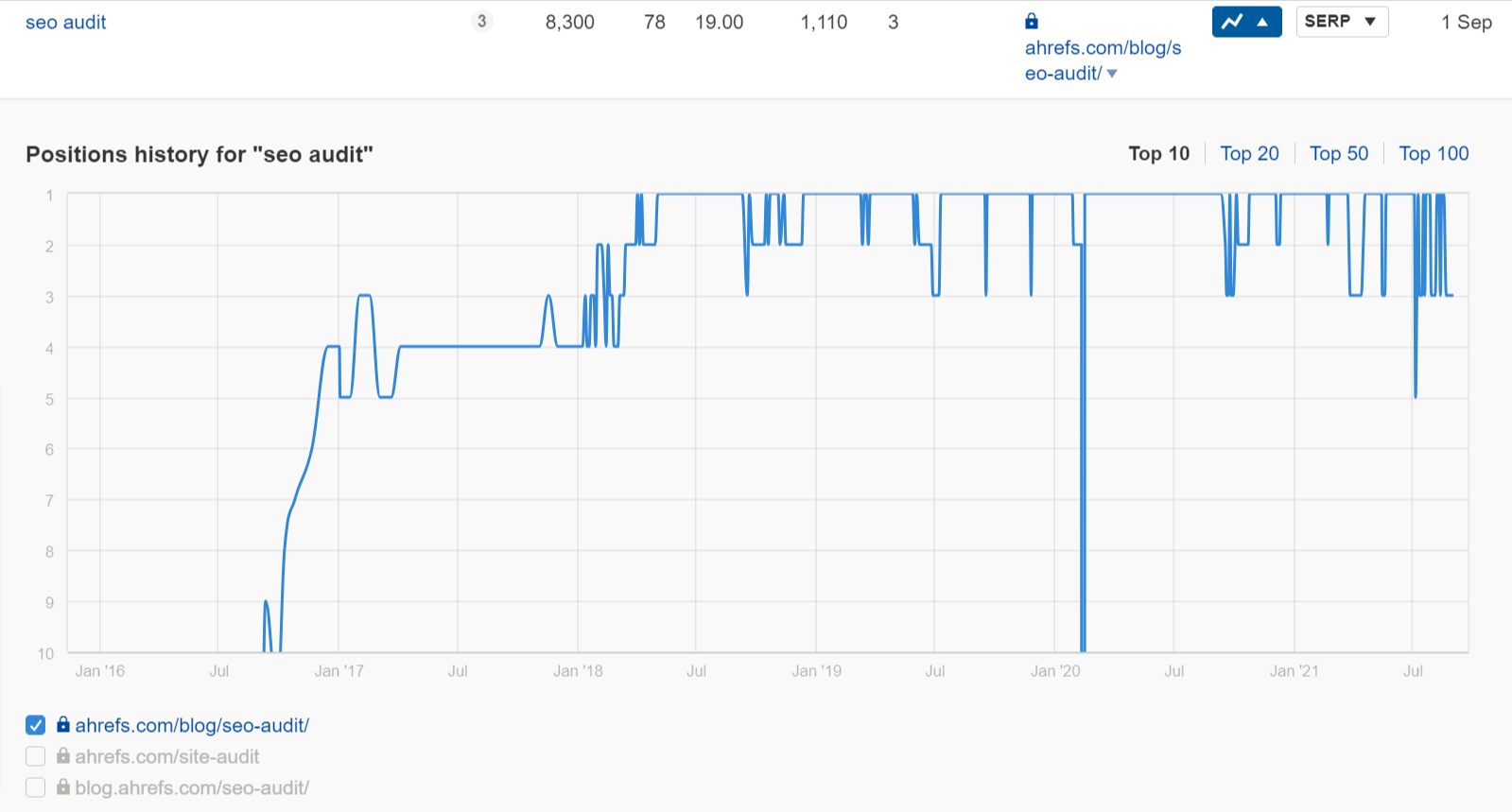 If you want to learn more about blogging for business, we have a free five-hour course here.
YouTube
Our YouTube channel is another core element of our content marketing strategy.
We've been creating videos regularly for around three years now (when Sam joined us). During that time, we've published 181 videos—a feat that simply wouldn't have been possible without a dedicated person for that marketing channel.
How we approach our YouTube channel is very similar to our blog. We keep it business-oriented, with each video sharing our expertise on how Ahrefs can solve common SEO and marketing problems.
You can learn more about our YouTube keyword research and ranking strategy in this video:
https://www.youtube.com/watch?v=NY3y0V9UDwM
Final thoughts
The 4 Ps of marketing is a bit like the SWOT. Both are extremely elegant in their simplicity, touch the fundamentals of business, and can be used for multiple purposes.
Here are just a few ways you can use the 4 Ps of marketing:
Develop your marketing strategy. Once you get the product, price, place, and promotion right, you've laid the groundwork for your entire marketing efforts.
Conduct a marketing workshop. The 4 Ps of marketing is something everyone can understand. Furthermore, everyone can have interesting ideas or insight on its components.
Audit a marketing strategy. When you need to audit or dissect an existing (perhaps competitive) marketing strategy, the 4 Ps will keep you focused on what's important.
Got questions? Ping me on Twitter.