Filtered Water is good. I also like to have a filter in my coffee maker to make sure no grounds get in my coffee but, it's definitely not something I'd like Google to do to my website. It's not definitive but, based on hard research it's pretty safe to say that Google's Penguin update is a filter looking for manipulative "anchor text" practices within backlinks. Even worse is a Penalty. This is completely different from being filtered because, in this case you get a physical letter telling you specifically why. A good example of this we see every Sunday during football season. The ref brings out the flag personally delivers it to the ground and points the finger at the person who committed the penalty. So if you haven't been delivered your flag yet, it's a good chance to avoid the filters.

Monitoring the health of a websites backlink profile with detailed measuring tools like Ahrefs Site Explorer and Backlink Checker helps to determine if a site is about to be filtered or receive a penalty. Here at our firm, we specialize in e-Commerce PPC management and SEO for large e-Commerce websites so having an arsenal of robust marketing tools is an absolute must for us.
Understanding How Backlinks Are Looked At By Google
Keep in mind how Google works by going back to the SEO basics. Their mission statement that says:
"To organize the world's information and make it universally accessible and useful"
They will send out spiders to crawl the web and once they find content they will gather the information of that page, what the page is saying from the code, follow links, gather the information of the links pages and bring it back to Google's servers. From there the data gets evaluated, ranked and displayed or filtered. Links carry a lot of weight in determining whether or not you'll be a valuable result to Google's end user because, if the sites you are communicating with are already trustworthy websites it's fair to assume your site is trustworthy as well. Ahrefs tool allows the user to pull detailed reports about a website's backinks measuring link velocity, anchor text density, referring link domains quality and more. It has everything you need to perform a comprehensive analysis on a back link profile.
In an attempt not to go over every aspect of the reporting within the tool we are going to feature the "Overall profile chart", "Anchor's reporting tab" and "link source or destination of the link" to measure where a website currently stands in regards to Google's guidelines for backlinking and to avoid being filtered.
Let's dive in.
For our example, we are going to be analyzing a company within the niche Insurance market dealing with customers age 50 or older. I hear this story over and over again how they had been well represented in the search engines and during a certain period, after using a SEO they saw their website drop significantly in the rankings for specific niche search queries.
Step 1 – Enter the URL of the website
Using the Ahrefs backlink checker is pretty straightforward. Just go to website www.ahrefs.com and you'll see an area to put in a url.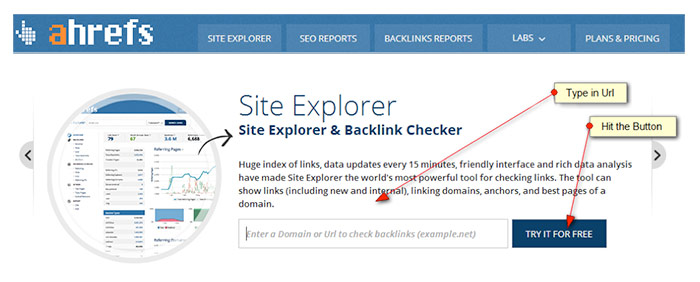 Step 2 – Dashboard Overview
Right off the bat our display will give us the overall backlink profile with information such as Total Backlinks (shaded), referring domains and backlink history.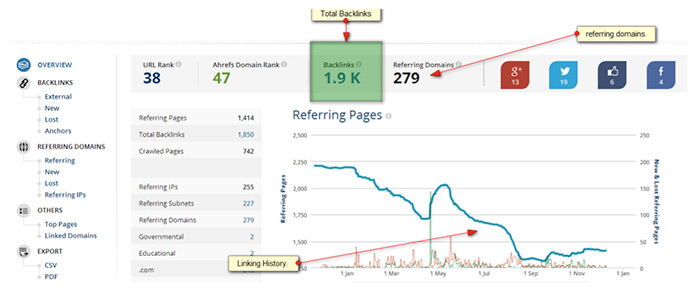 For this customer we see that over the last calendar year they are experiencing a downward trend in link accumulation with a big influx in of links during one period of time in late April.
As a consultant, analyst, developer and marketer just this overall backlink profile chart tells me TWO alarming things:
The link velocity for that short period looks very unnatural/spammy to their overall linking history. Losing links is usually associated with poor link building techniques. Good links tend to stick around :).
The drop in overall links may be result of websites no longer being there, unindexed or being filtered.
The Backlinks navigation bar on the left navigation shows an area to identify what the Keywords are being used in the anchor text of the backlinks.
Step 3 – Checking Anchor Texts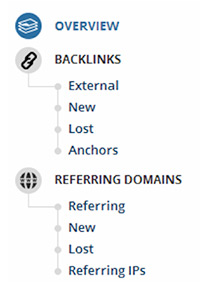 Understanding that Penguin is directly related with the anchor text within the backlinks, Ahrefs allows us to see what the websites anchors are. Hitting the anchors button will display this page in the screenshot below. This page show us % of referring pages with an anchor text in it and what that anchor text is.
We have some more telling evidence of why this site is a good candidate to be filtered and or even penalized.

62% of their referring domain links have a particular keyword within their anchor text. It's possible that this website is encountering a filter from over optimizing the anchor texts in his or her back links. These types of techniques are basically screaming out and telling Google over and over again that they should be the best result for "Insurance for seniors" which is not best practice. If you want to show up on Google you must earn your way up there, not manipulate your way up there. Google Penguin looks for these types of practices and identifies this as a manipulative and spammy because only SEO's are known for practicing these types of techniques and they are usually associated with black hat SEO or purchasing links to manipulate page rank.

Step 4 – Checking Where Your Links Come From
Last but DEFINITELY not least, the tool allows us to see where these links are linked to. In this particular case (below) you'll notice a lot of the sites are low level directories that aren't very specific to the "Insurance for Seniors" Industry.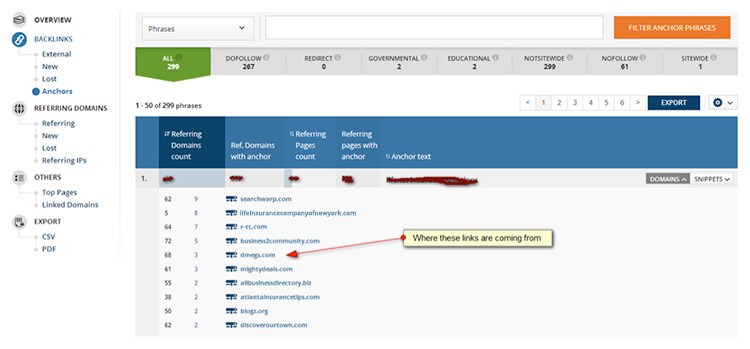 In summary
By utilizing the Ahrefs tools we can measure the health of our website's backlink profile by identifying whom our site is communicating with. Looking at your overall backlink profile, anchor text density and destination of the links gives a good indicator to see if your site been affected by the Google Penguin Algorithm update. There are multiple features within the Ahrefs tool that allow us to monitor your backlink profile that I haven't touched upon and we'll be covering that in other posts but, remember:
Look into your entire backlink profile and ask yourself, am I over using exact match anchor texts? Does it look natural?
Make sure your anchor text density is diversified. Don't continually keep picking at the same area of the skin. You'll soon experience irritation and eventually have an open wound if you keep it up.
Understand what sites you are linking with. It's that age -old cliché that says you can tell a person by who they hang around with.
If you stick with using post penguin SEO techniques or hire a post Penguin SEO company, you will be in the clear, if you keep using archaic techniques, then a penalty or filter may be in your near future. Using Ahrefs is a great place to start becoming more familiar with your websites backlinks and will also help you have a better understanding of how SEO works.