If you own a business that offers goods and services to other businesses (like we do here at Ahrefs), then you're probably wondering how to get your products/services in front of your customers organically on Google.
Luckily, we've been doing this for years, so we've learned a thing or two about B2B SEO strategies. Today, you're going to learn how to implement your own SEO strategy step by step!
In this guide, we'll cover the following:
B2B SEO (business-to-business search engine optimization) is the process of creating and optimizing pages on your website to rank for keywords on search engines like Google.
As you can tell from the definition above, B2B SEO doesn't really differ that much from B2C SEO (business-to-consumer search engine optimization). While the reader may be different—you're talking to executives and managers—the process is pretty much the same.
Any SEO strategy is simple:
Find keywords (related to what you're selling) that your target customers are searching for on Google
Create search-optimized pages that best answer those searches
Build links to those pages
And that's exactly what you'll learn to do in this guide.
We currently get an estimated 1.3M monthly visits from organic search:
Here's the simple three-step B2B SEO strategy we used to achieve that:
Find keywords your target customers are searching for
Plan, create, and optimize content for those keywords
Get backlinks to pages
Step 1. Find keywords your target customers are searching for
You can't have an SEO strategy without knowing what your customers are searching for. Good keyword research is the difference between getting a positive ROI and wasting your time and money on rankings that don't net your business any profit.
There are many ways to do keyword research. But the simplest starting point is to look at what your business competitors are ranking for. Here's how:
Find competitors invested in SEO
See what they're ranking for
First, think of "seed keywords" to get you started. These are keywords you think your customers may be searching for to find your products/services or solutions.
For example, if you sell software that helps business owners create beautiful designs easily (like Canva does), here are some keywords you can start with:
Photo editor
Logo maker
Graph maker
GIF maker
Think of the most basic words your customers may type in Google to find your offerings.
Once you've brainstormed a list of five to 10 seed keywords, plug those keywords into Ahrefs' Keywords Explorer. Then click the "By domains" tab under Traffic share. This is how you find your search competitors.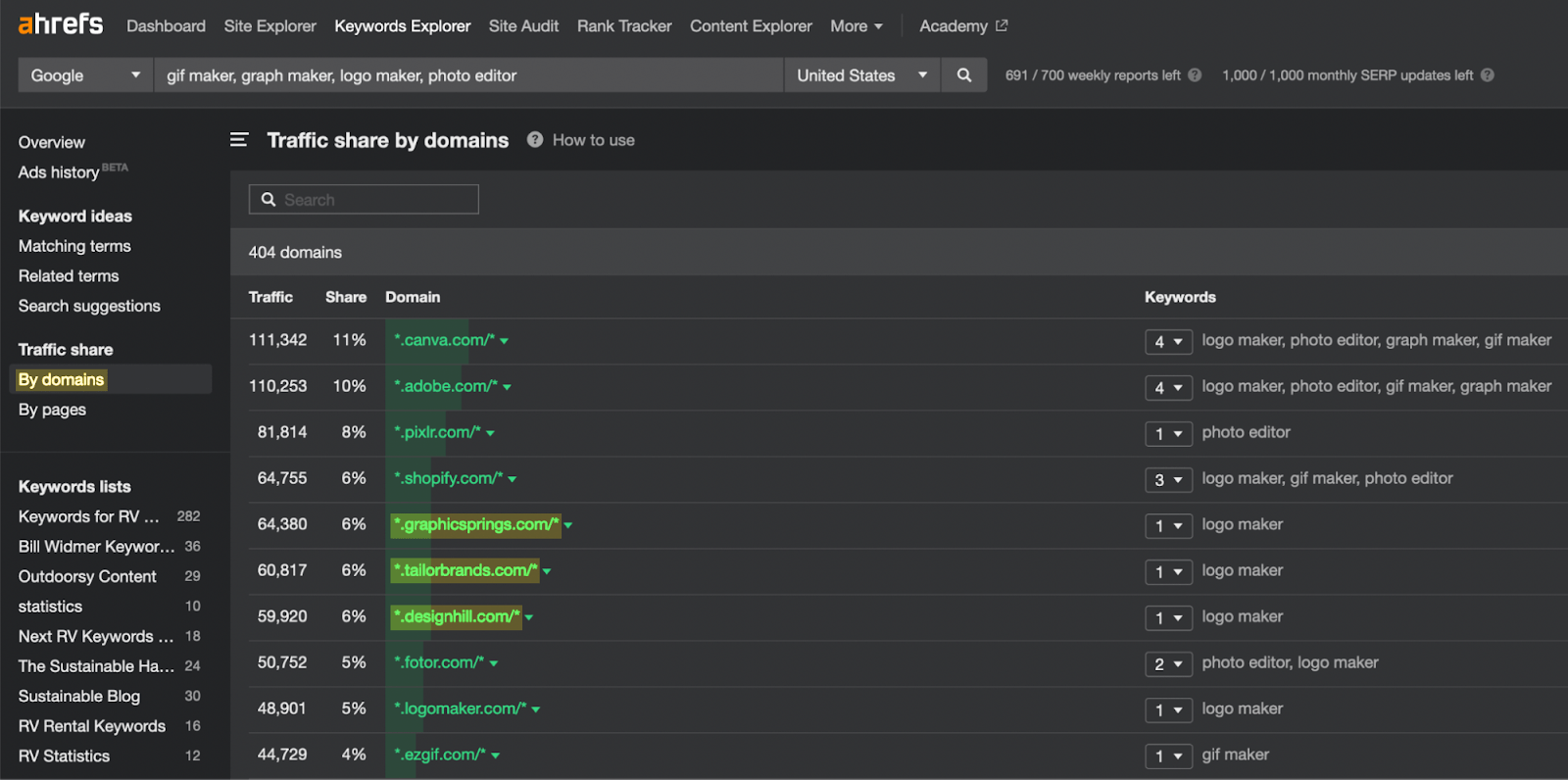 It looks like Design Hill, Graphic Springs, and Tailor Brands are all potential search competitors for Canva.
Who comes up when you plug in your seed keywords? Put these search competitor URLs into a spreadsheet. Repeat for each seed keyword.
Next, use Ahrefs' Content Gap tool to find keywords your competitors are ranking for that you can also target. Plug your website into Ahrefs, then click "Content gap" in the sidebar.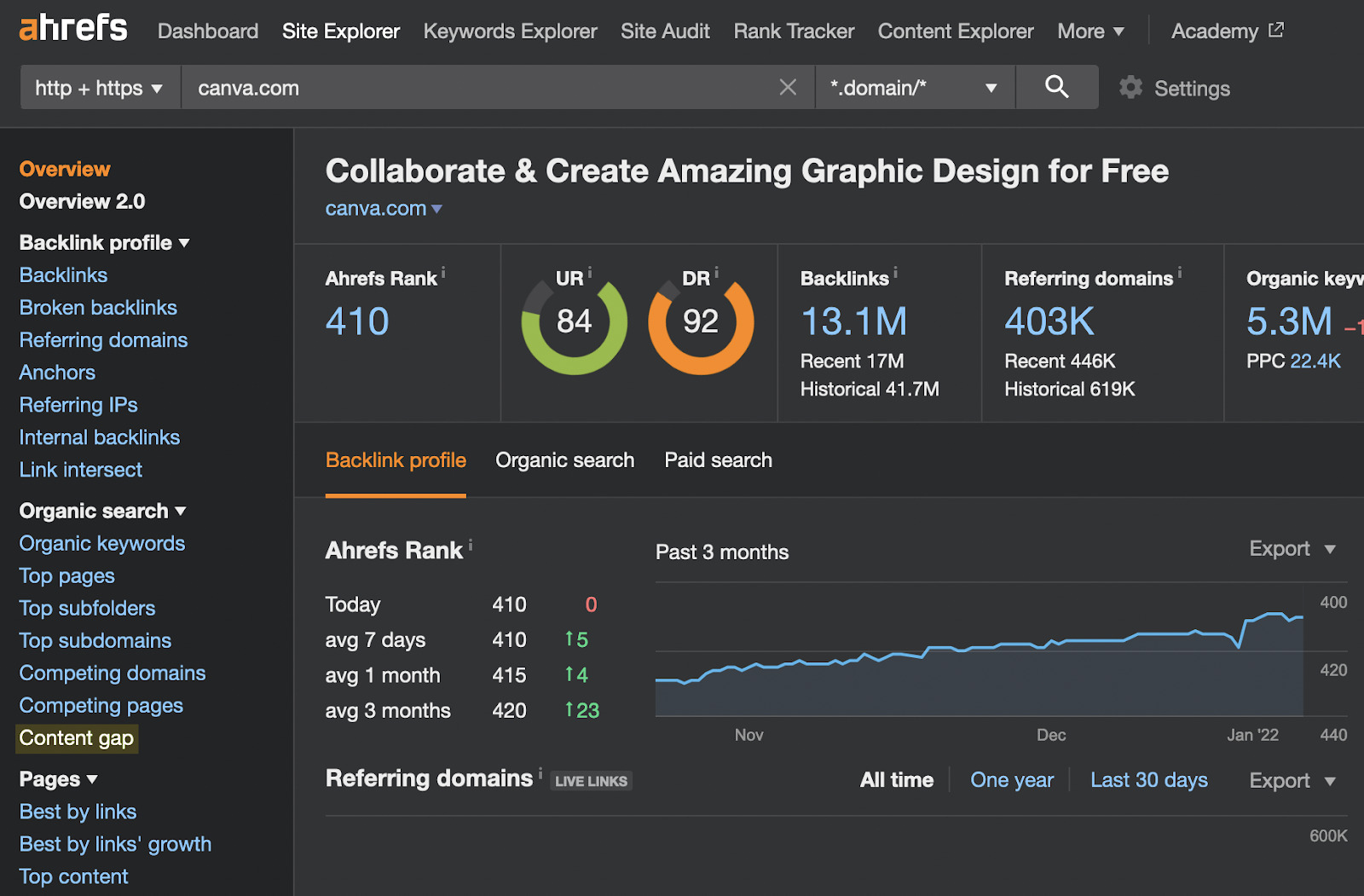 Plug your competitors into the tool, like so: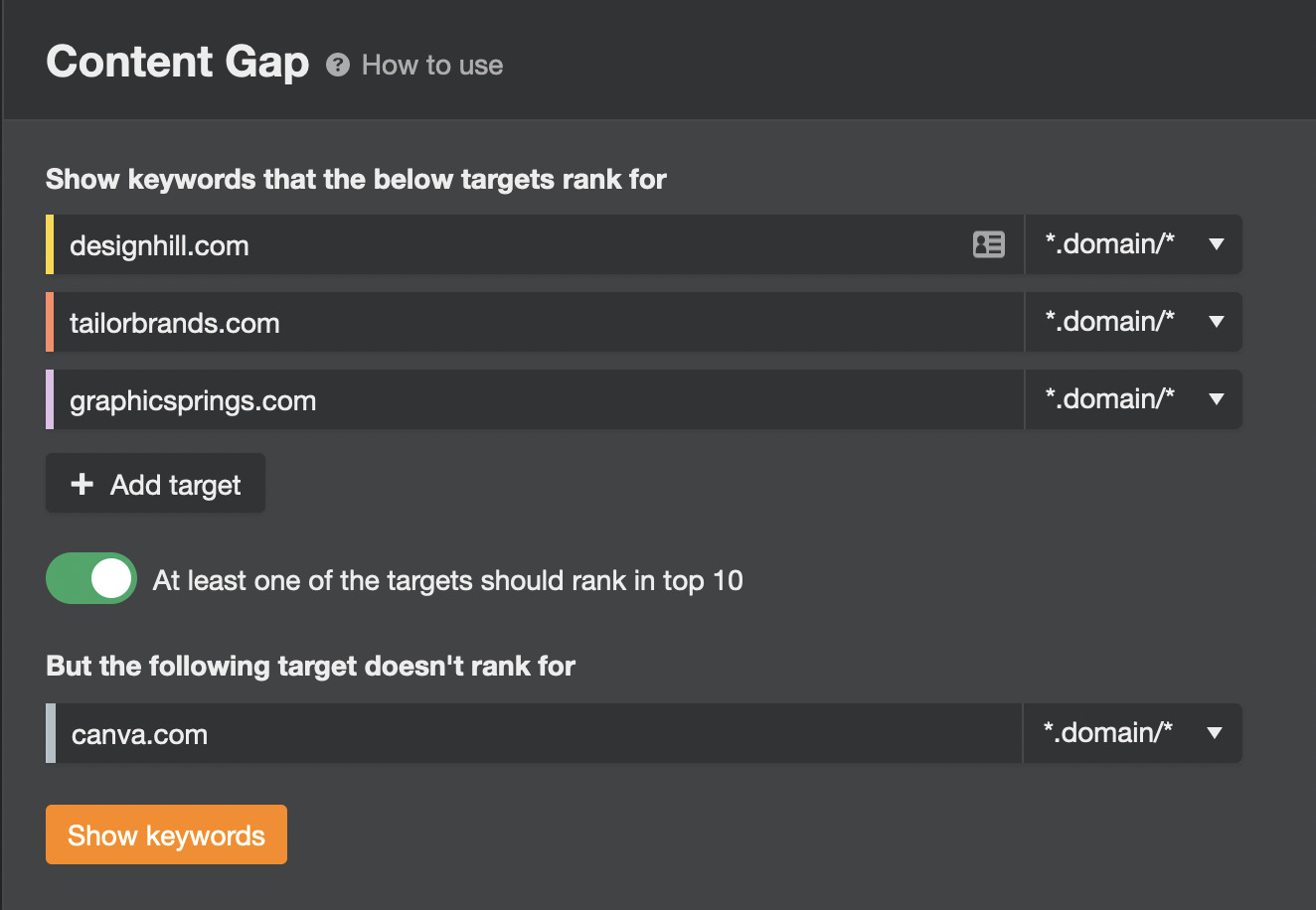 Hit "Show keywords," and you'll see a list of all the keywords that your competitors' websites rank for, but your website does not.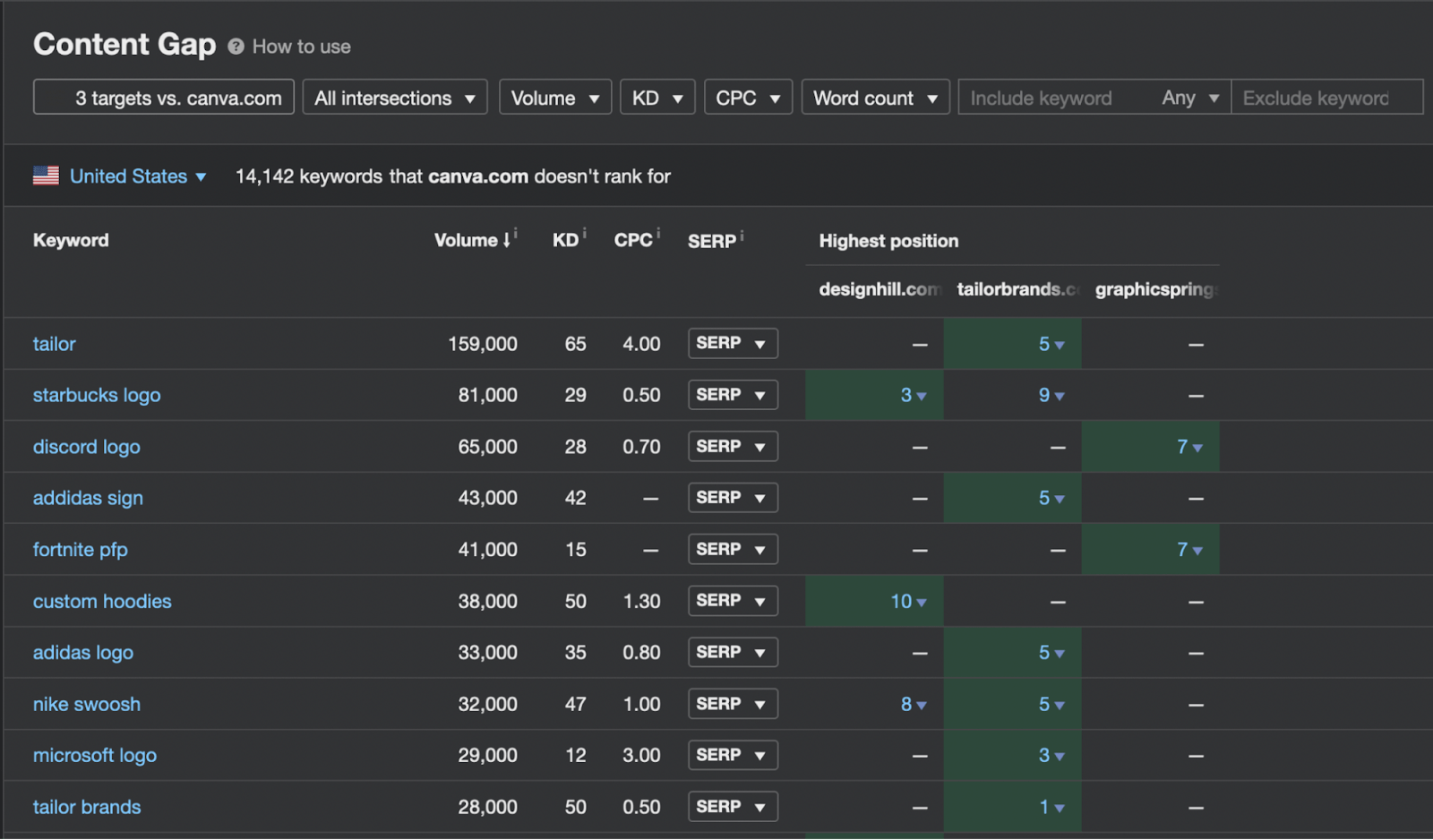 If a keyword looks promising, open a new tab and search for it on Google to see the current search results. This will give you an idea of what kind of content is ranking for that keyword.
For example, if we search "discord logo" from the list above, it appears this won't be a good keyword to target. It seems to be mostly just people looking to download Discord's logo: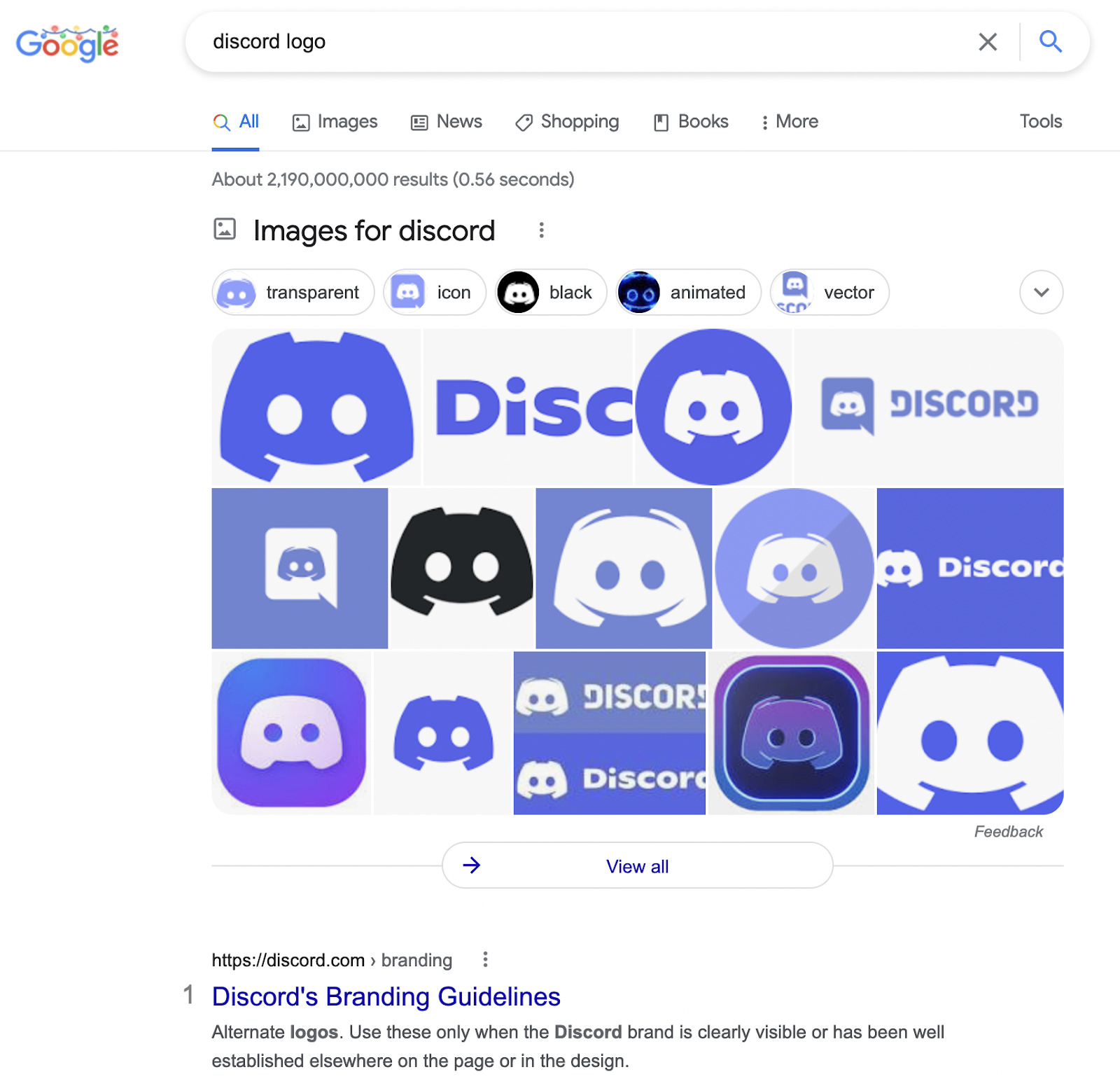 However, if we scroll down, we see a competitor ranking for the keyword with a guide to creating Discord logos:

This signifies two things:
People may be searching for a logo maker when they search for "discord logo."
If we create a similar landing page, we can potentially rank for this keyword as well.
Based on this information, I'll add this keyword to my list of potential keywords to target. Here's how to create a list on Ahrefs: On the "keyword overview" page, click the "+ Add to" button, hover over "Keywords list," then click "+ New list."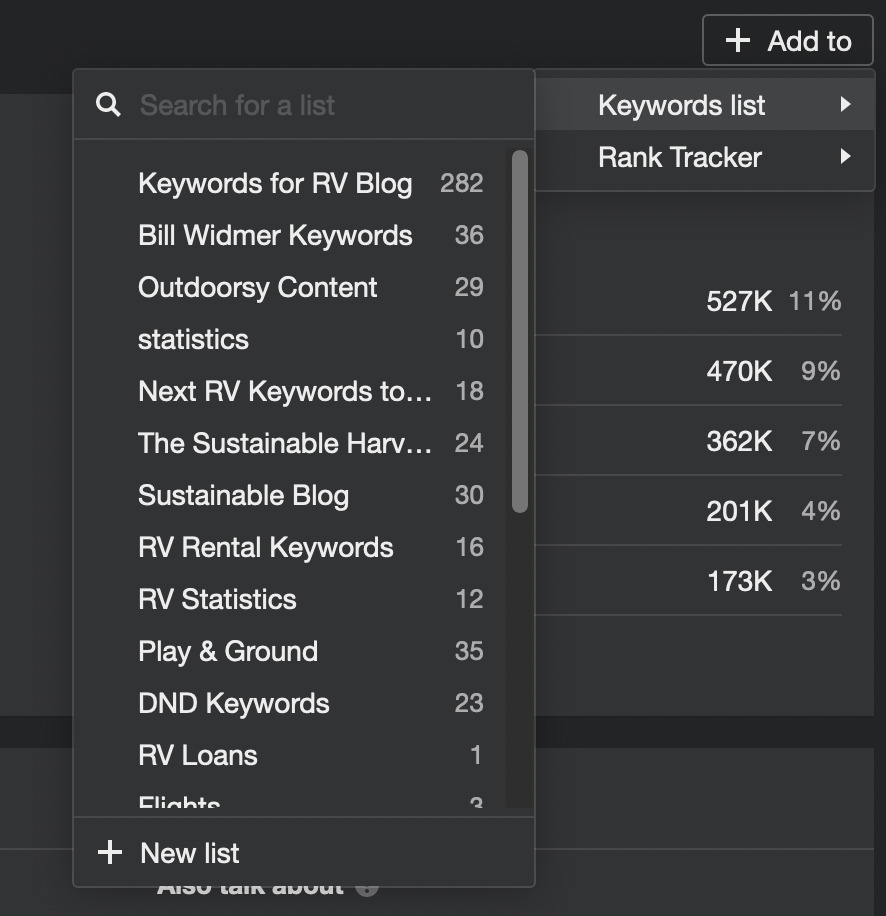 I recommend creating three lists based on importance:
High importance – Keywords that are likely to earn you a high profit. Target these first.
Low importance – Keywords that are not likely to earn you a good profit or will take longer to earn you a profit. But you may still want to target these in the future.
Link building – Keywords that receive a lot of natural links, such as statistical keywords or informational pages that other articles may link to as a resource.
The keyword "discord logo," for example, is a low-importance keyword, as we aren't sure how many people searching for it are actually searching for a tool to make their own logo versus how many just want to download Discord's actual logo.
Another way of determining the profit potential of a given keyword is the CPC column. A high CPC can signify there is a lot of money being made from a given keyword. "Discord logo" only has a CPC of $0.70, so it's probably not very profitable.
Sidenote.
While a high CPC can signal potentially high-profit keywords, it shouldn't be the only determining factor. For example, the keyword "seo services" has a $25 CPC. But we won't target it for Ahrefs' website because Ahrefs doesn't offer SEO services.
Before we move on to the next step, let's look at an example of a high-importance keyword and a link building keyword.
The keyword "fitness logo" is potentially a high-importance keyword. It has a good search volume (4,700) and a fairly high CPC ($3.00).

If we look at the SERP, we'll see tools that let you design your own fitness business logo. If Canva builds and optimizes a landing page targeting "fitness logo," it will likely rank for this keyword and make a decent amount of extra income.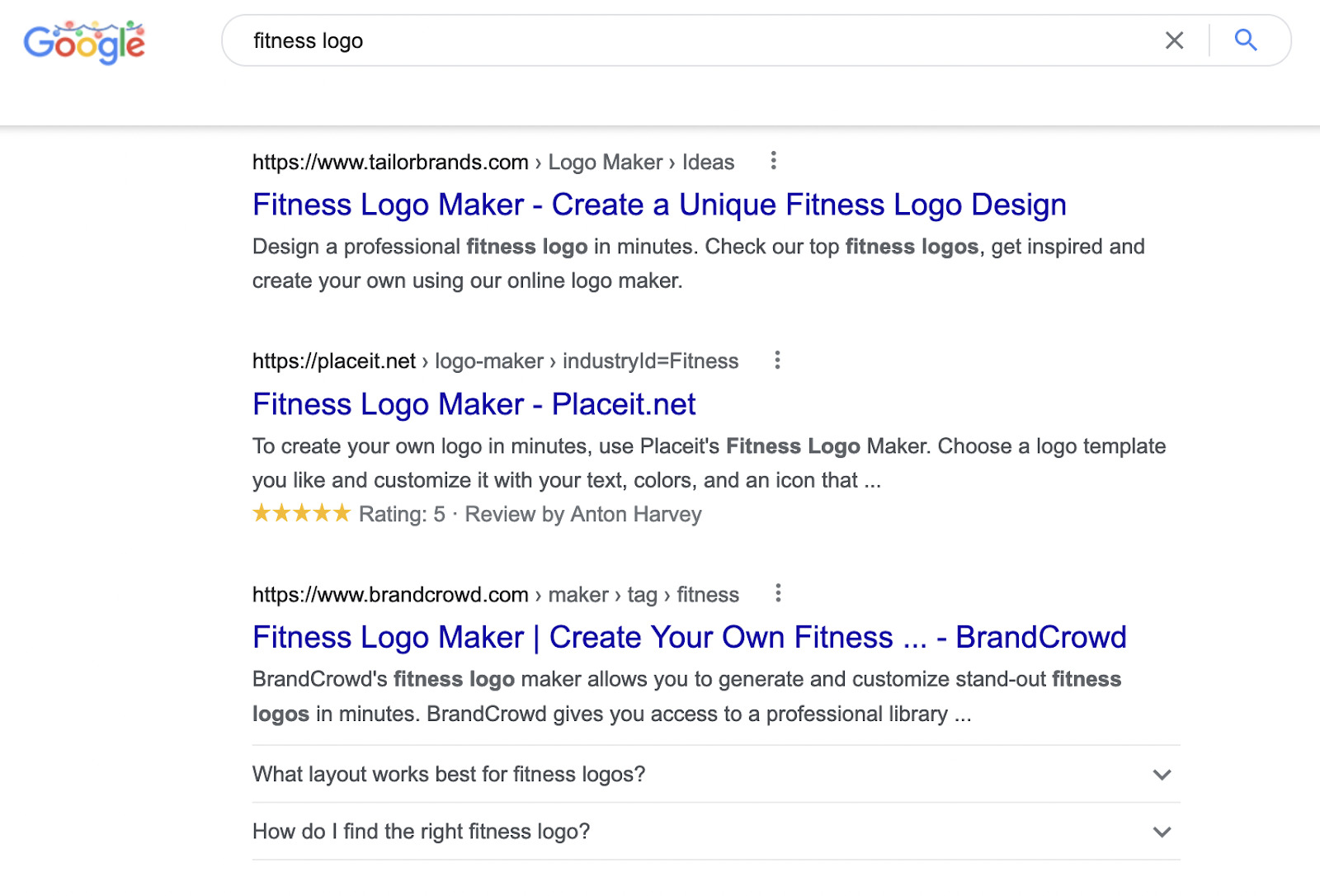 Finally, an example of a link building keyword is "font pairings." Canva created a guide to font pairing that has links from more than 2,300 referring domains:
Of course, it may have done some outreach to build these links (which we'll cover later). But the majority of links are naturally from other bloggers and websites linking to Canva's guide, which serves as a resource for their readers. I know this because if we look at the guide's backlinks, we see lots of natural ones.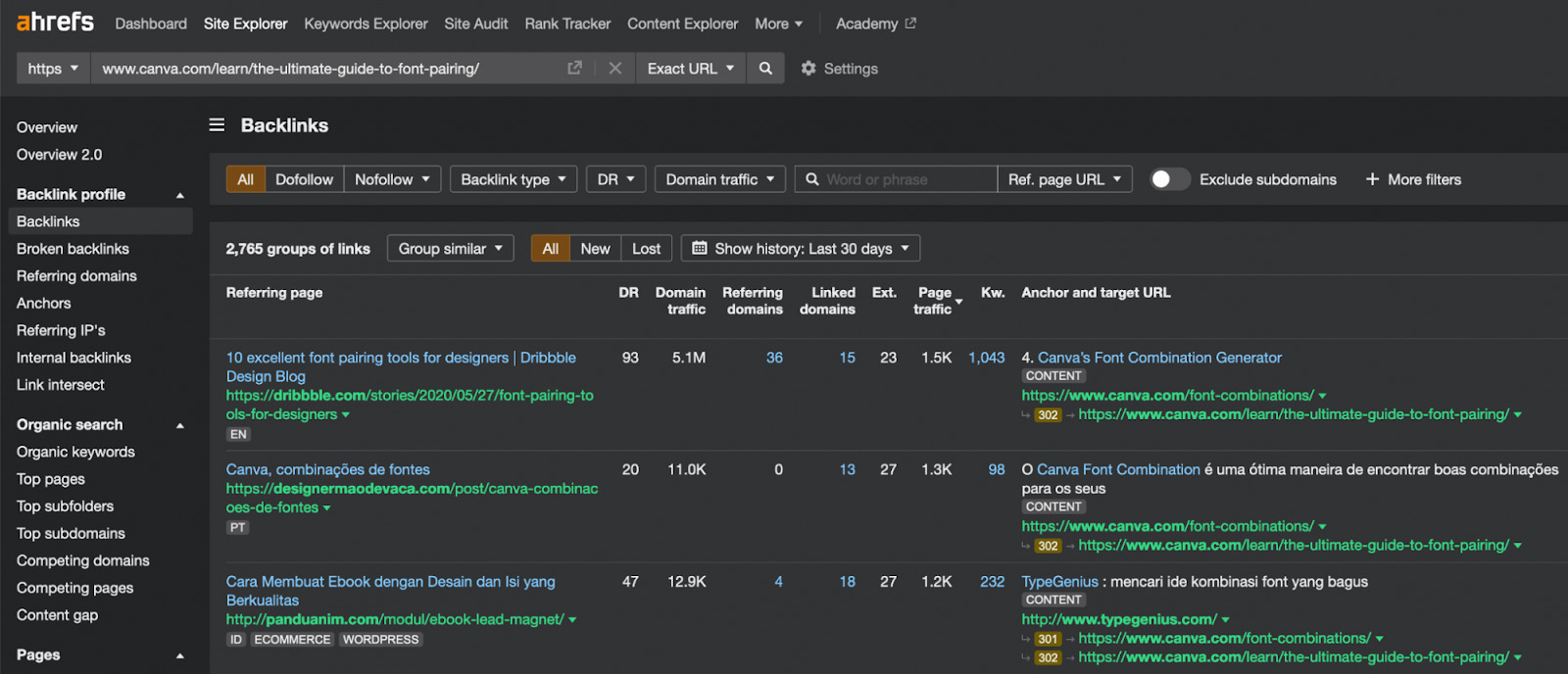 Note that link building keywords are a long-term strategy and should be of a lower priority for newer sites. This is because you typically need decent domain authority to rank for these keywords.
Next, go through all the keywords from Ahrefs' Content Gap tool and try to find at least five to 10 keywords for each of your three lists.
Still need help finding keywords?
If you feel the keywords you've found aren't good enough or you need more help, check out this in-depth guide to keyword research. It goes into more detail about finding the right keywords.
Step 2. Plan, create, and optimize your content
Now that you know what keywords to target, let's make a spreadsheet to help you plan and execute your SEO strategy. You can use this spreadsheet template as you follow along.
To begin, export your three keyword lists. Then copy the Keyword, Search Volume, KD, and CPC columns, and paste them into your spreadsheet. It should look like this:

Let's begin understanding and filling in the other columns. First, the Priority column shows which category (high, low, or link building) each keyword falls under.
The next three columns are the three Cs of search intent:
Content type
Content format
Content angle
Search intent is the why behind a search query. In other words, why did this person do this search? Did they want to learn something? Were they looking to make a purchase? Or were they looking for a particular website?
If you don't know the search intent of a keyword, you may end up optimizing a page for that keyword and not ranking for it.
I'll go over the basics of how to determine search intent. But for a deeper understanding, read our full guide to search intent.
1. Content type
The content type can be any of the following:
Blog post
Product page
Category page
Landing page
In the case of "fitness logo," the search results are all landing pages. Here's what I see when I search for "fitness logo" and click on the first result: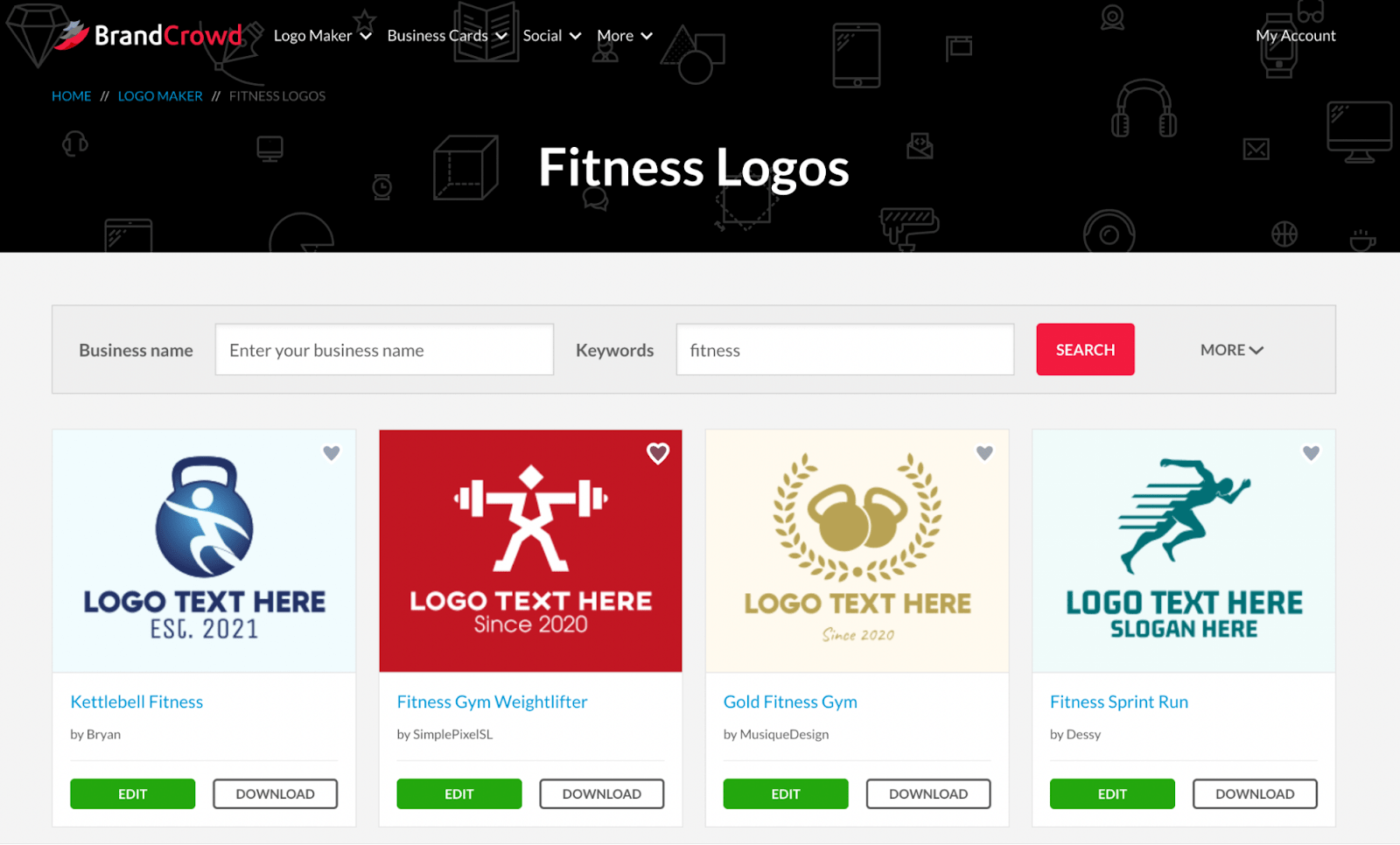 This page displays premade fitness logos you can edit and download. If you scroll down, you'll see a write-up about fitness logos and the company's services and software.
Now let's go back and look at some of the other results. Here's the result in position #2: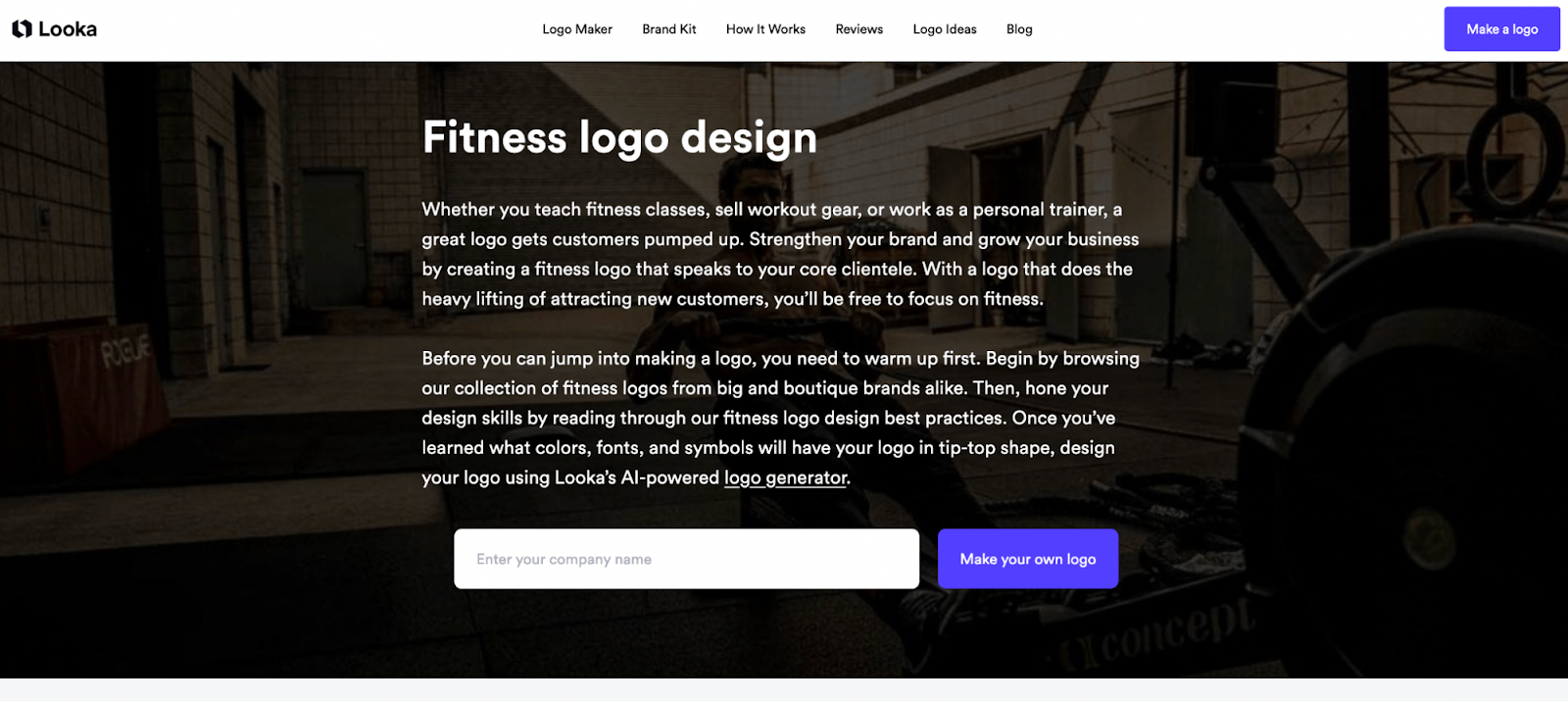 This company has a slightly different approach. Its page shows a form and some text above the fold (the area you see on the screen before you scroll down). But if we scroll down, we see samples of logos and some text about its services.
The third result on the search page is mostly similar to the first two: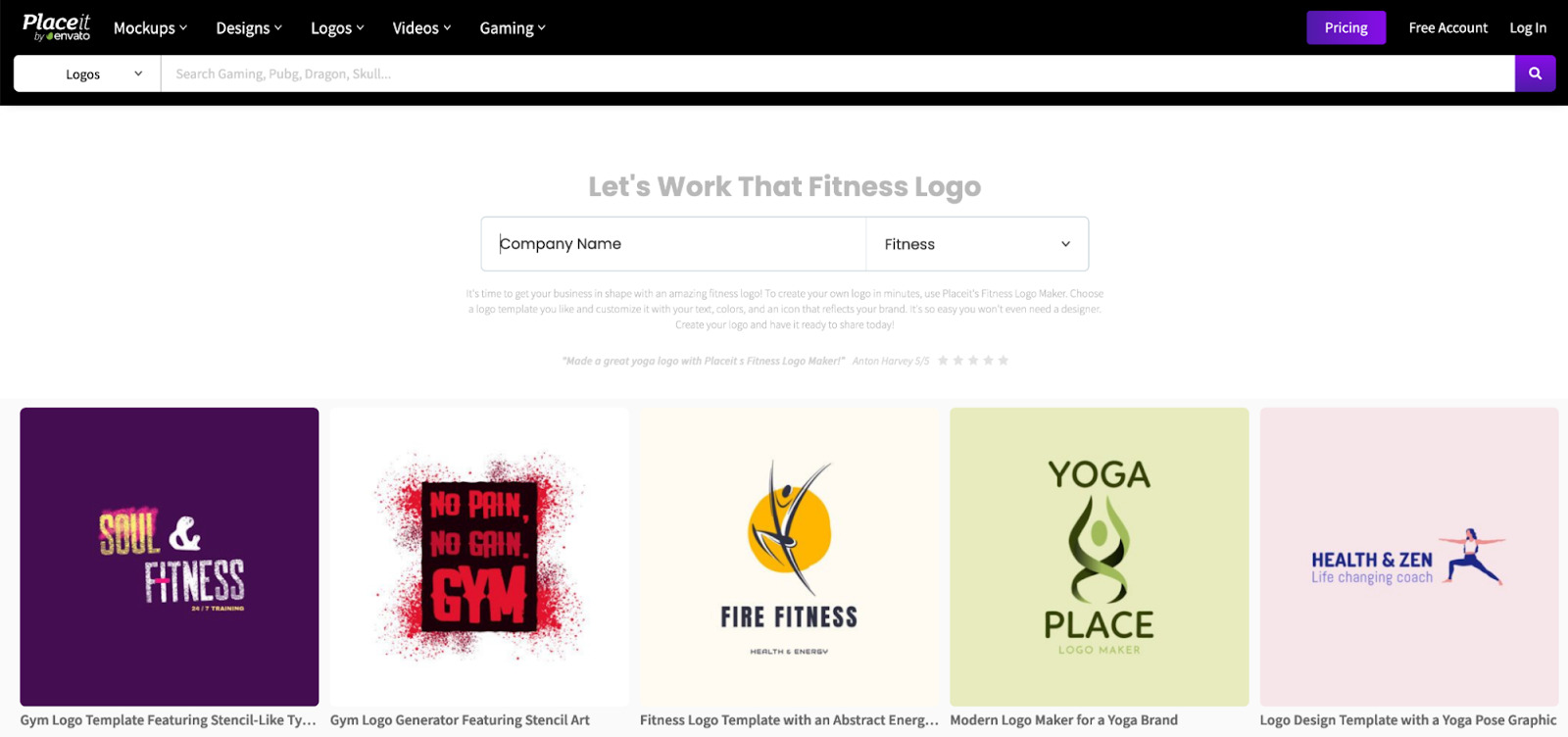 The goal of this SERP research is to see what kind of content Google wants for a given keyword so that we can create something similar.
This doesn't mean we should copy the content entirely. But if Google ranks pages that show examples of logos and logo designs that users can edit, we should take some inspiration from them. This is as if we create a page that is just text without logo examples, we may not rank for this keyword because it's not what searchers want to see.
2. Content format
The content format only applies to blog posts, so "fitness logo" won't need to be categorized. But to give you some ideas, these six formatting styles are the most common for a blog post:
How-to guide
Step-by-step tutorial
List post
Opinion piece
Review
Comparison
So, for example, the keyword "font pairing" that we discussed in Step 1 will be a list post because it lists 30 font pairings that go well together.
3. Content angle
The content angle is the unique selling point of the top-ranking posts and pages. It can provide insight into what searchers want to see when they search for a given keyword.
For example, when you search "fitness logo," you can see two common angles: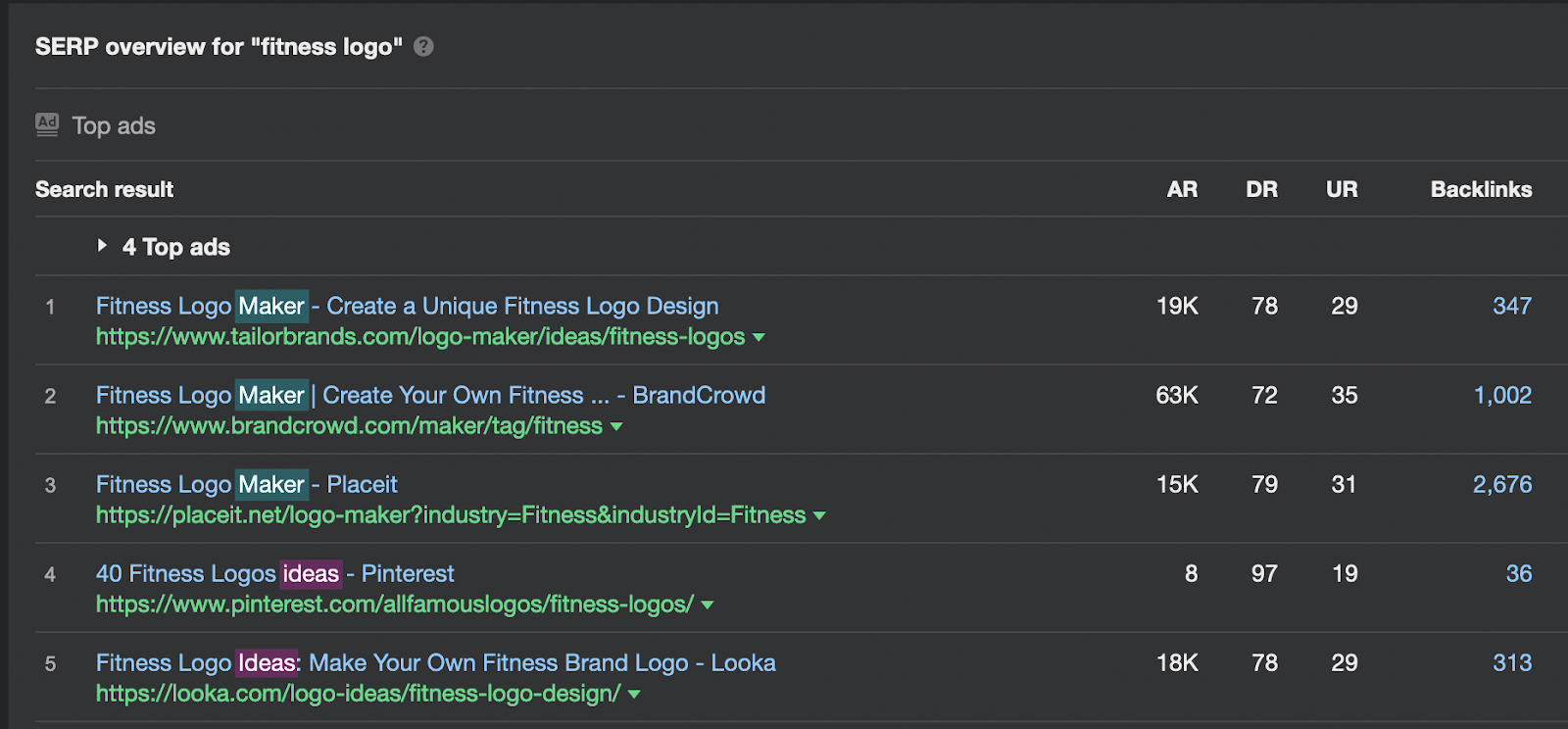 Fitness logo maker
Fitness logo ideas
Here's what the above tells me: To rank, I either need a page that provides a fitness logo maker tool or a list post about fitness logo ideas. The angle isn't a hard-and-fast rule. But it gives you some insight into specific wording you may want to include in your title tags and meta descriptions.
Read the full guide to search intent to learn more about how to use content angles.
Fill out your spreadsheet
Now that you understand what all the columns in the spreadsheet mean, finish your SERP research. Then fill in the missing data for each keyword.
It should look something like this:

Outline, draft, and publish your pages
Once you know all the keywords you're going to target, the next step is actually creating the pages on your site. Rather than walking you through that entire process in this article, I'll refer you to our guide to creating SEO content.
It covers our entire writing process:
Find a proven topic
Analyze search intent
Write an outline
Write a draft
Edit your draft
Make your content visually appealing
Write a compelling title and description
Upload your post
Step 3. Outreach and link building
After you've published your pages, the third and final step of our B2B SEO strategy is to build backlinks. A backlink is a link from another website pointing to a page on your website.
Reaching out for these links is called link building, and backlinks are arguably the most important Google ranking factor. In our study of over 1 billion pages, we found that the biggest reason a page doesn't rank is due to a lack of backlinks.
There are many ways to build links. Here are a few to get you started:
Rather than explain each of these here, just click on the links above to learn more. If you want to dive deeper into link building and what makes a good backlink, read our full guide to link building.
Final thoughts
At this point, you've seen the entire strategy from beginning to end. However, you haven't seen a B2B SEO strategy in action yet.
I recommend checking out the websites and blogs of the B2B businesses below that have used SEO successfully. Hopefully, these can give you inspiration and guidance. I also recommend plugging them into Ahrefs' Site Explorer for a deeper understanding of their strategies.