Do you find SEO daunting? Do you lack time to learn the intricacies of this ever-changing and often puzzling field? Here's the guide for you.
I know a fair few small businesses owners. They're busy people.
My brother and his friend run a small wedding videography business.
They're fantastic at what they do, but when it comes to marketing their business online, they're amateurs, to say the least. (Sorry, Martin & Gary!)
I'm not saying this to be mean. As I said, they're busy—they don't have time to learn SEO.
But even if they did, they'd likely face the same issues as many other small businesses:
They don't have much technical expertise: SEO isn't that complicated, but "being good at computers"—as my Nana would say—is a definite requirement if you're doing this yourself.
They don't have the budget: Knowing what needs doing is only half the battle. Hiring marketing staff to do the work is the other more expensive half.
Everything above sound familiar?
This article focuses on simple, low-cost and quick wins, many of which need only be done once to have a positive lasting effect. I'll also talk about outsourcing some of this stuff, so you have more time to focus on the crucial business activities that put money in your pocket.
Still, I'm going to assume that you already have the absolute basics covered in that:
Let's go.
IMPORTANT NOTE
This guide is for small business websites with ~30 pages or fewer (excluding blog posts).
Got a bigger website than that? Check out our SEO basics guide.
Before we get started
First things first—we need to cover a few more basics.
Let's begin by making sure that Google has your website indexed.
Being indexed simply means that Google is aware of your website. It doesn't necessarily mean you rank for anything worthwhile, but it does mean there's a chance of your site popping up when people search for relevant queries.
Not indexed = no chance of ever ranking for anything.
Luckily, there are two easy ways to check whether your site is indexed.
The first is with Google Search Console.
Search Console > Coverage

The valid number of pages should be roughly equal to the number of pages on your site.
Not a Search Console user? You should be. It's free, so sign up.
The other, slightly less accurate way is to go to Google.com, then search for site:yourwebsite.com.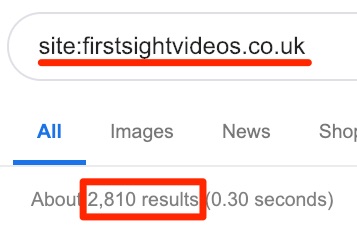 If Google returns at least one result, they know at least part of your site exists. If they return roughly the same number of results as pages on your site, then they likely have all pages on your site indexed—which is good.
If there are no results, then Google has no clue that your site exists.
NOTE. It looks like First Sight Videos has 2,800 pages indexed in Google. That's worrying. I wouldn't expect them to have more than 30-50 pages on their site. This is something we'll tackle later.
You can also use the same query in Bing to check for indexation there.
Not indexed? Read our guide to submitting to search engines.
Before we move on to the "meat" of this guide, I also recommend starting a website crawl in Ahrefs Site Audit. It only takes a minute or two to set-up, and it'll make life easier as we progress through this guide.
Here's Sam Oh explaining how to do this:
https://www.youtube.com/watch?v=LjinWqfGyVE
NOTE. This part is entirely optional. Don't panic if you're not yet an Ahrefs customer.
It's also worth checking that your website is mobile-friendly using Google's Mobile-Friendly Test tool. Google reported in 2015 that over half of their searches come from mobile devices, so this is no longer a luxury—more a necessity.
This is what you want to see: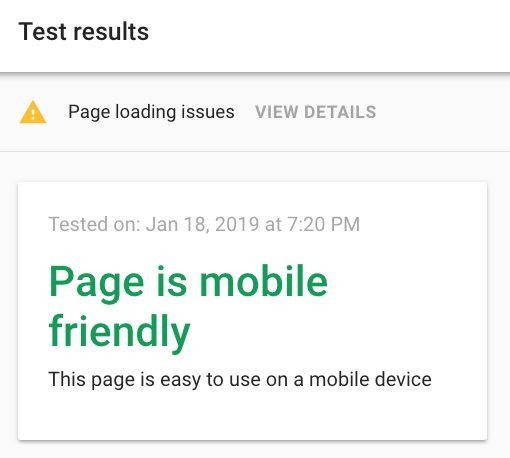 Not seeing that? Consider hiring a freelancer to edit your CSS to make it mobile-responsive.
Now let's get started with this SEO stuff!
1. Create a logical website structure
Here's what Google says in their article listing steps to a Google-friendly site:
Build your site with a logical link structure. Every page should be reachable from at least one static text link.
In plain English, that means that your site should make sense to navigate. Your homepage should link to your other important pages (about, content, services). Your services page should list and link to pages describing individual services. And so on.
This may sound obvious, but I've found that with small business websites especially, this often isn't the case.
Things usually start pretty logically, but as they add pages over time, things fall apart.
How do you fix this? The trick is to try to look at your website with fresh eyes and make sure it has a logical structure. Start at your homepage and see if you can logically find—and navigate to—all your important pages quickly and easily.
Let's do this for First Sight Videos. (My brother's business).
I'll start on their homepage and check their main navigation menu. Things look pretty good here until we get to the blog menu item…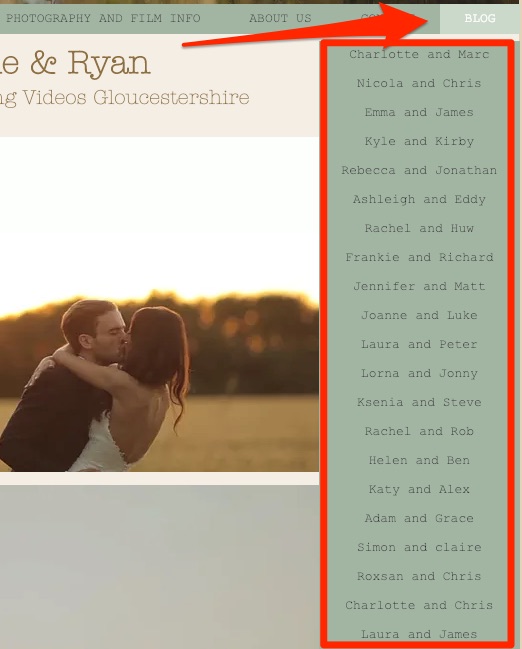 On rollover, a drop-down appears with links to all blog posts—which is no fewer than 28 posts!
Not only does this look messy, but it breaks down the logical structure of the website.
This is a prime example of what I said about things starting logically and slowing disintegrating over time. I know these guys are filming weddings regularly, which they then blog about. This menu has clearly gotten out of hand without them realizing, and is definitely something to fix.
Your website may not have this same issue but there are probably other similar ones. So the best thing to do is grab a pen and paper and start mapping out an ideal structure for your site. You could also use a free visual sitemap creator like this one.
It should be relatively easy if you have a small site.
Here's my proposed structure for First Sight Videos:
Let's also take a quick look at the site footer—which is present across all pages on the website.

Here, we see another issue that plagues a lot of businesses who've been taken in by not so great SEO advice over the years:
There's an irrelevant link to elsewhere on the site using keyword-rich anchor text.
Such links aren't always an issue, but it's clear that this is done solely for SEO purposes.
If you have any links like these, remove them. They're not helping. They just make your site look spammy to Google and visitors alike.
Sidenote.
Even if you still trust old-school SEO advice, this particular link makes little sense because it links to another page on the site using keywords that are likely more suited to the homepage.
Looking to outsource?
Not sure how to implement these changes yourself?
You can get a freelance developer to do that. It shouldn't cost much for changes like these, especially if you're using a popular CMS like WordPress. I recommend looking on UpWork or People Per Hour.
For example, this guy charges £10/hour (~$13) for WordPress maintenance: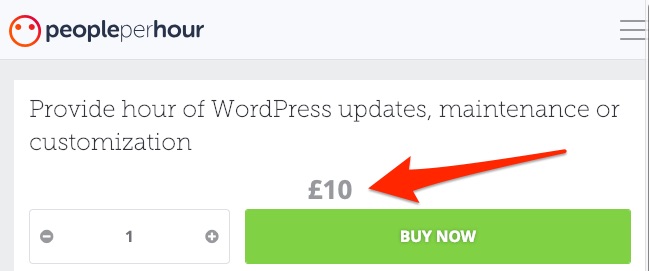 Site structure adjustments aren't complicated, so 2-3 hours of this guy's time would likely be more than enough.
NOTE. This is just an example to show how quickly and cheaply you can find freelancers to solve such issues. Always shop around and make sure to check reviews and feedback before hiring anyone.
2. Keep your site free of broken pages and links
Broken stuff on a website is never good. Not for visitors, and not for SEO.
Think about it: what does a website with broken pages and links say to you? Most likely that it's rarely updated, neglected, and that the site owner doesn't care about keeping their website functioning properly.
Let's start by finding broken (404) pages.
Here's what Google says about these:
While it's normal to have Not Found (404) errors, you'll want to address errors for important pages linked to by other sites, older URLs you had in your sitemap and have since deleted, misspelled URLs for important pages, or URLs of popular pages that no longer exist on your site. This way, the information that you care about can be easily accessed by Google and your visitors.
Here's a simple way to find all broken pages in one fell swoop:
Site Audit > Internal pages > 4XX page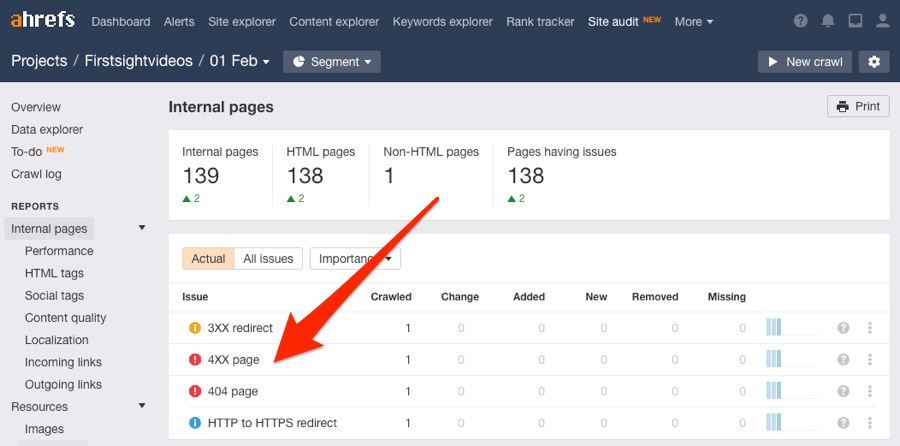 Sidenote.
Didn't run a crawl yet? Go to
Site Explorer
> Best by links > add a "404 not found" filter. Results may not be as accurate as when using Site Audit, so that's something to keep in mind.
It looks like there is only one dead page on First Sight Videos.
But there's one other thing you'll notice there—that broken page has one referring domain, meaning it has backlinks from one website.

Such links are bad because they waste "link equity." That effectively means that votes (links) to your site aren't counted because they lead to a dead end.
Sidenote.
That's a crude explanation. I'm trying to keep this as straightforward and jargon-free as possible. Read
our guide to Google PageRank
to learn about more of the reasoning behind this.
You can fix these in two ways:
Reinstate the dead page (if you deleted it by accident)
Redirect the dead page to an appropriate alternative (i.e., either the new location of that page or a similar page or post)
If the page has no referring domains, it's generally okay to leave as is.
PRO TIP
Make sure to update any internal links to broken pages that you find.
You can see all internal links to broken pages in Site Audit.
Site Audit > Internal pages > 4XX page > No. of inlinks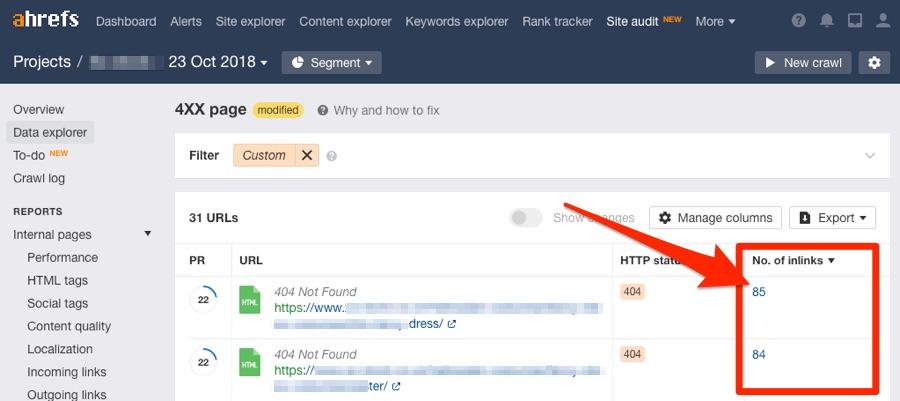 NOTE. You can also use the Internal backlinks report in Ahrefs Site Explorer. However, it's better to use Site Audit if possible.
You should also fix broken outbound links on your website.
Site Audit > External Pages > External 4XX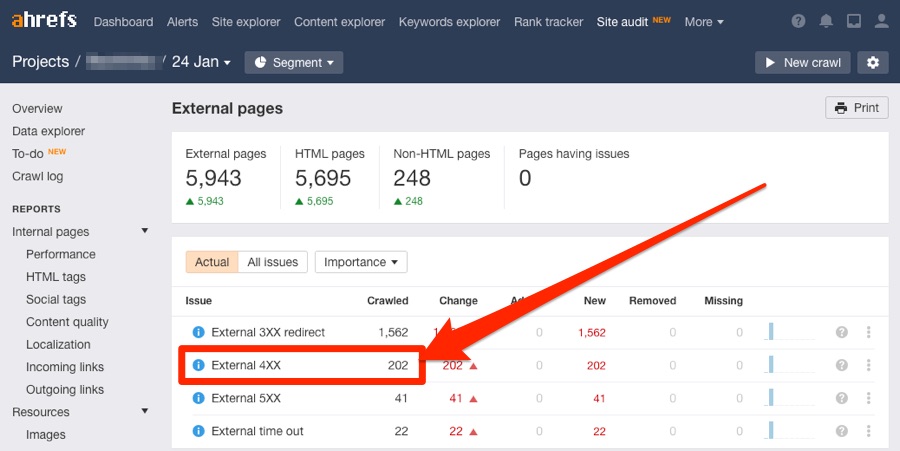 NOTE. You can also use the Broken links report in Ahrefs Site Explorer. It is, however, preferable to use Site Audit for up-to-date results.
These are problematic for the same reason. You're linking to dead pages which effectively wastes link equity—or PageRank—and contributes to poor user experience.
Fix them by removing or updating the links.

Sidenote.
If you're not ready to get a paid subscription with Ahrefs, you can try
our free SEO toolset
.
Recommended reading: How to Find and Fix Broken Links (to Reclaim Valuable "Link Juice")
Looking to outsource?
Download the CSV for the relevant report in Ahrefs and send it to a freelancer.
Tell them to update each link where possible. Otherwise, ask them to remove them.
This shouldn't cost much for small websites with few errors. Here's an hourlie I found in minutes on People Per Hour where the guy will fix up to 100 broken links on a WordPress website for £14 (~$18):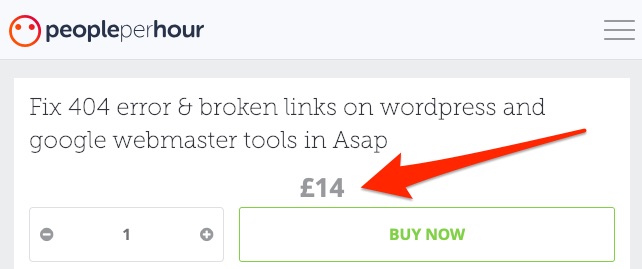 3. Make sure every page has an enticing meta title and description
Every page on your website needs a unique meta description and title.
These are what you typically see in the Google search results:

Sidenote.
Google sometimes changes these dynamically, so they can sometimes differ from the title and meta description that a website sets.
Not only should every page on your website have a unique meta title and description, but they also need to:
Not exceed the length at which Google begins to truncate them in the search results.
Entice search engines users to click-through to your site.
Contain your target keyword (optional—but recommended)
Check your tags using this tool. Just paste the URL in and hit fetch.
It'll then show you the meta title and description for that page.

Here's how to deal with the issues that may arise:
Non-existent: Add them.
Too long. If you're using the recommended tool above, it tells you if your meta title and description are too long (see the red highlighted text in the screenshot above). Shorten any that are.
Boring/unenticing: Ask yourself—if I saw this in the search results when searching for this business, would I be likely to click it? If the answer is no—rewrite.
Don't include your target keyword: This is most important for homepages, product/service pages, and blog posts. It's not a big deal with contact or about pages, etc. But only include it if it naturally fits—don't shoehorn keywords in there. Read our full keyword research guide if you're not sure what keywords to target.
It looks like the homepage for First Sight Videos has a meta title and description, but the description is too long (indicated by the red highlighted text).
I'd also say that they're not so enticing—they're stuffed with keywords.
In other words, they both need rewriting. I won't go into the nuts and bolts of doing this in this article as we already have a full guide to crafting the perfect title tag, but here's one that would almost certainly be better:

Sidenote.
I'm not lying about the places they've been featured. They really have been covered on all of those sites. Never lie to entice the click—that's clickbait, and it's straight up unethical.
That's one page sorted but what about the rest?
The issue with the method above is that it's time-consuming. You have to check meta tags, by hand, across all the pages on your site. Let's solve that.
If you started a site crawl in Site Audit at the start of this guide, it should now be done.
To view issues related to meta titles and descriptions, go to:
Site Audit > Internal pages > HTML tags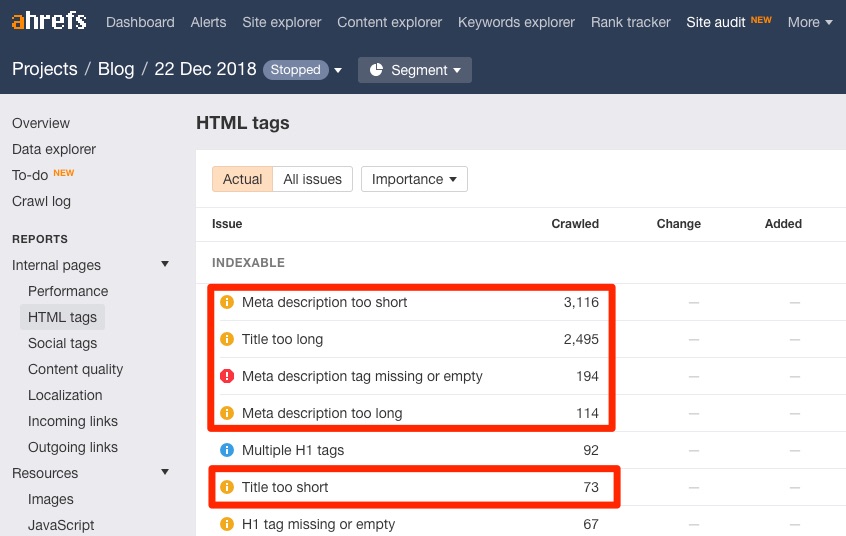 Here, you'll see any problems related to your HTML tags—including titles and meta descriptions. Click on each issue to see affected pages.
Looking to outsource?
No time to rewrite 30-50 meta titles and descriptions? Hire a freelancer to take care of it.
Here's a gig on People Per Hour—15 title tags and meta descriptions for £40 (£2.66 each):

That took me all of two seconds to find. There may be even better offers out there.
4. Polish your written copy
Most pages on your website will have some written copy—and this needs to be on point.
Google looks at the content on a website to help understand whether that website or web page is a good result for a particular query. If there is little or no content on your web pages—or if that content isn't well-optimized—then they're going to have a difficult time doing that.
That's not to say that you have to write 2,000-word essays on every page.
Some pages might warrant that, but others might be okay with a couple of hundred words.
Generally speaking, here are some SEO "rules" for website copy:
Include some copy on every page. How much? That's up to you—I'd personally recommend at least 100-200 words as a general rule of thumb.
Use one H1 tag on each page. This serves as the heading of the page. Quite often, this is the same as the meta title—but it doesn't have to be.
Use H2-H6 tags as appropriate. These are subheadings. Use them to create a hierarchical structure of importance on each page. Learn more about these tags here.
Don't shoehorn keywords into your copy. Be aware of the keywords you're targeting, but don't force them where they don't belong—and certainly don't overuse them!
Make sure spelling and grammar are on point. More on this in a moment!
PRO TIP
Don't forget that all copy should be engaging and well-written if you actually want to attract new clients or customers. If that isn't currently the case, you may wish to hire a professional copywriter to rewrite it.
This isn't so much an SEO tip as a conversion rate optimization and branding tip.
For most small businesses, the homepage is going to be the most crucial page copy-wise.
Let's audit the existing copy on firstsightvideos.co.uk.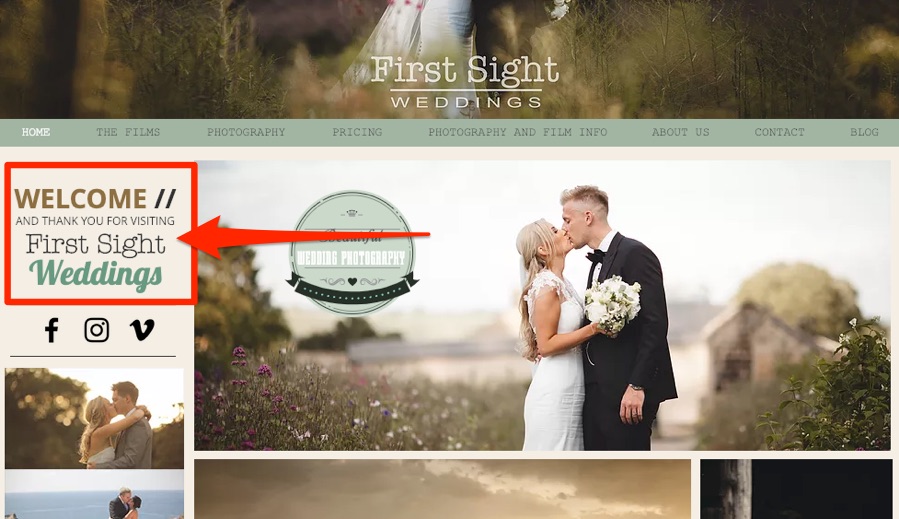 First impressions—there doesn't appear to be much copy at all.
It's not until you scroll way down that you see some more…

Let's break this down:
First, the format of that header ("welcome and thanks for visiting first sight videos") looks worrying. I doubt it's an H1 tag—as it should be. I'll use this tool to check.

Suspicions confirmed; the H1 is actually in the footer! That's not great.
Second, the main chunk of copy on the homepage looks out of place. It's about a specific wedding they've filmed and would make more sense as part of a blog post. It'd make more sense to have something like this on the homepage:

Third, the copy includes no keywords, synonyms, or anything that might boost "topical relevance" on the page. (No clue what this means? Read our on-page SEO guide.)
If you have any of these issues on your site, they need fixing.
But there's one more issue that often plagues small business websites—spelling and grammar.
Now, in the interest of transparency, here's what Google's John Mueller said when asked if spelling and grammar impact SEO:
Not really. […] It is more a matter of how it is received from a user point of view. If you are a banking web site and you have terrible English on it, then I assume users will lose trust in your web site. But for other things, it is the way the web just comes.
I've highlighted that middle part because it sums up why grammar and spelling are crucial.
If your website is riddled with spelling and grammatical errors, nobody is going to trust you. Not only does that have a direct effect on business, but it will also lead to poor user engagement signals like low time on page, low dwell time, etc.
Looking to outsource?
Not great with spelling and grammar?
You can hire someone on People Per Hour or another freelancing website to polish your copy. This usually isn't too expensive. Here's a gig where the freelancer charges £10 (~$13) to proofread 800 words: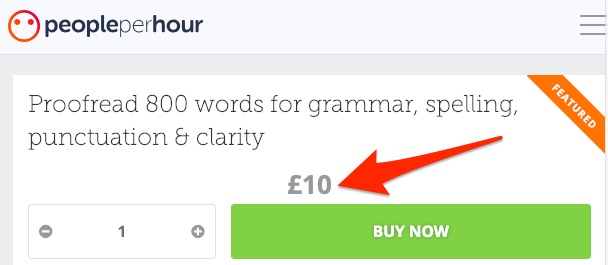 Say that you have ~20 pages on your site with 400 words each on average, you're looking at ~£100 ($130) for the lot. Not bad!
5. Get citations by listing your business in relevant places on the web
Google doesn't only look at the copy and structure of your website when determining where you should rank. They look at many off-page SEO factors too—one of which is citations.
Here's a definition of citations from our guide to local SEO:
Citations are online mentions of your business, which usually display your business name, address, and phone number—collectively known as NAP (Name, Address, Phone).
For example, here's a citation for First Sight Videos on Yell.com: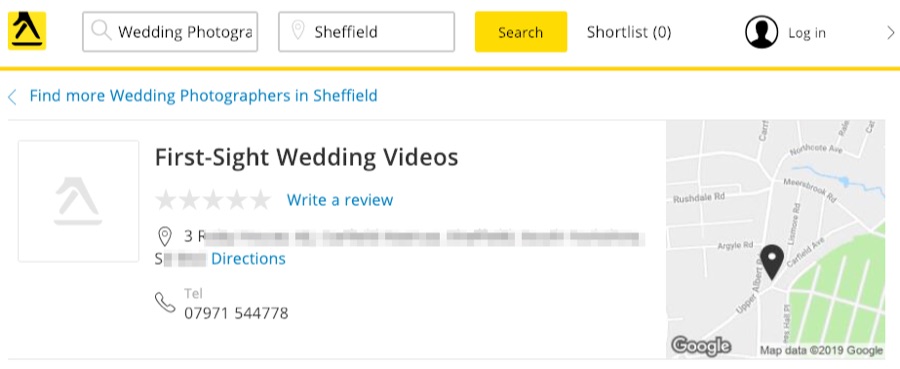 Here's why you should care about citations from an SEO point of view:
Citation signals are one of the top local ranking factors. Moz says that this is the case for Google's "snack pack" and "regular" organic search results.
Google isn't the only search engine people use. Imagine that you're looking for a local plumber. You might use a search engine like checkatrade.com, which specializes in helping users find trusted tradespeople in their local area.
So where do you start?
Perhaps the most important citation of all—at least from the perspective of ranking and appearing in Google for relevant terms—is Google My Business.
Why so important?
Have you ever Googled a business and seen something like this in the search results?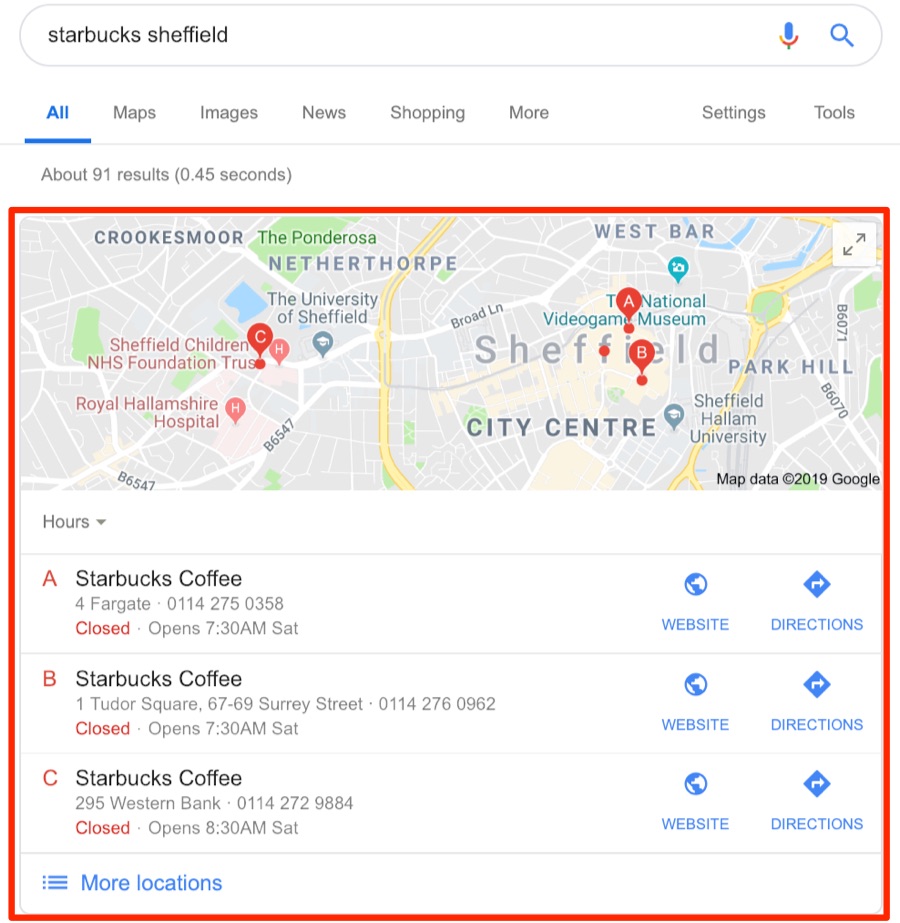 That's known as the "map pack," and there are two things you should know about it:
It often appears at the top of the search results for local terms. This means that it pushes down the "regular" organic listings. Even if you rank number one in organic search, you will often still get beaten by the map pack.
It pulls data from Google My Business listings. These are free business profiles from Google. In their words, "Your Business Profile appears right when people are searching for your business or businesses like yours on Google Search or Maps."
I wrote this guide on the assumption that you already have your Google My Business profile set up (go here if not!), but setting up a basic profile isn't everything. You also need to make sure it's optimized.
That means doing things like:
Choosing the right category (very important!)
Adding more categories
Uploading relevant photos
Adding your opening hours
Adding details about individual services
Adding additional phone numbers
Adding relevant amenities
Etc.
I'm not going to go any deeper into Google My Business optimization here as I go into a lot of detail in chapter 2 of our local SEO guide. Check that out if you want to learn more.
Still, Google My Business isn't the only place you should be listed.
It also pays to list your business in the other "big" directories (Hotfrog, Acxiom, Thomson Local, etc.), and also relevant industry-specific directories that are likely to send business your way.
For the big directories, you can use a service like Moz Local.
Just enter your business name and Moz will check which of the "big" recommended directories you're already listed on, and which you should create profiles on.
Here are the results for First Sight Videos: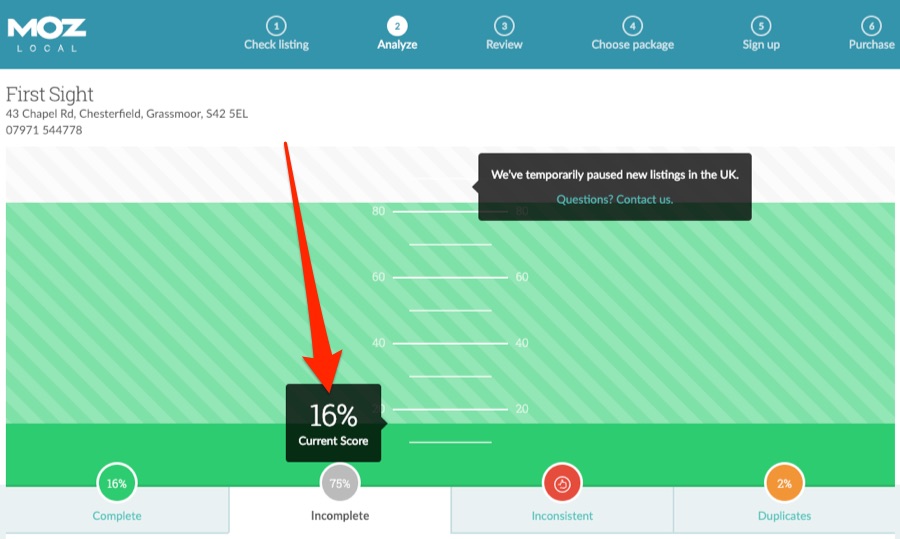 It looks like they're missing listings on quite a few of the major directories.
As for industry-specific directories, one of the easiest ways to find these is with the Ahrefs Link Intersect tool:
Go to Link Intersect
Paste in a few of your top-ranking competitors' homepages
Select URL mode for each of them
Add your site to the "But doesn't link to…" field
Hit "show link opportunities"
That will unveil sites that link to multiple competitors, but not you.
Most of the time, a lot of these sites will be relevant industry or local directories where you should also be listed.
Looking for more ways to build citations? That's something I cover in-depth in chapter 3 of our local SEO guide.
Looking to outsource?
Some may disagree, but I would recommend staying clear of generic cheap "citation building" hourlies on freelancing websites. Most of them are low-quality.
Instead, make a list of the sites you want to be listed on, then hire someone to submit your business to those sites.
6. Ask for links from the businesses with whom you're affiliated
Link building—it's something we have to talk about.
Links are the foundation of the original PageRank formula, which is the formula on which Google is based. Google has also admitted that links are one of the top three ranking factors (as of 2016).
Furthermore, when we studied almost one billion web pages, we found a positive correlation between referring domains (links from unique websites) and traffic.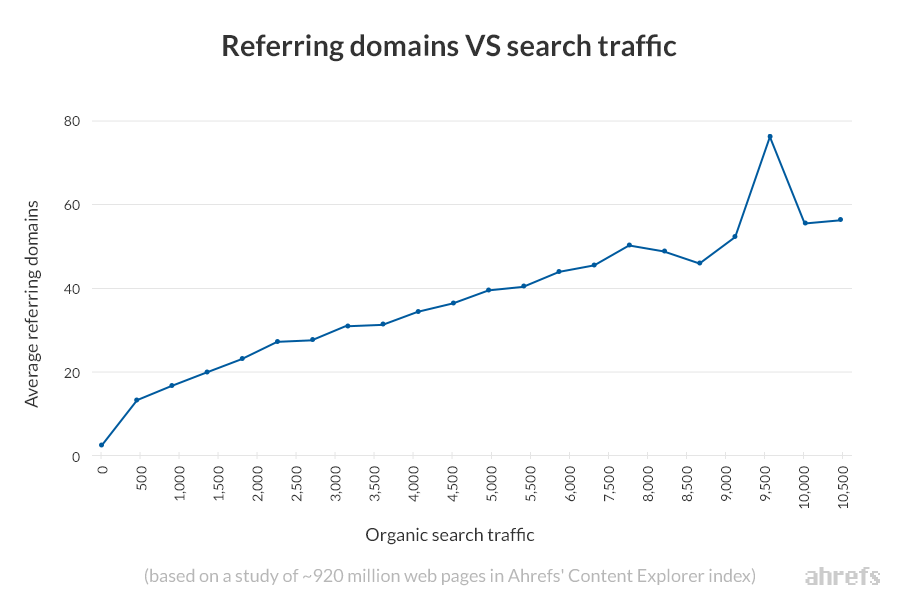 Sidenote.
Correlation ≠ causation. However, in this instance, it's pretty safe to infer at least some causation here as the fact that links are important is no secret.
The problem? Link building can be daunting, especially for small business owners.
So, I'm not going to cover any elaborate strategies. I'm simply going to recommend one thing as a starting point: ask for links from businesses with whom you have existing relationships—e.g., suppliers, stockists, etc.
Look at this page: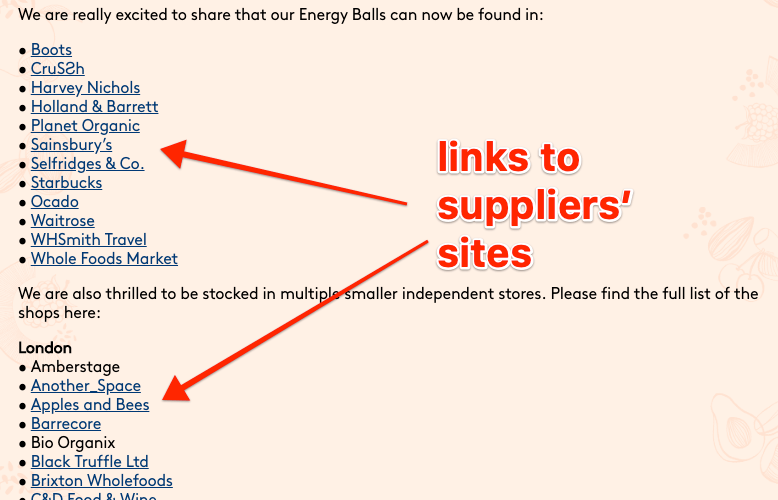 This is a "stockists" pages. Lots of businesses have these—they list and link to all of the businesses that stock their products. Think about whether you sell any third-party products. If you do, these pages are an easy source of links.
Find them by Googling something like:
site:brand.com intitle:"stockists" OR intitle:"where to buy"
NOTE. Replace brand.com with the website of the brand whose products you sell.
If you find any pages like the one shown above, reach out and ask if they'd be open to listing you there too.
Don't sell other brands' products? Look for similar pages from your suppliers and other businesses you work with.
site:brand.com intitle:"our customers" OR intitle:"our clients"
Struggling to find any such pages? There's always the option of providing such businesses with testimonials. These often end up getting featured on their sites along with a link.
Looking to outsource?
You just need to provide clear instructions to the freelancer you're working with and supply them with the names/websites of the businesses with whom you're affiliated.
However, I would recommend sending the emails yourself (or having one of your staff do it).
Here's why:
There usually aren't that many emails to send.
Finding someone who's good at outreach will often take more time than just doing it yourself, especially for one-off tasks like this.
Looking for more ways to build links? Check out some of the articles below.
Going further…
Here are some other SEO tasks you might want to consider going forward:
Improve site speed: Google says that 53% of mobile website visitors will abandon the page if it takes more than 3 seconds to load. Many things can make your site slow—plugins, bloated HTML, etc. Check how fast your web pages load using Google's PageSpeed Insights tool or GTMetrix. If those tools report a slow website, it may be worth hiring someone to improve your site speed. Here are some of the things you may want to work on.
Add schema markup: Schema markup can help Google to understand your website better. It can also change how your web pages appear in the search results. If you've ever Googled a recipe and seen review stars, cooking time, and other data in the search results, that is thanks to schema markup. For small businesses with a physical location, I would recommend looking into the LocalBusiness markup. If you have product or service pages on your site, look into Product and Service markup.
Note. As implementing such markup correctly can be complicated, it's best to hire a freelancer to do this for you. Give them a spreadsheet with all the details they need and they can implement the markup on-site.
Start a blog (or work on your existing blog): Blogging is one of our main sources of new business and leads at Ahrefs. That's hardly surprising, as we now get more than 220,000 visits per month from Google alone—an increase of 1,134% in around three years. If you don't already have a business blog, chances are you're leaving money on the table. Got a blog already? Read our list of 7 ways to promote your blog.
As far as we're concerned, all of these things—including tackling issues reported in Site Audit—fall outside the scope of small business SEO. That's because they're somewhat advanced and can be costly.
They are, however, very much worthwhile if you have the budget to spare.
See our list of 12 SEO tips for even more ideas.
Final thoughts
SEO isn't that complicated.
For small businesses, taking care of these SEO basics is often enough to put you ahead of the competition. However, you might want to check out this video for more beginner SEO tips:
https://www.youtube.com/watch?v=DvwS7cV9GmQ&vl=en
Looking to learn even more? Check out our free SEO training course, or learn more from the articles and videos on our blog, YouTube channel, and Ahrefs Academy.