We all know how the Skyscraper Technique works. But is there anything we can do to improve it?
Let me share my case how I tuned this undoubtedly awesome technique… and was blown away by the results.
Boom! I sent out dozens of emails to influencers. I felt really proud of myself after completing a legitimate, white hat link building campaign.
You see, I just executed the popular, nearly "surehea‐thing" method called the Skyscraper Technique (made famous by Backlinko's Brian Dean). It was a great achievement for me as a reformed Private Blog Network enthusiast.
I was expecting a flood of backlinks from all the emails that I sent out.
Nothing happened though.
All I could hear was the sound of crickets and mouse clicks…
The emails saying, "Hey Doug, great resource, I gave you a link — Thanks!" never came.
I hear similar stories from other people all the time, too. The Skyscraper Technique doesn't have a universal success rate across industries and verticals – sometimes it's a flop.
SST + GP = 470%
Eventually, the page saw an increase in traffic of 470%. The Skyscraper needed a boost – Guest Posting.
We are looking at the results of stacking two proven SEO strategies:
The Skyscraper Technique
Guest Posting
The results were outstanding and exceeded all my expectations.
The organic traffic increased by 470% for the page.


The overall traffic for the site increased by 200%.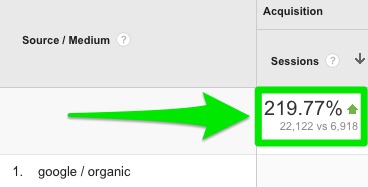 This isn't for some low competition keyword with low search volume. The exact match searches per month are 14,800 for the main keyword. This is a competitive niche and a tough set of keywords.


Eventually, the page reached the #1 position in Google, beating out some big name websites like Instructables and Survival Life.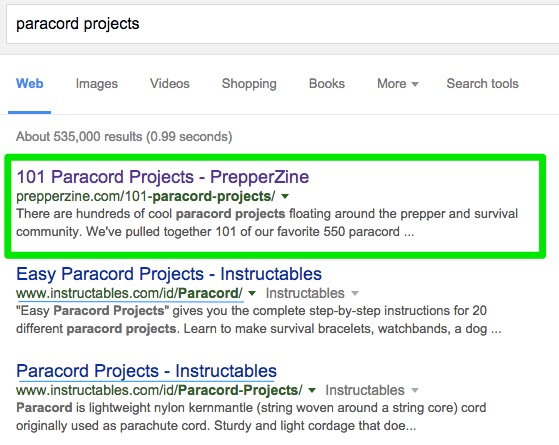 How to Use the Skyscraper and Guest Posting to Increase Traffic (and boost email conversions)
I partnered with a friend on a website in the survival niche. It's a huge market, and sites like Survival Life (by the Digital Marketer team) are impressive case studies on the market. So when Lewis Ogden of Cloud Income asked me to join him, I gladly accepted the invitation.
There are a lot of blogs in the survival space but a great deal of the content is weak, and there is room for improvement. We even fell into the trap of publishing often, up to 5 times a week, but with lousy, short‐form content.
The traditional "Skyscraper"
We looked to the experts and implemented the Skyscraper Technique. Our first attempt was a moderate failure.
We were able to secure a few backlinks, but overall it was discouraging. The rankings improved a lot for our targeted keywords during the campaign but never made it higher than page 3.
The problem was that even though our content was better, longer, and looked great, webmasters weren't giving us backlinks through our outreach campaign.
Depending on the niche and market, you may have seen the same thing when you tried the Skyscraper Technique.
There isn't an obvious incentive for a webmaster to link to your great content, and, if they consider it, they still have no reason to make it a priority. However, Lewis and I are stubborn, and we knew that the Skyscraper could work.
The improved Skyscraper technique
After a few brainstorming sessions, we arrived at this "1–2 Punch" where we combine 2 proven strategies:
Create a top notch piece of content using the Skyscraper Technique.
Start a Guest Posting campaign on the topic, and link to your Skyscraper Post.
There is an issue with the Skyscraper Technique for some niches.
The classic Skyscraper Technique relies on researching content that has already gotten a lot of links. The theory is that similar content that's better should get the same kind of link love and more, but it doesn't always happen.
Even the person that coined the phrase, Brian Dean, mentions this in his newsletter:


We take that OUT of the equation and create our own White Hat backlinks.
We identified a great keyword to target. Lewis is a keyword savant (check out his Keyword Guide here) and found a keyword that was already ranking in the top 25 for our site. The post was short, and it wasn't a very good resource on the topic.
The upside was that the search volume was massive — 14,800 exact match searches per month!
We decided to write a brand new post on the topic. It was our goal to make it the best resource on the web – basically, the Skyscraper Technique.
We saw that Instructables held the top 2 positions, and we didn't think we could beat them. If we could just get to #3, it would be great! The plan was to stack the Skyscraper Technique and Guest Posting together.
Here is the step‐by‐step process:
Publish a great piece of content
Find websites in your niche that allow guest posts
Pitch the websites on your guest post idea
Make publishing the guest post simple
Write the guest post and include backlinks to Your content
Follow Up to make sure the post is published
Respond to comments and promote the guest post
Step 1: Publish a Great Piece of Content
It is essential to write about a topic that is going to drive organic traffic. That means you need to do keyword research. If no one is searching for the term, then it isn't helpful to rank higher in the SERPs.
In this case study, we looked at a long list of topics that are popular in the survival niche. We listed the keyword volumes and some of the related long tail keywords, too. We considered the aggregate total for all the main keywords and the long tail keywords.
Here are some of the other topics that we considered:
Camping Recipes — 33,100 search volume
Gun Cabinet — 12,100 search volume
Home Remedies — 33,100 search volume
Marshall Law — 90,500 search volume
And, so on…
After narrowing it down and reviewing what our site was ranking for, we saw a specific opportunity.
The site was already ranking in the top 25 for "paracord projects". We capitalized on the fact that Google already liked our site regarding the topic.
Editor's note
Search volume should not be the only number to look at in your keyword research.
Here's a screenshot for some of the Doug's keywords from our Keywords Explorer:


(Please note that these are US numbers only)
Pay attention to the "marshall law" keyword. With a search volume of 25k and a low keyword difficulty, it generates 9k clicks on SERP.
That is why we provide Clicks and Clicks Per Search metrics within our keyword data. They will help you better evaluate the traffic potential of any given keyword.


Here is what we did:
Write a new piece of content on a topic that we were already ranking for in the top 20.
Leave the existing post that was ranking in place.
Add an internal link from the existing post to the new, better post.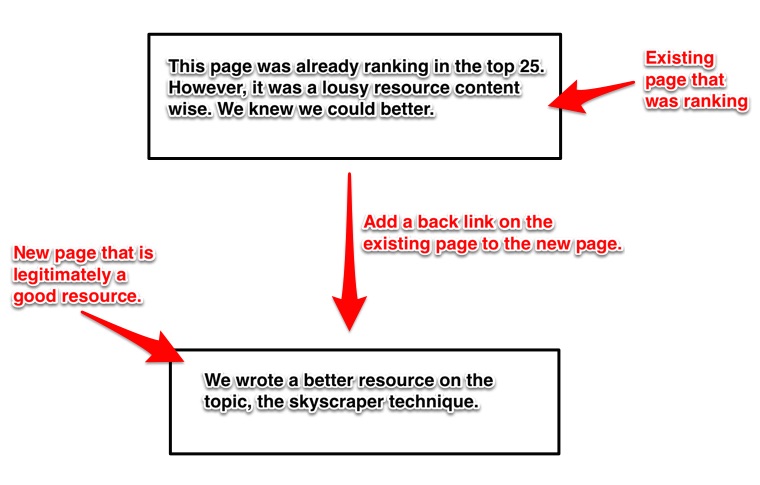 If you can find a piece of content that is already ranking for your site that can be improved, go for it! It will most likely rank faster in Google if you adopt the 3 step strategy above. I like to manually reindex the page immediately in the Google Search Console (it used to be Webmaster Tools) to speed up the process.
If you are starting from scratch, then you should brainstorm a bunch of blog post topics for your site. Aim for about 20 different topics because most of them will not be viable.
Head over to the Google Keyword Planner, Long Tail Pro, or another keyword tool, to review the search volume, related keywords, and the competition. I used to be afraid of the really high volume keywords, like over 9,000 exact match searches, but now I see that even a young niche site under a year old can compete with sites like Instructables.
Editor's note
At the moment this article was originally written, Google Keyword Planner worked just great to get the idea of keyword search volumes. However, in June 2016
GKP
began
combining similar keywords
into groups, thus adding up on keyword volumes. (Which is absolutely reasonable for paid keywords research.)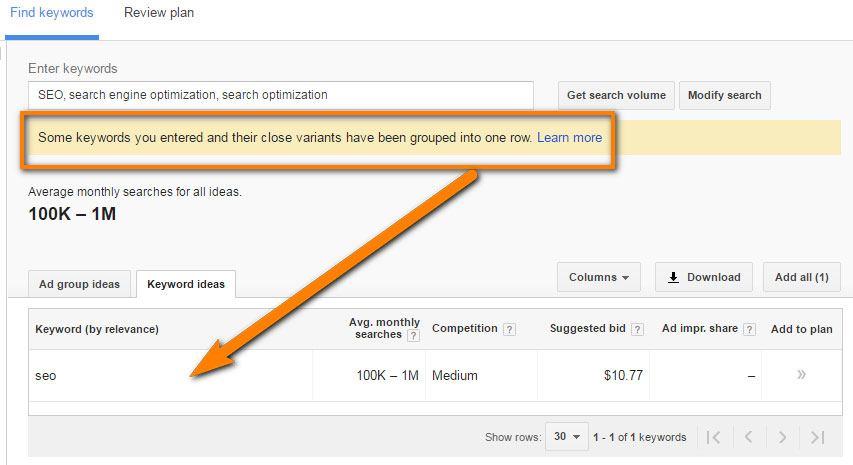 Today you can get much more accurate search volumes for every single keyword in our
Keywords Explorer v. 2.0
.




There is no magic formula to pick a topic so you need to look at your goals.
Do you want more traffic?
Do you want to build an email list?
Do you want to make more affiliate sales?
Or, something else.
Some topics will lend themselves to more commercial intent versus others.
So a search term like "DIY [your topic]" is probably not one where the searcher has their credit card out to buy something.
A topic like "how to choose a [your topic/product]" is more likely to have a would‐be buyer on the other end of the keyboard.
An easy way to find great content to base
The topic needs to lend itself to guest posting in some way. Now, it doesn't have to be the main subject, but you need to be able to include the topic within a guest post somehow. You should be able to make that happen in a reasonable way with a little creativity.
A word of caution:
The content should be a valuable post, overflowing with information. You ought to be comfortable calling it "The Definitive Guide to [your topic]". Keep the affiliate links to a minimum, or leave them out altogether.
Our post weighed in at roughly 7,500 words with plenty of images, videos, and graphics.
Step 2: Find Websites in your Niche That Allow Guest Posts
There are a bunch of ways to find websites where you can guest post. Check out the Definitive Guide to Guest Blogging at Backlinko and Chapter 10 in The Advanced Guide to Linkbuilding at Quicksprout, too.
I keep it simple and search for a few main footprints:
"write for us" [niche or topic]
"guest post" [niche or topic]
"guest post guidelines" [niche or topic]
If those come up dry, then I will search for blogs on a popular topic in the niche along with another footprint. The kinds of blogs that I want to post on allow comments, so I look for footprints that suggest the blog allows comments.
For example, let's say I am looking for travel blogs. I may search for:
"Leave a reply" RV travel
"Leave a comment" traveling with children
Test different search strings that go deeper into the niche. That will really help you find real blogs in the niche. "Traveling with children overseas" is a better option than "travel blog."
You can go WAY deeper with the searches, but you can normally find thousands of blogs with those two search strings. The two guides listed above should give you at least another two dozen ways to find blogs where you can guest post.
I like to adjust the settings on the Google search results page to get 100 results per page.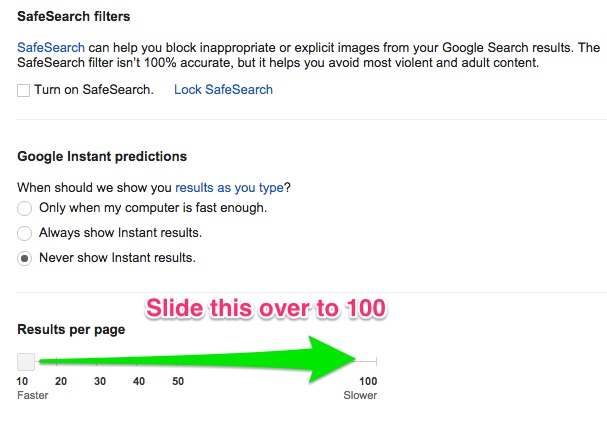 Then, I can use this great "bookmarklet" that pulls out all the URLs and puts them in a list that is easy to copy and paste. Go to this page and drag the button to your bookmark bar, just like in the image below.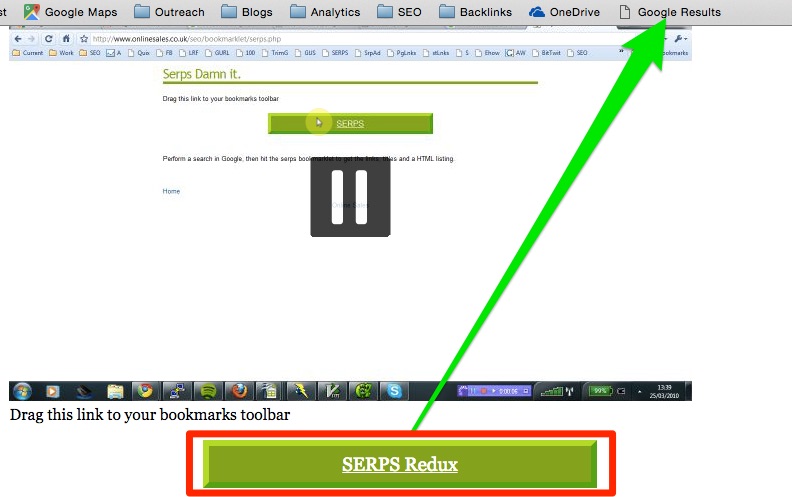 Use a spreadsheet with a few simple columns to keep things organized. Of course, you need the URL, and you should note the name of the website, the name of the webmaster, and contact email address.
I also like to record Ahrefs Domain Rating, a metric that tells us about the website's authority. That way I can avoid the really big blogs that I won't be able to guest post for and the really low authority blogs that I shouldn't waste my time on.
Editor's note
You can use Ahrefs'
Batch Analysis
tool to quickly grab the domain rating (and other metrics) for a number of domains at once. Watch the video below for the full process, including extracting the search results with your prospects using Doug's bookmarklet above.
Also you might want to focus on getting not just new backlinks, but new referring domains (backlinks from domains that never linked to your website before). To check if some website linked to yours before, put your website URL into Ahrefs' Site Explorer, jump to 'Referring domains' section and use 'Search in results' field.


Later, you can use the same list format to enlist the help of a virtual assistant (VA), or import the list to use in a tool like Ninja Outreach or BuzzStream.

Currently, I like to gather the list of websites and have a Virtual Assistant (VA) do the research to save time. It is really easy to hire a great overseas VA on Upwork or another freelancing platform.

Get a list of about 150 — 200 websites with the expectation that you will find contact emails for about 60 — 70% of them. You will probably only get accepted for a guest post by about 5 — 10% of the the people that you email. Plan accordingly.

This case study only required 8 guest posts to reach #1.
Step 3: Pitch the Websites on Your Guest Post Idea(s)
If you did your research, then you should have a list of websites that may allow guest posts and about 100 email addresses to go along with them. Now, you need to email them and pitch your idea.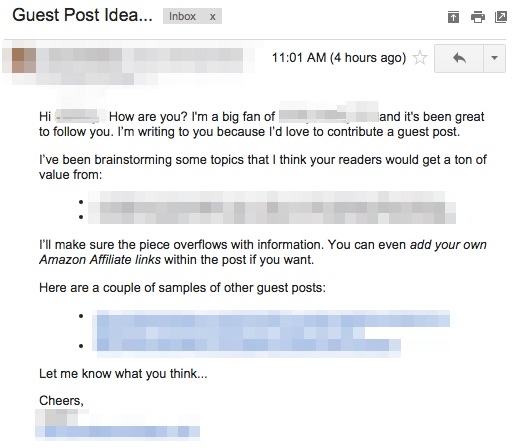 There are templates out there again on the guides above and elsewhere. Most of them are similar and have the same kind of pitch:
I like your site.
I want to guest post.
Here are some ideas.
Here are samples of my writing. (Optional — guest post samples are the best to list, if not, then reference the best work on your own site.)
The template above yields a response about 14 — 28% of the time depending on the campaign. About half of those responses are rejections. My personal experience is based on well over 1,000 emails pitching guest posts.
There is no magic‐bullet email template to get a guest post – but there are certain things to avoid. Read this (a bit sarcastic) post to learn the most common email outreach mistakes:
I Just Deleted Your Outreach Email Without Reading. And NO, I Don't Feel Sorry (2017 Revisited)
Tips to increase conversions
Blog commenting
Do a blog commenting campaign in your niche. It gets your name and website out there in the blogosphere and it makes you part of the community. The comments have to be real, genuine comments and they should add value. Ryan Stewart provides a great blueprint for commenting here.
Then, reach out to the blogs that approved your comments. Pay them a compliment, remind them about the post that you commented on in the past, and pitch your guest post ideas.
Don't worry – you can use the same template for this email – just mention that "you may have seen my comment on the [mention the post title] post — it was great!"
Share their content
Share their blog posts on Twitter, Facebook, and anywhere they are active on social media. Be sure to tag their handle or profile so they can see that you are a fan of their work.
Leave an iTunes review for their podcast
So many influencers have a podcast and they all want to have more iTunes reviews. You can leave a review and get on their radar. Most people won't take the time leave a review so you will really stand out.
Interact on Social Media
Follow the blogger on social media, wherever they are active, and interact with them. Follow the blogger on Twitter, Facebook, or Instagram and interact with them. Ask smart questions and be pleasant.
Interact via email
Join their email list and reply back to their emails. Replying back always gets a higher response rate and people always want to hear from subscribers.
Link to their blog
Link to them in your blog posts. People like to get links back to their website. If you've been reading this far, then you already know that. You can give them a heads up using any of the methods above. Email, Twitter, or Facebook are the best options.
What to do when your pitch email is ignored
Ask again and again. It feels weird to keep asking.
But it works.
Here is an example…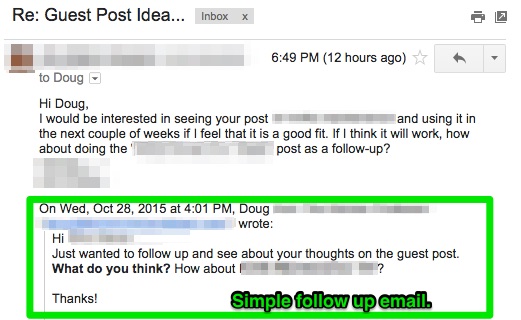 I send a short follow up email to people that don't respond. It's friendly, short and a shocking number of people reply — about 15.5%.
Again, about half of those are rejections, but the other half are accepting your guest post!
Step 4: Make Publishing the Guest Post Simple
Look for existing guidelines for guest posts on the website on the "Write For Us" or similar page, if it exists. You can also take note of the length and style of the typical post on their blog. If they don't have any guidelines listed, then be sure to ask.
The main areas to think about are the:
word count range
number of images
the resolution of the images
I found it surprising to see a requirement for the maximum number of words — many times the maximum was 500 words. That was a shocker consider most content marketing experts are suggesting 1,500 words at a minimum, and more is usually better.
Many times the webmaster will leave the word count up to you. In those cases, I normally aim for about 750 to 1,500 words to ensure there is a great deal of information in the post.
Some niches have really active Facebook communities while others are big on Pinterest (sometimes both). That influences the image requirements because you may get very specific resolution requirements as well as requirements around the vertical or horizontal orientation.
Follow the requirements exactly and over deliver in terms of quality.
The bottom line is to follow directions.
Step 5: Write the Guest Post and Include Backlinks to Your Content
I used to follow the instructions to write the very best content for my guest posts — every time. However, writing the very best every time is impossible when you are writing a decent number of guest posts.
Then, I was introduced to the concept of tiers in the Backlinko definitive Guide – That was a game changer. Some blogs are good, and some blogs are exceptional. You should spend a corresponding amount of time on your guest posts based on the quality of the blog.
For me, the steps are almost all the same, it's just that you would spend more time on the Tier 1 guest posts.
Tier 1 Content
There are some blogs that are the undisputed market leaders in the niche. Depending on the size of the niche, there might be a handful or up to a few dozen top blogs.
Tier 1 blogs are the best in class because they don't compromise on quality. You will have to bring your "A Game." Spend more time researching, writing, and editing. For example, Ahrefs is definitely Tier 1.
Tier 2 Content
You shouldn't skimp on Tier 2, but you can trim back on the time spent on researching, editing, or both. For example, maybe you can use screenshots instead of a fully scripted and edited video.
Here are some tips to ensure you deliver the goods:
Write a draft and revise
Don't fall into the trap of writing and firing off the content without revising. As content creators, sometimes we want to ship fast and we skip the full writing cycle – guest posts are not the time for that! Take the time to write out a draft, sleep on it, and revise. If you can't sleep on it, at least, take a break and re‐read your work.
Get help from an editor
It is really easy to overlook your own mistakes. This is one area where Tier 1 & Tier 2 differ:
If you can afford to hire an editor for Tier 1, that is the best option. If you can't hire an editor, then at least get 2 — 3 other people to read over it.
They can catch major issues, like when something doesn't make sense. An editor can see grammatical errors and things that the spell checker can miss.
Tier 2 still deserves an editor so get at least one other person to review the guest post.
Deliver a Case Study
Real‐world data is hard to come by, and even experimental data is rare. If you actually have data and results that prove or even disprove something, then you have yourself an asset. It was back in 2014 when I was introduced to the idea, but it took a while for it to sink in. Brian Dean wrote this in one of his newsletters:


Deliver a How To Guide
This is another very popular type of post that transcends niches and industries.
For example, look at instructables.com.
The best time to cover a how‐to guide is when you actually know how to complete the given task, even better if you're an expert. However, you can hack the system and cover other people's successes.
The wildly popular Video Fruit started that way. You can add value by consolidating the best practices of several experts, citing them along the way. (That's a great idea since the experts will be more inclined to read, comment, and share the post.)
Use Images, screenshots, and graphics
Images make it easier to see the point for some topics, and sometimes you have to see a screenshot or it just won't make sense. Images help break up the text in a long post so you don't end up with an intimidating wall of text.
Use Videos, if relevant
This is particularly valuable for How To guides. Videos add a huge amount of value if they are well done. However, if you aren't sure if you can deliver great video content, then you should stick to what you know.
Add internal backlinks
I do this every time. People love it when their content receives a backlink, especially when that backlink is within your guest post. It really tells the blogger or webmaster that you understand the big picture and that you took great care to research the topic. Here is a comment from a blogger about such internal linking:

Add external backlinks to your site
That's the main point to this whole exercise of guest posting! You will get targeted traffic that's interested in you.
And, the SEO benefits are huge in getting contextual backlinks in a blog post that is relevant to your topic. Relevance is the new PageRank, after all.
I have been conservative in adding my own backlinks, and very aggressive. As long as they add value to the article by providing additional background information then you will not have a problem including them. When you have internal backlinks, it is easy for the blogger to accept your backlinks.
In the vein of adding value to the reader, be sure to add backlinks to other authorities in the industry. If you read well written articles by prolific content marketers, you will notice that they happily link out to great content.
Step 6: Follow Up
You might think that following up is simply a matter of course – something that you can pretty much put on autopilot. I thought so, too, but it turns out that following up is just as important as sending out the initial pitch email.
There are 3 main parts to follow up on.
Make sure the post gets published
It seems like this shouldn't be an issue, but people are busy. Most of the time a blog is a hobby or side project so publishing a guest post is a second thought. It just isn't a priority. There are some bloggers that will publish the guest post you submitted within a day. That doesn't happen often.
A more common scenario is that you submit the guest post and then nothing happens. That email looks something like this:


As normal, keeping your messages short and to the point is preferred. You want to get a reply that says that "It looks great" and when it is scheduled to be published. About a third of the time, you won't get a response.
I follow up with a message every 5 — 7 days, up to 6 weeks. Here is a great line for the first email:


And here is another short one:


You have to be persistent and polite. I really struggled with the ongoing follow up and the constant emails, but after several of the additional follow up emails led to published guest posts I saw the value in these simple emails.
When should you give up?
Well, if I don't hear anything in 4 — 6 weeks, I move on. I do two things at that point:
Send one last email to the blogger that has been ignoring me stating that I hope everything is okay, and that I will be publishing the guest post elsewhere. Be professional and polite.


Start emailing other bloggers to pitch the guest post.
Thank the blogger for letting you guest post
Send a kind "thank you" email to them. Let the blogger know that you really appreciate the opportunity.
It's great to offer to do something for the blogger when they need a hand. It might just be sharing a new post when it goes live.
Step 7: Answer comments and Promote the Guest Post
I like to thank the blogger in the comments and offer to answer any questions from the readers. Some blogs have very active comment sections so do your homework to gauge the average number of comments. You may need to set aside an hour a day for a few days to a week to make sure you answer all of the questions.
You may also be able to meet new people through the comments. That can lead to more guest posts or just a new contact in the niche.
Share the post with your social media network on all channels. If you linked to other sites in your guest post be sure to let them know about it. They may want to share with their own audience and network.
If you have an email list, it's a great idea to send out a broadcast email about your post. You can add it to your autoresponder series if it turns out to be a hit.
Conclusion
The Skyscraper Technique is a great one and can be a game changing content strategy in the right industry.
But sometimes it doesn't work very well:
Maybe the webmasters are lazy in that niche or industry so they don't want to update their resource pages
Maybe it is hard to stand out because there is already so much good content
You don't have to give up on the effort – you can execute a guest posting campaign with a goal of getting backlinks to your Skyscraper content.
Stacking the Skyscraper Technique with a guest posting campaign is a proactive way to ensure that your great content gets the links that it deserves.
If you have any questions about the process or this specific case study, just ask in the comments below.