Have you ever felt that disavowing links is too much of a hassle and hence hired someone to handle the entire process for you? Yeah? You're definitely not the only one. There are thousands of webmasters around the world who prefer to disavow harmful links pointing at their sites. The sad thing is, more often than not, the links that drive them nuts, aren't actually built by them. They're instead built by a dodgy SEO agency they hired, or a genuinely jealous guy who prefer to attack their site with negative SEO. With the abundance of negative SEO increasing every single day, most webmasters often have to use the 'disavow links' tool in Google Webmaster Tools while trying to recover from a negative SEO attack.

Let me explain the essence of an entire disavowing process:
Identify bad (harmful) links to your site. Ahrefs is by far my most favourite tool for the purpose. List the bad ones out.
Put the root domains of the harmful links in a separate text (.txt) file, with a "domain:" prefix added to all of them. Each root domain should be in a line of its own. You can also skip this process and directly list the linking URLs to disavow them on a directory/page level rather than domain level.
Submit the file to Google via Webmaster Tools.
Wait for it to get processed by Google and all the listed domains/pages re-crawled so that Google starts counting them as nofollow'ed links to your site. As a direct result, your site should recover from any sort of punishment Google might have imposed on it due to the spammy links pointing at it.
Back to reality, this may sound really simple, but it's way too complicated for most webmasters to handle — especially the first part. Most webmasters have no idea whatsoever about which links out of all are bad, which are kind of neutral, and which are great for their sites. If you struggle with link assessment and identifying bad backlinks, you should check out below as I cover various types of commonly found links which should be disavowed in case of most websites. If you want a basic initial help on how to exactly start looking for bad links in Ahrefs, refer to the screenshot above in which I've pointed various things out.
#1: .info Spam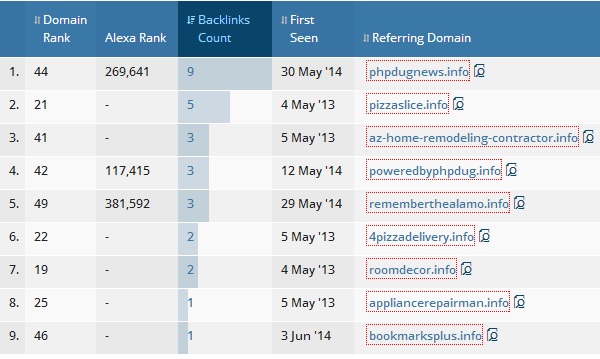 These links have become pretty common these days. Basically, these are from a bunch of irrelevant sites with all having .info as the top-level domain. The screenshot above is from TechTage's link profile, being explored in Ahrefs.
A good thing about these links is that most of these tend to get removed or lost after a few months, but they can do all the damage in the months they do stay, so it's best to be extra cautious and disavow them on a domain-level.
#2: Website Directory Links

You should avoid building links to your site from website directories. There used to be a time when legitimate web directories helped search engines discover new sites, but days like those just belong to the past. There's a ton of web directories these days and I bet over 90% of them don't adhere to Google's linking and other guidelines. I've personally come across sites that were hit by Penguin due to poor quality links from various web directories. So, if you just want to be on the safer side, avoid directory links and disavow them if you discover them in your link profile. Really high-quality directories like Yahoo! and DMOZ can however be excluded from your disavow list as they won't really harm your site.
#3: Article Directories
Article directories are even worse offenders. Matt Cutts absolutely hates article directories. Article directories of today literally serve no other purposes than driving links to sites that look to manipulate Google's algorithms by generating contextual do-follow links from places including article directories and many others.
There are article directories that do not require any sort of approval from an editor, but even can be posted to automatically using spamming tools. So, they're also frequently misused by negative SEO practitioners who post spun articles to various article directories using automated means to generate do-follow backlinks to competitor sites with the aim to get them penalized.
If you've even been hit by a negative SEO attack that consisted of article directories linking to you, you should domain-level disavow all those article directories. An easy way to identify an article directory is taking a note of the frequency of new posts being added and their inter-relevance. If they are irrelevant to each other and new posts are being added multiple times in a single day, you can almost be sure that it's an article directory. Also, most article directories use WordPress as their CMS, so if you can identify WordPress as the CMS of an article directory either from its functionalities or its URL structure, that should help validate your assessment of the site.
#4: Private Network Links

Private network links are essentially links from a blog network that's supposed to be hidden from the public, but still do underground their job of sending link juice to other sites. Most blogs in a private network use WordPress and most of them use default WordPress themes because the link sellers are mostly too lazy to switch to a custom theme.
Unless you've bought private network blog posts yourself with the hope of increased organic search ranks, feel free to disavow the links because they're highly risky and can get your site an algorithmic or a manual Penguin penalty at any time. In fact, private network links are mostly used to hit the first page of Google for releatively competitive keywords for a short term, so using them for a serious site that you plan on running for years to come isn't a good idea to begin with.
There are essentially two types of network sites, one that is niche specific and one that isn't. Niche specific sites accept sites only in its own niche and hence all the posts and links found in it are highly relevant. Generic sites, however, accept all kinds of sites. If you haven't built the links yourself, chances are they'll be from a generic private network because niche-specific ones cost a lot more than generic ones.
#5: Automated Spam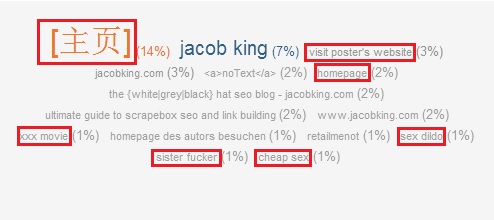 The highlighted anchor texts above are taken from Jacob King's link profile. Jacob had experienced a huge negative SEO attack that was performed using a tool very well known to both him and me. Spotting the anchors which the automated tool built links using is fairly easy.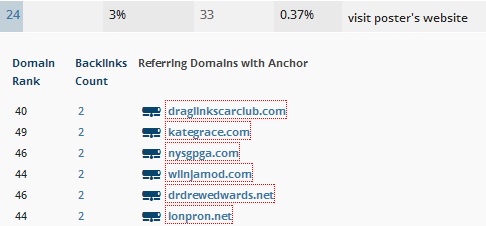 With Ahrefs in hand, it's also easy to list out all the domains that used the same anchor text to link to your site. For example, I chose to list out all the domains that were pointing to Jacob's site using the anchor "visit poster's website". This way, if there are, say 5–6 anchor texts that came your site's way with a negative SEO attack, it'll be fairly easy to disavow all the domains that are using those anchor texts, thanks to Ahrefs.
Conclusion
The need for normal webmasters without a lot of SEO know-how to disavow bad backlinks is increasing rapidly right now. If you have a website that you think might be affected by a negative SEO attack or your site just normally accumulated backlinks from some sites you don't want your own site to be associated with, you can easily use a tool like Ahrefs and identify a few obvious types of bad links that I've talked about in this guide. This way, you can save hundreds of dollars by not hiring a professional or agency or even using a dedicated link profile assessment tool for the purpose, especially if the quantity of links is rather small (from less than 500 root domains).
Do you know about any other type of very common link type that we all should disavow? Let us know in the comments section below.