There was a time when the majority of SEOs and marketers hung out at professional forums. Those were the spots where people shared their secrets, asked questions and got answers. Nowadays those once crowded places seem deserted.
There are still some up and running forums like WarriorForum or BlackHatWorld. But the main activity now takes place outside those communities.
I guess we all know who we should blame for that! Facebook has conquered the Web and triggered the great migration of professionals from forums to Facebook groups. Today Facebook is the most important social network for 62% of marketers according to Social Media Examiner 2017 report.
Our regular readers remember that we already mentioned FB groups in one of our previous articles as one of the best ways to learn SEO. Quite a few people reached out to us, suggesting much more cool Facebook groups we were missing. So we decided to dig a bit deeper into this area.
In this post, we will recommend 15 hand-picked Facebook groups every SEO and online marketer should join (as per our opinion).
How We Came Up with This List
Selecting "the best of the best" is always a challenging task if you're trying to stay objective. We chose the groups based on the following criteria:
The number of members (as a rough measure of popularity);
Target audience (professional marketers & SEOs);
The value of the content;
Spam-free activity.
A decent number of group members is not a significant criterion, however. What matters more is their activity and the content value. We avoided crowded groups that contained mostly offers of guest-posting services or spammy messages.
We also reached out to each group owner on our list to get the most accurate and insider info about their communities.
Note that most of the SEO groups we recommend in this article are closed ones. To join them you have to send a request to the admin. Some groups also require you to answer a few SEO-related questions and give your word not to spam. After the group admin approves your request, you can see the group content and leave comments.
Well, here's the list!
NicheHacks.com Private Mastermind Group
Join NicheHacks Group
Members: 42,512
Owner: Stuart Walker
Type: closed
Topics: SEO, affiliate marketing

This group is not all about SEO, but more about general internet and affiliate marketing stuff. However, we decided to include it into our list since it has a very active community of marketers.
The group owner, Stuart Walker, has initially created the group to support the customers of his project NicheHacks.com. But facing not much interaction, he decided to allow anyone interested in digital and affiliate marketing to join. Though the group stays closed, there are over 40,000 members today and a lot of activity.
The group is moderated heavily, and no spammy links, site selling or self-promotion are allowed here. There are lots of questions about niche and affiliate marketing, as well as other types of marketing and SEO. Most user questions get timely and well-balanced answers.
As the group admin, Stuart often shares helpful articles about the Internet and social media marketing with the group members. He also runs AMA sessions from time to time. The latest one involved Mark Webster & Gael Breton from Authority Hacker. Giveaways and competitions are not so often here.
About the owner
Being a niche and affiliate marketing expert, Stuart created his blog NicheHacks to provide businesses with useful advice and tactics on how to grow. His efforts resulted in $6,000 monthly profit only a year after the blog launch.
Two years ago his blog got into Top 100 of business blogs by bizHUMM. Stuart's biggest dream has always been to travel as much as he wishes and work from any location around the world. Well, he has proved that dreams come true.
SEO Generation
Join SEO Generation Group
Members: 24,077
Owner: Jerry Okorie
Type: closed
Topics: SEO, marketing
The group was created to support the community of SEOs and marketers in their efforts to improve their skills and knowledge about these disciplines. The group now counts over 23K followers and is regularly updated with user's questions, helpful articles, and resources.
Moderators closely watch out for the content that is posted to the group. So you won't spot any spammy messages, link-selling offers, and other trashy stuff there. The group owners also don't run any contests or giveaways at the moment. Their primary goal is providing the SEO Generation group members with excellent support and useful info about any SEO- and marketing-related stuff. So they are trying to keep the group clean from any ads or promo materials.
About the owner:
Jerry has a 10-year experience in different niches of IT, SEM, and digital marketing. He is also a founder of Bordamedia — a powerful UK SEO consultancy company.
His deep knowledge of IT sphere and E‑commerce technology allows him servicing and managing different-scale projects — from start-ups to blue-chip businesses including Microsoft, Barclaycard to name a few. Web analytics is one of Jerry's biggest passions, and he relies upon data-driven decisions to create the content strategy for his clients.
Local Client Takeover
Join Local Client Takeover Group
Members: 19,441
Owner: Mark Luckenbaugh
Type: closed
Topics: SEO, marketing

This group appeared as a counter to numerous existing groups that were used by their owners as simple extensions of their email lists. Instead of posting sales pitches, links to the latest blog posts and news from their own website, the group admins aimed to bring benefit to users in the first place.
Due to the wit of the LCT group, it has a lot of loyal and constantly active members who participate in discussions and other events. One can get free video lessons on SEO, and occasionally take part in AMA threads there. They also host the largest internet marketing contest (as far as prize value goes).
The LCT group owes its fast traffic growth to the free training course shared with the group members. It counts 50 videos about various topics including SEO, PPC and more. The group owners also call people and their involvement the main advantage of the group because of the diversity of skills and experiences that they can share with others. Now group members include users who are looking to get side income from SEO and marketing as well as high-paid marketers.
About the owner
Mark has been doing marketing for over 8 years now, generating seven-figure revenue from his two websites. His Local Client Takeover website reached a 7,000 members community with over 300 training videos. Entrepreneurs, from start-ups to Fortune 1000, trust Mark in the creation of their marketing strategies and advertising campaigns. His holistic approach to local marketing helps Mark to achieve stable results in terms of ROI, conversions and website optimization.
Lion Zeal Mastermind
Join Lion Zeal Mastermind Group
Members: 16,424
Owner: Daryl Rosser
Type: closed
Topics: SEO, digital marketing

The group was created by Daryl Rosser to overcome the abundance of 'toxic' communities where black-hat tactics, trolling and self-promotion was a norm. He wanted to connect with like-minded professionals into a community where everyone is encouraged to share their experience as well as help and genuinely support each other.
Leon Zeal Mastermind is one of few groups where users can freely discuss PBN issues without being judged by White Hat techniques advocates. Weekly interviews with successful SEOs and regular questions from users help keep the community active and running. The group is perfectly moderated to ensure its members get only the helpful info. The group doesn't run any giveaways or contests.
About the owner
Daryl has been building websites since he was 13. After multiple rises (like making 22K in one day) and falls (like losing his earnings in one day), he established a solid SEO consulting business. Today Daryl helps other businesses boost their online performance. This successful business allows Daryl to travel a lot and visit over 7 countries each year.
White Hat SEO
Join White Hat SEO Group
Members: 19,320
Owner: Nikolay Stoyanov
Type: closed
Topics: SEO, marketing

The group was created about two years ago by Nikolay Stoyanov. By his own claim, he spent hours looking for a group on Facebook that would help users solve their SEO issues. Failing to find one that met his expectations, Nikolay created his White Hat SEO group where users can discuss ethical SEO strategies that fall within Google's guidelines.
Today a group counts over 16,000 members with almost 11,000 of them being extremely active. The group admins, Nikolay Stoyanov and Gareth Daine, constantly try new formats to keep the community's interest: educational videos, daily SEO tips, case studies, polls and AMA sessions (in a form of videos and Facebook threads). One of the recent AMA threads lasted open for 24 hours to allow more users to participate.
The group often runs contests. One of the group members won a 2‑day SEO training in Vienna 2500EUR worth for free.
About the owner
Nikolay is a self-taught SEO entrepreneur from Bulgaria. Transport engineer by diploma — SEO and marketing ninja by heart, he now runs a highly successful SEO blog and Facebook group, both about White Hat SEO. Nick founded his SEO company NikSto in 2016 having helped over 50 Bulgarian companies grow their revenue. He boasts to have a 100% white-hat link building strategy and I don't have a single reason to doubt that!
Proper PBN Group
Join Proper PBN Group
Members: 14,714
Owner: Charles Floate
Type: closed
Topics: SEO, PBN

Proper PBN group a place for open-minded discussions of all existing SEO methods and techniques. The group owner Charles Floate, being a self-proclaimed anti-censorship advocate, aims at offering regular updates on any SEO-related topic and encourages users to post any questions they are concerned of.
The group members already have some success stories on building their entire businesses around the group to share. One of the recent posts was dedicated to those stories. Admins often run giveaways, contests, AMA threads and other activities like the traditional monthly post where users share their goals for the upcoming month. Their last year's 'XmaSEO giveaway' had nearly $16,000 in prizes.
About the owner
A British millennial entrepreneur and SEO specialist, Charles has been a marketer for almost 9 years now. His field of expertise is technical SEO and link building where he has built his personal brand. Working with many renowned brands, Charles earned trust and established his online presence as an experienced marketer at the same time staying probably the highest controversial persona in the SEO community.
Digital Marketing Questions
Join Digital Marketing Questions Group
Members: 11,266
Owner: Ryan Stewart
Type: public
Topics: SEO, marketing

This group was created by Ryan Stewart to engage readers and share the content from his website Webris.org. Although his first intent was getting authority from industry leaders, his group started growing, and this spring hit the number of over 10,000 members. Digital Marketing Questions group is heavily moderated and you won't find any spammy posts or comments there.
Today Ryan is up to more ambitious projects. The group now runs itself due to the fantastic community of like-minded people. The users regularly participate in discussions and help each other with various SEO issues. One of the best things about this SEO group is that it is not about a brand or an individual. It is a place where members share their experience about SEO, PPC, digital marketing and other professional niches.
About the owner
Ryan is now one of the most renowned marketers in the industry. His agency is serving 45 clients and pulling 6 figures a month. Over 8 years of consulting experience and a line-up of companies that used his services made Ryan an SEO guru. By his own claim, "the point of marketing is to spend $X and return $X + $Y and my ultimate goal is to deliver that to my clients."
Superstar SEO
Join Superstar SEO Group
Members: 9,856
Owner: Chris M. Walker
Type: closed
Topics: SEO, digital marketing

Like many other SEO groups here, Chris M. Walker created Superstar SEO group for his branding purposes. But as the number of questions from his customers and other people in the SEO community was growing, Chris decided to welcome people who wished to get help to the group.
The secret of the group success is the activity of the owner and creation of a friendly environment where everyone can find help regardless of their experience. Chris has also created a free-membership training area with over 30 videos (theory and case studies) for all-level SEOs. Regular Q&A sessions are supported with videos that include answers to the most popular questions. Users can also get discounts on Chris' services. Right now he runs a contest with a $1,000-worth SEO-service pack.
About the owner
After a 10-year career in the information technology industry, Chris M. Walker decided to go out on his own and founded Superstar SEO — an SEO and internet marketing agency — in 2013. Chris added SEO services and training to his offerings; his YouTube channel already surpassed 100,000 views.
Superstar SEO has already helped thousands of SEOs with ranking their clients and perfecting their mastery. The agency continues to improve and add more services and software to help business around the globe grow to their full potential.
SEO Tips, Tricks & Tools
Join SEO Tips Group
Members: 8,487
Owner: Christine Maisel
Type: closed
Topics: marketing, SEO

The group was created by Christine Maisel as a support for her students she's been teaching SEO. Later she opened it to everyone interested in learning SEO and marketing and trying to improve their skills. The group community includes people with various levels of SEO knowledge: from affiliate marketers and bloggers to local business owners and SEO agencies.
There is a lot of activity going on in this group. The owner shares various SEO tips (both beginner and advanced level) 3–4 times a week as well as cool video tutorials for more specific issues. She also shares tools and resources she finds useful to complete various SEO tasks. Sometimes Christine shares exclusive checklists or runs giveaways of access to some premium SEO tools.
About the owner
Christine Maisel has been a web designer and SEO for over 15 years. She has taught local SEO to over 10,000 students. Also, she is the founder of the Portable Entrepreneur project where she helps web design and SEO entrepreneurs start and grow their business.
SEO Signals Lab
Join SEO Signals Lab Group
Members: 9,262
Owner: Steven Kang
Type: closed
Topics: SEO, digital marketing

Steven Kang, the owner of SEO Signals Lab, believes that SEO is a not a rock-solid discipline that one can learn from some textbook. His group SEO Signals Lab helps users achieve success in this niche offering them the latest data-driven info from reliable resources. Steven has developed a signals framework that allowed him to run multiple successful SEO campaigns. Now he shares his experience and information collected via data-driven SEO with the community for free.
Members of the group regularly share their data to help others find the right framework for their SEO activity. The group owners are also reaching out to the industry leaders for their insights and knowledge. They're currently working on the value-added resources section for easy access.
One of the main goals of the group is creating a friendly communicating environment where everyone can learn something from others. Steven names open dialog one of the best means for learning and growing.
About the owner
Steven has been working in marketing for almost 20 years building strategy for various businesses, including Fortune 500 companies like Toshiba, Target, Dominos, Johnson Controls, McAfee, and AT&T. He developed his own digital marketing strategies to help business owners increase their ROI and improve their online marketing presence. One of the projects he was involved in was a supply chain SAAS startup that has been sold for millions.
SEO Cheat Guides
Join SEO Cheat Guides Group
Members: 7,797
Owner: Stuart Trier
Type: closed
Topics: SEO, marketing

By the claim of Stuart Trier, the SEO Cheat Guides founder, the group was born out of his wish to share and discuss the tips and experience he achieved during his work as an independent SEO professional. The training is an endless process for every professional who wants to grow and leverage the skills they have. Thus, this group is aimed at all SEO's and digital marketers to help them provide high-class services to their clients.
The group is regularly updated with videos, interviews, and links to helpful articles, giveaways of worksheets, mappings, and templates that should ease the working routine for SEO professionals and internet marketers. You will also find success stories from the group members there. Stuart spends a lot of time answering calls and private messages to help people accelerate their growth.
About the owner
Stuart carries all the qualities of a true serial entrepreneur. His over 15-year experience in various niches of digital marketing, business management, business development and tactical sales resulted in SEO Cheat Guides project creation. Process Maps he developed have already helped over 6,000 SEOs to simplify their SEO, outreach and lead generation routine.
SEO Jungle
Join SEO Jungle Group
Members: 6,240
Owner: Gabriel Machuret
Type: closed
Topics: SEO, marketing

SEO Jungle group was created to provide SEO professionals, entrepreneurs and everyone who uses SEO as the core part of their strategy with the freshest tips and solutions in this marketing niche. Gabriel Machuret, the group owner, believes that SEO is more than just links and it is strongly based on human behavior. That's why he created a group that is aimed at people who wish to grow and empower.
SEO Jungle group has grown to over 5,000 members in only 3 months, making it one of the fastest growing SEO communities on Facebook. It offers its members daily FB live sessions, useful tips, and resources. Its content is mainly focused on business, sales, growth, and the means of positions of SEO services.
About the owner
Gabriel defines himself as one of the App Store Optimization pioneers in the world. His book about ASO was downloaded over 2,000 times, and his Advanced ASO course was sold 200 times during the first 48 hours. He has been working as an SEO consultant for 5 years and helping over 400 entrepreneurs each year with their businesses coaching them SEO strategy, link building, and social media management. Gabriel is currently the head of WarriorForum.com.
Ahrefs Insider
Join Ahrefs Insider Group
Members: 4,418
Owner: Tim Soulo
Type: closed
Topics: SEO, marketing
Started over a year ago, Ahrefs Insider group was initially aimed at helping Ahrefs users with their questions about the toolset. But very soon it grew into a robust community of SEOs and marketers where they can ask anything about Ahrefs as well as find solutions to any SEO issues they might encounter in their work. And when I say SEO, I mean White Hat only. Black Hat topics are a big no-no!
This group is a closed one. It is heavily moderated by Tim and his team to keep it clean from spam, irrelevant questions, and other stuff. Since it is mostly aimed at loyal Ahrefs subscribers, one will find tons of lesser-known SEO tricks and hacks that were tried in practice there. Thus, there are regular discussions of various SEO challenges and controversial topics under the #SEOValueBomb hashtag. One who leaves the best and the most valuable comment gets a month of Ahrefs subscription for free.
The members of Ahrefs Insider are amazingly responsive. They actively take part in discussions and share their suggestions to make Ahrefs even better.
About the owner
I guess everybody knows Tim as the head of marketing and product strategy here at Ahrefs. Tons of articles at Ahrefs blog, loads of videos at Ahrefs YouTube channel (that has already reached one million of views), and hundreds of other activities — it is Tim's work. Having over 7 years of SEO and digital marketing experience, he regularly participates in Live Talks, conferences and other professional events, like the recent Chiang Mai SEO conf.
The Super Cool Dan Ray White Hat SEO and Link Building Group
Join Dan Ray White Hat SEO Group
Members: 2,572
Owner: Dan Ray
Type: closed
Topics: SEO, marketing

Dan Ray, the group owner, wished to create a high-quality group focused on White Hat SEO tactics instead of the majority of Black-Hat-focused ones. He aimed at building a community of people who wanted to learn outreach and link-building strategies.
It is one of the heavily moderated groups on the Facebook. Dan checks out the profile of each applicant to ensure these are the people genuinely interested in SEO and the industry techniques. The group is entirely free from self-serving links but welcomes good questions and practical advice. Dan claims he always tests and encourages others to test all the catchy ideas users drop to the community. There are tons of case studies and practical advice shared inside the group.
Dan doesn't often run giveaways and contests but he did AMA sessions occasionally where some brilliant professionals participated.
About the owner
Dan has focused on online business that gives him an opportunity to work only a few hours a day, from home or anywhere in the world. Today he runs a six-figure digital agency helping over 100,000 member community with link-building strategies. On his blog, you won't find clickbait content that offers "XX tips of getting free traffic" or so. Dan rather gives you a step-by-step strategy for achieving a decent income staying at home.
Dumb SEO Questions
Join Dumb SEO Questions Group
Members: 1,925
Owner: Jim Munro
Type: closed
Topics: SEO, marketing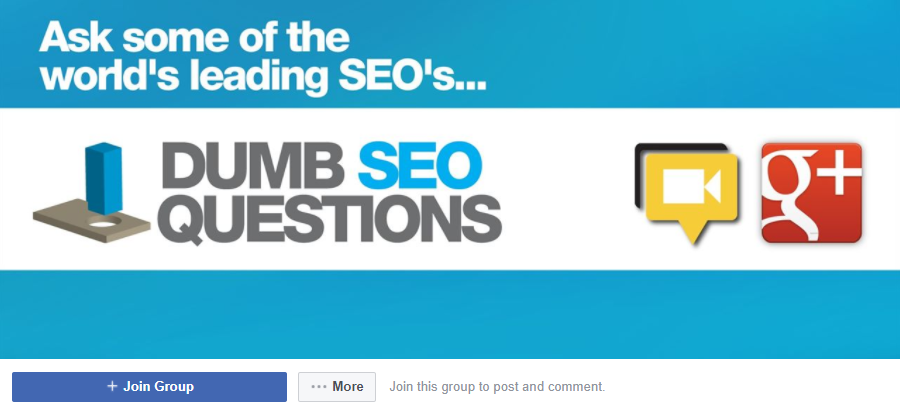 This group was initially created to support a similar community of users on Google+. The team of enthusiasts decided to create a Dumb SEO Questions group on Facebook because of the uncertain future of G+. It now has over 1,000 of loyal members who regularly contribute their questions to the group. The panelists include leading SEOs like Dan Petrovic, who regularly answer the most demanding questions in the SEO field.
This group is closely focused on AMA sessions. Every week the panelists answer the questions of Dumb SEO Questions community, both from Facebook and G+, during the hangout-on-air. Their longest live session (so far) was cut on YouTube at eight hours! The number of recorded episodes of Dumb SEO Questions counts 260 at the moment.
About the owner
Jim moderates the Dumb SEO Questions group. He funded its development, but the ongoing direction of the group is guided by the consensus of the panelists. At 66, Jim has retired from most of the businesses he founded. He is immensely proud of his three sons who now run a Gold Coast IT business they have advanced to be a double-gold-certified Microsoft Partner.
In between spending quality time with his grandchildren, Jim maintains his passion for SEO by continuing to provide ongoing hosting/e‑commerce site development and SEO guidance for a small group of closely-held, long-term clients.
Make Your Choice
The social media are well-known langoliers that may keep you 'busy' for hours purposelessly scrolling the feed. But professional communities for SEOs may help you procrastinate for a reason. You can find a community of like-minded people to get help or answers to your issues there.
Of course, this list above is not exhaustive. There are more groups that may attract your attention and be of help in other marketing niches aside from SEO. Share your thoughts in comments and let us (and group owners) know what do you expect from a perfect Facebook SEO group.