SEO has changed a lot over the past few years as Google has taken action to crack down on spammy SEO practices.
One thing that Google really went after was duplicate content on low quality sites (that were created to generate ad revenue or as part of a network to drive links to other sites).
While this crackdown encouraged SEO's to start moving towards creating high quality unique content, it also generated a new myth…
That off-site duplicate content is bad for SEO.
If you've successfully promoted any website, then one of the things you've probably noticed is that you get more and more natural links without even having to ask for them.
And one of the best ways to get more exposure from the content you are creating is through syndication.
There is No Offsite Duplicate Content Penalty
Matt Cutts from Google has said that there is no offsite duplicate content penalty and this article gives some explanation of how Google treats offsite duplicate content:
Google's Matt Cutts: Duplicate Content Won't Hurt You, Unless It Is Spammy
In fact, Matt also said that 25–30% of the web is duplicate content and that you don't have to worry about it if you aren't trying to spam.
Although there isn't a penalty, many webmasters still fear losing website traffic from offsite duplicate content.
If you're still worried about the whole offsite duplicate content thing, take a closer look at these 9 businesses and how they accelerated their growth through content syndication.
If you're a social media professional or content marketer, then you've probably heard of Buffer. They've grown a multi-million dollar business from content marketing and are one of the most well known examples of good content marketing done right.
Leo Widrich, one of the founders of Buffer, did 50 guest posts to start building Buffer's audience.
However, as Buffer grew, they moved from guest posting to syndication. This post on their blog goes into a good amount of detail about how they were able to grow more efficiently by syndicating their content onto other websites:
How to Become a Columnist: The Ultimate Guide to Guest Posting and Syndication
Did syndicating content onto other media sites hurt their search engine traffic? In the comments below the article, Leo attached an Analytics screenshot of their SEO traffic.


As you can see, Buffer's SEO traffic continued to rise despite duplicating their content onto other sites.
Wordstream has achieved a lot of success with content marketing and is particularly well known in the PPC space.
Search engines drive a lot of traffic to their blog, but Larry also uses syndication to increase the reach of his content.
For example, this article was originally published on Marketing Profs:
These Six Stupid Marketing Metrics Need to Die
Then syndicated onto LinkedIn:
https://www.linkedin.com/pulse/six-stupid-marketing-metrics-need-die-larry-kim
And later on the Wordstream blog:
http://www.wordstream.com/blog/ws/2015/06/18/stupid-marketing-metrics
Has syndication hurt Wordstream's SEO traffic?
Let the chart below say it: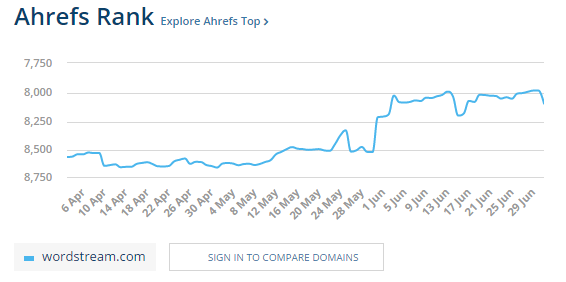 The KissMetrics blog is also well known for their success with content marketing. In this post, Neil Patel discusses some of the SEO problems that KissMetrics ran into from syndicating their content.
Basically, Kissmetrics had copied their articles onto Entrepreneur and Search Engine Journal. When the Panda 4.0 update rolled out in May of 2014, they lost some of their search engine traffic.
Neil also referenced Matt Cutts who was quoted saying that duplicate content won't hurt you unless you are spamming:
Google's Matt Cutts: Duplicate Content Won't Hurt You Unless It Is Spammy
While offsite duplicate content doesn't result in an actual penalty, it is possible for the syndicated copy of the article to outrank the original. Thus, the syndicated copy could end up getting the search engine traffic instead of the original on your site.
Despite problems with syndication, Neil still chose to continue to syndicate due to the benefits of increased brand exposure.
However, to prevent other sites from siphoning SEO traffic from the source, Kissmetrics implemented the rel=canonical tag on sites where they syndicated their content.
Another business that has successfully grown through content marketing is Help Scout, a help desk SAAS company.
Gregory Ciotti originally published this article on the Help Scout blog:
Why Steve Jobs Didn't Listen to His Customers
But the article really took off when he republished it on LinkedIn, generating over 250,000 views:
https://www.linkedin.com/pulse/20140619163106–56883908-why-steve-jobs-never-listened-to-his-customers
Greg explains some of the results of syndicating Help Scout's content on LinkedIn in this post: 6 Content Marketing Takeaways from 30 Days of LinkedIn Publishing
On average, each post got over 1,000 views simply from republishing the exact article on LinkedIn even after you remove the popular Steve Jobs article from the numbers.
Some articles sent over 1,000 new visitors to their site from LinkedIn:
James Clear blogs about personal productivity and has been able to grow his audience to over 100,000 subscribers. Syndicating his content on other high traffic sites like Buffer and LifeHacker is one of his core strategies.
In this article, James details how he scaled up his blog growth through syndication and why he chose to focus on syndication and ditch guest posting:
The problem with guest posting is that it wasn't scalable enough. Writing a high quality blog post takes a lot of time, so James decided to use syndication to leverage his content instead.
One article on Lifehacker, for example, sent James 600 new subscribers.
You can see some of James's articles that he syndicated on Buffer here:
https://blog.bufferapp.com/author/james-clear
And here's a syndicated article from his blog on Lifehacker that got over 38,000 views:
Why Having Purpose is the Secret to a Longer Happier Life
Originally published here on his blog:
http://jamesclear.com/live-longer
Referring domains and natural backlinks have increased steadily for jamesclear.com over the past few years: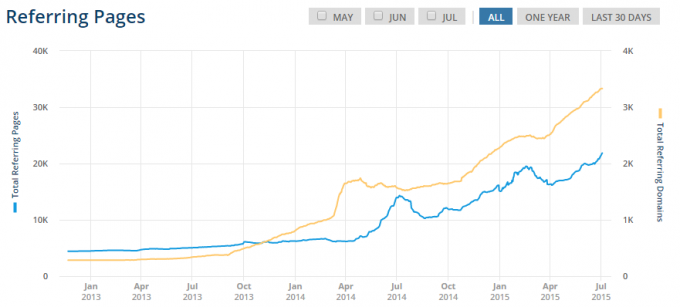 Brian Honigman is a well known content marketing consultant who's been featured on Mashable, Entrepreneur, The Next Web and various other sites.
Getting featured on these sites gets Brian a lot of exposure and also increases backlinks to his domain. Here's an Ahrefs screenshot of backlink growth to brianhonigman.com since 2013.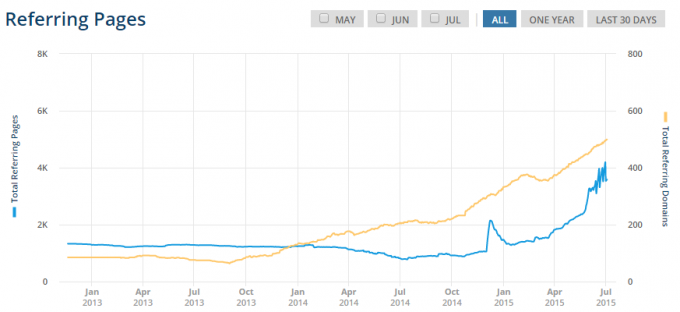 Brian Honigman writes about his experience with content syndication here:
The Ultimate Guide to Content Syndication: More Content in Less Time
With syndication, Brian is able to leverage his content on sites with large audience and get authority links to his site on a regular basis.
Trent Dyrsmid runs Brightideas.co and is both a blogger and podcaster. He was frustrated at not being able to increase his traffic past 4,000 visitors a month, but luckily had the opportunity to connect with and get advice from James Clear.
After focusing on creating quality content and adding syndication to his promotion strategy, he was able to increase visits by over 68.5% and nearly double page views on his site.
This case study on his site tells the story and goes into more details about his results:
The Bright Ideas Traffic Report: Amazing Results from Effective Content Promotion
If you're looking for another example outside of the business and marketing space, check out Learnvest. The Learnvest's goal is to teach women personal financial management.
Syndication allowed Learnvest to become a thought leader in the financial advice space. Asides from publishing on their blog, Learnvest also has 50 syndication partners in place to increase exposure to their brand through content.
This interview with Learnvest's editor-in-chief Carrie Sloan gives a good overview of their content and syndication strategy: How Content Helped LearnVest Become a Trusted Authority in Financial Advice
Content Marketing Institute has become a thought leader in content marketing and grown a subscriber list of over 100,000.
How do they feel about syndication?
In their guest blogging guidelines, they allow guest contributors to republish their articles elsewhere after two weeks of going live provided that they link back to the original source:
http://contentmarketinginstitute.com/blog/blog-guidelines
Despite allowing guest posters to syndicate their posts, traffic has continued to increase over time: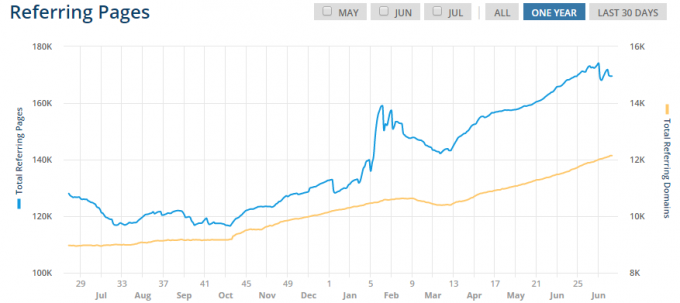 What You Can Learn from Other People's Syndication Experiences
Luckily, a good number of people have shared their experiences with syndication and SEO. While syndication can accelerate your content marketing results, some precautions need to be taken to also obtain the optimal SEO results.
Google's updates were intended to target sites that were copying low quality content to other low traffic sites, but not to punish legitimate businesses that were already using syndication to get exposure on authority sites.
Unfortunately, Google's algorithm is far from perfect so it is necessary for content producers to take some precautions.
For the best effects, you should abide by the following guidelines to get the benefits of syndication without reducing your SEO traffic.
1. Don't Automatically Syndicate Everything – Be Selective
Some sites like Business2Community will allow you to add your RSS feed so that every post on your blog is automatically syndicated to their site.
A lot of bloggers might be tempted to do this since it would make syndication easy, but that would mean that every single post on your blog has a duplicate copy that could compete with the original in the search engines.
Scraper sites are 100% duplicate content, so syndicating 100% of your blog posts could make you look like a scraper site, which is what Google's Panda updates were intended to address.
Furthermore, many of these sites will publish quickly so your article might not get indexed first.
Instead syndicate only your best content on other blogs and choose content that is targeted towards that site's audience.
Mike Allton use to syndicate everything automatically, but noticed a significant traffic increase when he stopped. Instead Mike is now more selective about what content he syndicates: Can Content Syndication Make You a Happy Blogger?
Highly successful content marketers like the ones mentioned above also syndicate only their best articles.
Another great reason not to syndicate everything is that when people visit your site from your syndicated articles, you want them to see some original articles. That way, they'll have a reason to visit your site again in the future and subscribe to your email list rather than consume your content at the other site.
2. Make sure your post gets indexed first
When syndicating content from your site, you want to make sure your version of the post gets indexed first.
Some successful bloggers will wait a week or two before publishing on other sites.
Nick Steeves from Wishpond initially ran into a few SEO problems when syndicating. He later used Google Webmaster Tools (Google Search Console) to make sure his article got indexed right away so that the article on his site would be recognized as the original.
Basically, all you have to do is log into Search Console, then click "Crawl" and "Fetch as Google. Enter the URL and click "Fetch".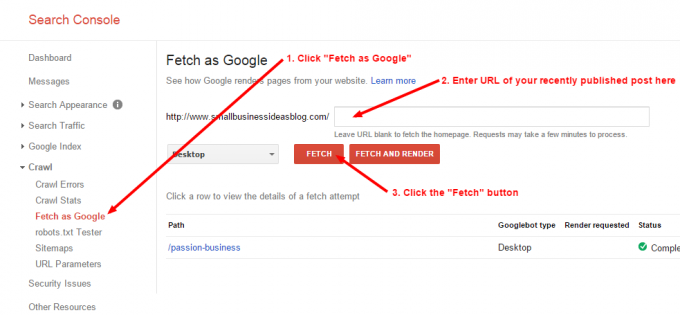 You can read this article for a full tutorial: How to Syndicate Blog Content While Maintaining SEO
3. Use rel=canonical if possible
To let Google know which copy of the article is the original, you can use the rel=canonical tag on the syndicated copies of your article if the other site will allow it.
To implement this tag, all the other blogger needs to do is add the following line of code to the header of their site.
<link rel="canonical" href="http://yoursite.com/articlelink">
This tag will officially let Google know that the original version of the article is on your site.
4. Syndicate offsite content
Unfortunately, many larger sites won't set up a rel=canonical tag for you. If you have the time and resources, you may want to consider creating unique content for your offsite channels and having only original content on your own site.
For example, Business2Community, Medium and LinkedIn all allow syndicated content. So you can publish a unique article on Business2Community and syndicate it on LinkedIn and Medium.
When syndicating one of your guest posts from another blog, be sure to ask permission before syndicating since some blogs want only original articles on their site.
To Sum It Up…
Search engines are not perfect and unfortunately, we do have to be careful with offsite duplicate content. But choosing to ignore syndication completely would be leaving a lot of traffic on the table.
Instead we need to syndicate responsibly by choosing channels that are targeted towards our ideal audience and following SEO best practices whenever possible.