When you just start with SEO you hear a lot about the benefits of broken linkbuilding.
Quite often you can find broken links on pages with some authority and these links are editorial in most cases, which gives them additional power.
But the common problem is:
Where to start when searching for broken links?
Russ Jones created what I found to be the "Complete Guide" to broken link building on MOZ.
But if you only read the content summary of the article, you will surely be overwhelmed by the sheer amount of information you need to process in order to make this work for you.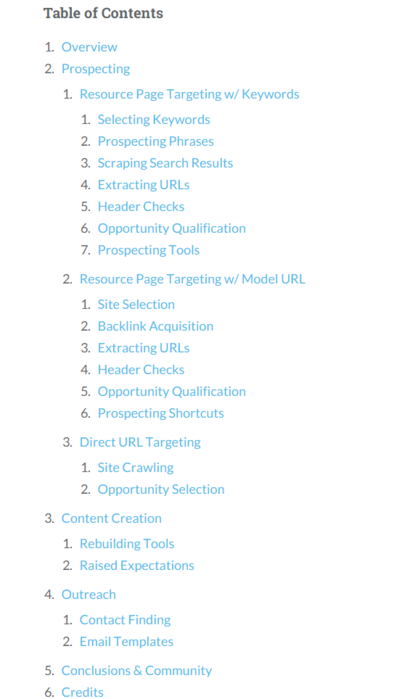 I have been trying to simplify the process for ages, and until recently, I had to do the same way everyone else does it, and I hated it.
It generates awesome results though, which is the only reason I did it.
A few days ago, while surfing trough expireddomains.net it struck me that I should reverse the process.
Instead of looking for pages with broken links I should rather grab a "dead" site and find everyone who's still linking to it.
And it worked like a charm!
Required Tools:
Google Docs Spreadsheet
Finding expired domains with backlinks.
The type of domains you are looking for is defined by one of two characteristics (or both, if you want to target a specific language for a specific keyword):
Niche: Since it used to be one of the "SEO's Best Practices", you will still find many websites with their main keyword in the domain name.
Top Level Domain: If you want to target a specific language, it is done in the easiest way by filtering the results based on the TLD. de for Germany, .it for Italy etc…
Let me show you how to find domains for a competitive keyword like "VPN" with live backlinks on them.
Prospecting
Step 1. Search for the main keyword, in our case "VPN"

Step 2. Sort by the number of backlinks from different domains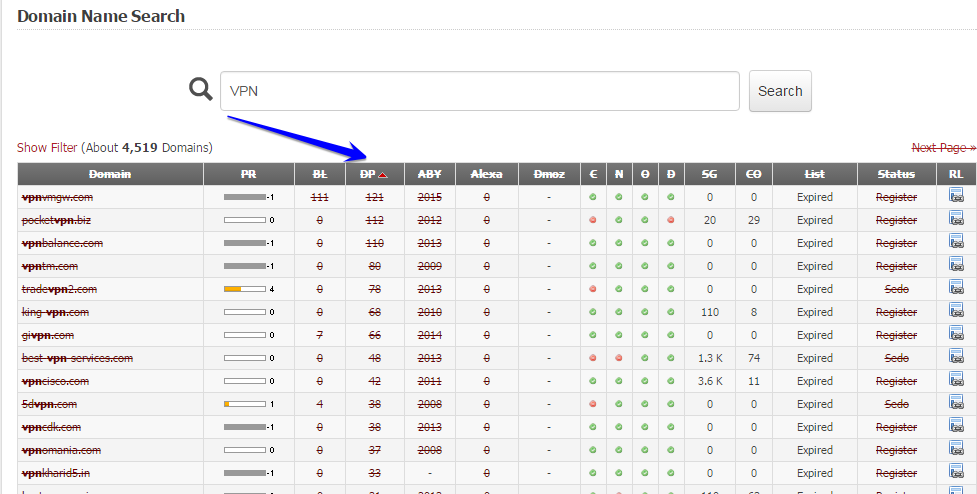 Step 3. Copy the domains you have found in a Google doc sheet, keeping only the link volume data. I usually cut the list off at 10 backlinks.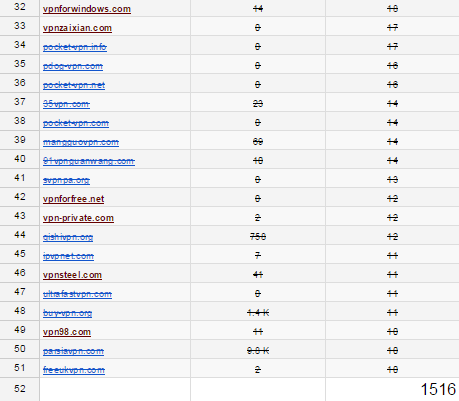 With only 5 minutes of work, I got 50 related domains with approximately 1516 backlinks from different sites pointing to them.
That is an awesome achievement for such a short investment of time.
Similar to this, you can also search for domains by keyword and top level domain; just add them both in the search.
For example "VPN .fr"

Link Quality Validation
While some of the domains may have a massive amount of active backlinks, you still need to make sure that those backlinks are of good quality.
For example: The top of our list has: vpnvmgw.com, and if you check it in Ahrefs.com site explorer, the top stats will look impressive- 15.000 backlinks from 772 domains.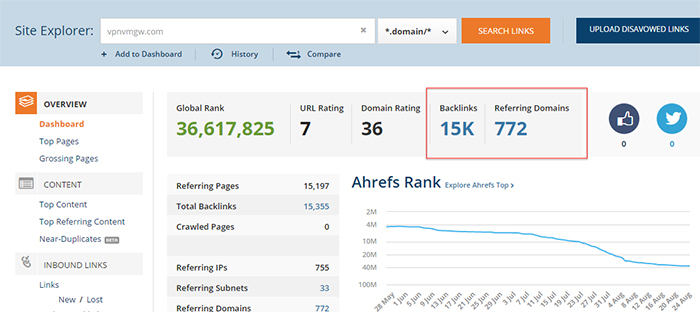 What raises up the suspicion at the first glance is the low global rank, and especially the low URL rank, with such a big amount of backlinks.
For comparison: A website from the same niche I have been working on, has a multiple times higher URL Rating and Global rank with less backlinks.

If you check further down in the vpnvmgw.com Ahrefs overview, you will see that all their backlinks come from China, and that the anchor text is Chinese, which makes them worthless for us.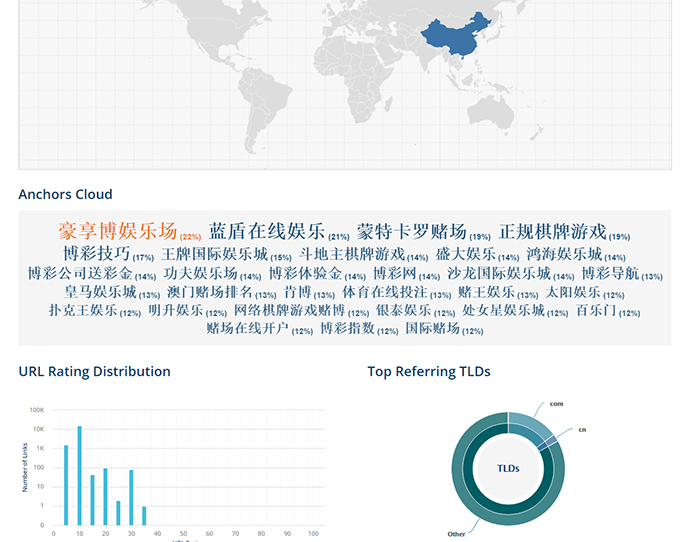 I have to warn you, there will be a lot of junk, even though most websites remove 404 links as soon as they appear. What is left is mostly junk, or some leftovers of failed link building attempts, which were also the reason the domains were left to expire in the first place.
BUT, from time to time, you will find a gem, something like freeukvpn.com in our case.
It doesn´t look like much, only 62 referring domains and 107 Dofollow backlinks, but when you check their anchors, and the referring domains, you can see that it looks, more or less, natural.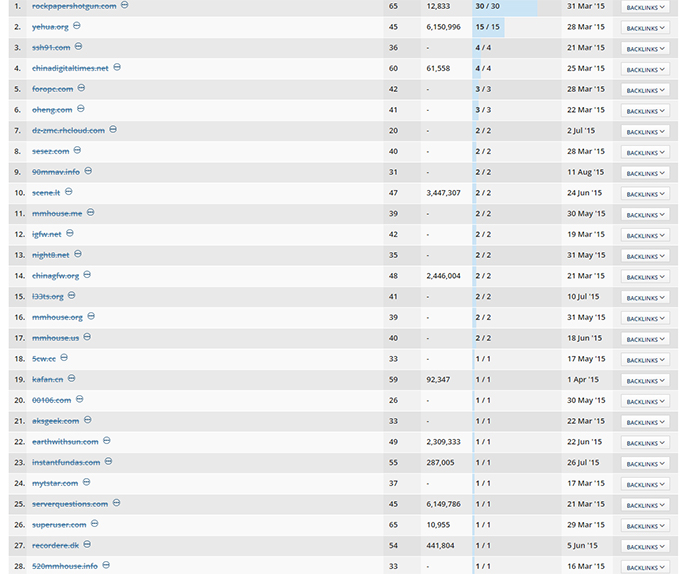 Some forum references, some blog mentions, all sweet and nice, gives you material to work with.
You can join the forum and mention that the linked website is out of service and show your resource.
TIP #1: Try to leave at least 20 answers on the forum earlier, and be registered for at least a week, so it doesn't look like a spam.
You can contact the blog / website owner, show them the broken link, and ask them to refer to your resource on the similar topic.
TIP #2: If the website has no contact details presented, try the whois database (http://www.whois.com/whois/*URL*). If the owner hadn't protected his contact data, you will easily find the email address under which the domain got registered, which allows you to contact the domain holder directly.
Using this method I managed to get leads for 120 broken backlinks from relevant domains in my targeted niche. Creating and having the content to back them up, offers made to those website owners increased my chances for a backlink massively.
Important: Make sure that the organic looking backlinks don´t come from spam domains, or from a penalized PBN (Private Blog Network).
You can always check the domain metrics with SEOQuake, or the Domain Authority with the Moz toolbar, which ever is easier for you.
Another option to get useful linkjuice from these expired domains, would be to buy the expired domain, recreate the directories and pages, and redirect the high quality backlinks with a 301 redirection to my own website.
While there is a certain loss in link equity, and you certainly don't want to have too many backlinks from redirections in order to keep an organic link profile, this method can save a lot of time and can give you a quick boost for your rankings.
Getting Free Content From Expired Domains
Another benefit of this method of broken link building is that you can come across websites with high quality content, which is actually deleted, not indexed in Google anymore, and copyscape proof.
For example, a deleted domain TheFamilyFinances.com has 154 Results under the tab "Top Pages" in Ahrefs which means there are probably 153 deleted blog posts which have been present on this domain.

"They are deleted, so what use do I have from them?"
Is what you are asking yourself now probably?
Well, let me show you how you can extract the content from those pages, and feel free to have a facepalm for not thinking about it earlier.
On the website TheFamilyFinances.com, I found some interesting series posted in 2012 named "The costs of raising a baby".
As a father, this is an interesting topic for me, and I guess for you as well. It might be somewhat outdated, due to price changes, but the topic is still hot.
So I took the URL of the article: "The Cost of Rising a Baby: Formula":
thefamilyfinances.com/2012/03/07/the-costs-of-raising-baby-formula-2/
Run it in Archive.org, and I got the article: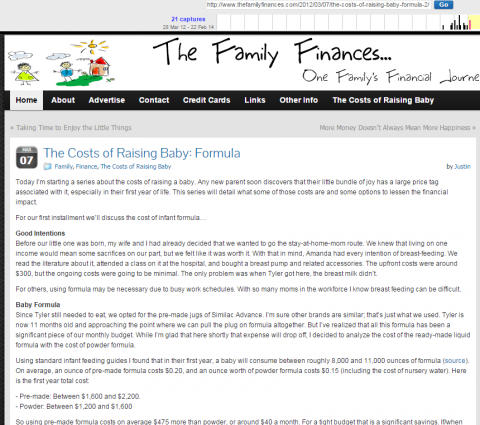 Just to make sure that the text is not indexed somewhere, I used plagtracker.com and run a check on a few paragraphs or the whole text.

Alternatively, you can also take a paragraph from the text and run it under quotation marks in Google, and see if there is an exact match for the paragraph.
Since the page had links to related posts, I managed to harvest a full series about "The Cost of Raising a Baby" which created a volume of over 4.000 words with unique content.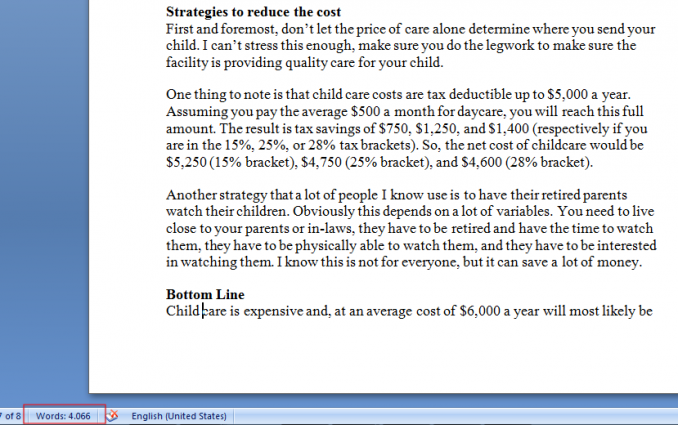 Now to the facepalm I've promised you: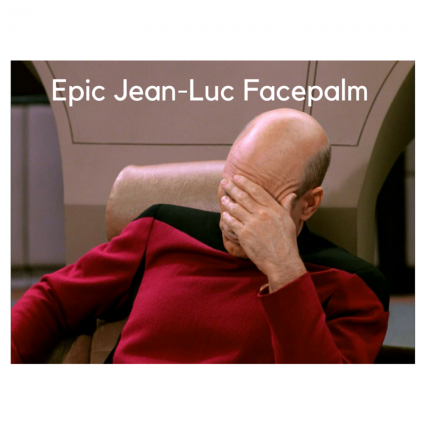 The right thing to do…
I could use this content as a resource on my own page and ask websites linking to the former source for a backlink without creating my own content on the topic, which saves time and money.
Just to be fair, try to contact and сredit the original author of the content, reference him in every case.
The content is most probably dumped and will never again be used, but asking the owner for the permission makes the difference between re-purposing content and stealing it.
I hope you liked these 2 simple techniques and that they will make your work somewhat easier.
If you need any help, or feel that something was left out in this article, feel free to ask in the comments. I will answer all questions.