Ahrefs offers a wide range of free SEO tools for digital marketers on a tight budget.
In this article, I'm going to walk you through each tool and when to use it.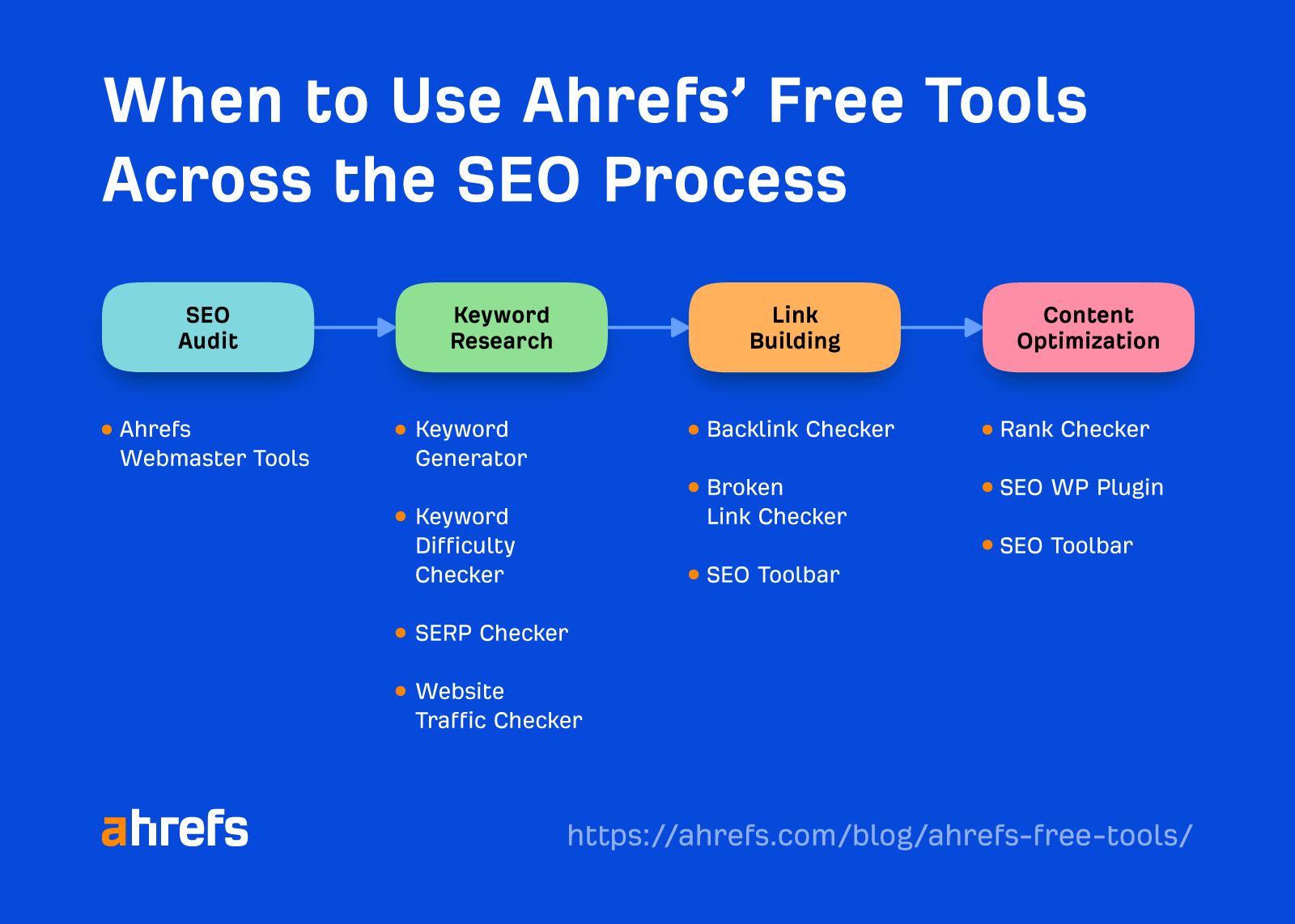 Setting up your website for success means starting with the basics: making sure it's in good shape, both from a technical and backlink standpoint.
This involves a technical audit to check your website's SEO performance, as well as a backlink audit to see if there are any spammy backlinks that could hinder your future link building efforts.
Ahrefs Webmaster Tools (AWT) is the right tool for the job. It gives you access to two of our core tools: Site Audit (for the technical audit part) and Site Explorer (for the backlink audit part).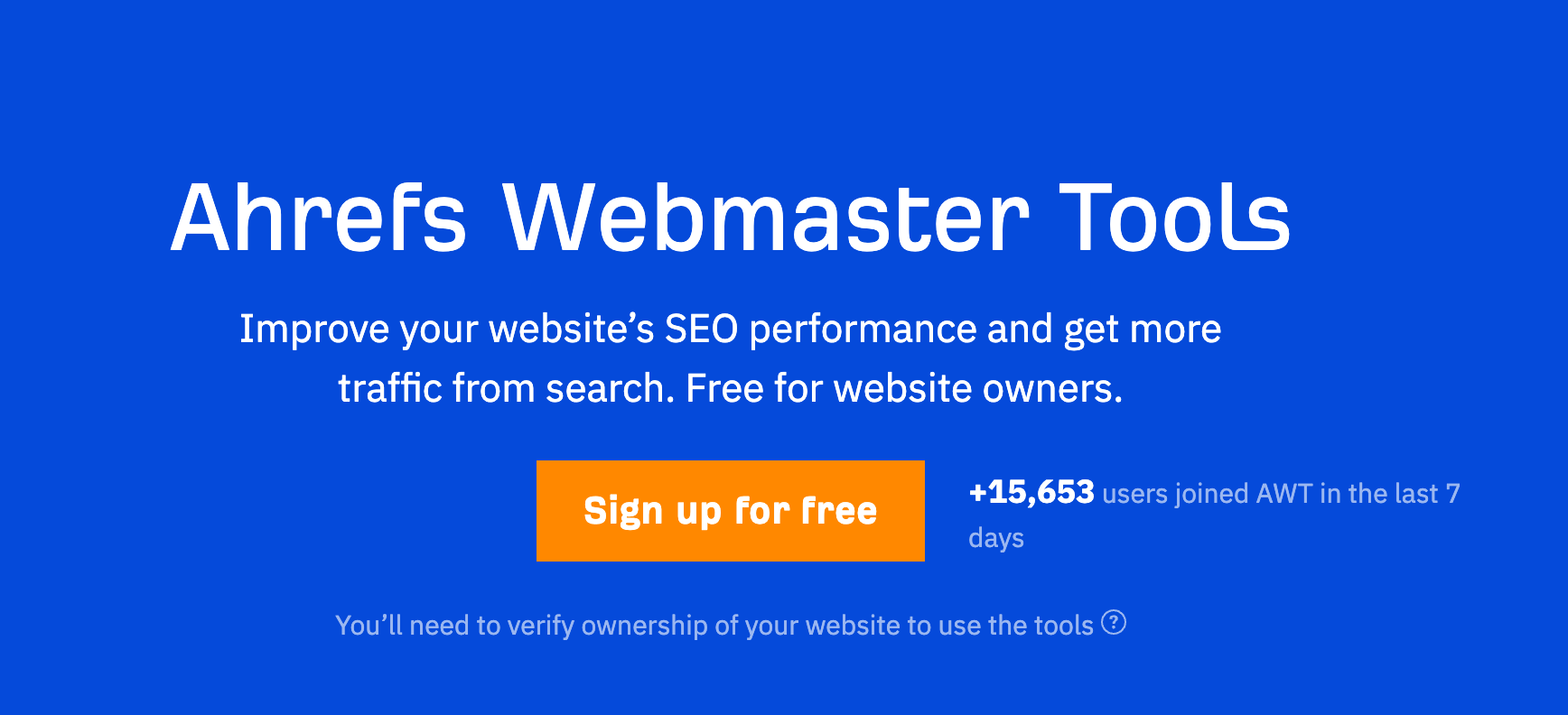 Once you've created a free account and imported your projects from Google Search Console (GSC), AWT will automatically run a comprehensive crawl of your website to check for 140+ predefined SEO and on-page issues.
These are more than what GSC covers. You can access them from the All issues report in Site Audit, where you can sort them by importance and tackle them accordingly.

Click on the question mark beside each issue to get detailed information and learn how to fix it.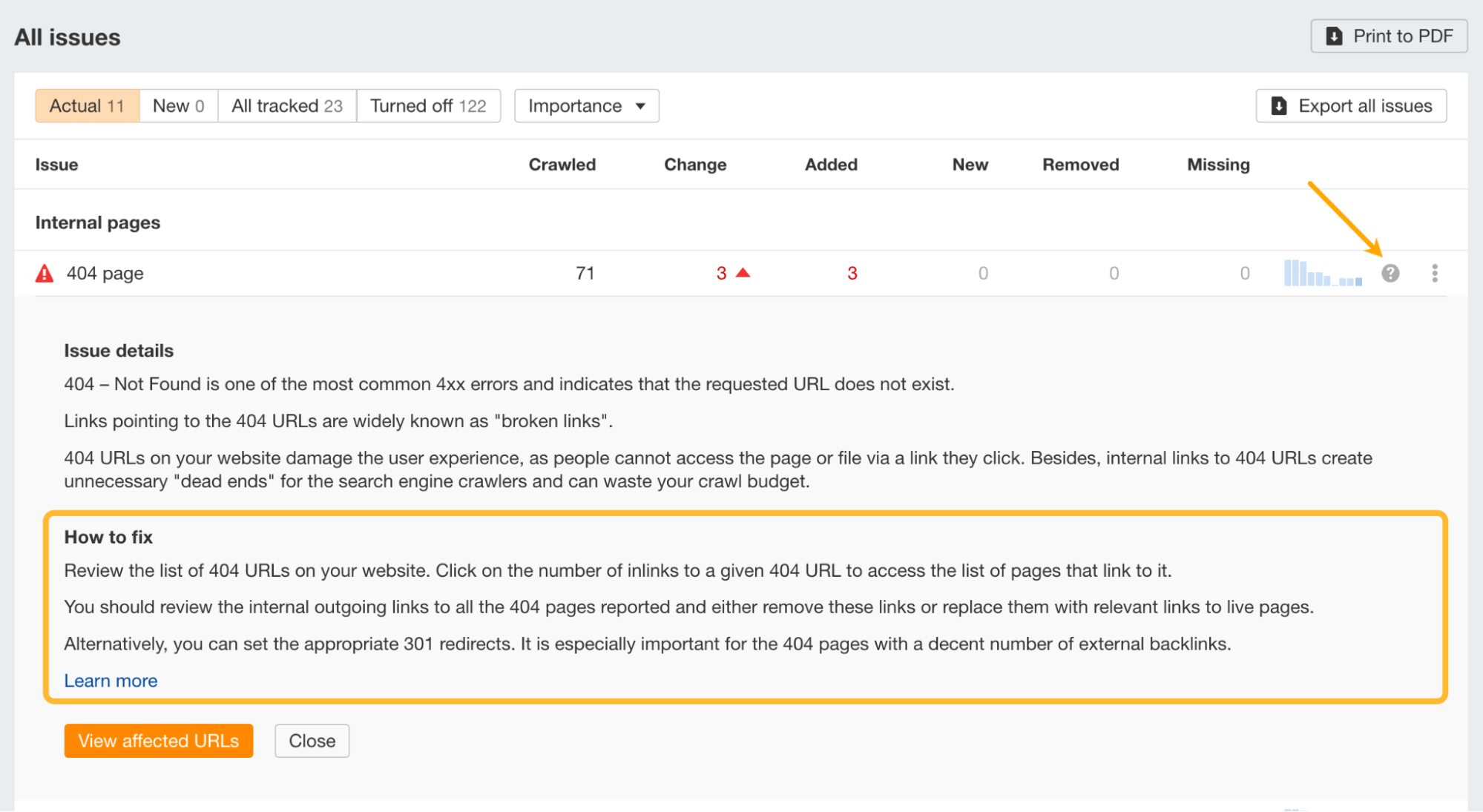 GET INTERNAL LINKING SUGGESTIONS
Although not technically related, the Internal link opportunities report is a hidden gem.
This report is basically about finding internal linking suggestions on autopilot. It does so by looking at the top 10 keywords for each of your website's ranking pages and finding mentions of them on your other pages.

Use it to level up your internal linking game and pass on link equity from high-authority pages to lower-authority ones.
Moving on to AWT's other tool, let's look at Site Explorer, which gives you a high-level view of your website's backlink profile throughout various reports.
Right off the bat, you can see the cumulative backlinks and unique referring domains for your website in Overview 2.0. The size of your backlink profile makes much more sense, though, when compared to the competition (more on this in point #7 of this article).

The "Performance" chart can also paint a picture of the pace at which you've acquired links from unique referring domains. Any significant spikes followed by a sudden dip may indicate a negative SEO attack to be wary of. Luckily, we've experienced steady growth.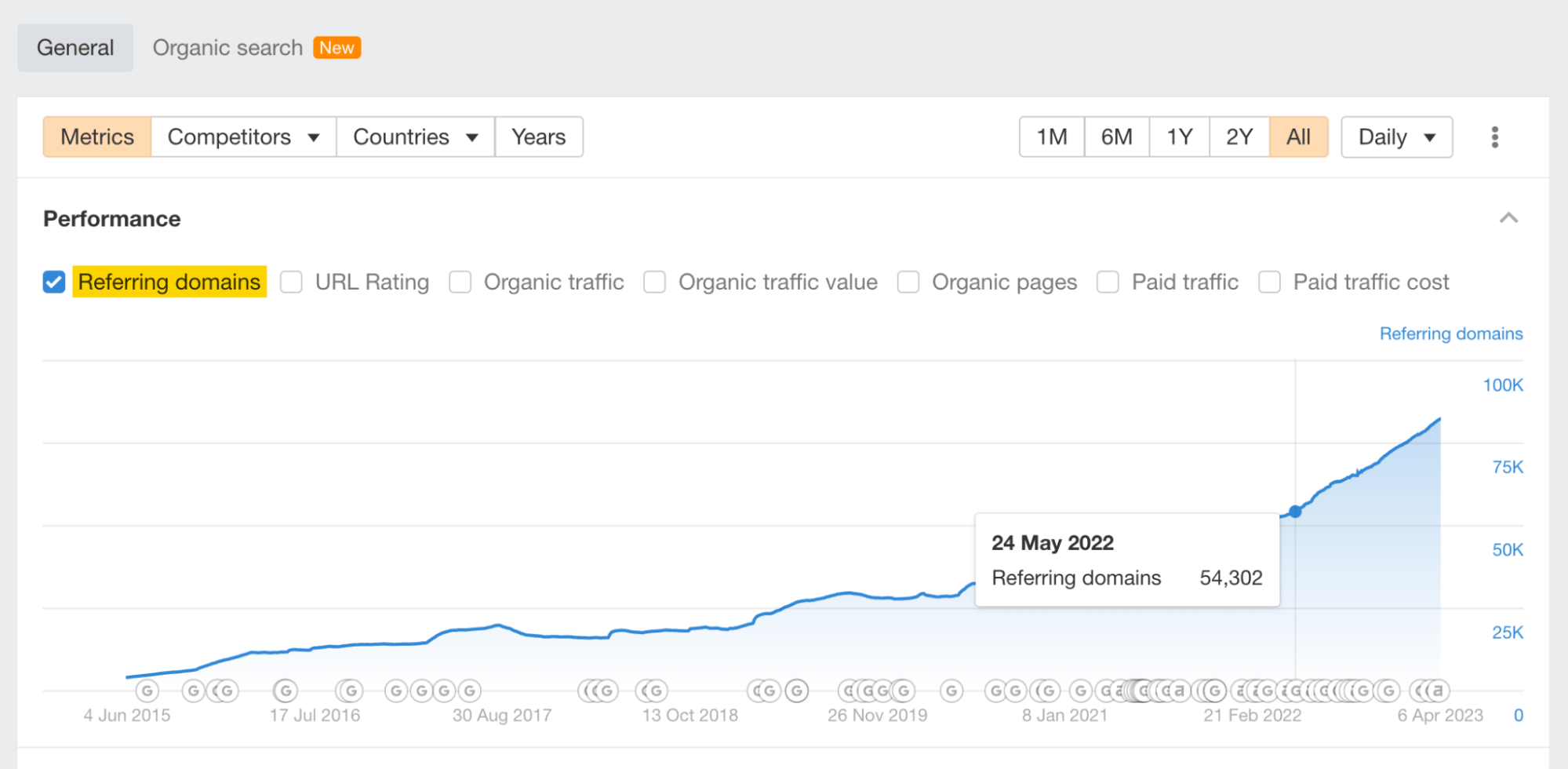 For a more in-depth view of your backlink profile, the Backlinks and Best by links reports are your go-tos.
For example, (1) you can check the Best by links one, (2) apply a 404 HTTP status code filter, and (3) filter out your most linked-to broken pages. Since they're broken, they're wasting link equity.
Next, you can fix them and ask the referring domains to link back to the new fixed pages or redirect some of them to relevant pages.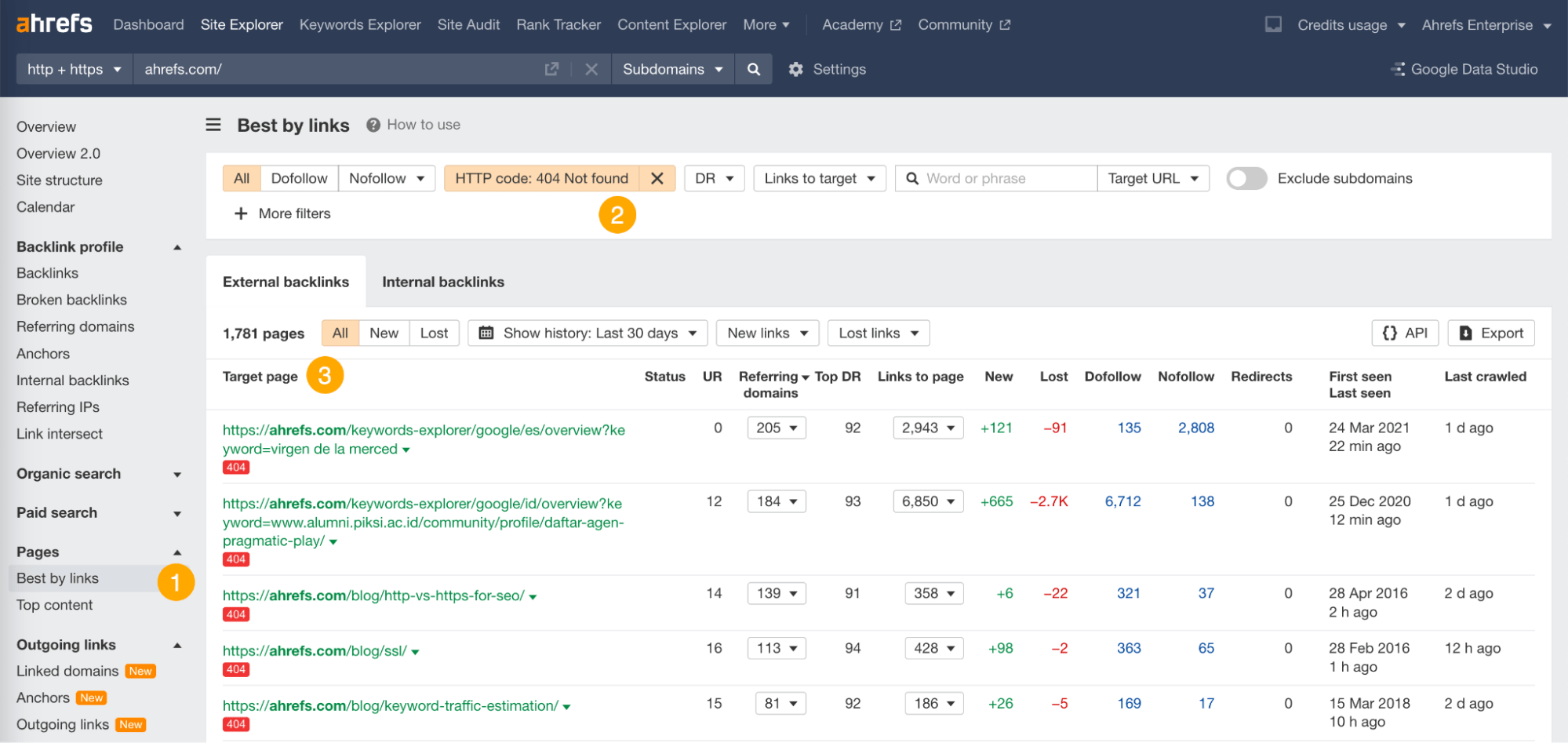 With your website in good shape, the next step in the SEO process is keyword research. This boils down to picking the right keywords that can drive targeted search traffic to your website.
Our free keyword generator can help you discover 150 keyword ideas for (almost) any keyword.
Just type in a broad keyword like "drone," hit "Find keywords," and you'll see the top 100 most popular keywords. And the top 50 related questions.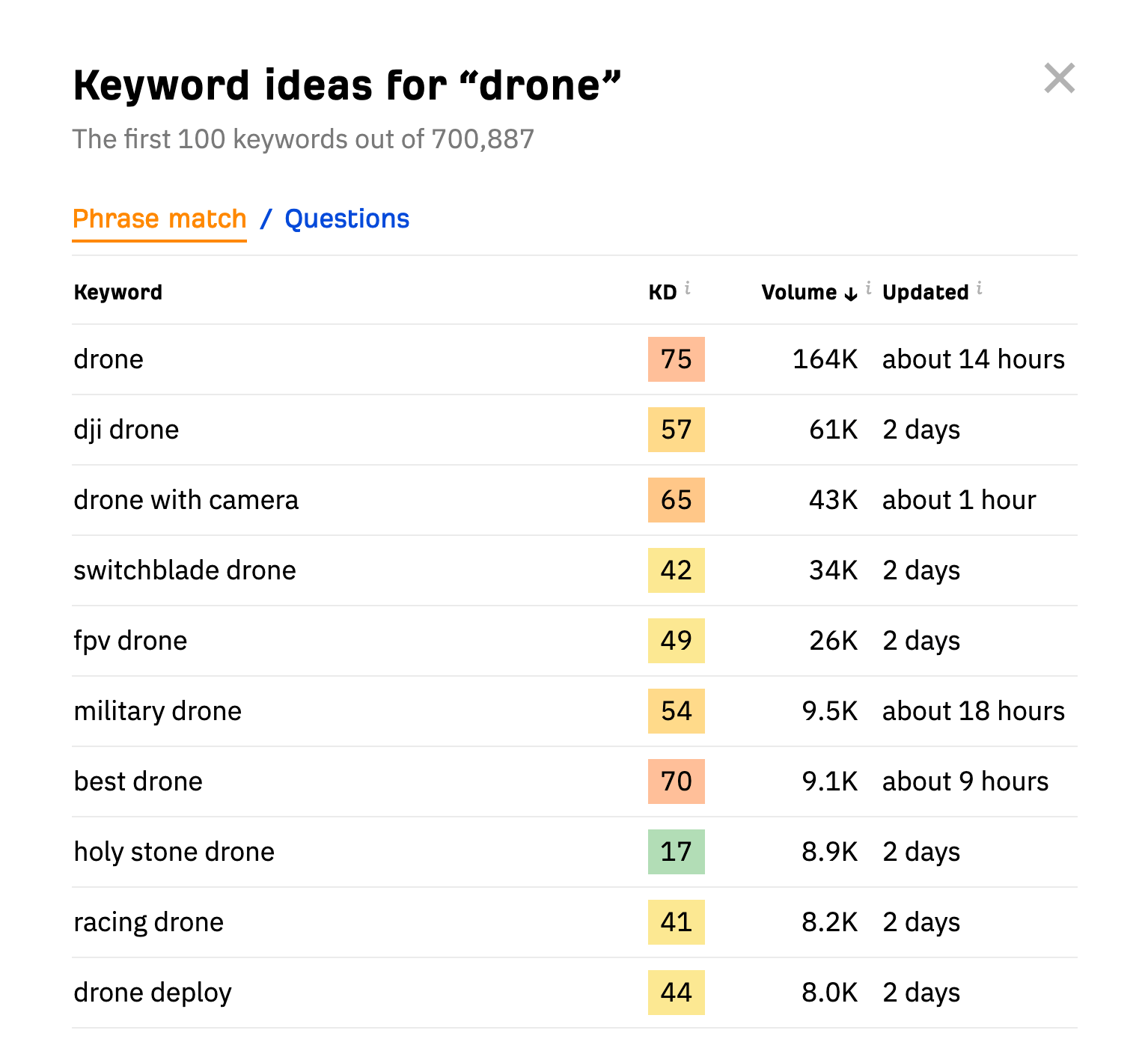 This tool also shows keyword-related metrics, such as search volume and Keyword Difficulty (KD) (more on this one in the next point), which can help you with choosing a worthy topic.
KEYWORD IDEAS TOO BROAD? FEED THEM BACK INTO THE GENERATOR
Let's say you enter "drone" and the generator kicks back "drone with camera." If you want to explore that topic further, feed it back into the generator. If you want to go even narrower, do another round.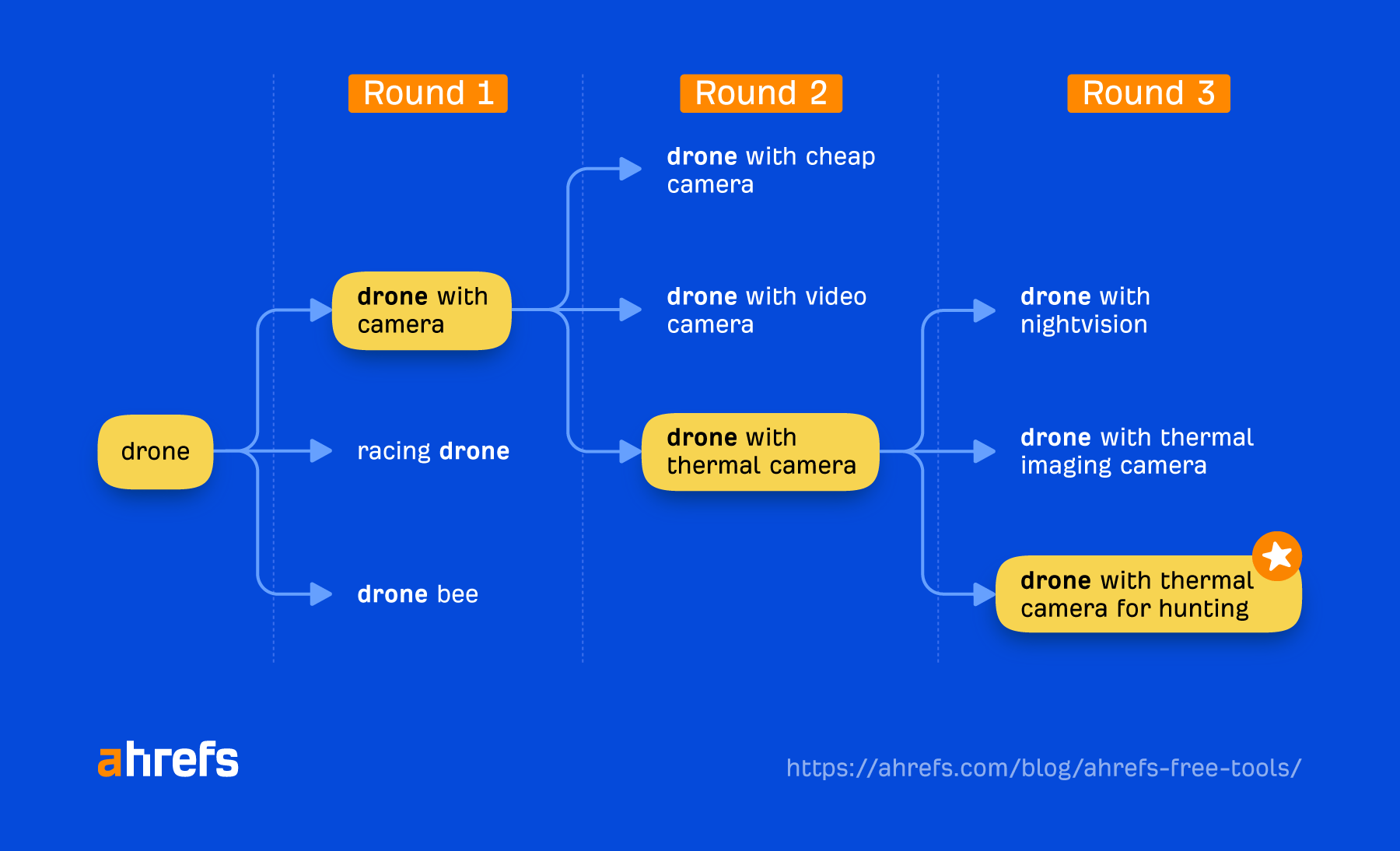 The best part about this tool is that you can search keywords for other popular search engines besides Google, like YouTube, Amazon, and Bing.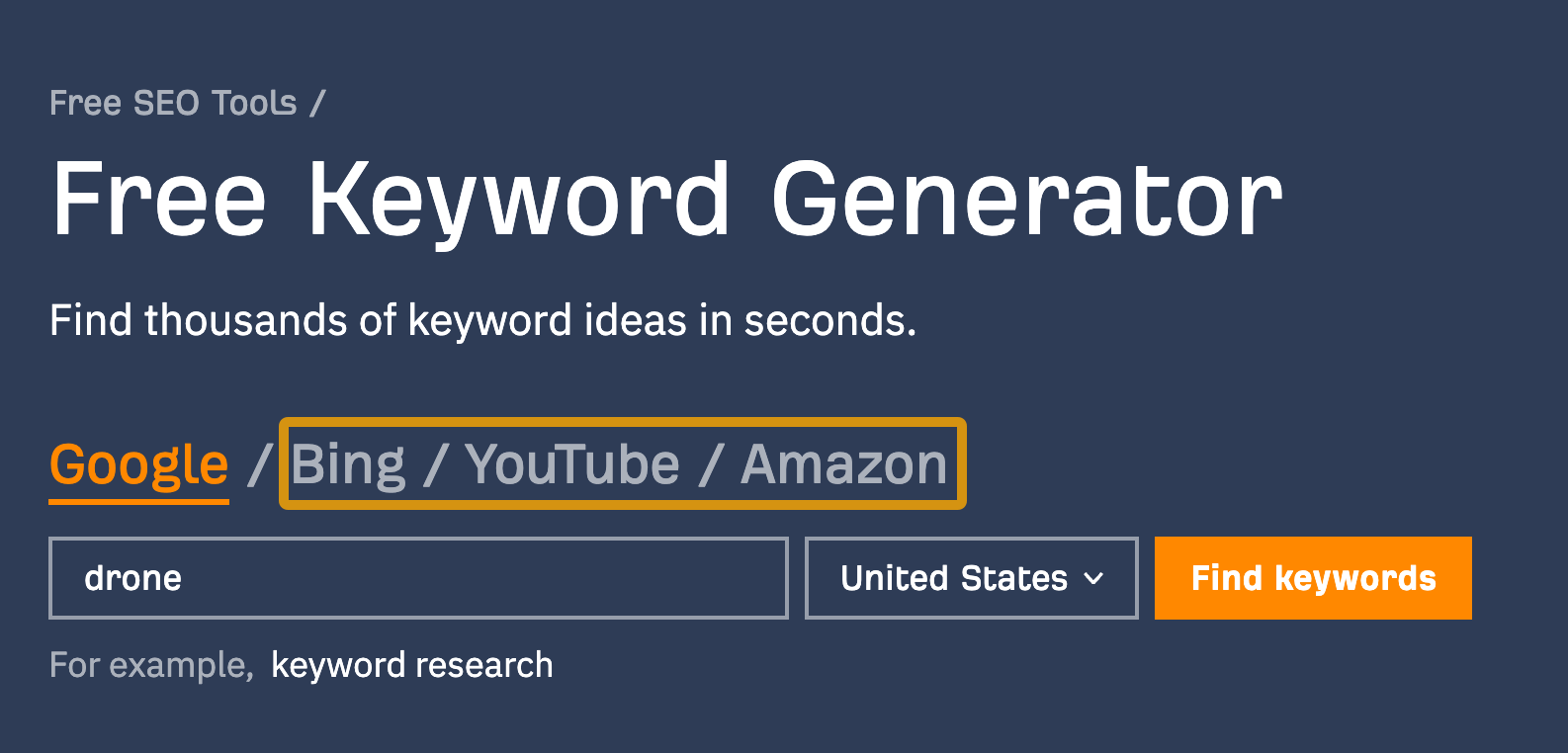 Now that you've decided on your keywords, it's time to assess how hard it would be to rank for them.
Even though the previous tool also does this, our free keyword difficulty checker does exactly that. It estimates how hard it will be to rank in the top 10 on a scale of 1 to 100, with the latter being the hardest.
For example, "drone" has a KD score of 75 out of 100, meaning it's super hard to rank for it.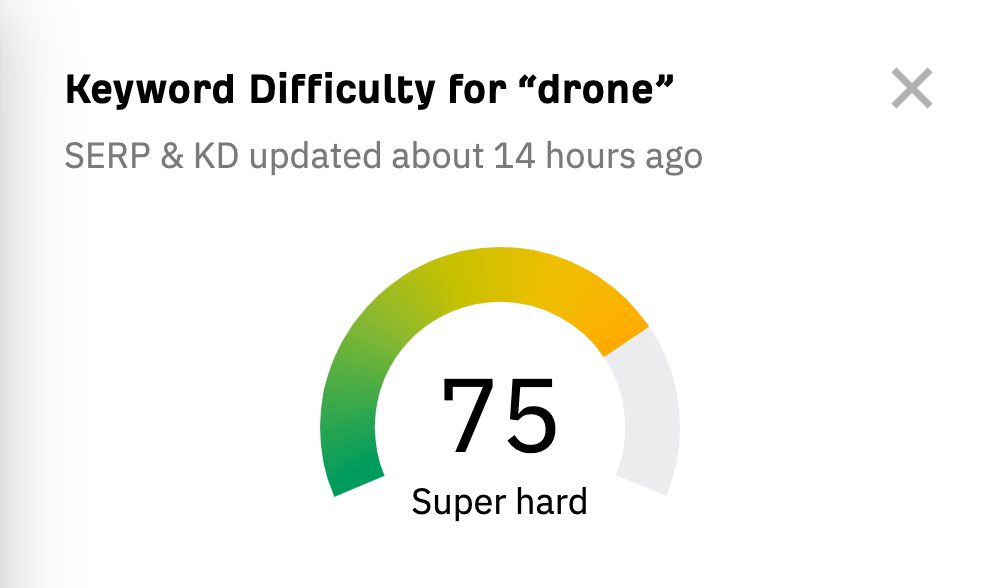 On the other hand, "drone with thermal camera for hunting" has a KD score of 3 out of 100, meaning it's easy to rank for it.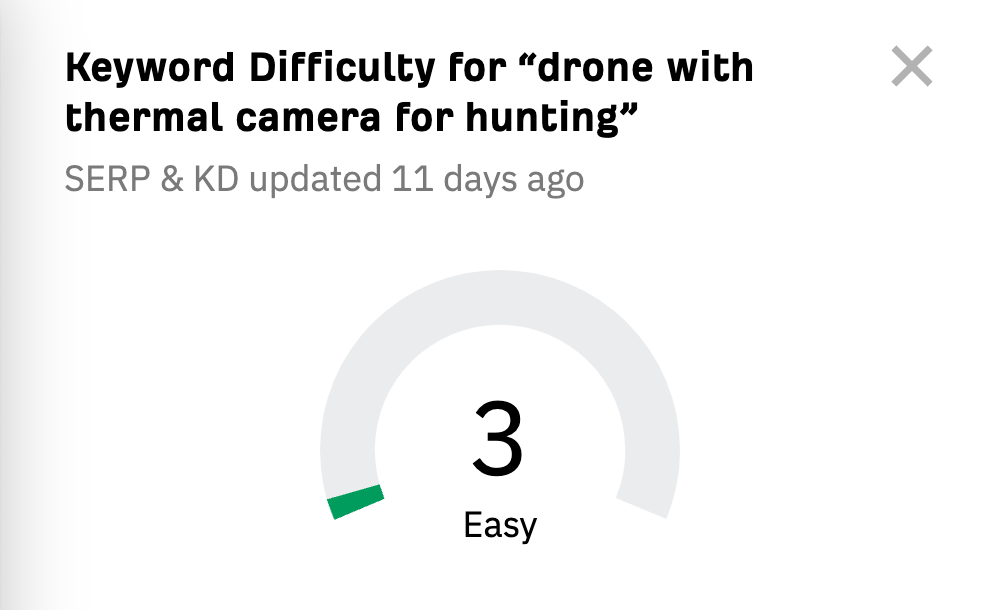 Our keyword difficulty checker also tells you how many links from unique websites you need on average, since KD is solely based on the average number of referring domains the top 10 results have.
The higher the KD score, the more backlinks you'll need to increase your chances of ranking.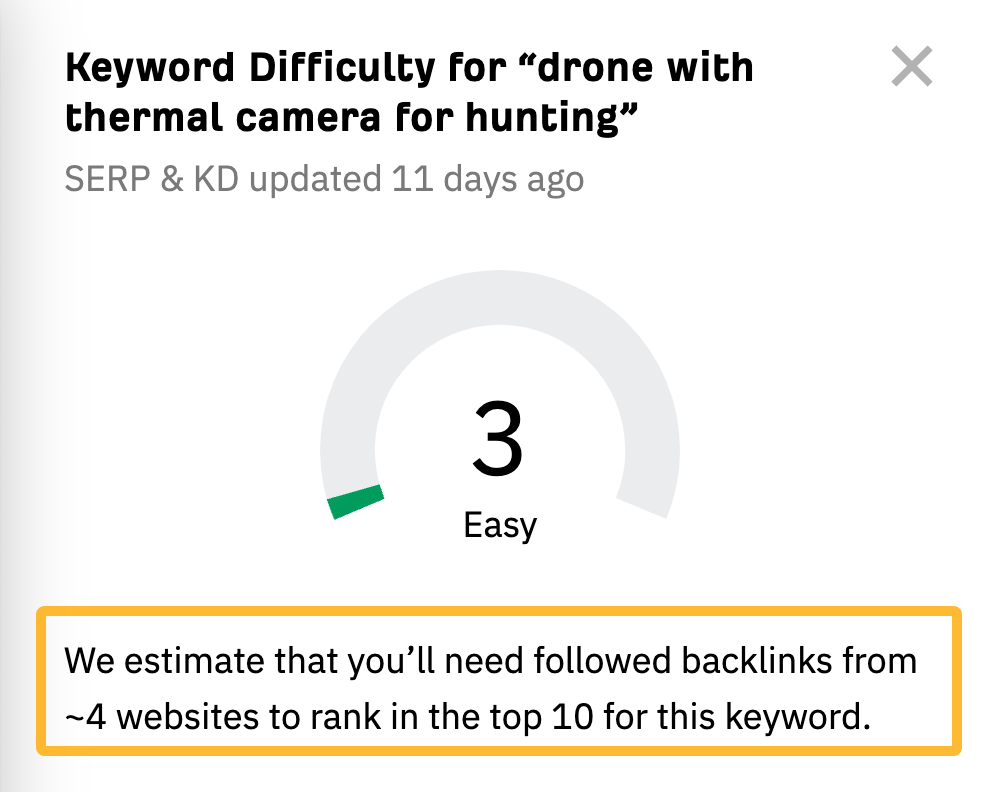 The next tool is helpful in understanding the SERP for any keyword and evaluating its traffic potential.
I'm talking about our free SERP checker, which shows you the top 10 results for any keyword in over 243 countries—without using a VPN. Plus a few handy SEO metrics for the top three.
For example, "drone with thermal camera for hunting" has a search volume of just 100 in the U.S.

But if you plug it into the SERP checker, the top search results get between 1K and 1.2K estimated monthly search visits. That's 10X and 12X more than the keyword's search volume, respectively.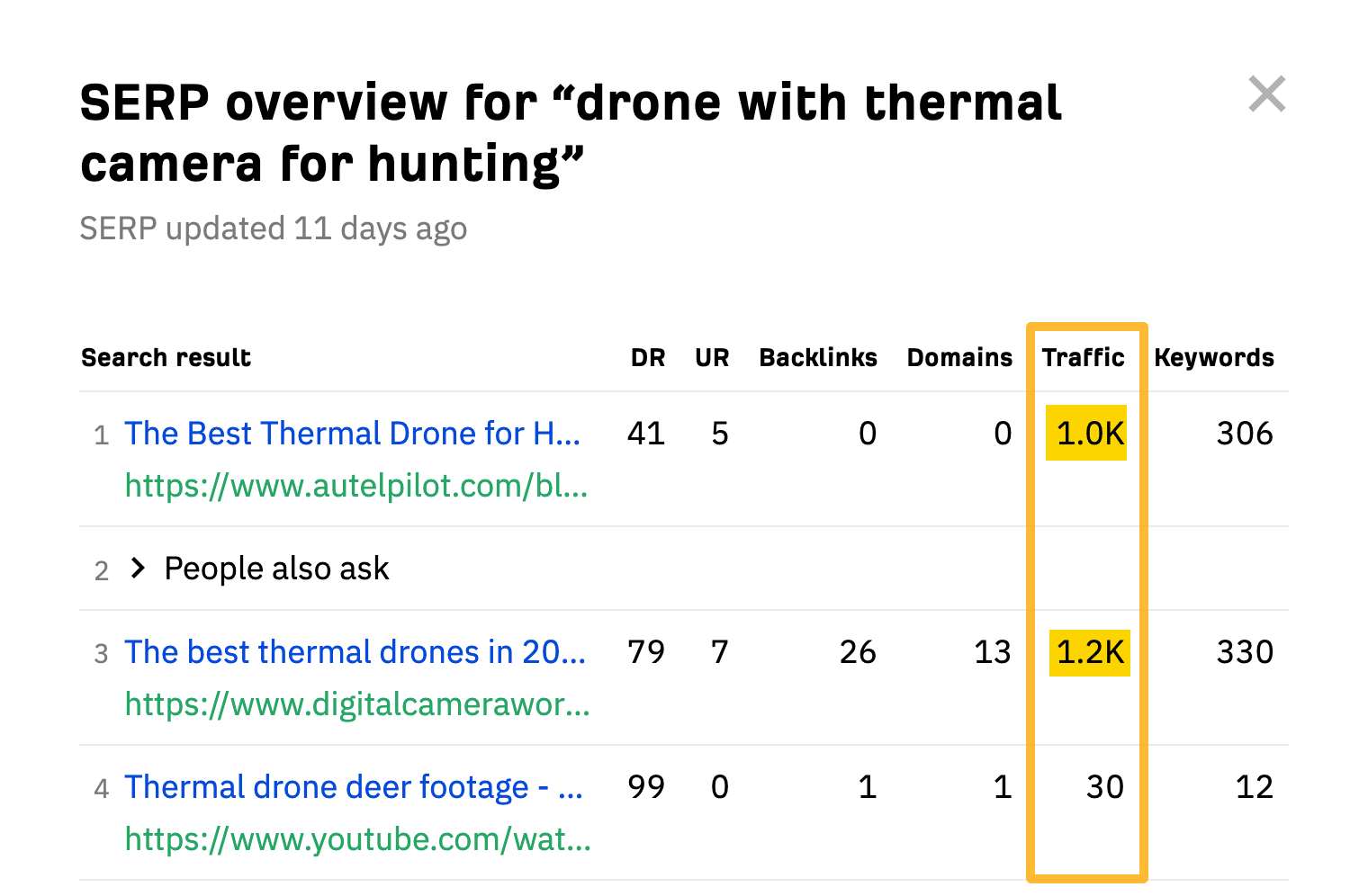 This happens because top-ranking pages rarely rank for only one keyword. So using the top page's estimated search traffic is a better way to gauge traffic potential than search volume.
ANALYZE THE SEARCH INTENT OF A TOPIC
Check out the top 10 search results to figure out the search intent of your target keyword.
In our example, it looks like the search intent is mostly informational.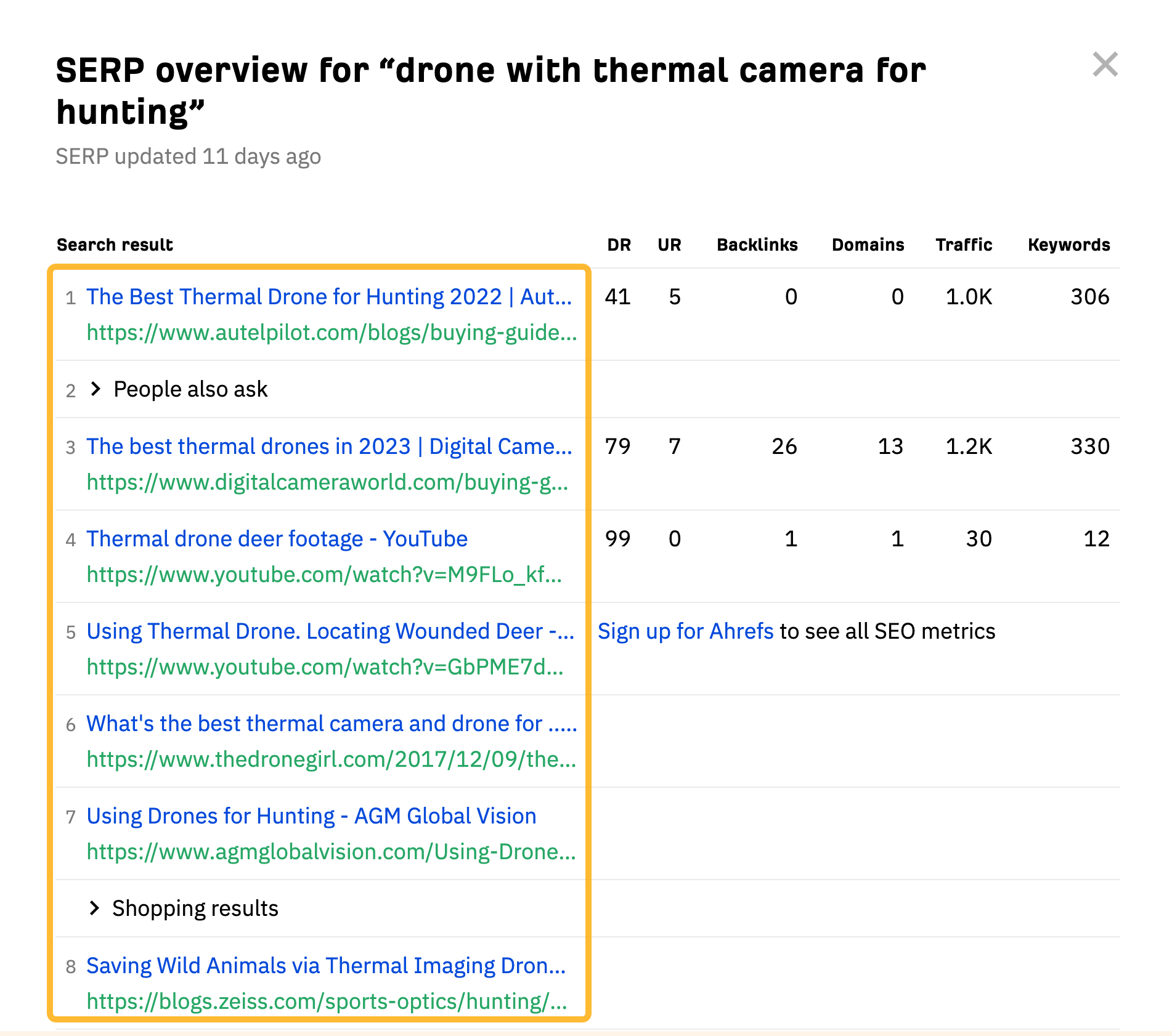 If you're still looking for inspiration, the best place is to check your competitors via the website traffic checker.
I'll go ahead and paste the second search result from the previous point in "Exact URL" mode and hit "Check traffic."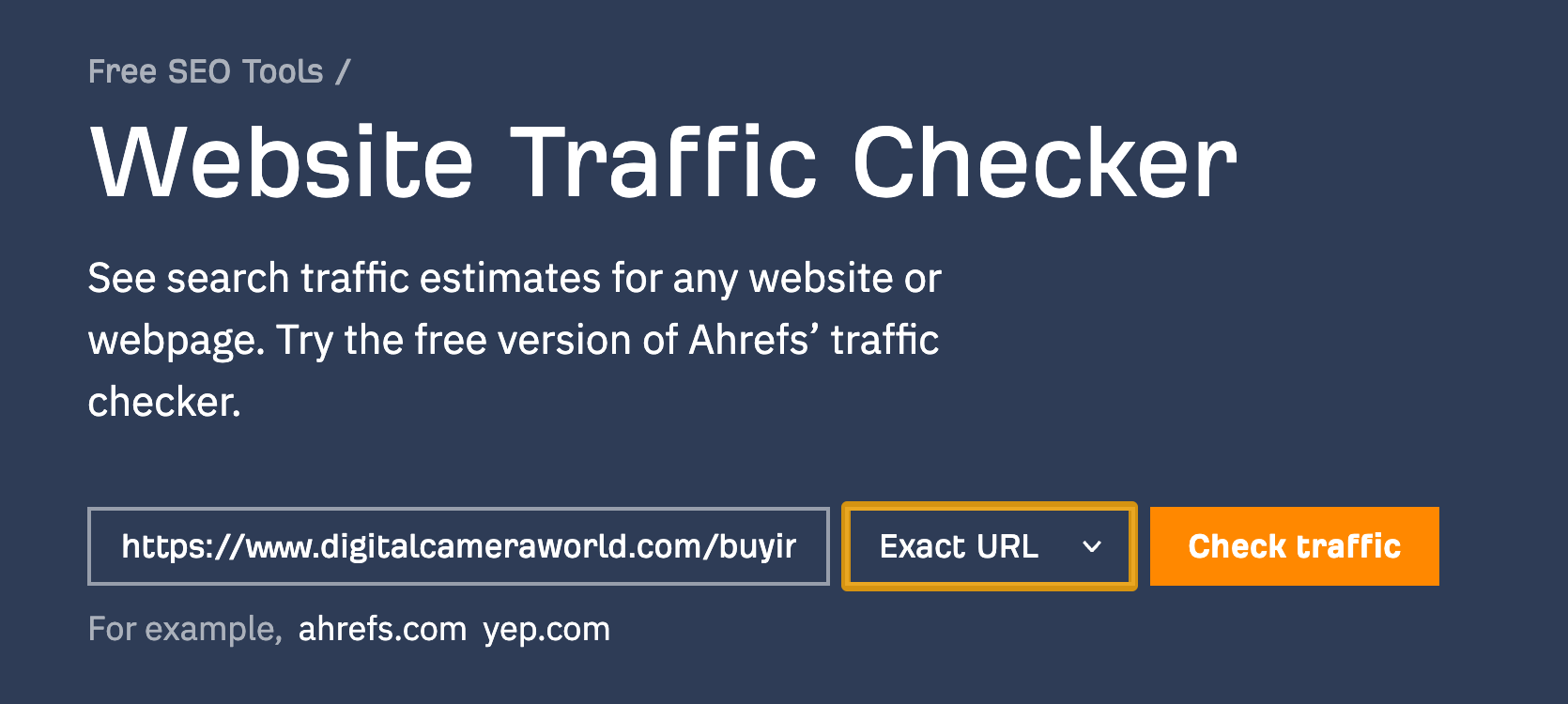 The page is getting 1.5K search visits a month, a hint that it could be a topic worth replicating.
Besides, you can look up the "top 5 keywords" table and explore other topics that will allow you to better match search intent. Without knowing these keywords, you'll just have "an interesting piece of content" that merely drives traffic.
For example, "thermal imaging drone" is just another way to rephrase our topic, so you can consider covering it in your future article.
MONITOR TOP-PERFORMING PAGES
You could also search the domains of the top 10 results in "Subdomains" mode to get the top pages that drive the most organic traffic to them and reverse engineer them. Rinse and repeat for each search result.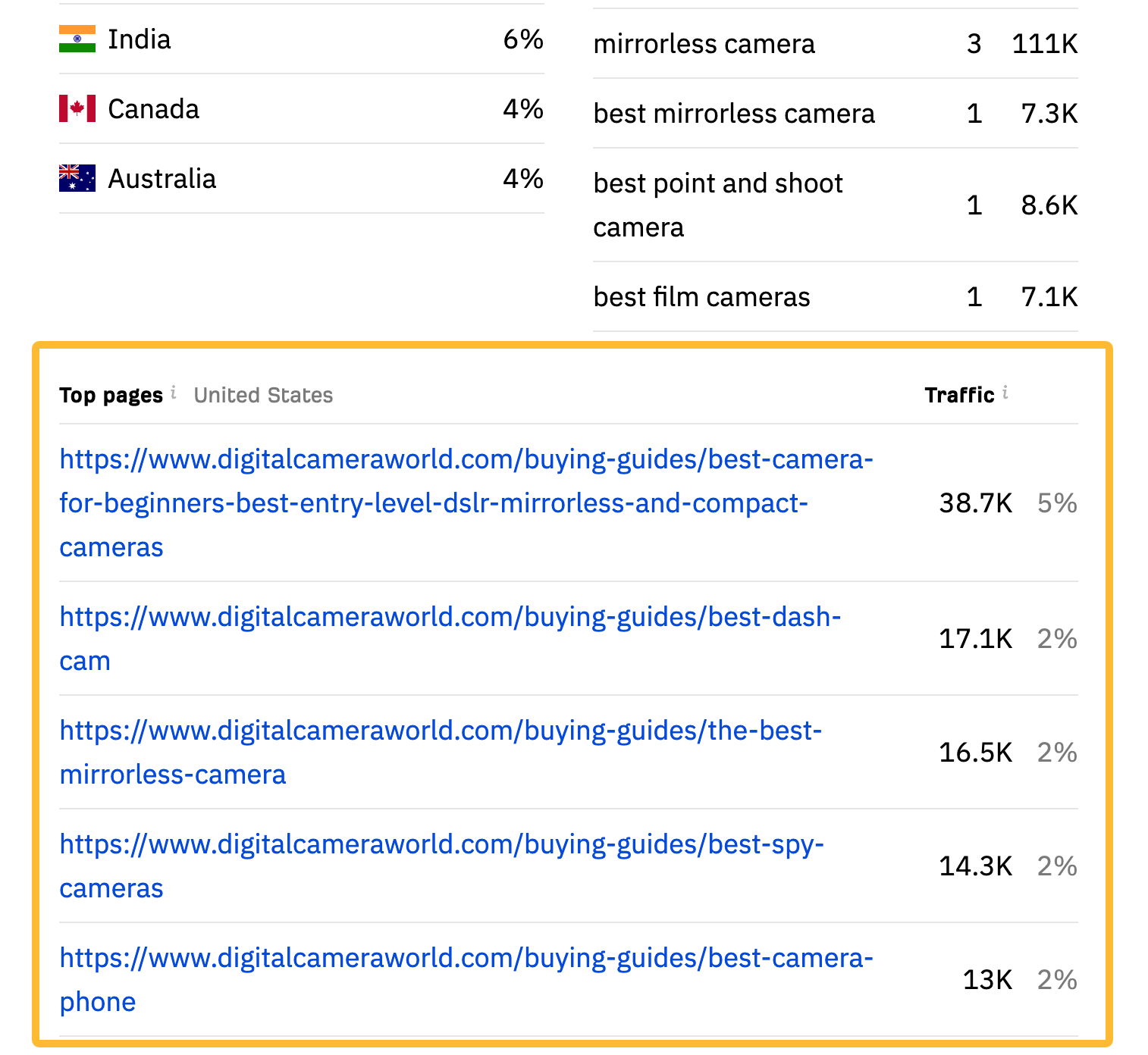 Your article is done, congrats! To increase its chance of ranking higher in search, you need to build links to it.
One of the most common activities in link building is to check your competitors' backlink profiles to see who links to them in the first place so that you can reverse engineer their tactics.
To find out, paste the URL of a page you're competing with in our free backlink checker and you'll get the top 100 backlinks pointing to that page.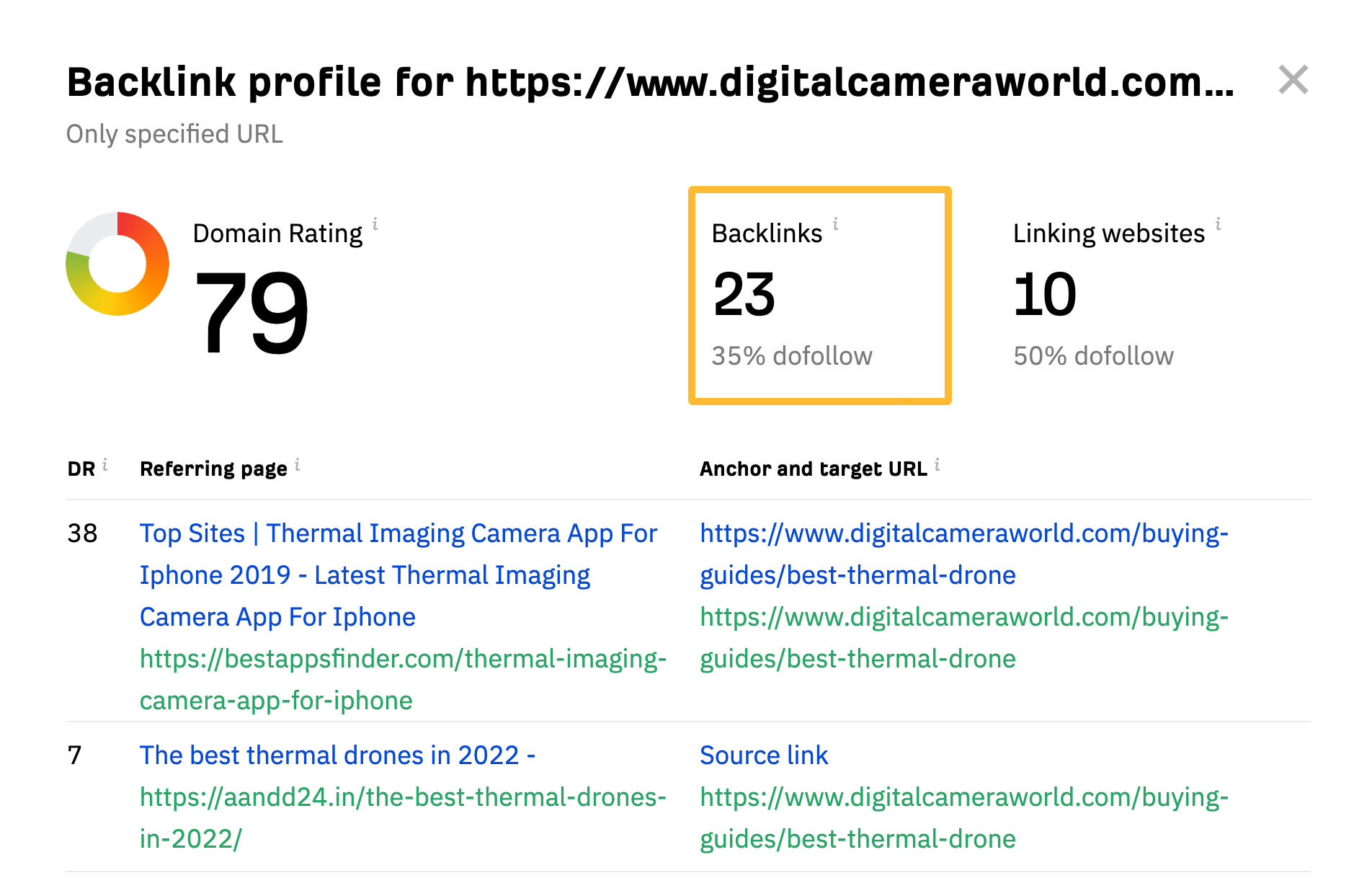 The next step is to actually reach out to the referring domains—like bestappsfinder.com—and ask if they'll be willing to link to you as well.
We only have 23 backlinks in our example, but you can also see other important metrics such as the total number of backlinks and domains, the referring page, the most common anchor texts, and our proprietary Domain Rating (DR) metric.
Another great way to build links is to do broken link building.
This is a popular link building tactic where you find a dead page with lots of links to it, replicate it, then ask those linking to the dead page to link to yours instead.
You can do this by using our free broken link checker.
Just type in your competitor's domain, hit "Check links," and head over to "Broken inbound links." Here, you'll see the top 10 broken pages of your target and which pages link to them.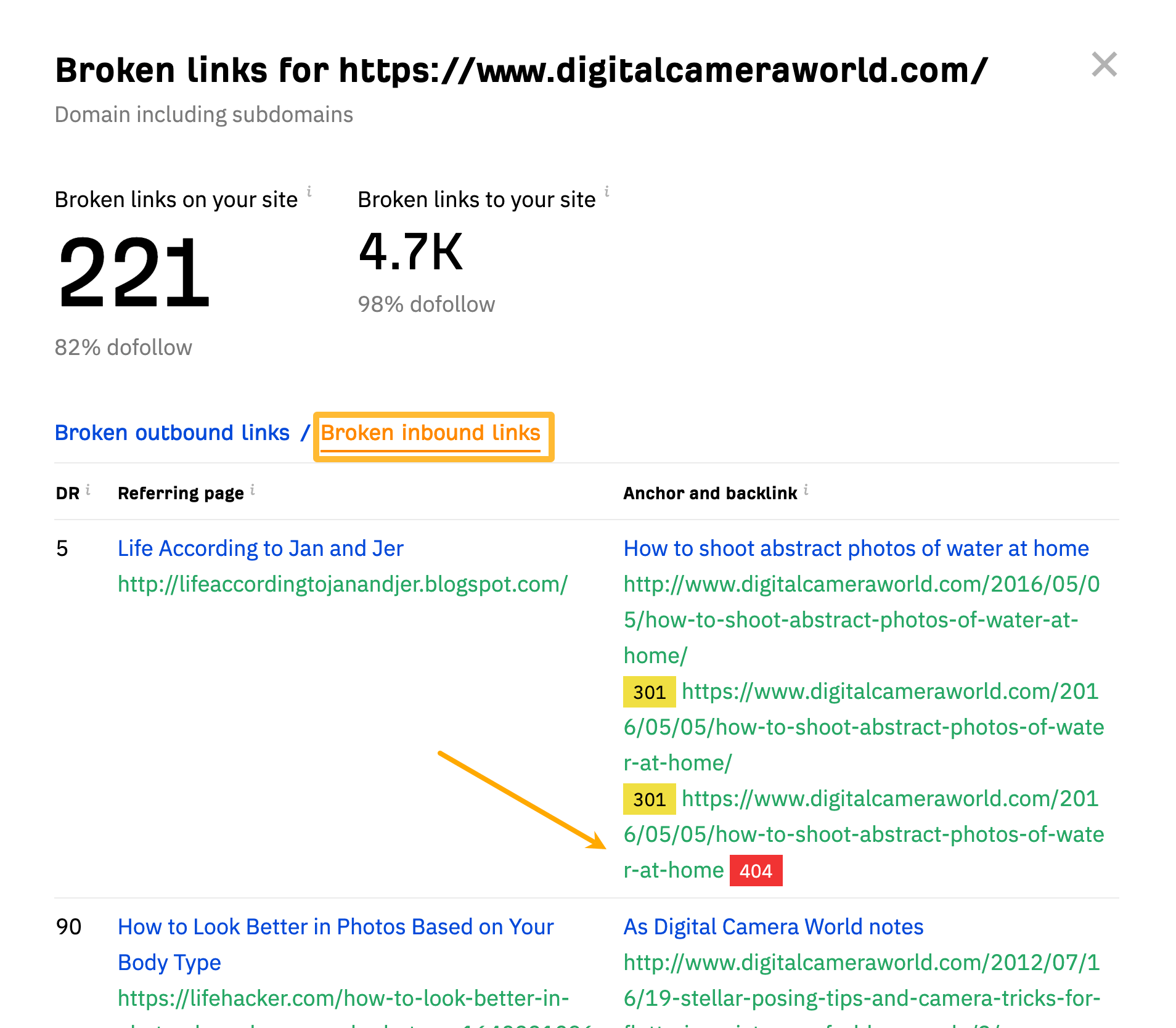 From here, reach out to those pages and ask them to link to you instead.
There's an even faster way to check for links in general, and that's via Ahrefs' SEO Toolbar.
Our toolbar is a free extension for Chrome and Firefox that provides you with valuable SEO data about the pages you visit—from checking redirects and broken links all the way to switching SERP locations.
Usually, SEO tasks like these are covered by four to six extensions, but we tackle them all using one tool.
Circling back, we can see the "Outgoing links" section is quite useful for a variety of use cases.
A. Find broken links
Broken links cause a poor user experience. To find them, just hit the "Status" dropdown and select "Broken."
Here, it looks like there's a server timeout (504 error) for the German version of autelpilot.com's website, which means the page failed to load in time. Hence, it may not be crawled by search engine bots like ours.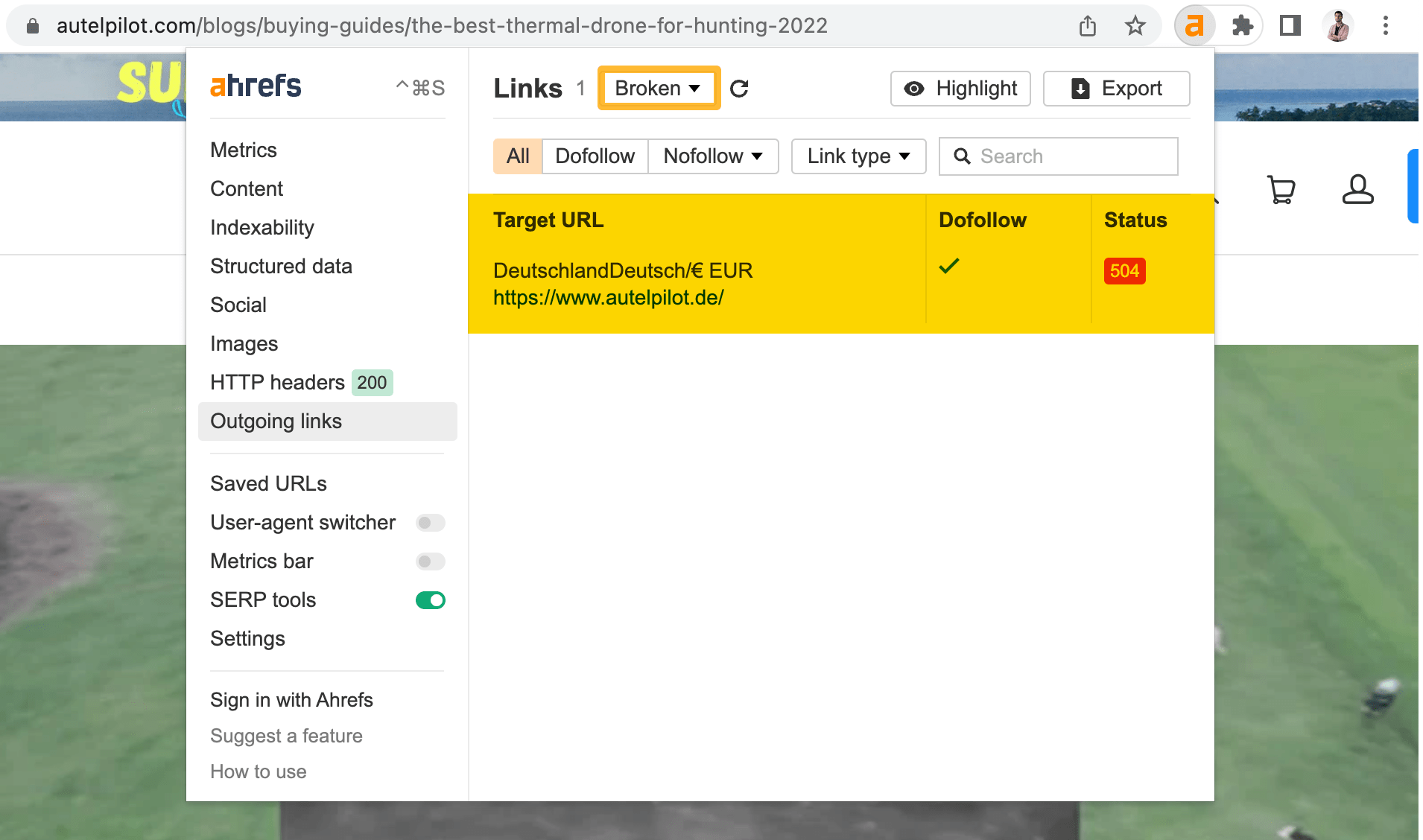 B. Check if the page links out via followed or nofollowed links
When link prospecting, you may want to check the ratio of followed vs. nofollowed outlinks. This should help you understand your chances of actually obtaining a link that carries link equity.
So if we click on the "Link type" dropdown and choose "External," we'll notice the current page has a total of 13 outlinks.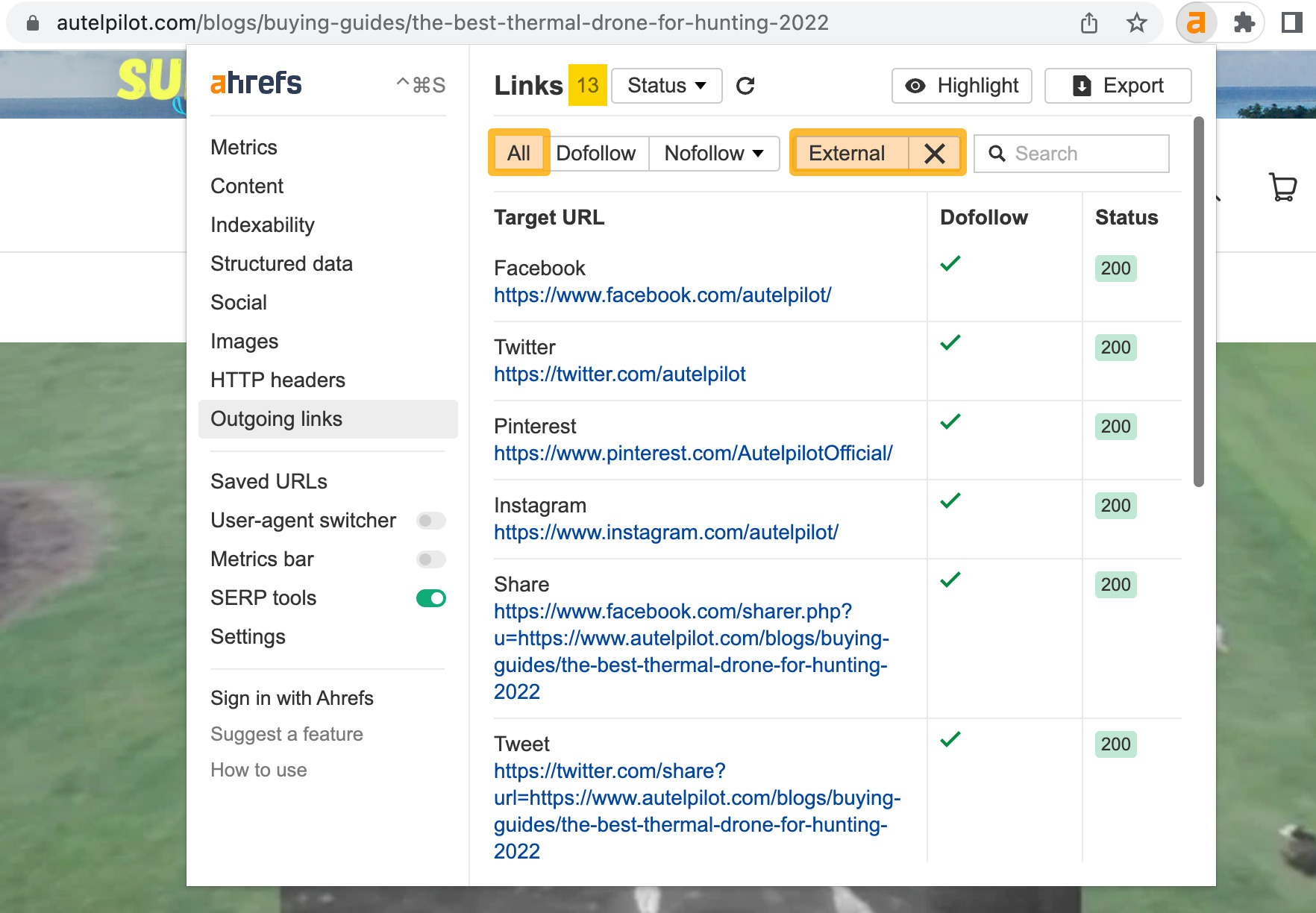 And if we switch the filter to "Dofollow" links only, it turns out all of them are dofollowed links that carry equity. Hence, a new link on this website will also be marked as dofollow.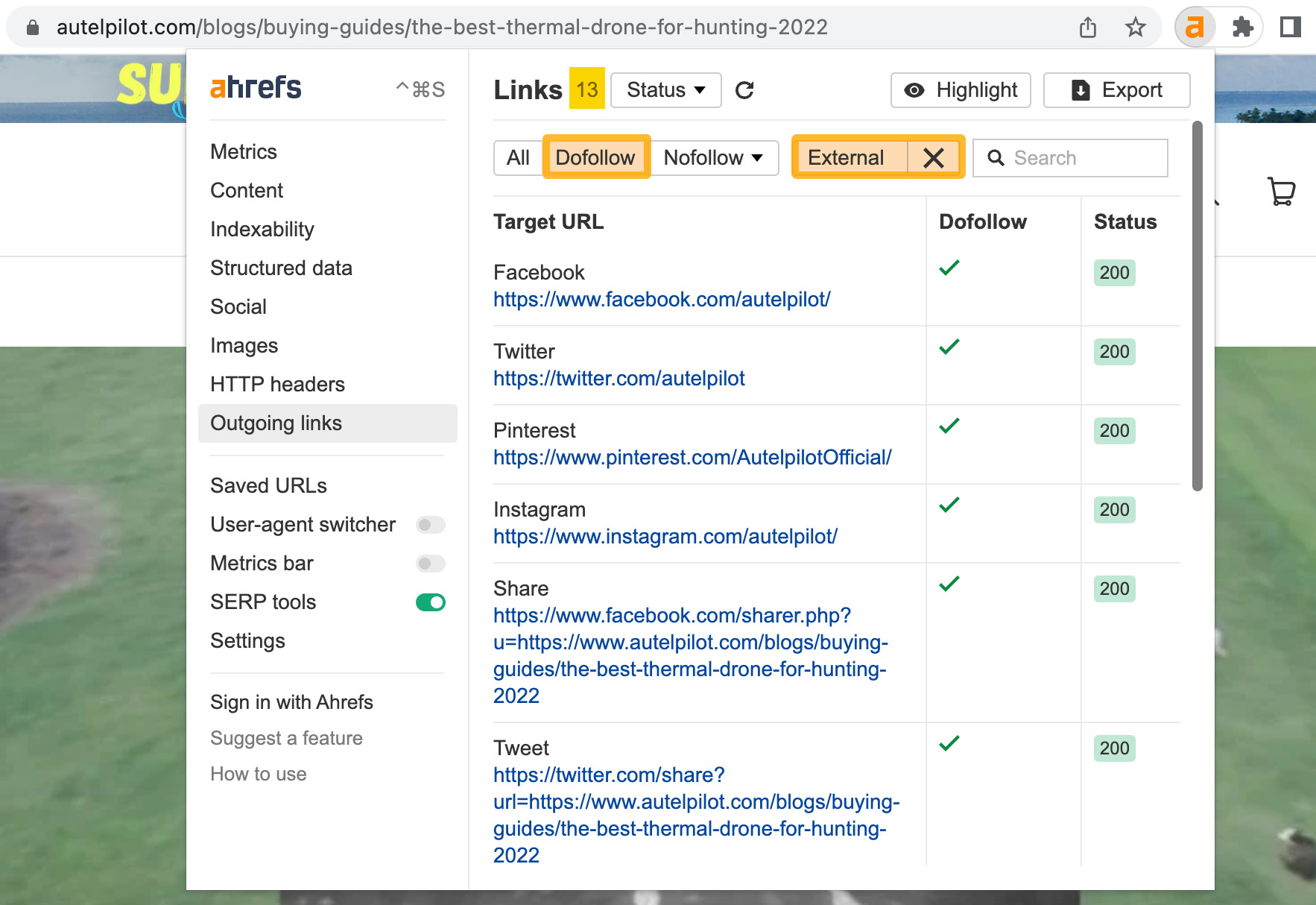 C. Check the number of external outgoing links
It's not enough to look at the ratio of followed vs. nofollowed links. You should also check their total number.
Basically, you want to aim for pages that link out to as few websites as possible. That's because the more domains they link out to, the less link equity will be passed on to your own domain.
The page from the previous use case can be a good prospect to pitch to, since it only has 13 outlinks.
So let's look at a "bad" example. This time, it's another page on the same topic of "thermal drones for hunting." This one has 69 outlinks, which means it won't have as much of an impact on your domain's authority as the first one.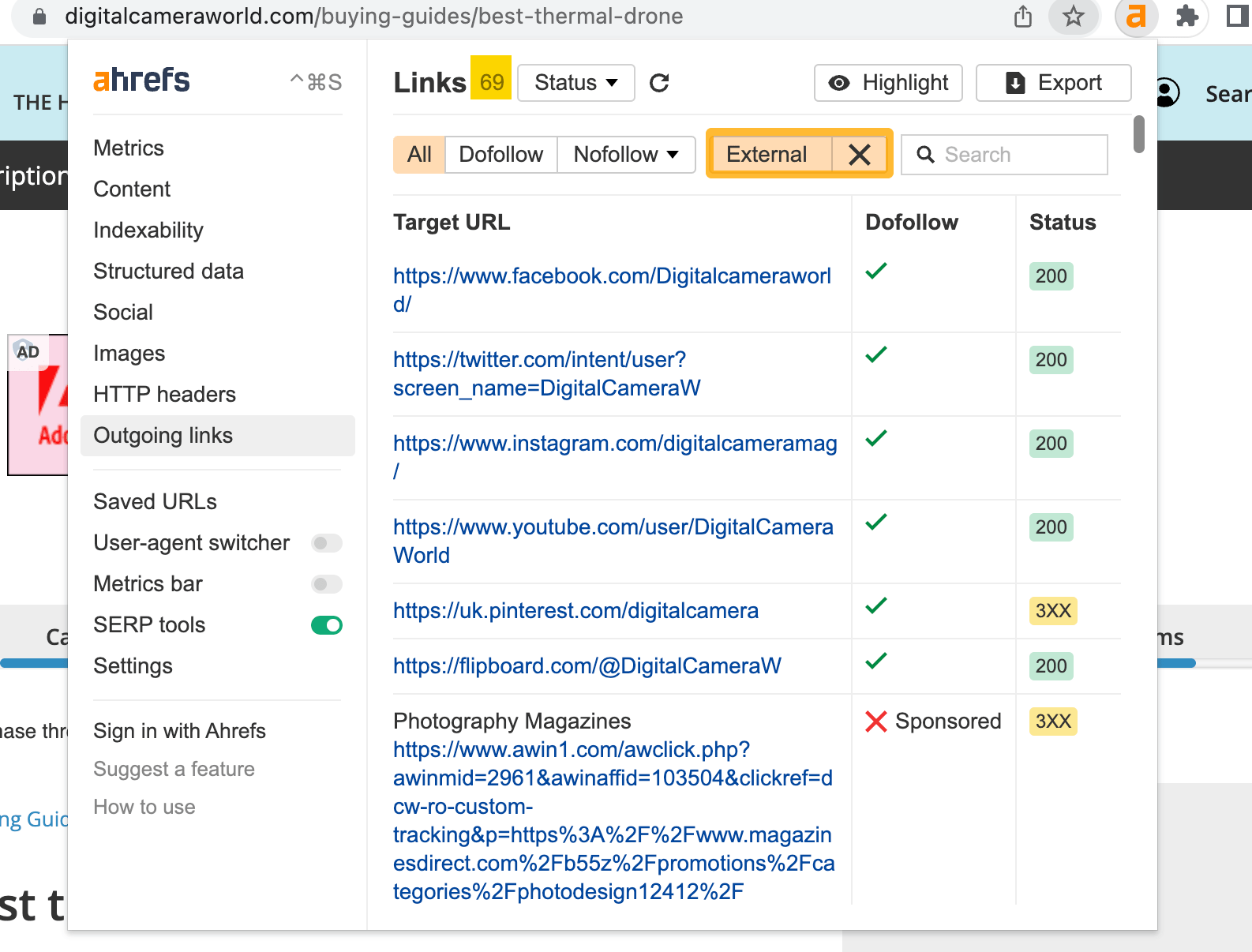 FIND POTENTIAL SUBTOPICS TO COVER
Our SEO Toolbar can also be used in other steps of the SEO process, like content optimization.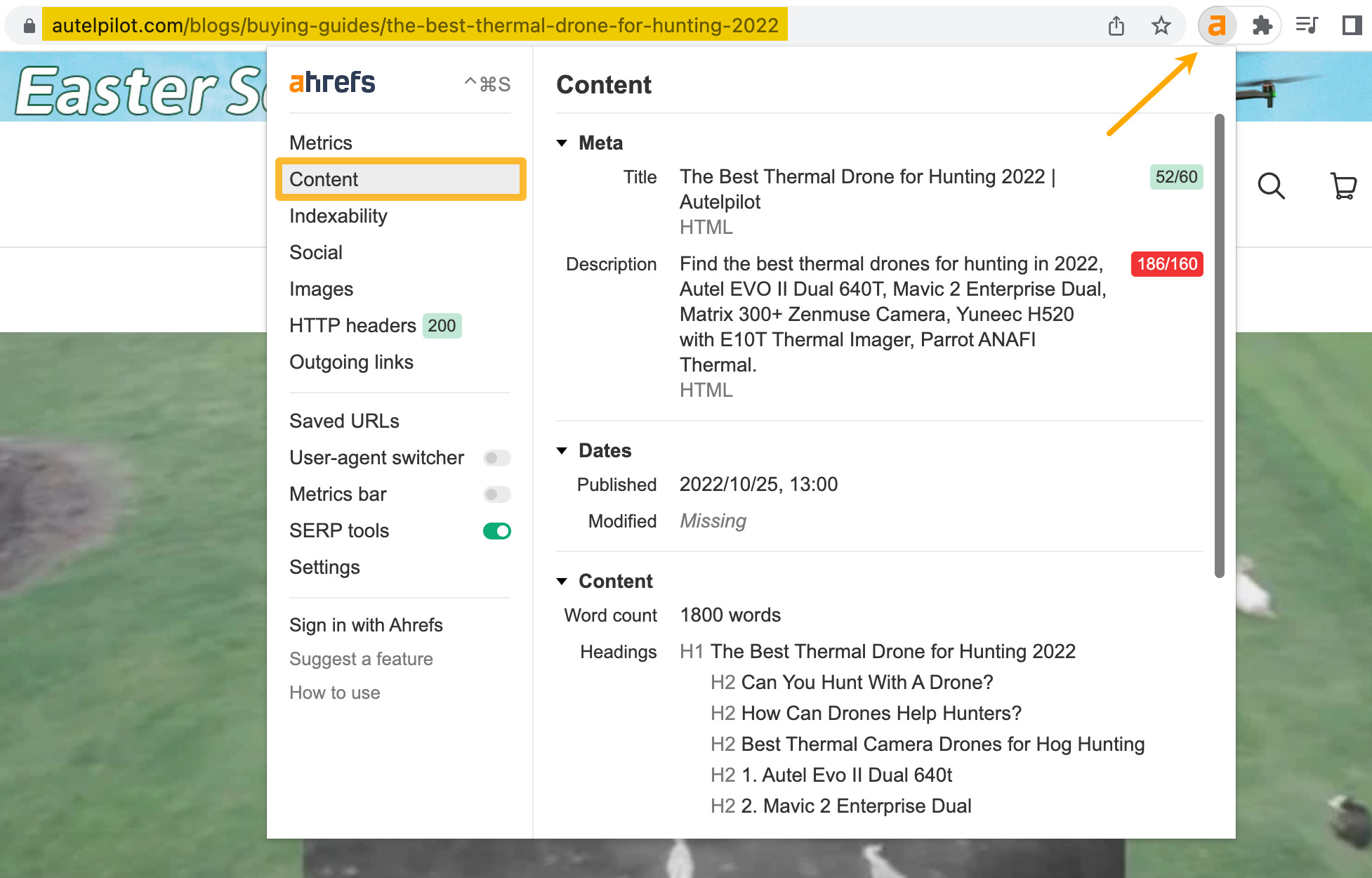 Just open the "Content" section and check the subheadings to see whether we're targeting the same subtopic—aside from just drone reviews. Looks like these are subtopics we can include:
"Can You Hunt With A Drone?"
"How Can Drones Help Hunters?"
"Best Thermal Camera Drones for Hog Hunting"
CHECK SERPS OUTSIDE YOUR COUNTRY
There's also a local search simulator (similar to our free SERP checker) built right within the toolbar. Meaning you don't need a VPN anymore to check SERPs outside your country—the settings will be saved whenever you perform a Google search.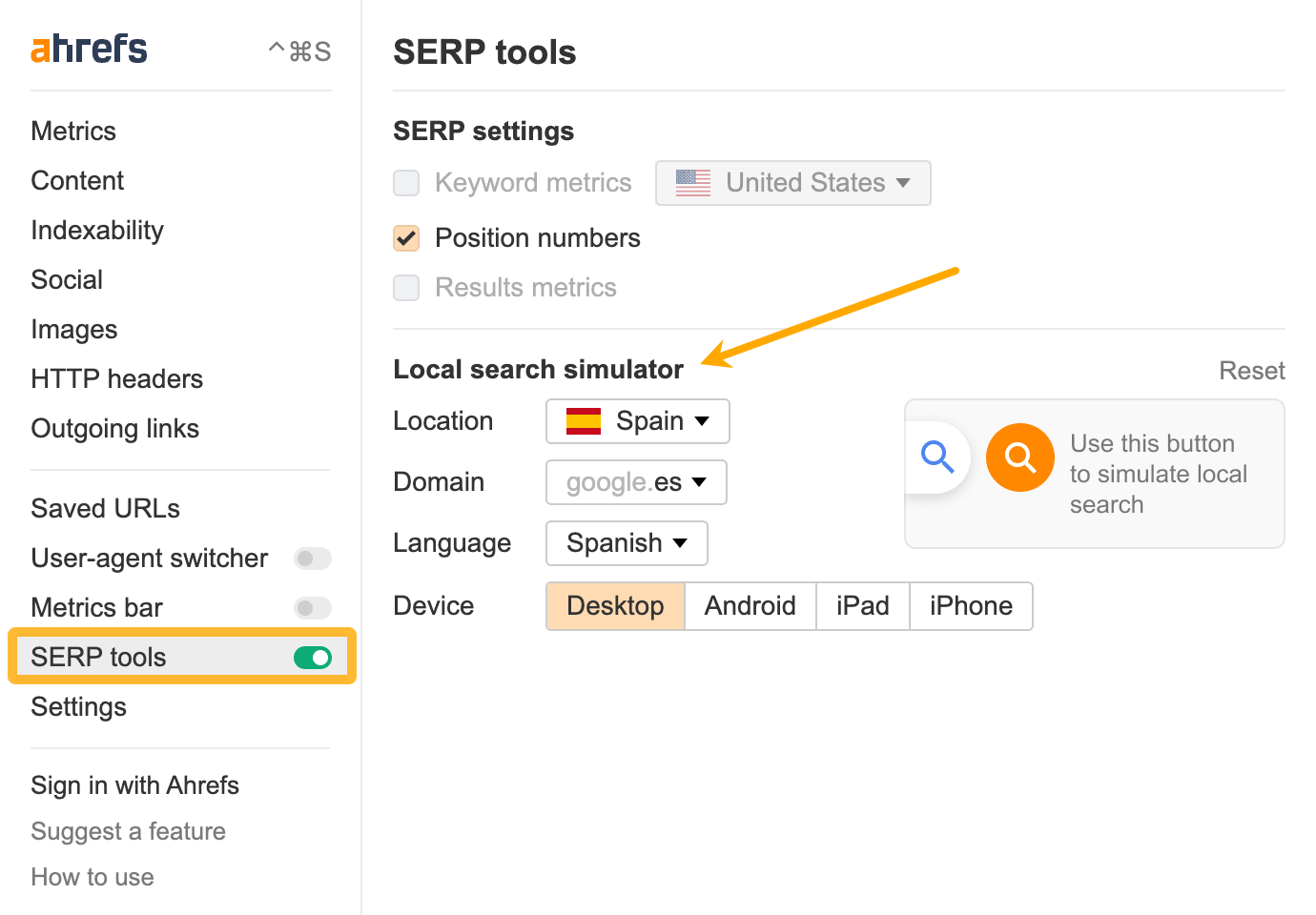 Whether that's ranking in the top 10 search results or getting more traffic, the last step lies in improving your content so it has the best chance to meet its purpose.
SEO never ends. You have to monitor how well your website ranks for your target keywords.
This can be done manually by Googling each keyword, but it can be inaccurate because Google personalizes search results. It is also time consuming as the number of keywords you target increases.
A much better way is to run your query through our free rank checker, which will not only show where you stand in the SERP but also the SERP overview for the top three search results.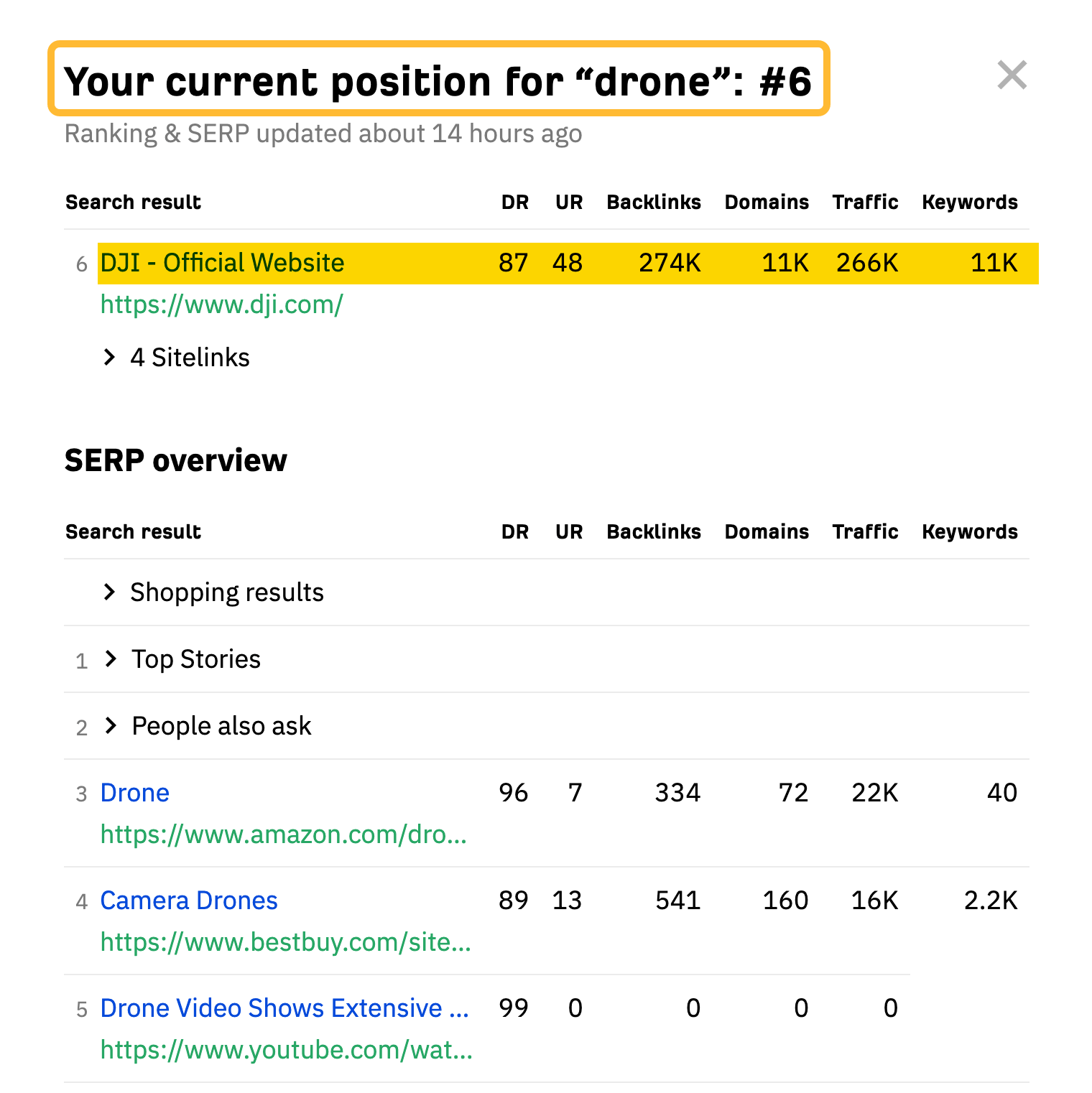 The additional metrics are insightful for aligning on the search intent—if you're ranking beyond the top three results.
Your article may be ranking high for a while. But with time, its rankings may drop. If so, revisit it, look at what went wrong, and improve your content.
To do this, run a content audit.
Our free SEO WordPress plugin automates content audits to help you spot under- and well-performing pages across your website and understand your overall content health score.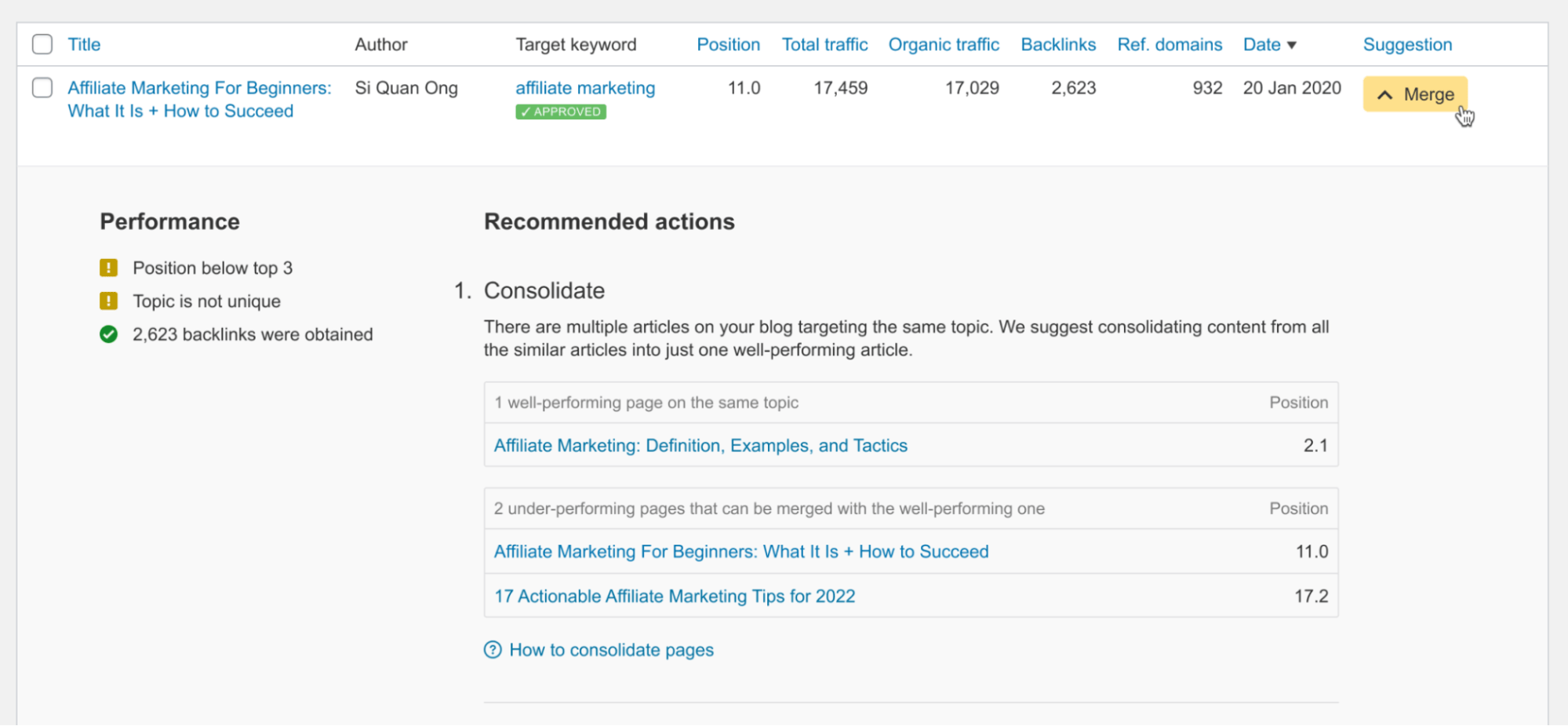 It even kicks back a series of recommendations (e.g., do nothing, update, merge, exclude, rewrite) based on a page's ranking performance and whether or not the target keyword is unique across all pages.
Final thoughts
Ahrefs' free SEO tools should give enough insights to kickstart your SEO process even on a tight budget.
When your rankings and search traffic start to pick up, you can always choose one of our paid plans for a complete view of your organic and backlink profile, keyword rankings, and more.
How are you using our free tools? Let me know on Twitter. 😊