Most people think of Ahrefs as a powerful "backlink checker" tool. But in reality "checking backlinks" is just one of the many things that you can do with the huge data index that we have.
If you look at the big picture — Ahrefs is a data company. We collect data, we process data, we store data and finally we build all sorts of tools that let you tap into our data.
In other words — we LOVE data! (the "big" one)
Big data is a term for data sets that are so large or complex that traditional data processing applications are inadequate. Challenges include analysis, capture, data curation, search, sharing, storage, transfer, visualization, querying, updating and information privacy.
So before I explain the meaning behind our core metrics (as promised in the headline of this post), let me impress you real quick with the size of the data that is hiding behind the scenes.
Ahrefs Data Index
Here are a few core numbers representing the size of Ahrefs' index (you can also find them on our homepage):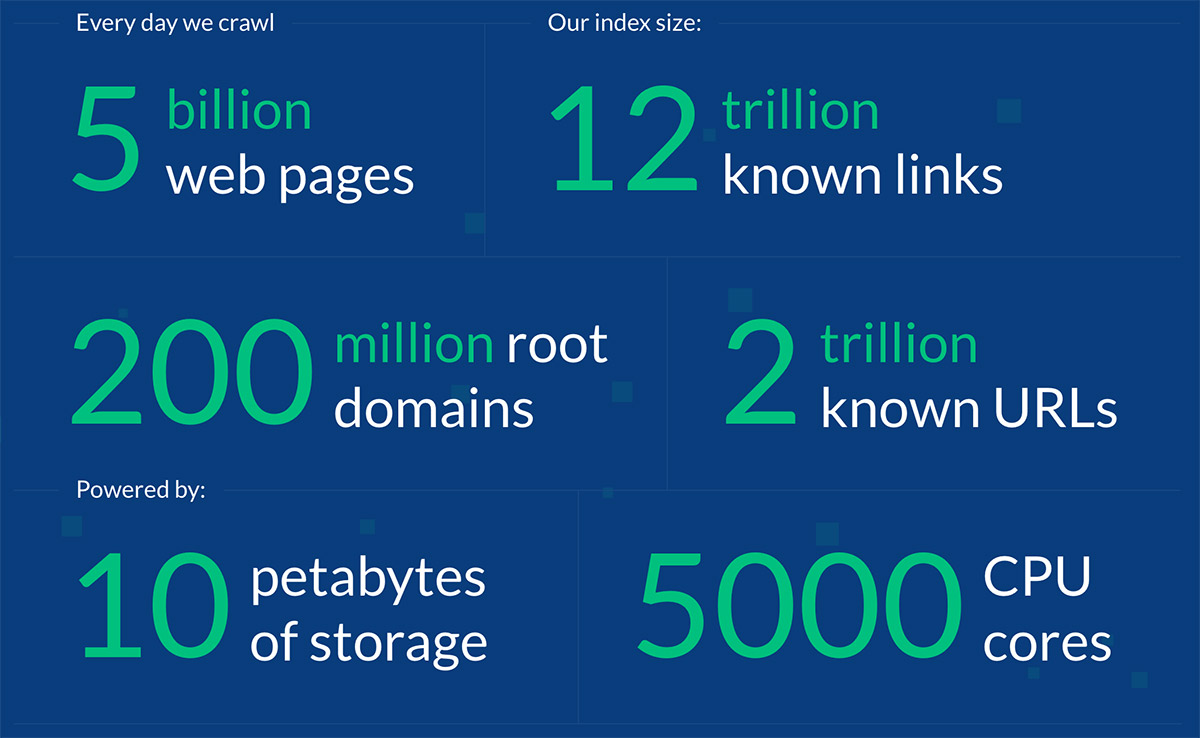 In our index:
12 trillion known links;
2 trillion known URLs;
200 million root domains.
Powered by:
10 petabytes of storage;
100 terabytes

RAM

;
5000

CPU

cores.
Every 24 hours our crawler visits over 5 billion web pages and updates our index every 15–30 minutes.
Creating a robot that will crawl the web and store web pages on your hard drive might sound like an easy thing to do.
But that's until you try to achieve the crawl speed of 200 million pages per hour. Or try to store all this data in a way your customers can make a call to a database and have all their graphs and reports built in seconds.
That's why the major part of our backend infrastructure was built in-house. All existing solutions simply couldn't cope up with the volume of data that we operate, or were too expensive (as of today we're running a custom big data database with ~85 trillion rows).
So as you can tell, we're seriously obsessed with big data and we absolutely love all the challenges associated with it.
Now let me explain the metrics that we have in our toolset.
URL

Rating (

UR

)

Essentially "URL Rating" shows how strong a backlink profile or a target URL is on a logarithmic scale from 1 to 100 (with latter being the strongest). And how likely this URL is to rank in Google.

Sidenote.

"Logarithmic" means that it is much easier to grow your page from

UR

20 to

UR

30 than from

UR

70 to

UR

80.

We often see people explain Ahrefs' URL Rating as a replacement for Google's PageRank metric — but they're not the same.

We indeed started out with a PageRank-like formula, but then "UR" underwent quite a few iterations with a goal of creating a metric that would have the highest possible correlation with Google rankings.

And as you can tell from the graph below, URL Rating correlates with Google rankings better than any of our "unprocessed" backlink metrics:
Moz has a similar metric to our URL Rating called Page Authority, which predicts how well a specific page will rank on search engines. And according to their own study it correlates with Google ranking at 0.37.
Sidenote.
I don't recommend you to rely on these numbers for direct comparison of "
URL
Rating" and "Page Authority", because the dataset in each study was different.
Domain Rating (
DR

)

This metric shows how strong the overall backlink profile of a given website is on a logarithmic scale from 1 to 100 (with latter being the strongest).

This metric is not supposed to correlate with Google rankings, because one website can have both: high-UR pages that tend to rank well and low-UR pages that don't rank.

But DR is a perfect metric for picking websites to build links from. As a general rule, you need to aim to get backlinks from high-DR websites — because they carry more "weight".

Here's a popular question that our customers ask about the DR of their own sites:
Q: "I didn't lose any of my backlinks. Why did my DR drop?"

A: "That is because other sites have gained a lot of backlinks. Think of it this way: when DR-100 website gets more backlinks, we can't make it DR-101. So instead we push all other websites down by 1. That is a very raw explanation of why you might see a drop in your DR while no backlinks were lost."
Ahrefs Rank
If you take all the websites in the world and then order them by the size and quality of their backlink profile (basically by their DR) — you'll get Ahrefs Rank.
So Ahrefs Rank #1 belongs to the website with the best backlink profile, #2 is just a bit worse, #3 is a little more worse, etc.
You can see the full list of domains sorted by their Ahrefs Rank here.
So if Alexa Rank shows you how much traffic a given website has relative to other websites in the world, Ahrefs Rank shows you how good its backlink profile is relative to other sites.
Here's the most popular question about Ahrefs Rank:
Q: "My backlink profile is growing, but my Ahrefs Rank is going down. Why?"

A: "Because other websites are getting new backlinks faster than you. What happens here is very similar to my above answer about drop in DR."
Live
&

Fresh Index

As you're browsing the backlink reports in Ahrefs' Site Explorer tool you might notice a "Live/Fresh" switch that changes the numbers in your reports when you toggle it.

What is the difference between the two?

Like I've previously mentioned, Ahrefs index is updated every 15–30 minutes with all new backlinks that our crawler has found. But not only do we crawl new pages, we also re-crawl the old ones — and some of the links that we previously saw might disappear by the time we re-crawl that page.

We will immediately remove all these "dead" links from our "Live" index, but they will stay in "Fresh" index for 3–4 months, so that you have enough time to act on this information.

For example:

"Fresh" index shows me that Brian Dean used to have a backlink from Outbrain.com, but it got removed for some reason:

I guess Brian could reach out to Outrbrain and persuade them to put it back. A link saved is a link earned, right?
Keyword Difficulty (
KD

)

This metric represents our estimation of how hard it would be to rank on the 1st page of Google for a given keyword and is measured on a logarithmic scale from 1 to 100 (with latter being the hardest to rank for).

Our Keyword Difficulty score is based solely on the backlink numbers of the top 10 Google search results for a given keyword. Which means we do not take into account any on page seo factors.
Sidenote.
According to
our recent study of on page seo factors
, the usage of exact match keyword in Title/
H1
/
URL
/Content has an incredibly low correlation with Google rankings. That is why we do not have plans to include "exact match keyword usage" as one of the signals for calculating our Keyword Difficulty score.
Here's a rough estimation of how many referring domains each KD score refers to:
KD 0 = 0 Ref. Domains
KD 10 = 10 Ref. Domains
KD 20 = 22
KD 30 = 36
KD 40 = 56
KD 50 = 84
KD 60 = 129
KD 70 = 202
KD 80 = 353
KD 90 = 756
The team behind AuthorityHacker rececntly conducted a series of experiments to determine which Keyword Difficulty score was the most accurate.
Ahrefs KD came number one, followed closely by Moz:

Back To You
So these were the metrics that we get asked about the most.
I hope that this information will help you to better understand Ahrefs reports and make them more actionable.
And if you have any other questions about the numbers that you see in Ahrefs reports — feel free to ask them in comments and I'll be happy to answer them.