For marketing agency owners (and anyone running their own site), content creation is no doubt the root cause of many‐a‐headache.
Why? Because if you're trying to write every piece of content yourself, you'll soon find yourself burned out.
And if you're outsourcing articles, well, that brings about a whole new set of problems.
In this post, I'll explore:
How to find the best talent to outsource your content to (and how to put that talent to best use);
A few hidden tricks for vetting writers (hint: this begins with the job offer itself);
A behind‐the‐scenes look at how the Ahrefs content team consistently publishes great articles.
I've also conducted a small experiment to answer the question, "which website has the best writers?" once and for all.
But first, here's something that may surprise you…
The Ahrefs Blog is run by an outsourced team
While Tim (our Head of Marketing) works directly from Ahrefs headquarters in Singapore, myself and the rest of the content team are located elsewhere.
I'm in the UK along with David, our blog editor, and Nick (another of our regular contributors) lives in Ukraine.
But despite these geographical differences, the Ahrefs blog is growing quite well.
Here's our Google traffic growth in 2016 (the rest of our traffic sources are growing equally well too!):
Not bad, right?
We doubled our Google traffic in 2016 and we're going to do it again in 2017.
But, more importantly, you guys seem to be enjoying our articles!
And remember, this is the result of entirely outsourced content.
So what's the secret?
Simple. It all comes down to having the right people on your team.
I was recently discussing this idea with Tim and — during the course of the conversation — he mentioned a few tricks he uses to find great writers for the Ahrefs Blog (along with a few of his struggles).
So, we thought it would be cool to share these with our loyal readers (that's you!), along with a few of our own personal workflows.
But first, here's an obligatory disclaimer…
Disclaimer: This article is heavily based on Ahrefs experience using outsourced writers for this very blog. Our tips will, therefore, apply primarily to the SEO/marketing niche. But most of them can be easily applied to other niches.
How to hire "top talent copywriters"
This depends entirely on your definition of "top talent copywriter" and the kind of work that you're looking to get done.
If you want good product descriptions, you'll likely need someone who knows how to sell.
If you want rewrites of existing articles, you probably don't need a lot of talent at all.
Here are a few common traits of good copywriters (regardless of the particular job):
Flexible writing style;
Good understanding of storytelling;
Good research skills;
Good copywriting knowledge (magnetic headlines, intriguing openings, cliffhangers, etc.);
Good formatting knowledge (descriptive sub‐headings, short paragraphs, etc);
Experience with WordPress formatting (if required);
Adherence to deadlines;
Ability to meticulous follow any guidelines you give them.
While some of these traits raise no questions (e.g. "adherence to deadlines"), others are more challenging to vet for (e.g. "writing attractive headlines and intriguing openings").
I mean, if you don't have any copywriting experience of your own, how can you confidently identify a good copywriter?
As the famous saying goes:
A players hire A players and B players hire C players.
If you don't have copywriting skills yourself, anyone who happens to know a few copywriting tricks will seem like an amazing hire.
This is an issue we hope to solve in this post.
We like to think that our content team is experienced enough to give others some advice on vetting and hiring "top talent" copywriters.
And it all starts with your job offer.
How to vet writers with your job offer (the hidden tricks you can use)
The goal with your job listing(s) isn't simply to get as many "proposals"/"applications" as possible.
You need to structure your job listing so it attracts the right kind of writers (not just anyone). This is where a few smart "pre‐qualifying" tricks come in handy.
"Pre‐qualifying" not only helps to attract the right writers but also saves a ton of time; time that would otherwise be spent sifting through low‐quality job applications.
Here's what the perfect job listing should do:
Dissuade low‐quality writers from applying;
Allow for quick filtering of any low‐quality (or irrelevant) writers that slip through the net;
Encourage experienced, confident writers to take you seriously (and make the effort to apply);
Dissuade those with little/no experience in your vertical from applying.
Let's explore a few ways to achieve this.
Tell applicants to apply with a specific subject line
Here's a job listing I recently came across on UpWork.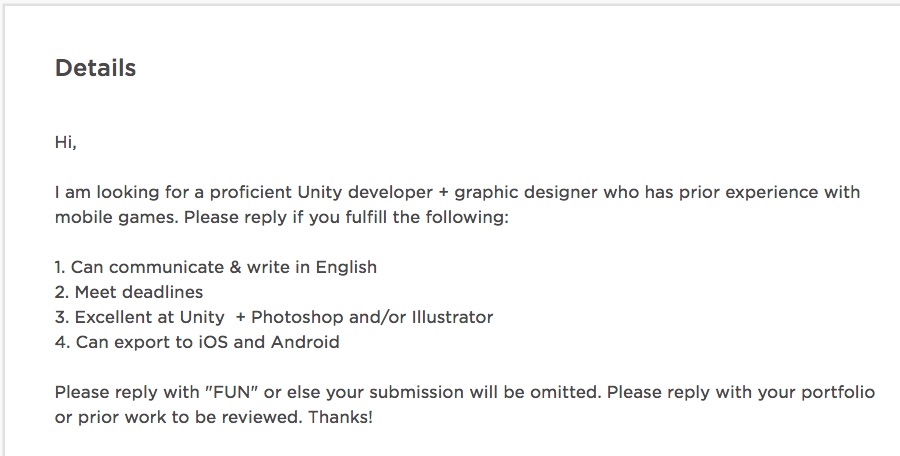 For the most part, it's a pretty standard ad, but take a look at that last paragraph.
It instructs all applicants to respond to the ad with the subject line "FUN".
This has two benefits for the employer:
It allows him/her to quickly weed out any applicants that didn't bother to read the full job listing; or that are incapable of following a simple instruction;
It allows for easy filtering of applications.
Let's start with that first point.
When you're working with freelance writers, effective communication is paramount.
Knowing that he/she is actually capable of listening to and following your instructions is definitely important (and, IMHO, should be the bare minimum for you to even consider an application).
But, it's more about finding a writer who is attentive.
If a writer is unable to follow a simple instruction during the application stage, it'll be an uphill battle to get him/her to listen attentively and complete the work to your standards once hired.
But that's not the only benefit.
It also makes for easier applicant filtering, especially if your chosen freelancing site allows writers to apply directly via email.
Here's how:
If you're using Gmail (or pretty much any other email application), you can easily filter by subject line.


This is great for removing any applicants too lazy to read your ad in full.
It also makes for easy filtering of applicants for multiple projects. You just need to request applicants use a different subject line with each job listing.
Give clear instructions regarding "how to apply"
Here's an excerpt from one of Tim's old ads for Ahrefs:
Not only does he ask a lot of questions, but he also outlines a predefined format for any applications.
It's clear that he was expecting applicants to answer each of his questions (in detail) in a specific order.
And this is exactly what David — our blog editor — did in his response.
He gave detailed responses to each of Tim's questions and stuck perfectly to the format outlined in the ad.
I asked Tim what he liked about this application. Here's what he said:
It showed that David had a natural tendency to follow the suggested structure (which is a positive for me!). It was also clear that he had a high attention to detail, as he didn't skip any of my questions.
Remember, most freelance writers apply for the bulk of job listings in the same way: they send in their CV and hope for the best.
By outlining a specific structure — and explaining that all generic pitches and/or CVs will be ignored — you instantly dissuade lazy writers from applying.
This means less work for you and less chance of hiring a lazy writer.
Ask insightful questions
Most job listings ask the same irrelevant questions:
Can I see an example of your work?
How long have you been writing for?
What level of education do you have?
Etc.
These questions aren't particularly insightful, nor is there generally any real benefit to knowing such things.
For example, someone may have been a writer for 10+ years, but that doesn't necessarily mean their work is high‐quality.
Therefore, surface‐skimming questions such as like this offer little meaningful insight.
You should instead formulate your questions in a way that allows you to glean important information about each applicant, such as:
How knowledgeable are they about your niche?
Have they written similar content before?
Do they have a genuine interest in your niche? (or perhaps just write about anything and everything)
Do they have a high attention to detail?
Let's take a look at Tim's aforementioned job listing once again.
I asked Tim about the thought process behind each of these questions. Here's what he had to say:
Question #1: "What are your favourite SEO/marketing blogs that you read regularly?"
This gives me an idea of how knowledgeable is that person in my niche. I know pretty much all the blogs in my niche and based on what a person is reading I can tell if he/she is a good fit.
Question #2: "Did you ever guest post on one of these blogs?…"
If he/she has written for some of the best blogs in our niche, it usually gives me the 'green light' right away. The owner of that blog effectively did the vetting work for me when they allowed the applicant to 'guest post' on their site.
Question #3: "I need links to your blog/Twitter/Quora/etc. profiles"
I use this to see if the applicant is genuinely interested in the niche and what he/she is actively sharing on social media.
Question #4: "What's your first‐hand experience within this niche? (e.g. digital marketing)"
I need to know that the applicant is not just a reader/writer, but a 'DO'er'. My goal with the Ahrefs Blog is to publish the kind of content you won't find anywhere else. I'm not looking for people who can research stuff and re‐write it. I'm looking for people who can DO stuff and write about their first‐hand experience.
Question #5: "What do you think of the posts currently on the Ahrefs blog?"
I like to see whether a person can be honest and critical or simply flatter me saying 'your content is awesome, I want to be a part of it'. In my opinion, good writers see flaws in everything, so if a person will criticize our existing content, that's a good sign for me personally. However, criticism for the sake of criticism means nothing. It needs to make sense and align with my vision for the Ahrefs Blog.
The key takeaway here is this: ask questions that will allow you to quickly assess whether or not the applicant is a good fit.
It may not be these exact questions.
Challenge them early on
Making it easy for applicants to get in touch with you isn't always the best approach.
The easier you make it for writers to apply, the more low‐quality proposals you'll receive.
Making things a little more difficult is another simple way to "weed out" lazy content writers.
Here's one way to do this: don't include your email address, just give them your name and website address.
If applicants want to get in touch, they'll have to make the effort to find it.
This is usually as simple as doing a quick Google search.
But you'd be amazed at how few content writers are willing to make even the smallest effort when applying for gigs.
This is a good indication of how they are going to act whenever they encounter even the smallest roadblock when writing content.
Give high‐quality applicants a reason to apply
It's not only important to dissuade low‐quality applicants, but also to provide the right incentive for your ideal applicant.
Everything outlined above goes some way towards achieving this, as it shows that you're serious about your listing.
But, high‐quality applicants usually want to know three things:
Will they get paid a decent rate?
Will you give at least some level of creative freedom?
Is the job likely to be boring?
I've been a freelance writer for 6–7 years and I can tell you that these three things are hugely important to me.
Here's what I'd recommend you include on your listing:
Your rough budget (e.g. $200+) — this instils confidence that you're actually willing to pay for quality;
Insight into the kind of employer you are — saying something along the lines of "I'm happy to give a lot of flexibility and creative freedom to the right applicant" goes a long way with great writers. Trust me;
An overview of the kind of content you're looking for — talk about your niche and give examples of content you like. If the applicant has a genuine interest in your industry, they won't find it boring.
I'd also stress that, if possible, you shouldn't give an exact budget.
It's much more logical to let writers tell you their rate. This allows for negotiations and you can often get content written much cheaper than budgeted for.
It also ensures that writers are happy with the rate offered and aren't compromising.
Where do you find the best writers?
OK, that's the job listing itself covered, but where should we actually post it?
There's a never‐ending list of freelance websites (UpWork, PPH, etc.), but are any of them actually worth your time?
To answer this question, I conducted an experiment.
I crafted a job listing for a hypothetical writing position on my SEO blog, The SEO Project and posted it across these 7 sites:
I received 41 applications in total. I judged the best site by looking at:
# of total applicants
% of applicants who actually followed my instructions
# of applicants I'd actually consider hiring
Cost! (where applicable)
Here are the results:
And here's my verdict on each of them:
Problogger Job Board
Problogger brought the most applicants (by far) and they were generally the highest quality out of the bunch.
I told all applicants to apply via email with the subject line "I know a lot about SEO".
Not everyone listened.
I instantly discounted anyone who used a different subject line like this. I'd advise you do the same.
I'd happily hire 4–5 of the 28 applicants. The rest either lacked the level of knowledge needed for this niche or simply didn't meet my quality expectations (in terms of their writing).
UpWork
Applicants from UpWork were generally quite poor.
I got quotes ranging from $12/hour to $100/hour.
Two were junk; two were OK; the final guy seemed pretty good, but he seemed more geared towards generic "marketing" posts (rather than solely SEO).
He was the only person I'd consider hiring out of the bunch.
I'd definitely say UpWork is better‐suited to anyone with low/mid‐range budgets.
BloggingPro.com
I received 4 applicants in total and the listing itself cost $30. This worked out at $7.50 per applicant.
And, once one person was discounted (as she didn't follow my basic instructions), it actually worked out at $10/application.
If we compare this to Problogger (28 applicants for $99), it worked out over three times more expensive (per applicant).
There was also only one hirable applicant out of the bunch. They were generally mid‐range writers.
I'd recommend ProBlogger over this site any day.
Guru.com
Most of the proposals from this site were, quite frankly, total junk.
They were nothing more than generic copy/pasted pitches. They also made zero effort to answer any of the questions outlined in the job listing.
Proposals ranged from $30/hour to $500 (so quite broad!).
I wouldn't hire any of these applicants at these prices, nor would I recommend Guru.com. There are better options.
PeoplePerHour.com
None of the applicants from PPH came anywhere close to "hirable".
Here's one of the proposals:
He made no effort to answer any of my questions and quoted an extremely low price of £17 (approx. $21).
In fact, the highest quoted price was £40 (approx. $50), which — considering I went for PPHs highest £££ option — seemed pretty low.
Sidenote.
I've had a lot of positive experiences with
PPH
in the past (I actually started my freelance career on there), so I'm not sure why the applicants were so terrible in this instance.
I'd advise giving an exact budget if you do post on PPH. It may help attract the higher‐end writers.
BlogExpose.com & FreelanceWritersDen.com
Both of these sites appear to be a complete waste of time.
No applications. Nothing.
I'd also add that FreelanceWritersDen.com is one of the most confusing websites I've ever visited.
It's a mess.
With job listings on both of these sites being free, there's nothing really to lose by posting your job(s) here. I just wouldn't expect much of a response.
Is there any other alternative to job boards?
Yes, there is.
Here's an email I received (out of the blue) from Tim a few months back:
He saw something I wrote on my blog, liked it, and decided to reach out.
But why?
Well, here's what he said in his next email:


He wanted me to write for the Ahrefs blog (obviously, it worked).
But my point is this: Tim didn't post a job listing and simply hope someone decent responded.
He made it his mission to proactively reach out to writers he felt were a good match for Ahrefs.
I'd recommend doing the same.
If you see a writer you know would be a good fit for your site, reach out to them and ask if they want to write for you.
Not only does this often result in the hiring of higher‐quality writers, it also means you don't have to deal with freelancing websites.
Start with a "test article"
Wherever you hire your writer(s), you need to start with a test article.
This is generally negotiated at a slightly lower rate and is an important stepping stone for both parties.
It helps you to figure out how reliable the writer is, and whether or not they're a good fit for your business.
It'll also give you insight into both the skill level and overall pace of the writer. You'll then be able to figure out how he/she fits into your content team.
However, some writers will refuse to work at a discounted rate.
This is where you should rely on your intuition.
If the writer didn't seem that great initially, it's probably safe to say goodbye. If the writer seemed solid, it may be worth risking the money to double‐check he/she fits the bill.
Bottomline: you should never commit to a long‐term partnership without doing a test article.
Outsourcing vs. In‐house
OK, so you've found a writer (or two).
But here's the question: should you even be outsourcing articles at all, or is better to keep it in‐house?
Let's briefly explore the advantages/disadvantages of each.
Advantages of In‐house
Your writer will be fully involved in your product/brand — he/she will not be working for 10+ clients at once and you won't have to fight for their time.
You can invest some money to upgrade his/her skills (buy books, courses, etc).
You can keep track of exactly how much time your writer is spending on each article (and you'll know if he/she is "burned out" or can handle more).
Your writer can easily collaborate with other members of your team (e.g. researchers, proofreaders, designers etc).
Your writer can take on other business‐related tasks (e.g. an experiment followed by a write‐up of the results).
You won't have to deal with freelance websites.
Disadvantages of In‐house
Higher overheads — you'll have to employ someone on a full/part‐time basis, so this isn't really a viable option unless you need content on a very regular basis.
Less diversity when it comes to viewpoints and writing style.
It's difficult to hire a wide range of writers (as it would be too costly).
Advantages of Outsourced
It will often be much cheaper — many people work from home and have very few overheads. They're also freelancers so all earnings go directly to them so they don't have to charge more (as a company may have to).
Flexibility — you can hire/fire writers as and when you need. No contracts.
Pay for results only — you can easily pay a fixed price for each article, regardless of the time it takes the writer to complete.
More diversity in writing style — if you hire multiple writers, you'll have the added advantage of different viewpoints and styles.
Disadvantages of Outsourced
Writers may work for multiple clients at once — they may not be as involved in your brand as an in‐house writer would be.
No way to track time spent on each article — your writer may unknowingly charge in excess of their hourly rate.
You may struggle to find a writer with both knowledge and interest in your niche.
Can't collaborate as easily — it'll be harder for your writer to efficiently collaborate with other team members.
How Ahrefs' content team operates
Almost all of the content on this blog is outsourced.
I've never met any of the Ahrefs team (including Tim) in person, nor have I ever visited Ahrefs headquarters.
But, despite our geographical differences, I still work very closely with Tim and his team when writing my posts.
In this section, I'm going to give you a "behind the scenes" look at our process.
We believe it's an (almost) perfect outsourced model.
It always starts the same way: Tim sends me a list of potential topic ideas for my next post.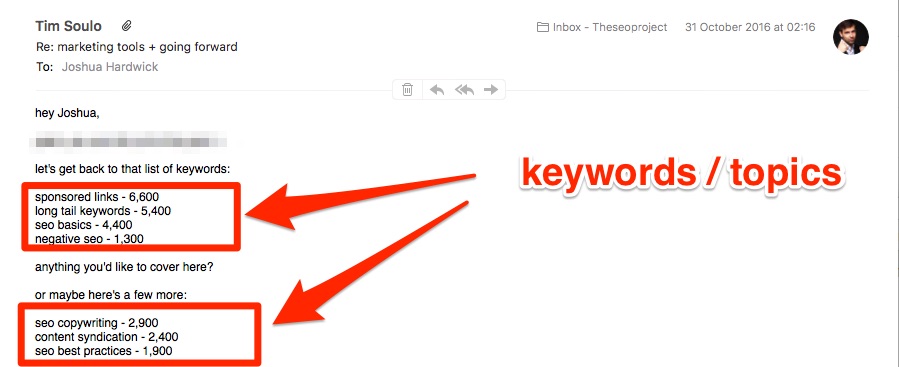 I'm free to choose whichever topic I feel most comfortable with.
This gives me the freedom to choose that topic that:
I'm particularly knowledgeable about.
I'm excited to write about.
After bouncing a few ideas around via email, I create a rough outline for the post.
I do this in workflowy, which allows me to quickly and easily create a hierarchical outline.
I then share this with Tim (and other members of the team).
Workflowy makes it easy to collaborate with others. They can easily add/edit elements and give their thoughts.
We exchange a few more ideas via email and perfect the outline. I then begin working on my draft.
Here's a screenshot of this exact post in draft form:
We use Google Docs for this for a few reasons:
It's 100% free.
I never lose a post due to the extreme instability of Microsoft Word on Mac.
It's incredible for collaborating.
That last point is the real deal‐breaker.
Google Drive allows for others to comment on my draft easily — they can even highlight sections so I can see exactly the part of the post they're referring to.
But, it's not unusual for 3–4 people (i.e. Tim, David, and even our CEO, Dmitry) to give their comments.
The bottom line is this: if you want truly stellar content, you need to invest your own time in it.
No matter how knowledgeable your writer happens to be, the "owner" of the business will almost always have something cool and exclusive to add.
Finally, I take their comments on board, edit/refine the post (sometimes multiple times), then it goes live.
Without a defined process like this, efficient collaboration would be near to impossible.
But this way we're able to collaborate (almost) as efficiently as we would in person. This allows us to overcome one of the main drawbacks of outsourced content creation.
Yes, it takes some time and effort on your part (i.e. the employer), but it pays off in the long run.
Conclusion
We've touched on a few important "messages" in this post, all of which are based on our first‐hand experience running and growing Ahrefs Blog via an outsourced team.
Now, we'd love to hear from you.
Which of our "messages" resonated with you the most?
Are any arguable?
What is your own experience with outsourcing content?
Leave a comment with your thoughts. We'll happily add any "golden nuggets" to the post.
See you in comments!