Getting Started
I'd like to start out by digging into Local SEO and help you guys to better understand what Local SEO is and how you can benefit from it. There's a lot of misconception within various Social Media platforms and Internet Marketing and SEO forums, surrounding the difference between Local Search Engine Optimization (SEO) and SEO.
When we think of Local SEO — we often dismiss it as being not as valuable and not as beneficial as that of a full-blown International SEO campaign. This is far from the truth.
Local SEO is a long-term marketing (project) campaign. Local SEO entails a goal, that goal being consistently qualified, yet targeted — local, Organic, website traffic — for local businesses. While Local SEO and SEO are unique marketing goals by nature — they're both very different marketing beast.
In today's article, I'd like to help those of you who're interested in starting and or managing your very own Local SEO campaign.
Local SEO requires lengthy, diversified Local SEO strategies.
All that's required to manage your own Local SEO campaign is know-how, time, consistency and dedication. If you possess these four features and are willing to go the extra-mile — then I'm willing to teach you and walk with you throughout your very own Local SEO journey to success.
Let's Review Some Up-to-Date Local Search Facts
Let's crunch the numbers first. Below is a tidbit of recent data from comScore.
Seventy-nine percent (79%) of smartphone owners and eighty-one percent (81%) of tablet owners use their device to search locally.
Smartphone and tablet based local searchers do NOT want to be overwhelmed with content.
Searches on Portal, IYP, and Local Sites have a similar chance of ending in a purchase.
Size of business is not an excuse for lack of online presence – searchers looking for independent businesses have high expectations of finding a business website.
Need more facts before we get started? No problem.
See what +Greg Sterling had to say in his recent (May 6, 2014) blog post, over at Search Engine Land.
What Businesses Will Benefit From Local SEO
Not every website or online business will have a physical location and that's quite alright. Not every online business/website needs a physical location.
For those of you business owners who do possess a physical (brick and mortar business) location or intend to, in the very near future, you're the ones who will benefit the most from starting and managing a long-term Local SEO campaign.
I strongly recommend that if you're going to be following my instructions surrounding Local SEO, that you possess your very own website. You can get started by purchasing a domain name and simply building your own site or hiring someone to build a WordPress website for you. This can be really inexpensive — depending upon your current WordPress skills.
I'm going to assume that the majority of you who follow this awesome SEO blog, already have your own website.
Website owners who are interested in Local SEO, must be interested in gaining a larger, local client base. To make this happen, you first want to make sure that your website is worth visiting.
1. Understanding Exactly How Google Works
It's always best to understand how something works, prior to attempting to beat them at their own game.
I can't count the number of times that I've had clients come to me, offering to pay me "any price" — to manage their SEO campaign. Upon reviewing their site, it was no wonder they couldn't get it ranked on their own.
It's detrimental that you understand Google, before trying to make them position your website on their first page.
2. Ask yourself this question
Regardless of the search query — does your website deserve to be positioned on Google's first page, for the whole world to see?
If you owned Google, would you position your website on your front page, for any particular search query?
So — before jumping the gun, make sure that your site is worthy of what you're asking Google to do for it. Before diving in too deeply, into your Local SEO project, work on your site first and foremost.
There're lots to do and it's going to take lots of time doing it. (We will get into this in a later post!)
Local SEO 101 — The Road Map to Success
Step #1
Research and Keywords
Your site should contain content that's relevant to the localized search queries you want to rank for in Google.
The first step is to perform some keyword research. This should be something that you should take very seriously. Don't simply "think" nor "assume" that you already know which search terms your customers are using in Google, to find local businesses, like yours.
You know what they say about assumptions!
So, go ahead and dig into your favorite keyword research tool(s) and gather some data.
Tracking your keyword ideas, really isn't a bad idea.
It will help you to keep track of everything and will be something you can use later on down the road. I found a pretty cool Excel spreadsheet that was created by Eugen over at EugenOprea.com
It's much easier to rank for "long tail keywords", than what it is "head terms". The above template will help you to brain storm more long tail phrases and keyword ideas, by being able to see what's going on with your head phrases.
Here are some recommended articles that will teach you more about long-tail and head term search phrases. ( The ultimate guide for mastering long tail search, HubSpot)
Google is starting to rank website's based on word synonyms and related terms.
Once you've figured out which search terms your local business should be listed for in Google — you need to start optimizing your website with rich, high quality, well optimized, long-form content.
Make sure to include:
The name of your company and or business (Name)
The physical address where your business is located (Address)
Your businesses primary phone number (Phone Number)
Embedded a geo-sitemap on your site, so search engines can easily access it
Step #2
Local Citations and Backlinks
When it comes to Local SEO — Local Citations are the equivalent of backlinks. Local Citations are an absolute must, in order to get your website ranked on the first page of Google, over your competitors.
Links still matter, when you're performing Local SEO. Citations are just as important.
What is a Local Citation?
A local Citation is your Name, Address and Phone Number (NAP) listed in a local business directory, online.
Something to keep in mind, your "NAP" must be the exact same, every time that you post it online or within a local business directory.
I created a massive list of Local Citations using List.ly — this list contains everything you'll ever need to create as many relevant, high quality, Local Citations as that you'll ever need.
The list contains top Citations for Australia, Canada, UK, USA, Data aggregators and so, so much more. I think you'll really appreciate the list once you dig in and start implementing it.
What is Local Link Building?
+Matt Green wrote a great post on Local Link Building, one I highly recommend that you take a look at. He's pretty much covered everything about Local link building that needs to be covered and I'm not a huge fan of rehashed content, so I'll leave it up for you to take advantage of what has been written by Matt . (I'm planning on digging into this topic at a later date, showing you how you can implement the Ahrefs link tools to master your local link building.)
Step #3
How to Use Google Plus Local
Google Local is the number one local business listing, that you can achieve and is a great platform to implement — per your overall Local SEO campaign.
Many (brick-n-mortar) local businesses don't have a website and simply use only a Google Local listing to market their local business online. Google Local is a great platform for local businesses and is a great way for a local business to develop new local leads and drive foot traffic into the doors of their local business.
There's a whole lot that surrounds Google Plus Local and while I won't be covering everything today, I will provide you with some strategies to help get you started.
Getting Started
To get started with Google Plus Local — go here and follow the directions given by Google.
Aside from marketing your website, as we've discussed above — to maximize your local business efforts, you should create and optimize a Google Plus Local business page too.
You should optimize your Google Plus Local business page, in the same way as you optimize your business website.
You will find that your Google Plus Local business page will be ranked in Google's local results.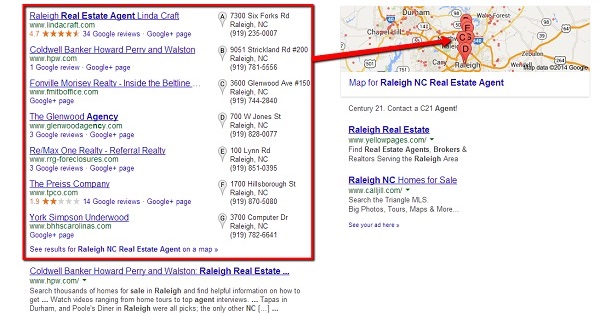 This will provide you twice the chance of being found and driving traffic into the doors of your local business. Google Plus Local provides a load of new and amazing opportunities, for you and your business.
5 Benefits of Using Google Plus Local
Google Local allows your customers to write reviews about your products and or services online.
Google Local allows for more direct and personal relationships.
Google Local allows for you to post photos of your business, etc.
Google Local allows for you to share videos and use Google Plus Hangouts to see and speak directly with your customers.
Google Plus provides you Google Authorship benefits and allows for you to have your image shown in SERPs.
This isn't even the beginning of the benefits that Google Plus Local offers you and your business. This is just the beginning.
Step #4
The fourth step is the most difficult. The fourth step is where muscle meets the bone.
Search Engine Optimization is a tedious and very time consuming marketing process. The main reason why the majority of marketers fail at SEO is solely due to their own personal downfalls.
The fourth step requires 4 things.
Dedication. Consistency. Motivation. Perseverance.
It seems that these four personal features come only through personal drive and habit.
Working towards a goal such as your Local SEO campaign, does become habit forming. To achieve these four personal features, I highly recommend that you start working on your Local SEO today and each day — continue the process of working more and more toward achieving your goals.
Time means everything.
SEO success doesn't come over night and doesn't happen, in just a couple of months. This is where many business owners give up and start using what we in the Search community refer to as Blackhat SEO techniques.
Those who can't manage their own SEO or Local SEO projects — tend to hire an SEO company to manage their Local SEO for them.
For those of you who don't have the necessary free time to manage a Local SEO campaign, this really isn't a bad option.
Just make sure you hire someone who has had a lot of success and knows exactly what they're doing.
Steer clear of Blackhat SEO. (I will dig into this at a later time!)
In Conclusion
In conclusion — I hope that this Local SEO 101 guide provided you with enough information, to help get you started.
If you have questions and I hope that you do — I'll be looking out for your comments, in the below commenting section of this guide.
If you've found this Local SEO 101 guide useful and have learned something new from this guide, then please share this article with your friends, on your favorite social platforms.