Local search has changed massively over the past few years.
With adwords, maps, local listings and directories taking up increasing room in search, even a number 1 ranking won't necessarily drive the traffic and enquries you need.
The good news is, for the smart marketer this represents an opportunity.
Garrett Mehrguth explains how to drive more business leads from Google by optimizing for the entire page.
How to Take Market Share in Local SERPs
First and foremost, it's time that local SEOs working with local businesses advise on or learn adwords.
Why?
Because slowly but surely, Google is taking more real estate and pushing organic results down the page.
In today's marketplace, for most local searches, a user is forced to scroll below the fold to find an organic result. Unfortunately, the #1 organic ranking position can now be the seventh or even eighth spot on the page: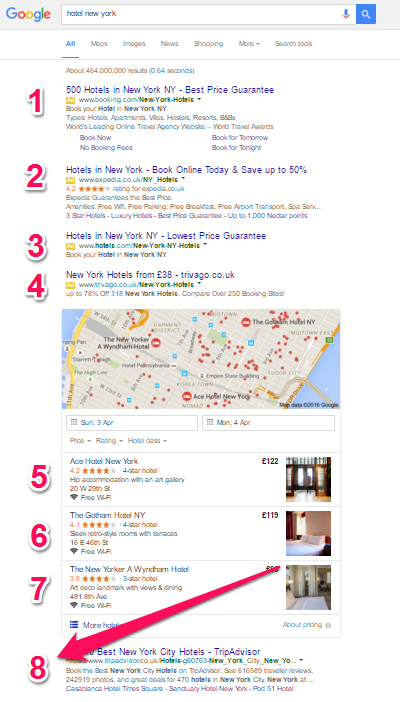 Adwords offers a solution by providing us a position above the fold.
We have found that by adding Adwords into a local business's marketing mix we are able to drastically increase lead volume.
Now, if we are going to advertise, we might as well be effective:
Optimise Click Throughs By Standing Out From The Crowd
The key for an effective local ad is to interrupt the searcher. Unfortunately (or, maybe fortunately), most advertisers are using stale ad copy.
While we know "keyword + city" might help with quality score (ex. "#1 Plumber Orange County"), it is far more important to interrupt the searcher and earn the click.
Across multiple local adwords accounts, we have consistently found that there is not a drastic difference in CTR when located in any of the top 3 spots. The key instead is that your ad copy differentiates you from everyone else and earns a quality click.
Here is some ad copy we are running for a local client that is converting at 14% — phone call or form submission being the measurement.

How To Spy On Competitor Ads With Ahrefs Positions Explorer
If you are considering using adwords to drive leads to your business, then a great way to start planning your campaign is to analyse the paid traffic strategies of your competitors. With Ahrefs Positions Explorer you can find out exactly which keywords your competitors are targeting and the copy they are using in their ads. Here's how to do it:
Step 1: Enter your competitor's domain into Ahrefs Positions Explorer and hit search.

Step 2: From the summary page, select your target country and then click on PPC Research > Paid Keywords.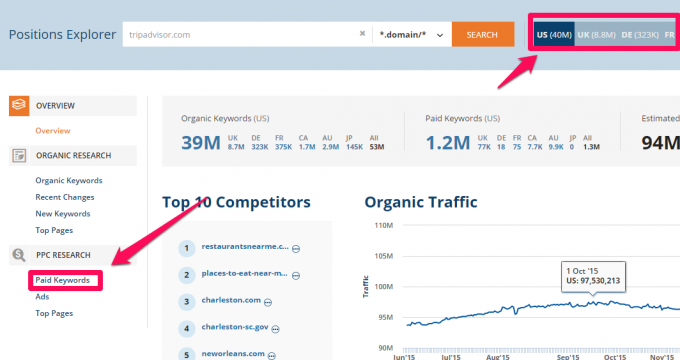 Step 3: Positions Explorer will return a list of the keywords your competitor is currently bidding on. For each keyword, the search volume is also listed.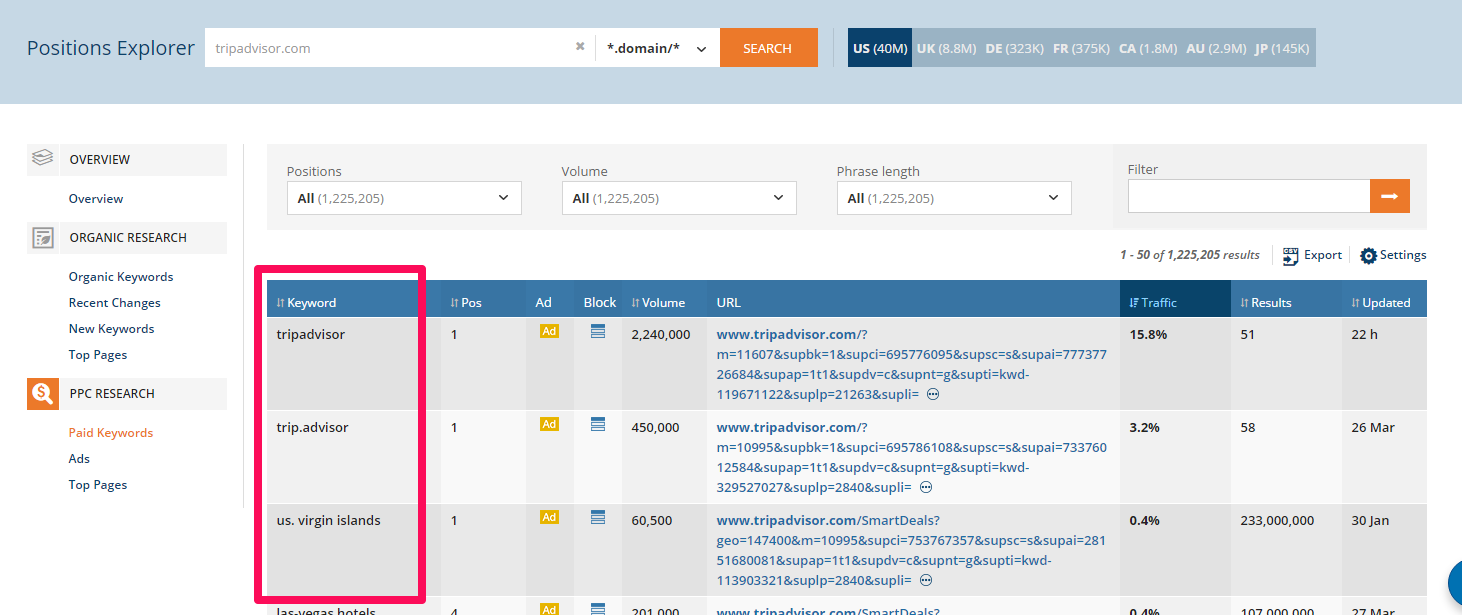 Step 4: To view ad creative for a specific keyword, hover over the yellow "Ad" label.
Step 5: Think of ways you can improve on your competitor's ad copy to make your own listing stand out. This will maximise your click through rate (CTR) and lower click costs.
But What If You Don't Want To Do PPC???
Let's say we are working with a local rehab center. We have a fairly weak site and are trying to rank for a difficult local query such as: "drug rehab centers".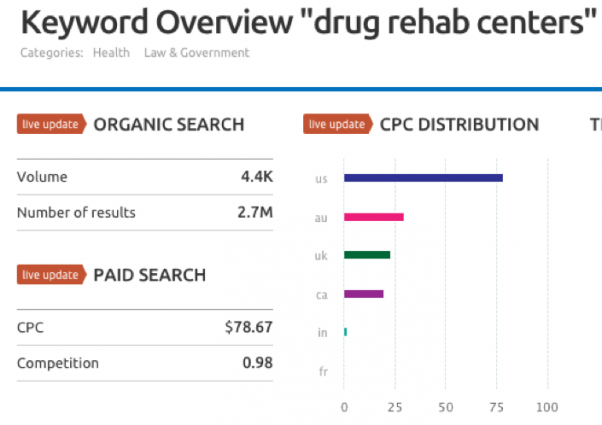 With just a simple analysis of the market and a rehab center's business model, the idea of traditional PPC is out the window. While rehab centers have terrific margins, the idea of paying $78.67 a click is a bit absurd to most business owners.
What's next then? Let's analyze the SERP below…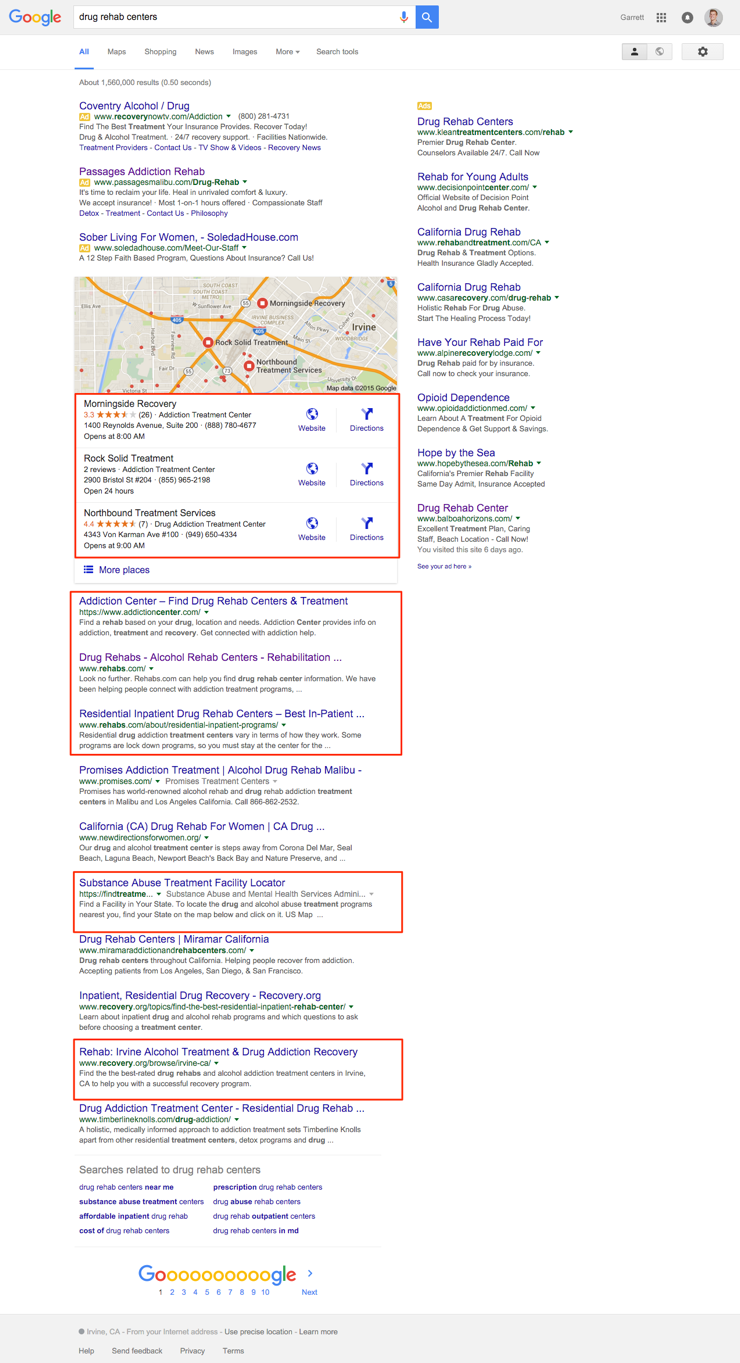 All of these red boxes are areas that we can take SERP market share without any traditional SEO or PPC.
Which is why it's time we think beyond local SEO and start thinking about local SEP (search engine positioning).
Organic rankings almost always convert better than PPC.
By advertising on directory sites you are effectively paying to rank organically and will therefore reap the benefits of such organic positions.
Which means you should aim to include your brand in the business listings of any directory that ranks for a competitive query in your target industry.
To fully maximize these ad buys, it is critical that you are in the top 5 positions of any directory you advertise in.
The logic behind this is simple: would you contact the 8th rated company?
There is however one caveat to the above:
Make sure you have proper tracking in place so that you can monitor conversion rates. If the conversions are not worth the ad dollars simply discard and move on (more on this below).
Pairing Local Search Positions with Google Display and Local Awareness Ads
To illustrate the power of building local impressions perform a local query and analyze the results.
Who would you contact? Beyond reviews, what can you do to stand out?
I believe the most impactful thing a local business can do is build their impression volume within their target market.
With our accounts, we work diligently to rank our clients for local queries in the following places:
adwords
map results
organic search
directories
But, once we have achieved this, we pivot. We begin to focus on building our impressions and thus our CTRs.
As SEOs, it is time that we think beyond keywords and start to build our client's brands.
Building HyperLocal Links
A simple and free way to find hyper local links that are relevant to your area is to look at what listings rank organically for a search of your city. For example, we might search: "Orange County".
Next, take a simple inventory of the sites that are ranking. Can we get a link from any of these? If yes, get to work and start doing some outreach. Special thanks to @CaseyMeraz for this tip: http://bit.ly/1OaLph9.
The goal is that if anyone from our target market goes online and searches for what we offer, they will find us in as many different places as possible.
We need to understand our local market's SERP landscape and take as much market share as possible.
Calculating the Value
The ROI calculation to understand the value of a local ad buy is quite simple. You only need two things: Call Tracking and Event Tracking.
Setting Up Call Tracking:
To setup call tracking, we like to use CallRail.
After signing up, you will need to install their code on your site. Here's how!
We no longer worry about NAP inconsistency by simply porting your number into the call tracking provider. You can learn more here!
After you have installed the callrail script, you will need to add a new goal in Google Analytics.
Here is a great post explaining how to do this: https://support.callrail.com/hc/en-us/articles/201325073-Adding-Call-Goals-to-Google-Analytics-Universal-.
Google Analytics Event Tracking
Next, we will want to make sure that we have event tracking setup so that we can measure form submissions. If we are advertising throughout the local ecosystem it is crucial that we can measure our success.
To set up event tracking for form submissions, we like to use a jQuery code which you can modify according to the class of the event your are trying to track. Here's a handy dandy tool that can take care of this for you!.
Once the event is setup, you can now create a goal for this event based on your category, action, and label.
Now that you have your tracking setup and you are receiving visitors from your ad buy, head to your acquisitions tab in GA: Acquisition>All Traffic>Referrals.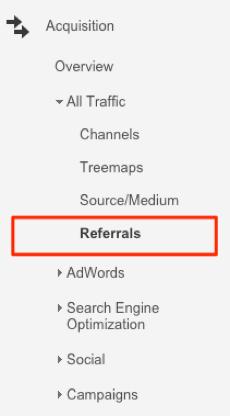 Now, simply take your monthly advertising cost for one of the directory sites and divide it by the amount of visitors the website sent to your page.
A goal we aim for is to keep the cost per click under our average CPC on AdWords while having a conversion rate greater than 3%.
(Monthly Cost for Advertising/Monthly Visitors Sent to Your Website) = Cost Per Click.
Next, you can simply analyze your conversion rates: phone calls and form submissions. You can compare these against your other channels: organic, social, etc.
We recommend a 30-day analysis of all ad buys. Most local ad buys have the option to pay more or less to move up/down the listings. Depending on the conversion rates, you can increase or decrease your spend on each website.
The Big Picture
There is a difficult dilemma for local SEOs: organic rankings take.
If you focus all your efforts into only making a website rank, you will be viewed by the client as an expense. If it takes too long you get fired. It's that simple.
But, it gets worse. Let's say that you finally get the website to start ranking for competitive terms, you still might not be able to generate the leads necessary to support the retainer you want to charge.
Frankly, to drastically impact a businesses lead volume, worrying only about the map or even organic content creation is not enough.
To truly, dominate the SERP, you need to be positioned in AdWords (if it makes sense for the client's business model), the map results, and the organic results (ad buys and organic).
The core logic behind this is simple: SEO does not generate demand. While other channels like display might be able to generate demand, local SEO cannot.
Thus, the person who can take the most market share for the demand that already exists wins the local search game.
Which is why it's time we think beyond our site and pay to play at a higher level.