All-in-one platforms (think Shopify) have made it all too easy for anyone and their grandmother to set up shop quickly.
Hear me out. There is a big difference between setting up an online store and launching a successful e-commerce business.
To be successful, you'll need to research and develop a competitive product and create a professional website with fast shipping and helpful customer service—all while building a memorable brand.
I don't want to discourage you with an extensive task list; that's not what this is about.
We're here to help you succeed. In this article, you'll find nine steps to start your e-commerce business on the right foot.
Before you start building anything, you'll want to research the viability of your vision.
Do search query trends support that this product or store is something people want? What will your market position be, and can it be profitable?
Search query trends: Is this something people want?
You can get an idea of the level of interest using Google Trends and a good keyword research tool.
Google Trends is an online search tool that maps the popularity of broad queries in Google Search across various regions and languages over time.
For example, say I'm interested in starting a children's gift shop. Google Trends shows that searches for kids' board games have declined for a few years—especially around the holiday season.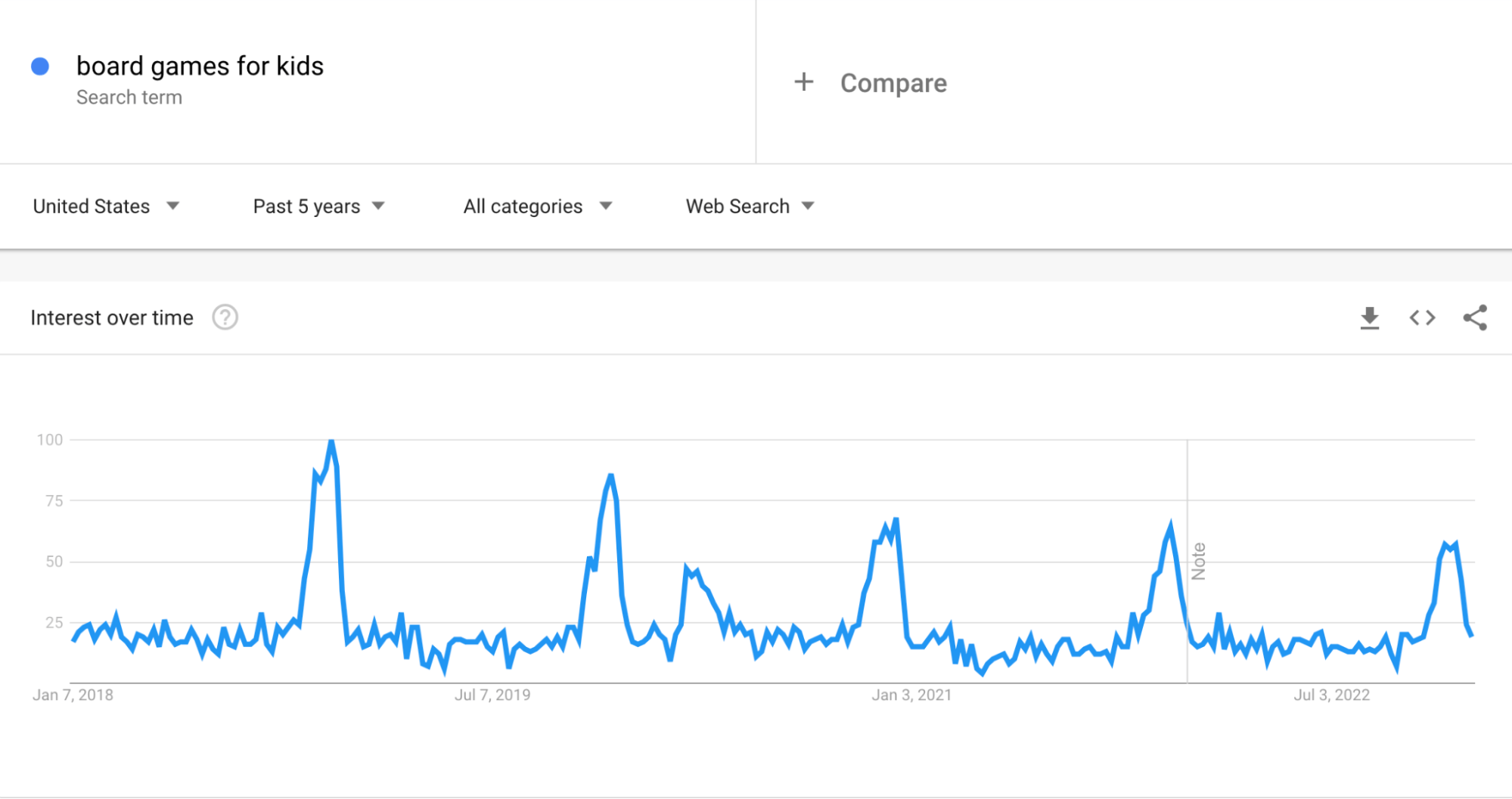 However, searches for wooden toys seem consistent.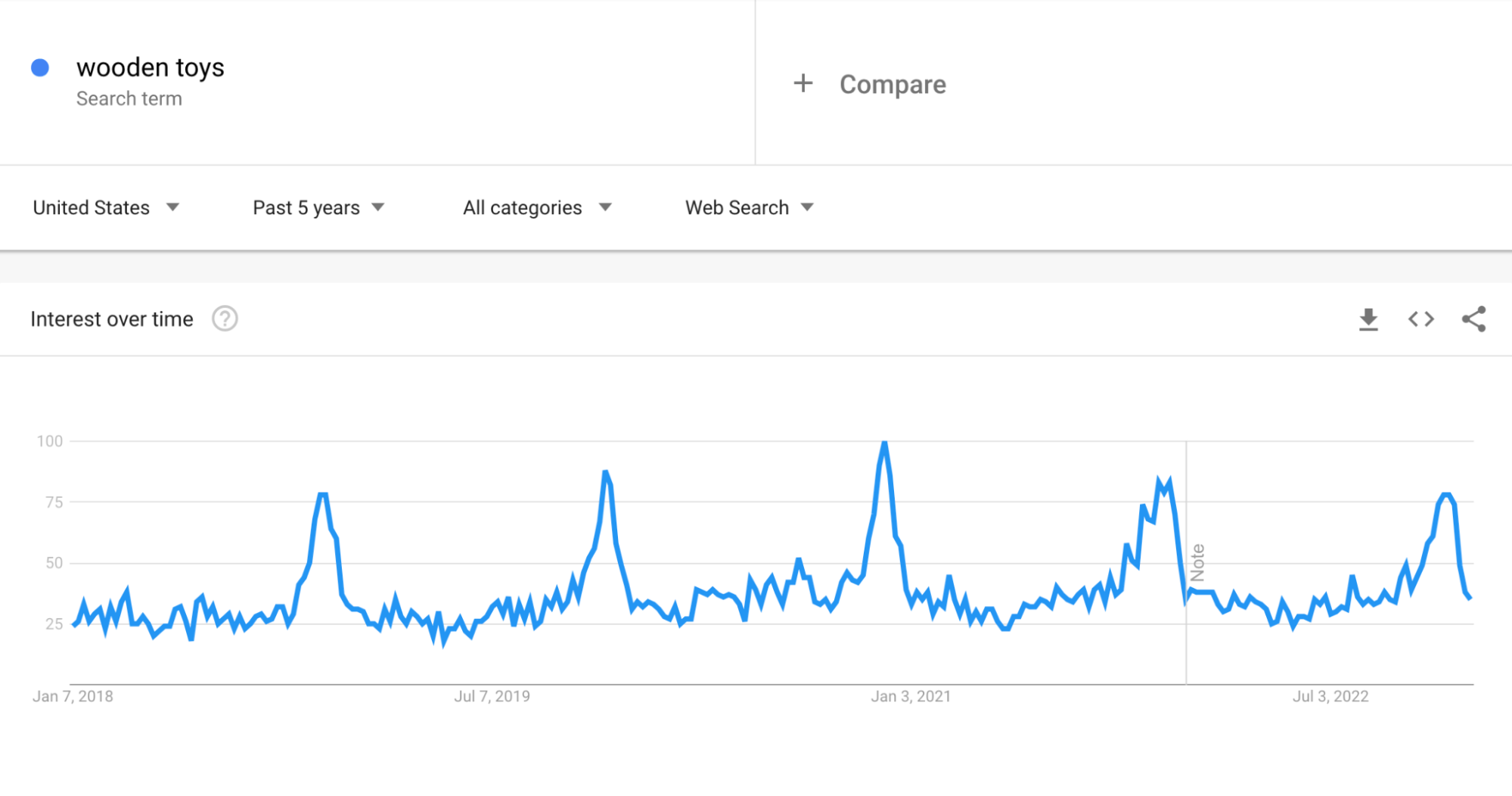 Based on this, wooden toys may be a better product niche than board games.
A keyword research tool is also helpful in the research phase. Ahrefs' Keywords Explorer, for example, lets you see more details like related search queries and competitive metrics.
Continuing with the wooden toy shop example, Keywords Explorer tells me that a related search query, "wooden stacking toys," has, on average, 500 monthly searches. And the trend line is increasing.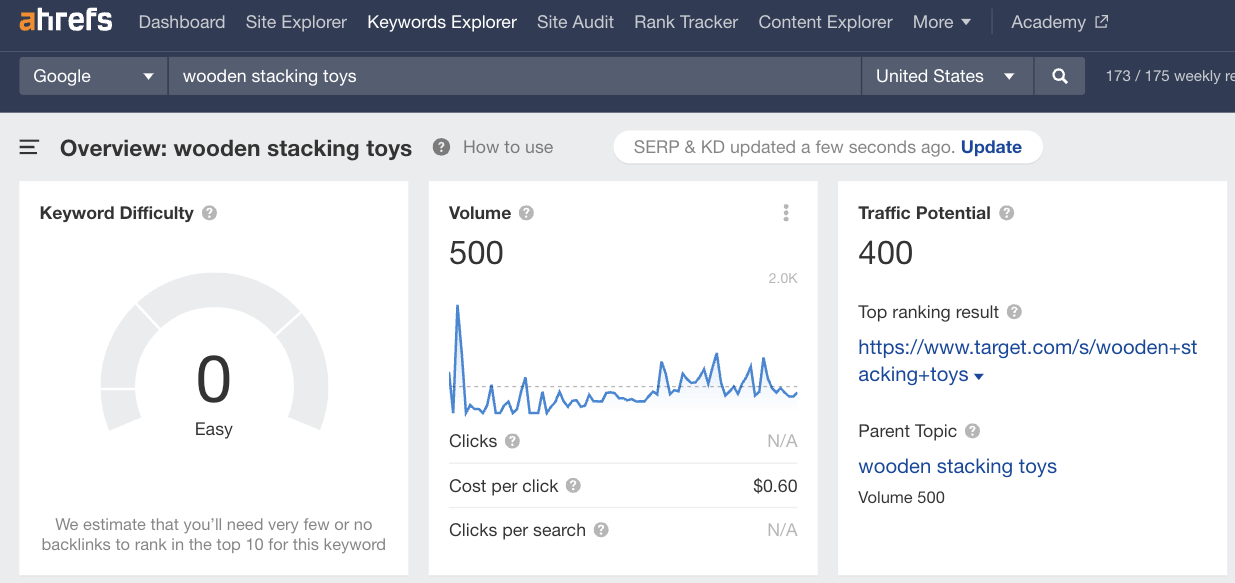 I would also likely need very few to no backlinks to rank in the top 10 based on the low Keyword Difficulty (KD) score.
We can confirm that in the SERP overview where we see that smaller niche e-commerce sites are ranking in the top 10, along with the giants like Target and Amazon: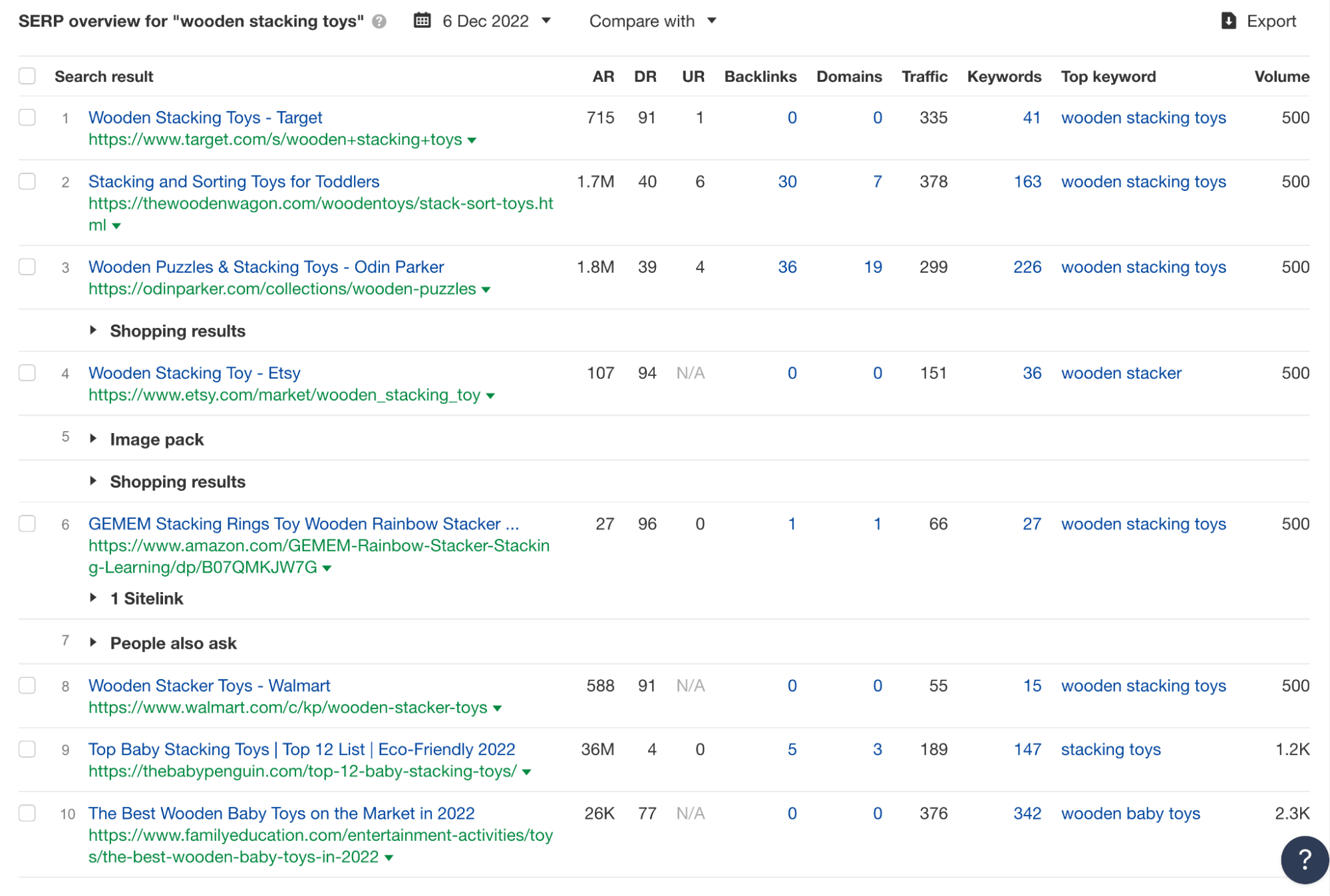 Based on this, it seems wooden stacking toys are an emerging trend that is not too competitive yet.
Customer research: What will your market position be?
In addition to what people are interested in, you need to learn why they buy and what they want to see improved.
To understand why people buy, join industry forums, read reviews on similar products, and collect feedback directly from potential buyers with surveys and polls.
Collecting feedback from your audience will help inform and build your brand's market position.
Continue listening as your product rolls out. Staying in touch with your customer base is essential to successful brands.
Pricing research: How much are they willing to pay?
Pricing touches everything from your business finances to your product's positioning in the market.
All pricing strategies have an underlying formula involving costs (the amount you spend), profit margin (money left after costs), and markup (what you add to the cost of production).
Try the cost-plus pricing method if you need a relatively quick and straightforward way to set a starting price.
This is easy. To set your first price, add up all the costs involved in bringing your product to market and then add your profit margin on top of those costs.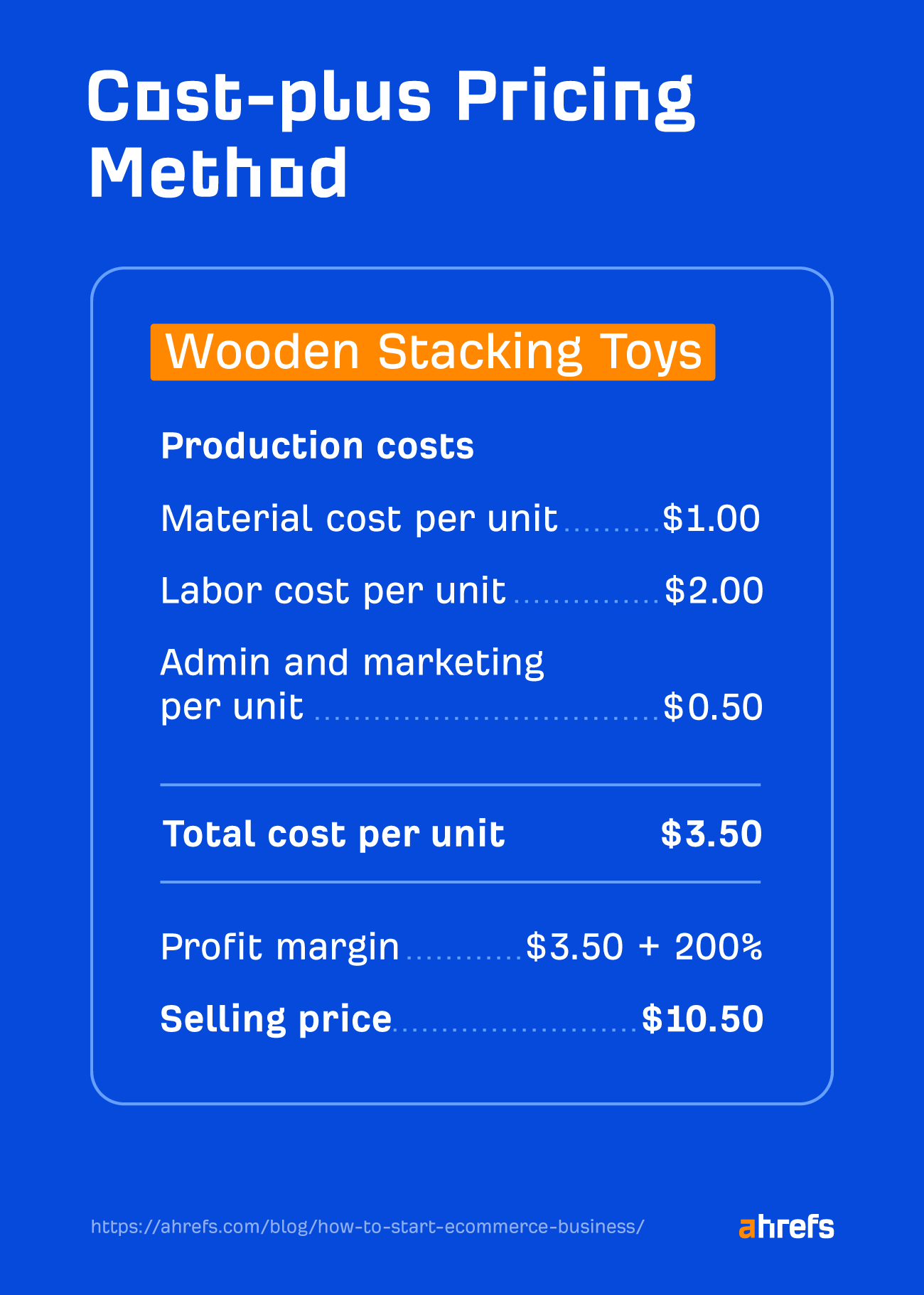 Compare this selling price to what competitors are charging and explore historical price patterns. Or, to put it simply, get to know what your customer base is willing to spend.
Once you've figured out what products you want to sell, the next step is to find who will make them.
You may create handmade products, work with a manufacturer, or resell existing products.
Below is a brief overview of the pros and cons of different sourcing options.
Creating handmade products
Handmade products are perceived as high quality, so this option allows sellers to charge a premium price.
You will have the most control over design and quality because you create the product in small batches.
The trouble with making everything by hand is that it's hard to scale. There are only so many widgets one person can make in a day.
Working with a manufacturer to build products
Working with a manufacturer will solve the growth problem, but it's time intensive and expensive.
You will look for a manufacturer, then work with them to build prototypes to your specifications and, finally, place your first order—in bulk.
Wix has a good guide on how to find a manufacturer that includes a few U.S. directories and overseas directories.
Just be careful not to jump at the first manufacturing opportunity that matches your budget. Take your time to get to know their service quality (and legitimacy). Ask if you can review their license, whether there's a minimum order quantity, and the average turnaround time.
Reselling existing products through a supplier
Many people choose to enter the e-commerce space by reselling existing products because it is easy to scale and does not require high upfront costs.
The process is fairly simple. You find vendors through online directories, order products, and ship them to your storage location or directly to customers (aka dropshipping).
Get started by browsing online directories, asking for wholesale referrals from within your network, or partnering with well-known sites like AliExpress or Faire.
While reselling has the least startup hurdles, keep in mind that you will not have a unique product or control over quality and may run into supply chain issues.
Once you have a strong plan for your e-commerce business, it's time to choose a name and fill out all the legal forms to make it legit.
When choosing a name for your company, you'll want something that speaks to the product you sell and your target market. After all, you want your brand to be memorable so customers can easily find you when they're ready to purchase.
Once you have a name in mind, check that another business hasn't already taken it or the domain name. If the domain is registered, try a few variations before hitting the proverbial drawing board again.
Here is what the business name lookup in my state looks like: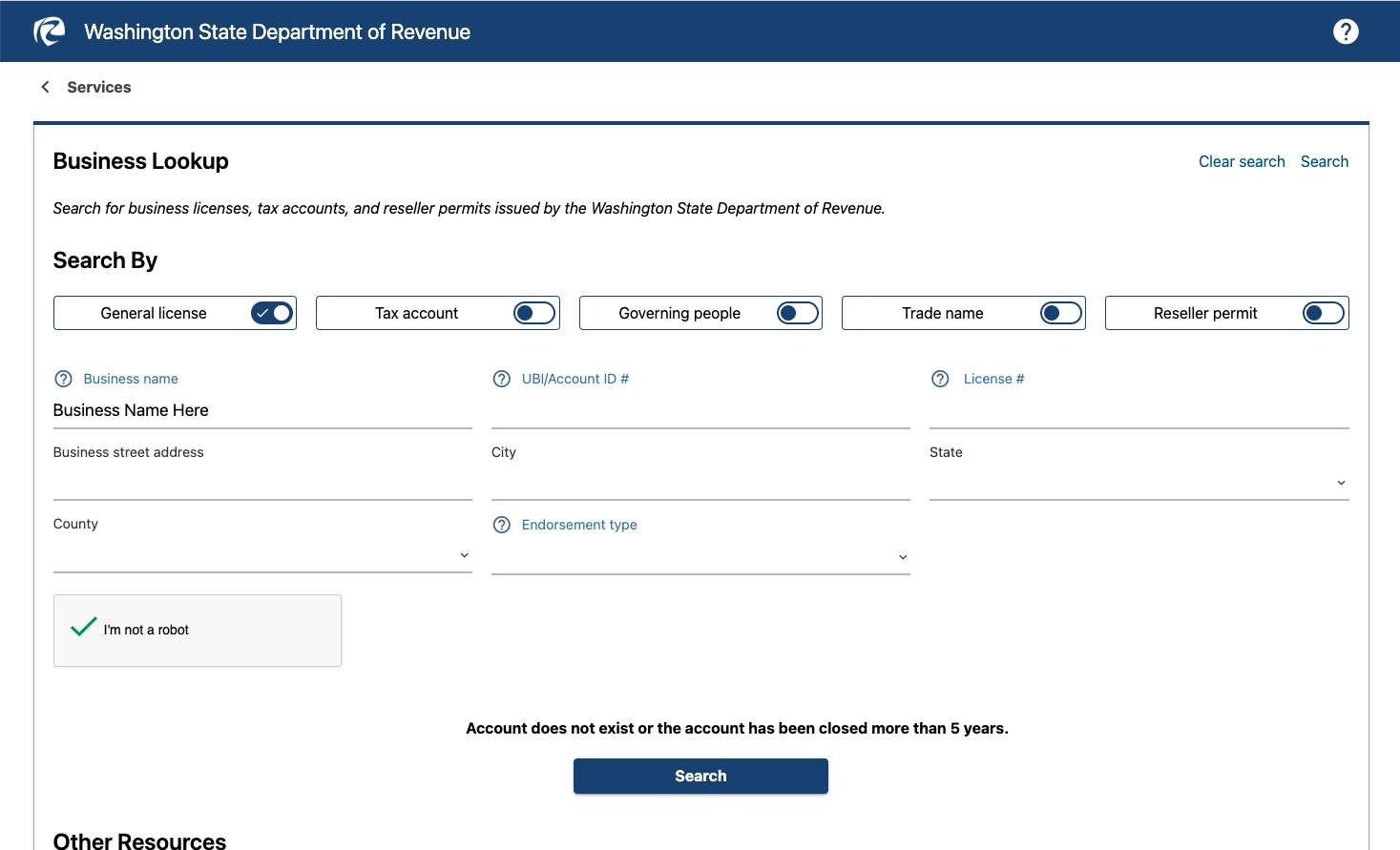 Then on a national level, this is what the Trademark Electronic Search System (TESS) looks like.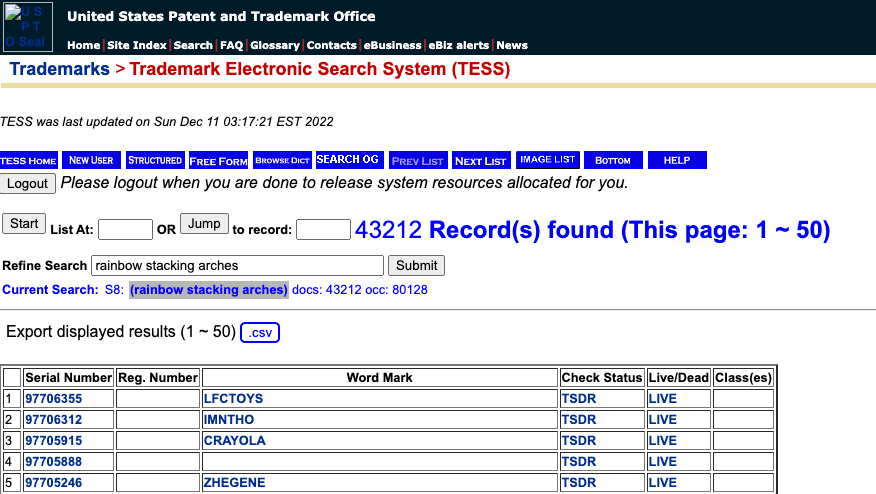 And finally, you can do a quick check for domain availability through your hosting provider of choice.

Last but certainly not least is ensuring you comply with local laws and regulations. This includes choosing your business's legal structure and filing for necessary patents and trademarks.

Trying to decipher all the legal stuff can feel daunting. Thankfully, there are multiple online legal service providers to help make the legal process as easy as possible.
Now that you've legally started your e-commerce business, it's time to create your website.
The actual building of your site will take place on an e-commerce platform, and there are many to choose from.
Changing platforms down the road gets really complicated, so it is in your best interest to choose a platform that is easy for you to manage and accommodates most SEO requirements.
Organic traffic from search engines could potentially be your biggest traffic source, so you shouldn't neglect this aspect.
To stay as neutral as possible, we've listed the most popular e-commerce platforms, according to market share:
WooCommerce
WooCommerce is the most popular e-commerce platform, with a market share of 36.68% worldwide.
It is free to download (which likely has something to do with its widespread use), open-source, and has many useful plugins that give you complete control over your SEO settings.
If you already have a WordPress site and have the technical chops to use the advanced features, WooCommerce is the best option.
Squarespace
Squarespace online stores ranked second, with a market share of 14.49% in 2022.
Years ago, trying to optimize a Squarespace site for search was really frustrating. I felt like my hands were tied. Yet, I was still able to hit that $1M in sales benchmark despite the minimal SEO capabilities.
A lot has changed since then, and I would recommend Squarespace to the non-techy crowd because of the drag-and-drop web builder and easy-to-use on-page SEO tab.
Shopify
Shopify was the third-largest e-commerce platform in 2022, with 10%.
The hosting, website builder, payment gateway, order tracking, and marketing tools are all included, with no complex installation process or wait time.
If you don't already have a strong preference, go with Shopify. It isn't perfect, but it's the best out-of-the-box solution for most people in terms of its features and management.
Wix
Wix was the fourth-largest e-commerce platform in 2022, at 6.44%.
Like Squarespace, Wix offers a user-friendly interface and templates to create a professional website with little tech experience.
While Wix has been adding a ton of SEO functionality, some important cons remain, like weird link structure and code bloat. That's not ideal because speed matters in SEO and conversion rate optimization. Unfortunately, Wix's server response time could be better.
Your e-commerce website isn't complete until you've set up a payment gateway so customers can pay for the products they want to purchase.
Payment gateways refer to the technology that helps sellers receive customer payments.
When choosing a payment processor for your online store, think about the volume and value of your transactions.
For example, suppose you have a lot of high-value transactions. In that case, using a payment processor that charges a set monthly fee and a low transaction fee makes sense.
Below, we have listed the most common payment processors by market share:
PayPal
PayPal is the most popular payment gateway, holding 42.83% of the market. It supports Visa, Mastercard, American Express, Citibank, and more.
Data suggests that PayPal-enabled checkouts convert at 88.7%, and 52% of mobile customers will likely make additional online purchases if they see PayPal as a payment option.
Stripe
If you're looking for a payment gateway that supports multiple currencies and integrates well with WooCommerce, Stripe is a great option. It's available in more than 25 countries and has a market share of 18.65%.
Shopify Pay Installments
Shopify Pay Installments is the third-largest payment processor. It is unique because it allows customers to pay for orders in four interest-free installments. It's available in 22 countries at the time of publication.
Multiple payment options effectively increase sales because you extend your reach to every potential customer.
Amazon
Amazon Pay is the fourth-largest payment processor, at 5.04%.
Amazon Pay allows customers to use their Amazon account information to make online purchases on your e-commerce store.
The benefit of using Amazon Pay is that it increases customer trust, confidence, and conversion rates.
Just as you need a payment processor to accept payments, you also need a shipping system to send products to your customers.
Will you maintain inventory, pack and ship orders "in-house," or outsource shipping to a third-party provider?
Amazon has changed customer expectations regarding shipping. Because of this, offering fast, affordable (even free) shipping options can help reduce shopping cart abandonment and increase conversions.
Free shipping may sound like it only benefits the customer, but it can be a win-win solution for both parties.
For example, you could offer free shipping on orders over a certain amount. By doing so, you are meeting the customers' expectations of free shipping and increasing the average order total.
And remember to consider free return shipping. Returns play a significant role in gaining new customers. Over 70% of surveyed consumers agree that the returns experience plays an important role in customer loyalty.
Launching your website is only the beginning. Once your online store is live, you'll need excellent customer service to help your customers with questions and to ensure they are happy with their purchases.
In the beginning, have a key staff member, such as yourself or a marketing director, act as lead for all customer inquiries.
This direct contact with your audiences provides valuable insights into areas of growth and product design.
Once it becomes too much for one person, this work can be delegated to a part-time or full-time customer service rep.
How to best serve your customer base is going to vary; below are a few customer service touchpoints to consider:
Live chat
Customers crave instant gratification. If they have a question, they want an answer ASAP.
If you can't help them immediately, you risk losing them to a competitor that's only one click away.
Since 83% of online shoppers need assistance completing an order, live chat (with real people, not bots) is a must-have.
Social media
A study by Bain & Company found companies that responded to customer service requests on social media gained 20% to 40% more sales from those customers.
You can set up alerts to let you know when your business is being discussed, answer user questions, give updates on new products, and resolve any issues they may have.
Email
When an issue or question arises, the majority of people (62%) prefer to contact a company for customer service via email over any other channel, according to research.
That's right. Email beats out live chat (23%) and social messaging sites (21%) regarding customer service preferences.
The lesson here is not to "deprioritize" email in favor of new technology, but to keep multiple communication channels in a unified system so customer inquiries can be quickly resolved.
Passion, a unique product, and a beautiful website aren't enough to get customers to notice you (unfortunately).
You'll need to invest time and money into a combination of SEO, ads, social, video marketing, and more.
We spoke to the consultant of an eight-figure e-commerce business (ButcherBox) who shared six proven e-commerce marketing strategies just for you.
Below is a quick summary of ways to market your online shop:
Search engine optimization (SEO)
SEO helps you rank higher in the search results for relevant search queries. It generally involves keyword research, content creation, link building, and technical improvements.
E-commerce SEO ups the ante, though. There are a lot of specifics you'll have to deal with, but we have your back with our beginner's guide to e-commerce SEO.
Online advertising
Online advertising is any time you place an ad on Google, Facebook, Instagram, etc., whether it's pay-per-click, pay-per-impression, or something else.
Ads are effective because brands can target the ad's message to specific users, including how close the person is to buying the product.
Take Vuori (performance apparel brand), for example; the DTC brand grew to an unprecedented $4 billion valuation in just six years.
Founder Joe Kudla credits online advertising as the reason the brand made it from its humble beginnings.
And quite honestly, if we hadn't leaned into that (direct marketing) so heavily, we probably wouldn't have made it.
Vuori used a combination of Google Merchant Center and Facebook dynamic ads, Facebook-sponsored posts, and lookalike audiences built off its mailing list. It paid close attention to cost per acquisition to evaluate what was working.
Social media marketing
With a new business, you'll be juggling a lot—so choose one social media platform to focus on. Ideally, one that balances where your audience hangs out with a medium you feel comfortable working with.
For example, if you love creating flat lays or product photography, Instagram or Pinterest will serve you well.
If you are extroverted and love to be in front of the camera, you'll shine on TikTok or YouTube.
The key is consistency. Refrain from spreading yourself too thin by trying to grow all your social media profiles. Focus on complementing your natural talents, so you'll keep it up.
Learn more: Find Influencers: 6 Easy Steps to Choose the Right Ones
Video marketing
Video marketing works well for e-commerce because it shows how your products are used and how they can benefit the customer.
Many video marketing platforms let you sell directly through the app, like YouTube, Facebook Live, and Instagram Stories.
While resource-intensive, video is not a channel to sleep on. A recent study found that 73% of respondents preferred watching a short video to learn about a product or service.
And Google knows it.
During an episode of the "Search Off the Record" podcast, Google Product Manager Danielle Marshak said, "We think this kind of content (video) could be useful for a lot of different types of search queries, and we've been experimenting with how to show it to users more often."
Videos are already rising in prominence on Google, appearing in the main search results page, video search results, Google Images, and Discover.
Taking the Vuori example from above. Over 1,200 of the keywords it ranks for in Google also trigger video results in the SERP: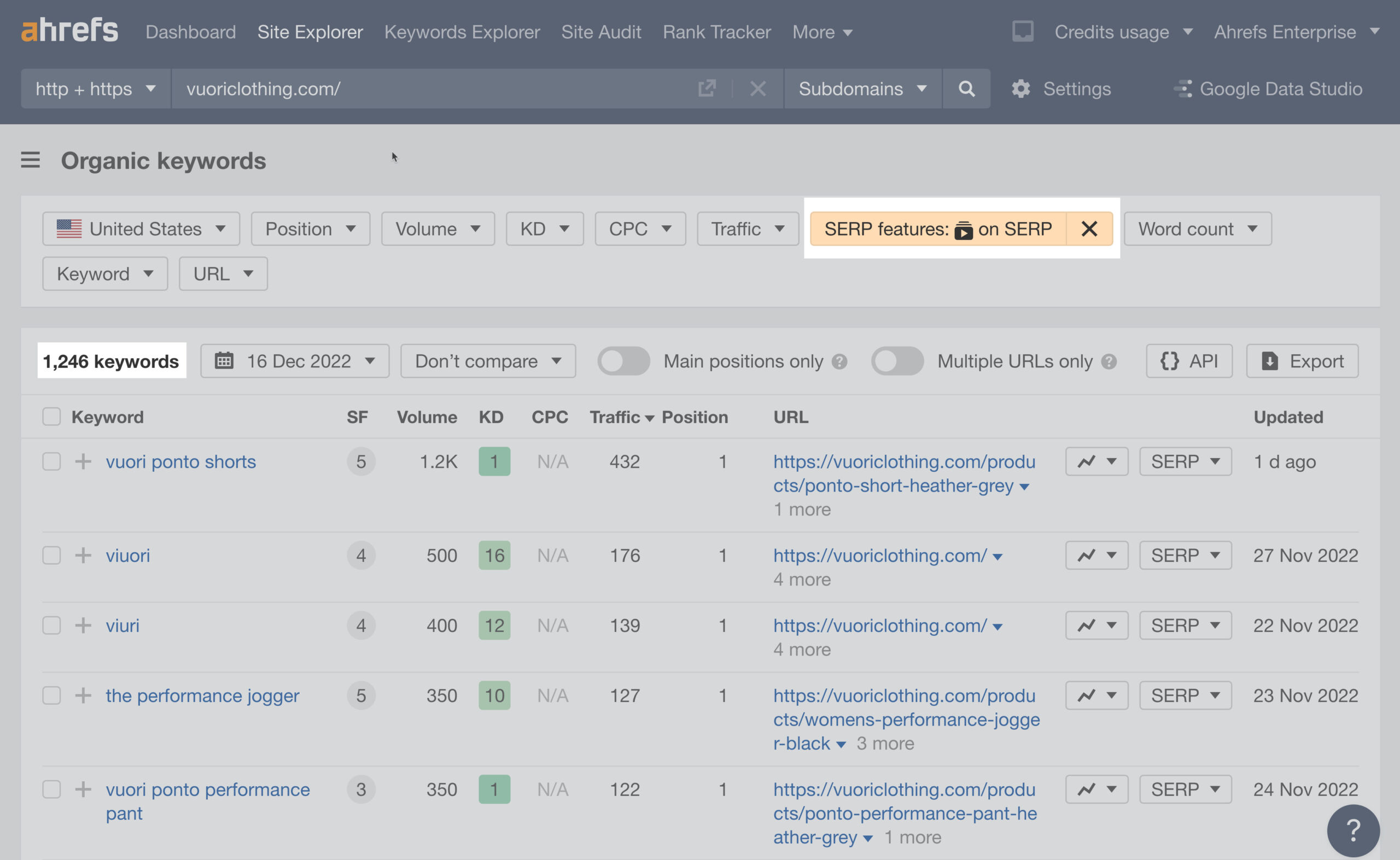 Considering Ahrefs' YouTube channel has over 360,000 subscribers and 14 million views, it's safe to say we know a thing or two about video marketing. Read our beginner's guide to video marketing to get started.
Email marketing
Promotional emails—love or hate them, they are a great way to grow your retail business.
This is because traffic from your email list isn't the fleeting kind you often get from social media posts or paid ads. It brings people who have engaged with you already back to your site.
It's like the flyer in your mailbox at home vs. the billboard on the highway.
Get the inside scoop from a marketer that has grown multiple email lists in the tens of thousands in this guide to growing an email list.
As you receive orders, track which marketing tactics are working and which aren't.
As time progresses, you'll be able to adjust and change your marketing strategy to find what works best for your business.
A few metrics I keep an eye on for optimizing e-commerce marketing strategies are:
Buy-to-detail rates (purchases divided by the number of product views).
Average order value.
Customer lifetime value.
The number of returns or refunds (by marketing campaign).
Regularly analyzing your results can identify areas that need improvement, so you can make changes to grow your business.
Learn how to measure customer lifetime value and other essential marketing KPIs in our list of marketing KPIs worth tracking.
Final thoughts
There you have it—a nine-step guide to starting an e-commerce business.
Don't let the amount of work overwhelm or discourage you. The number #1 most important step is to get started.
Got any questions? Ping me on Twitter.