Reputation and proof.
… or lack thereof … are the main challenges for a newbie who wants to start selling SEO services to clients.
After all, why would anyone hire you to do their SEO if you don't have a top ranking site yourself?
Even if you know what needs to be done SEO-wise on most sites that are just getting started with optimization, you can have a really hard time selling SEO services.
Especially when clients start asking too many questions like:
So what results have you managed to generate so far in local search for other similar businesses?
I mean, what if they are your very first client?
Well, the standard advice says that you should begin by offering your services for free just to build your reputation. But that's not very sexy, isn't it?
Overall, it looks like getting any SEO or online marketing gig that pays a noticeable amount of money has a rather high barrier to entry.
But the good news is that it doesn't have to be like that.
There's another way. And it is a bit sneaky. (Kudos to Bryan Harris for the original idea.)
So here's how to sell SEO services if you're just starting out:
The "SEO copycat" method
Now, the SEO space is a very lively environment. There are new methods for selling SEO services being thought up literally every day (especially selling SEO services to local businesses). And the overall scope of things that can be done to a site's SEO is just huge.
So the challenge is three-fold:
what to offer,
who could be the right client,
when to offer it.
Get any of these wrong and that's no deal for you.
Luckily, you can overcome all three by becoming an SEO copycat.
Here's an overview of the process, followed by an in-depth description: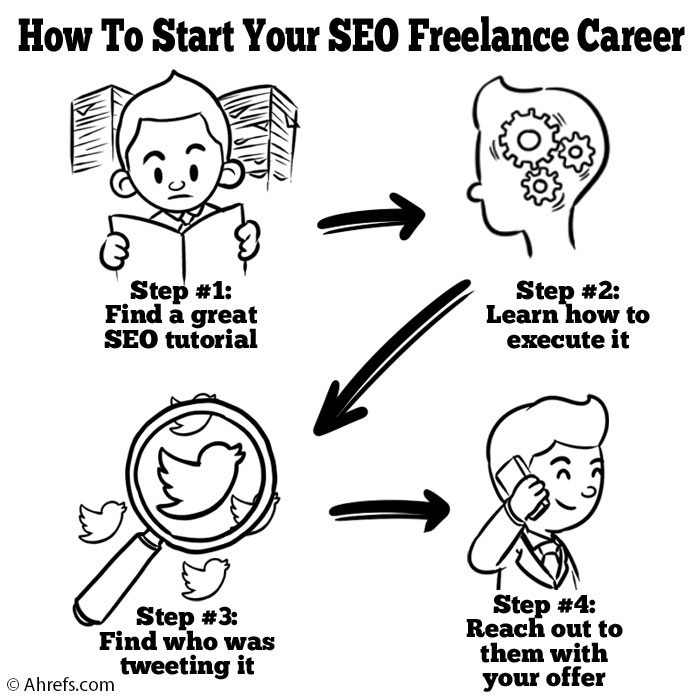 Step #1: Find a quality SEO tutorial that teaches a very valuable and effective tactic ( make sure it got a lot of social shares and comments, which means people love it);
Step #2: Go through it, digest it, learn how to execute it. Maybe even try to do it for your own site to see how it works and how much of your time it takes;
Step #3: Find everyone who shared it on social media (re-tweeted it, shared on Facebook, etc.) or who left a comment or linked to that article;
Step #4: Reach out to these people and offer the execution of that tutorial as your service.
I think the name "SEO copycat" becomes a bit clearer at this point…
Also, just to prove that this method is pretty much out there, here's an email I got a couple of days ago:
Okay, here are the fine details of how to make this work:
1. Find a quality SEO tutorial
This is the most crucial part of the process. I'd say that getting this right is even more important that building your pitch correctly.
What you're going to be doing here is browsing the web - the fairly recent articles only - to find an SEO tutorial that really strikes a chord with the community.
The ideal candidate:
is sufficiently detailed - the more detailed the tutorial is, the less you'll have to figure out on your own, and the less room to make a mistake during execution;
the author conveys their authority well - this is about the general impression you get when you read the thing; for instance, if the author sounds confident then they probably know what they're talking about, thus the tutorial is probably more thought through; looking at the comments under the tutorial helps too;
is relatively straightforward - but still requires a significant amount of time to be completed;
has a lot of social media shares;
has a considerable number of shares by influencers.
Here's how you can find such a tutorial:
Either start from scratch with just a basic SEO-related keyword (e.g., local SEO) that will help you identify popular articles on the web. You can use our Content Explorer tool to handle this. Or even use Google, but make sure to only select results from the past month.
Alternatively, compile your list of thought-leading SEO sites in the niche and follow them regularly, paying attention to any interesting tutorial that might turn out useful.
Here's a great tutorial by Matthew Woodward: The Ultimate Guide To Cleaning Up Your Link Profile Step By Step (*Article #1).
It's detailed, covers the ground very well, and tackles an issue that's tough for many webmasters - cleaning up a site's backlink profile.
Here's another one by Joost de Valk: Using category and tag pages for your site's SEO (*Article #2).
This is more about on-page optimizations, but it's still something many people running their sites on WordPress can benefit from.
One thing to always remember when deciding which tutorial to stick with is to check how many people tweeted it. Because all these people are your potential customers. You need to make sure that you have enough of them.
This can be done via a tool like Twazzup.
Let's check the two articles that I've picked as my examples:
*Article #1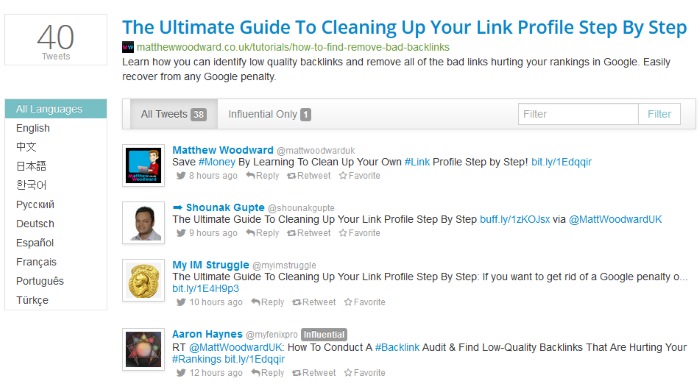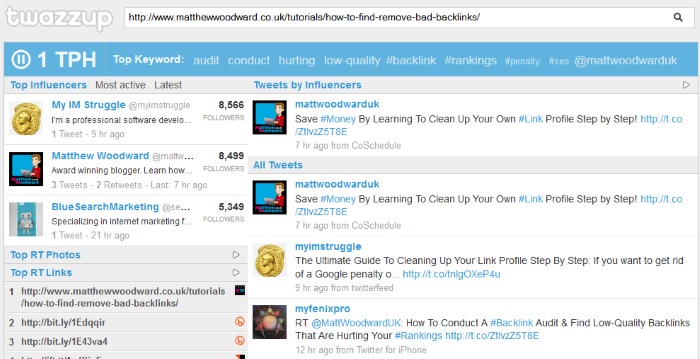 *Article #2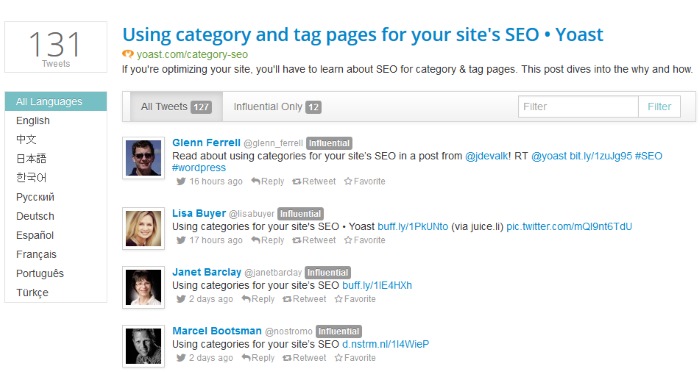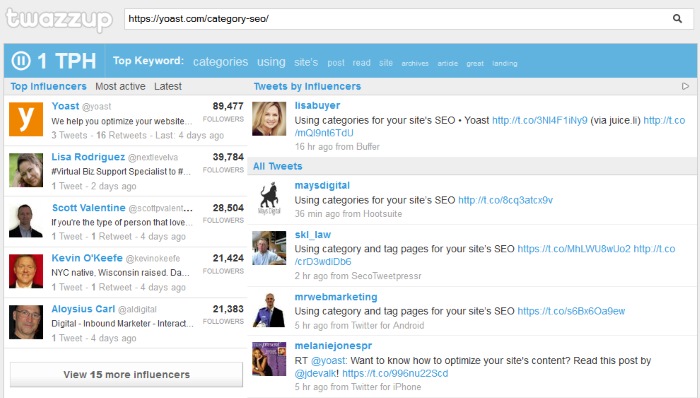 Even though *Article #1 has less shares, those are still more than 30 people that you can reach out to.
*Article #2 looks like something that can give you a little more leverage.
Note. Be careful not to choose a share-bait kind of content, that even though might have gone viral, doesn't necessarily provide any real value when put in practice. This is up to your judgment.
One more thing you can do to make sure that the thing is really valuable is browse it with our Site Explorer tool to see if anyone is linking to it.
*Article #2 looks good here:

2. Put this SEO tutorial to the test
Once you have a good tutorial candidate, it's time to test it out and see if it actually works in practice.
You need to make sure that it can be applied exactly like the author claims it can. You simply don't want unexpected trouble later on when you're doing this for a client.
Another thing to consider is actually hiring someone to do it for you. If that tutorial is based on some boring repetitive task you can easily hire a cheap virtual assistant and teach him to do it for you for just a few bucks per hour.
3. Find everyone who tweeted this tutorial
Now is the time to find some potential clients. And it seems there's no better place to look than the people who shared it originally.
So just go back to Topsy or Twazzup and find the contact information of every person who tweeted that tutorial.
Then you can also find contacts on everyone who commented on it.
And finally use Site Explorer to find everyone who's liking to it.
If you think you don't have enough prospects, you can find a few related tutorials and repeat the whole process from the scratch.
The bigger your list of prospects is - the better your chances of landing a deal with someone.
4. Offer the execution of that tutorial as your service
Get the email address of the person you're trying to reach, and message them directly. Avoid contacting through Twitter, Facebook or any other platform. Email is still king.
Remember those influencers I mentioned earlier? Try reaching out to them first. There's a better chance they will be willing to hire you for the job. These people probably don't have much time to do it on their own, but they are likely to have budget for it.
If you want to succeed with your "sales pitch", try to make it as personal as you can.
A great idea would be to turn on your web camera and record a short video session where you're going though the person's website and identifying the exact issues that you can help him with.
All people care about is themselves, so offering them to check out a video where you're pointing out the issues with their site will get their attention much better than something like:
Do you want me to help you with on-site SEO?
Two final pieces of advice:
How to price your service:
The simplest method you can use is this:
Track your time when you're going through the tutorial for the first time.
Assign a dollar value to an hour of your time.
Multiply one by the other.
Then, adjust after 2-3 jobs to reflect the actual workload this is causing.
Get testimonials along the way:
Testimonials are a powerful selling method and especially if you're pitching a service that's based on a tutorial and not on your reputation or experience.
Launching a career?
So is launching an SEO career possible just by doing this kind of service?
Well, I doubt you will be able to go long-term doing just that. But it's a great way to get started. Once you have 10+ deals under your belt, offering more in-depth SEO services will become easier. At that point, you will already have a client portfolio and testimonials to back up your claims.
However, at that point, you'll also need to set up a proper website, which can be a hassle. Think making a privacy policy, complying with GDPR, etc.
So what do you think about the "SEO copycat" method?
Does it look like something that could kickstart your SEO business?