We did a roundup of the 15 most notable features and updates for the past 12 months that make your SEO life easier.
Use the sidebar to jump to updates for a specific tool.
Overview 2.0
Overview 2.0 went live last year! It is now the default view for Ahrefs' Site Explorer.
It loads noticeably faster than the previous version and has laid the foundation for the graphs and widgets that will be coming soon.
Here are a couple of highlights from the main release:
New history chart lets you see your most important metrics (referring domains, organic traffic, paid traffic, pages in top 100) on one graph.
Comparison mode allows you to view the performance of multiple websites.
Paid traffic data is now included and gets better visibility in the Overview report.
Available: on all plans.
Learn more about Overview 2.0 →
Overview 2.0. Year-over-year mode
Speaking of Overview 2.0, we've also added a new year-over-year mode for the history chart.
As the name suggests, the mode shows the yearly performance of your target website in terms of its traffic, backlinks, or indexed pages. This makes seasonal trends easy to spot.
We hope this makes your client/boss reporting a bit better and leads to some useful discoveries.
Available: on all plans.
Chart notes in history charts

We've also shipped a highly requested feature: Google algorithm updates in all history charts (Overview 2.0, Top pages, and Paid pages).
Use them to cross-reference any changes in your website's organic traffic numbers and see if they may have been caused by a major Google algorithm update.
We've also marked our keyword database updates on top, since they may influence your organic search traffic too.
Learn more about chart notes →
Calendar report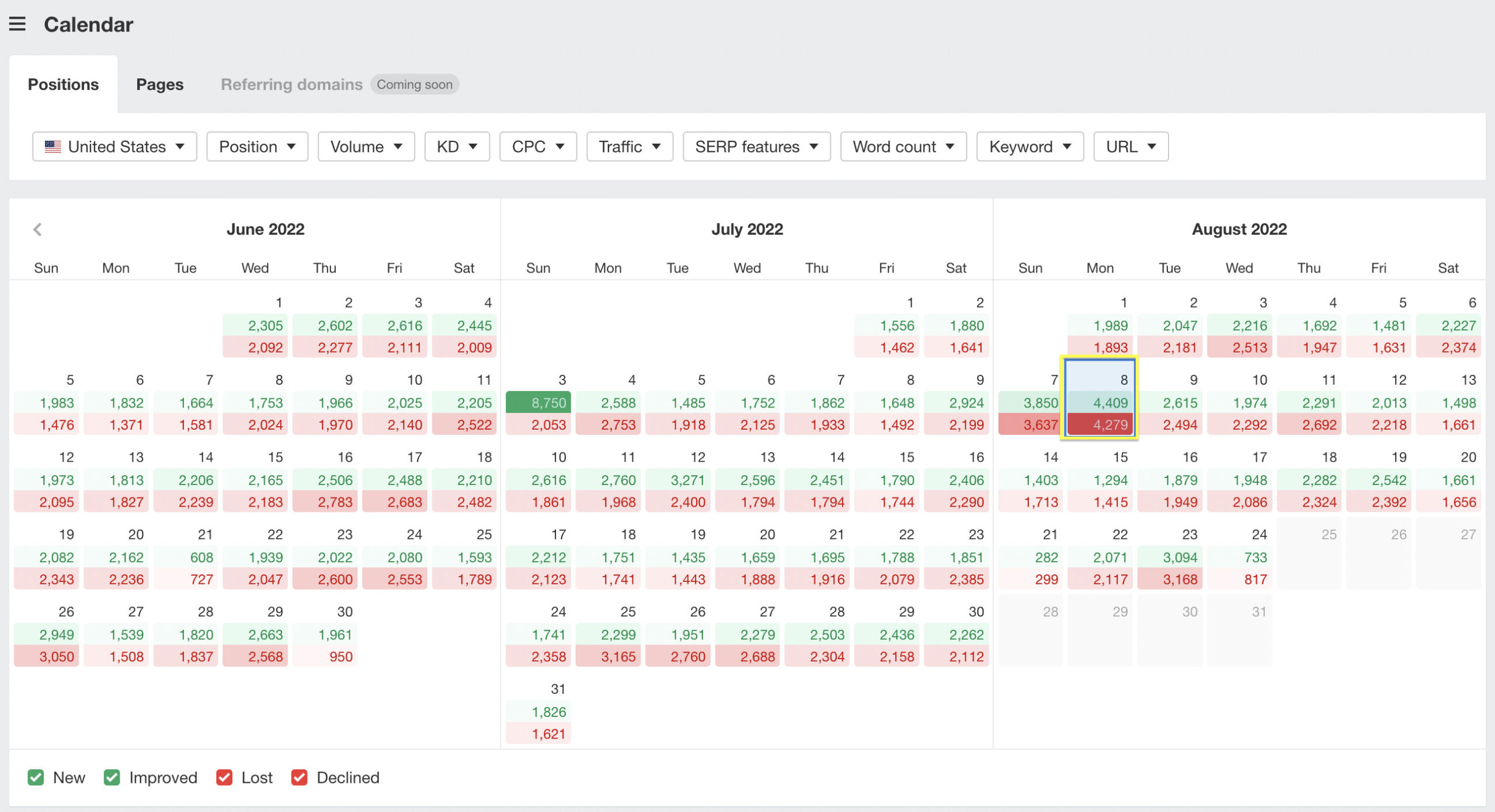 Another long-awaited feature was the Calendar report.
Version 1.0 was a little limited and showed only new and lost backlinks.
Version 2.0 takes things to a whole new level, helping you visualize gains and losses on a daily basis for organic keyword positions and pages (referring domains coming soon).
Just click on any day or select a time frame on the calendar and analyze what actually happened.
Available: on all plans (only Positions tab + no calendar UI); on new Standard plans and higher and on legacy Advanced plans and higher (for all tabs + calendar UI).
Learn more about Calendar positions →
Site structure report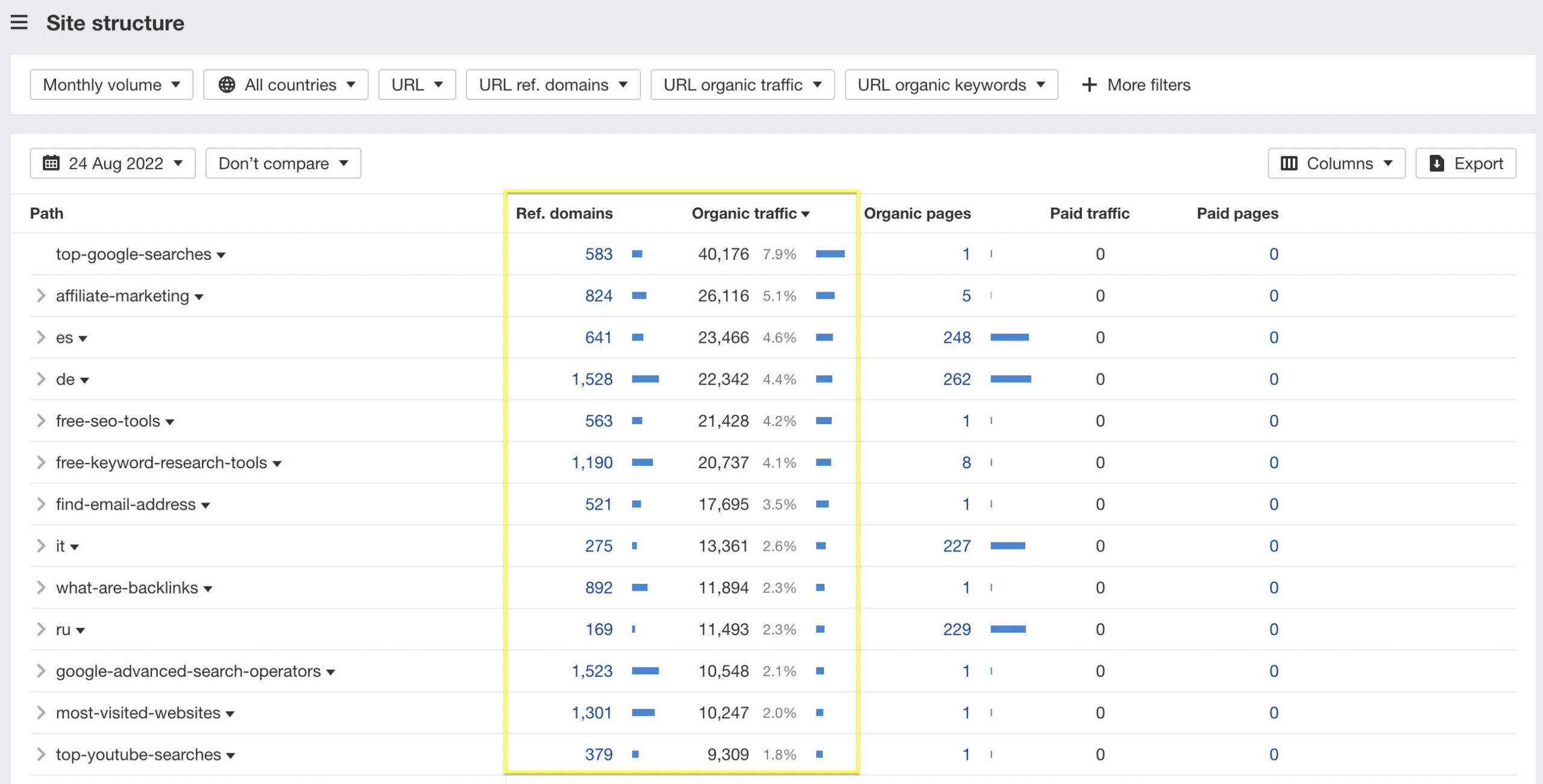 Ever wanted to see a website's structure without having to crawl it?
Then say hello to our Site structure report. This advanced report helps you understand how different sections of a website contribute to its SEO success.
Quickly analyze a top-level folder's organic traffic, referring domains, and paid traffic metrics to get an overview of where your competitors are putting their money and efforts.
Available: on new Advanced plans and higher.
Learn more about Site structure →
Top pages 2.0. Comparison mode

The new comparison mode in Top pages 2.0 allows you to compare the performance of your website's top 10 pages over time.
Use this for yourself or your competitors to spot which pages are growing in popularity or which ones are losing it.
Available: on all plans.
Learn more about comparison mode in Top pages 2.0 →
Traffic Potential

An exciting new feature made its way to Ahrefs' Keywords Explorer.
Traffic Potential shows you how much organic traffic the #1 ranking page for your target keyword receives from all the keywords it ranks for in your target country.
This is a much better way to gauge the traffic potential of a topic than search volume, since pages never rank for just one keyword.
On this note, we've also completely removed the "clicks" trend and Return Rate metric, as we haven't updated them for a long time.
Available: on all plans.
Learn more about Traffic Potential here →
Historical SERP checker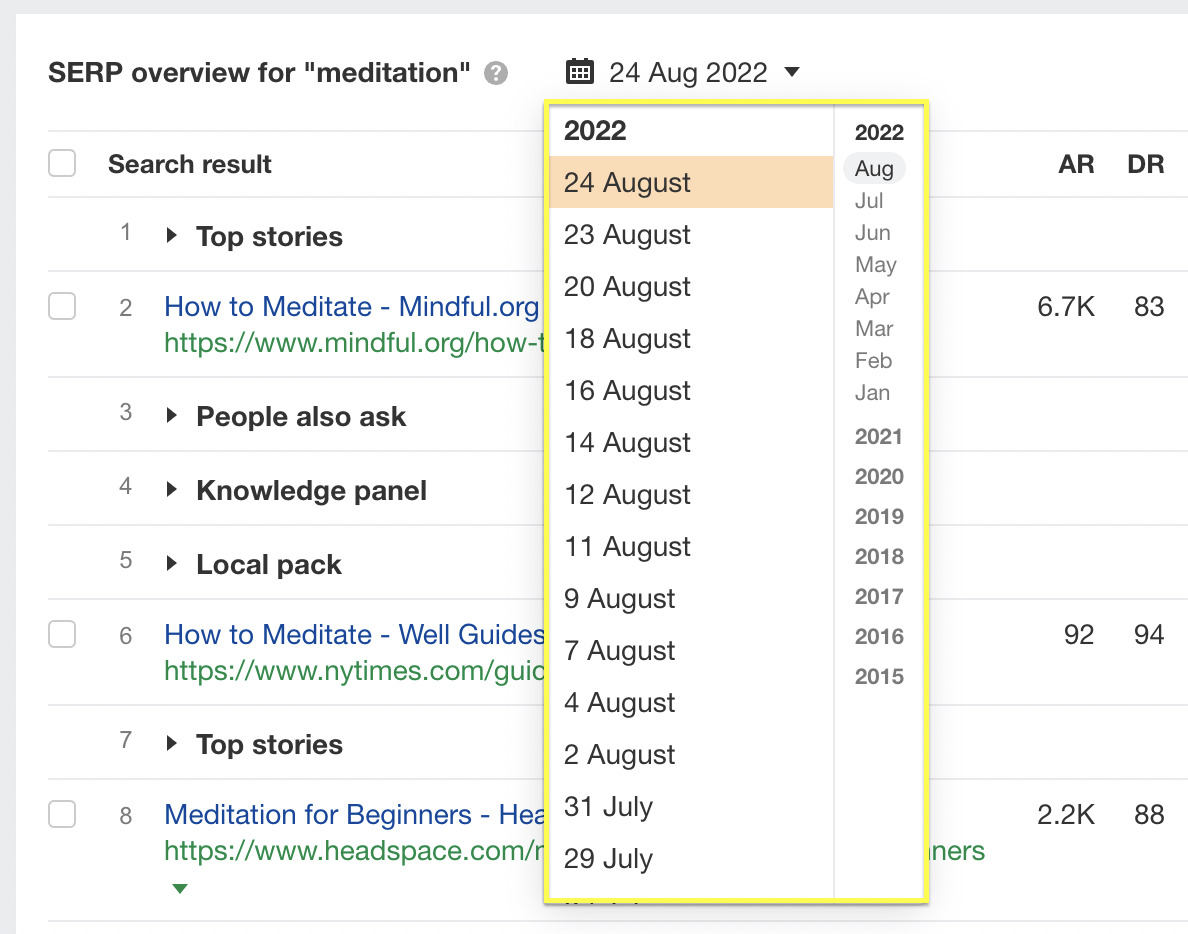 The date picker in the SERP overview is fresh air for those who want to spot SERP changes.
Go back in time and see what the SERP looked like for any given query in our index. How far back in time you can go depends on your plan:
Standard – Six months
Advanced – Two years
Enterprise – Unlimited
We're now considering adding a "comparison mode" so you can compare historical SERP snapshots side by side.
Available: on new Standard plans and higher.
Learn more about the historical SERP checker here →
Core Web Vitals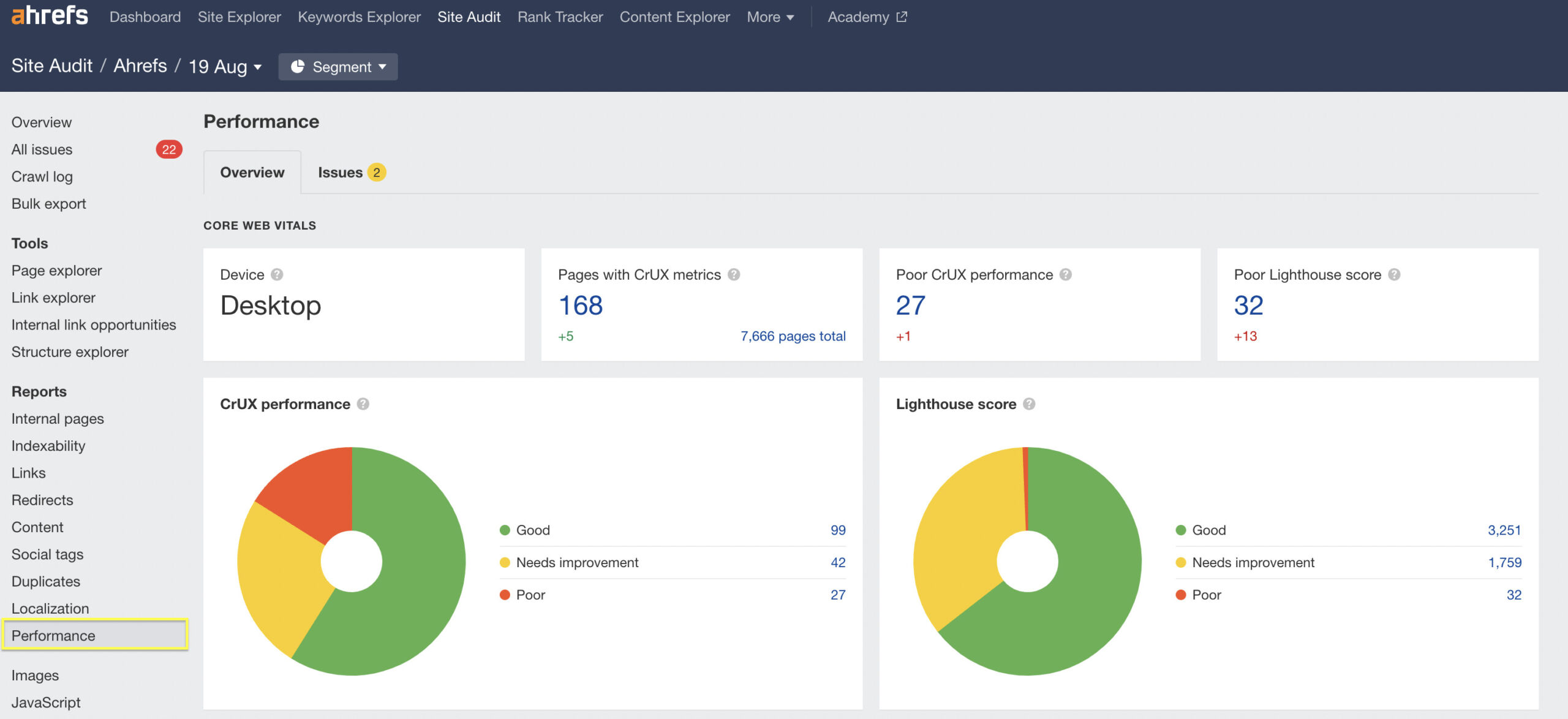 Core Web Vital (CWV) metrics have officially been a ranking factor since May 2021. Hence, we've decided to add them to our site crawls too.
Just go to the settings of your project and enter an API key from Google. The next time you recrawl your website, you'll be able to filter your pages by various CWV data points.
You can also get great visuals for your CrUX and Lighthouse scores, their historical changes, and the website's performance for individual metrics right in the Performance report.
Available: on all plans.
Learn more about Core Web Vitals (CWV) →
Google Data Studio integration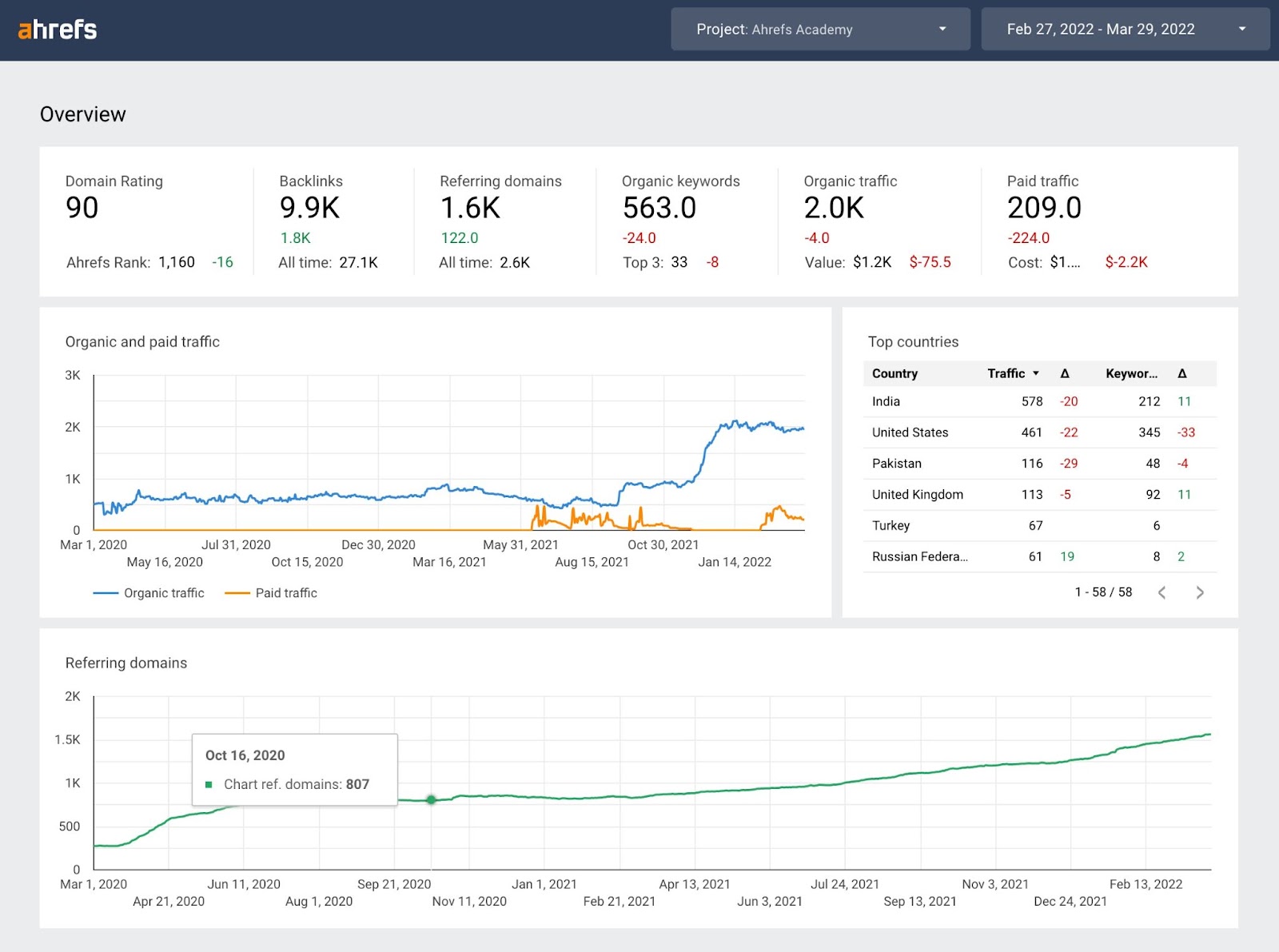 The Google Data Studio integration, a much-requested feature, has become a reality!
With our new Data Studio connectors, you can build your own reports by blending data from different sources and visualizing everything in the form of reports and dashboards.
Find the connectors for Site Explorer, Site Audit, and Rank Tracker in the Data Studio gallery.
Available: on new Advanced plans and higher.
Learn more about Google Data Studio integration →
Search by HTML code and page text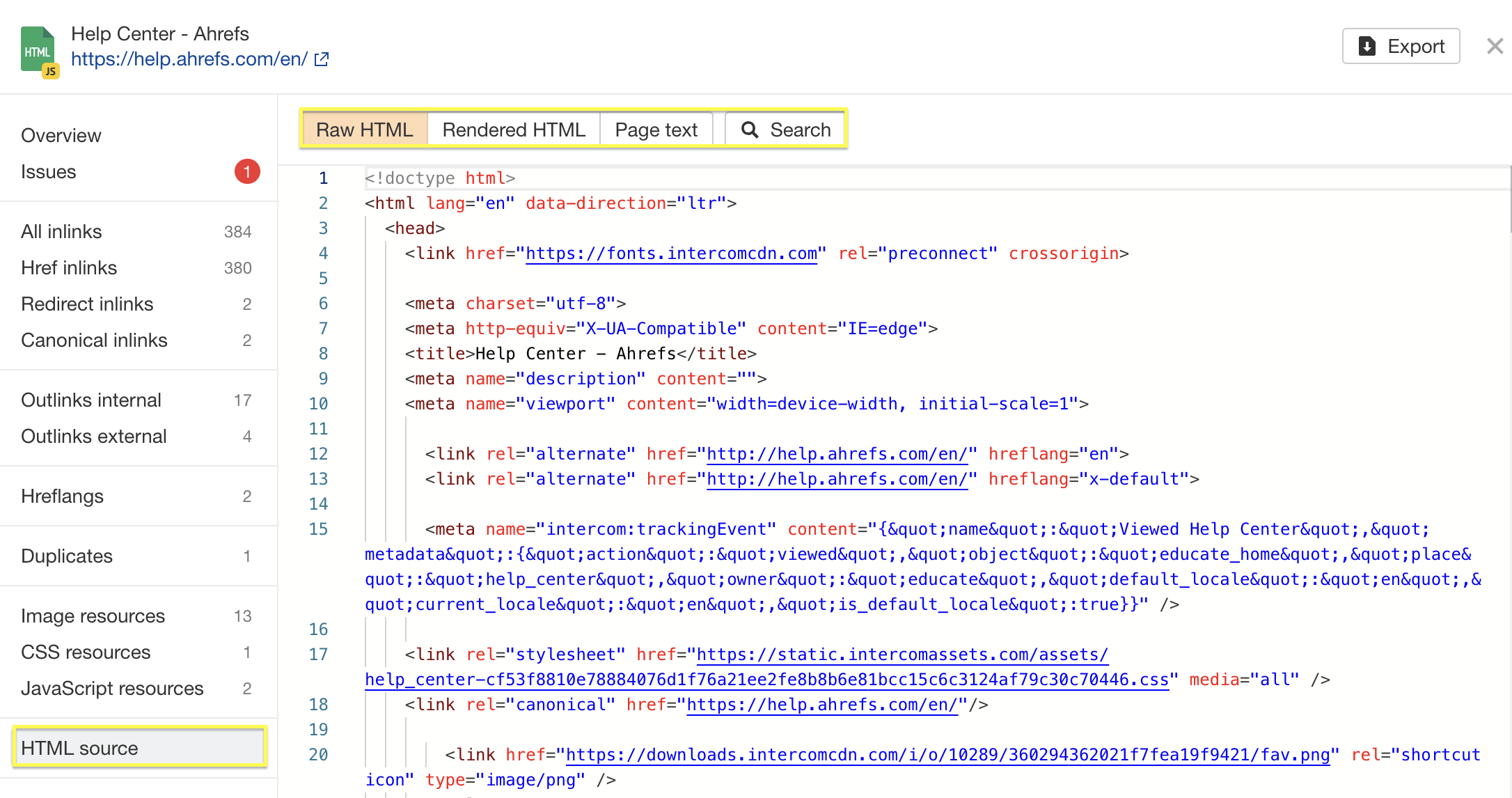 Storing HTML and page text in a crawl was a big win for hardcore tech SEOs.
Now, after finishing a crawl, you can search for pretty much anything that our bot received from the server and the text it extracted. Like all instances of any term across a website, Google Analytics IDs, "out of stock" labels for product pages, authors, and so on.
Available: on all plans.
Learn more about searching by HTML code and page text →
List of issues for a particular URL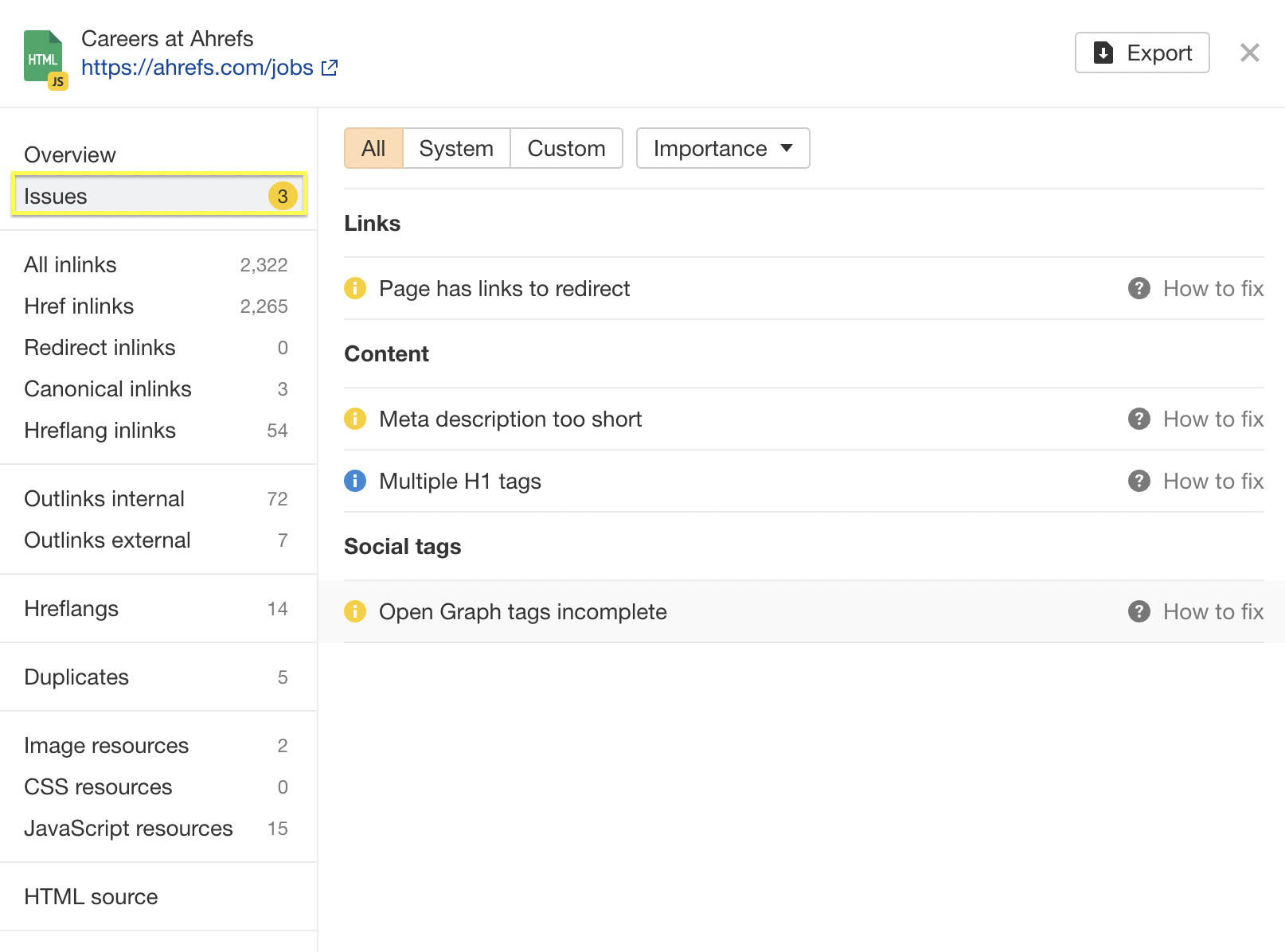 Fixing an issue on a particular URL?
We've added a new tab to the URL details, where you can see a list of all issues related to this page so you can look at what else is wrong with the page and fix it all at once.
In the future, we want to show actual error fields right away in UD.
Available: on all plans.
Learn more about list of issues for a particular URL →
Links report in Site Audit issues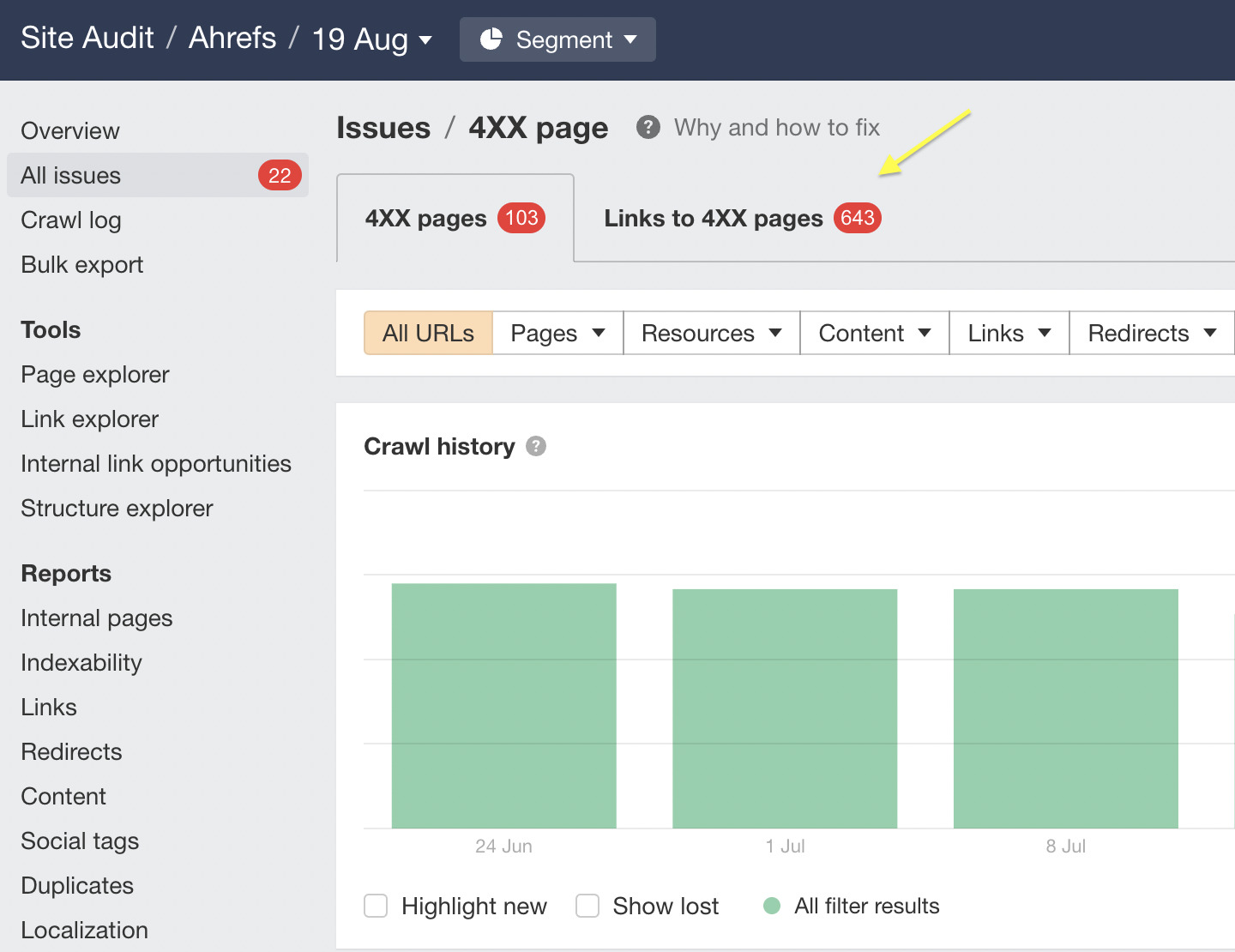 Previously, you could only view all Site Audit issues from a page perspective.
But since many issues are related to problems with links, we've added an extra tab with a links report to a bunch of issues so that you can analyze them at the links level.
For example, besides looking at the 404 pages, you can now browse and export all the links pointing to them. Or in addition to the list of HTTPS pages linking to HTTP, you can now finally look at those insecure links themselves. And also for all the issues for which links matter.
Available: on all plans.
WordPress SEO plugin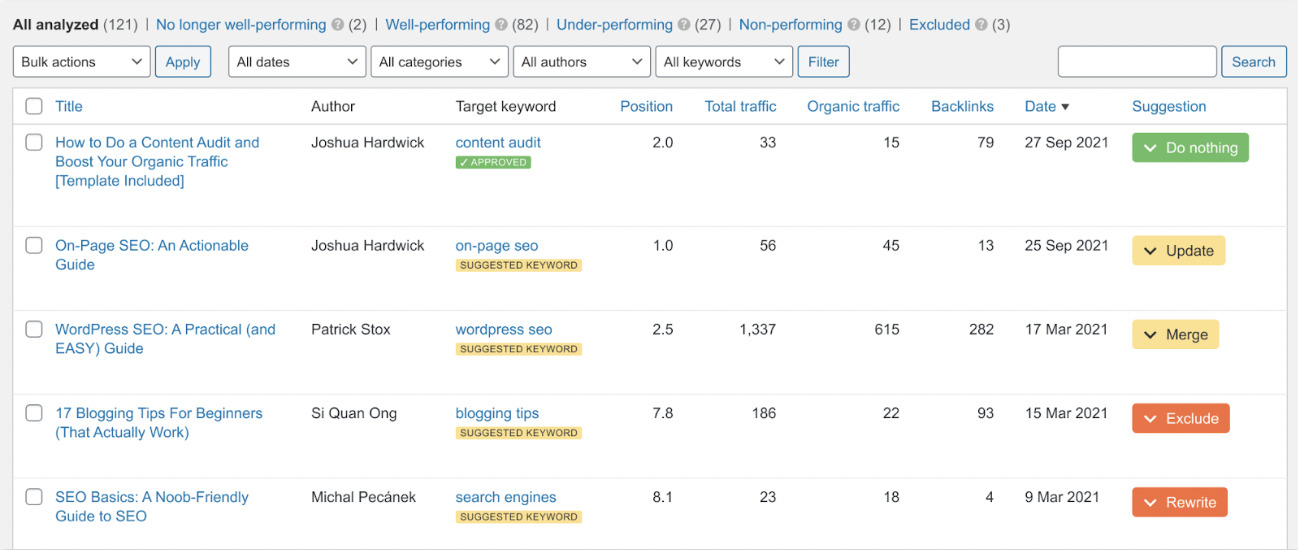 Content marketers, you are in for a treat as well.
With our new WordPress SEO plugin, you can automate content audits and see how each article performs for a chosen target keyword (based on Ahrefs, GA, and GSC data). You'll also receive recommendations on how to improve it.
Here are a couple of highlights:
Import "focus keywords" for each article from Yoast, RankMath, and AIOSEO
Smoother audit progress that shows real-time audit completion percentages
Export to CSV all metrics for all analyzed articles or only articles with selected performance status
Be sure to have the latest version (0.9.4) installed on your website.
Available: on all plans.
Learn more about Ahrefs WordPress SEO plugin →
SEO Toolbar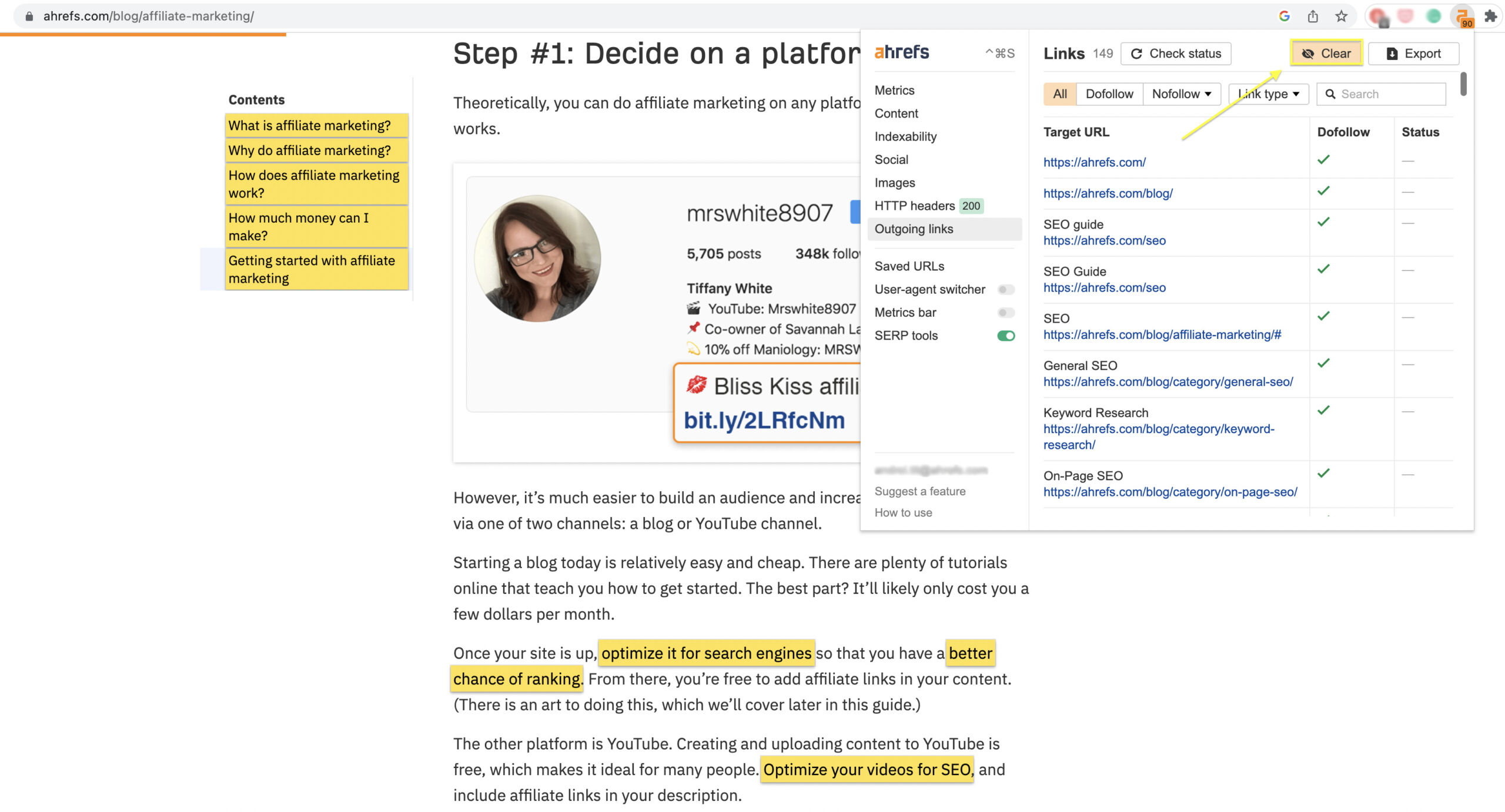 While we're talking tools, we also gave our SEO Toolbar a full makeover.
Besides the original functionality—getting the most important SEO metrics for the websites you visit and the search queries you perform—you're now able to:
Check the most important on-page SEO data (from title and meta descriptions to hreflangs and open graph tags).
Trace redirect paths along the entire redirect chain, including JS redirects.
Run search queries in different countries; no VPN required.
Highlight various types of links: nofollow vs. UGC vs. sponsored, internal vs. external, broken vs. redirecting.
Test whether the content is changed or blocked by different user agents.
And much more. Install it for free on Chrome or Firefox.
Available: on all plans.
Learn more about Ahrefs' SEO Toolbar →
Conclusion
That's a wrap for this roundup. We're going to provide them on a quarterly basis from now on.
Stay tuned.