I've attended
BrightonSEO
for 10 years, but this year's conference was one of my all-time favorites for three simple reasons: good vibes, great speakers, and (surprisingly) good weather.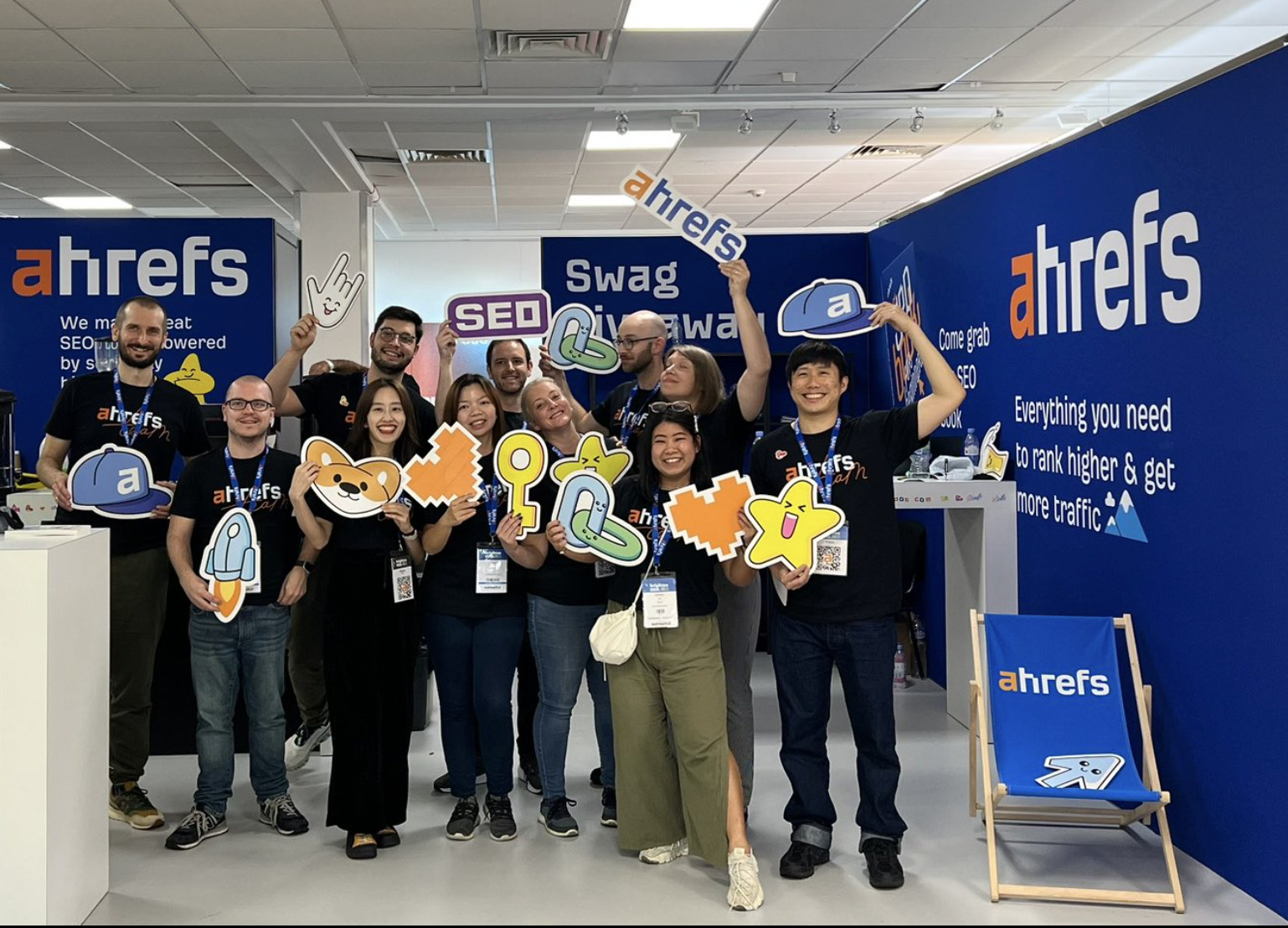 If you're not familiar with BrightonSEO, it's a search marketing conference created by Kelvin Newman. It's pretty much the U.K.'s "must attend" search conference.
It's been running since 2010 and was originally hosted in a room above the Quadrant pub in Brighton, U.K.
When I first attended 10 years ago, it was hosted in a smaller venue at the Brighton Dome. There were fewer people (and the swag was a little different back then).
Fast forward to today, and 6,000+ tickets are now sold for each event. There's a new stateside BrightonSEO in San Diego, so it's fair to say it's come a long way.
To give you a feel for the event (and perhaps persuade you to attend next time), here's my breakdown of September's BrightonSEO.
The U.K. is not the first place you think of when it comes to the sun. But we got lucky and had great weather the whole time we were at BrightonSEO.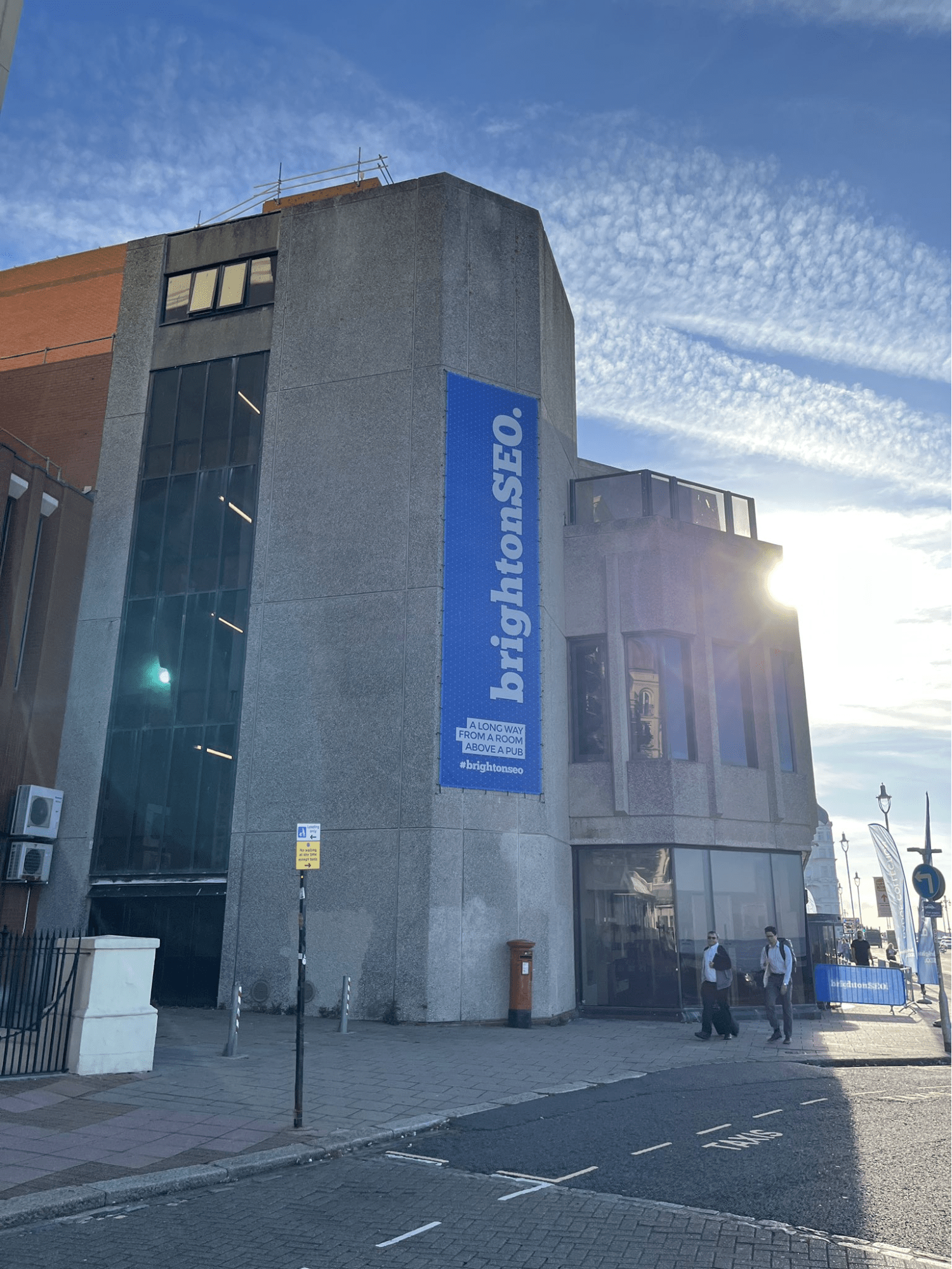 From the outside, the BrightonSEO venue doesn't look big. But inside, the scale of the event hits you (especially if you are a speaker).
Auditorium 1 has a 3,000-person capacity—so it's big.
One of the things that makes BrightonSEO special is that it's managed to keep the "small conference" feel, despite becoming much bigger than when I first visited 10 years ago.
Small stages keep talks intimate (the Skyline stage holds just 300 people). Also, the after-parties and social events are great for building close-knit relationships.
Conference organizers Kelvin Newman and Jo Walters still pace the event's halls, as they have for over a decade.
Before the main conference kicked off, we hosted our first SEO workshop and networking event in a room above the Ye Olde King & Queen—a very British-looking pub built in 1779.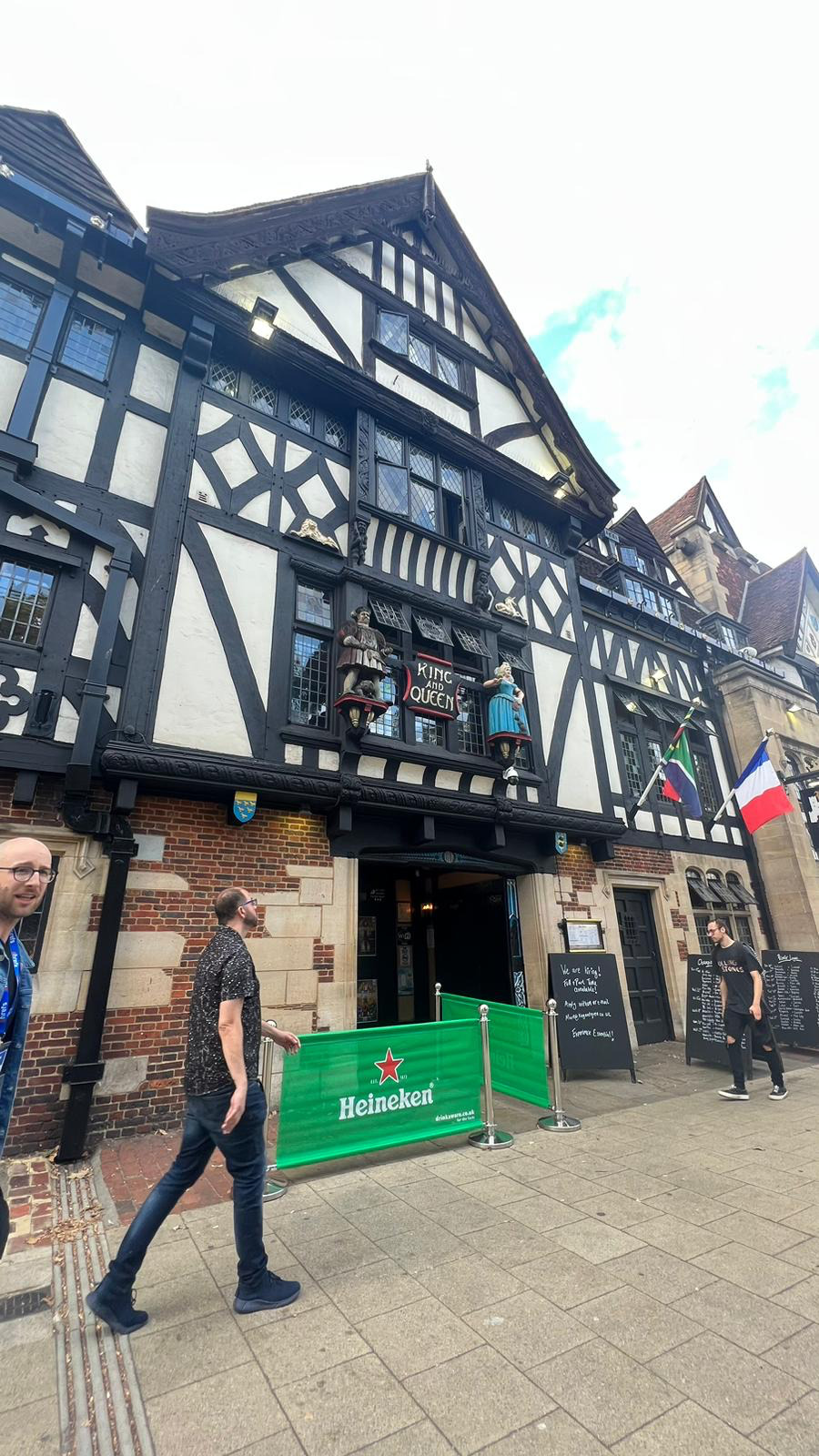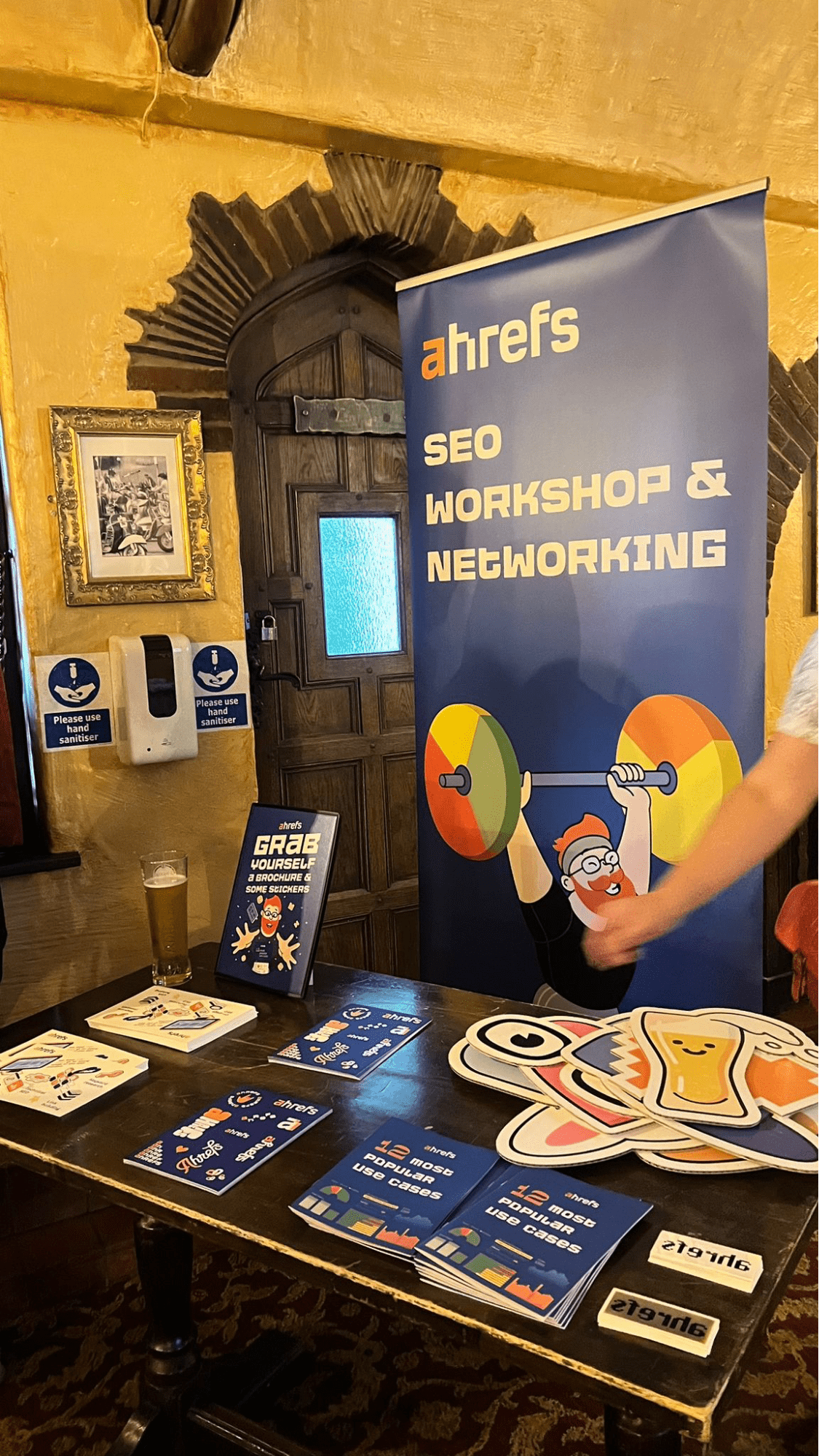 Michelle Lindner, our community manager, ran a live demonstration showing how to do keyword research for SEO.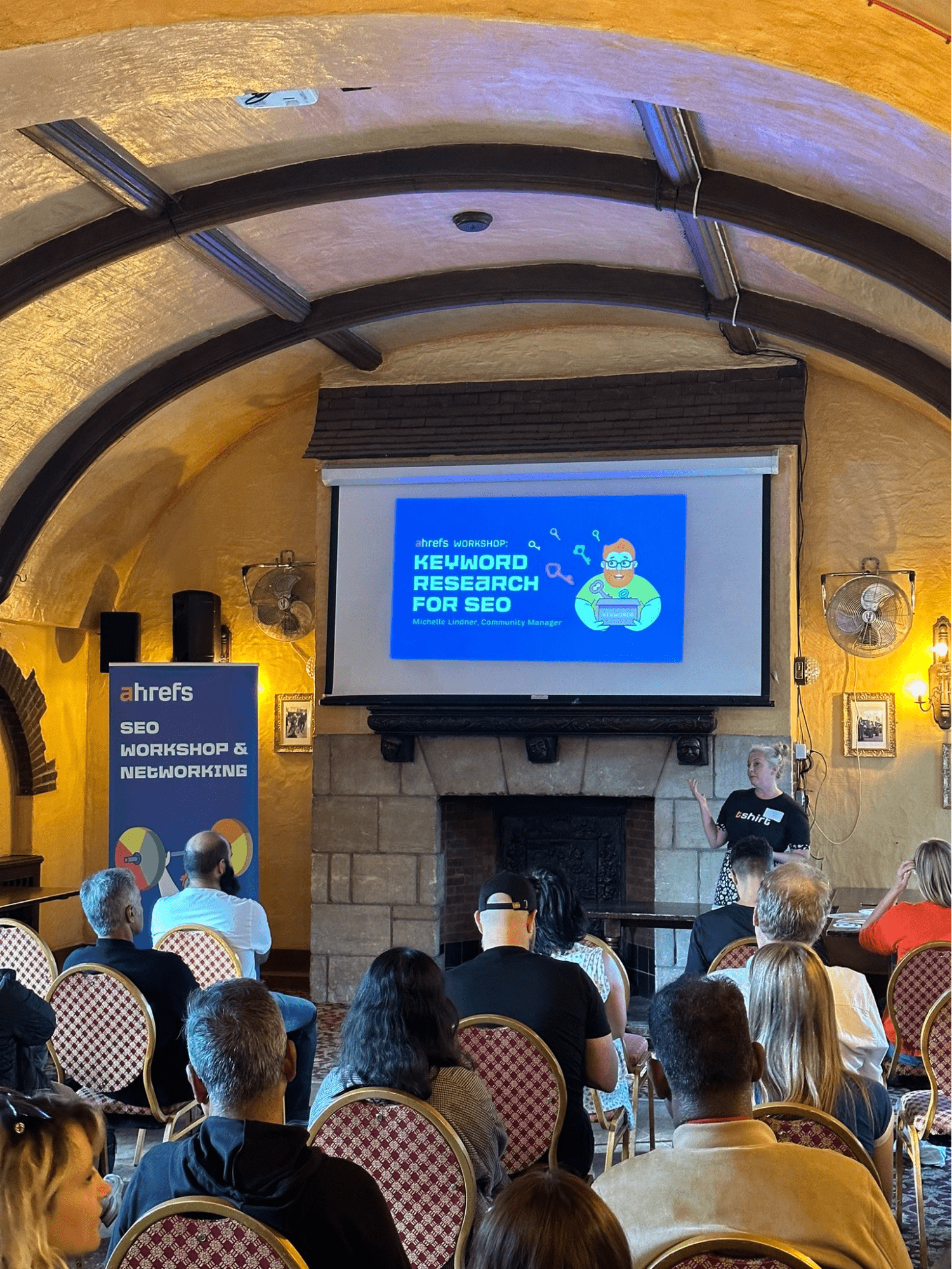 Next, Joshua Hardwick, our head of content, guided us through a case study on how to build high-authority links. Finally—and perhaps most importantly—we chatted with attendees over a few beers and a buffet.
It was great to see familiar faces like Alex Panagis and a father-and-son SEO duo, Matt Browne and Lenard, at the event.
I'm sometimes guilty of thinking that only SEOs would be interested in an SEO workshop. But people from construction, SaaS, consulting, and other industries also attended. It reminded me that SEO is more universal now.
Wednesday was a busy day in Brighton. There were a variety of paid workshops organized by BrightonSEO.
Wix also held its regular dinner, which our very own Patrick Stox attended with other famous industry faces. (See who you can spot.)
The Lumar party at Patterns proved popular again this year.
And even if you weren't in the mood for partying, you could get involved in BrightonSEO's free "netwalking" event.
Who's going to be in Brighton next Wednesday evening?

Fancy meeting a few of your fellow attendees for a mooch around our fair city?

Book your FREE spot on our guided Netwalking tour

(Thursday morning place also available)

📷@dzhekyhttps://t.co/BzExemqxD3 pic.twitter.com/NPOE0O7BTY

— brightonSEO (@brightonseo) September 5, 2023
One of the great things about BrightonSEO is that even before you start the main conference, there's no shortage of activities to get involved in. The biggest challenge usually is deciding what events to attend.
The Ahrefs booth had two huge words stamped across it: swag giveaway.
So at 7 a.m., before the conference opened, we hauled armfuls of T-shirts, water bottles, books, bags, and—most importantly—a coffee machine to our stand.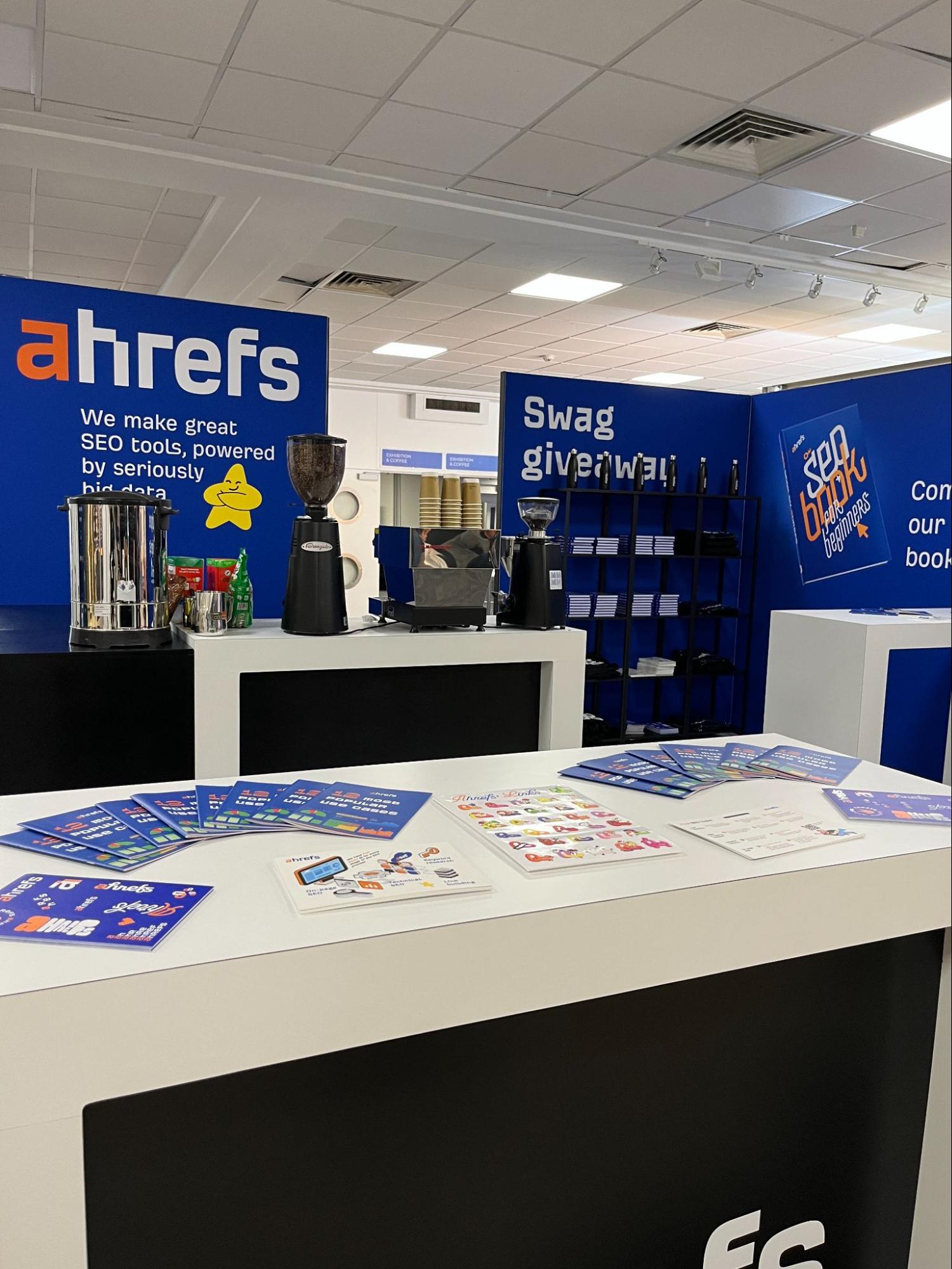 BrightonSEO got very busy, very quickly.
Within minutes of the gates opening, the conference hall was buzzing with activity as SEOs and marketers navigated the venue.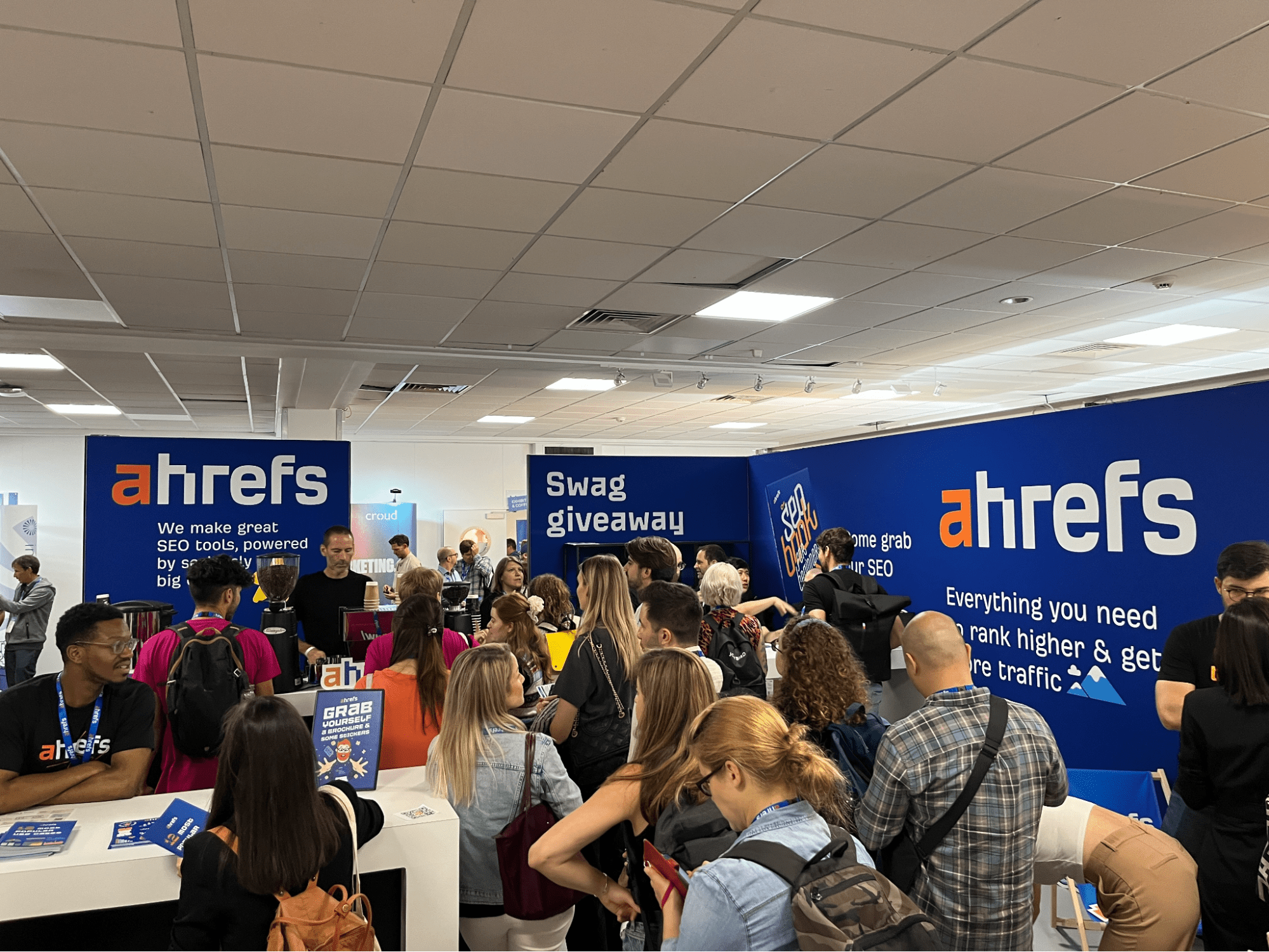 The freshly ground coffee at our stand proved popular. (We even spotted John Mueller having a cup.)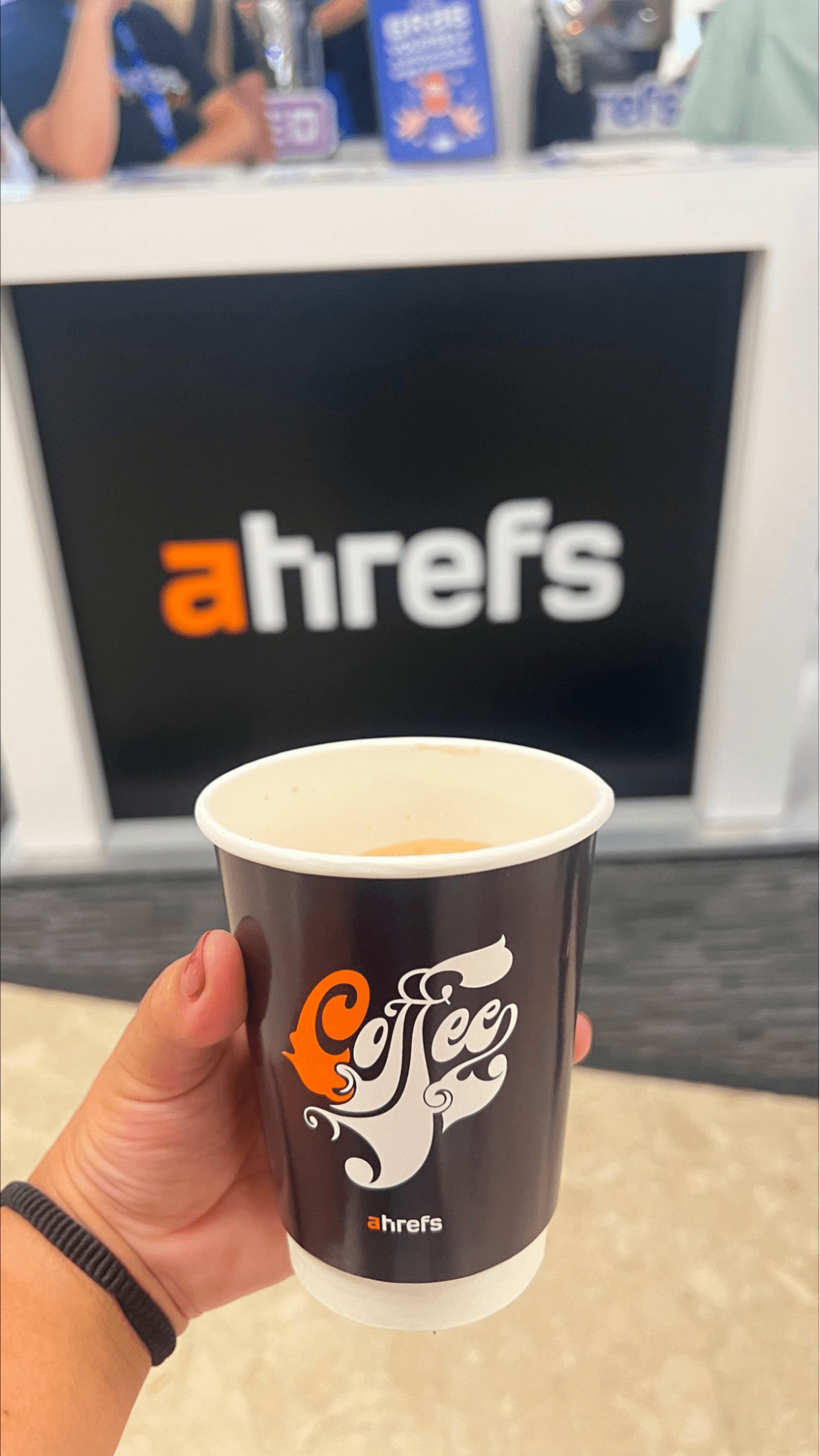 As well as the coffee, visitors to our stand could grab some Ahrefs swag: books, bags, T-shirts, bottles, stickers, and more.
Our newly released beginner's guide to SEO book was our most popular item.
If you want to get hold of one, we usually give them away at SEO conferences we attend. But if you can't wait, you can order it here.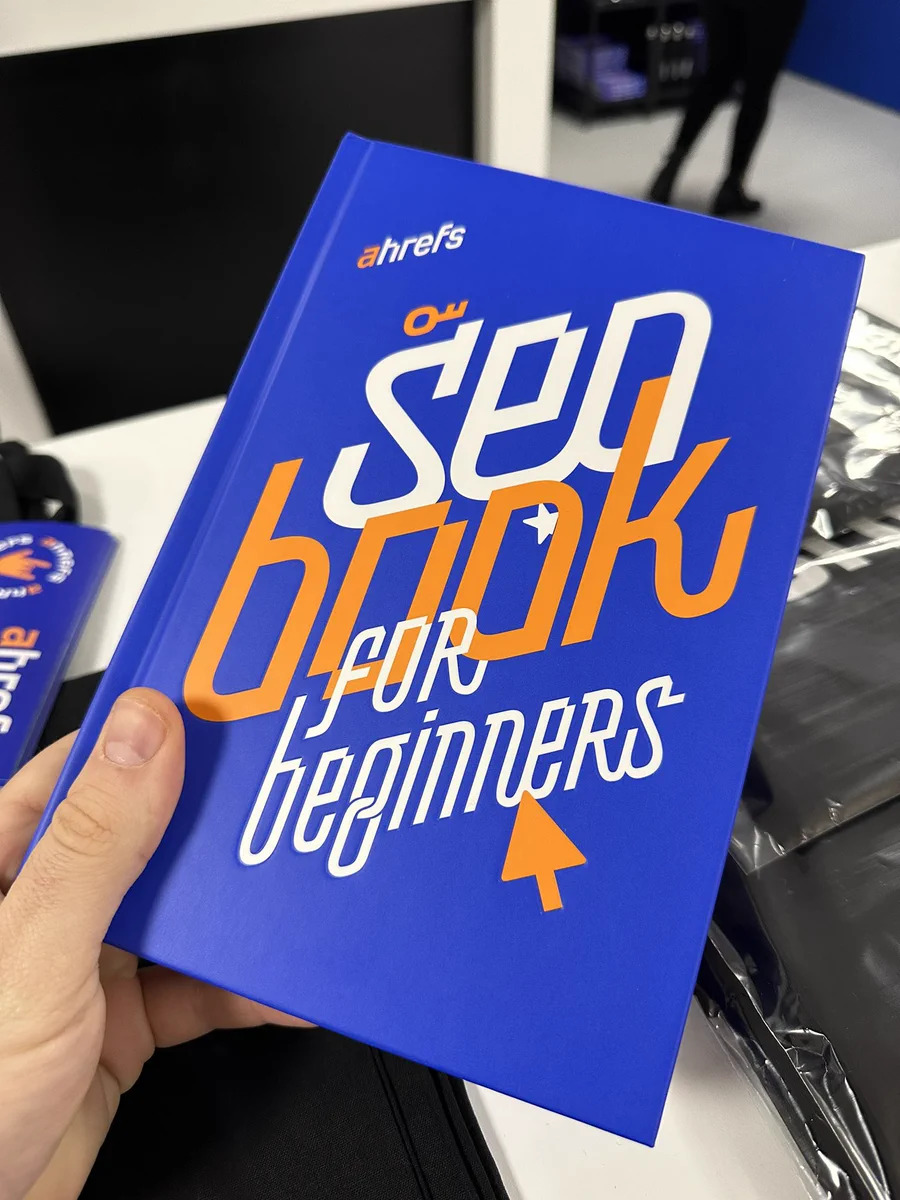 Our T-shirt was our second most popular swag item, and people were proud to share that they got one on social media.
As well as giving away lots of fun stuff, events like this gave our team a chance to catch up with our customers face to face.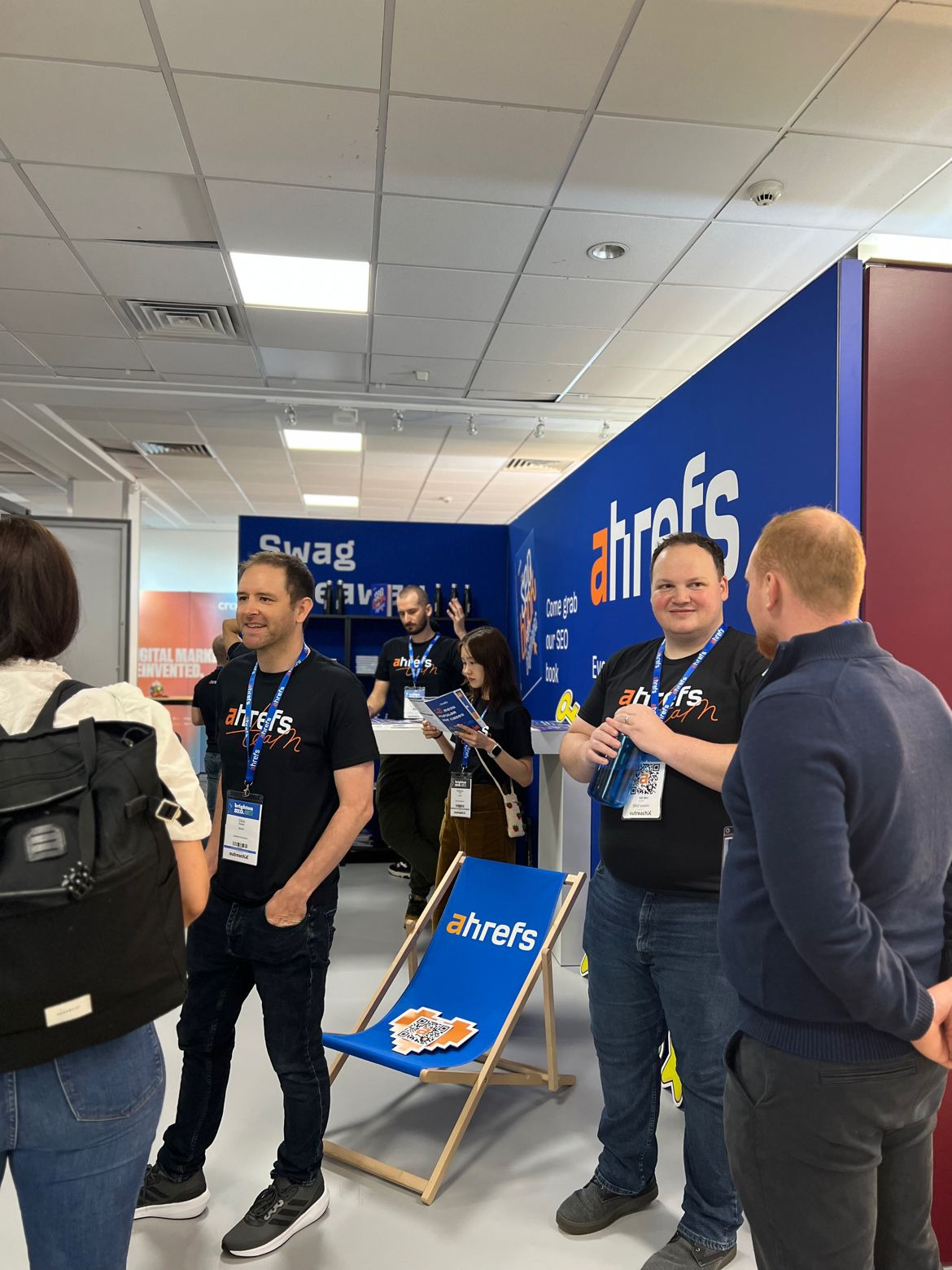 I got talking to people from both agency and in-house backgrounds. From heads of departments to people starting their careers. They were mostly based in the U.K. or Europe, but some had come from as far away as Japan.
As well as being asked about SEO best practices and the Ahrefs platform, we also got asked a few more specific questions at this event:
Technical SEOs asked us about how to deal with hreflang issues (thankfully, our new hreflang visualization tool was released midway through the conference).
Attendees asked about other new features—we were excited to share our new Portfolios feature that allows users to track multiple URLs in the dashboard.
Attendees also asked about what made Ahrefs different from competitors, and we were more than happy to tell them about the unique features of Ahrefs.
But it wasn't all SEO.
We had fun along the way, with a few attendees brave enough to try our temporary tattoos.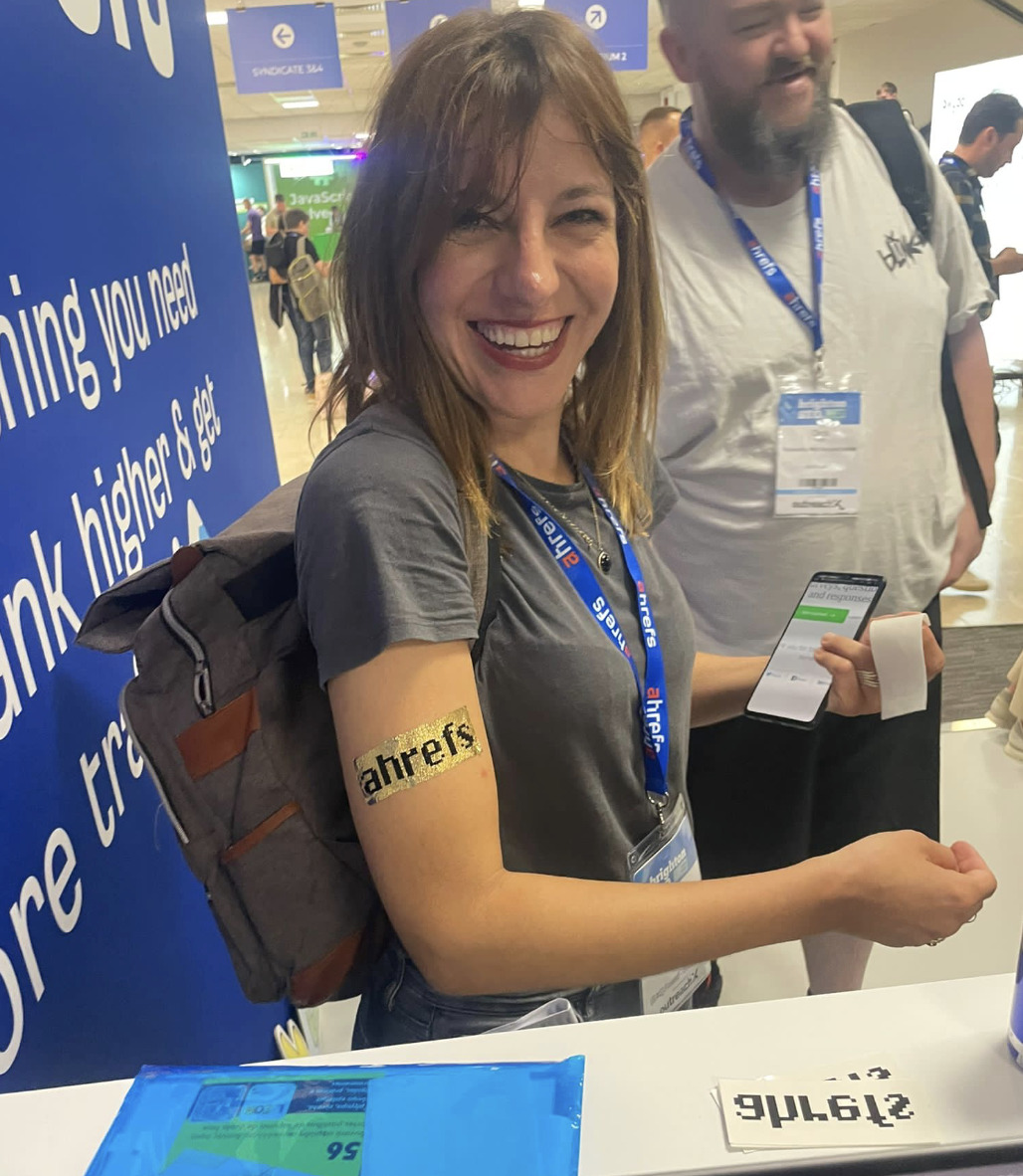 At one point, the Brighton "SEO Gull" appeared at our stand.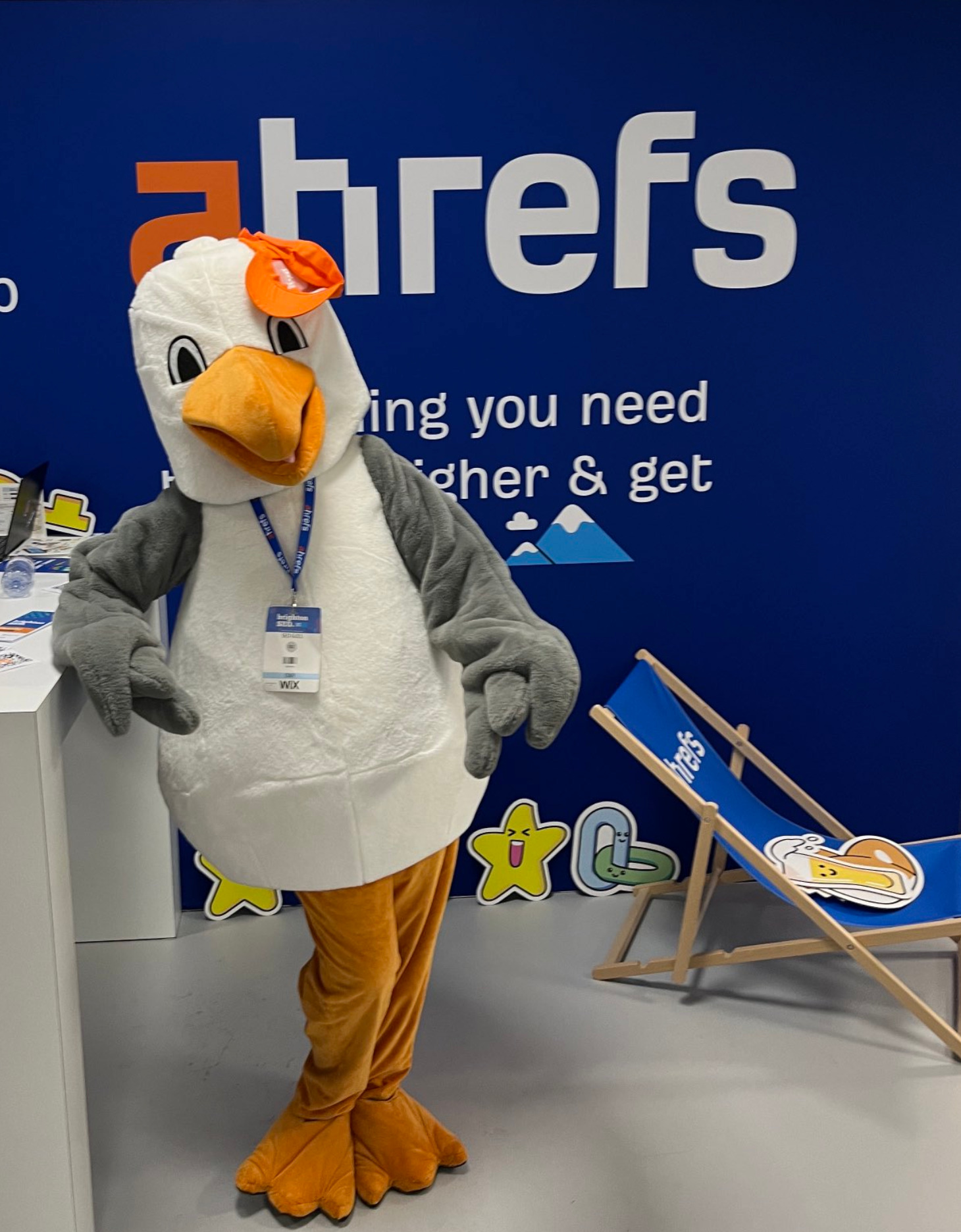 As well as SEO Gull, BrightonSEO had plenty of famous faces.
When it came to talks, we were spoiled for choice—everything from crawling, to e-commerce, to accessibility, to AI and content automation, and much more.
You only need to click through the talks to see they're the who's who of SEO. In fact, the biggest problem was trying to avoid timetable clashes.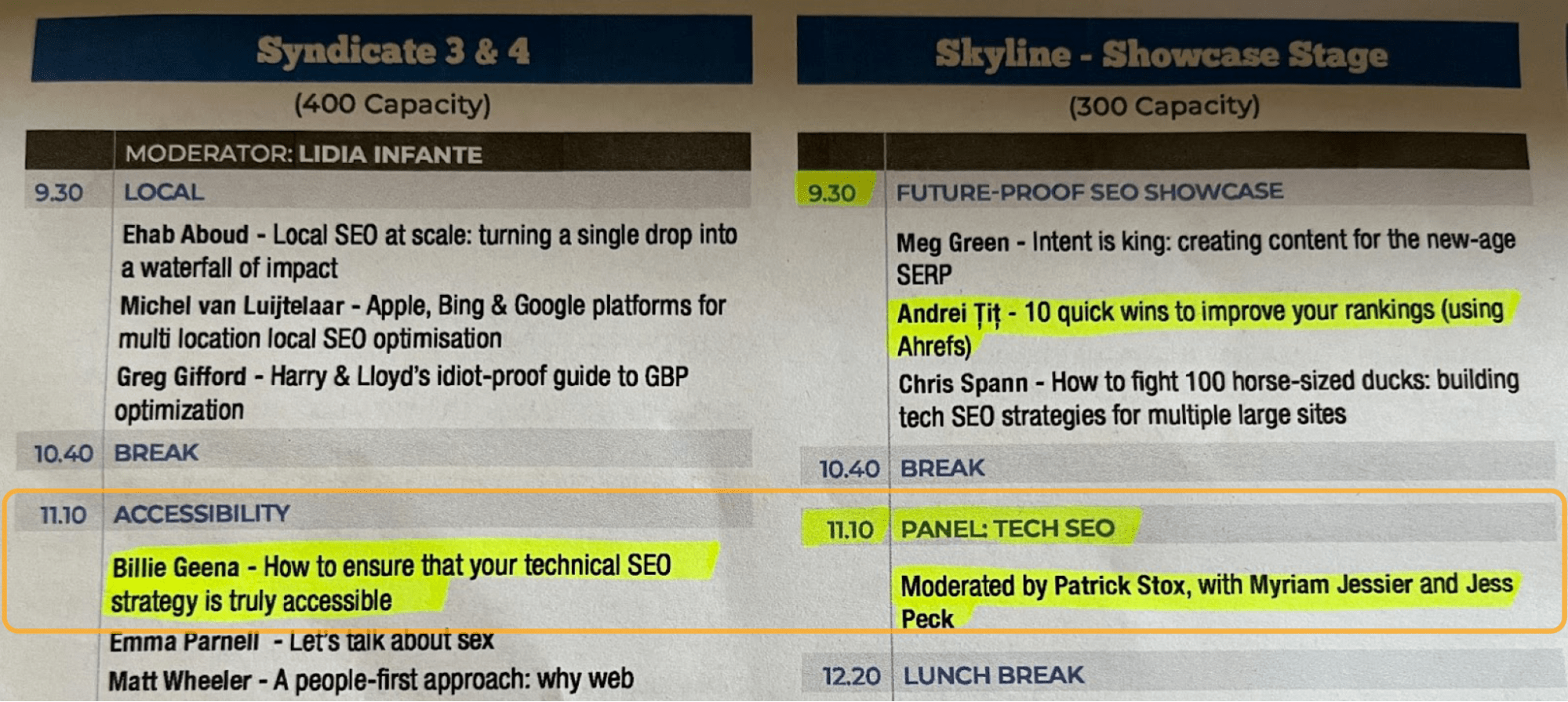 Here are my favorite speakers from day one:
Between talks, most people ended up downstairs around the exhibitor stands.
One of the most popular and eye-catching—BrightLocal's arcade stand, with a vibrant retro 80s feel.
It might have helped that it was also giving away £5,000! (~$6,117).
It was also a fun experience, though we couldn't get the Ahrefs team off it!
Wix also had a great stand with a reaction game embedded into the wall.
When we approached the stand, Crystal Carter thought it would be a good idea to pit me against Joshua to see who could win a much-coveted can of Wix SEO beer.
With the stakes so high, Joshua's reflexes became like a bolt of lightning, and he won the can of beer in a single round.
After a busy first day, the team gathered for an evening meal of tempura prawns, oysters, and sauteed samphire at The Salt Room.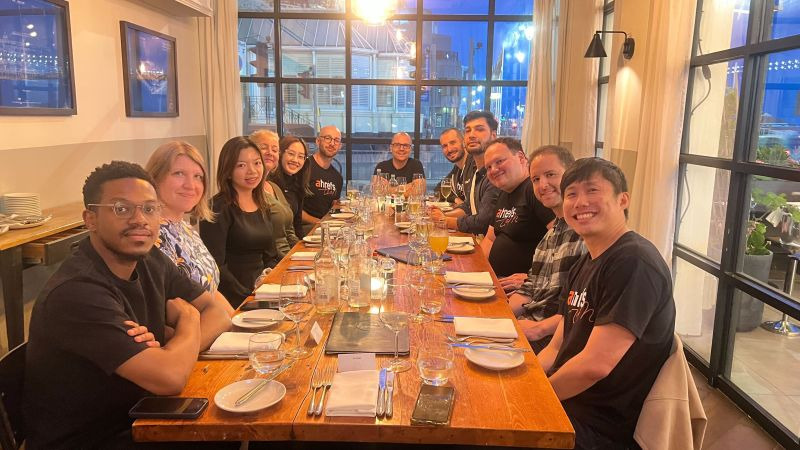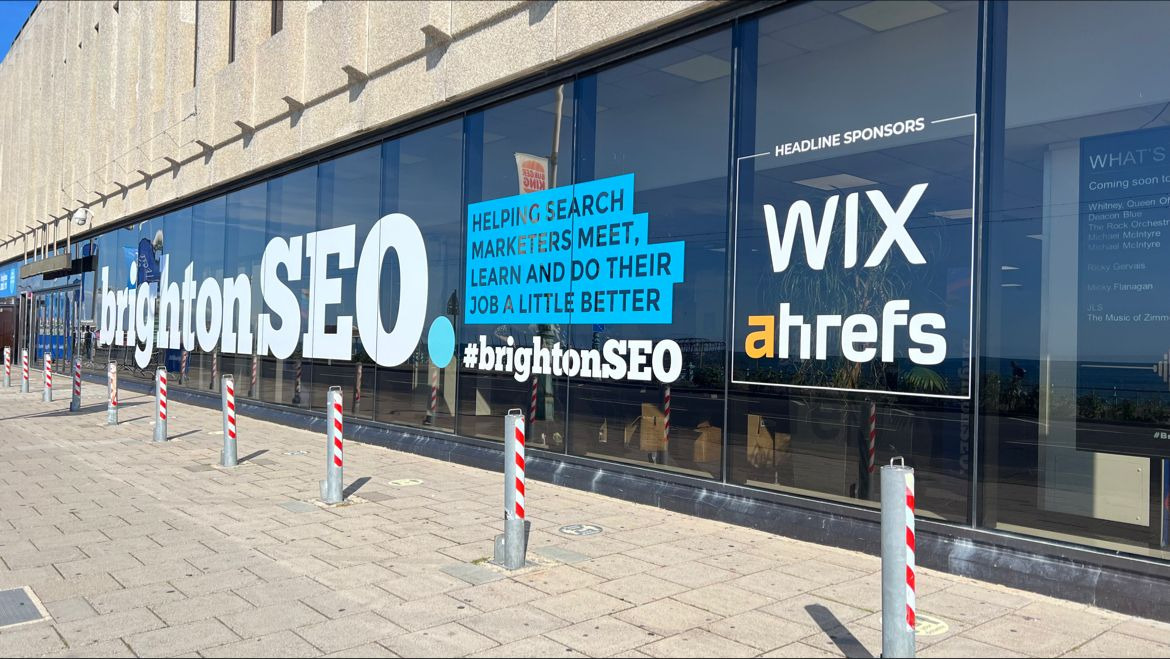 Our coffee stand proved even more valuable on the second day after various after-parties the night before.
It was a big day for our team: Both Andrei Țiț and Patrick Stox were speaking on Friday.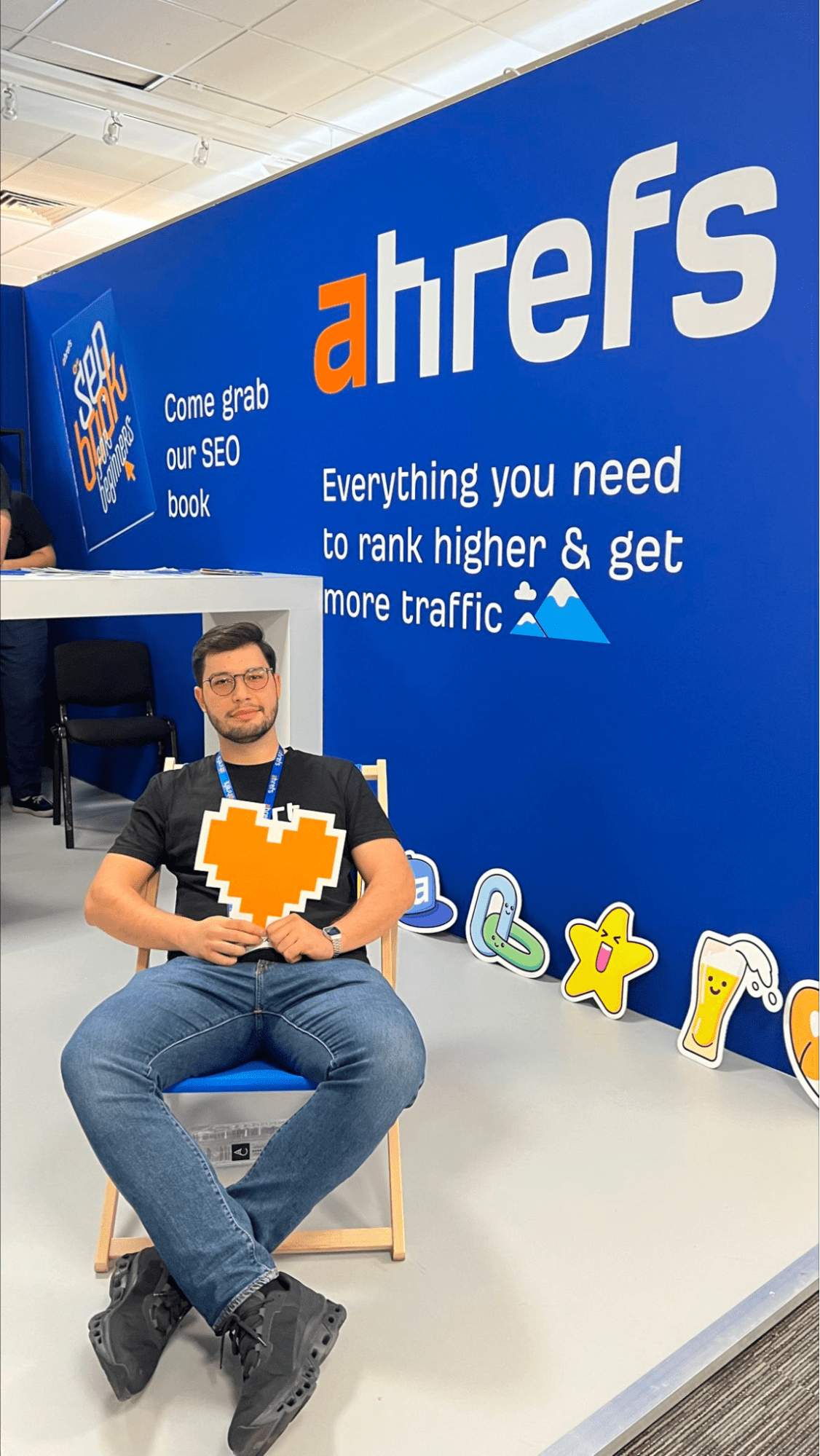 First up was Andrei. The room was so packed for Andrei's talk that we struggled to get in and see him ourselves.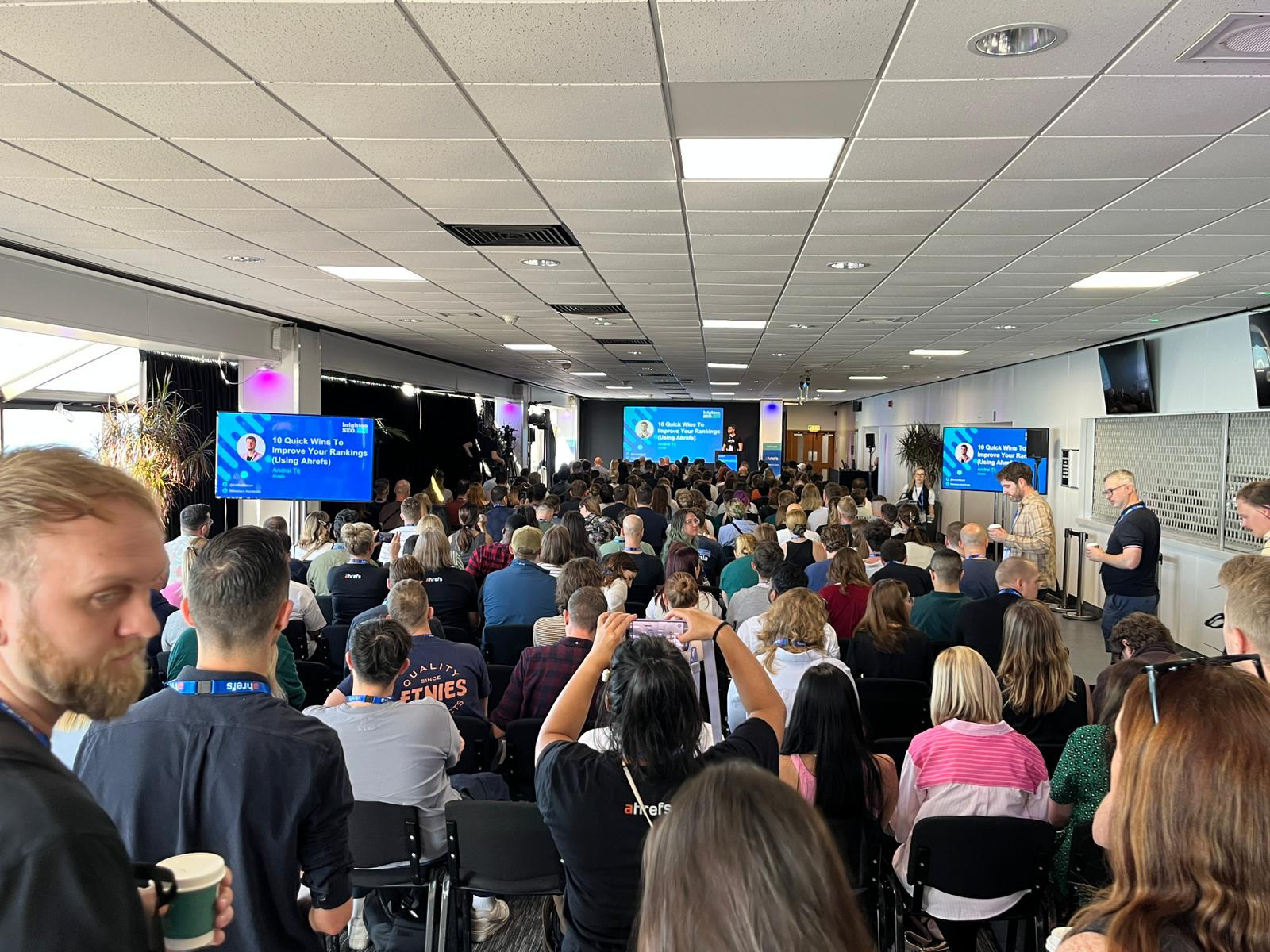 Andrei's talk focused on 10 quick ways to improve your rankings using Ahrefs, with tips like:
Finding unlinked brand mentions using Web Explorer.
Using Site Audit to find critical issues, and going granular by comparing HTML code and text changes in the URL details panel.
Next up was Patrick, who flew all the way from Raleigh, North Carolina. If you know anything about technical SEO, then you'll know who he is.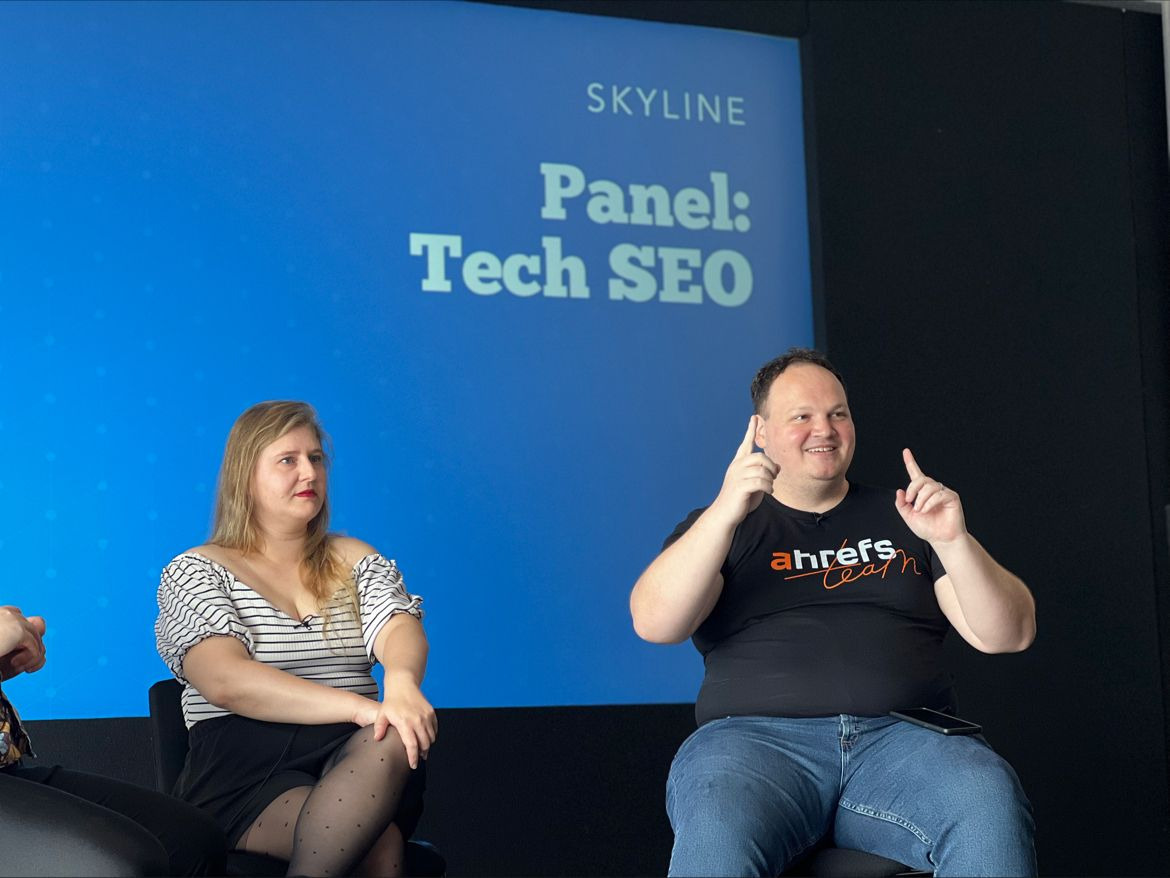 As well as moderating the Tech SEO panel, Patrick presented his recent hreflang study, which found that 67% of domains using hreflang have hreflang issues.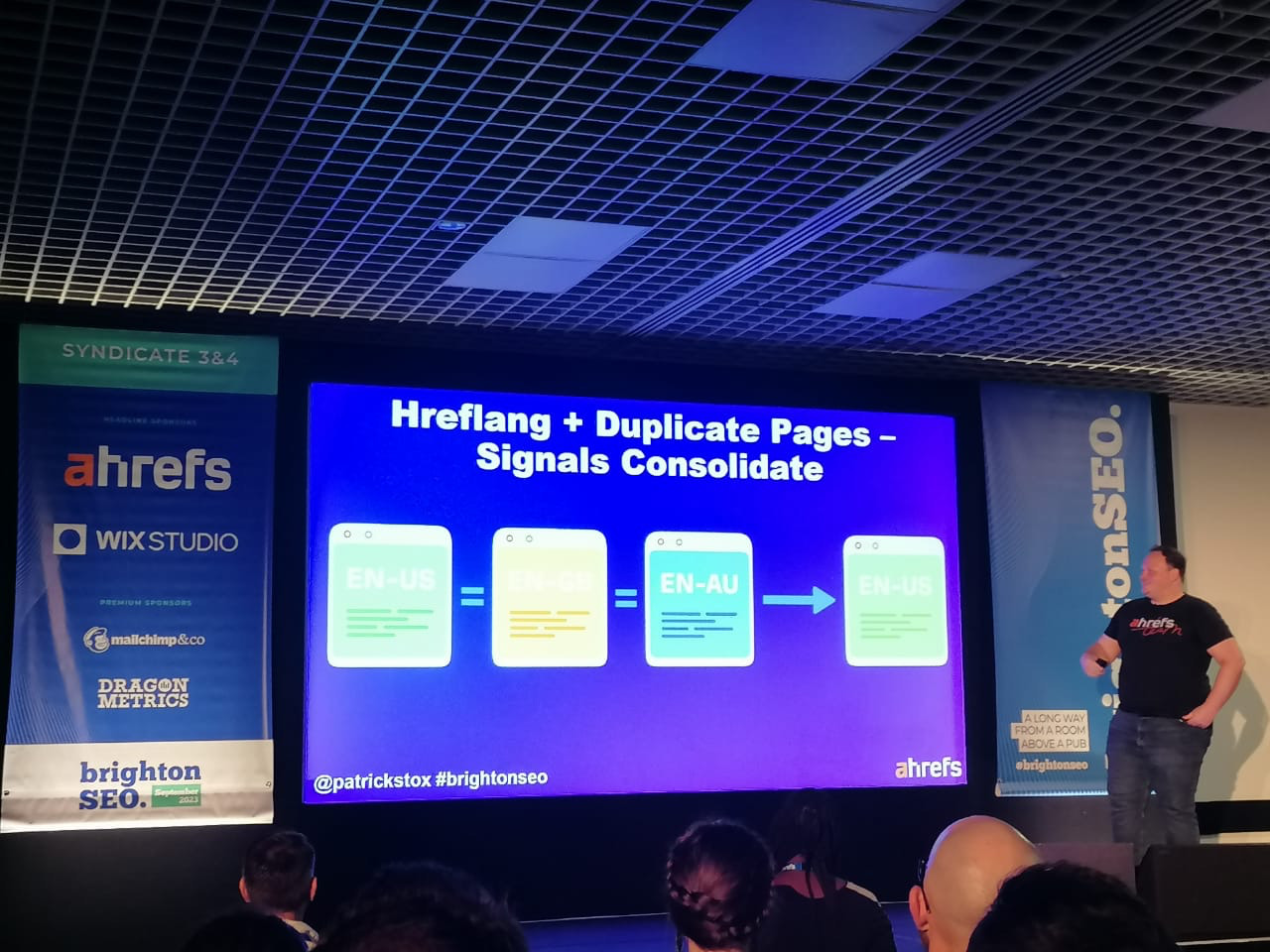 Here's a quick sample of my favorite speakers from day two:
Final thoughts
Seaside, sun, SEO, and good times. What more do you need?
BrightonSEO is one of my all-time favorite SEO conferences. It's grown a lot since I've been in attendance. But it still feels as warm, friendly, and easygoing as the first time I went.
If you haven't been yet, it's worth a visit to learn more about SEO, meet the Ahrefs crew, and have some fun.
Want to ask a question about BrightonSEO? Ping me on X (Twitter).