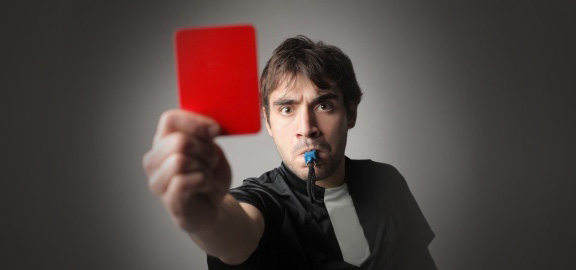 Building backlinks is a necessary part of effective SEO no matter what niche you're in. However, no website owner should ever resort to buying backlinks in order to improve rankings.
Buying back links is against Google's webmaster guidelines and any website owner who does it will eventually get caught.
There are some companies out there, called link networks, that have built businesses out of selling backlinks with the promise of getting their customers better rankings in Google.
It may have been a lucrative business model for a while, but Google is now starting to come down on them hard. Google has publicly outed and penalized two of these link networks, which means any sites that have bought links from them will be penalized as well.

Goodbye Anglo Rank and Backlinks.com
Last week Matt Cutts, Google's head of search spam, broke the news on Twitter that backlink network Anglo Rank had been penalized. To add insult in injury, Matt sent out a tweet mocking them by quoting a line from their marketing material.
"There are absolutely NO footprints linking the websites together" Oh, Anglo Rank.

— Matt Cutts (@mattcutts) December 6, 2013
Shortly after, Matt offered a word of warning to all website owners:
SEO tip: don't use a blackhat link network that claims no footprints, but also has no refunds, no reports, no guarantees.

— Matt Cutts (@mattcutts) December 6, 2013
Anglo Rank isn't alone in this attack. Matt suggested on Twitter that other link networks are being targeted in this attack. Well he was absolutely right about that.
News recently broke that Google slapped Backlinks.com with a spam penalty, as well as penalizing all of their customers along with it.
In similar fashion, Matt again mocked this link network on Twitter by quoting a line from their marketing material:
"Our installation code/software used to publish the sold links is not detectable by the search engine bots." Au contraire!

— Matt Cutts (@mattcutts) December 13, 2013
There may be even more penalties to come as there are certainly more link networks out there than just these two. In the meantime, stay far away from any company that is offering you back links in exchange for money. If you have been taken by one of these networks in the past it's not too late to protect yourself.
How To Protect Yourself From Spammy Back Links
It's not too late to protect yourself against spam penalties if you have patronized one of these link networks in the past, or your SEO company used one to build links for you, or whatever the case may be.
Spam penalties can destroy your rankings. It's better to be proactive and remove all traces of link spam before Google takes a manual action against your site.
I wrote a post last week covering a video where Matt Cutts himself gives some advice on how to recover from bad back links. He suggests using Google's disavow tool to mass disavow all back links coming from a specific domain.
Disavowing links from a link network is the best way to protect yourself from any penalties they have been hit with, or may be hit with in the future.
Building good quality back links takes honest, hard work. If anyone is offering you some quick links in exchange money, run as far as you can in the other direction. Links are never easy to get, and if they are they're probably frowned upon by Google.