Penguin, the Google algorithm update first announced in April 2012, has now had 6 updates, leading us to the most recent 'Penguin 3.0' we saw in October 2014. For those who are unfamiliar, the Penguin Algorithm aims to decrease search engine rankings of websites that violate Google's Webmaster Guidelines, or in simpler terms, get rid of the spam. This, of course, refers to sites using black-hat SEO techniques or other link schemes. It's as simple as that.
What many small businesses seem to forget, however, is that while Penguin's main objective is to get rid of spam on the web, there are other benefits that can come from these updates. This time, the major benefit comes to local businesses.
Moral of the story: The sooner you can learn how it all works and how you can improve, the better.
Background on the Penguin 3.0 and What It Means for Local Businesses
Besides just getting rid of spam, there is also good news for local business because of the most recent Penguin. With the previous major Penguin update, Penguin 3.0, some major changes were observed as to how Google interacts with local search and results. Experts and small business owners alike started noticing that Google started integrating localized results into searches.
For example, broad searches like "yoga" would direct users to local yoga and fitness studio results in junction with broader results for the term "yoga". This is obviously great bonus for local businesses because previously it seemed there was no chance for ranking for a term like "yoga" for small businesses. It appeared that Google is now offering up that opportunity and integrating it into searches.
Knowing this information, now is really the time for local businesses to engage in online marketing, particularly local search optimization. Below offers 7 tips to improving your business's local presence in this new post-penguin world. Each tip can easily be an entire article all on its own (and has been!) so also check out the More Resources section for detailed information about each point:
#1. Optimize for Mobile Users
The reason I am listing this first is because most users who type in a local query are mobile users. According to Local Vox, one half of all local searches are performed on mobile devices. Because of this, if you want the mobile visitors to find your business and want them to be converted as your patrons, you have to make sure you have a mobile version of your site. A responsive web design is an excellent place to start, but there are quite a few different things that you can do to optimize for mobile, so the sooner you can get started the better.
More Resources: 5 Reasons You Absolutely Must Optimize Your Website for Mobile, Building Smartphone-Optimized Websites.
#2. Local Content Marketing
Content marketing is essential for local businesses. There are so many platforms available through which small businesses can manage content marketing: search engines, blogging, mobile and social media, etc. You need to figure out what your target audience is seeking and then provide them with relevant info through blog posts, articles, news and info-graphics.
So what does this have to do with local? Ultimately, this will allow you to engage audiences and get more natural links and social indicators. Thus you get quality local leads rather than just having increased traffic.
#3. Obtain Local Citations
Quality citations such as links, local citations or brand mentions matter a lot post Penguin. As you probably have already known, citations play a huge role in SEO and specifically, local search ranking. This means that the more your Business's Name, Address and Phone number, is found on websites related to your specialty and location, the higher your local search ranking will be. Because this is such an important element, you want to build your citation profile up so that you are sited more frequently with local businesses.
One of the first steps is to check and make sure that your citations are correct on the sites like Yellow Pages, MapQuest, City Search, and even your local Chamber of Commerce because it will help you in establishing your business locally. If your information is different all across the web, your local presence will suffer. These citations help in authenticating your business. Local citations will give your business information to search engines for valid and reliable business information.
More Resources: Why Local Citations are Important for SEO, 6 Local SEO Strategies for Small Businesses.
#4. Create a Page for Each Business Location
If you have multiple business locations, it's recommended you create a page for each location for the operations of the Penguin system. Previously Google used to separate local results. However, since the Penguin 3.0 update, local results are more integrated into general content of searches. This is great because Google is trying to incorporate local results whenever possible, but the problem is that if you have all of your business information on one page then it will not accurately turn up in local search results.
The solution: If your business has multiple locations, then you need to separate the pages so that each location can rank higher on search results. Of course, these pages should include all of the specific information about store and services offered in that local area, contact details and address.
More Resources: Matt Cutts on How to Tell Google When Multiple Domains are Related, Get Your Multi-Location Business Ranking in Multiple Cities With One Domain.
#5. Earned Media
Optimizing your local SEO means focusing on your branding citations and creating natural back-links to your site. One of the most successful link building techniques is guest blogging done correctly. Because so many websites have abused this in the past (which ironically may have led to a Penguin penalty), I like to call this earned media instead of guest blogging.
Contributing relevant content to publications in your industry allows local businesses to make their content, services, and information much more visible online, and it contextualizes their business in the range of larger content discussions. This also allows for natural links back to your website, which boosts authority and local SEO rankings. Consider writing for complimentary companies to help boost your brand. For example, if you write for a company that offers SEO for franchises, write a blog on a franchise website, entrepreneur.com, or any other relevant websites to help put your website in front of a relevant audience without being direct competition.
More Resources: Ask the Experts: What's Your Take on Link Building Strategies Moving Forward?,
#6. Google+ Local Reviews
Encourage your customers to write reviews of your business. Google is now placing much more importance on local reviews in rankings. With these new updates, search engine position is becoming more natural by reacting to what your customers have to say about your organization rather than what you have to say, which is why it is so important to encourage happy customers to give you feedback.
So, how do you get reviews? One of the most effective ways is to ask for reviews by sending personalized emails to your customers asking them to visit your Google+ Local page. Another idea is to set up a link on your website or blog that will link your customers to your Google+ Local page to post reviews. From here you can also quote and use the positive reviews on a testimonial page, which is also seen as positive review content on your site.
More Resources: Getting Reviews the Right Way for Local Businesses.
#7. Optimize Your Google+ Local Page
As I mentioned above, Google+ Local pages are one of the best things you can do to help your online presence in both the post-Penguin world and for local SEO in general. Google+ Local listings offer local small businesses an opportunity to claim a prime spot on the local search engine results pages if optimized. The Google+ Local listings displayed in the search results have increased because of location specific keywords.
More Resources: 5 Tips to Optimize Your Google+ Local Listing, #SMX Live: Google Local Optimization in 2014, and setup a Google My Business account here.
For the Visual Learners: A Few Extras
Some additional food for thought about Improving Your Local Presence Post Penguin: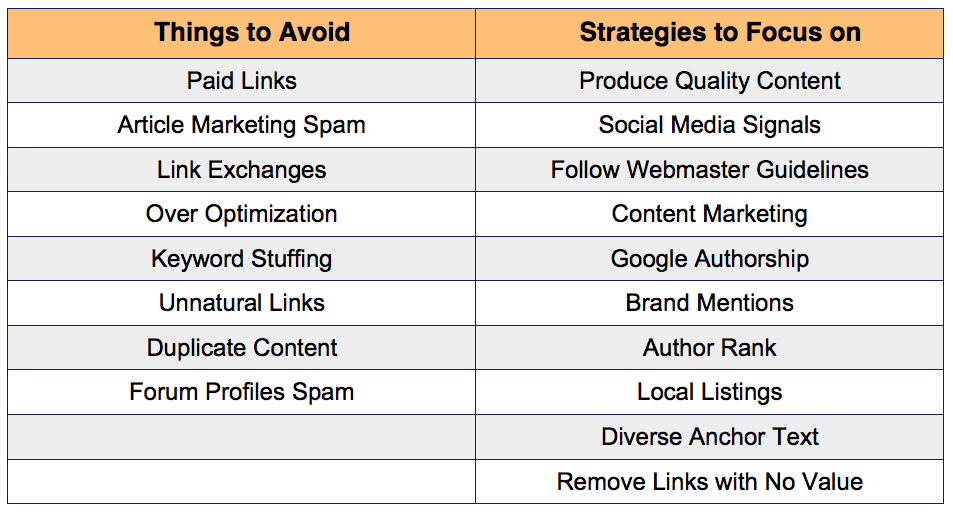 What works well for your local SEO strategy? Have you tried any of these 7+ tips yourself? Share your thoughts in the comments below.