If you're trying to think of a winning idea for a product, service, or website, it's tempting to think big. But this isn't always the best way forward because popular markets tend to have a high barrier to entry.
That means you'll often need lots of money and resources to compete with the big players that already dominate.
For that reason, it's often better to target (and dominate) a niche market.
In this article, we'll look at some successful examples of companies targeting niche markets and how they attract customers.
Lefty's sells office supplies, gifts, gardening tools, kitchen items, and a variety of other products for left-handed folks.
How big is this niche market?
Left-handed people make up an estimated 10% of the population.
How did the brand start?
Lefty's started life as a physical store in San Francisco in 1978. According to their website, this was the first physical store in the US to specialize in products for left-handers. The brand now also sells products nationwide through its online store.
How does the brand attract customers?
Lefty's is a well-established brand that almost certainly generates plenty of sales through word of mouth, but they're also making an effort to attract customers from Google. Their website currently ranks high for many relevant searches, including:
left handed scissors
left handed gifts
left handed pens
left handed notebooks
left handed can opener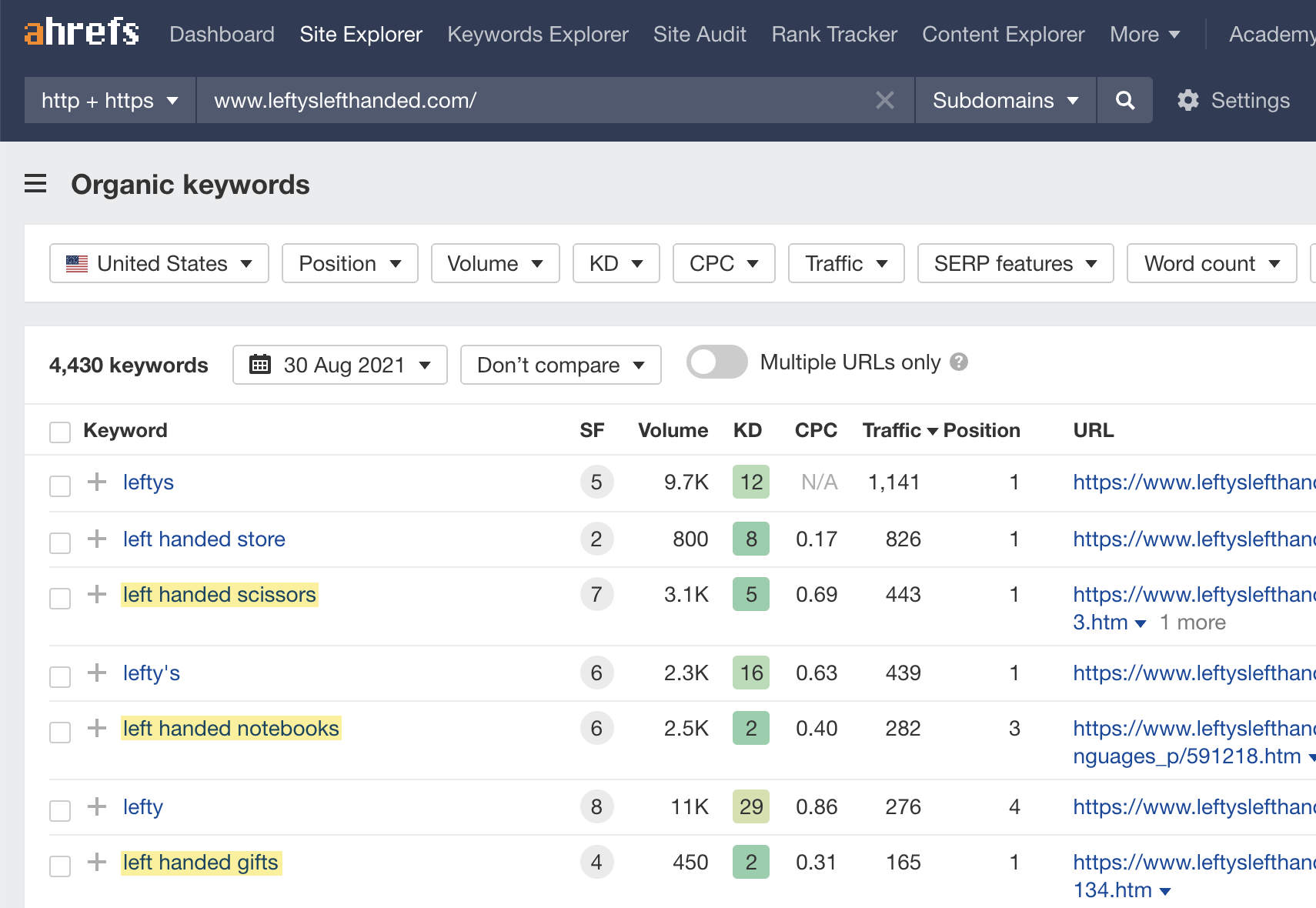 Currently, the site receives an estimated 10.8K monthly organic visits from Google. 93% of this traffic comes from the US, which is their primary target market: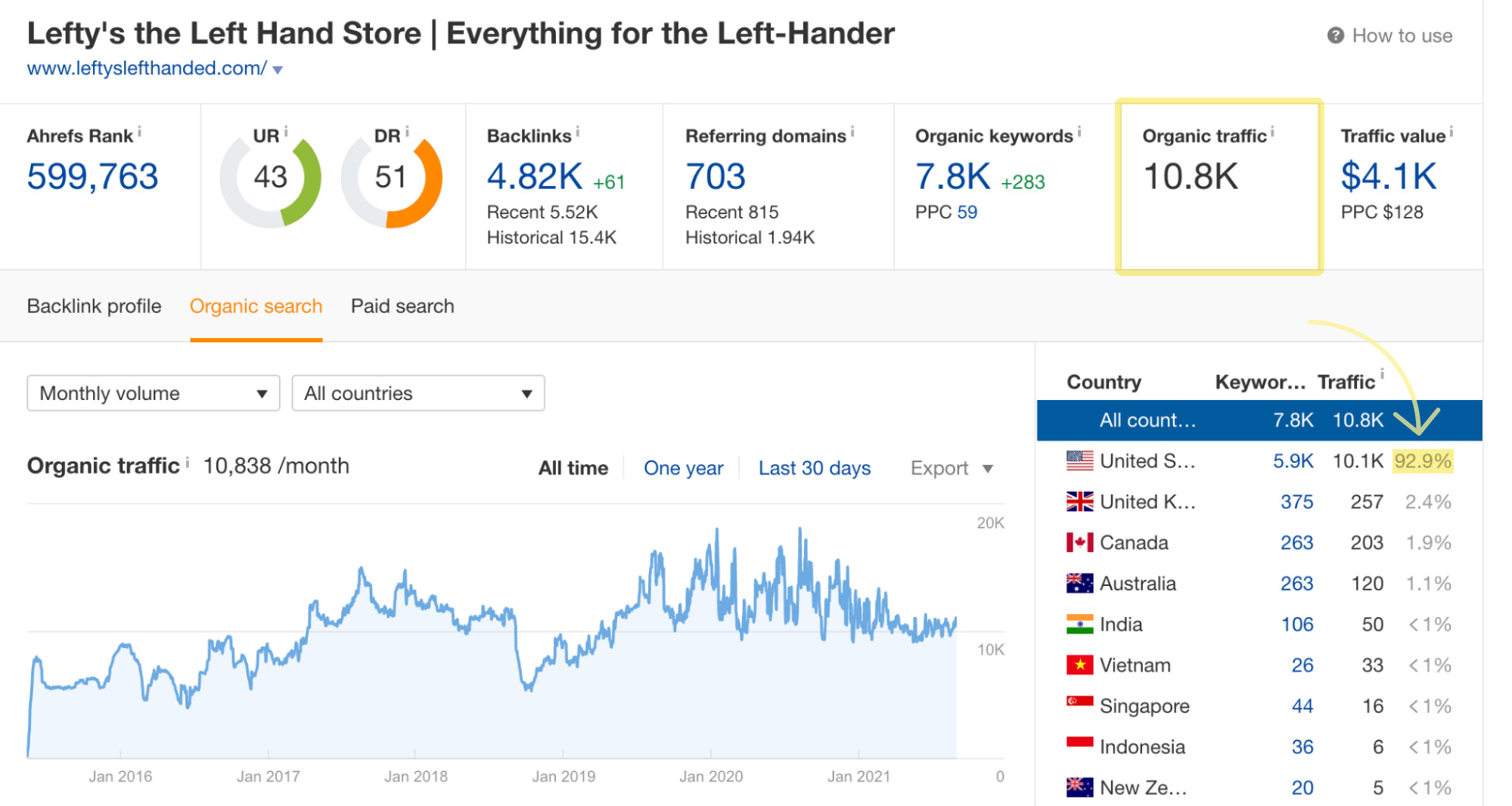 However, Lefty's doesn't only rely on organic search. They're also utilizing PPC ads and bidding on terms like "left hand spiral notebook," "notebooks for lefties"," "left handed journal," and many more: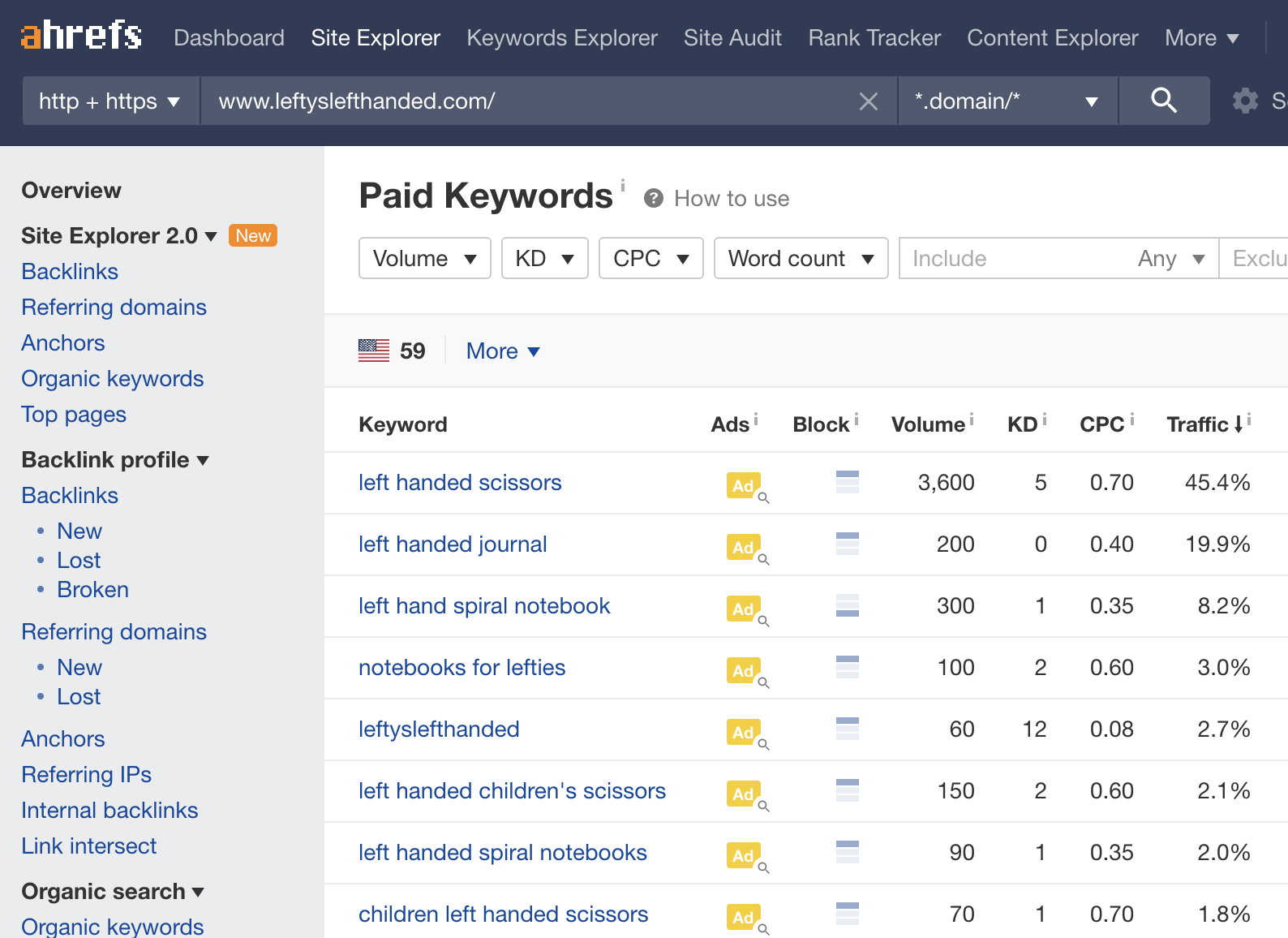 Nomad List helps digital nomads find the best places to live, work and travel. It scores 1,350+ cities in almost 200 countries on data points like the cost of living, temperature, safety, and internet speed.
How big is this niche market?
In 2020, 10.9 million Americans classed themselves as digital nomads (an increase of 49% since 2019). This is roughly 5.5% of the US adult population.
How did the brand start?
Nomad List began life in 2014 with data for just 25 cities. Its founder, Pieter Levels, then launched version 2.0 in 2015 with data for 500+ cities.
How does the brand attract customers?
Nomad List's popularity exploded after it became one of the most upvoted products on Product Hunt in 2015. It's now pretty much a household name among digital nomads. It was even a recommended resource in the /r/digitalnomad subreddit (1.2M members) until July 2021.
That said, Reddit isn't the only place recommending Nomad List. It has backlinks from roughly 7K websites, which likely send it some decent referral traffic.

Nomad List also attracts thousands of monthly visits from organic search. Much of this traffic comes from people searching in Google for the site itself, but the site also gets a fair amount of traffic from searches like:
best places to live in europe
best places to live in mexico
best places to live in africa
best places to live in north america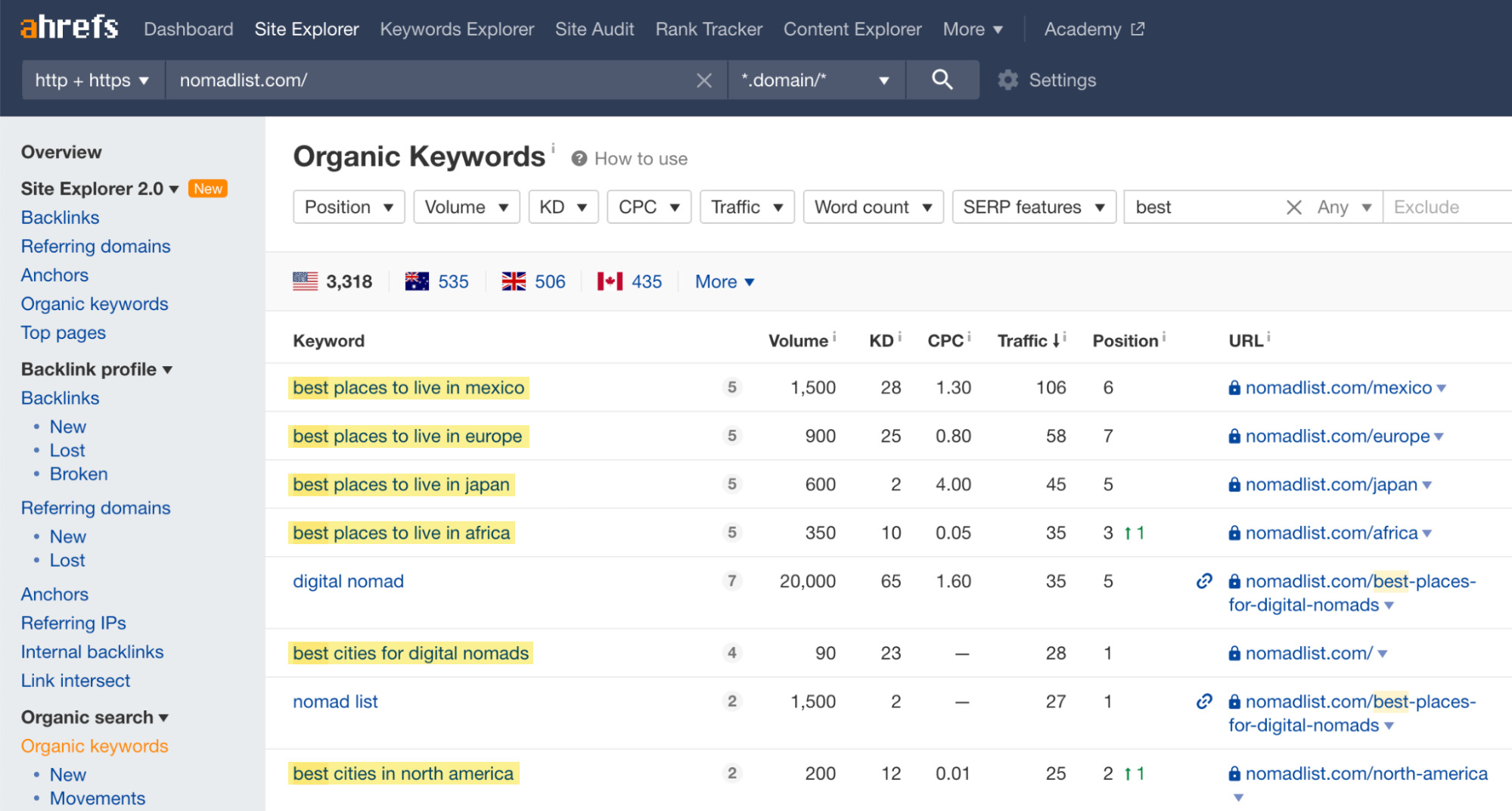 This is because the website has hundreds of pages listing the best places to live in various locations.
The Modest Man is a fashion blog aimed at helping short men to "dress better" and "feel more confident." It's specifically targeted at men under 5'8" (177cm).
How big is this niche market?
There are roughly 101M adult men in the US (the website's primary target market), and 34% of them are under 5′8″. If half of these men care deeply about fashion (it's almost certainly less), that gives the website a target market of 17M—roughly 0.2% of the global population.
How did the brand start?
Brock McGoff (5'6") started The Modest Man in 2011 to help short men "dress for the occasion and always look [their] best."
How does the brand attract customers?
The Modest Man makes most of its money from ads and affiliate commissions, so it doesn't have "customers" in the traditional sense. It simply needs to attract a consistent stream of targeted traffic to monetized content.
Judging by the site's content and its organic traffic estimations in Ahrefs' Site Explorer, organic search is likely the biggest driver of traffic. It currently gets an estimated 104,000 organic visits per month.

Much of this organic traffic goes to reviews and "best of" lists—both which are heavily-monetized with affiliate offers.
For example, take a look at this list of the best slim wallets for men:

Each of the recommended wallets has a "check price" button, which is an affiliate link that takes you to the retailer's website.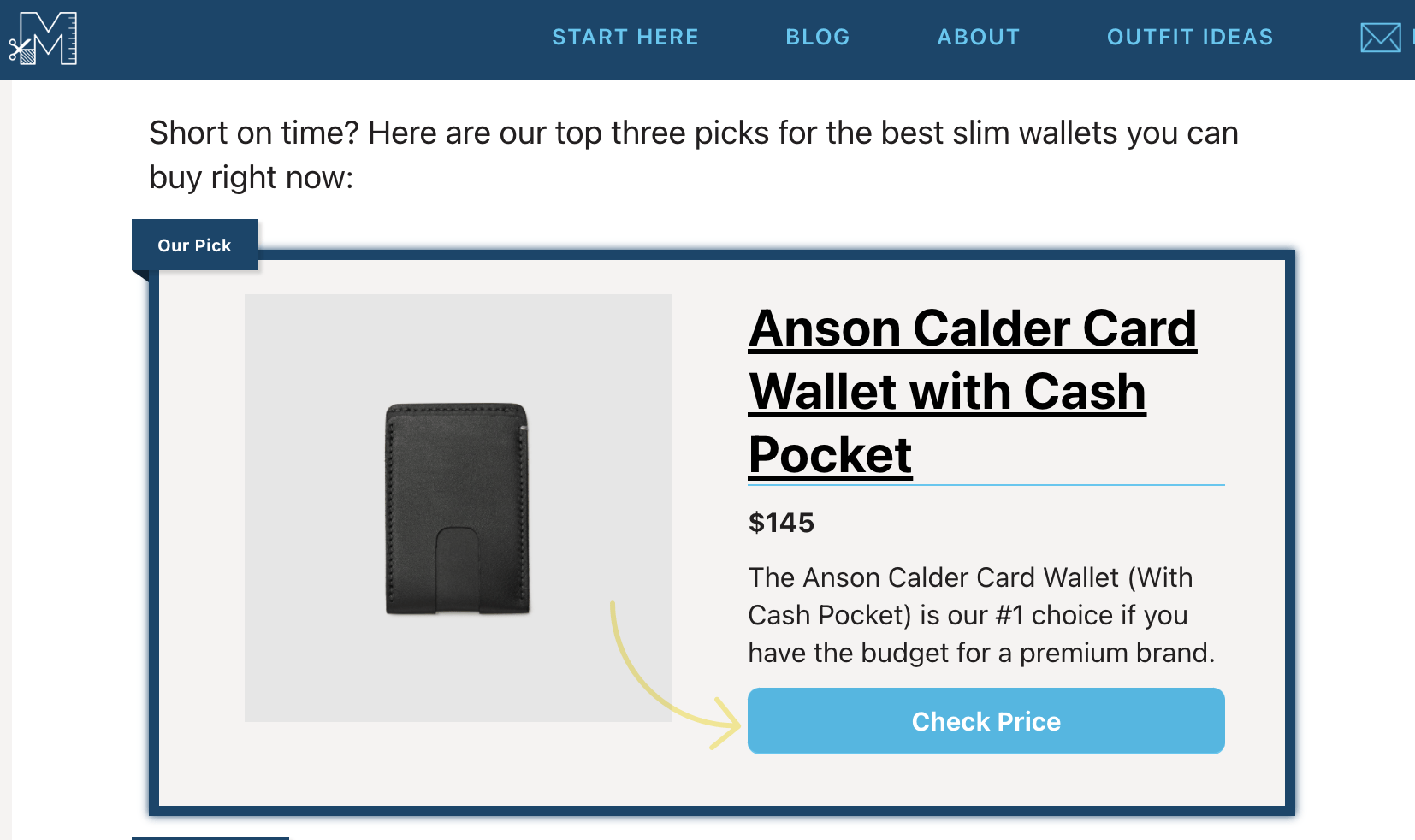 As prices for the recommended wallets range from $19 to $145, and some retailers offer up to 10% commission, Brock makes up to $14.50 each time someone buys a product through one of these links (assuming his commissions are the same as everyone elses, which may not be true).
TomBoyX is a gender-and-size-inclusive fashion brand with a focus on lingerie.
How big is this niche market?
5.6% of US adults identify as LGBTQ, according to a recent poll. That's roughly 18 million adults.
Sidenote.
TomBoyX doesn't cater solely to the LGBTQ community. In a recent
Forbes interview
, Fran Dunaway, CEO and Co-founder of TomBoyX, said that the company makes underwear for "people the industry has long ignored [such as] those in the LGBTQ community, plus size and people that work in the trades."
How did the brand start?
Founded in 2013 by Fran Dunaway and Naomi Gonzalez, TomBoyX began life after Dunaway struggled to find a shirt she liked and realized there wasn't much choice for women seeking masculine-style clothing.
How does the brand attract customers?
TomBoyX attracted its first customers via Kickstarter in 2013, where it raised 101% of its $75,000 goal from 665 backers.
From there, the brand went on to attract press coverage on niche blogs and, more recently, national publications like Forbes, Inc, Cosmopolitan, Vogue, and The New York Times. In fact, the brand's press page currently lists 243 mentions, while Ahrefs' Content Explorer—our searchable database of billions of web pages—finds TomBoyX mentioned on over 2,200 websites: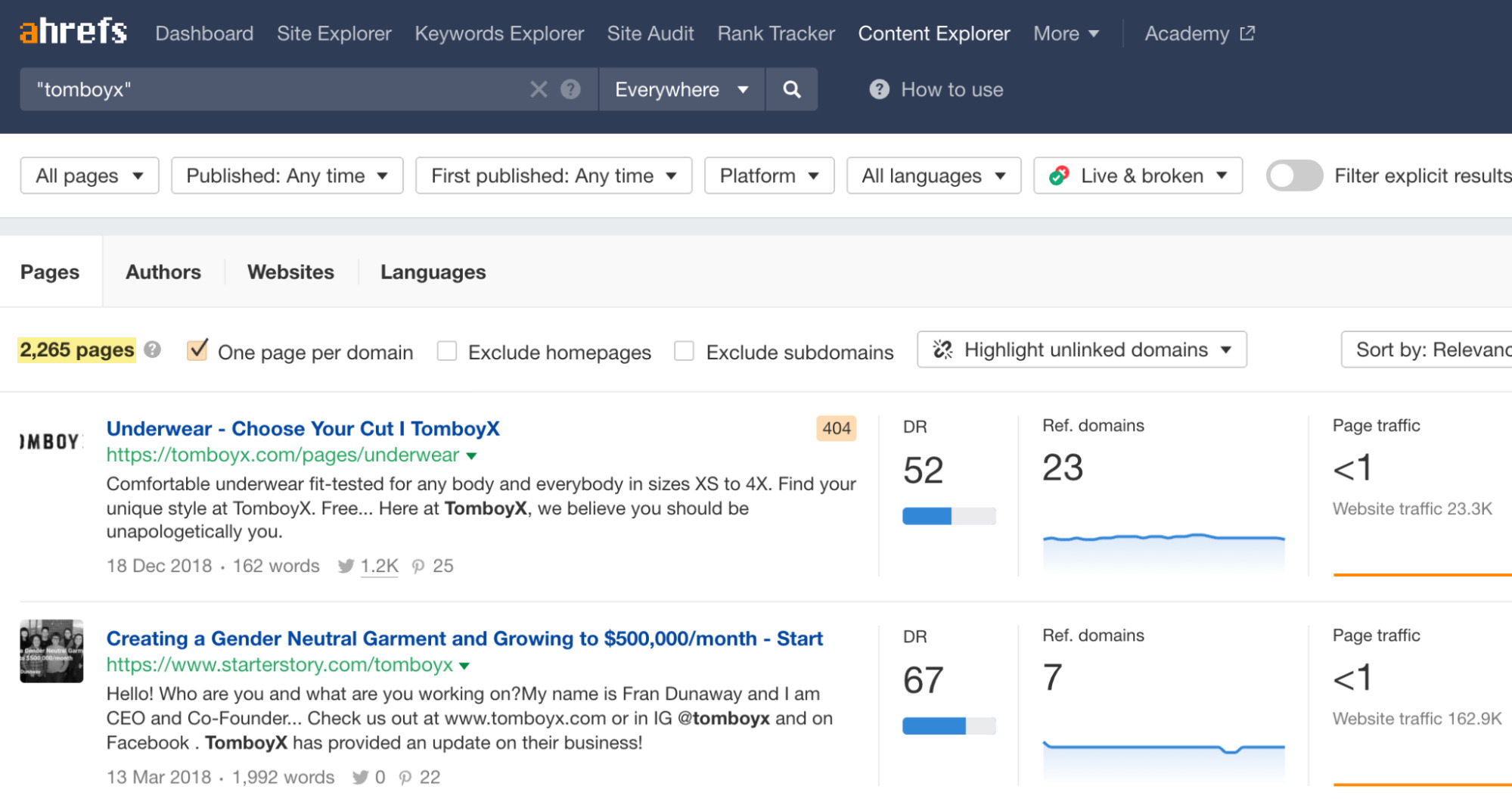 TomBoyX also gets an estimated 48.2K monthly visits from organic search, most of which goes to their homepage and ecommerce category pages: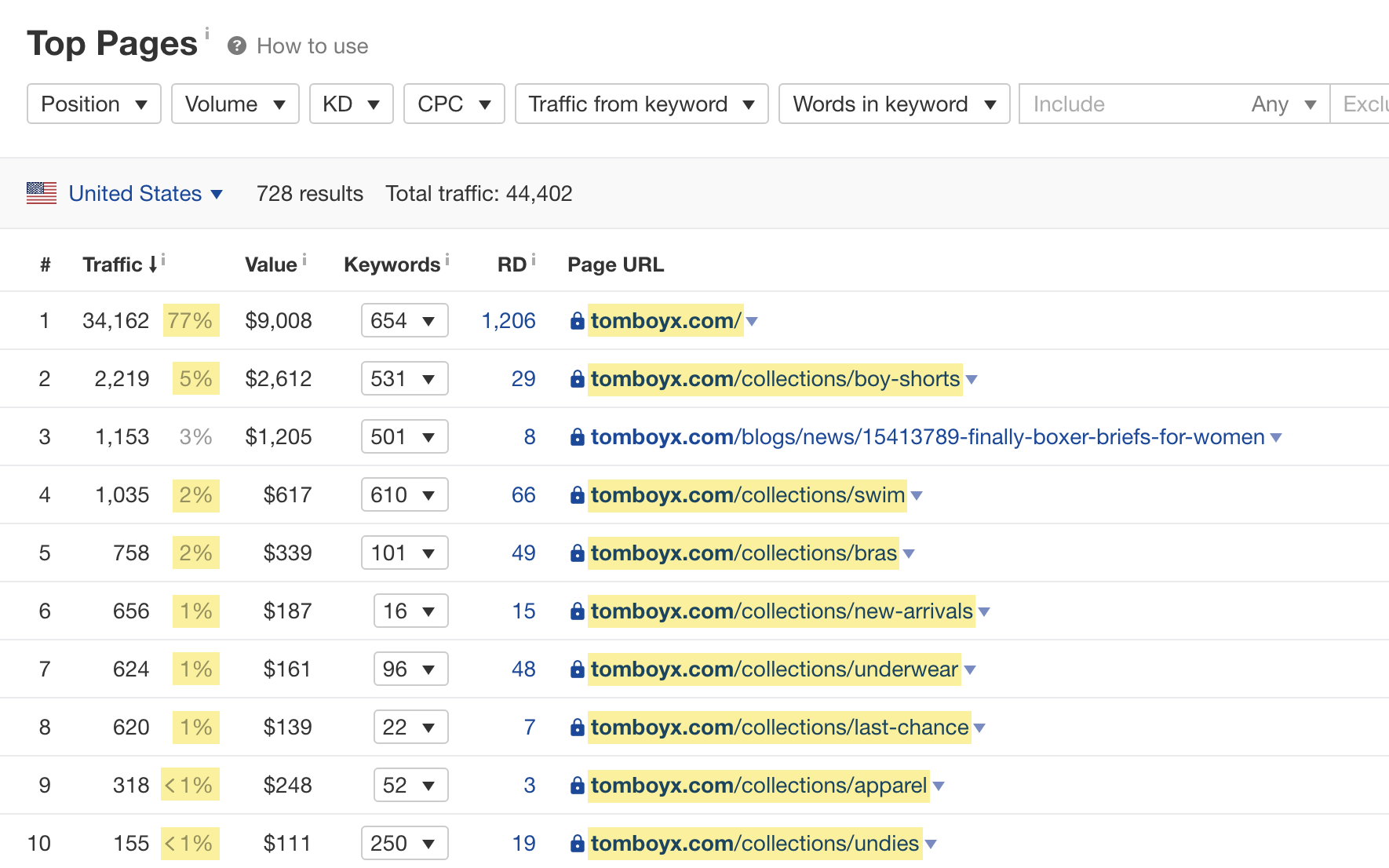 Then there's the brand's ambassador program where they partner with Instagram influencers with 10K-100K followers (i.e., micro-influencers).
Bee's Wrap is a plastic-free alternative to plastic food wrap. It's made from organic cotton and coated with sustainably-sourced beeswax.
How big is this niche market?
This is such a niche product that it's hard to find market size statistics. It really only appeals to foodies committed to a zero-waste and plastic-free lifestyle—which is almost certainly not a huge amount of people.
How did the brand start?
Bee's Wrap started life in 2012 with founder Sarah Kaeck looking for ways to store food in a more sustainable way. After struggling to find a good way to store bread and keep it fresh, she began experimenting with waxing fabric with beeswax, resin, and jojoba oil. She kept at it until she found a formula that worked.
How does the brand attract customers?
Bee's Wrap gets an estimated 10.9K monthly website visits from organic search, although more than half of that comes from branded searches (i.e., people searching for the brand itself):

Most of the rest of its organic traffic comes from focused product-related searches like:
beeswax sandwich wrap
beeswax food wrap
reusable food wraps
bees wax wrap
beeswax cloth
Bee's Wrap ranks in the top 3 in the US for all of these queries: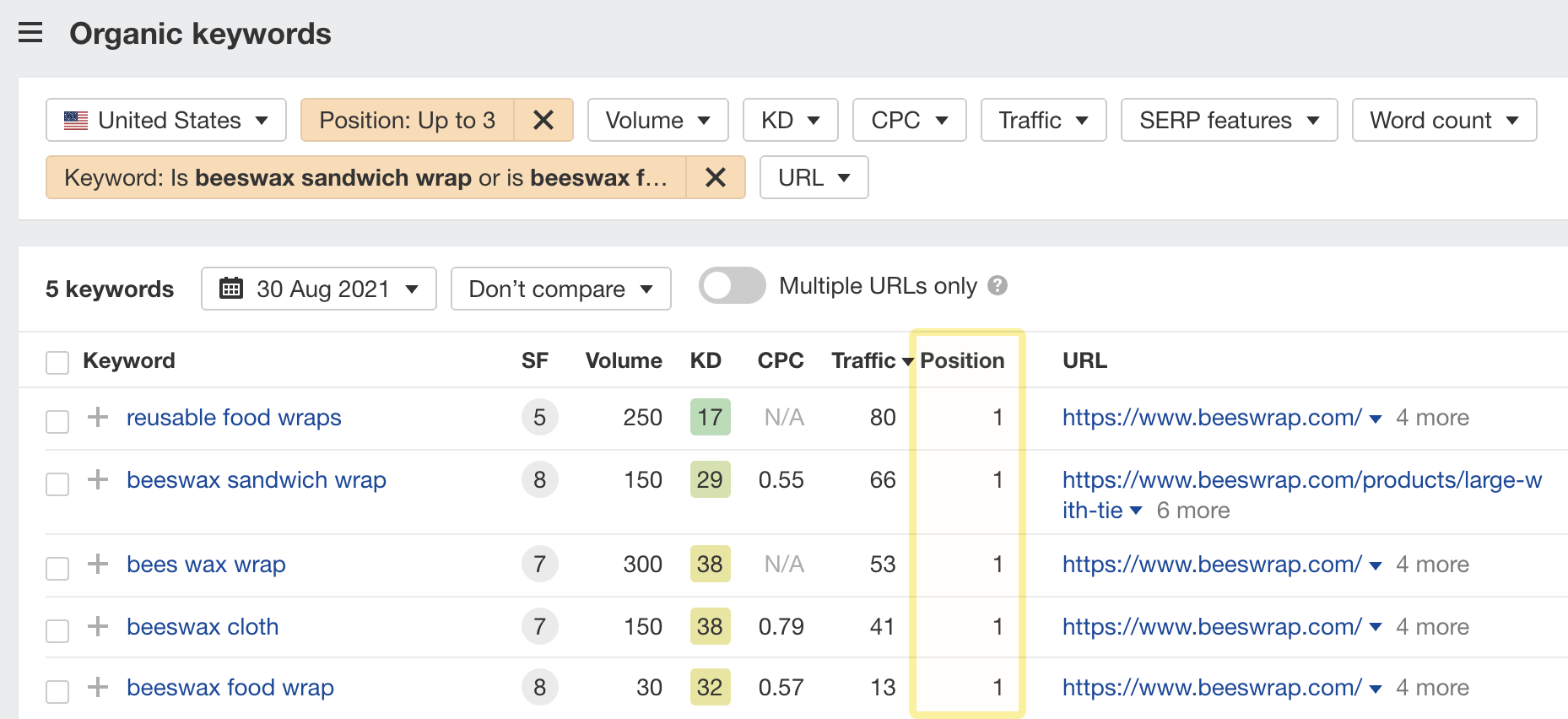 Bee's Wrap also makes use of paid search to attract targeted traffic, and currently bids on an estimated 82 keywords including: "reusable cling wrap," "wax wraps," and "wax bags."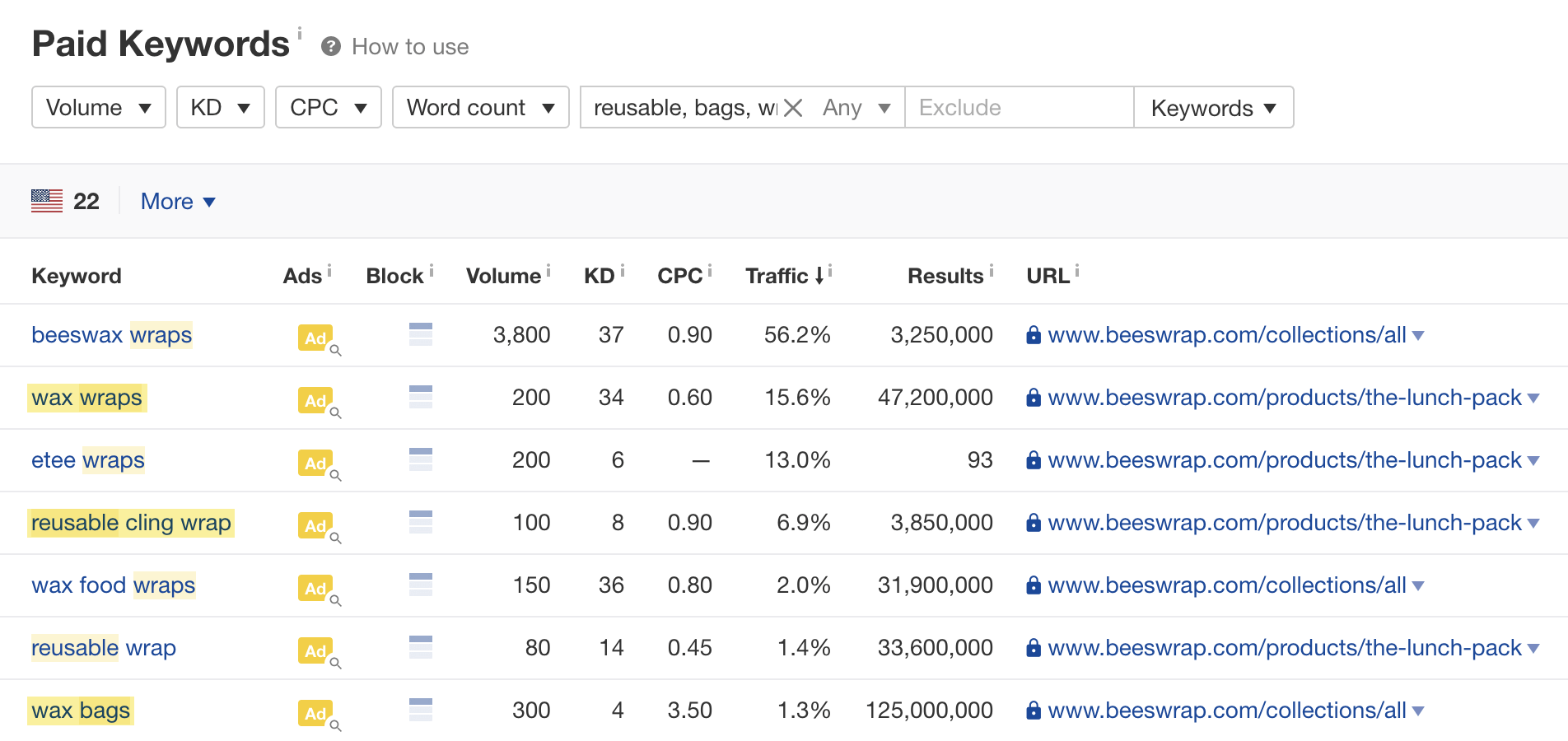 But search isn't the primary way Bee's Wrap attracts customers…
This press release states that the company also sells its products "through 3,000+ retail locations across the US and ecommerce channels and reaches over 40 countries across the world."
Divvies sells vegan and nut-free cookies, popcorn, and cookie sandwiches in the US.
How big is this niche market?
Divvies targets two main markets: those with nut allergies and vegans. In the US, an estimated 10M people (3% of the population) have nut allergies while an estimated 3% are vegan. That's 6% of the US population if we assume no overlap, which is roughly 19.7M Americans.
How did the brand start?
Founders Mark and Lori Sandler's youngest son was born with severe food allergies, so Lori began baking nut, egg and dairy free treats for him. The couple then founded Divvies in 2005 to make their vegan and nut-free snacks available to more people.
How does the brand attract customers?
Unlike most of the other niche businesses on this list, Divvies doesn't appear to drive much business from search. They get an estimated 1K monthly visits from organic search and haven't driven traffic from paid search since 2018.


Plus, most of their organic visits come from branded searches—with the term "divvies" getting an estimated 1K monthly searches in the US: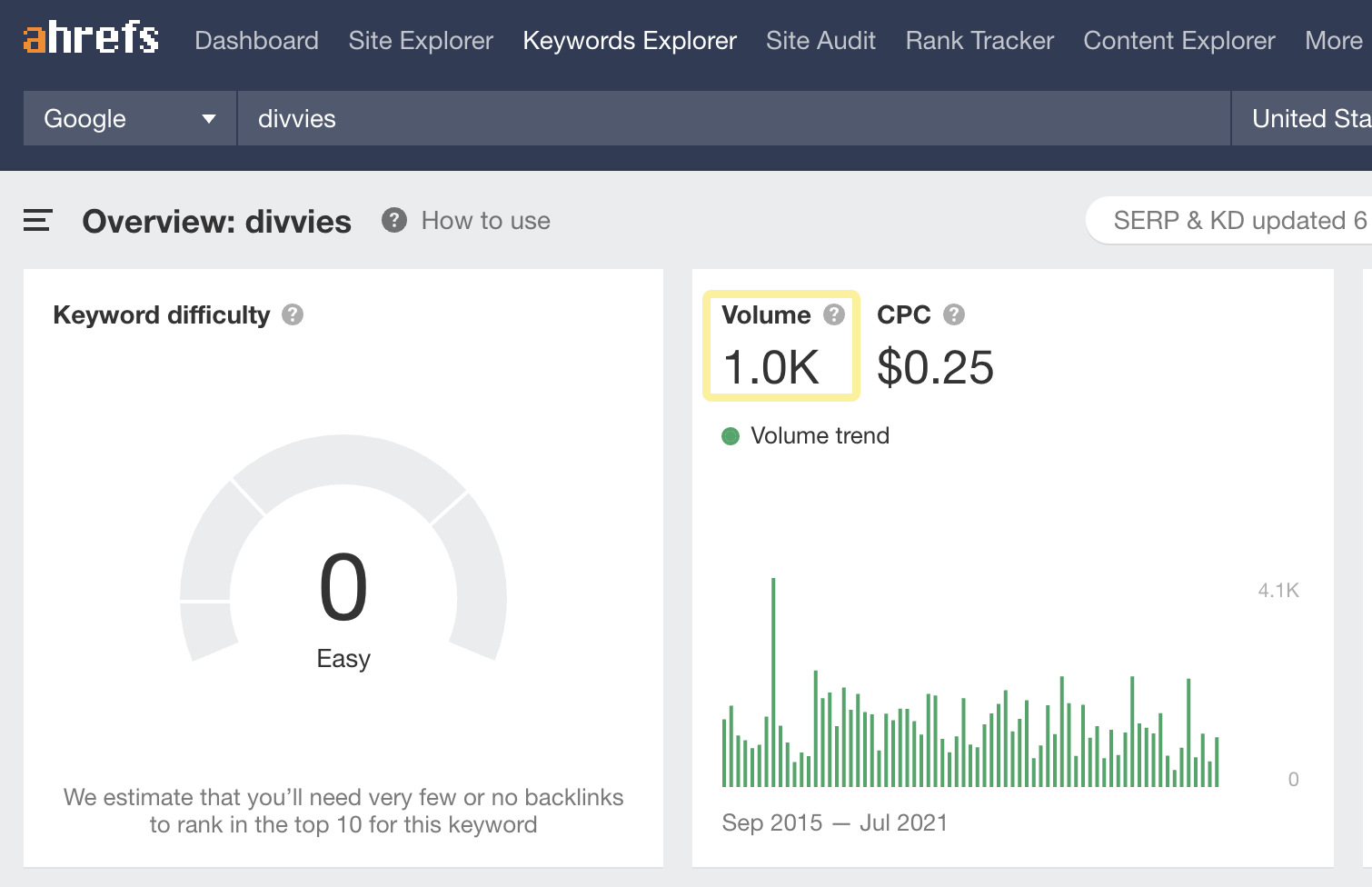 It's clear from this that Divvies has built some brand awareness, likely because their products are available nationwide at Whole Foods Market, Amazon Fresh, Wegmans, and other retailers. Many of the people searching for "divvies" each month probably first encounter the brand at a local retailer, and are now looking to buy their products directly online.
Ahrefs is an all-in-one SEO toolset that helps people to rank higher in search engines and get more organic traffic to their websites.
How big is the niche market?
If we assume that every website owner (~200M people) cares about SEO, then that's roughly 2.5% of the global population.
How did the brand start?
Dmitry Gerasimenko started Ahrefs in 2011 as a paid service based on a backlink index. This remains a key part of our product and the index now contains hundreds of billions of pages and trillions of backlinks.
How does the brand attract customers?
Word of mouth is our biggest driver of customers, which is fueled by our content marketing efforts. This largely involves creating content about the problems that people are searching for, and showcasing how Ahrefs can help solve those problems.
For example, we have a guide that explains how to do keyword research with the help of Ahrefs' Keywords Explorer. It ranks high in Google for keywords like "how to do keyword research," which gets an estimated 1,300 monthly searches in the US: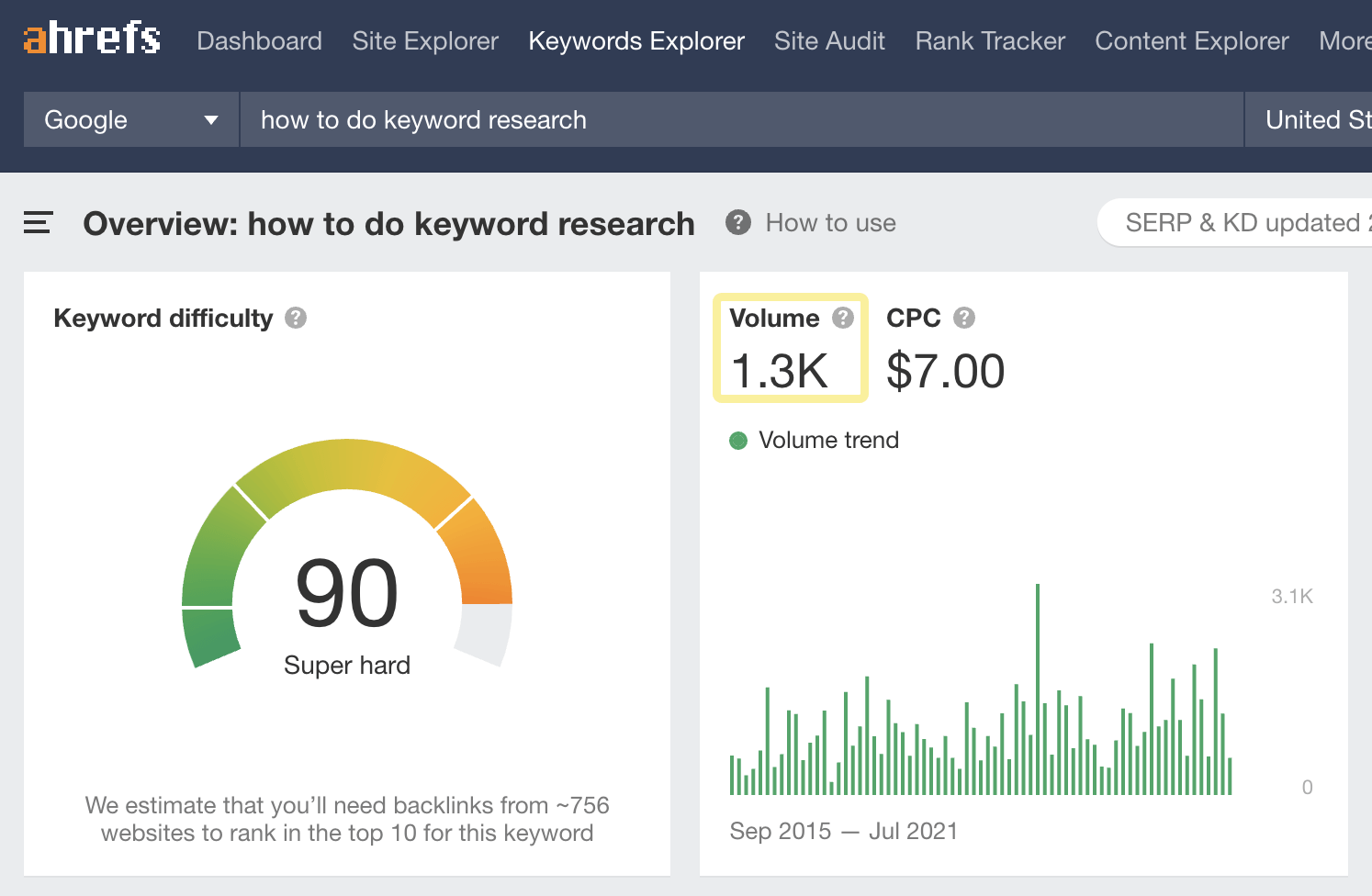 As a result, it gets thousands of visits from organic search every month:

We also take a similar approach with our YouTube channel, which gets roughly 410,000 video views per month.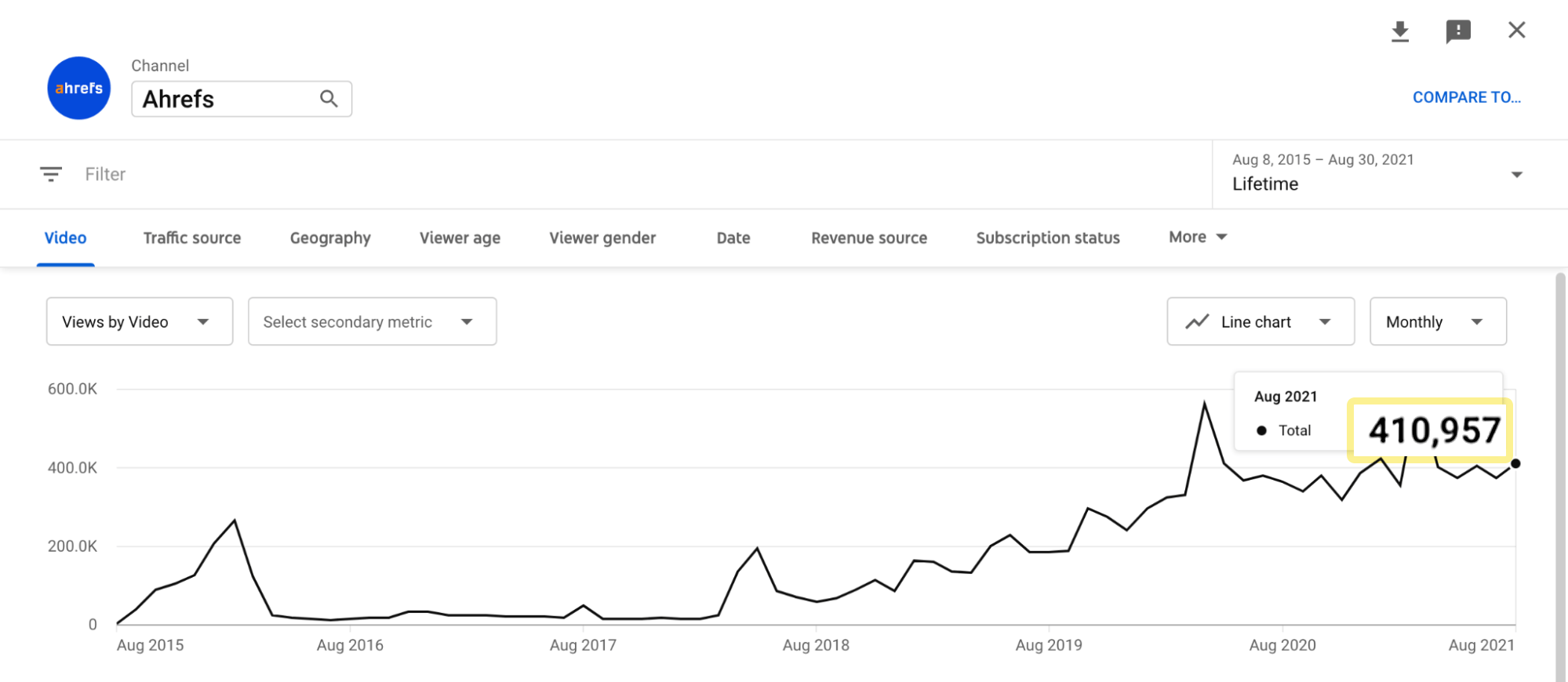 Final thoughts
Catering to the masses isn't always the best way to create a lucrative business. It's harder to sell to everyone than it is to sell to a specific demographic, the barrier to entry is much higher, and there's more competition.
If you can identify an underserved niche and give them something they truly value, you'll no doubt attract loyal customers who rave about your product, service, or content to others like them and help to grow your business.
Did I miss any good examples of niche markets? Let me know on Twitter.