Do you remember our previous post about
Facebook groups for SEOs
? It's time to unveil some more active communities where you can discuss all things marketing.
Facebook groups provide an excellent source of knowledge and practical advice for marketing professionals. But how many times have you joined a marketing-related group, only to have your news feed spammed with posts like this? -
Probably more times than you can remember, right?
Yup, me too. A lot of Facebook groups for marketers seem to be nothing more than billboards for low-quality service offers and have no real activity from members.
So, for this post, I vetted over 50 Facebook marketing groups and hand-picked the most engaging and helpful ones for marketers to join.
As with the previous list, I only included digital marketing-related groups that have a:
Significant number of members;
High level of community engagement;
No-spam policy.
If you want to join any of the groups, don't forget that many are closed. You will be asked to answer a few questions about your goals beforehand. And no spam, please!
Editor's Note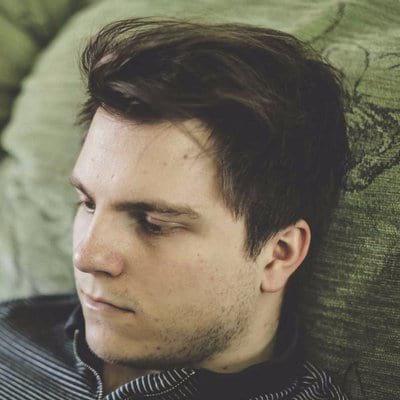 Joshua Hardwick
Head of Content
1. Digital Marketing Question & Answers
Join Digital Marketing Question & Answers group
Members: 42,519
Owner: Sorav Jain
Type: closed
Topics: marketing, entrepreneurship, content marketing, blogging
The group helps digital marketers, business owners, and students alike to connect and share their knowledge and experience. It's actively moderated, so there is little to no spam.
The owners of the Digital Marketing Question and Answers host an event every Thursday called #GuruCoolThursday. During this Q&A session, a member of the group shares his or her thoughts on a particular digital marketing topic. As of right now, they've hosted more than 30 experts. There are more live sessions and contests in the group, too.
About the owner
Sorav Jain is an entrepreneur, digital marketing and social media expert, consultant, trainer, author, and speaker. He started his digital marketing career at the age of 17 as an SEO executive and now has about ten years of the industry experience. In 2011, Sorav started echoVME–the digital marketing agency recognized as 'The Best Social Media Agency of 2013' by CMO Asia.
2. Digital Marketing Hub
Join Digital Marketing Hub group
Members: 36,122
Owner: Prateek Shah
Type: public
Topics: entrepreneurship, marketing, CRO, growth hacking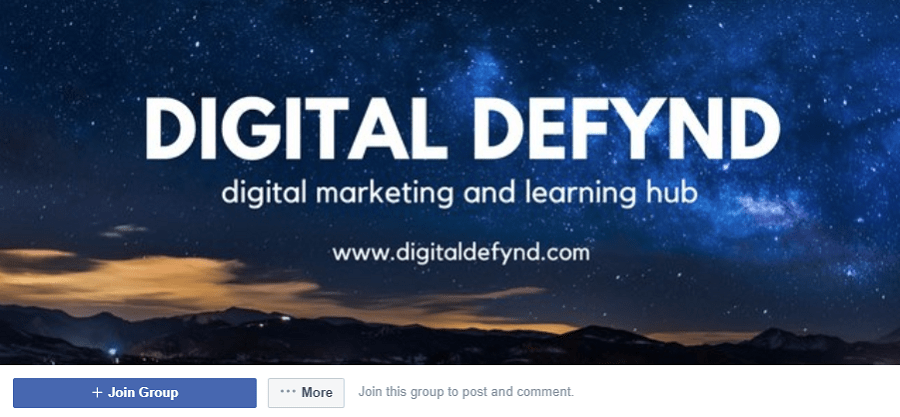 The group started off as an offline meetup for digital marketers, which then turned into an online community.
For a growing industry like digital marketing, the group owners felt the need to bring together industry folks who would 'learn, share and grow' together. Despite one of the groups original objectives to promote the owner's venture (Digital Defynd), it's now a vibrant community packed with helpful posts.
The group is spam-free. All unwanted promotions, spammy messages, and subtle marketing attempts are swiftly dealt with by the group admins and moderators, who keep a close eye on things. There's no 'leader' around here: everybody tries to help everybody, thus helping it stay an open-ended network. There are a lot of regular Q&As, polls, discussions, and interview series. All that holds things together and helps the group to thrive.
About the owner
Prateek worked his way up from engineer to banker, before moving into PR role and becoming one of the leading digital marketers in Asia. Since 2016, his focus has been on building Digital Defynd into a global digital learning hub. He is regularly invited to speak at different conferences and often conducts professional digital marketing training and workshops with partners like Google India, CII, Intracen, BCG (Boston Consulting Group) and Knowledge Engineers UK.
3. Digital Marketing Strategies For Entrepreneurs
Join Digital Marketing Strategies For Entrepreneurs group
Members: 21,592
Owner: Hernan Vazquez
Type: closed
Topics: entrepreneurship, marketing, CRO, growth hacking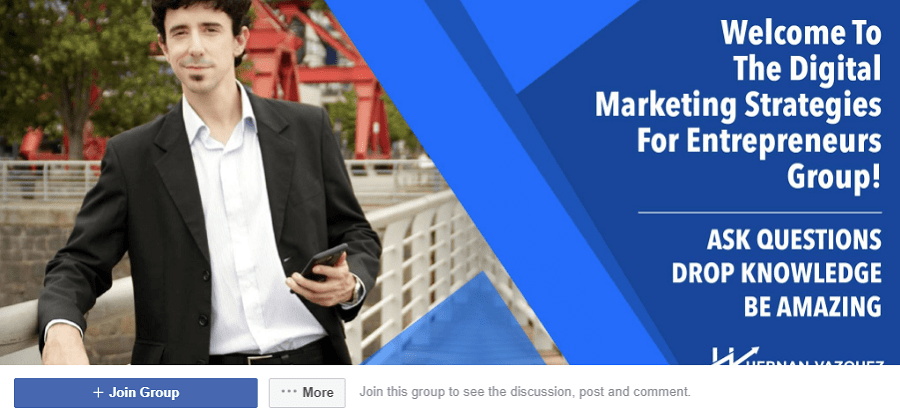 Hernan Vazquez created this group to provide a place for digital marketers and entrepreneurs to share ideas, tools, deals and foster a community of like-minded individuals. Now it counts over 2,500 members. Here you can learn about Facebook Ads, sales funnels, email marketing, copywriting, and everything that helps you to take your online business to the next level.
They do weekly live AMA/Q&A events and have recently launched a series of interviews with people within the group. One will find lots of motivation and answers here, as well as various tools and deals for group members, and news on the digital marketing industry.
About the owner
Hernan is a digital marketing and business growth expert, investor, and entrepreneur. He is a leading Facebook Ads expert who helps entrepreneurs to grow their revenue. Hernan has cross-sector experience in diverse industries including internet marketing, SEO, info products, consulting, design, IT, software, legal, Ecommerce, and more.
4. Badass Marketers & Founders
Join Badass Marketers & Founders group
Members: 21,588
Owner: Josh Fechter
Type: closed
Topics: entrepreneurship, marketing, CRO, growth hacking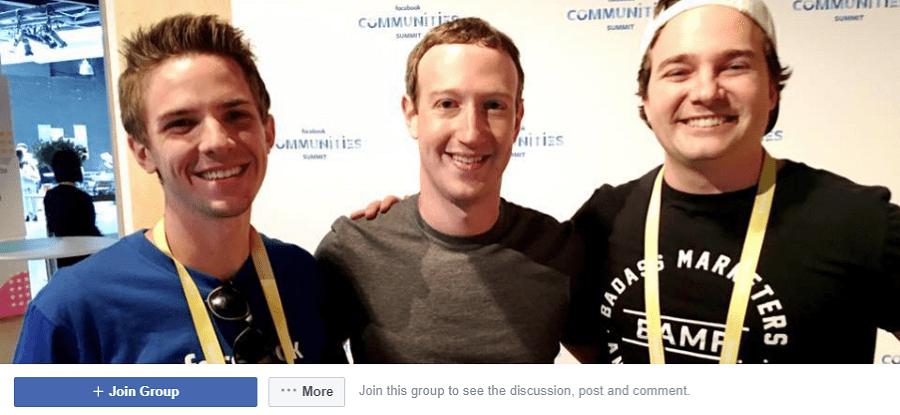 When founding the group, Josh Fechter didn't expect to get such a large number of members. The idea was to introduce the concept of growth hacking to marketers and founders. Now the group is known for its high-quality marketing guides. The members of the group are also often highlighted in video interviews and blog posts. And four books were put together from the content posted in the group.
The admins vet all user posts before publishing them. That way, when content does get posted, members are more likely to check out what it is since they know it will be valuable. There are also giveaways every month.
About the owner
Josh Fechter is the co-founder of Squibler. Formerly he was the Head of Growth at various companies including 22Social, UpOut, and GrowthX. As one of the top Quora authors of the past two years, Josh has written many articles about marketing, authored four books, and founded one of the most active marketing communities on Facebook. In his free time, Josh studies psychology and its influence on creation, innovation, and social media.
5. Marketing Solved
Members: 12,770
Owner: Kat Sullivan
Type: closed
Topics: marketing, social media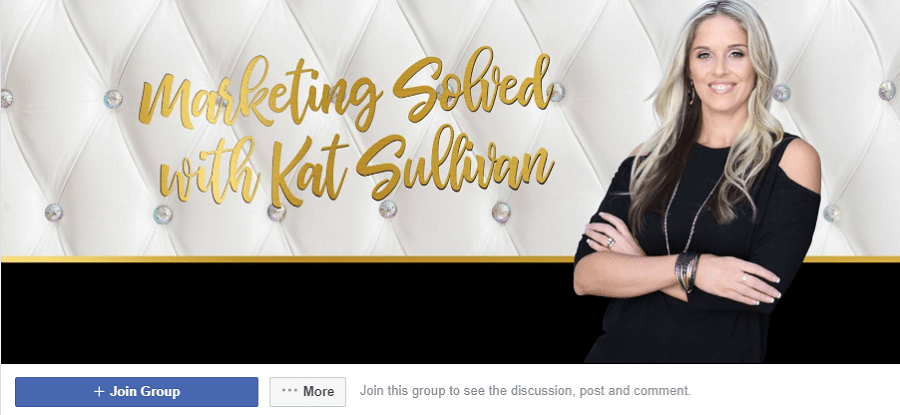 Kat Sullivan created this group to provide support and training to small business owners and marketers. She did so after noticing that there weren't many such groups where the owner was active and involved, so she decided to "solve" this problem with Marketing Solved.
There are many special events in the group, such as threads to support business owners three times a week. Kat Sullivan also runs Instagram Monday, Promote Your Business Wednesday, and Facebook Friday. This is a group where people connect, grow their social media accounts, and establish strong relationships with other members. Live coaching and giveaways are hosted there around once a month. Kat considers live coaching a great way to get to know new members and support them in their businesses.
About the owner
Kat Sullivan is the founder of Marketing Solved which provides online marketing and social media training, courses, and resources for business owners. She works with thousands of entrepreneurs and helps them with their marketing strategies. Kat has also been featured in Inc, Entrepreneur, & Fast Company as an emerging leader in online marketing space, specializing in social media.
6. SaaS Growth Hacks
Members: 9,327
Owner: Aaron Krall
Type: closed
Topics: entrepreneurship, marketing, CRO, growth hacking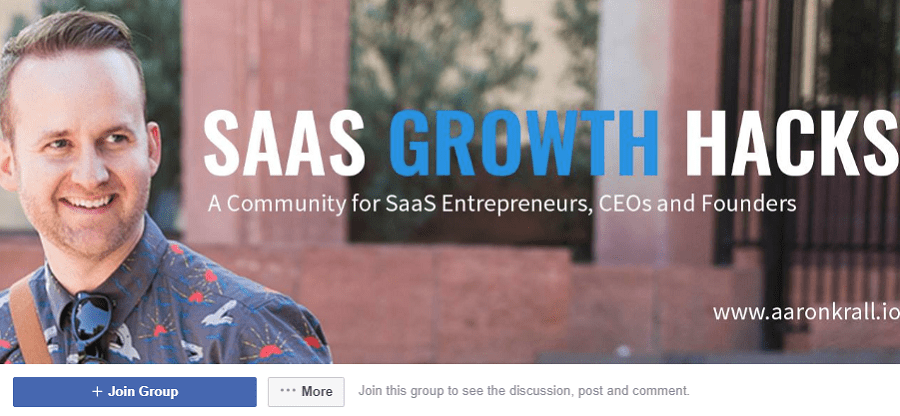 Aaran founded this group to fill a gap in the market: the lack of a quality community for SaaS founders around the world. It's a place where they can get together, share insights and motivate each other to build great products. Anyone who is scaling, growing or starting a SaaS business is welcome to join the group.
The community here is extremely open-minded, eager to answer questions and help in solving issues. It's not uncommon for the founders of multi-million dollar SaaS companies like Intercom and AdEspresso to have conversations about growth strategies here. AMA sessions and deals on various products are regular occurrences in the group. New users receive a warm welcome in weekly promotional threads where anyone can post their deals for the group.
About the owner
Aaron is a speaker, SaaS conversion strategist, storyteller, and video marketing specialist. He is the founder of the SaaS Growth Hacks Facebook group and, as a SaaS enterprise sales conversion specialist, helps companies turn expired trial users into paying customers through ongoing email nurturing. He lives in Salt Lake City, UT with his wife and two dogs, and enjoys non-competitive short distance swimming in his spare time.
7. PICASSO Content Marketing
Join PICASSO Content Marketing group
Members: 7,164
Owner: Paul Clifford Bannister
Type: closed
Topics: marketing, content curation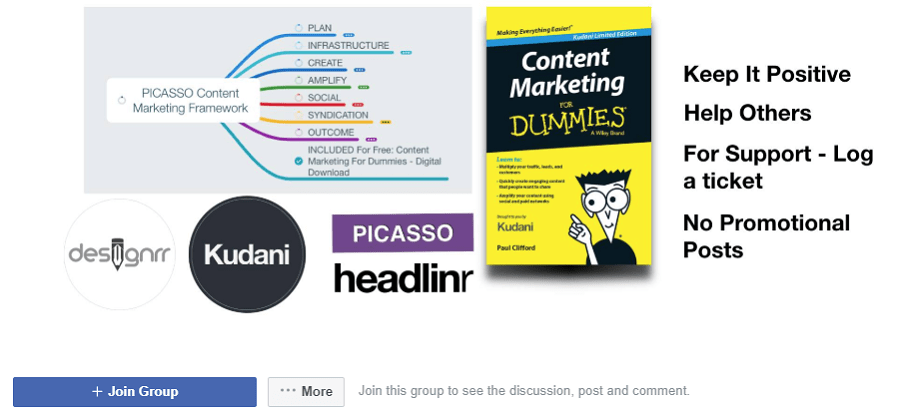 PICASSO Content Marketing is a group for advocates of the popular content marketing framework: PICASSO (Plan, Infrastructure, Create, Amplify, Syndicate, Share, Outcome).
The group focuses on helping members grow their businesses using content marketing techniques. The vast majority of members are marketers, bloggers, ebook writers, podcasters, and video/course creators.
The community is active, and group members are eager to help one another by answering questions and solving content marketing challenges. The group admins post daily "how-to" videos and run weekly live Q&A sessions on the products, strategies, and courses.
About the owner
Paul has successfully sold three software startups since 1993. His latest startup, PageOneTraffic, builds software to help small businesses accelerate their marketing. The company now has over 55,000 customers worldwide. Their flagship application is Designrr.io which repurposes content from one form to another (e.g., podcasts to blog posts, videos to ebooks, etc.)
8. Conversion Optimization, Analytics & Growth
Join Conversion Optimization, Analytics & Growth group
Members: 3,369
Owner: Peep Laja
Type: public
Topics: marketing, CRO, growth hacking
Peep Laja initially started a forum, but it was his Facebook group that ended up gaining popularity. The group members start most discussions, but industry leaders are also there to participate in conversations and share their opinions on everything CRO and growth-related.
The owners don't allow anyone to dump links or spam the group. Instead, the users get access to a vibrant community for CRO-focussed marketers. This means that users can get expert answers to their questions, fast! They also get advice on analytics, growth, tag managers and so on.
About the owner
Peep is from Estonia but now lives in Texas. He is the founder of ConversionXL and CXL Institute and a big believer in "evidence-based marketing." Having built his marketing solutions upon data studies, in-depth analysis, and customer insights, he now helps companies boost their revenue. One of his goals is to grow the Conversion Optimization Facebook community.
9. SaaS Products & Marketing
Join SaaS Products & Marketing group
Members: 2,051
Owner: Tomer Aharon
Type: public
Topics: marketing, entrepreneurship, social media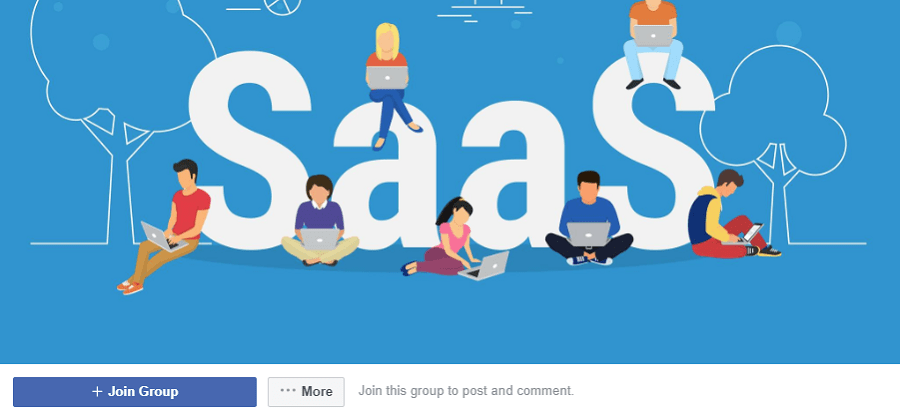 This group helps SaaS founders and digital marketers share knowledge, ideas and growth hacks.
The group is open to all founders looking to launch a product. The owners post weekly articles from the blog with recommendations for tools and marketing tips that help beginners and advanced marketers alike. From time to time, they have interviews with other SaaS founders or digital agency owners, where they ask about their story and how they grew their business. The strict anti-spam policy makes this group a friendly space for marketers.
About the owner
Tomer Aharon is the co-founder of Ecpm Digital Marketing and Poptin with almost ten years experience in the digital marketing and project management field. He is a skilled professional and a great fan of A/B testing, SEO and PPC campaign optimization, CRO, and growth hacking. Tomer loves testing new advertising tools and analyzing the latest start-up companies. Many high-profile sites have featured his work, including the Huffington Post, Crazyegg, and Business2Community, to name but a few.
It's Up to You!
No matter what type of community you choose to join, the value you get out of it is what matters most! This curated list is here to save time that otherwise might have been spent sifting through tons of low-quality Facebook groups.
As with my other lists, I don't claim to be the foremost authority here. There are likely some amazing communities that fell off my radar. Don't hesitate to suggest your favorite Facebook marketing groups in the comments!