Suffering from writer's block? Here are 86 blog post ideas for any niche.
For each idea, you'll also see successful examples and their key stats.
Now, if you're serious about blogging, you'll want to know a repeatable process for finding blog post ideas with traffic potential.
To learn that process, click to jump straight to that section.
Here for the ideas? Keep reading or choose a category.
These are blog post ideas that help your readers solve a problem or resolve their challenges.
1. Create a checklist
Help nip forgetfulness in the bud with an anxiety-reducing checklist.
2. Create a glossary
Help define industry terms and correct wrong interpretations with an up-to-date glossary.
3. Explain a fundamental concept
Define and describe something that everyone in your industry needs to know.
4. Create an FAQ
Answer every commonly asked question about a topic.
5. Give away tips
Collect and curate your best industry tips. Make sure they're actionable.
6. Weigh the pros and cons of an important decision
Paleo or keto? Mac or Windows? Whatever your readers are battling with, help them examine their options and make the best decision.
7. Coin a technique
Solve a common problem in your industry, then coin a name for the solution.
8. Tell readers why they need something
Declare a strong opinion about something, then convince your readers why they need it with compelling evidence.
9. Curate industry statistics
Bloggers are always looking for statistics to cite when making a point. Make their lives easier by rounding them all up in one place.
10. Run a survey and share the results
People love unique insights. Survey your audience and publish the results.
11. Run a research study and share the results
Derive insights from data and tell people what you found. (If you don't have access to large amounts of data, collaborate with a company that does.)
12. Debunk common myths and misconceptions in your industry
Lawyers are unnecessary. Salespeople are sleazy. Advertising is immoral.
Every industry has its share of myths and misconceptions. Disprove them.
13. Offer free templates
People love templates because they make work easier.
Create one for your readers. Make it plug-and-play. Then, write a blog post to explain how it works.
14. Give readers science-backed tips
Let science do the talking. Give people proven tips based on scientific literature.
15. Help readers make decisions
People make life-changing decisions every day. Help them prepare.
16. Share things you learned from someone else
Don't hoard wisdom. Tell people what you've learned from others.
17. Summarize a book
Plenty of people want to read, but can't seem to find time to do it. Help them by reading and summarizing books in your industry.
18. Summarize a podcast
Take the idea above and do it for podcasts too.
19. Share productivity tips for your industry
People will always want to achieve more in less time. People will always want to achieve more in less time. Help them by sharing your best time-saving tips.
These are blog post ideas that educate readers or teach them how to do something.
20. Create a roadmap to success
People don't always know where to start with their goals. Simplify things with a structured roadmap.
21. Explain how to do something from start-to-finish
Some things might be easy for you, but hard for others. Teach them how to perform these tasks, step by step.
22. Explain how to become an expert
Tell beginners how to acquire critical industry skills.
23. Explain how something works
People are clueless about a lot of things. Bitcoin, cars, search engines. The list goes on.
Find something that baffles people in your industry and demystify it.
24. Create a 'definitive' guide
Leave no stone unturned. Tell people everything there is to know about a topic.
25. Create an advanced guide
Don't neglect the people with experience. Help them reach the next level.
26. Create an interactive guide
Not everyone is in the same boat. Create a post where readers can choose their own path.
27. Write a case study
Tell readers how you achieved something, and how to replicate it.
28. Show people how to fix something
Fixing their car; repairing a hole in their jeans; saving their laptop from water damage. Teach readers how to fix the broken things in their life.
These are blog post ideas that revolve around popular influencers or experts in your niche.
29. Create a profile of someone influential in your industry
Cover the life and impact of someone important.
30. How celebrity did X
People want to know things about celebrities. They want to know Chris Hemsworth's workout routine, Rihanna's makeup routine, or how Warren Buffett became so rich.
If you know the answer, or can figure it out somehow, share it with your audience.
31. List influencers
Curate a list of the most popular or influential people in your niche, and share them with your readers.
32. Interview an influencer
Reach out, interview the influencer or celebrity and get them to reveal their secrets.
33. Curate advice from influencers
Reach out to multiple influencers or experts and round up their advice.
These are blog post ideas where you share your recommendations.
34. Recommend the best blogs to follow
Tell people which blogs to subscribe to, and not subscribe to.
35. Recommend the best books
Raid your bookshelf. List them. Tell people what you love about them.
36. Recommend the best podcasts
Download some podcasts. Take them for a spin. List all the ones worth listening to.
37. Recommend the best videos
Scour YouTube. Watch a bunch of videos. List the most informative and valuable ones.
38. Recommend the best conferences
Conferences are expensive. Give people the yeas and nays from those you've attended.
39. Curate a list of the best products
Test, review and recommend some products. If you're on a budget, start with those you own.
40. Review new products
Be the first to get your hands on something. Tell people what you liked and disliked.
41. Review a popular product
Take a well-known product in your industry for a spin and thoroughly review it.
42. Do an in-depth comparison of two products
Compare the pros and cons of two popular products.
43. Review online courses
Tell people which courses are worth their hard-earned dollars—and which aren't.
44. List the best movies for industry professionals
Every entrepreneur should watch FYRE. What movies should folks in your industry watch?
These are blog post ideas that come from your own experience.
45. Write about how you got started in your career
How did you get started in your profession? Tell people your story.
46. Share your day-to-day
Eat, sleep, work, repeat. Delve deeper into the work part to give industry newcomers a taste of things to come.
47. Try something new and share lessons learned
Be your readers' "guinea pig" and test new things on their behalf.
48. Share your mistakes
Help others avoid common pitfalls by sharing your experiences.
49. Publish an income report
People love transparency almost as much as they love money. Combine the two and share how much your blog makes each month.
50. Recap a recent event
Not everyone has the privilege, time, or money to attend events or conferences. Share the love and pass on knowledge and news from those you've attended.
51. Share your site's manifesto
Don't hide what you stand for. Let people know what you're all about.
52. Share a presentation
Don't limit your wisdom to attendees. Let your online fans enjoy it too.
53. Share a personal failure and how you overcame it
Everyone has failures. Tell people what you learned from yours.
54. Tell a personal story
Share something personal from your life. It need not be a failure—it could be any story from your childhood, your work, etc.
55. Share your favorite things
Be honest with your readers: what do you love? What are you obsessed with?
These are blog post ideas to inspire your readers.
56. Curate a list of successful examples
People want to be inspired by great examples. Collect a list and share it with them.
57. Reverse engineer the success of others
Figure out how others succeeded and share their strategies.
58. Create a challenge
Get your readers fired up with a challenge. It could be 7-days, 30-days—whatever works.
59. Curate inspirational quotes
"People love quotes. It's good to round them all up in one place." - Si Quan Ong
These are blog post ideas that are based on a particular time or event of the year.
60. Discuss the latest trends
Note down the latest trends in your industry, and discuss their potential impact.
61. Discuss the latest industry news
After years of theory, scientists finally discovered gravitational waves.
What's the latest in your industry? Tell people.
62. Talk about how something new will affect people
New laws, new technology, new world events.
Changes are inevitable. How will they affect your niche?
63. Highlight skills your readers will need in the future
A study published by Microsoft says SEO is the most important hard skill for marketers. What do people need to know in your industry?
64. Make a timeline of the events that changed your industry
What is the "Renaissance," "Industrial Revolution," or "Scientific Revolution" of your niche? Which events irrevocably changed the course of your industry?
65. Make predictions
Predict future industry happenings. You don't have to be right—the key is in the rigor of your thought process.
66. Be the first to break a piece of news
Journalists aren't the only ones who can break the news. If you manage to get ahold of a piece of information before anyone, tell people.
67. Share rumours about a potential development
Sometimes a rumor can be as powerful as a piece of breaking news. For example, in football, rumors of player transfers are popular topics.
68. Create a seasonal post
Thanksgiving. Christmas. Lunar New Year. Is there a particular seasonal event that's related to your blog? Take advantage of that.
69. Curate a list of seasonal deals
Black Friday. Cyber Monday. Christmas. Collect a list of the best time-sensitive deals for your readers.
70. Connect your niche to a trending moment
What's going viral right now? Write a blog post that connects it to your industry.
If you time it right, you could get lots of traffic.
These are blog post ideas that generate debates or discussions.
71. Share an unpopular opinion
Do you have an opinion that contradicts the status quo? Share it!
72. Write an open letter
An open letter is intended to be read by a wide audience, despite only addressing one person or a company. It can be a powerful way to draw attention to a situation or cause.
73. Challenge popular opinion
Engage an expert in your industry by debating them. Challenge their opinions or theories. Make them defend their material.
74. Highlight things you'd like to change
Nothing is perfect. Tell people what you'd like to see improved in your industry.
75. Comment on outdated practices in your industry
People still acting like it's 1999? Call them out. Explain why what they're doing no longer works.
76. Explain why something in your industry failed
Microsoft Zune. Google Glass. Amazon Fire.
These products failed terribly, despite being hyped up. There are probably similar stories in your niche. Examine why these products, solutions, or trends failed.
These are blog post ideas that I couldn't fit into any of the above categories.
77. Write about an aspect of your industry's history
Talk about how something in your industry started and changed along the way. What can you learn from it?
78. Give people a glimpse into your office or workplace
People are always interested in others' workspaces. Show them how yours looks.
79. What's in your bag?
Grab your rucksack. Empty it. Show people what's inside.
80. Draw a comic strip or cartoon
Blog posts don't have to be all words. Spice them up with an entertaining and funny comic strip, or add a couple of cool illustrations.
81. Collect a list of industry jokes
Why did the SEO cross the road, highway, motorway? Make your readers laugh by curating funny jokes about your industry.
82. Round up the funniest memes
The Internet loves memes. Collect the best ones from your industry to entertain your readers.
83. Create an A-Z post around one topic
A is for anchor text. B is for broken link building.
Create a fun post that uses the alphabet to explain a topic.
84. Refresh an old post
Your thoughts and opinions will inevitably change with time. Look back at your older articles and update them with your new thinking.
85. Pull topics from your existing blog posts
Broken link building. Guest blogging. Link reclamation. This guide to link building talks about all those things, and they each make a nice topic for a standalone post.
86. Invite others to write for your blog
If all else fails, ask others to write for your blog and let them come up with ideas.
Why these blog post ideas might not work for you (and how to solve that)
For every successful blog post, there are hundreds of unsuccessful ones.
Take checklists, for example.
The checklist we shared above gets over 30,000 monthly visits from organic search. But there are plenty without traffic, like this one:
This can happen for many reasons, but perhaps the most common is a lack of search demand. If nobody is searching for the topic, then you won't get traffic from search engines—even if you rank in the top spot.
So here's the deal:
For a successful blog, you need to find and rank for topics that people are searching for on Google.
Here are three ways to do that:
Method #1: Do keyword research
Enter one (or a few) relevant words or phrases into Ahrefs' Keywords Explorer, then go to the Questions report.
This tells you which questions people are searching for most in Google.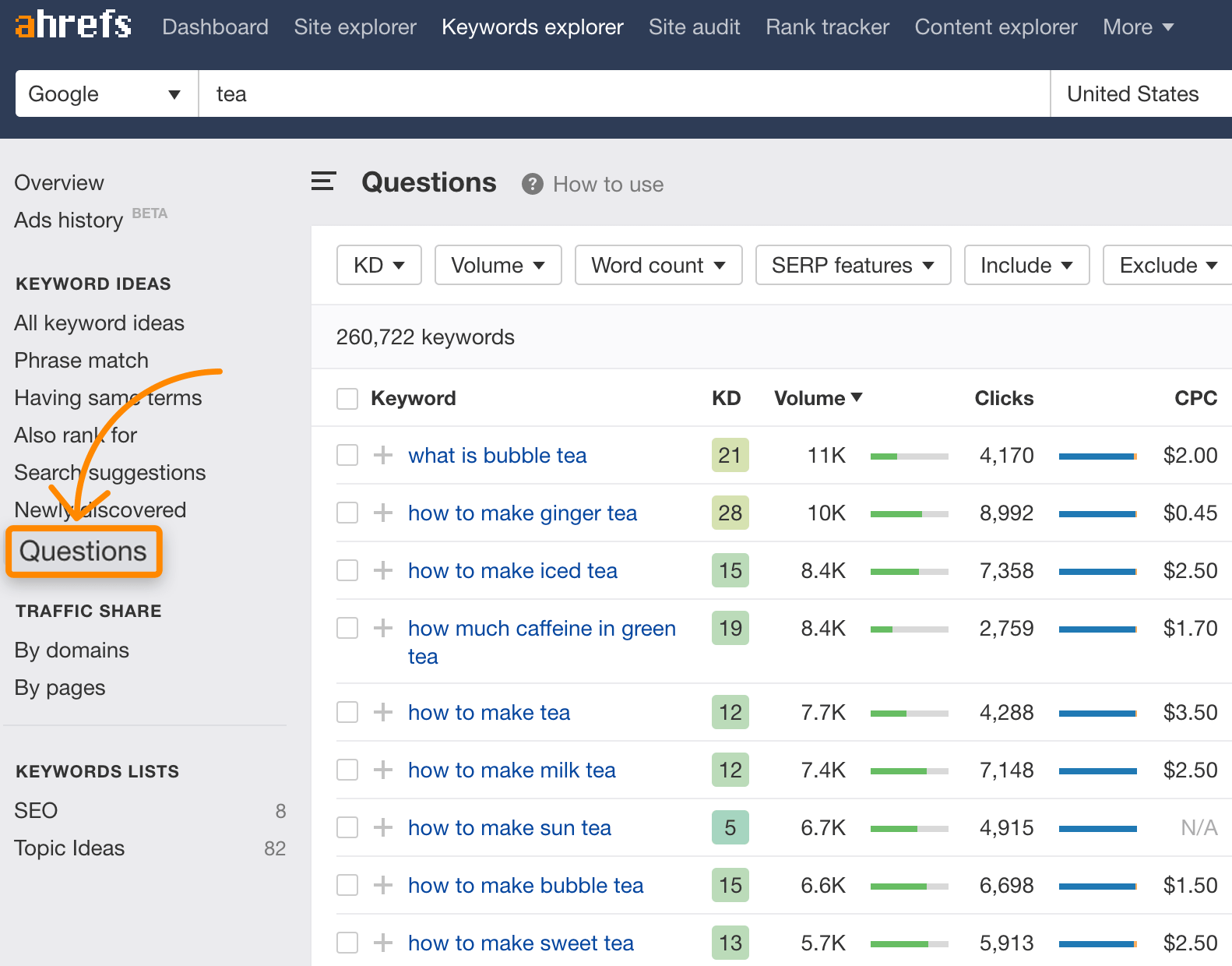 Too many ideas?
Filter the list down using two metrics:
This will give you a list of low-competition topics with decent search volume.

If you're just starting out, you can use a free keyword tool instead.
Method #2: Learn from your competitors
Many blogs show off their best articles in a sidebar, like this: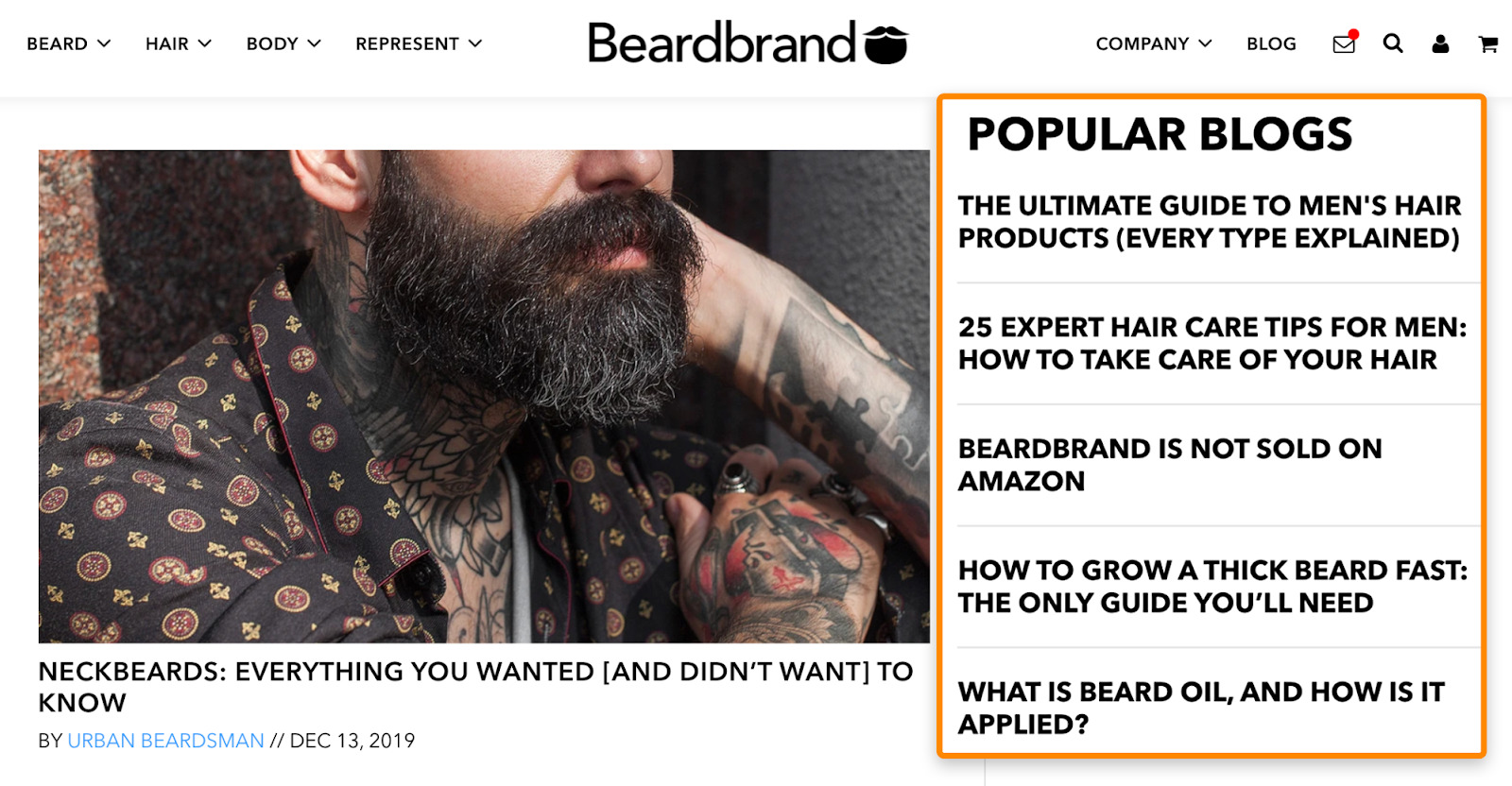 Check the URL and title, and it should be easy enough to figure out which keyword they're targeting.

But there's a problem:
We have no idea how these posts were chosen. Do they actually get search traffic, or are they just posts that the site owner likes?
The solution is to paste your competitor's domain into Ahrefs' Site Explorer, then check the Top Pages report. This shows which of their pages get the most organic traffic.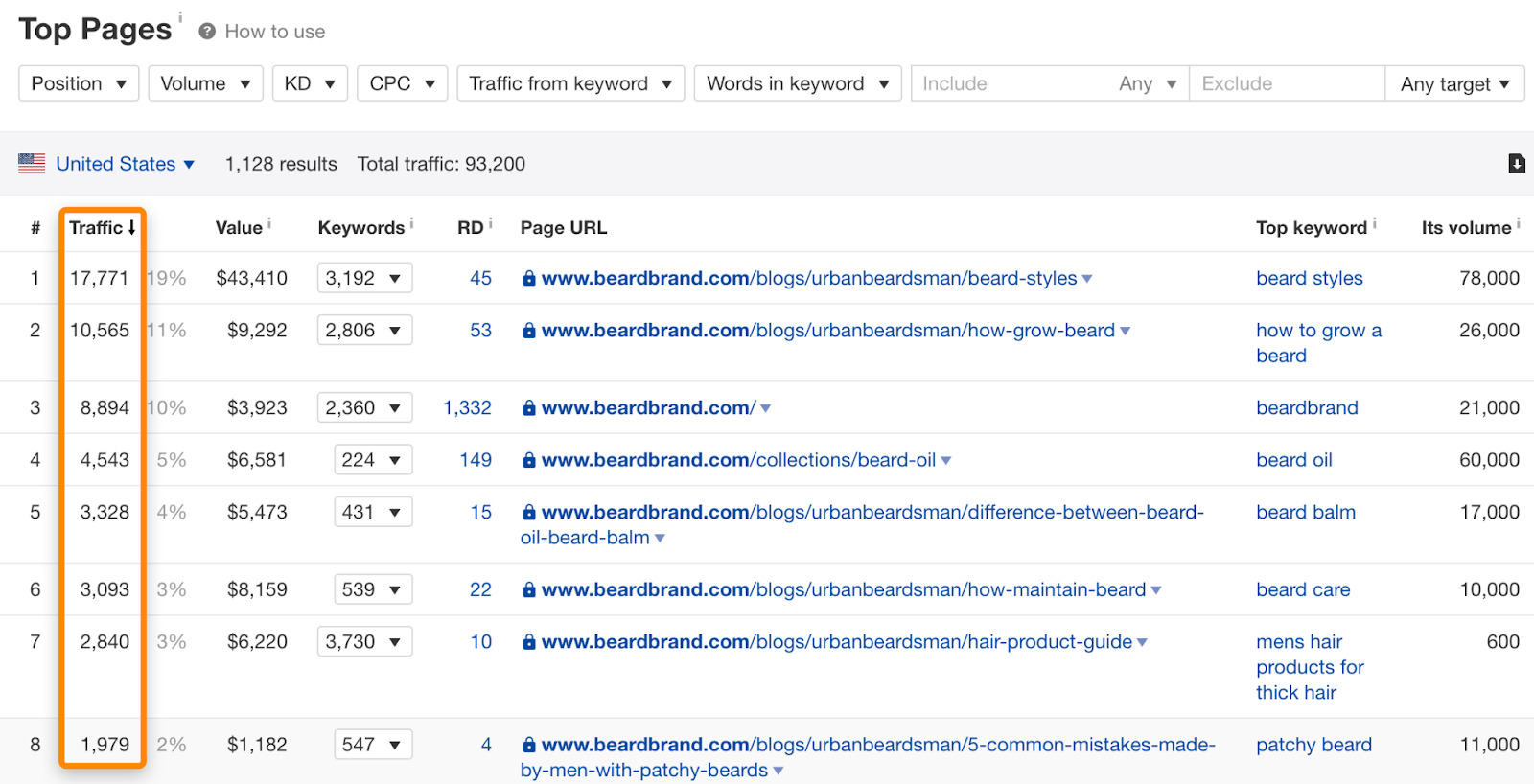 You can see above that Beardbrand's most popular post gets an estimated ~17,000 monthly search visits. And out of the 3,192 keywords it ranks for, "beard styles" sends the most traffic.
This might be a good topic to talk about if you're in this niche.
Method #3: Use Content Explorer
Content Explorer is a searchable database of over a billion web pages. Find winning topic ideas by searching for a broad topic and filtering for pages with traffic.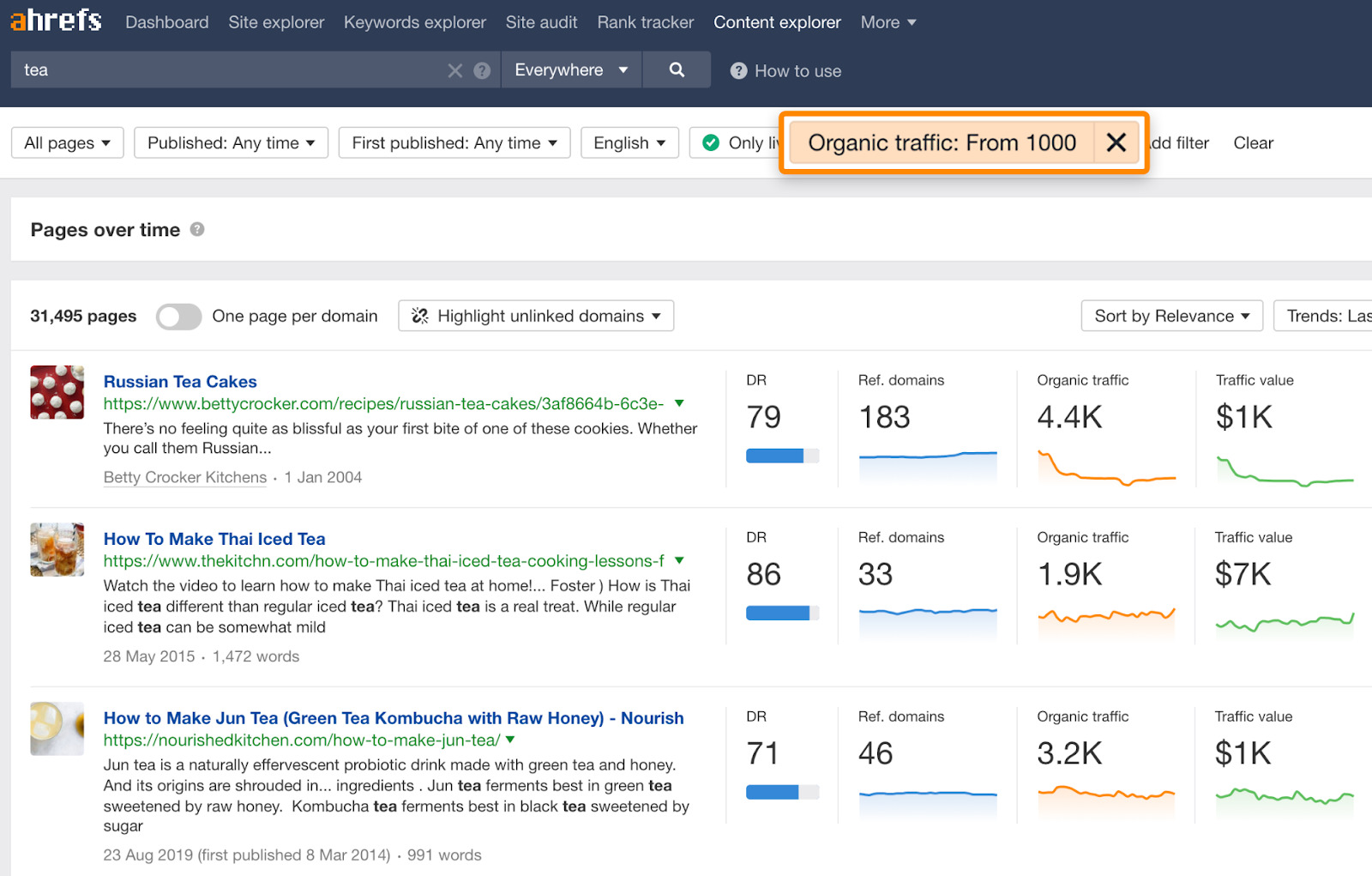 Click on any article, and go to the "Organic keywords" tab to see which keywords they rank for.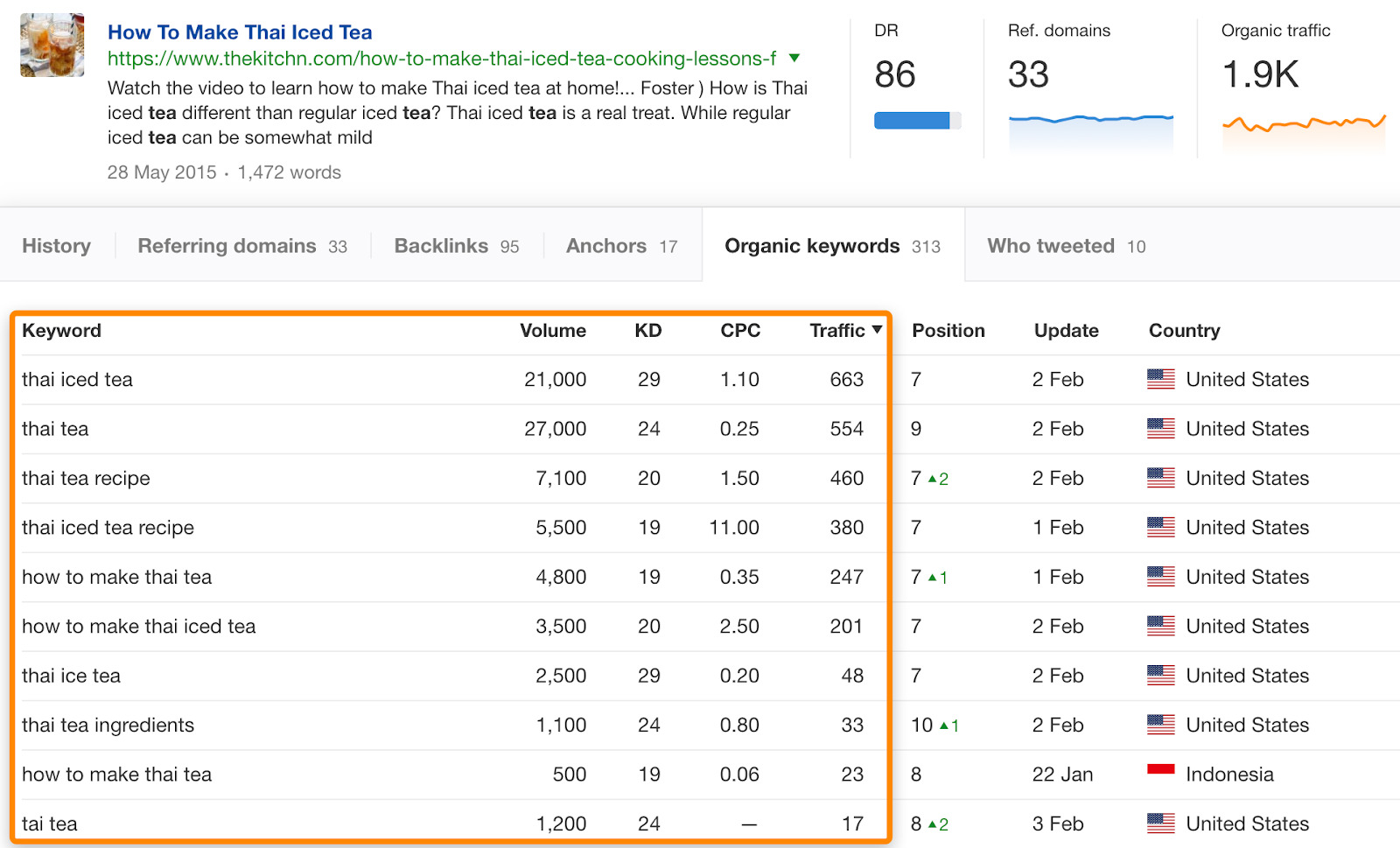 Consider targeting those topics.
You can also add a "Referring domains" filter to find topics you can rank for without many backlinks.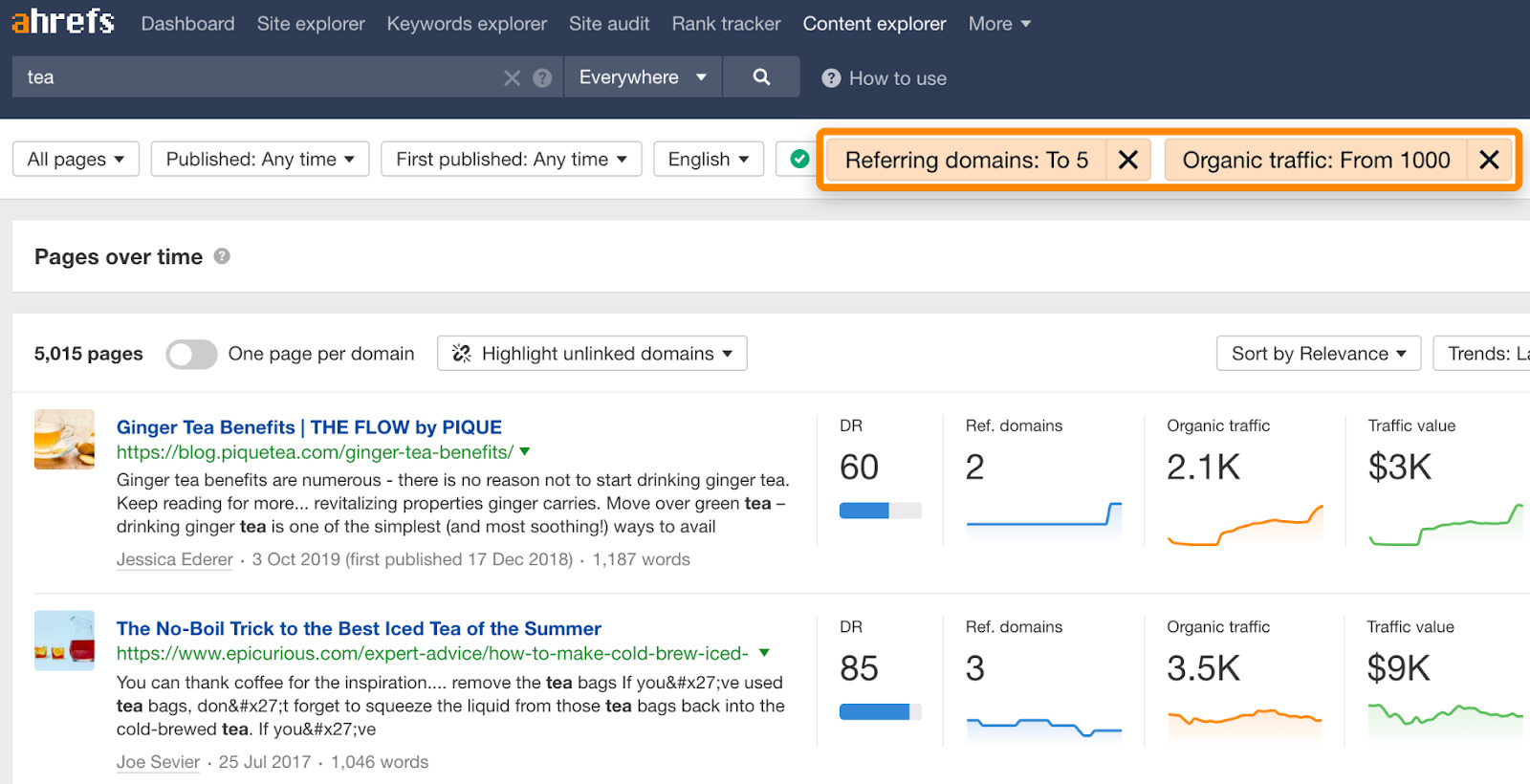 Final thoughts
If you're serious about blogging, learn how to do keyword research. Once you master that, you'll never have to worry about running out of blog post ideas again.
Did I miss any neat ideas? Let me know on Twitter.