Last September I have researched for a jacket online. I've found numerous but none of them really fitted. There were always some issues. So at the end I bought a jacket in a real life retail store. This year I've cleaned up my bookmarks and looked up the jackets I've saved last year. Of course most of them were out of stock by now.

It happens frequently that products are unavailable. The way e‑commerce sites display out of stock items is the interesting part. Most sites failed here.
Indeed I considered buying another jacket this year because the one I bought last time wasn't perfect for all occasions. Sadly most of the stores made it very difficult. Some of them even fooled me to believe the jacket was still available until I looked closely.
So I decided to write about this important issue when it comes to e‑commerce: how to deal with out of stock products.
At first let me show you a few ways online stores deal with out of stock items, all of them more or less wrong of course:
The Fine Print
Many e‑commerce sites just show the product page almost unchanged. Then there is some fine print saying that's it's out of stock or unavailable. Sometimes it's even harder to spot. See this example:

Here only the size selection tells you that the jacket is sold out. So you have to look very closely to spot it all. This is almost deceptive. It's both bad for users and for search engines. People are annoyed finding out that the item is sold out after they assumed it's there. It's like displaying it in your store window but not selling it.
Even when telling your customers it's out of stock right away you can do it wrong, see the next example!
The "Sorry, this product is currently out of stock" notification is not easily spotted but once you read the text you'll notice it. Take a look below the text though at the green checkmark list. There it says "in stock"! So what now? Is it available or not? The red brackets are mine.

Another example of fine print that is almost right: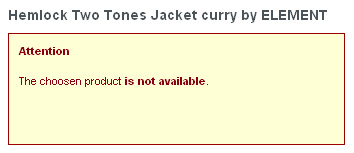 The notification is in red and surrounded by a border so that you spot it almost right away. Still for Google, the page is worthless as you can't find the product there nor any alternative. So you risk a Google Panda penalty with many such so called "thin content" pages.
The Homepage Redirect
Many online stores just redirect me from the product URL to the homepage. Is this useful? No. In such cases I would have to select the specific menu items again to find other jackets. Also I often open a few links at once in separate tabs and wonder what happened. I don't even remember opening the homepage of a particular store. So I just close it again. This might save you some Google juice in case you redirect correctly (using a 301 redirect) but it alienates the shoppers for sure.
Redirecting to the homepage is like telling a customer to get out of the store just because an item is gone.
The 404 Page
Another common mistake is the 404 page aka "not found". When this happens I assume that your site is broken or something. Indeed it is. That's a self-fulfilling prophecy.
When a link ends up being an error this actually means your site is broken.
Too many 404 errors also raise a red flag with Google. It's not a coincidence that Google shows "not found" errors in Google Webmaster Tools.
Random Similar

Now let's take a look at an almost correct example. There is a big headline saying the jacket is "out of stock". You might mistake it for a subheading and overlook it but that's not the main issue. The site is showing me similar products. That's a help.
Sadly these products are solely similar based on brand (Element) and category (winter jacket). They are not similar by color or product name.
When you take a close look at the screenshot you'll notice that there is almost the same jacket available just with slightly different colors at the right. Unfortunately this "similar products" are randomized". So next time I reloaded or rather revisited, it didn't display there at all.
Doing the Right Thing
So how exactly can you do it right? I've found one page via Google that showed me how it could be done. Let's take a look at the "out of stock" message first:
It's simple and clear. The red color suffices to show that the jacket is not available anymore.
As this is not the ASOS store directly but its "Fashionfinder" it even gets better. Take a look at the screenshot below. At first it's very similar to the example above. It's the same jacket but it also displays similar products based on the brand (Element). It doesn't show just 4 random jackets like above. It shows 40 items! It also takes into account colors and product names it seems:
When you take a closer look (just click on the image) you will notice that there are 7 Element Hemlock jackets among them, almost all in different colors.
Key Takeaways
Do not remove the item completely and create a "not found" error page.
Do not redirect the out of stock item to the homepage.
Do not display conflicting messages ("out of stock" and "in stock" at the same time)
Display the out of stock items with a clear red sign saying it's out of stock.
Display many similar products based on product name, color, brand, category etc. (the more similarities the better)
Do not randomize similar products each time, enable saving and bookmarking.
Make sure your product page is still useful not just an archived one.