The first step to your content's success is how much research you put into it.
When I started my career as a writer, I didn't focus much on content research. My focus was always on completing the first draft as soon as possible.
But with time, I understood the importance of content research and saw a direct impact of it on engagement, traffic, and more. Simply put, researching helped me create great content that readers found immense value from.
Whenever you deep dive into a topic, you discover valuable insights, case studies, and critical information regardless of your expertise. This is crucial to creating a valuable, credible, and actionable article that can achieve its objectives.
Let's dive into nine actionable content research tips I've learned along the way.
You need to choose a topic that helps you achieve a certain goal. For example, your goal with the article might be to:
Drive organic traffic.
Increase brand visibility.
Get social shares.
Build product awareness.
For this, you need to focus on a topic that your readers will find relevant and gain value from. This is possible when the article focuses on your reader's current challenges, provides solutions to their problems, and/or shares valuable insights about your niche.
For example, when your goal is to drive organic traffic, the first step should be to find keywords that your audience is searching for. This is known as keyword research.
To begin your keyword research, add a broad term (or terms) characterizing the topic to Ahrefs' Keywords Explorer. Then click on the Matching terms report to see all keywords containing the terms on the input.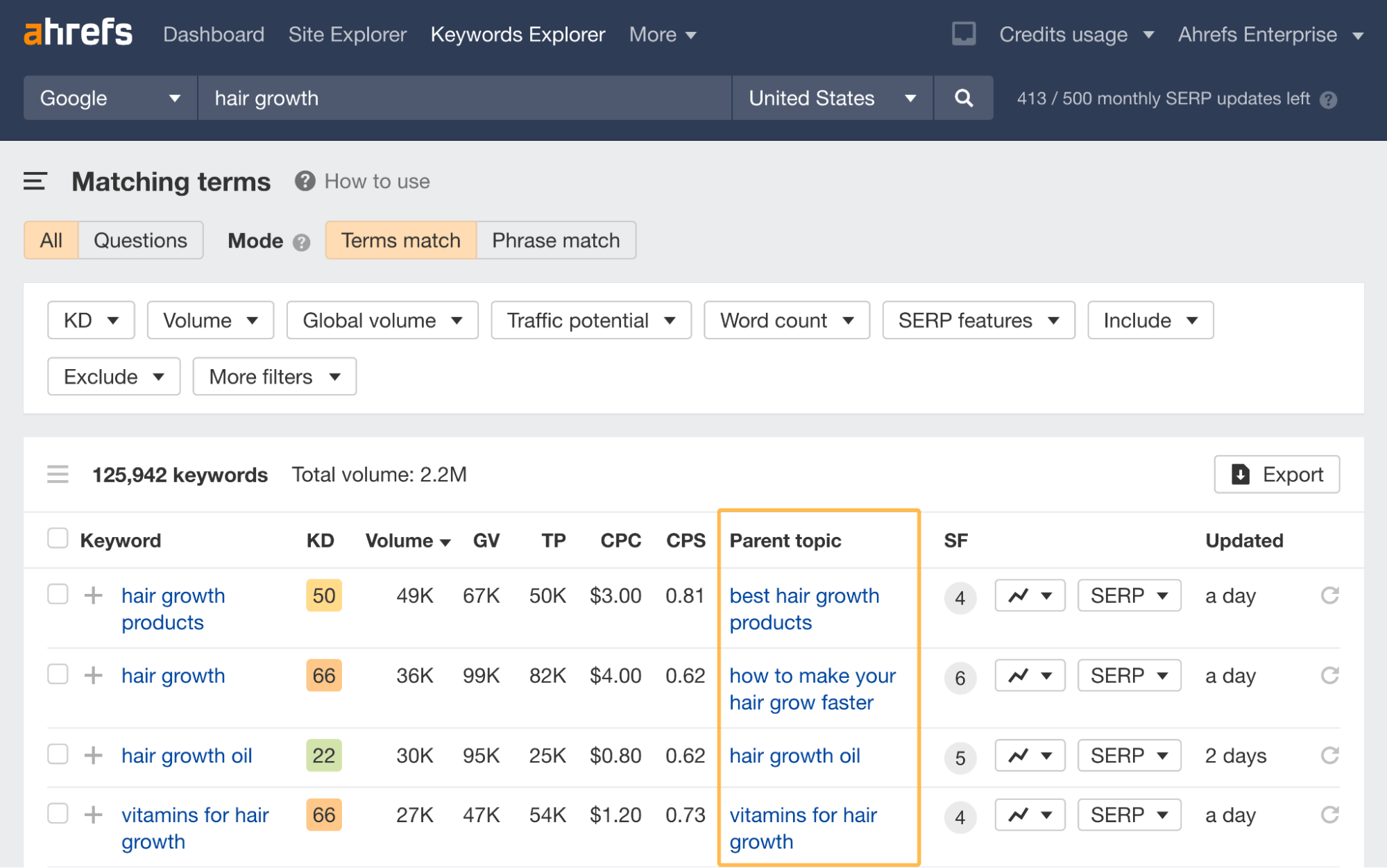 You can filter the keywords based on metrics like Keyword Difficulty, search volume, or Traffic Potential, but that's for another discussion.
What you want here is to choose your topic from the "Parent topic" column. It shows you the keyword responsible for driving the most traffic to a page ranking at the top for a given keyword. As a rule of thumb, you should choose these as your topic if you want to maximize your organic traffic potential.
Similarly, if you want to achieve buzz on social media, you should analyze currently trending topics or try your best to align with what characterizes viral content.
Regardless of your content goals, you should always understand the search intent behind your topic. It helps you identify:
How the existing resources cover the topic.
The gaps and flaws in what's already published.
The depth readers are expecting when searching about the topic.

For example, it only makes sense to write a blog post when there's informational intent for the keyword. Similarly, if it's transactional, publishing a product page makes more sense.
Here are the three Cs of search intent your content should align with:
Content type (blog post, landing page, or category page).
Content format (guide, tutorial, review, or list post).
Content angle (for beginners, advanced, opinionated post, etc.).
Here, we can see that the right content type for the keyword "how grow a rose from a cutting" is a video: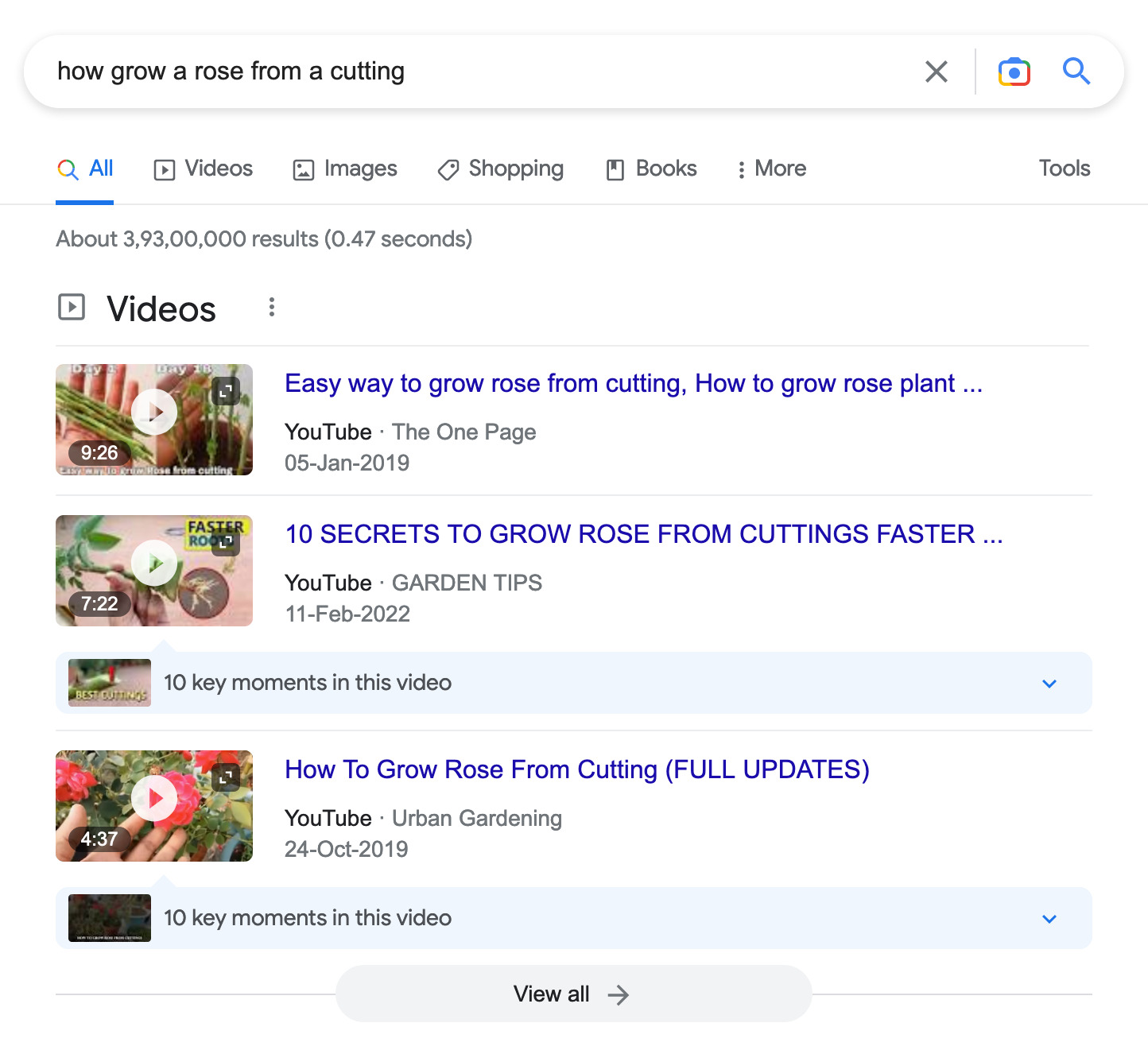 Then we have the keyword "how to grow hair faster," where the most relevant content format is a listicle type of post: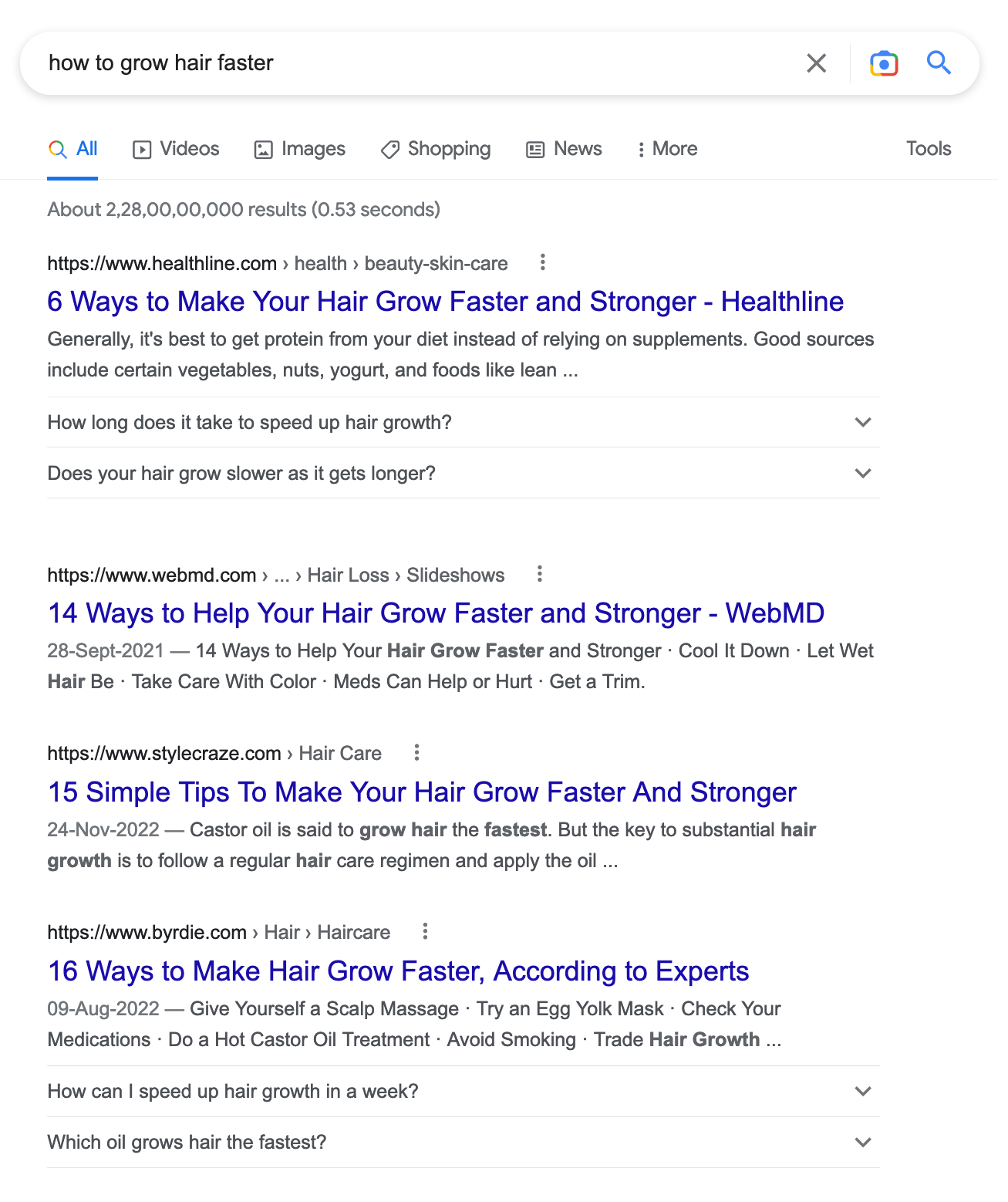 Last but not least, going through the first few search results for a given keyword will help you identify the content angle. For example, for the keyword "apple cider vinegar," the content angles revolve around either covering just the benefits or pretty much all the health information people could be looking for: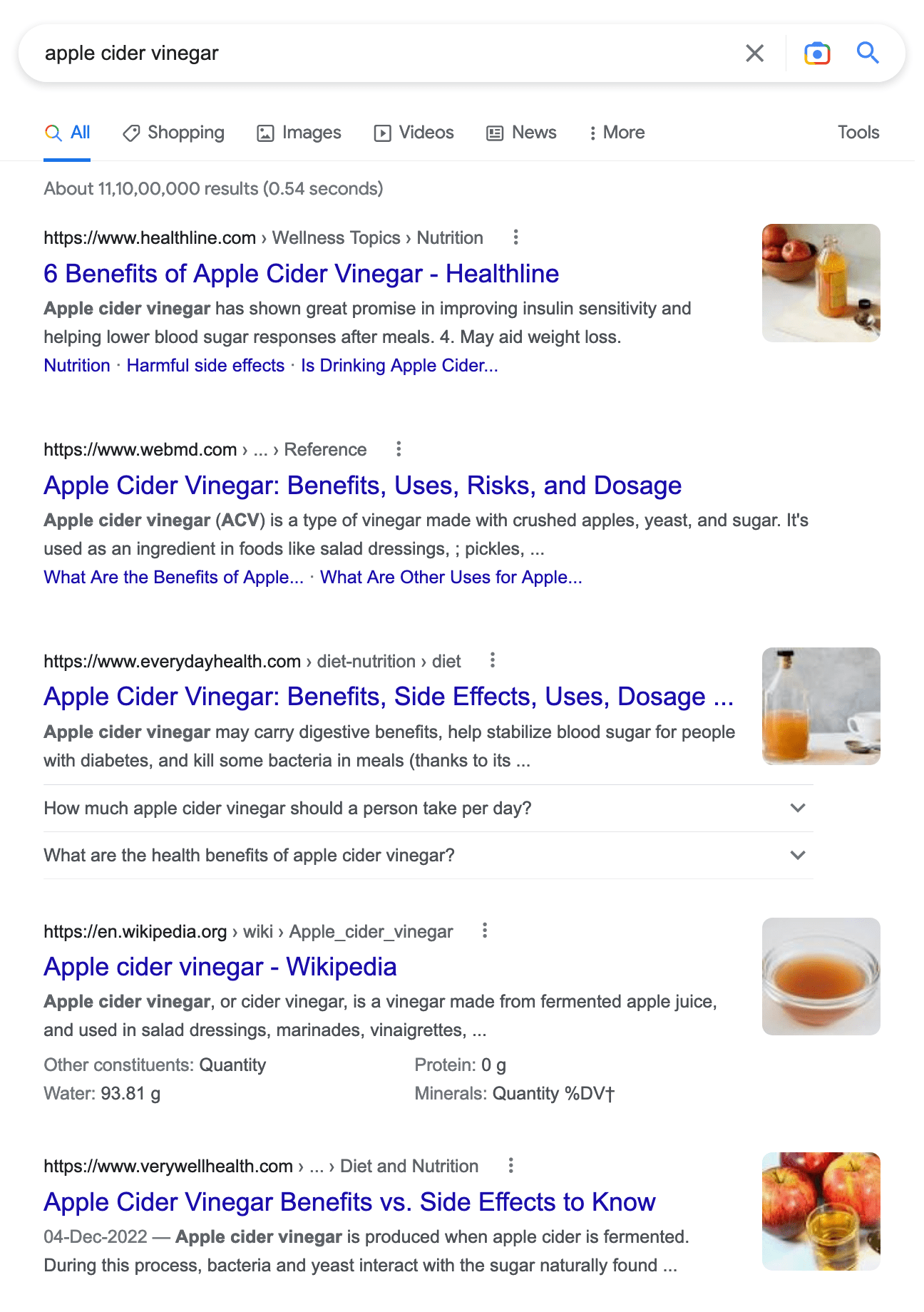 Dive deeper with competitor analysis
Clicking through the top-ranking pages and skimming competing content help us create a better picture of what Google considers as information that people want to see. A few things you should keep in mind when researching your competitors' articles are:
Article structure.
Article depth.
Unique or interesting insights.
Usage of infographics, charts, graphs, or other visuals.
Look at the People Also Ask (PAA) box and related searches
Google's PAA box tells you a lot about what questions readers tend to ask. It's a good idea to reflect this in your writing.
Here's an example for the keyword "apple cider vinegar":

Apart from PAA boxes, you should also analyze related searches that show up at the bottom of the search.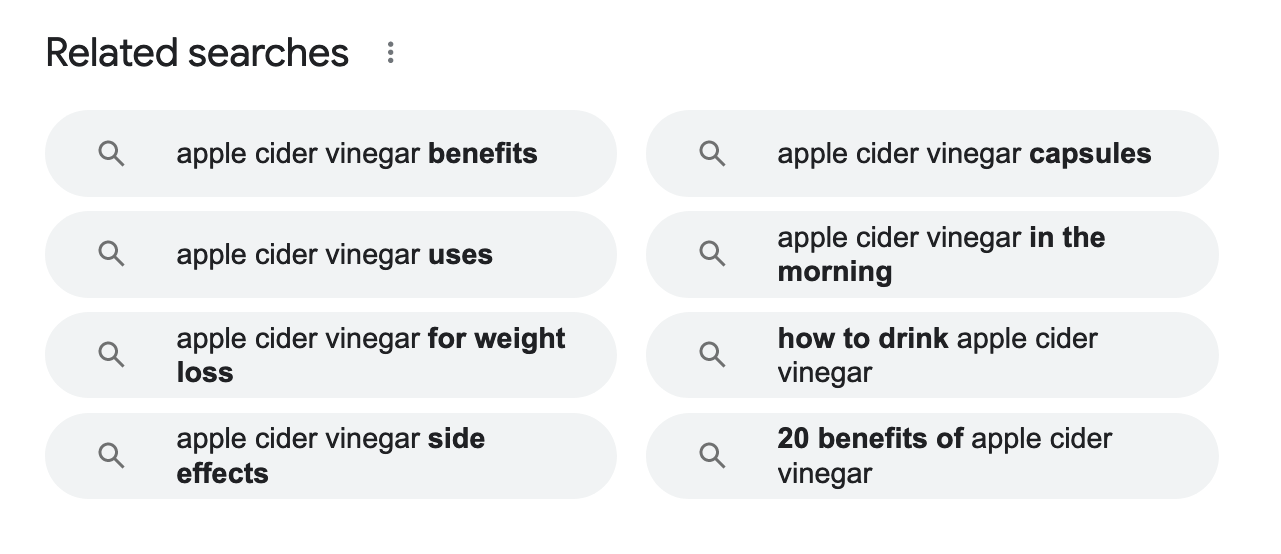 If you want your article to stand out, you need to think out of the box. For this, you need to put yourself in the reader's shoes and brainstorm on how you can add additional value.
There are many reasons why certain pieces of content succeed, including original research/data, how it has been structured, or how effectively it explains the particular topic. Hence, while researching, you should think about how you can:
Support your statements with original research.
Add case studies wherever relevant and if possible.
Challenging the status quo with your own perspectives.
Share your personal experience/opinion.
Add checklists, infographics, flowcharts, or quizzes to make the content more impactful and interactive.
You don't know every topic equally well even if you have experience in a particular niche. If you lack the expertise, I recommend interviewing subject matter experts (SMEs).
These experts can offer key insights and share information that you likely won't be able to put together yourself.
But who are SMEs and where can you find them?
SMEs can be someone in your organization, your friend at a different organization, or an influencer in your industry. You can easily find them using platforms like SparkToro and Ahrefs' Content Explorer.
In SparkToro, you just need to enter a niche keyword to find relevant influencers. You can also filter them on the basis of followers and relevancy. Just be sure to choose the account type as "Individual" to filter out company accounts.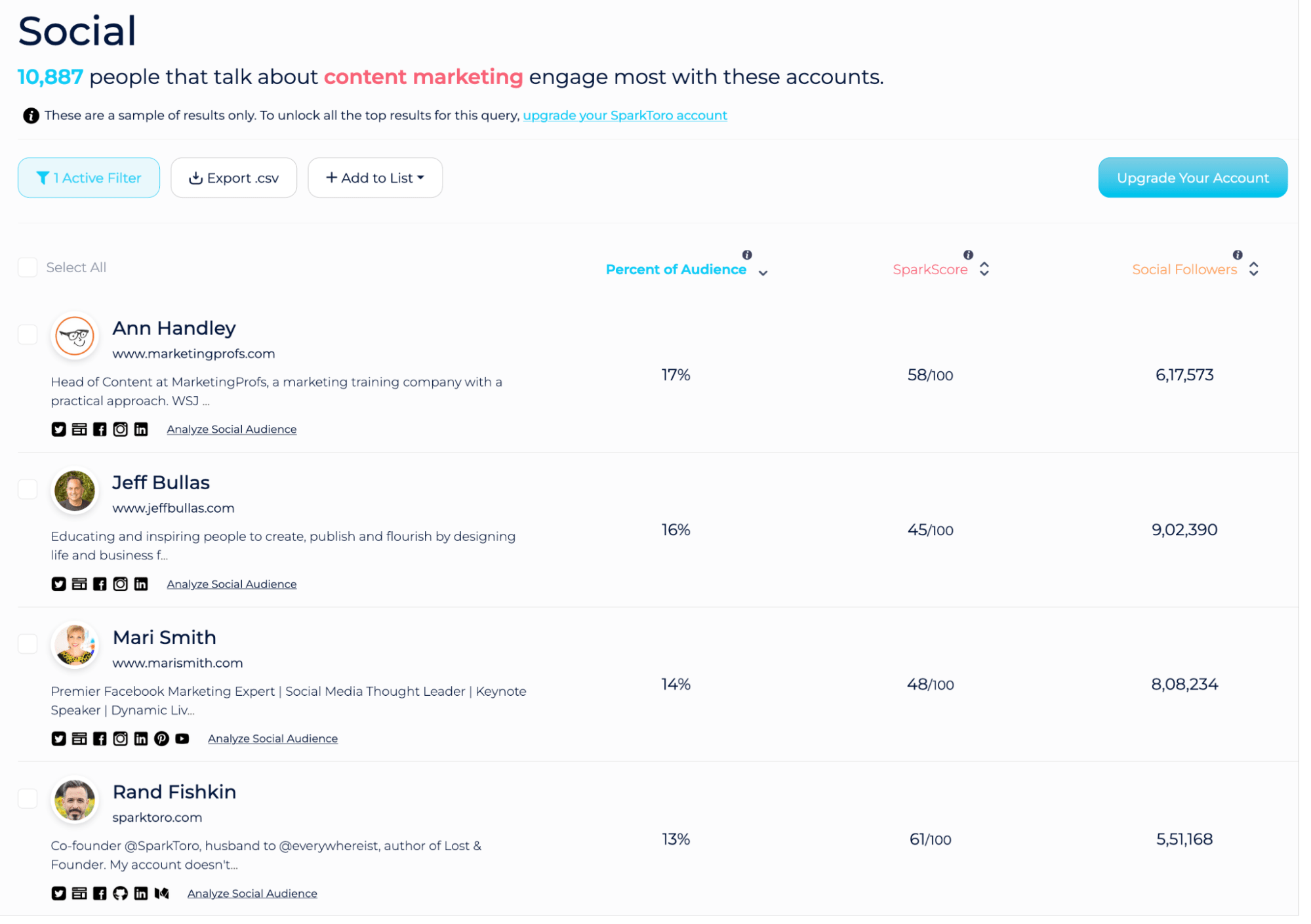 Another way to find SMEs is through Content Explorer. Here are the steps you can follow:
1. To start off, enter a topic in the search box and choose "In title."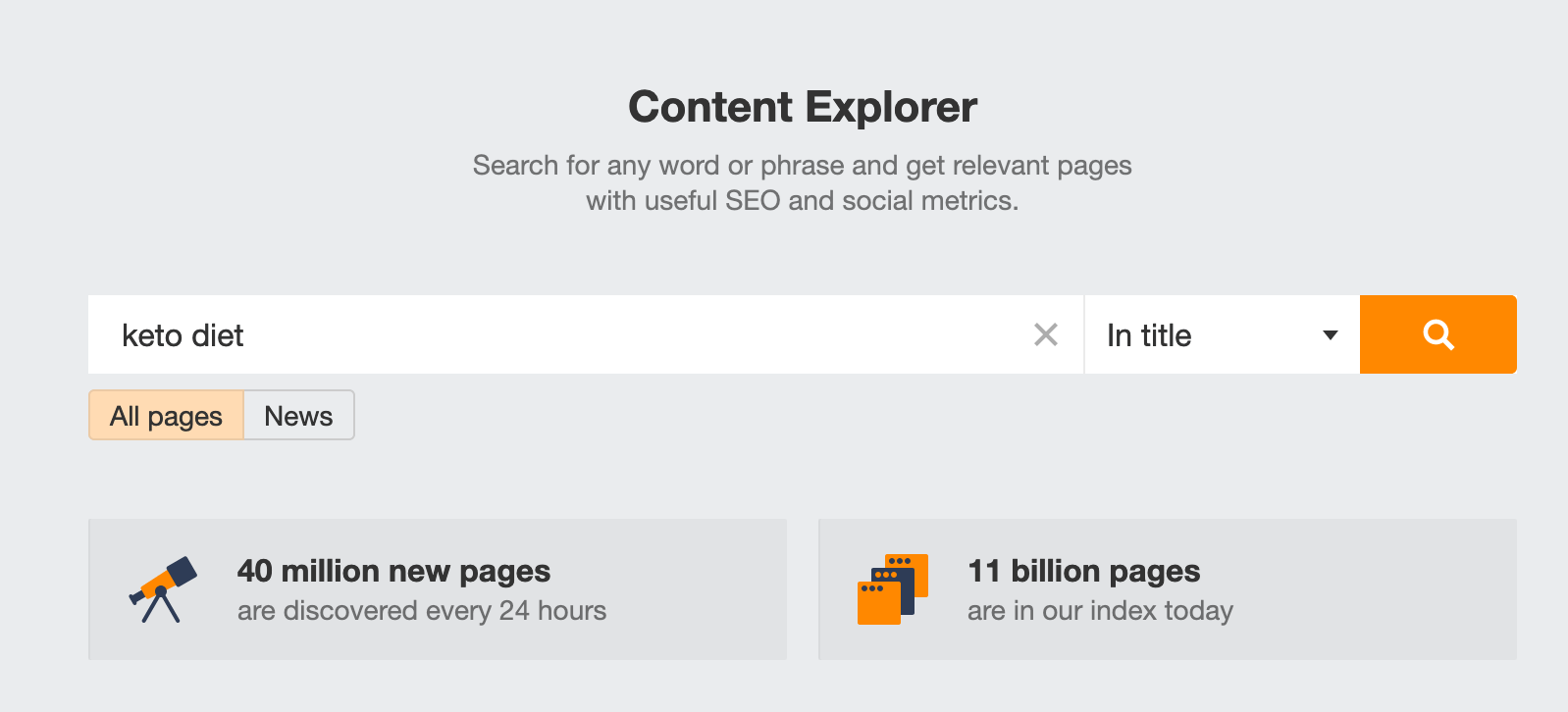 2. After that, you'll see a list of the popular articles based on the whole historical database. You can further filter the results on the basis of platforms, publish dates, and more.
There's also an option to sort the content based on page traffic, referring domains, and more.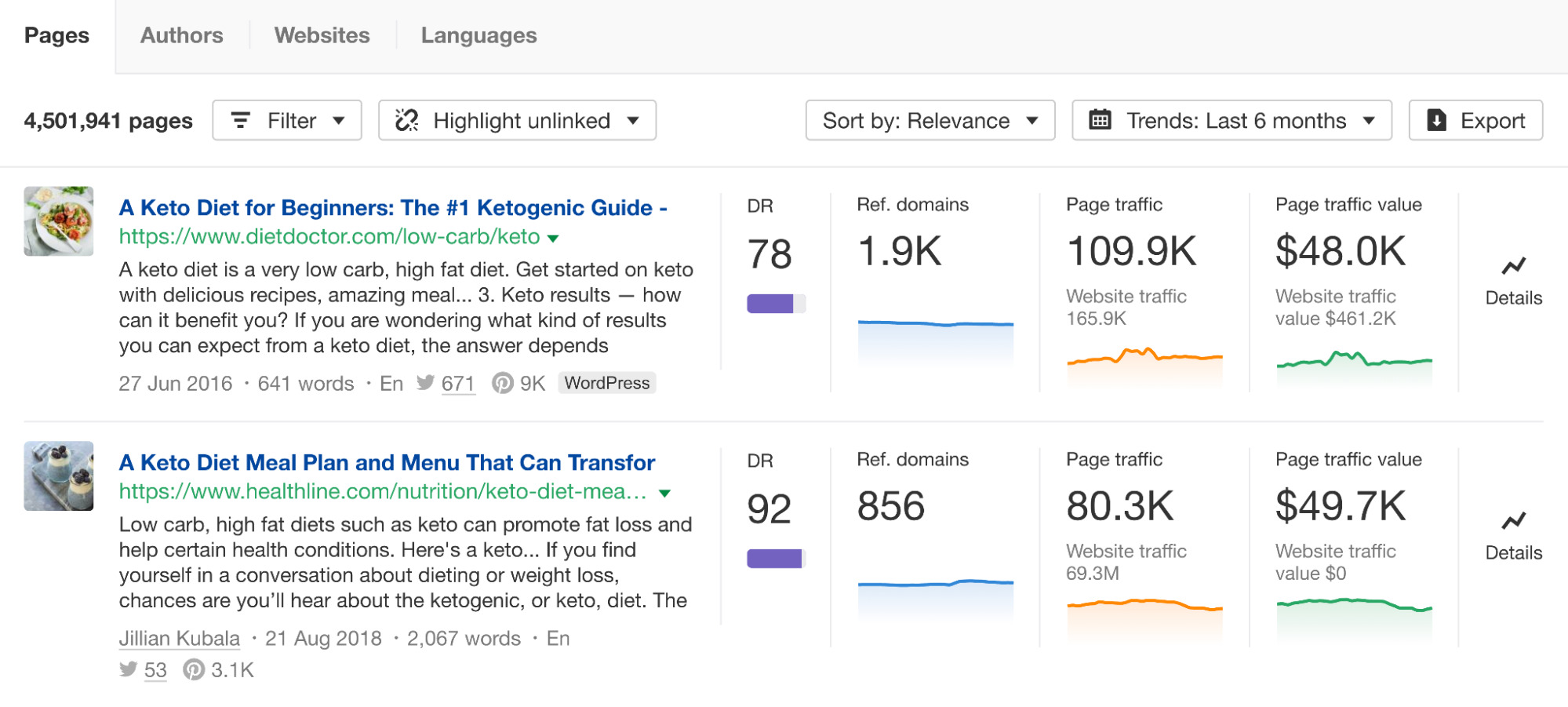 3. The next step is to go through the author's tab to find these experts.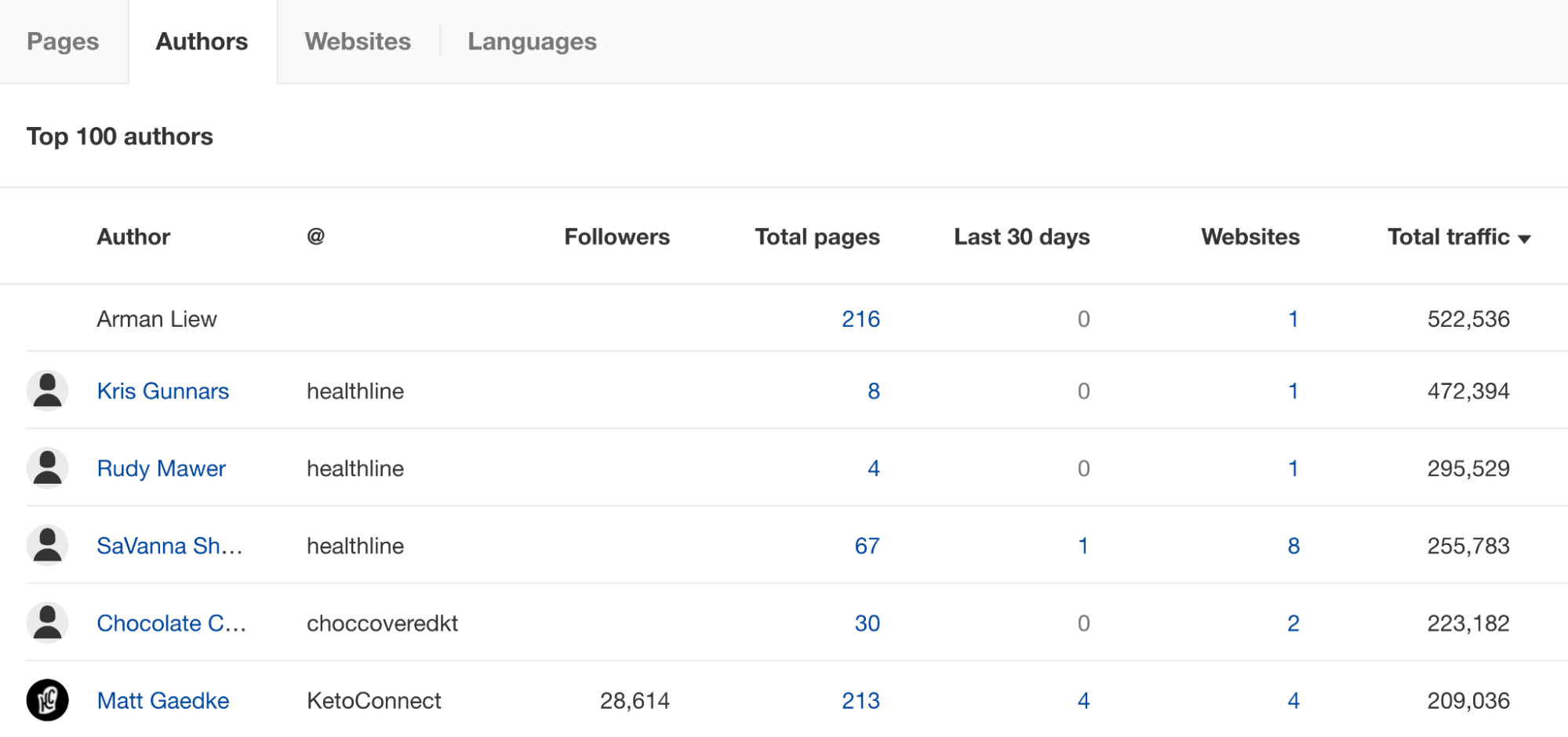 Alternatively, you can also go through the articles manually and discover top authors.
Once you've created the list, work on completing the contact information to reach out to those experts. During outreach, share how they would benefit from being featured in your article and how they would help improve your content.
It's also helpful to draft a questionnaire for this type of outreach. Try to keep it short and focus only on questions where the answers can help you fill the gaps in the article. This will help you keep the conversation productive.
Social media is a great place for content research. By following the right people and pages, you can learn so much about your industry. This includes knowing the challenges your audience is facing, the latest industry trends, what tactics are working, and more.
All these posts and conversations help unlock a lot of insights. You can also always connect with relevant folks to dig deeper and understand their perspectives. Let's look at the different platforms and how you can use them for your content research.
Twitter
On Twitter, I'd recommend using its advanced search functionality to start your research. You can include some relevant keywords around your topic and hashtags and then filter the results by minimum engagement and date.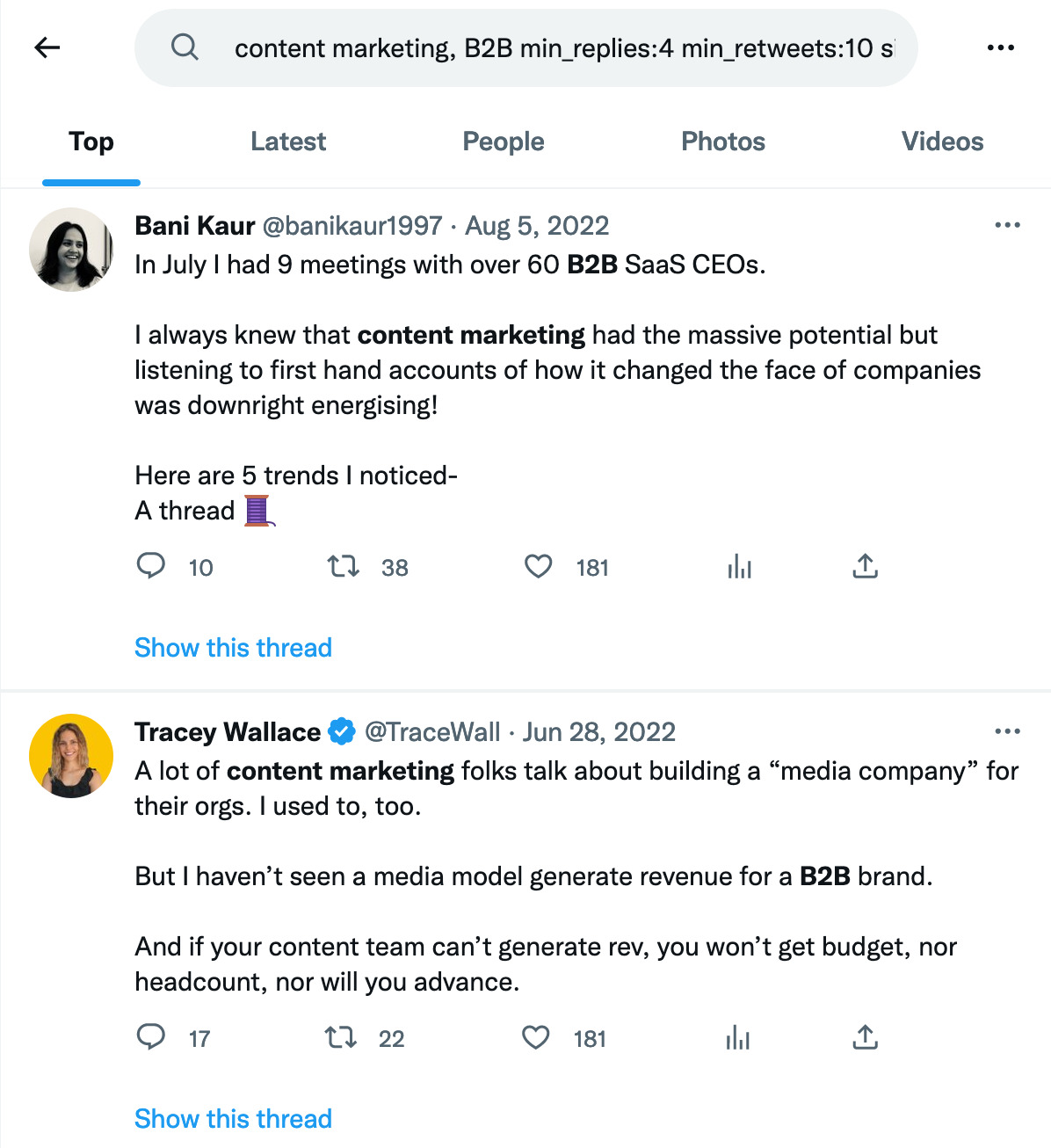 But keep in mind that, sometimes, the real valuable gems don't get a lot of engagement and may be difficult to find.
Additionally, to follow the latest industry trends, you can create a list of influencers and pages in your niche on Twitter. This way, you can follow these folks closely, which may be otherwise hard to track in your regular feed.
Reddit
Reddit is an amazing platform for content research because it's hard to not find a subreddit for your niche. Start with a quick search and go through the conversations.
Alternatively, you can start a discussion by putting out a post on a relevant subreddit (like the example below). Just be mindful of the rules of each subreddit when posting.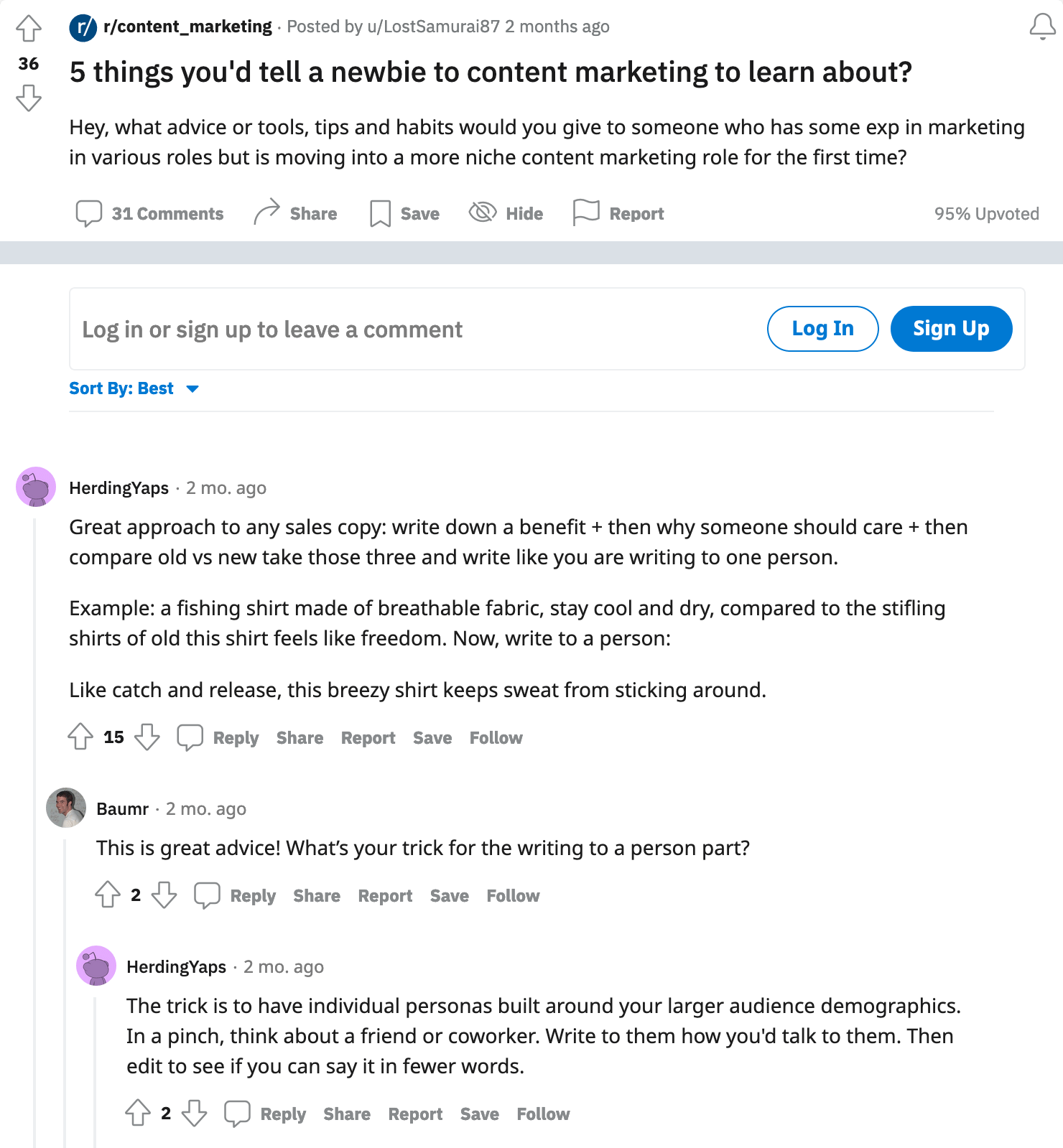 Partnering with an influencer or with brands you respect for a content piece can be a great way to produce high-quality content. There are multiple benefits of collaborative marketing, including:
Access to data – You can get access to highly valuable first-party data that you can leverage in your content.
Additional expertise – Collaborating with a brand/influencer in your niche may help you unlock key insights.
Co-marketing opportunities – By partnering with a brand/influencer, you can attract a newer audience.
Ultimately, it helps you achieve a greater overall impact with your content piece.
Here's an example of Ahrefs collaborating with Kontent (a headless CMS) for a webinar: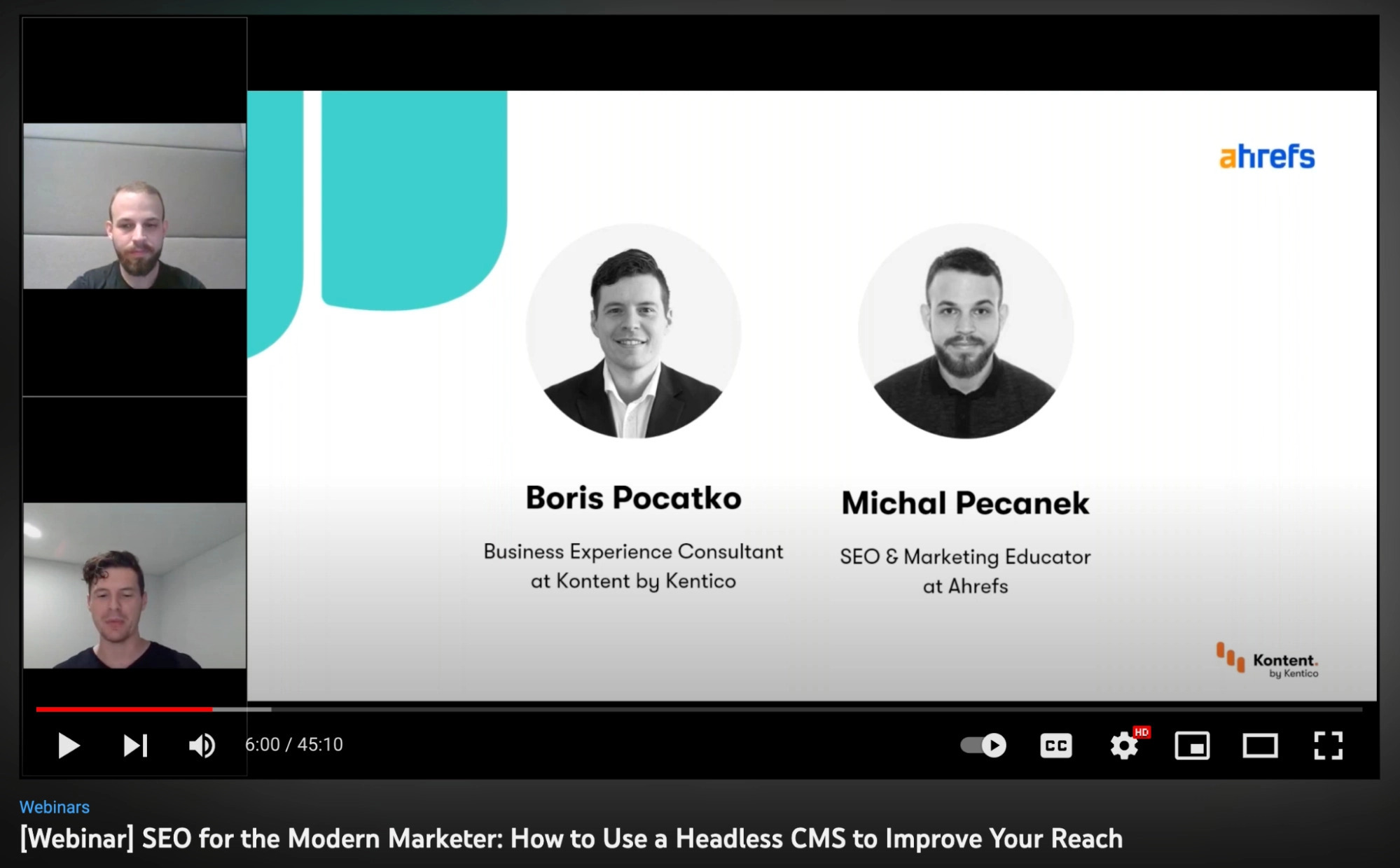 Ahrefs is the authority in SEO the Kontent team needs for this topic. Kontent's audience consists of potential enterprise-level leads for Ahrefs, where 45 minutes of brand and product exposure have great value. It's a win-win.
While access to third-party information is just a few clicks away, getting first-party information can be challenging. One quick way to get it is by running surveys. It can be as simple as putting out a poll on LinkedIn or Twitter. You can post it from your company page or your own profile. This completely depends on where you think you can get maximum responses.
If you follow Ahrefs' CMO, Tim Soulo, on Twitter, you'll know how much he leverages polls to ask questions for research:
https://twitter.com/timsoulo/status/1597095460103421952
Similarly, you can run polls in communities and newsletters. Ahrefs has an active Facebook community, where it often runs polls for content and product research.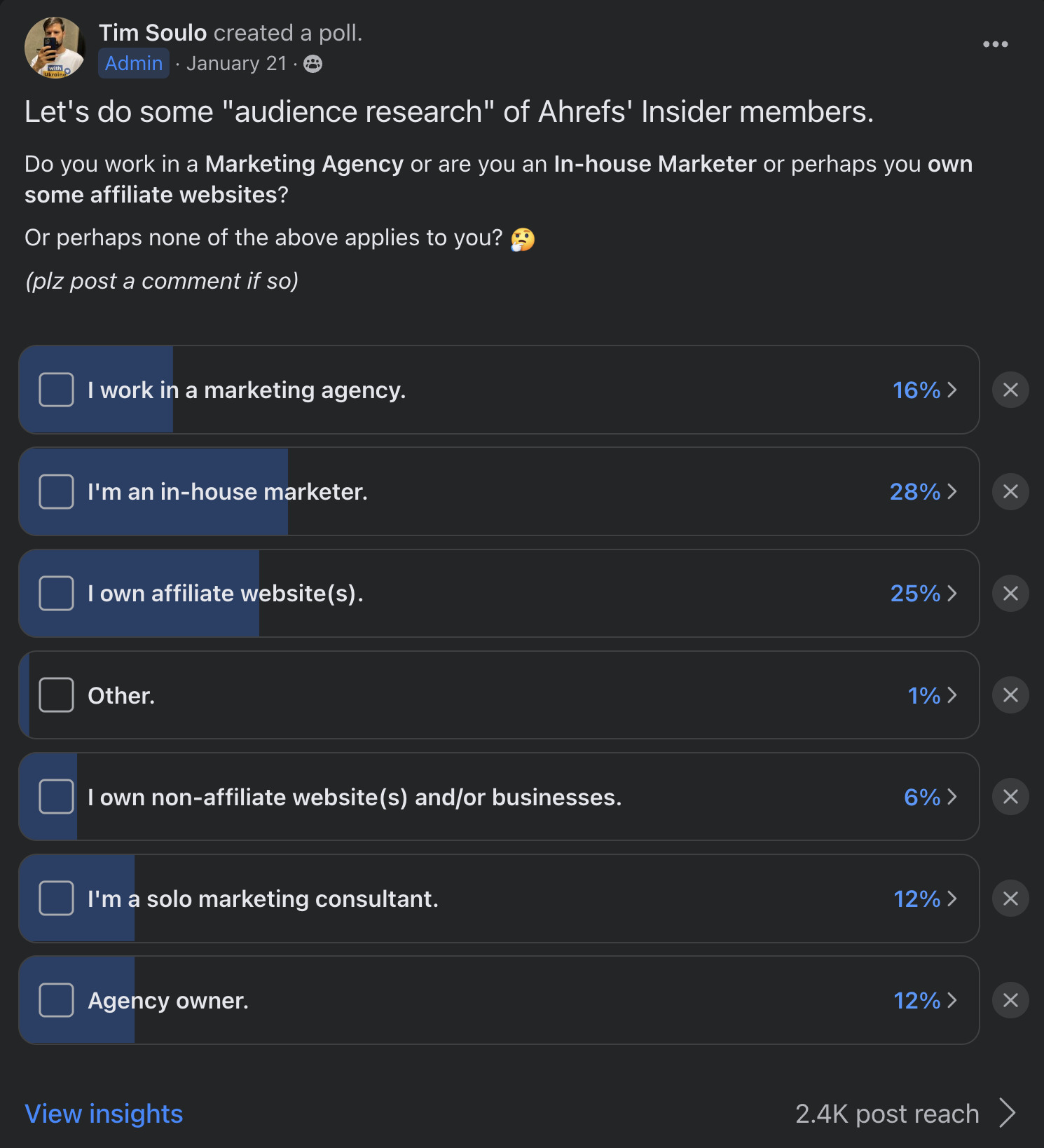 Alternatively, if you have the budget, you can leverage paid tools like Pollfish and SurveyMonkey. These tools help you run surveys on their platforms and get you responses. You create a target audience by defining parameters like location, interest, age, gender, etc. Running a paid survey is useful if you're planning to create a data-backed report, white paper, or article.
No matter what you're writing, if there's a way you can support it with some data, then there'll be nothing like it.
Articles contain limited information. And that's why if you are looking to do extensive research around a topic, just going through blogs is not enough. You should read white papers and reports in your niche. Going through them will help you discover insights and data that you'll rarely find outside.
For example, McKinsey & Company publishes some very detailed reports and white papers on different industries and their growth consistently. Similarly, companies like Deloitte, Forrester, and Statista are also active in publishing reports and white papers.
A few things to keep in mind are to:
Try going through the most recent reports, especially when you want to analyze statistics.
Trust only credible resources.
Make a note of statistics and insights as soon as you discover them along with the source.
Google's quality evaluator guidelines, for example, is a 176-page document that explains exactly how to evaluate a search result. Many SEOs use it to understand how Google works and to help webmasters understand what Google looks for in webpages. You'll see it referenced in tons of SEO resources.
You'll be surprised how much your readers can assist you with your content research. By understanding their challenges, aspirations, and goals, you can easily identify what to include in your article and what not to do. Moreover, you can identify new topics to write about.
Here are a few ways. You can:
Put out a social media post from your business account asking readers what they want to know about a specific topic.
Run reader surveys.
Get feedback on your existing published article. For example, Ahrefs asks its readers to vote on how useful the article is by rating it out of 5. So if the rating for a particular content piece is poor, you can take another look and improve it.

Final thoughts
It's clear that creating valuable and impactful content is impossible without content research. The time investment into content research will pay off in the long run.
Got questions? Ping me on Twitter.