What can be more satisfying for an SEO professional than watching their website move up in Google search results?
Most SEOs start their work day from reviewing the ranking progress in past 24 hours, which easily makes Rank Tracker one of the most frequently used tools in SEO.
That is why there was no shortage of feedback from our Facebook community, when we announced an upcoming update of Ahrefs' Rank Tracker tool:

We knew that our customers were expecting to get an amazing new tool, and we couldn't allow ourselves to let them down and release something that would be just "slightly better" than the old version.
So instead of adding new features on top of the old Rank Tracker, we decided to develop an entirely new tool from scratch (which clearly took us quite a while):
The new Ahrefs' Rank Tracker was rolled out last week, and here's a quick overview of what makes it so awesome:
The best way to make sense of the data that you have on your hands is to visualize it. And this is where the new Rank Tracker truly excels - we have designed five different graphs that look at your ranking progress from five different angles:
Visibility
This graph shows what percentage of all possible traffic from the tracked keywords lands on your website.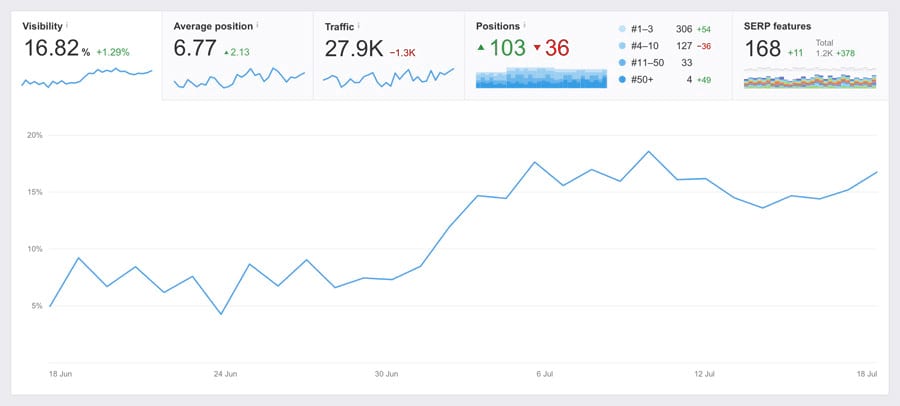 For example:
If you only track a single keyword and all top10 positions in Google are occupied by pages of your website (which means you get all possible traffic from that keyword) - your visibility is 100%.
But if you only occupy the #1 spot, while the rest are taken by your competitors, your visibility would be somewhere around 30% (depending on the CTR curve of the search results for that particular keyword).
PRO TIP
Thanks to clickstream data, Ahrefs algorithms model a unique CTR curve for almost every keyword that you add to Rank Tracker. So in case you have added a "branded" keyword, where the overwhelming majority of clicks go to #1 result, we will know that and calculate your visibility accordingly.
Average position & Traffic
These two graphs are quite self explanatory. But I wanted to draw attention to the fact that your "Average position" and "Traffic" (and all other graphs, in fact) may show big shifts every time you add keywords to your list or remove them.
And for that reason we have added "flags" to all your graphs, which show when you edited your keyword list: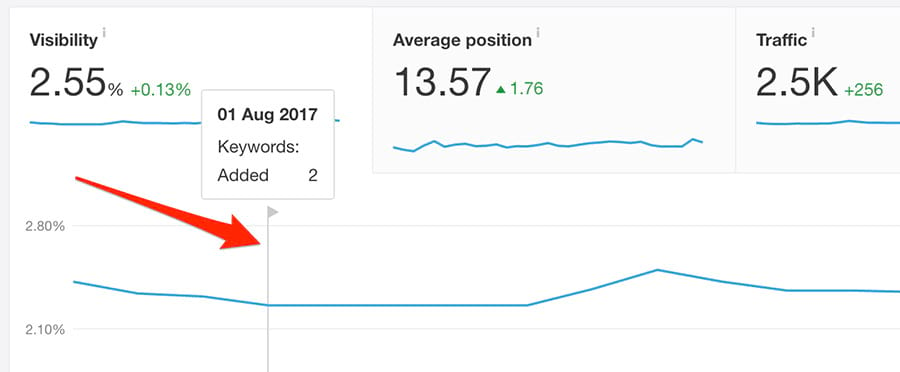 Positions distribution
Manually going through ranking positions for hundreds (or thousands) of tracked keywords is unproductive. This is why most SEOs like to track their ranking progress via groups:
Positions #1-3: "ranking goals achieved" (ranking #1 for all keywords is rarely possible);
Positions #4-10: "almost there, needs some more work";
Positions #11-50: "looks promising";
Positions #51-100: "at least Google knows my page exists."
This is especially handy when you visualize the progress with these groups over time: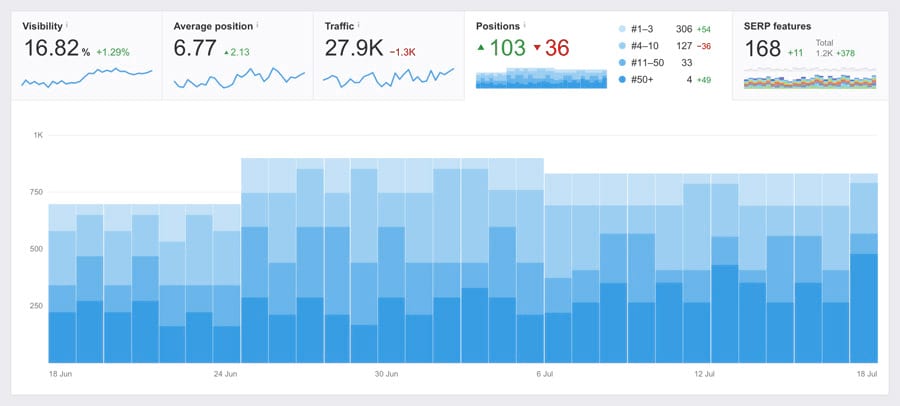 Sidenote.
Please keep in mind that any keywords ranking below top10 will have high volatility and often experience big "jumps". But once you rank in top10, the movements will become much smaller and much less frequent.
SERP Features
Today the search results are not what they used to be a few years ago. In fact, they're even different from what they used to be yesterday.
Which is why the new Ahrefs' Rank Tracker tool keeps an eye on 12 different types of SERP features and shows all changes on this cool graph: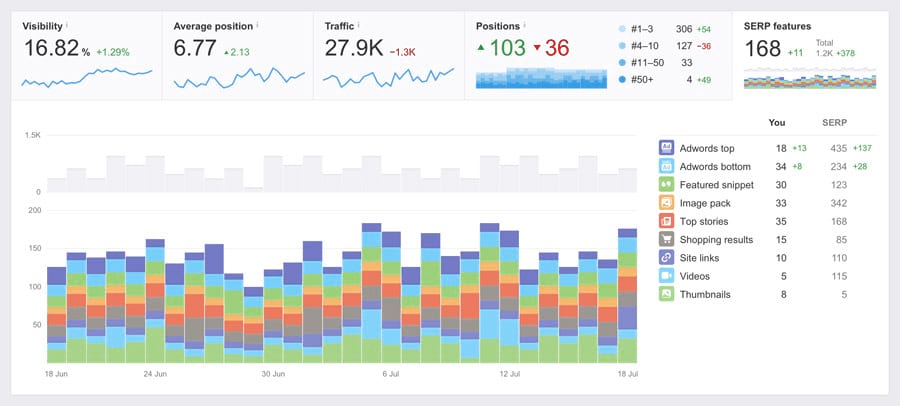 As of today, we keep an eye on the following SERP features:
Paid search results (top & bottom);
Knowledge panel;
Knowledge card;
Featured snippet;
Image pack;
Top stories;
Shopping results;
Videos;
Related questions;
Tweets;
Sitelinks;
Thumbnails.
And the new Rank Tracker shows you both:
how many different SERP features are present across all keywords;
How many of them are secured by your own website.
The most frequently requested feature for the new Rank Tracker was (…drumroll please…) "Search volume for all tracked keywords."
But we decided to overdeliver a little bit and integrate all keyword metrics that we have in Ahrefs right into your Rank Tracker.
So in the main "Tracked keywords" report you can now see:
Search volume;
Traffic (& its delta);
SERP features.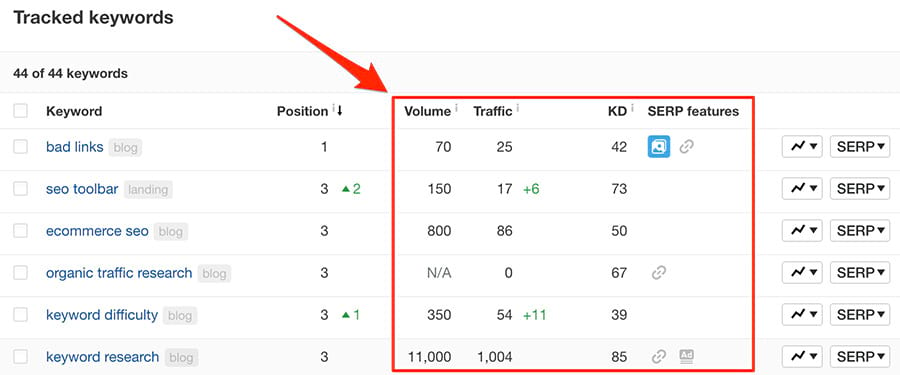 And under the "Metrics" tab you get all the advanced metrics from Keywords Explorer tool: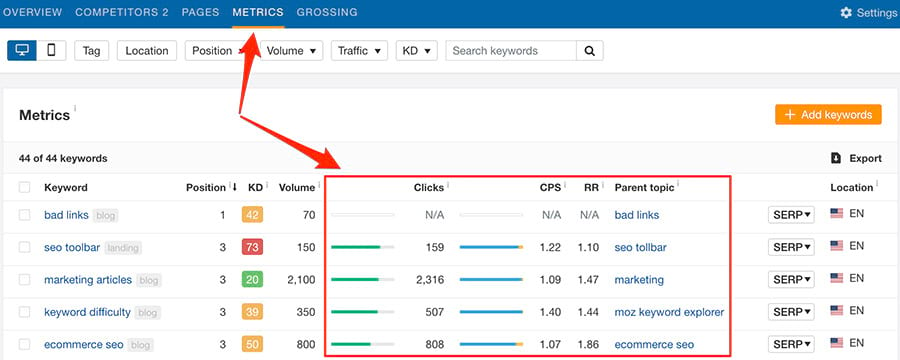 You can also browse the ranking history of your keywords and get the latest SERP from almost every report in Rank Tracker: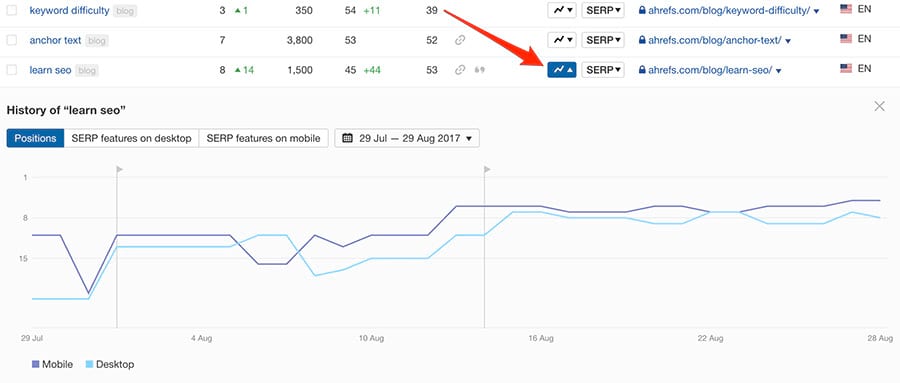 We track your position history and SERP features history for both desktop and mobile, but the SERP overview is "desktop only" at the moment.
As requested, we have added filtering options for the main keyword metrics that you have in your "Tracked keywords" list. Other than that, you can now assign tags to your keywords, and filter your keyword list by these tags.

Sidenote.
All these filters are located at the top of the Rank Tracker tool and not immediately above your list of keywords. That is because any filtering will cause all five graphs to change.
Everyone knows that a single page can rank well for thousands of relevant keywords. That is why we have added a report that groups all your tracked keywords by the ranking page: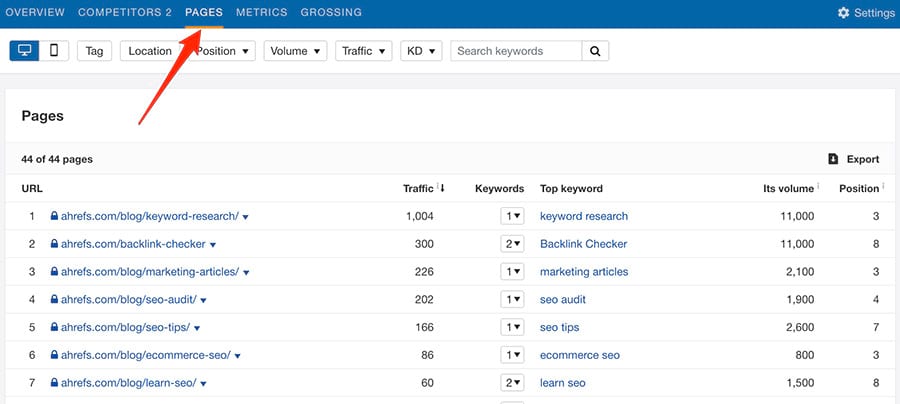 Tracking your ranking progress is always good, but tracking your ranking progress against your competitors is even better.
The new Rank Tracker allows you to compare yourself against your rivals in three different areas:
Ranking progress (Visibility, Average position, Positions distribution);
Search traffic;
SERP features.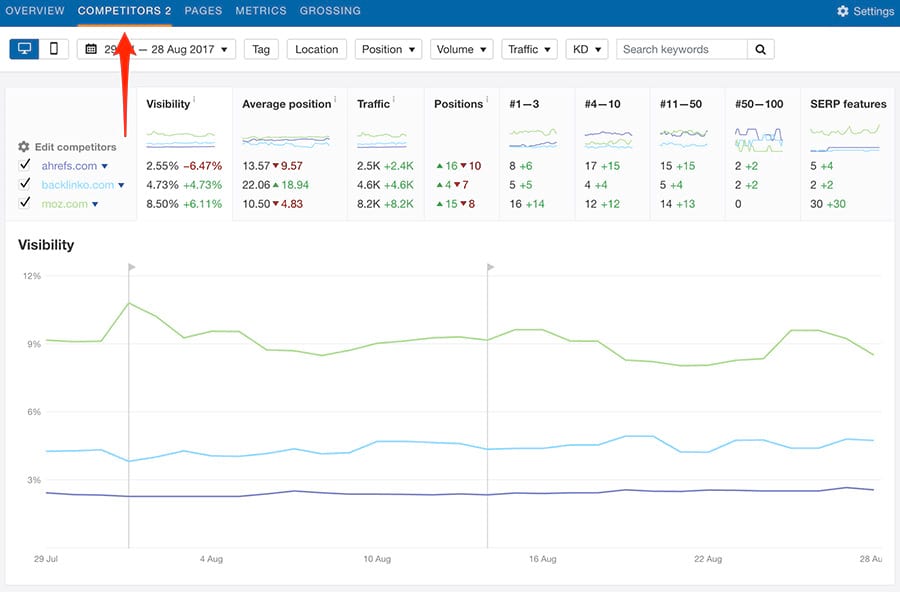 Each of these three areas has its own tab in "Tracked keywords" report:

Sidenote.
Right now the number of competitors that can be added to this report is capped at 5, but please let us know if you need more. We might improve that limit, in case there's a clear need for that.
This report is sort of an experimental one. We thought it would be interesting to see how much each keyword improved (or declined) in 7 / 30 / 90 days. And that is how the "Grossing" report was brought to life: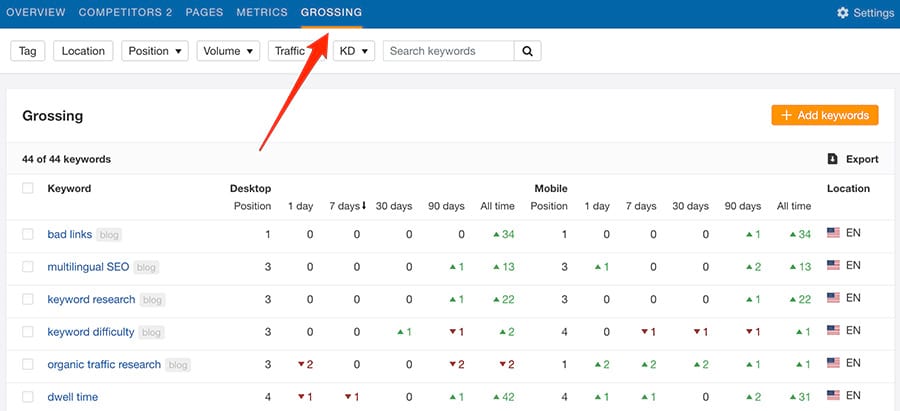 Even though the new Rank Tracker tool is now live, we're still experimenting with its format and visual style to make it more actionable. So should you have any feedback about it, please do not hesitate to let us know.
Another idea was to showcase the higest position that each of your tracked keywords reached in the last 7 / 30 / 90 days. Let us know if you like it more than the "delta" that we have right now.
Whenever our support team gets a question about the Rank Tracker tool, it's usually regarding locations that we track from or the accuracy of positions that we report.
So let me try to address both of them here:
Locations
We do have servers all around the world, so we can track your rankings from a variety of locations in the United States and all around the world.
But, obviously, we don't have a server in every city, district or street. In fact, there's no rank tracker tool on the market today that would cover all cities of the US, let alone in the entire world.
And yet our coverage is quite substantial and we're always on a lookout for opportunities to expand it.
Accuracy
These days there's no such thing as an "absolute position" of a keyword. There are way too many variables that influence your rankings and there will always be a certain level of discrepancy.
Mostly due to:
1. Location - as discussed above, the location you're searching from may have an effect on the search results that you get. And, unfortunately, it is impossible to cover all possible locations.
2. Personalisation - the device you're searching from, your personal Google account, your past history of searches and even the time of the day - all these things can have a certain effect on the search results that you get. Ask your neighbor to search for the same keyword and send you a screenshot of their search results. The chances are, they will be slightly different from what you get.
But it also largely depends on the type of the search query. Some search queries have highly dynamic search results "by design", while others will show the pages to everyone around the globe.
3. Timing - the highest update frequency that we support is once a day. So from the time we've updated our records and till the time you manually verify the position quite a few hours may pass.
But search results are not carved in stone, they may change any minute. For websites ranking in top5 the positions are quite stable and don't change very often. But anything below top10 is highly volatile.
So don't be surprised if we reported your keyword at position #30, but it was #55 by the time you checked manually. However, for keywords in top5 the discrepancy shouldn't be bigger than 2 positions. So in case we report #3 and you see #8 - please let our support team know about this.
More updates are coming
A few weeks ago we released a teaser video of the new Rank Tracker and then a few voluntary beta testers gave a new tool a spin, all of which led to some absolutely amazing feedback.
We carefully noted all the suggested features, but then realized that it would make much more sense to develop them right now, while we're still on it, rather than wait for some abstract point in future.
So within the next few weeks you may notice quite a few more features added to your new Rank Tracker tool.
And while we're on it, feel free to send more feedback and ideas our way. There's a high chance that we'll implement the feature that you're lacking right now.