Here at Ahrefs, we fully acknowledge the importance of keyword data when it comes to having confidence in your SEO decisions. And we're fully committed to establishing leadership on that front.
Last year, we invested a lot of time and resources to take our keyword data to a whole new level. And we're quite happy with the results.
Here are three major improvements that our customers will benefit from.
1. Vastly greater coverage (across all countries)
We now update our keyword database every month and add hundreds of millions of new keywords with each update.
Just this month, we uploaded a whopping 7.2 billion keywords (yes, billion), increasing the total size of our database from 10.1 billion keywords to 17.3 billion keywords (~70% increase).
Our coverage has vastly improved across many countries:
United States: +374 million (~9% increase)
Brazil: +177 million (~26% increase)
United Kingdom: +198 million (~40% increase)
France: +108 million (~25% increase)
India: +279 million (~156% increase)
Germany: +174 million (~67% increase)
Canada: +195 million (~113% increase)
Spain: +110 million (~46% increase)
Russian Federation: +147 million (~78% increase)
Mexico: +136 million (~73% increase)
Poland: +87 million (~38% increase)
Italy: +98 million (~46% increase)
Japan: +115 million (~65% increase)
Indonesia: +192 million (~204% increase)
Argentina: +103 million (~63% increase)
Australia: +133 million (~106% increase)
Philippines (the): +154 million (~206% increase)
Colombia: +93 million (~69% increase)
Turkey: +132 million (~161% increase)
Vietnam: +156 million (~314% increase)
etc
At the present moment, our U.S. database is actually the biggest one in the industry by far (to the best of our knowledge), comprising 4.4 billion keywords.
As a result, you'll usually find more keyword ideas in Ahrefs than in any other keyword research tool.
For example, when I used Ahrefs and SEMrush to generate keyword ideas from 10 random "seeds" with varying popularity, Ahrefs found 50% more keyword ideas on average.
This is hardly surprising. According to the official numbers, our U.S. database (4.4 billion) is almost twice bigger than SEMrush's (2.6 billion).
2. More accurate search volume
We worked hard to refine our search volume numbers by blending data from multiple sources and finding the right balance between them. We've also started showing the monthly search volume values for each keyword, with an option to export them into CSV.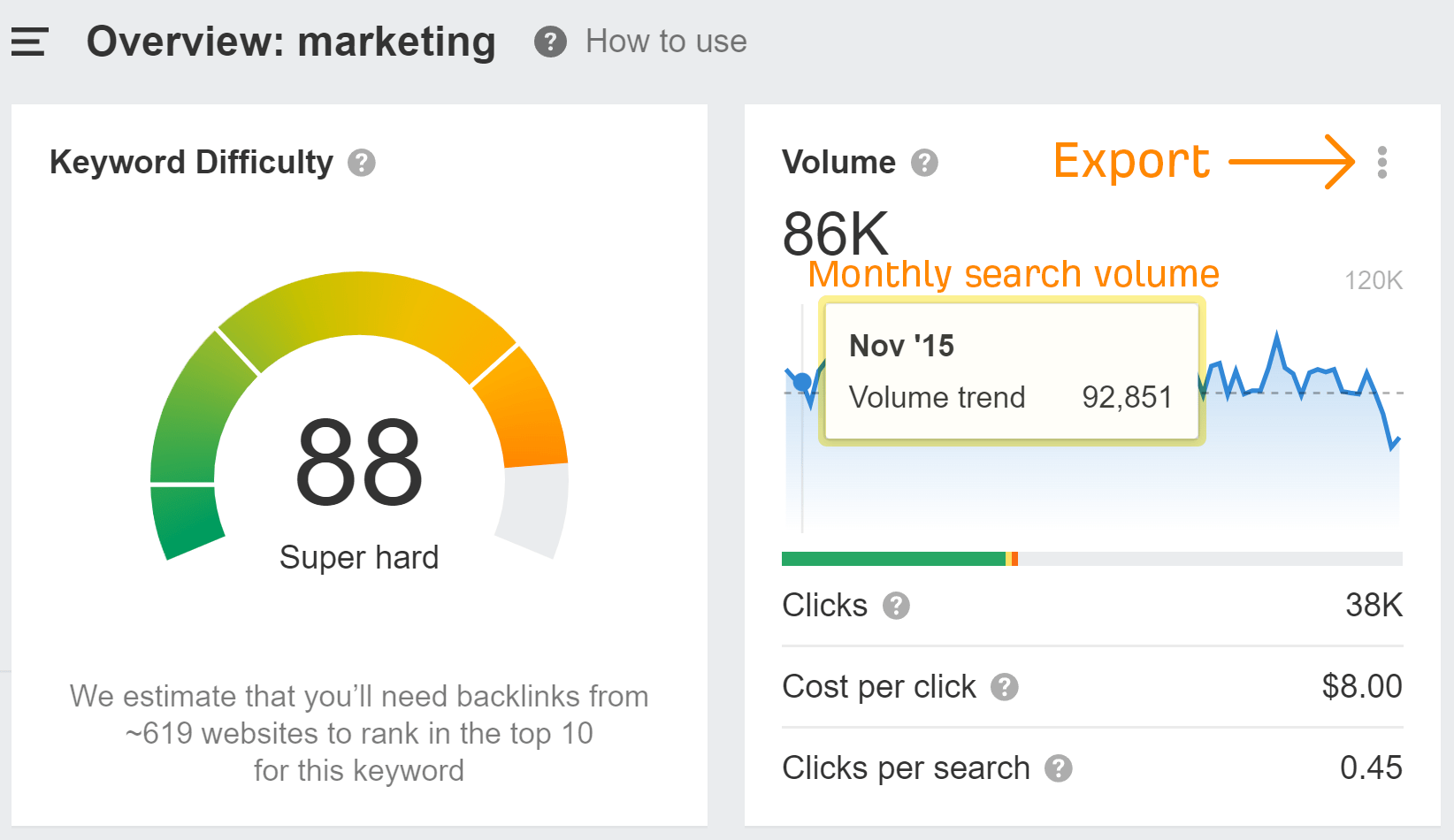 But how accurate are the search volumes in Ahrefs?
Well, we recently performed a study of 72,635 random keywords comparing the search volumes from three sources: Ahrefs, Google Keyword Planner, and Google Search Console.
And it turned out that the search volumes in Ahrefs are more accurate than search volumes in Google Keyword Planner (when compared to "Impressions" from Google Search Console).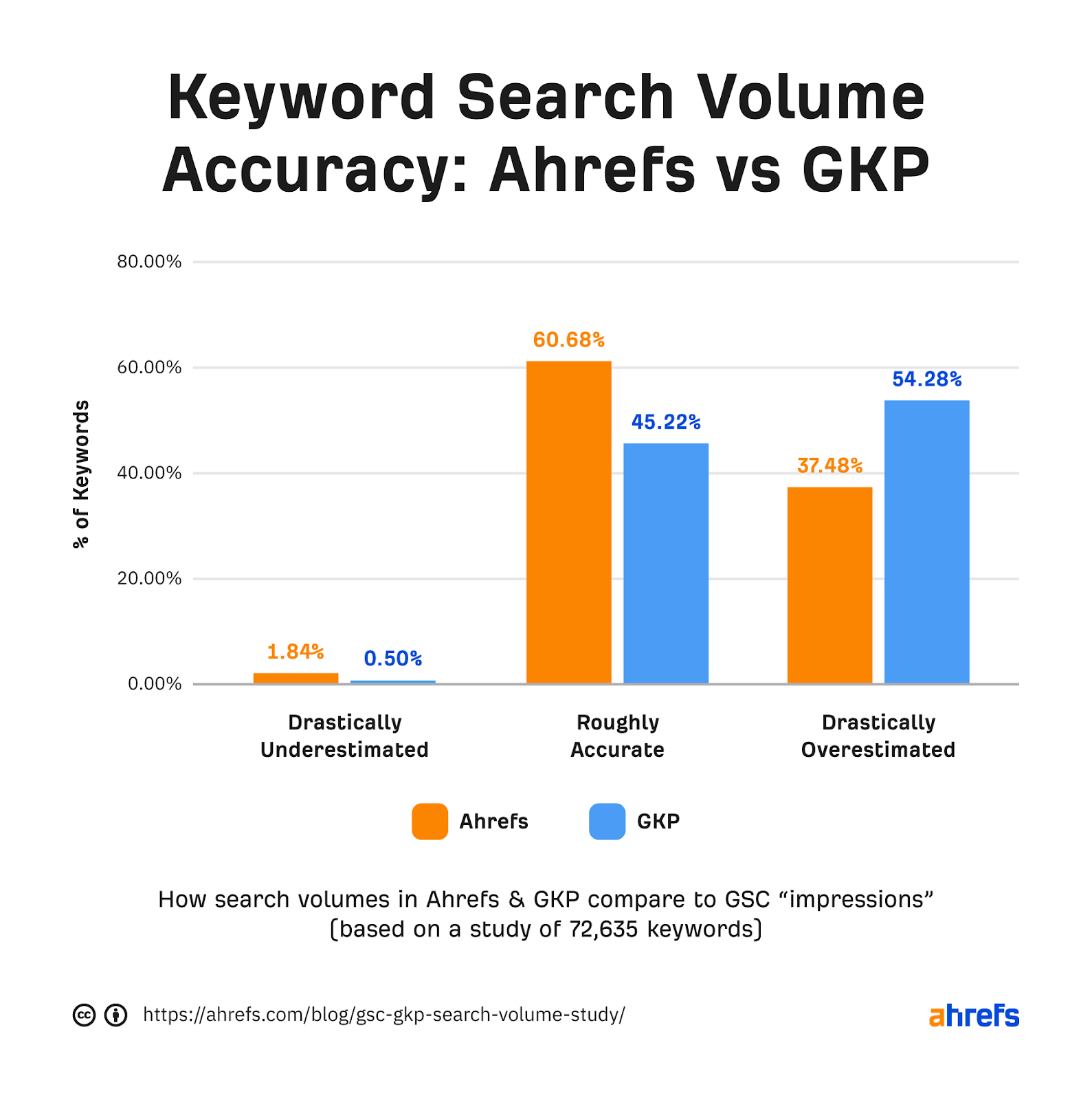 One of the main reasons why Ahrefs has better search volumes than Google Keyword Planner is the latter is known for grouping search queries with similar meaning and showing an aggregated search volume for the entire group.
For example, the following search queries don't have distinct search volumes in Google Keyword Planner:
comparing vpns
compare vpn
comparison vpn
compare vpns
vpns compared
vpn compare
vpn comparison
vpn comparisons

And this "grouping" issue is then being picked up by every SEO tool that relies on Google Keyword Planner as its main source of search volume data.
But here at Ahrefs, we have developed a unique algorithm for modeling keyword search volumes that blends data from multiple sources (including clickstream). This allows us to "un-group" keyword clusters from Google Keyword Planner and display a search volume for each keyword: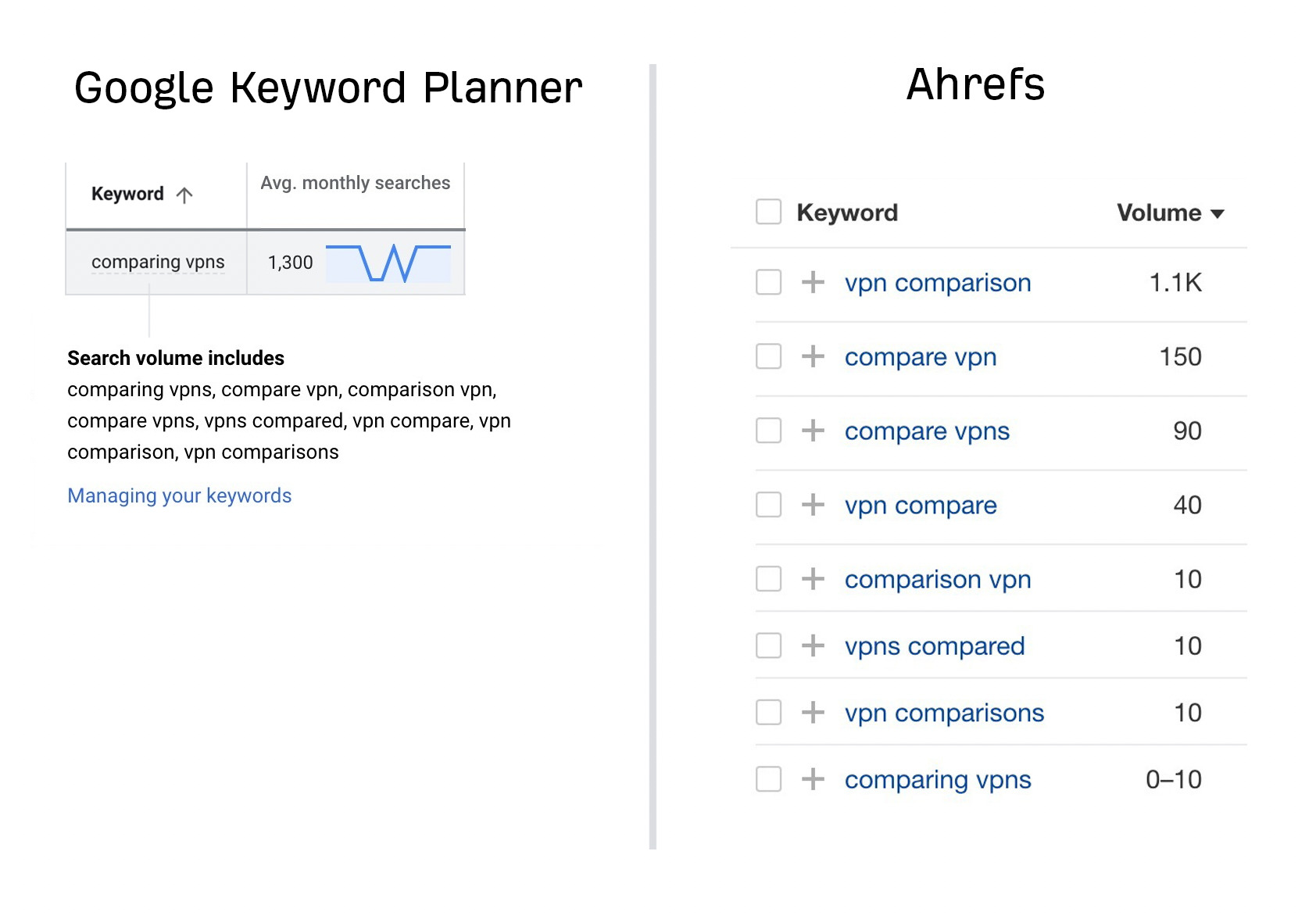 Seeing the distinct search volumes for close keyword variations prevents you from accidentally overestimating a topic's total search traffic potential when summing the search volumes of all keywords in a group (also known as keyword clustering).
Other than that, knowing the most popular ways people search for something can help you adjust the language of your page accordingly and come up with a more eye-catching page title.
3. New metric: Traffic Potential
Despite investing a considerable amount of effort into refining our search volume estimations, there's still one big issue related to this metric that we have to address:
Pages don't rank for a single keyword!
And it is a mistake to estimate the search traffic potential of your page based on the search volume of a single keyword.
Top SEO professionals realized this a long time ago:
Better than search volume: average traffic of the first three results.

— Kevin_Indig (@Kevin_Indig) July 14, 2020
A better way to estimate search traffic potential is to see how much search traffic the top-ranking pages get in total from all the keywords they rank for.
This simple workflow inspired us to add a brand-new metric to Ahrefs' Keywords Explorer: Traffic Potential.
This metric shows how much search traffic the top-ranking page for a keyword gets in total from all the keywords it ranks for.
Let's see it in action: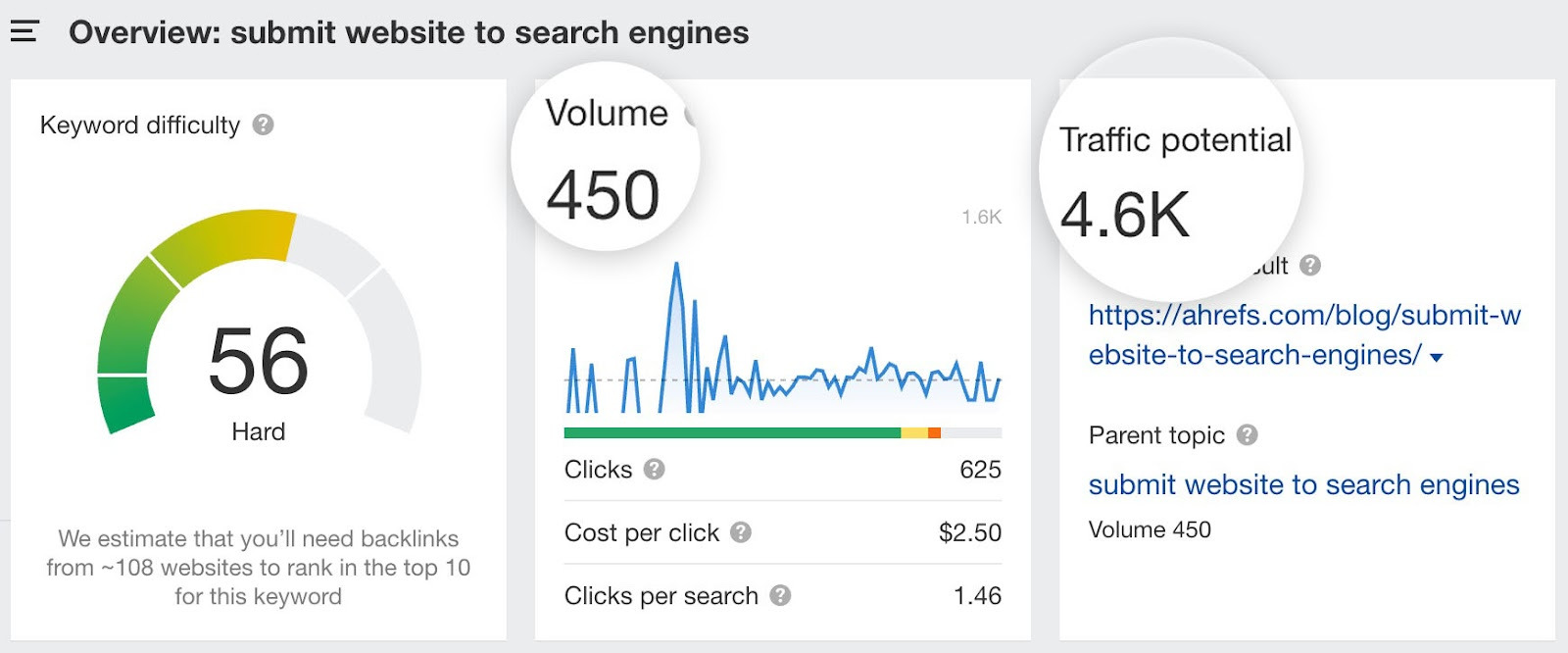 The keyword "submit website to search engines" has a pretty small monthly search volume of 450 in the U.S., but its Traffic Potential is 4.6K.
That happens because there are hundreds of very similar search queries that people use to search for that same thing. And the #1 ranking page for "submit website to search engines" is ranking well and getting clicks from all of them.
Now if we look at a keyword like "local SEO," we see the opposite. Its search volume is nearly 20X higher than the previous keyword, but its Traffic Potential is roughly twice lower than that of the previous keyword.

This is simply because there aren't that many other ways to search for this topic. So despite the popularity of the main search query, the actual Traffic Potential doesn't really live up to it.
Hopefully, these two examples are enough to illustrate how our Traffic Potential metric will help you make better decisions as you prioritize keyword ideas.
And we got a ton of positive feedback when we announced this metric on Twitter:
We have finally released this long overdue SEO metric:

🔥 Traffic potential 🔥

Because pages don't rank in Google for just a single keyword. They also rank for all the different variations of that keyword and get search traffic from them. https://t.co/a0ehTT5WJV pic.twitter.com/zQAXCaQTYj

— Tim Soulo 🇺🇦 (@timsoulo) November 12, 2021
Final words
Back in 2020, we had some issues with our keyword data quality due to the (now infamous) demise of clickstream data. But since then, we have diversified our data sources and established new partnerships with a number of reliable SEO data providers, allowing us to overcome this setback.
So today, we're happy to announce that Ahrefs' keyword data is in its best shape ever! And we're committed to continuing the expansion of our database and refining our keyword metrics even further.