Looking at a website's backlink profile can tell you a lot about their marketing activities and help you to understand why, where, and how they rank.
That's why backlink checkers (such as Ahrefs' Backlink Checker) exist; they offer invaluable information for digital marketers.
Many wouldn't be able to do their jobs without them.
Because of this, most professional marketers are happy to pay for access to such tools (despite the fact they're relatively expensive).
However, many newbies struggle to justify the costs because they don't yet know the value of such tools, or are simply on a tight budget. This leads to huge demand for free backlink checkers.
But, here's the problem: in order for backlink checkers to exist, the entire web (i.e. billions of pages) has to be crawled, regularly re‐crawled and stored in a monstrous database. The costs and challenges associated with doing this are HUGE.
Sidenote.
Here at Ahrefs we currently operate a fleet of around 1200 servers (
20K
CPU
cores) to collect and store backlink data at the required scale. We're
constantly expanding this
, too.
The bottom line: there's absolutely no way for backlink data to be free, which is why all free backlink checkers only give limited access to their data.
But how limited are we talking, exactly?
Here's a rough overview of limitations for the 4 main backlink checkers we compared:


Sidenote.
Full spreadsheet (with notes) available
here
.
Let's take a more in‐depth look at these tools, along with a few others.
Dissecting the free backlink checkers
We divided the backlink checkers into these 4 groups:
Large indexes: Well‐known industry leaders with largest proprietary backlink indexes;
Smaller indexes: Like the big guys, they collect their own backlink data, but on a much smaller scale.
API‐powered tools: Tools that pull data from any of the companies within the two categories above;
Other: Any tools that gather their data from other (potentially questionable) sources.
Let's begin by looking at the tools with the largest backlink indexes.
1. Large Indexes (i.e. Ahrefs and Majestic)
Ahrefs and Majestic are both undisputed industry leaders when it comes to backlink index size.
Neither of these tools are free but both offer access to a free limited version of their backlink checker.
Let's take a detailed look at the features and limitations of these tools.
Sidenote.
While we do love our own product(s), we're going to try to be as unbiased as possible here. Our aim isn't to pick a winner but rather to highlight/compare the features and limitations within the free plans for each tool. We encourage you to personally try each of the tools to see which works best for you.
Ahrefs
Ahrefs backlink checker (i.e. Site Explorer) is accessible via a 7‐day Ahrefs trial.
During your trial, we give full access to our link database of more than 12 trillion known links. If you choose to cancel the trial, we will automatically transfer you to our "Newbie" plan which gives you free limited access to Site Explorer.
In this post, I'll be focussing solely on the data you can access using our free "Newbie" plan.
First, let's take a look at the Overview within Ahrefs' Site Explorer:


Here's a breakdown of all the data we show:
Ahrefs' metrics [1] (Ahrefs Rank/DR/UR);
Total External Backlinks [2] and Ref.Domains [3];
External Backlinks [4] & Referring Domains [5] graphs (for all time, one year, or last 30 days);
New & Lost Ref.Domains [6] & Backlinks [7] graphs;
Ref.Domains TLDs [8] & CTLDs [9] distribution;
Ref. IPs/Subnets [10];
Backlink types breakdown [11] (e.g. dofollow/text/image/etc);
Anchor text breakdown (including, anchors cloud [12], anchor phrases [13], and anchor terms [14]).
In short, we tell you a lot, even on a free account. We let you view this information for up to 5 URLs (from max. 2 domains) per day on our free "Newbie" plan.
Moving to the Backlinks and Referring Domains reports, we show the top 10 links/domains (ordered by UR). We even allow full use of filters within these reports.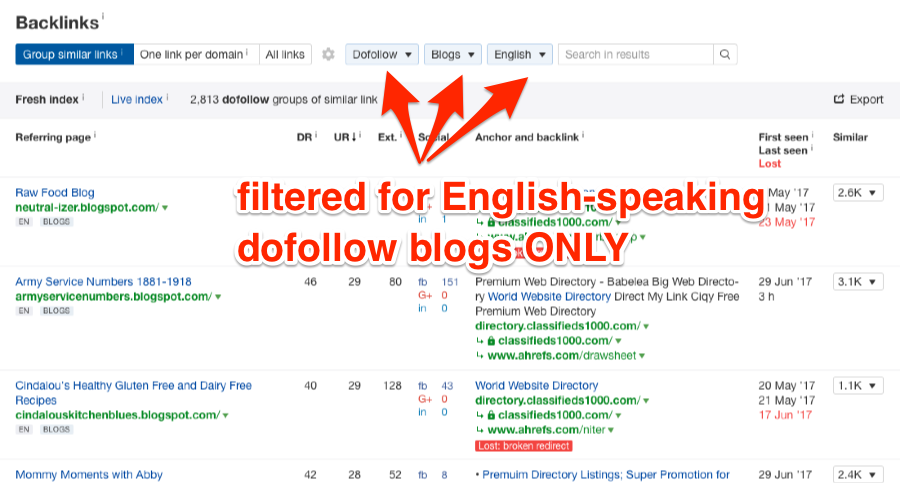 Also, we give limited free access (i.e. we show 20 links) to the Broken Backlinks report; this is crazily powerful if you're looking to embark on a broken link building campaign.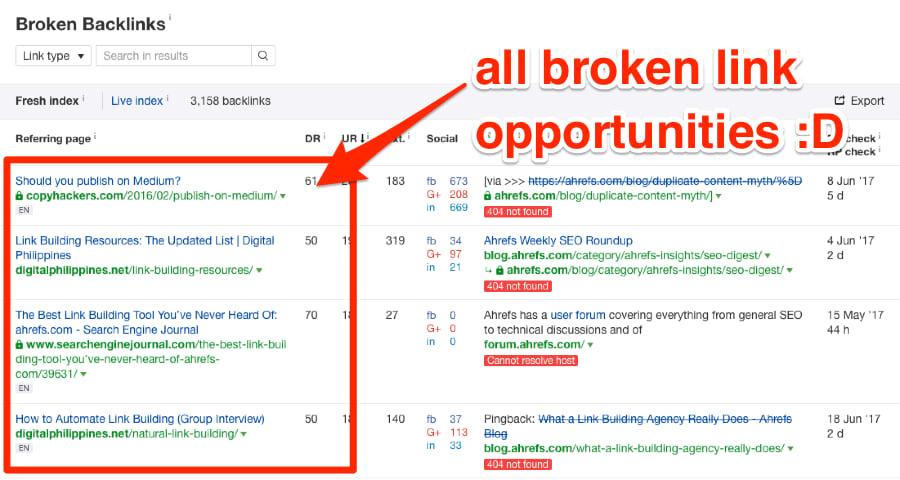 Same goes for the Best by Links report (i.e. we show the top 20 pages on a domain with the most links).
Sidenote.
"Best by Links" is a super‐powerful report for researching
linkbait content
. It can also be used to research potential "
skyscraper
" topics.
A few more reports that you can use on a free plan:
New/Lost Backlinks (and referring domains): shows new/lost backlinks to your target URL or domain within the last 24 hours, 7 days, and 30 days;
Anchors: gives a list of anchor text terms/phrases linking to your target URL/domain;
Ahrefs' Site Explorer allows up to 1K rows of data to be exported per month on our free "Newbie" plan.
Majestic
Majestic's free backlink checker can be accessed via Site Explorer with a free Majestic account.
Sidenote.
Majestic maintains two link indexes: Historic and Fresh. They go into detail regarding the differences between these two indexes
here
. Basically, the Historic index is a database of all backlinks that a website has ever had, most of which are no longer live today. Which makes it vastly bigger than their Fresh index.
Let's take a look at their Summary report: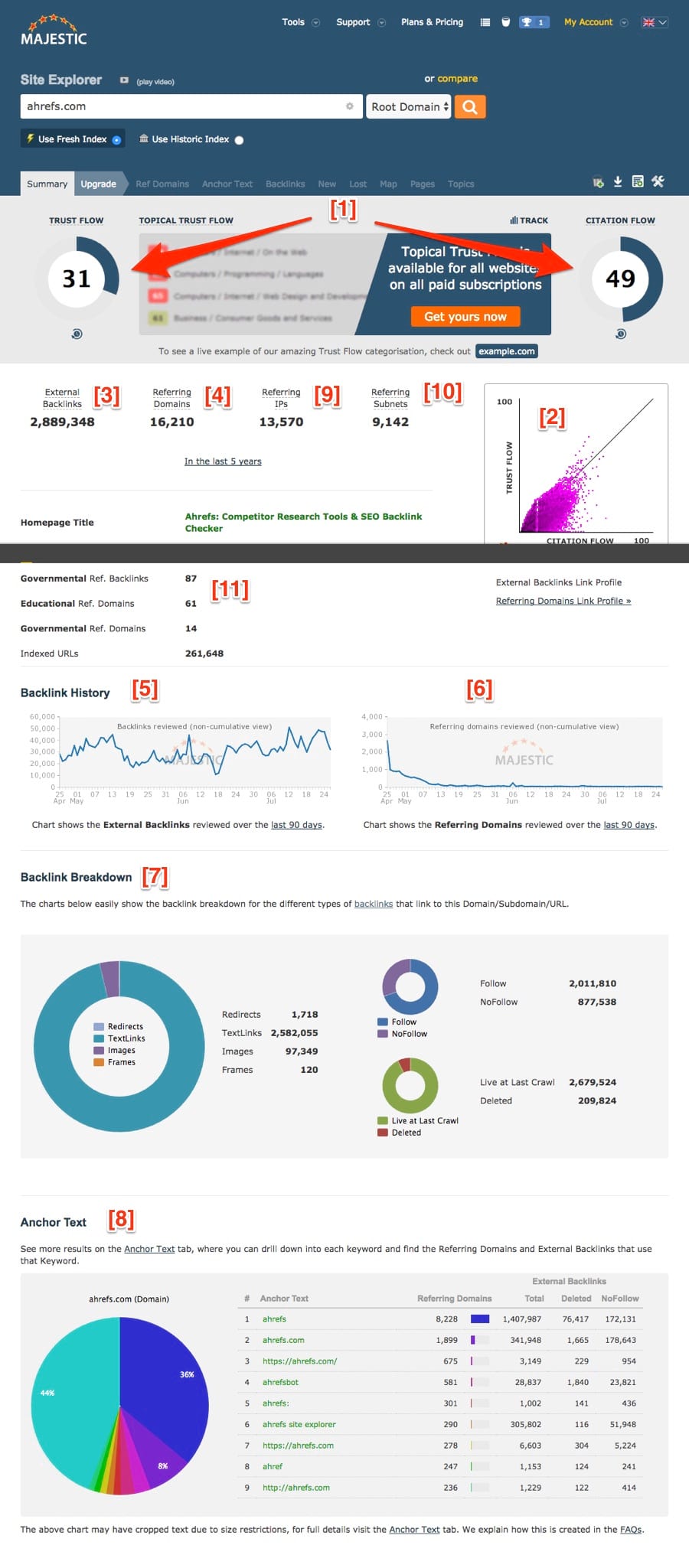 Here's a breakdown of the data it shows:
Trust Flow (TF) & Citation Flow (CF) metrics [1] (plus TF/CF graph [2]);
Total External Backlinks [3] and Ref.Domains [4];
External Backlinks [5] & Referring Domains [6] graphs (for the last 90 days);
Backlink types breakdown [7] (e.g. dofollow/text/image/etc);
Anchor text breakdown [8] (including anchor text distribution chart);
Ref. IPs [9] /Subnets [10];
Governmental & Educational Backlinks [11].
This is a rather rich report, which is pretty much on par to what we have at Ahrefs. Each tool has a few unique data points and visuals, so it's hard to pick a winner.
However, Majestic restricts all access to other reports for those with free accounts.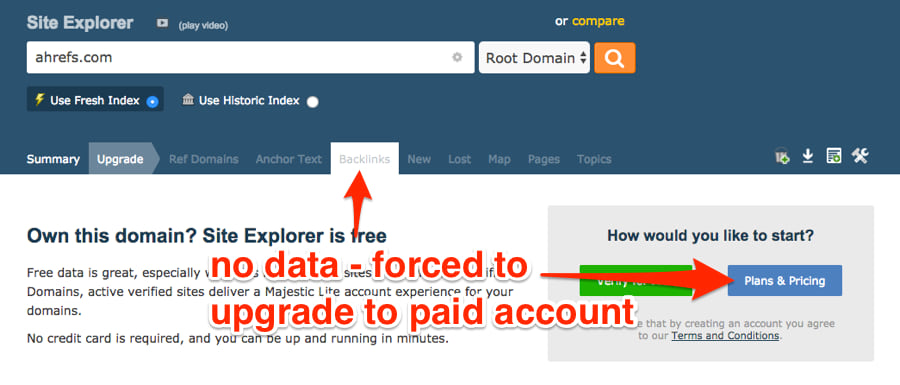 Sidenote.
When I first began working on this post, Majestic appeared to be offering (very) limited access to their other reports. However, it seems this has now changed and they now require a paid subscription to access any data whatsoever.
The caveat to this rule comes with Verified Domains.
Basically, if you verify ownership of your site(s) with Majestic, they give you full access to Site Explorer, even on their free plan. This means you can view your entire backlink profile for up to five of your own websites, without limitations.
We aren't aware of any other backlink checker that lets you do this.
2. Smaller Indexes (i.e. Moz and SEMrush)
Ahrefs and Majestic aren't your only two options. There are a couple of other free backlink checkers that maintain their own link indexes: Moz (OSE) and SEMrush.
However, their backlink indexes aren't as large as Ahrefs or Majestic.
Sidenote.
We didn't perform any comprehensive studies to identify the index sizes for each provider. Instead, we suggest you to try entering a few websites into all 4 tools and see who consistently gives you more data.
Let's take a look at what these tools offer on their free plans.
Moz (OSE)
Moz currently (June 2017) has 1.3 trillion known links in their index. For comparison, Ahrefs' link index is more than 10x bigger, with 12 trillion known links.
However, Moz's metrics, namely Domain Authority (DA) and Page Authority (PA), have become industry standard metrics amongst SEOs.
In fact, DA is so widely used that some people even confuse it as being an official Google metric.
Sidenote.
Ahrefs
DR
/
UR
are comparable metrics to Moz's
DA
/
PA
. However, this isn't to say that Ahrefs'
DR
/
UR
are better than other third‐party metrics, such as those from Moz. As far as we're aware, nobody has studied the relative quality/accuracy of all third party backlink metrics, so it mostly comes down to your personal preference right now.
Unlike Ahrefs and Majestic, Moz (OSE) doesn't really have an Overview/Summary tab; they pretty much show external backlinks right away.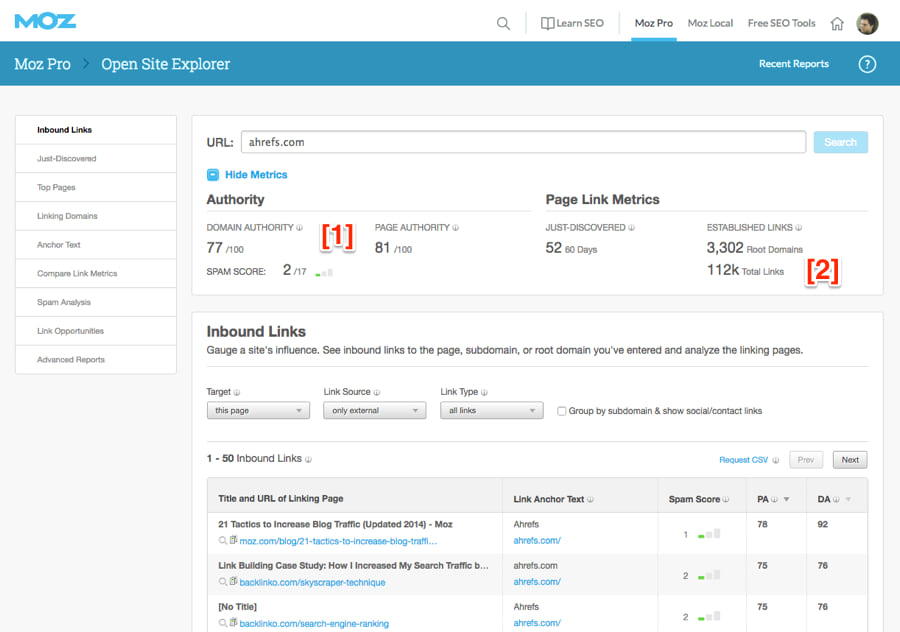 Here's a breakdown of the data points OSE shows:
Domain Authority (DA), Page Authority (PA) & Spam Score [1];
Total External Backlinks and Ref.Domains [2];
However, even with a free account, OSE gives access to a much greater quantity of data than most other free backlink checkers.
For example, although it only shows metrics (i.e. DA/PA/Spam Score) for the top 5 backlinks (note: it shows 20 for free Moz community members), it will show you the linking page for all backlinks in the index.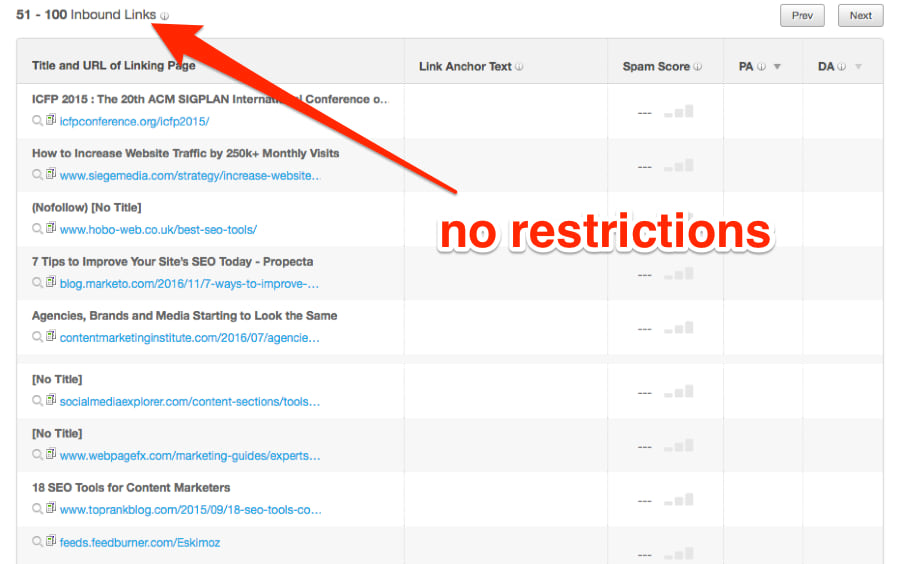 Moz also gives free access to the Linking Domains report and semi‐free access (i.e. they show 5 pages/terms, or 20 for registered users) to both the Top Pages (showing you the most linked‐to pages on the site) and Anchor Text reports.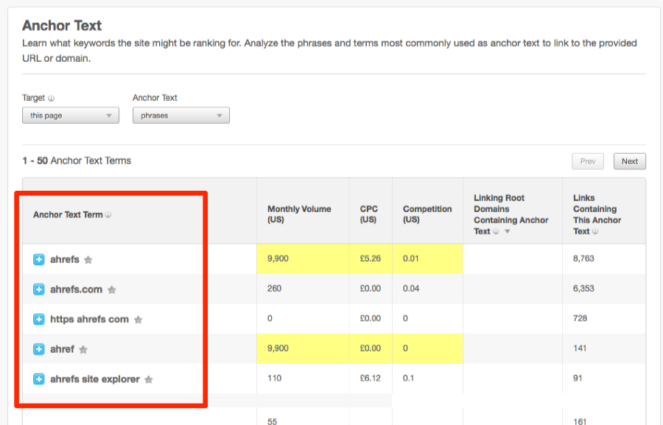 In terms of daily restrictions, here's what Moz had to say:
URLs and domains are effectively the same in this case — we just refer to 'searches', regardless of whether they are for domains or specific URLs. Unfortunately, the 'Request CSV' option is not available to Free Community accounts.
There seems to be some confusion about that last part as, within OSE itself, they state that you can "export up to 10,000 links with a maximum of 25 links per domain".


However, while playing around with OSE, I found that while the "Request CSV" did appear to work for registered users (i.e. those with a free Moz Community account), the .csv export maxed out at 1K rows. This may simply be a bug.
SEMrush
SEMrush offers a suite of competitor research tools, one of which is a backlink checker.
Sidenote.
According to
a recent statement from SEMrush
, the size of their backlink index currently stands at 3 trillion backlinks, which is roughly ¼ the size of Ahrefs' index.
Let's take a look at the Overview report in SEMrush.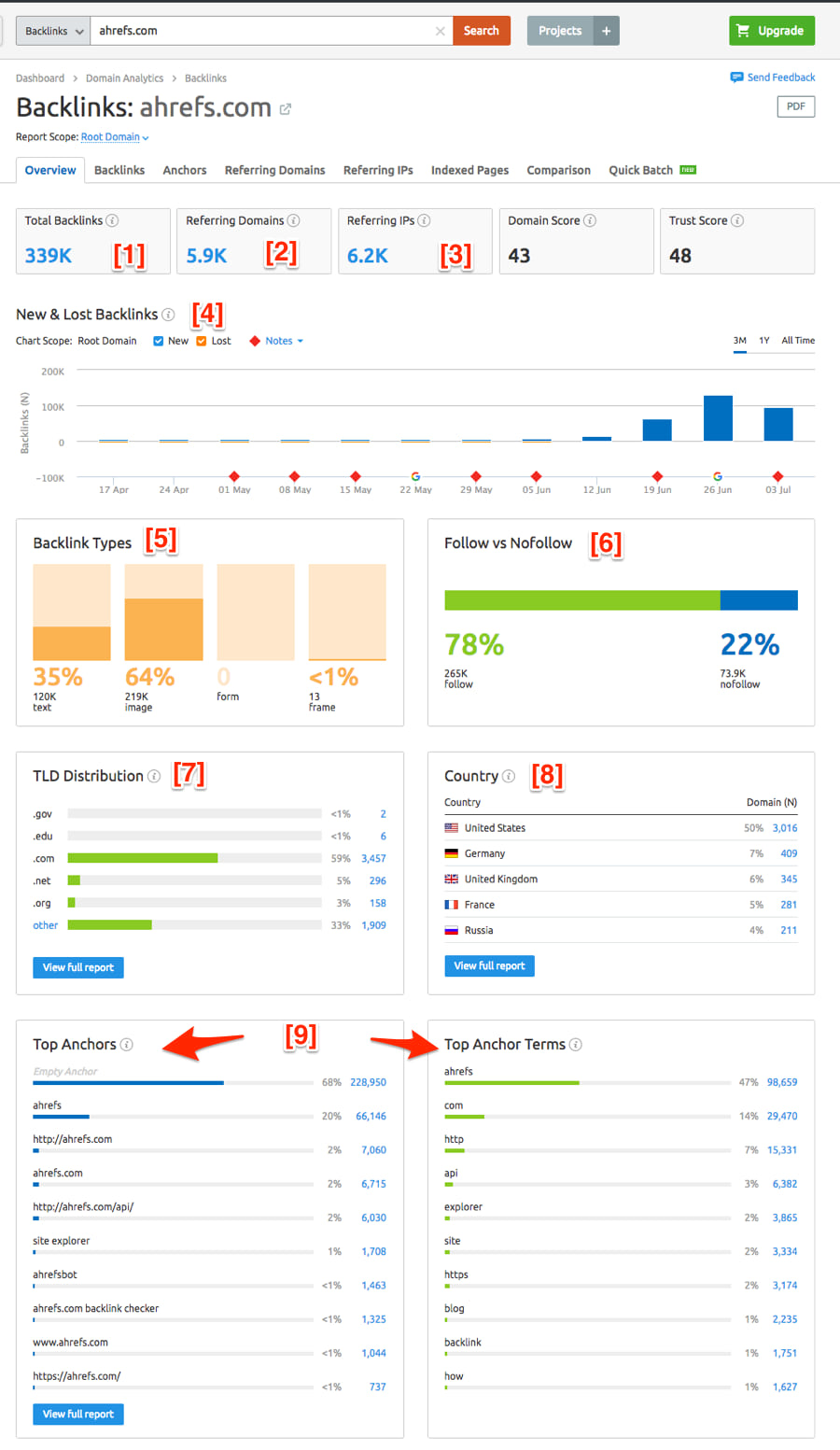 Here's a breakdown of the data points:
Total External Backlinks [1], Ref.Domains [2] & Ref. IPs [3];
New & Lost Ref.Domains & Backlinks [4] graphs (for either 3 months, 1 year, or all time);
Backlink types [5] (e.g. text/image/etc) & Dofollow/Nofollow breakdown [6];
Ref.domains TLDs [7] & CTLDs [8] distribution;
Anchor text breakdown [9] (including top anchors and top anchor terms).
Visually their Overview report looks nice and clean, and it is almost on par with what Ahrefs & Majestic give you (even though it is built off a much smaller backlink index).
Moving on to the Backlinks and Referring Domains reports, you're able to view 10 rows using a free account, with the rest of the data hidden.

Sidenote.
The filters are fully‐functioning, too (much like at Ahrefs); you can filter out dofollow/nofollow links, specific link types (i.e. text/image/etc), new/lost backlinks, along with a few other "advanced" filtering options. A few cool options here include the ability to filter out sitewide links, specific anchor texts, and links from specific countries (i.e. domain extensions).
In terms of restrictions, here's what SEMrush had to say:
On the free account you can get 10 reports per day and see 10 results in a report. Each time you change a domain or URL in 'Backlinks', you make a report.
Similar to Ahrefs, SEMrush does allow data to be exported, although you can only export 10 rows on a free account (Ahrefs allows up to 1000 rows).
Overall, SEMrush is pretty generous with the amount of data they allow access to on their free account; almost on par with Ahrefs & Moz.
3. API powered
If you Google the phrase "free backlink checker", you'll be greeted with quite a few alternatives to the aforementioned tools.


But when you start looking into how they acquire their data, you realise that almost all of them are powered by API's from one (or more) of the tools mentioned above.
For example, here's a sample link report from Monitor Backlinks: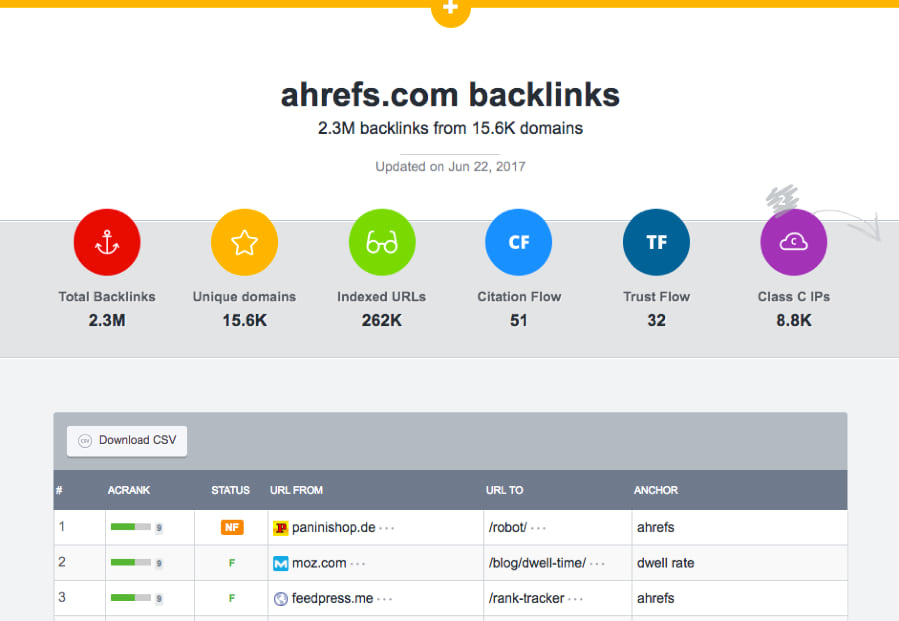 ACRank is a Majestic metric, so it's clear right away that they're pulling their data from Majestic.
Monitor Backlinks also pulls in Trust Flow and Citation Flow metrics, along with Moz metrics (i.e. DA/PA/Spam Score), when viewing backlinks for your own website(s).


(However, you do have to register for a free trial to do this.)
Similarly, the backlink checker from SEOReviewTools.com uses the Moz API to obtain backlink data/metrics.
The free backlink checker from Linkody also pulls in Moz data (i.e. MozRank, DA, PA, Spam Score).


(However, only DA is visible for unregistered and free trial users.)
Basically, almost all of these "free" tools are either powered by Majestic or Moz. It's usually pretty easy to guess which one simply by looking at the metrics they show (i.e. DA/PA or TF/CF).
Sidenote.
Currently, none of these tools are powered by Ahrefs because, unlike Moz and Majestic, we don't resell our data. We only allow it for in‐house use. However, you can connect your Ahrefs account via OpenApp to some third party tools like
URL
Profiler and Kerboo, which offer a nice extra layer of functionality. I listed a number of these tools in
my recent post about link building tools
.
4. Others
I know what you're thinking…
"If tools aren't obtained data from their own indexes and/or third‐party APIs, where are they getting their data from?"
Believe it or not, I stumbled across a few tools that appear to be scraping Google for backlink data.
One such tool is the backlink checker from Small SEO Tools.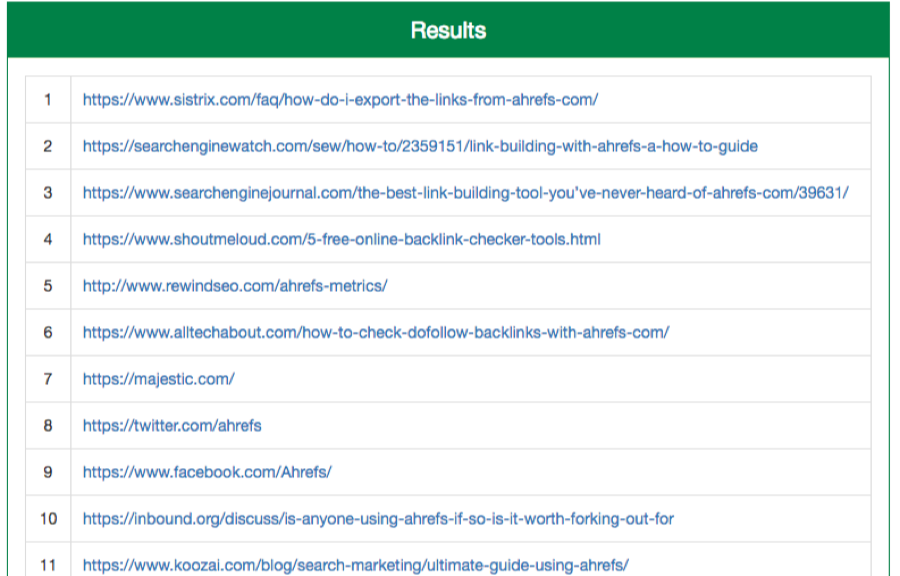 If you compare this to a link:domain.com search in Google, the results are somewhat similar. This only shows a list of URLs without any associated metrics.
If you were to do this using Google itself, you wouldn't even be limited to 100 results as you are with this tool.
Sidenote.
These results don't align perfectly with a
site:
scrape (they're just very similar). It may simply be the case that this tool, and others, are merging data from multiple sources (e.g. Moz
API
). Either way, this tool still doesn't offer any additional insight over a Google
site:
search, in my opinion.
The only other way to check backlinks would be using Google Webmaster Tools, but this would only be an option for websites you own. You couldn't research competitors with this.
Final Thoughts
In all honesty, although there are a fair few "free backlink checker" tools around the web, the majority of them aren't worth your attention.
Most of these tools simply pull data from the APIs of the "big guys", without offering any additional layers of data or insights.
The bottom line is this:
If you want reliable and comprehensive data from a "free backlink checker", you need to use Ahrefs or Majestic. Moz and SEMrush are a second best choice, in case you're not too sensitive to the size of the backlink index.
And if you're even remotely serious about SEO, you need to get yourself a full and unrestricted access to one of these tools. There really is no way to get that quantity of data for free.
Here are our general recommendations for your choice of a free backlink checker tool to start off:
If you want free data, choose Ahrefs as we have a large backlink index with lots of great graphs and reports;
If you don't care about knowing every single link there is, both Moz and SEMrush will give you enough data to work with;
If you want free data for your own site, choose Majestic, as verified sites get all data. (note: don't forget to also use Google Search Console for your own website)
If you want reliable SEO metrics, pick Ahrefs/Majestic/Moz. All three are nicely adopted by SEO community. (Moz is the most popular.)
Note from Tim Soulo:
Clearly, this article is not based on any kind of scientific research, but rather reflects our subjective thoughts about the free functionality of the aforementioned free backlink checkers.

Initially, we did this comparison for our internal purposes. We wanted to find out if our "free access" limitations were on par with what others have.

So in all honesty, we're probably going to tighten up the functionality of our free backlink checker a bit, so that we wouldn't stand out too much from the rest.