I'm now looking at Ahrefs usage statistics, and what they tell me is that a lot of you guys are still not using our Content Explorer tool.
Well, last week I pitched it to you with an announcement of a brand new feature called Find Influencers, but that was just a warm up!
This week I'm pitching you three new reasons to use Content Explorer.
And the first one is…
One BILLION Pages Indexed
In case this number alone is not big enough to impress you, lets compare it to what Google has in its index so far.
According to worldwidewebsize.com the estimated size of Google's index is 47 Billion web pages.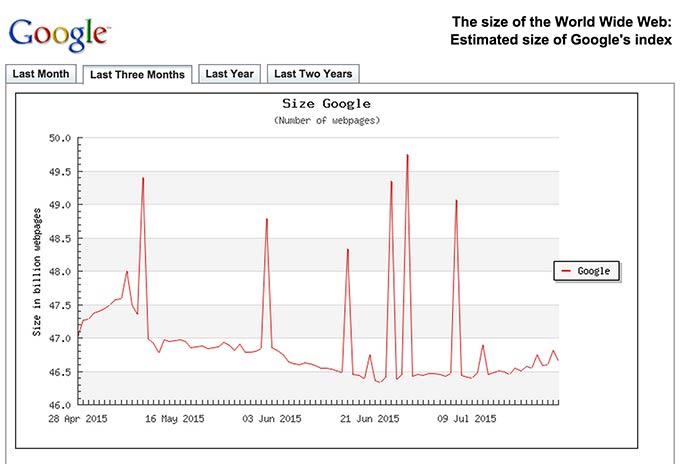 But indexing the whole web was not our goal with Content Explorer (FYI the index of Site Explorer is 150+ Billion pages). We're only saving pages in our index if they pass a certain criteria.
Like "is this page even an article?"
Or "was it shared on social networks at least a few times?"
So even considering these two simple criteria, you can tell that we did a very decent job crawling a database of 1 BILLION articles that you can now easily browse and sort using all kinds of filters.
But let's move on to the reason number two…
Fancy Graphs
Remember that huge roundup with 90 SEO experts that we've published a few weeks ago?
Well, would you like to see its growth in terms of referring pages, social shares and organic traffic?
Piece of cake!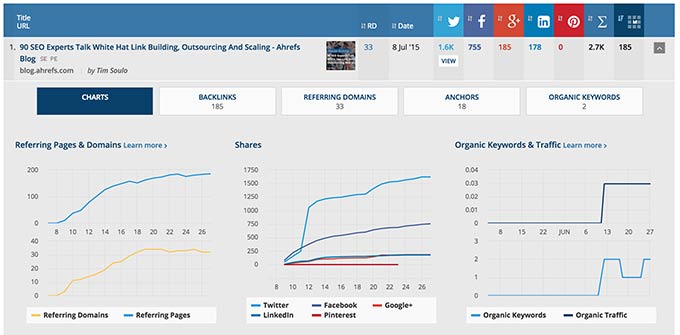 These graphs can help you guess if the piece of content that you're looking at is:
Viral Content;
Evergreen Content;
LinkBait Content;
Gets tons of traffic from search.
Cool? Wait, there's one more to go…
The "Robin Hood" Technique
Actually I have recorded a short little video explaining how to use this technique to supercharge your link building with guest posts:
But if you don't have audio speakers or my funny Russian (actually Ukrainian) accent scares you away, below is a quick recap of what I suggest you to do.
Link building with guest articles consists of 2 phases:
Phase #1: Coming up with a cool article idea that will happily get accepted by any blog.
Phase #2: Finding dozens of new blogs to pitch your cool ideas to.
So for the "Phase #1" I suggest to put some keywords into Content Explorer that best describe the topic that you would like to write about.
You'll instantly get a list of relevant articles ranked by how many shares they got on social media:

If you're like me, after reading a few of these top-notch articles you'll easily come up with a few great ideas of your own.
And we move to the "Phase #2."
Go to page 10 of Content Explorer results for that same keyword and you'll see a list of articles on the same topic that weren't that successful.
This means you can reach out to the blog owner and offer him to tackle this topic based on the most shared articles you've just read.
I guarantee you that the success rate will be above 70% (considering you're a decent enough copywriter).
So basically you "steal" proven content ideas from the big blogs and publish them as guest articles on smaller blogs.
Hence the name of the technique — The "Robin Hood" Technique.
Hope you like this name.
La Fin
That's it! I try to keep these "Monday articles" really short.
Let me know if you have any feedback on what you've just read and I'll be glad to continue discussion in comments!