There's much more to marketing your music than just promoting it to your fans.
Every band, solo artist, songwriter, producer, record label, venue, and promoter should have a firm grasp of the four Ps—product, price, promotion, and place (distribution)—if they want their music to succeed.
In this guide, we'll show you how to use marketing to reach your music goals in seven steps.
But first, let's address the basics.
For this, let's adapt the AMA definition of marketing. Music marketing is the act and process of creating, sharing, delivering, and exchanging music offerings that have value to customers, fans, or partners.
So let's break down this definition.
Creating – Marketing is about creating music products (which you're doing already).
Communicating and sharing – Marketing is telling people about your music. "The best thing about doing something you love is sharing it with someone who loves it too." – Eric Prydz
Delivering – Marketing is about delivering music to fans and customers.
Exchanging music offerings – Your music gives fans value; in exchange, they provide you with value by consuming or buying your music.
Accordingly to Spotify, of the 8 million people who have uploaded music to its platform, 5.4 million have published fewer than 10 songs. This data suggests that they may be new to music, approaching music as a side project, or not leveraging streaming.
Around 165,000 artists have released at least 10 songs, and 199,000 have had a gig or live concert.
Of these 165,000 to 199,000 artists, 25% earn more than $10,000 from Spotify streaming and $40,000 or more in total revenue.
| Published on Spotify | Musician status | Number | Percentage |
| --- | --- | --- | --- |
| At least one song | New to music | 8 million | – |
| Fewer than 10 songs | Hobbyist, side project | 5.4 million | 67.5% |
| 10 or more songs | Aspiring, not leveraging streaming or music career | 165,000 | 2% |
| Earning over $10K from Spotify | Earners drawing streaming and concert income | 41,250 | 1% |
While this is how Spotify identifies musicians, you may identify yourself as a:
Band.
Solo artist.
Songwriter/composer.
Record producer.
Music venue.
Combination of the above.
No matter where you are in your music career, author Steven Pressfield sums up the artist's way:
There is no worse feeling for a writer or any artist than to see their book, their film, their comedy, their music go out there and die. Or worse, go out into the world and nobody even knows they exist. I've experienced it more than once and it's heartbreaking.
Follow these seven steps to nail your music marketing.
Step 1. Create or decide your product
All marketing starts with a product, even if it's just one song.
In traditional marketing, you look out at the market, see how big it is, what it wants, and how your product is different.
But you can't think of your product in the same way as a Tesla car or cornflakes.
The product comes from within for the artist or musician. You need to listen to your inner voice and figure out what you want to bring into the world.
Products
Here are some examples to help you understand what I mean by a "product."
A song or album
You create a song; a single release is a product.
You have three or four demos sitting in Ableton; that's an EP in the making.
The album you released last year to critical acclaim is a product—so is the proposed remix album you are considering.
A gig, DJ set, or tour
A one-off gig or DJ set is a product. Extend those gigs into a series, and you have a tour, which is another product.
Licensing
When Carly Paradis was commissioned to create the soundtrack for "The Rising" TV series, she created a product.
Caleb Murphy licensed a song to the TV series "Chicago Fire," and over 76% of his music income came from sync licensing.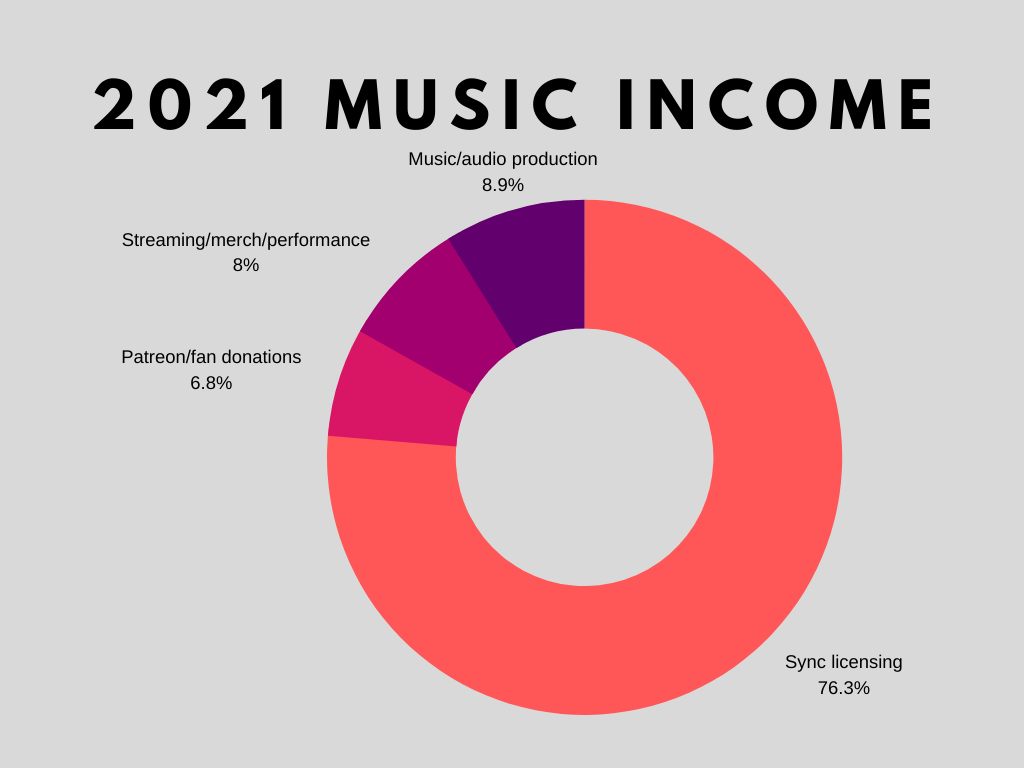 Get a synchronization license that allows someone to use your songs in commercials, videos, games, or even YouTube videos.
An exclusive sync license lets one party use your song, while a non-exclusive sync license lets an unlimited number of people use your music.
Merchandise
Different types of merchandise, such as clothing, vinyl, and CDs, are products.
Go to most concerts, and you'll see T-shirts, hats, and other artist merchandising.
You don't need a massive fanbase like New Order or Depeche Mode to sell merchandise. Spanish musician Henry Saiz sells a small collection of products on Bandcamp.
Record production
The production of a song or album is a product, whether you are paid a flat fee or negotiate a percentage of ongoing royalties.
Streaming
Music on streaming platforms, such as Apple Music, Amazon Music, and Spotify, is considered a product.
Session musician
A session musician is a person who plays music for a band, orchestra, etc., and is only needed to play a particular song or performance; a session is a product.
Artists like Clare Uchima tour with artists like Harry Styles, Pet Shop Boys, Kate Tempest, and others as session musicians while having their own music and merchandising.
Legal stuff
Make sure you take care of your products' copyrights, trademarks, and registrations. Talk to a lawyer, record label representative, and other musicians.
Here are some valuable resources and links:
After creating or deciding on your product, move on to the next step.
Step 2. Decide your pricing/income streams
Pricing is what people will pay for your product, and it should be linked to the real and perceived value of the product you offer.
For example, early birds pay a lower fee at this concert in Seattle.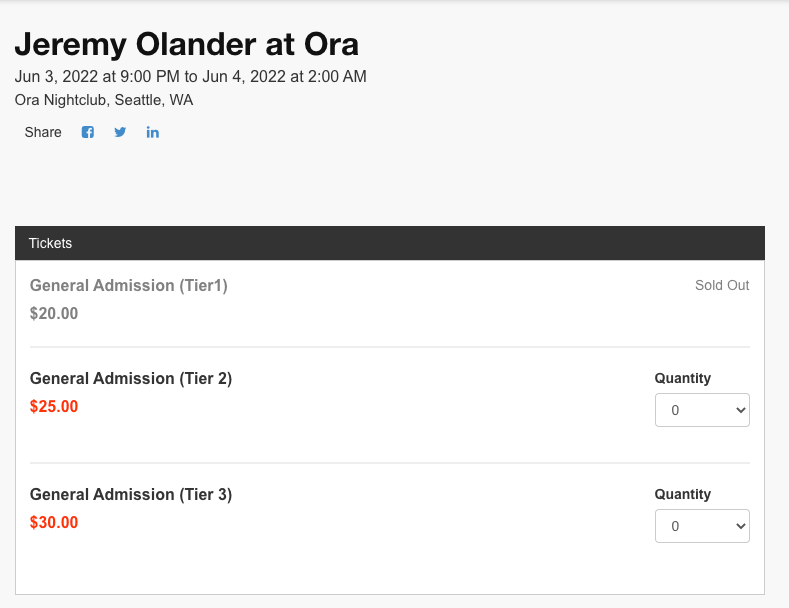 You can differentiate product value by using tiered pricing, such as standard, premium, and VIP tickets.
In most cases, musicians work with third parties, and everyone shares revenue.
The 15/85 rule for concerts and gigs
A good rule of thumb for artists and concert tickets is the 15/85 rule.
That means 15% of the gig income is for you; 85% is spent on agents, the venue, promotion, travel, accommodation, and other musicians.
If you are an unknown or new band, many venues will work on a revenue share with you. You promote and sell tickets to your gig, and they get a cut and all the bar and drinks revenue.
Streaming pricing
Spotify determines the price per play or stream.
Here's the estimated revenue for a band with 600,000 streams of its songs.
But remember, there are more streaming platforms than Spotify. You can use this calculator to work out your streaming income.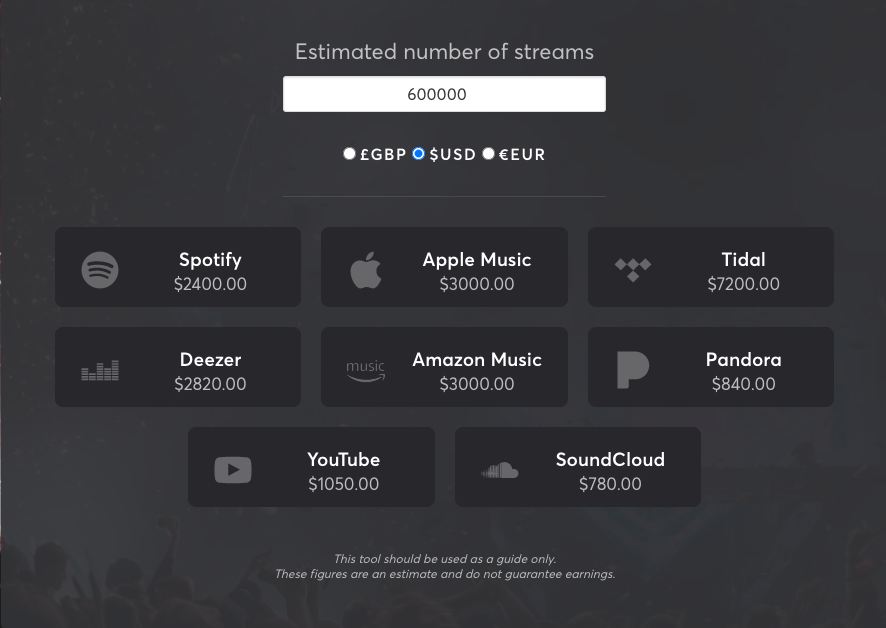 You may earn more if you release the edited version of a single or album for free on Spotify:
Then sell the extended versions on another platform such as Beatport:

Production
Producers' fees can vary considerably, but these examples illustrate some common scenarios:
Studio – $600 per day
Mixing – $300 per song
Mastering – $70 per song
Production – $350 per song (plus royalties)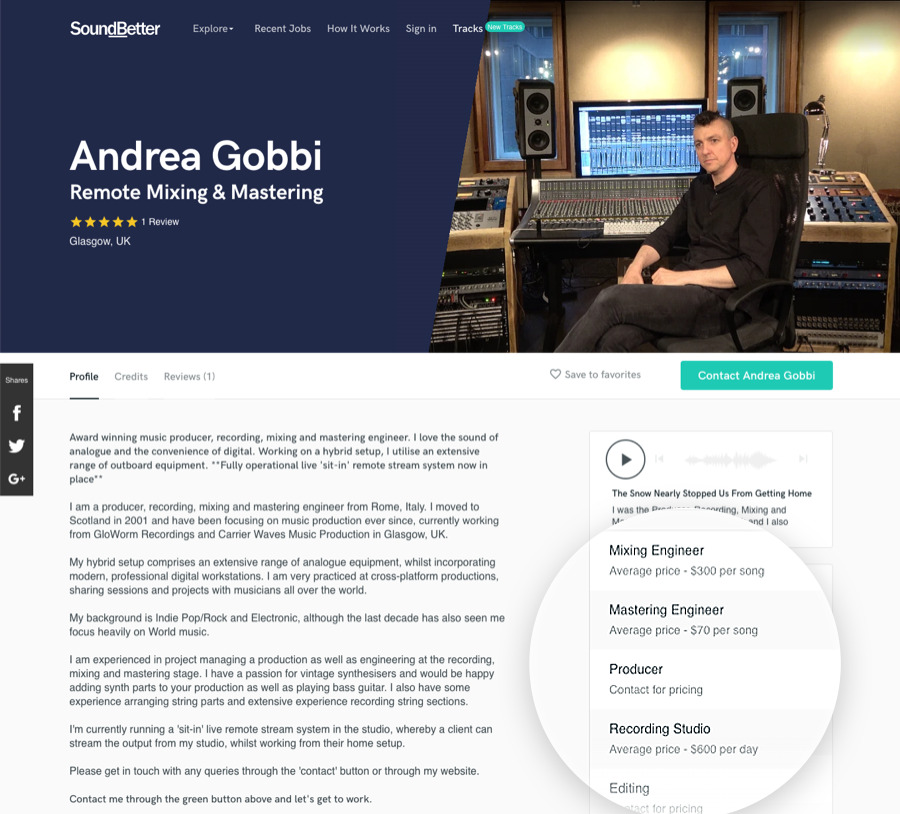 Merchandising
According to Spotify, the most popular types of merchandise across all music genres are:
Vinyl
Shirts
CDs
Other
Hats
Outerwear
Accessories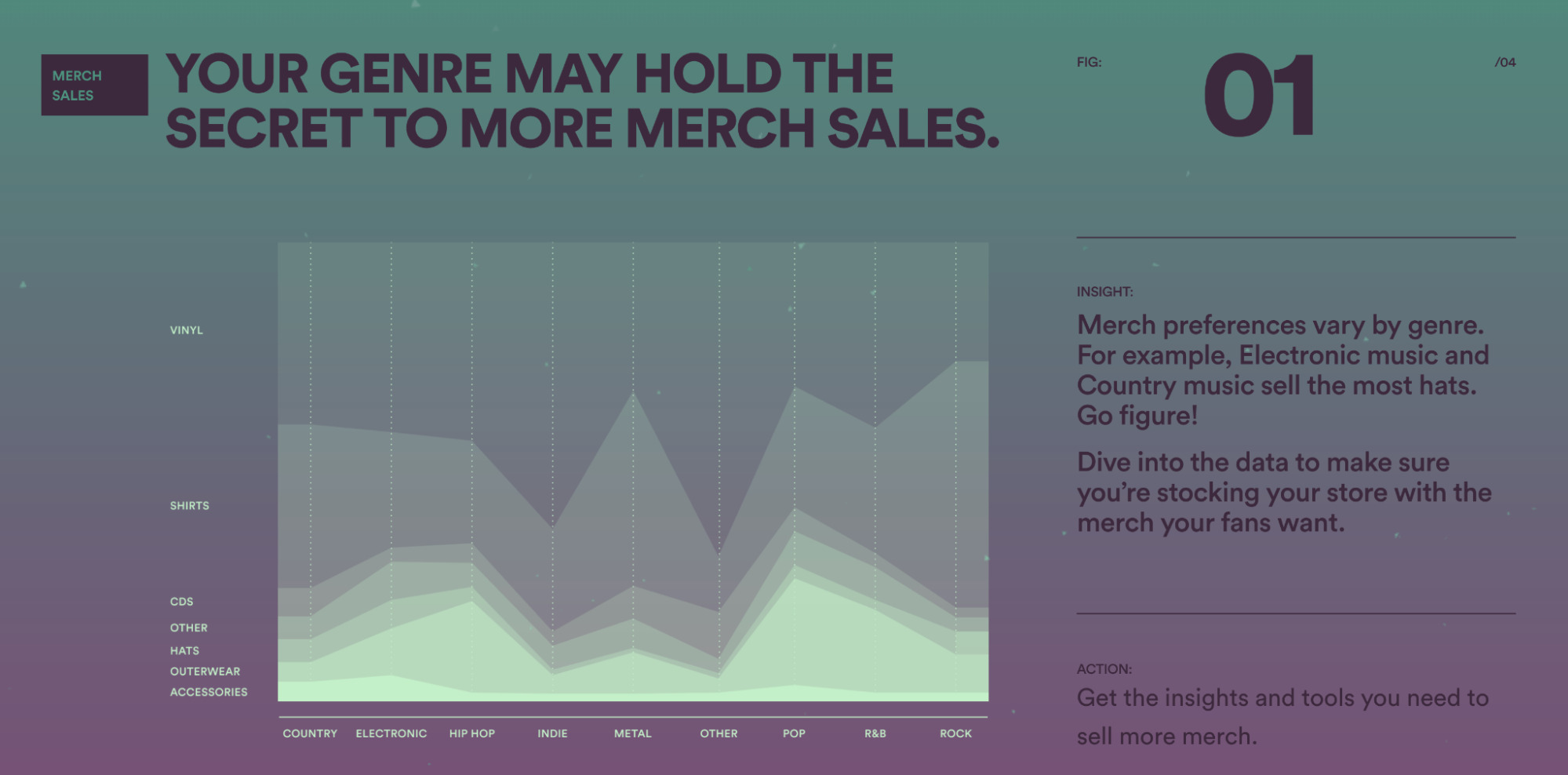 Artists and labels can use Merchbar to sell more merchandise directly or through channels like Spotify, Instagram, YouTube, and their own websites.
Merchbar manages the products, orders, payments, deliveries, and returns. But you can sell merch on Spotify as well:
Alternatively, add your merchandise to Bandcamp.
Session musician
According to the ​U.S. Bureau of Labor Statistics​, session musicians roughly earn these amounts:
Median annual salary: $58,552 ($28.15/hour)
Top 10% annual salary: $152,547 ($73.34/hour)
Bottom 10% annual salary: $21,632 ($10.40/hour)
By now, you should know which products you can create and which prices and income streams they're worth.
Now it's time to set a goal.
Step 3. Set a goal
If you have a clear goal, you can structure your marketing efforts to reach that goal efficiently.
If you've published one song on Spotify and only have a few hundred listeners or followers, your goal may be to get 10,000 streams of your song.
That's an achievable goal.
Or consider the 1,000 True Fans strategy: For example, you have 1,000 fans. Each fan spends $50 a year on your products. That equates to $50,000 revenue per annum.
But let's say the goal is a mini tour of eight gigs.
So eight gigs x 500 tickets sold per gig x $20 per ticket = $80,000.
And 15% of that is $12,000. That's fine for a solo artist or DJ, but remember that revenue is shared among band members.
If you're one of the millions who have added fewer than 10 songs to Spotify, you may have other goals, such as:
Securing one tour as a session musician with a band.
Earning one commission for a soundtrack or video game.
Booking four other musicians into your production studio per month.
You should have multiple goals when it comes to releasing and streaming your music because it will eventually grow your reputation and fan base in the long run. But don't forget to have another product with a more immediate revenue stream.
What now?
Step 4. Choose the places to distribute your product
There are many places to distribute your music or product so that it can be played, heard, seen, and/or purchased.
Here's an overview of key places to distribute each product type and links to relevant resources and guides.
Product
Key places to distribute product
Single or album
- Spotify
- Apple Music
- YouTube
- SoundCloud
- Bandcamp
- Tunecore, CDBaby, or EmuBands to distribute music to 100/150 other places
Gigs or concerts
- bandsintown.com
- Google search (Bandsintown widget)
- songkick.com
- ticketmaster.com
- livenation.com
- Facebook Events
- Spotify gig listing
- Your website
Merchandise
- Amazon for artists
- Spotify
- Merchbar
- Bandcamp
- Your website
Licensing
- CD Baby music licensing service
- YouTube Content ID – license to YouTube
- Music licensing companies
- musicbed.com
- musicvine.com
- audiojungle.net
- freesound.org
- pond5.com
- soundsnap.com
- mixkit.com
- storyblocks.com
- Personal networking with music supervisors
- Networking with filmmakers
- Networking with video game companies
- Use a music licensing agent
Production/session musician
- Personal networking
- Google search results
- Music production marketplaces such as SoundBetter and AirGigs
- Booking platforms such as Encore and GigSalad
Some of these places provide the ability to stream your music, list your gigs, and sell your merchandise, e.g., Spotify.
Next, you need to promote your products to reach your goals.
Step 5. Create promotional campaigns
Promotion is the tactics used to tell people about your product and encourage them to notice it and take action.
Your promotional campaign consists of pre-launch announcements, the launch, and post-launch activities.
Here's how Vivrant launched its compilation album.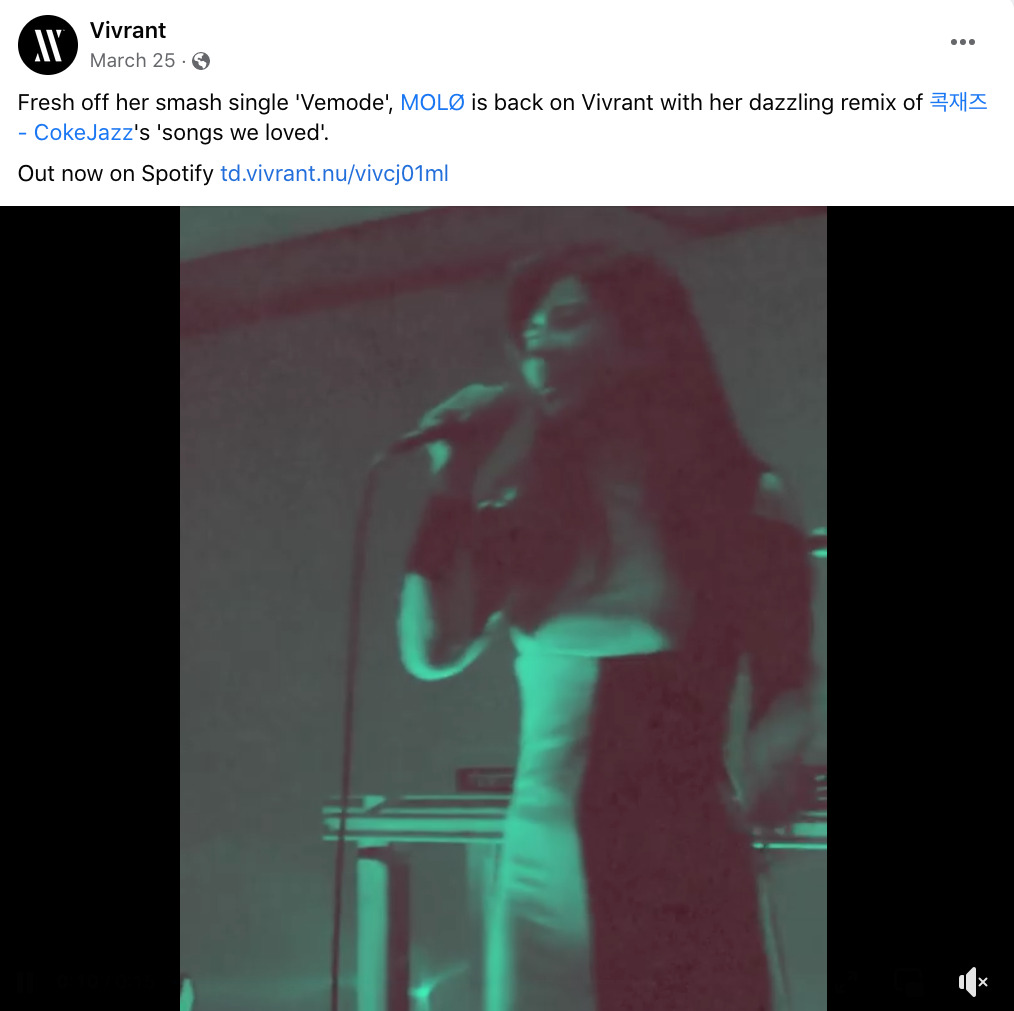 March 2 – Announce album; save and preview track #1 using fan links
March 4 – Launch track #1 on Spotify and link to all streams
March 7 – Spotify playlist appearance
March 9 – Announce track #2; preview on SoundCloud with partner and link to all streams
March 11 – Launch track #2 and link to all streams
March 17 – Announce track #3; preview on SoundCloud with partner and link to all streams
March 18 – Launch track #3 and link to all streams
March 24 – Announce track #4; preview on SoundCloud with partner and link to all streams
March 24 – Spotify playlist appearance
March 25 – Launch track #4 and link to all streams
March 25 – Track #4 appears on an Apple Music playlist
March 31 – Announce track #5; preview on SoundCloud with partner and link to all streams
April 1 – Launch track #5 and link to all streams
April 18 – Mixmag.com interview about the album
April 20 – SoundCloud mix features album songs
April 25 – Spotify playlist appearance
Planning for this event would have begun months before the first date mentioned above, and some larger venues plan events a year in advance.
Songkick provides the tools for artists, managers, venues, and booking agents to list and promote their live events and notify fans to promote pre-sales.
You can use tools like ToneDen to allow fans to pre-save or pre-add songs to their streaming platforms so that they can listen to or buy them on the release date.
Website
Your website should be the focus of your promotional efforts.
First, you'll need a logo, color scheme, fonts, and photography.
Your best bet is on low-effort and low-cost website builders like Bandzoogle, Wix, or GeneratePress (customize the "Solo" template).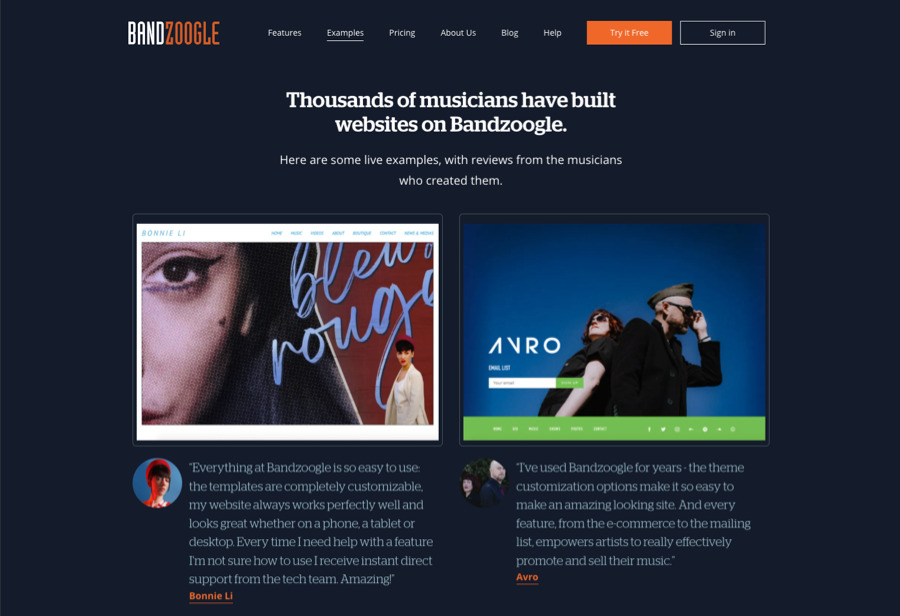 The website should have the following sections:
Your music (or equipment)
Previous and forthcoming gigs or events
Press kit and images
Videos
Biography
Contact form or "subscribe" button
Once you're done with the website, you should make sure that it's well optimized for both users and search engines. To do that, add the website to Ahrefs Webmaster Tools, which will analyze and monitor everything for you for free.
Search traffic
Depending on the type of musician and product you sell, you may want to develop content beyond these essentials.
For example, a mixing engineer or producer may want to communicate their experience or expertise by writing articles or guides to help secure a solo artist or band as a client.
And there's quite a lot of content that can be covered. For example, this website has pages about home studio setup, DIY vocal booth, how to master a song, how to make an album, etc.
Its 1,000+ pages drive almost 80,000 monthly visits from Google: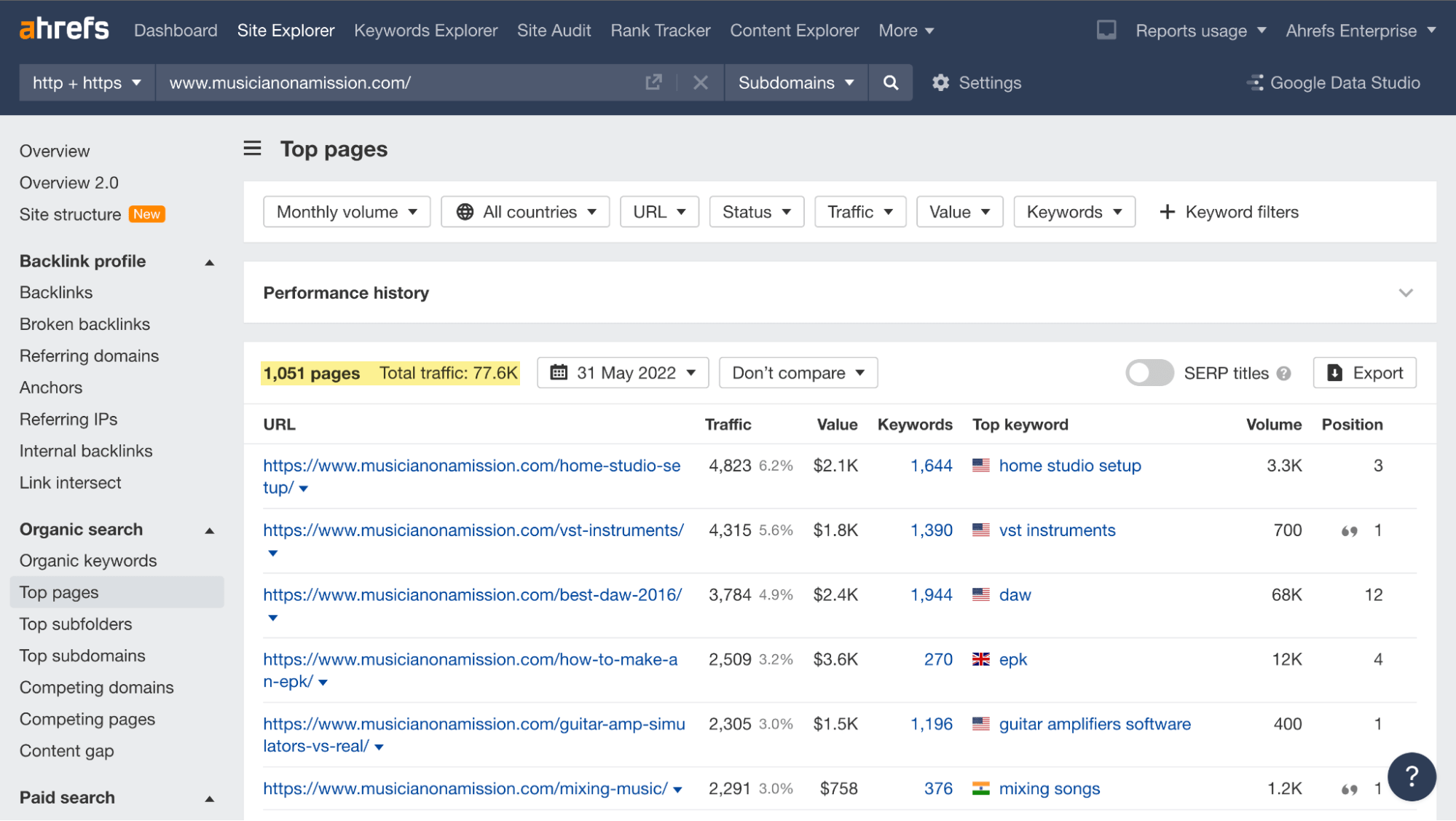 King Tuts, a renowned music venue in Glasgow, generates nearly 10% of its search traffic from its artist profile pages.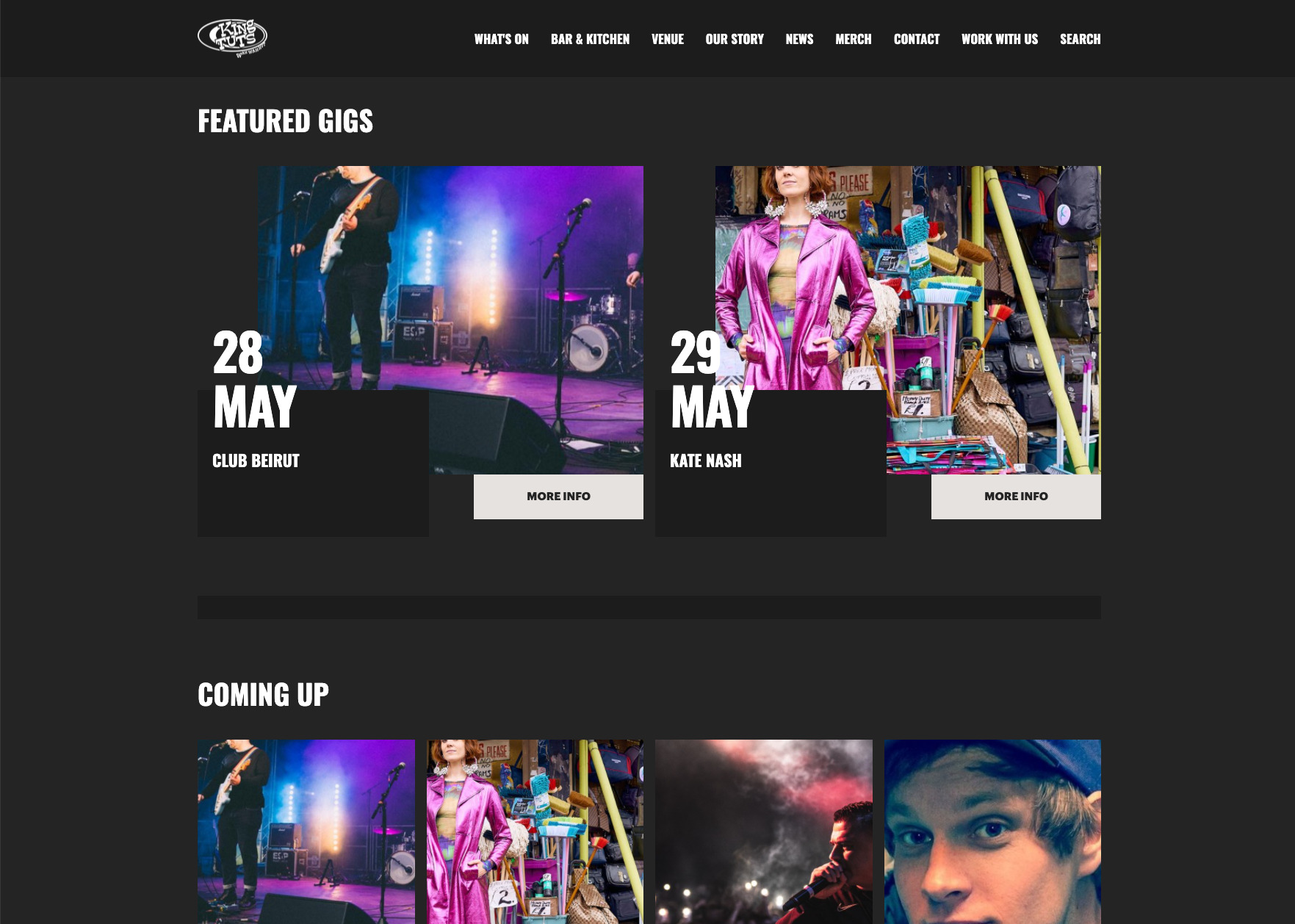 So when fans search for a band, King Tuts shows up near the top of Google's search results, promoting the venue, band, and ticket sales.
Email marketing
Your website and social channels should have a contact or subscription form to capture the email address of fans (or potential customers) who can receive advance notifications and news from you.
Email platforms, such as Mailchimp and ConvertKit, allow musicians to create a free-of-charge mailing list of 2,000 and 1,000 people, respectively.
Here's an email from Liam Gallagher to pre-order tickets and an album months in advance of the release.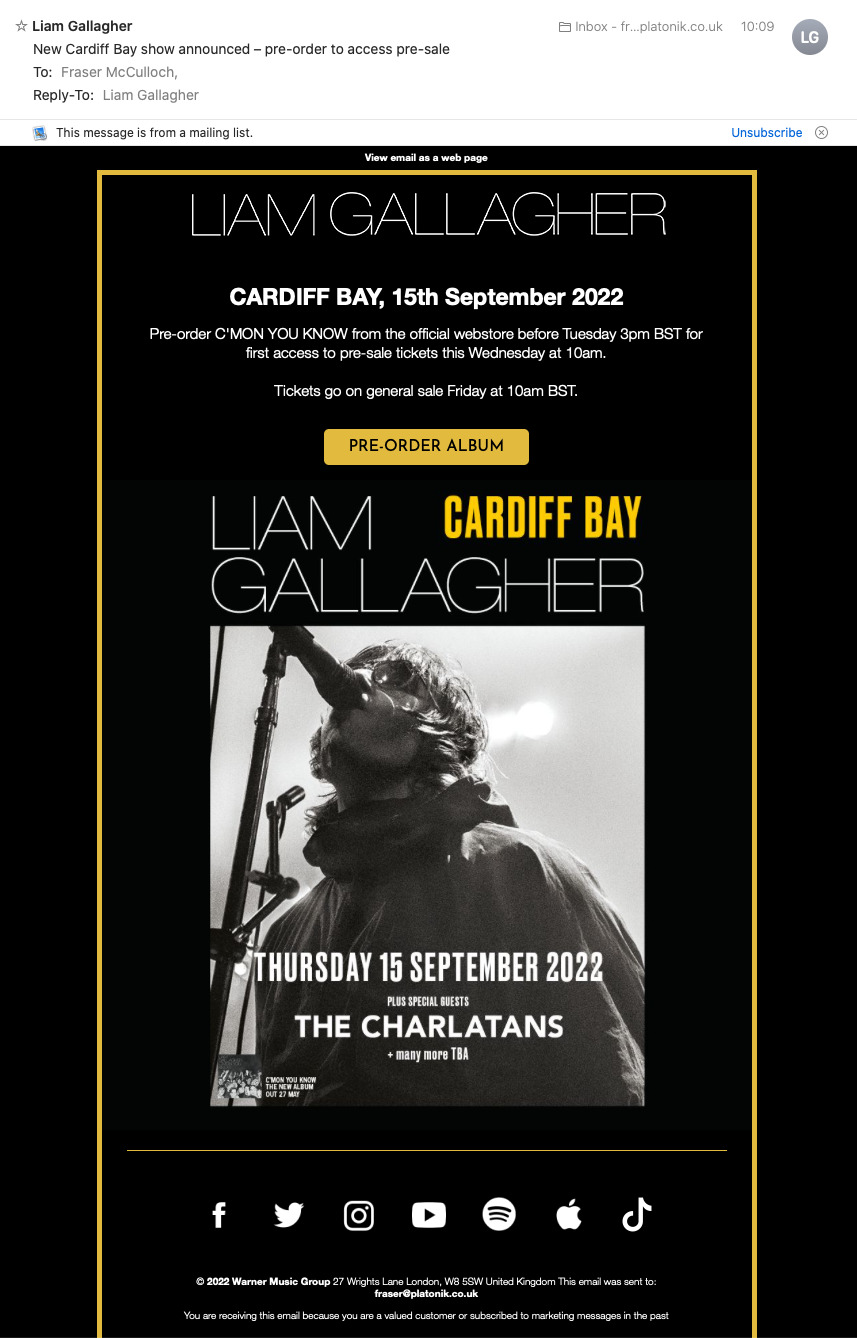 The first thing you see on Ushuaia's website is a subscription form: "Subscribe to our newsletter to receive the most updated information on the DJs of the season."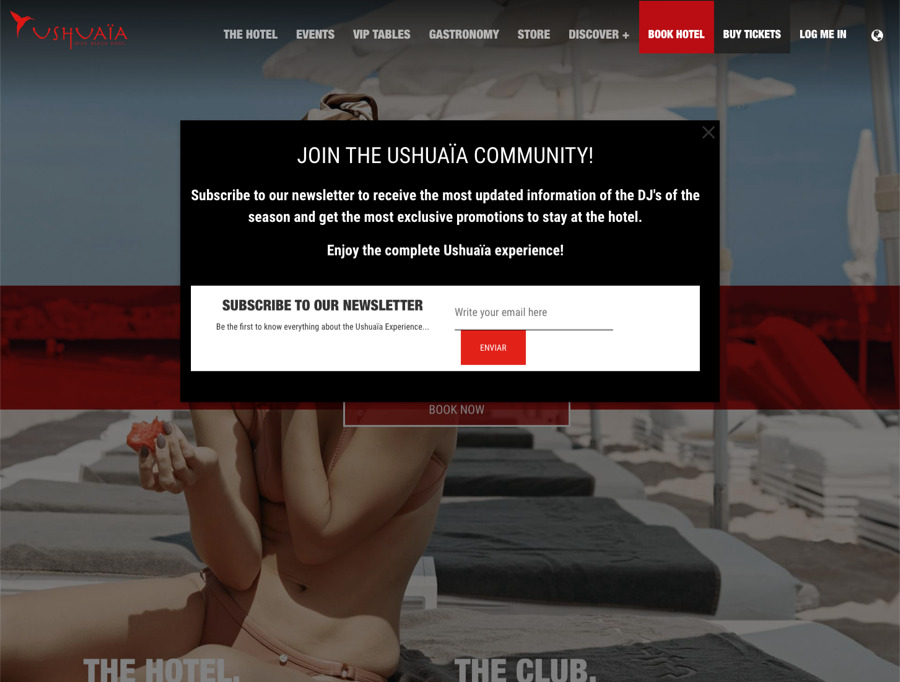 In addition, you can add links to your subscription form from your social media profiles using tools such as Linktree or ToneDen smart links.
Social media
If you haven't done so already, set up the following social media accounts:
Facebook
Instagram
Twitter
SoundCloud
Bandcamp
YouTube
TikTok
Spotify
Of course, take into account your listeners. TikTok will likely be a waste of time if you have a predominantly older audience.
You or your team can use Canva's templates to design images and videos and then publish them to your social media channels.
Press kit
An electronic press kit is a collection of information about you or your band, including your logo, photographs, contact details, social media links, and any other relevant content.
A press kit is great for music journalists who use it when writing articles or doing features about you.
The ideal place to store a press kit is on your website.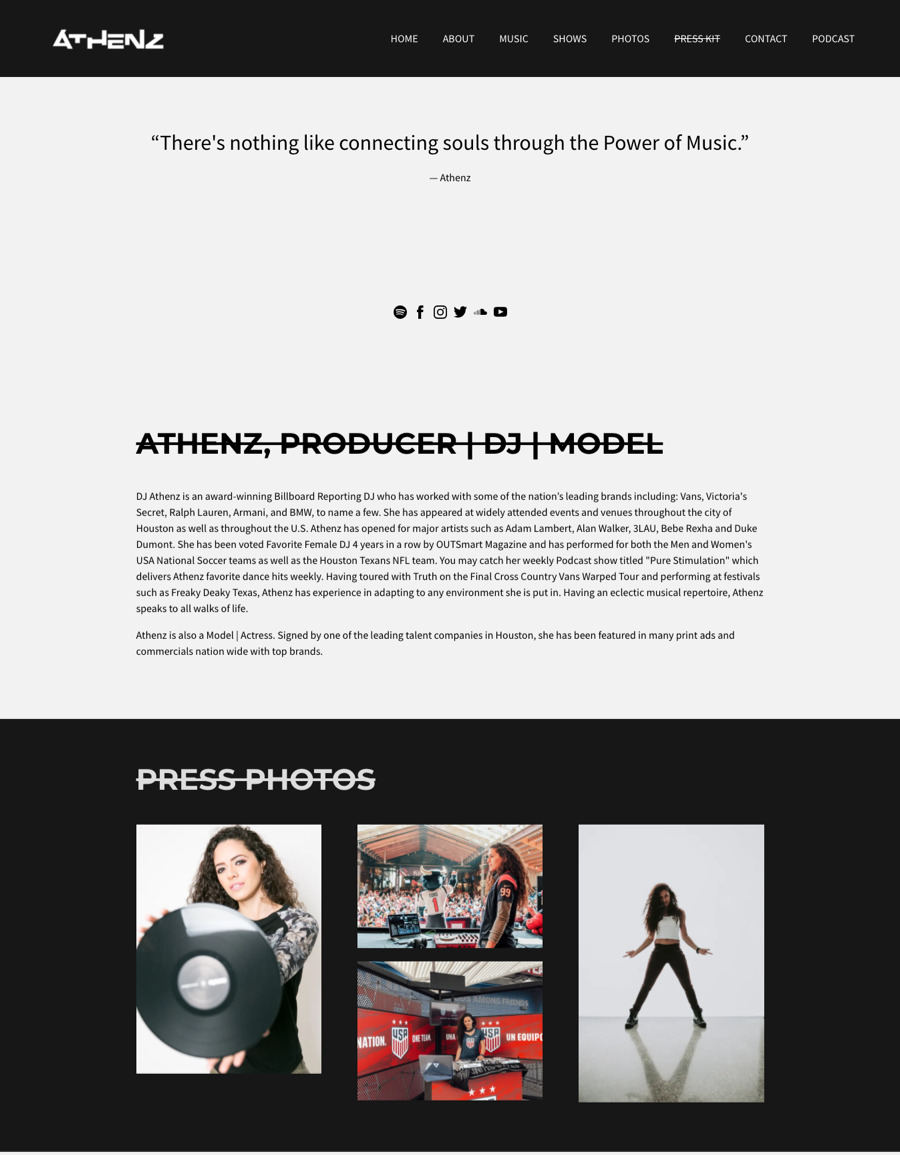 Spotify for artists
Spotify is built for artists, and you can use it to promote your songs, gigs, or merchandise.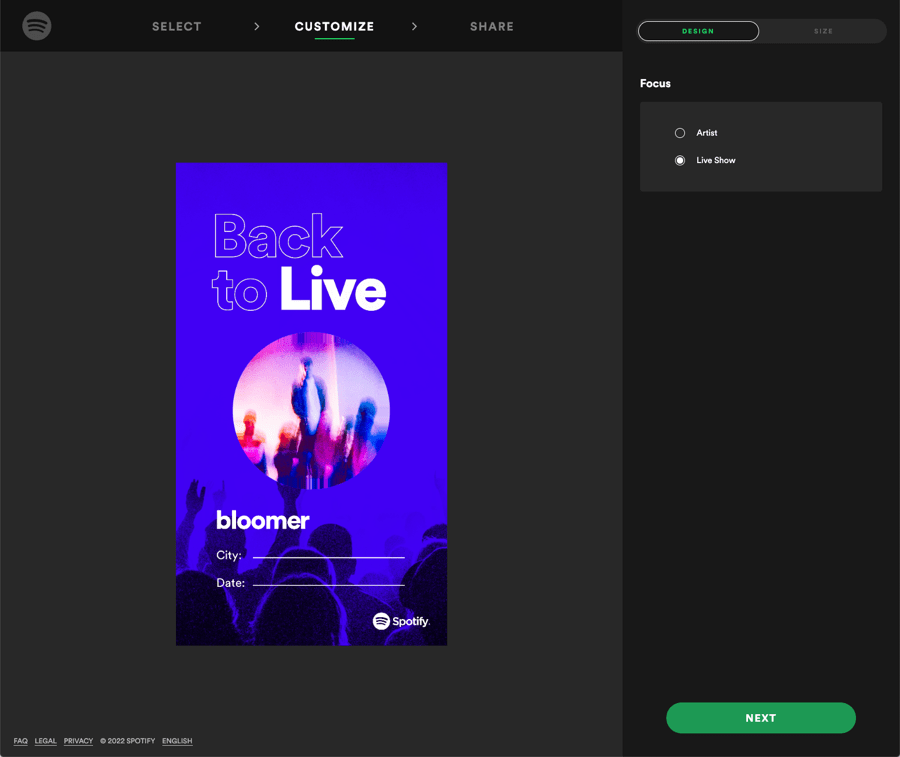 Wikipedia
Search for any artist or band and, in most cases, the top result is a Wikipedia page.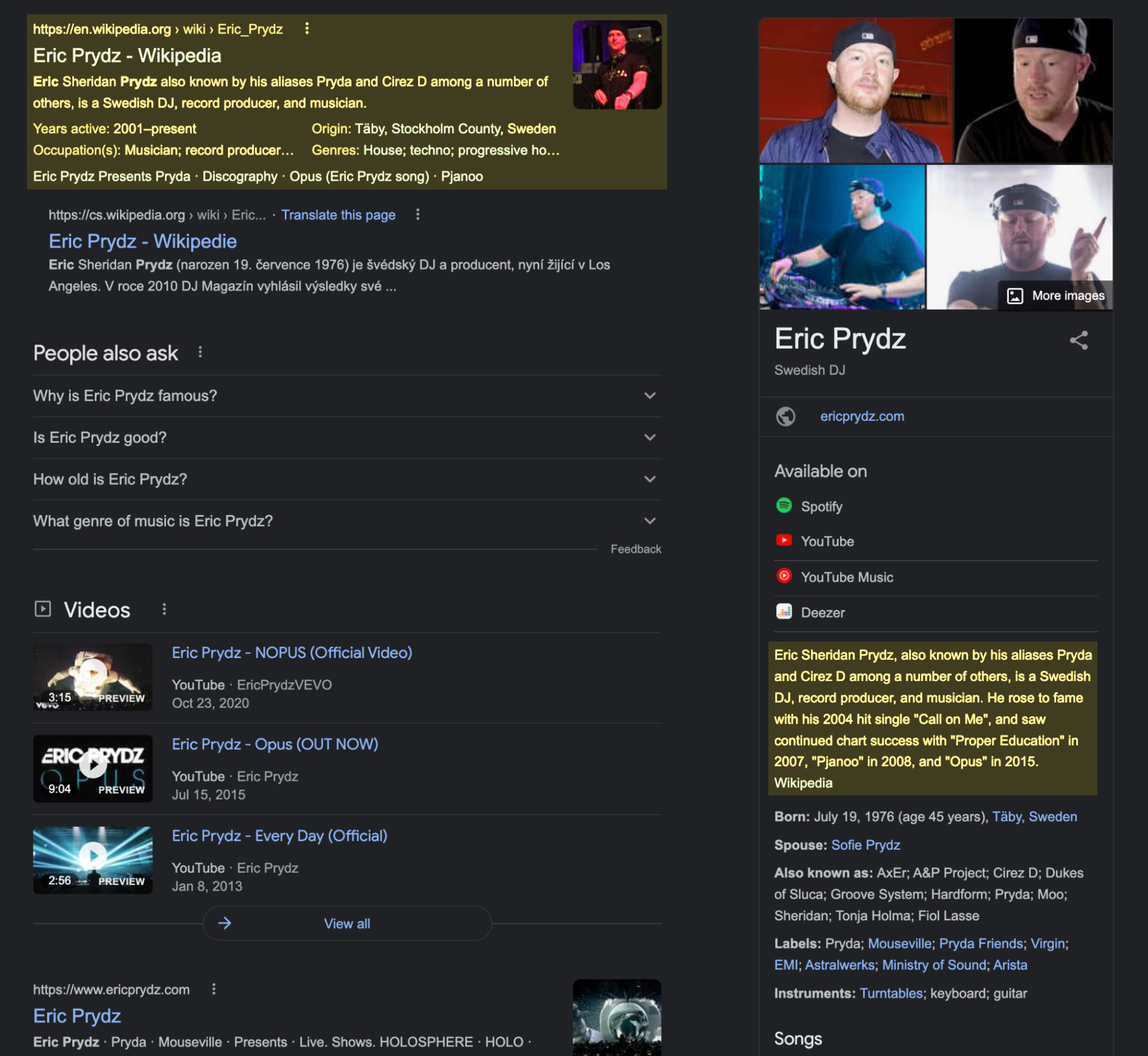 Getting a Wikipedia page is difficult for most businesses, but it should be easier for artists who already have some coverage and history.
Recommended reading: How to Create a Wikipedia Page (Step by Step)
Pitch to journalists
An essential part of promotion is to pitch products or stories to relevant journalists so that they can feature such content in their publications or websites.
For example, here's a new musician featured in DJ Mag who played a live set from an abandoned concrete plant in Sweden.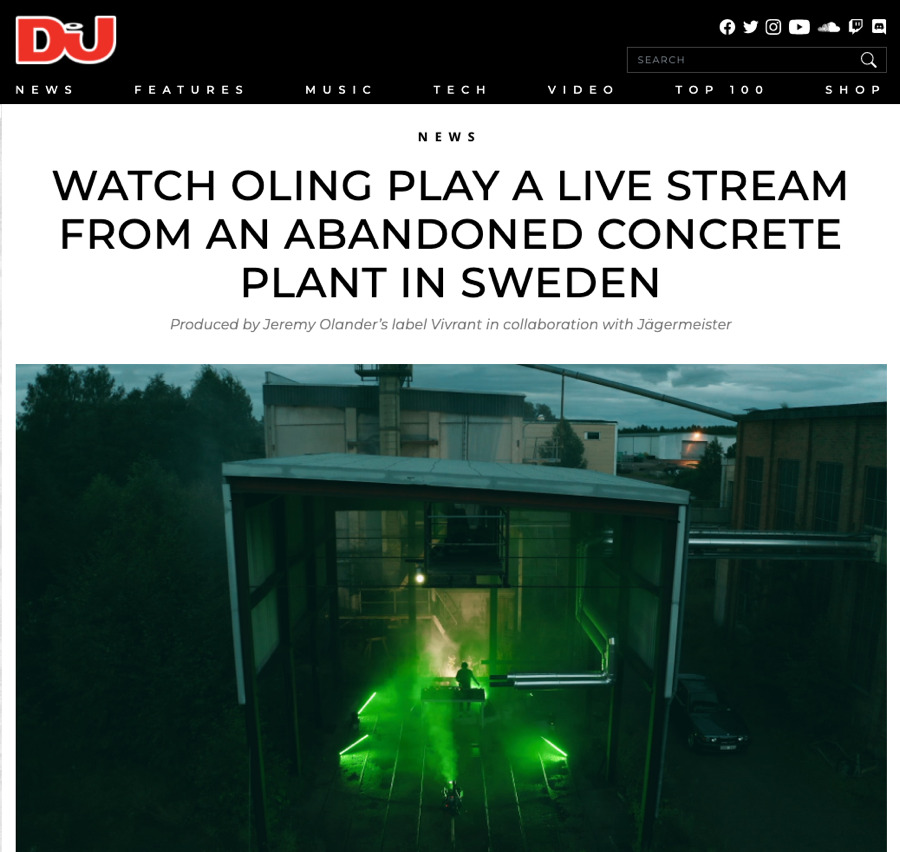 This event was "pitched" to promote his new EP.
So how do you find journalists?
1. Find journalists
Use Ahrefs' Content Explorer to identify journalists for your genre of music, e.g., rock.
Enter this search query:
"alternative rock" OR "alt rock" OR "indie rock" OR "stoner rock" OR "psych rock" OR "surf rock" OR "post rock"

You'll then see a list of potential journalists to contact under the "Authors" tab.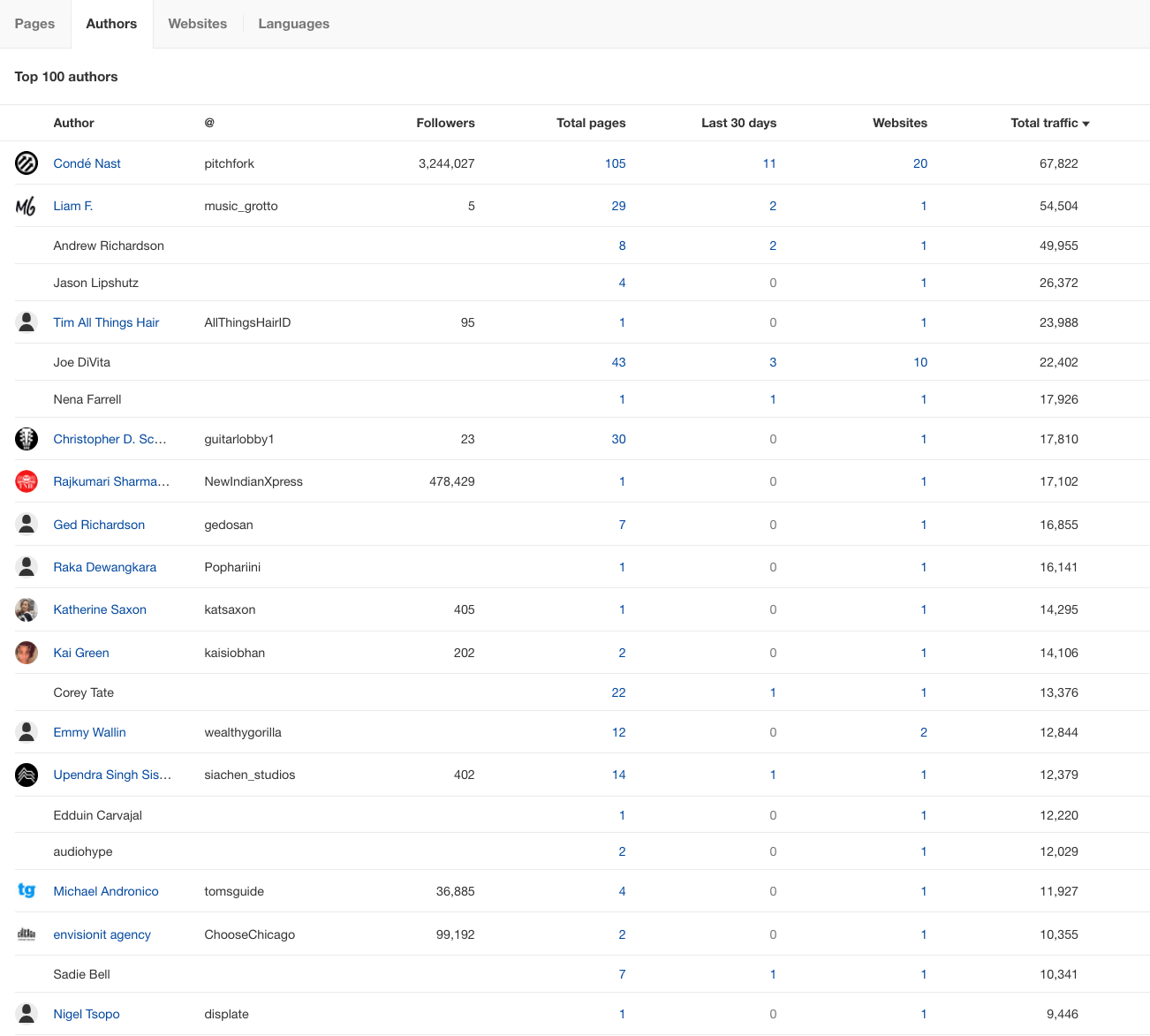 Or you can find journalists who write about new music. I looked up the following query:
"track of the day" OR "track of the week" OR "new music roundup" OR "music roundup" OR "new music Friday"

Again, when you click the "Authors" tab, you can view journalists or bloggers who write about new music, their Twitter addresses, and how many followers they have.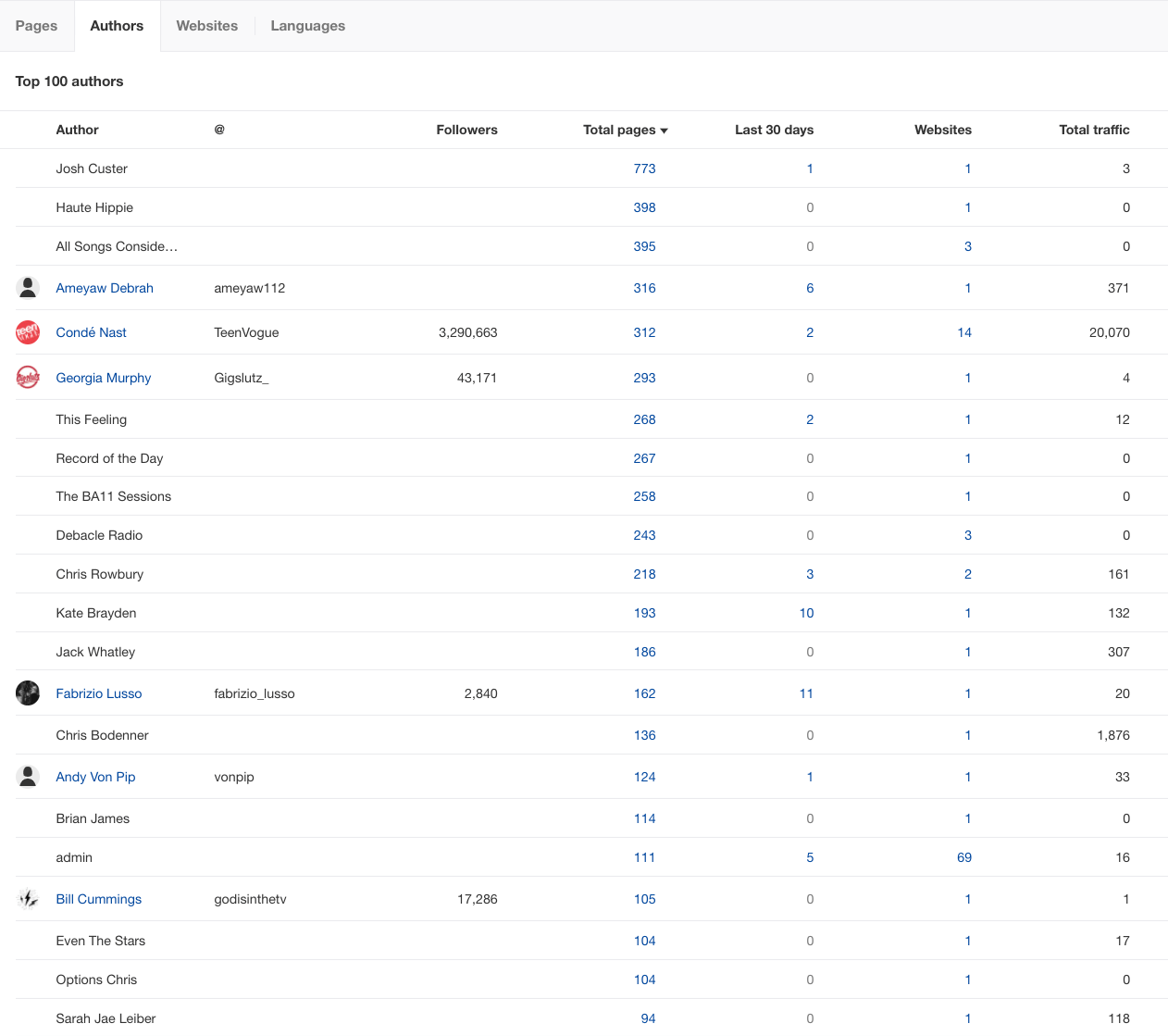 In this example, I discovered Georgia Murphy had written 293 articles on her website about new songs and musicians. She shares them with her 43,171 Twitter followers.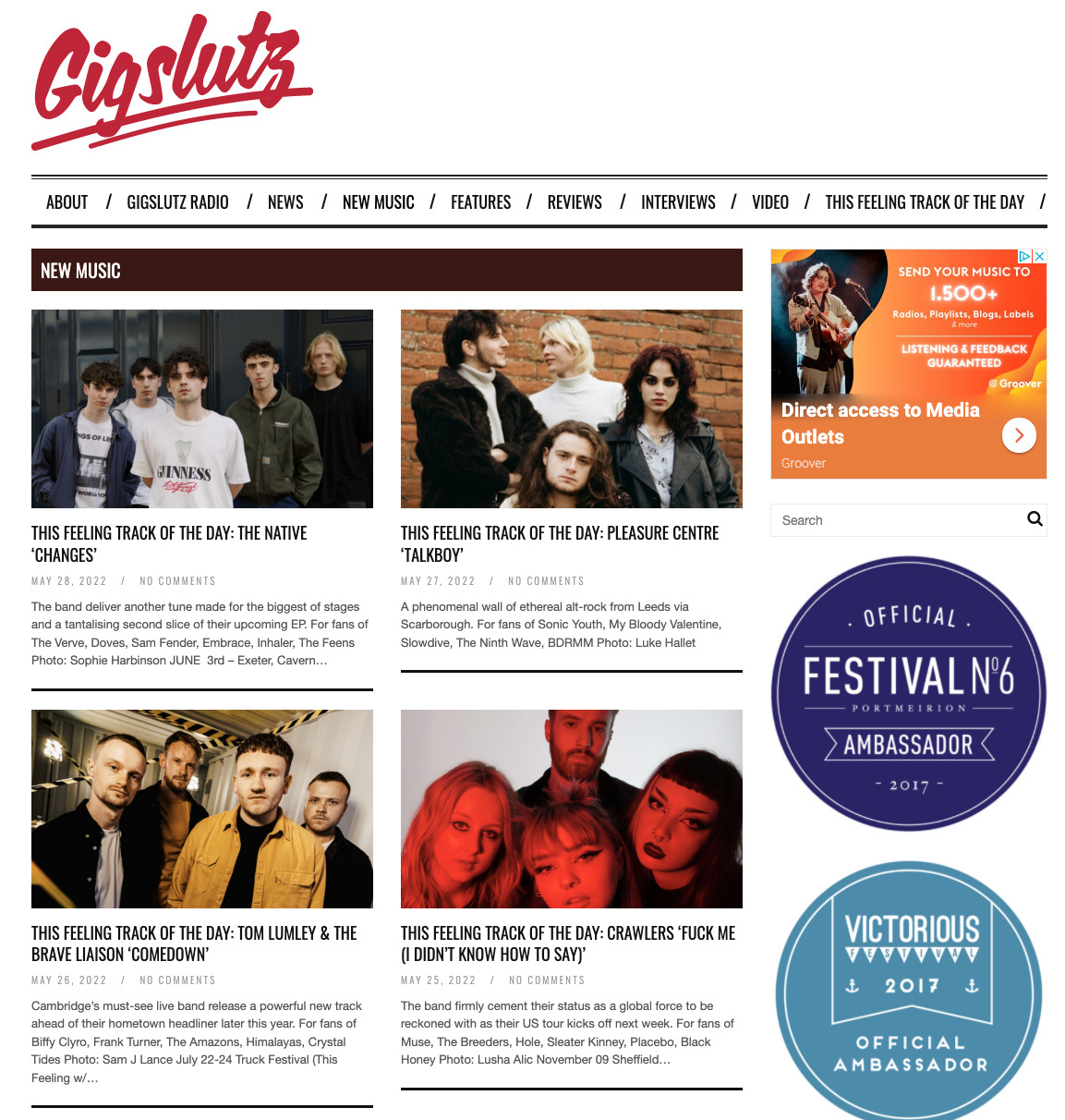 2. Filter and export list
Filter your contact list by using the filters available and then export it.
3. Find email addresses
Use an email look-up service, such as Hunter, to identify the addresses of the journalists you found.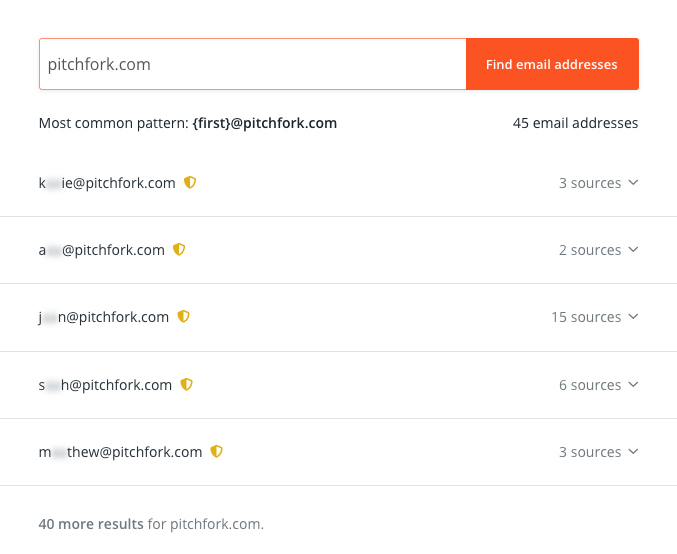 4. Pitch your idea
Here's how to pitch your idea to a music journalist.
Your idea doesn't need to be as elaborate as a DJ set in a Swedish warehouse, but it does need to stand out.
You should include links to your press kit with material about your "pitch."
Then do one email follow-up if you don't get a response or deliver your idea to those who do respond.
Getting featured by journalists isn't that easy, but the above should give you an idea of the process.
Playlists
Pitching playlists is another way to promote your music.
Use a service like Repost by SoundCloud to promote playlists to editors at Apple Music and other platforms like Tidal, Deezer, Beatport, and Amazon Music.
Or follow these steps to pitch a Spotify playlist:
Promote your songs with mixes
Promote your product well in advance of the release date by featuring the new song in a mix.
For example, this SoundCloud mix includes two new songs from Molo's forthcoming EP and was published on SoundCloud less than 48 hours ago (as of when this article was written). Since then, there have been 1,481 plays and 45 reposts.
Pitch for placements
Caleb Murphy outlines the steps to pitch your songs for film and television placements to licensing agents.
Register or log in at crucialmusic.com
Submit a song (and instrumental version) you have performed, produced, engineered, mixed, and mastered
Provide song details
Repeat
Booking platforms and marketplaces
Specific booking platforms and marketplaces, such as SaladGig, Upwork, SoundBetter, and The Bash, are where you can find projects.
After registering, follow these steps:
Profile: write a bio describing how you're different from others and can solve their problems
Respond to inquiries quickly
Follow up via email, call, or text
Add a free gift or a guide with your quote
Use anchor pricing to propose higher- and lower-price options
Spotify Marquee
Spotify Marquee is a paid service to help you promote your music to the right audience, increasing listeners and playlist adds.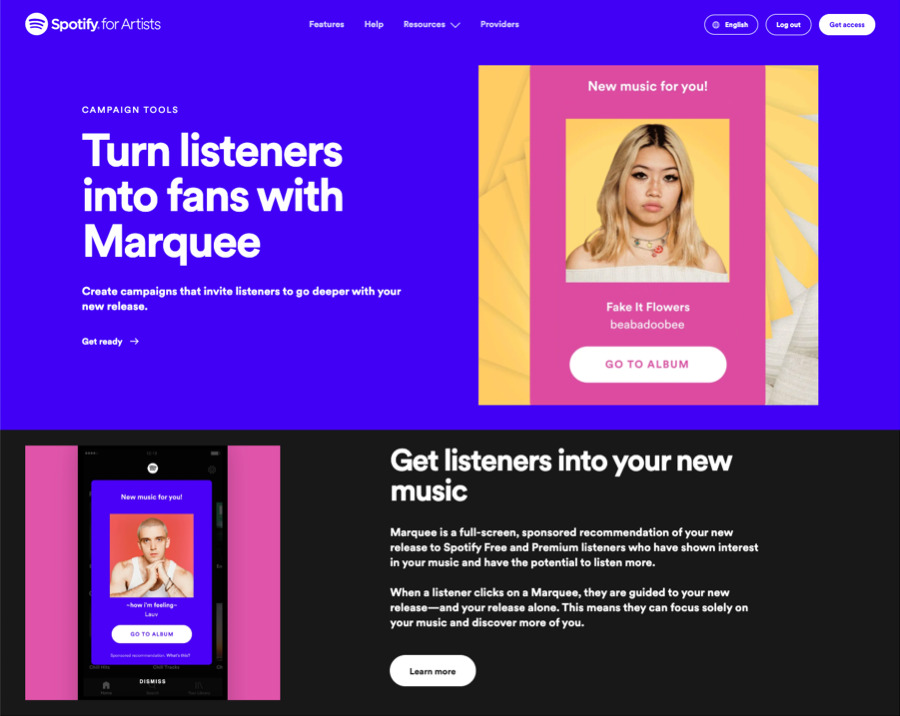 Promote your concerts and gigs
To promote your events, concerts, and gigs on Facebook and Instagram, follow these steps using ToneDen:
Events are pulled from your ticketing platform.
An audience visiting specific music event pages is created.
People interested in an event are targeted with an advert for that specific event.
Step 6. Measure and review
Let's say your goal was to sell out tickets to eight venues. But you only secured four venues, and they are 50% full.
Most online platforms will provide you with audience statistics, e.g., followers, streams, ticket sales, orders, etc., that you can review.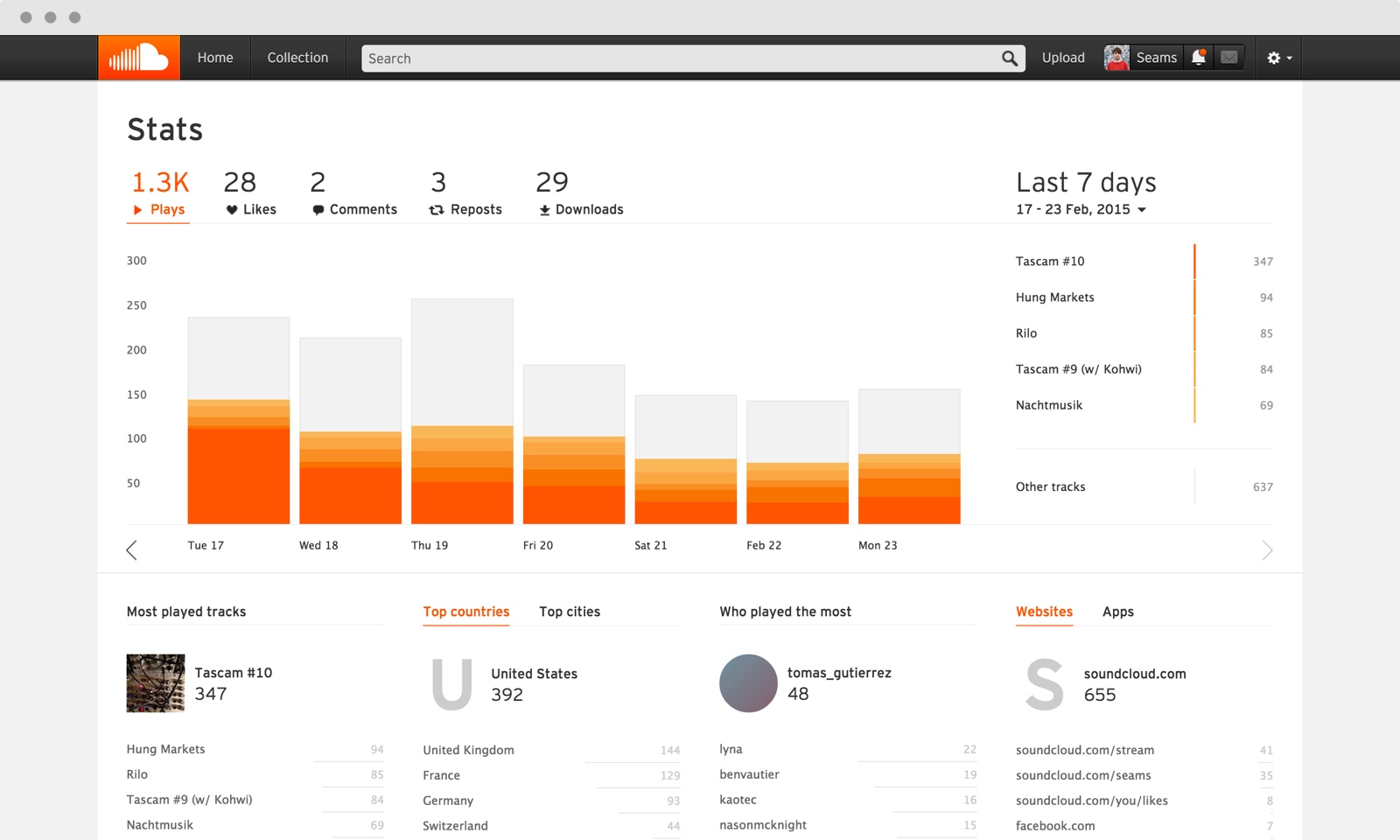 Review the previous steps. Then discuss what did and didn't work with your team or colleagues.
Step 7. Repeat
So let's say you published your first song on Spotify, followed the above steps, then measured the results.
Now repeat the steps with your next product, which can be extending the first song into a full album.
Or you released an album and decided the next product is a nationwide tour.
Marketing is a continuous loop of going over product, price, goal, distribution, and promotion.
Use our music marketing campaign template
I've created this simple music marketing template with examples you can use as a guide. You can make your own copy here.
Product
Price
Goal
Place
Promote
Single or album release
$0 – $13.99
Get published
- Spotify
- SoundCloud
- Apple Music
- Bandcamp
- Or use a distribution service like groover.co
- Spotify
- Social media
- Email list
- Playlist
- Mixes
- Advertising

Live tour
$20 ticket revenue share
Get eight venues booked
- Venue #1
- Venue #2
- Venue #3
- Venue #4
- Venue #5
- Venue #6
- Venue #7
- Venue #8
- Etc

- Create gig graphics and videos
- Announce dates
- Email list
- Add venue links to the website
- Work with the venue's promotion staff
- Social media
- Advertising

Merchandise
$25 per item
500 units
- Your website
- Your events
- Amazon for artists
- Spotify
- Merchbar
- Bandcamp
- Google search engine

- Email subscriber
- Promo code
- Use FOMO
- Upsell
- Advertising
- Table at live events


Licensing
License four songs
$10,000 per annum
- Licensing
- CD Baby music licensing service
- YouTube Content ID
- Music licensing companies, such as Music Bed, Music Vine, etc
- Personal networking with music supervisors
- Networking with filmmakers
- Networking with video game companies
- Use a music licensing agent
- Publish music on SoundBetter
- Add music to other licensing sites
- submithub.com
- crucialmusic.com

Record production
See price guide
Produce one band's album
- Personal networking
- Your website
- Social media
- Industry events
- Various marketplaces and booking platforms

- Publish your own productions and sounds
- Collaborate with other artists and promote
- Publish content frequently to the website and social media platforms
- Tour (as a support act)
- Search, find, and bid on booking platforms and marketplaces

Final thoughts
Music marketing is a lot like any other marketing: start with your product, determine the pricing, set a goal, and use the suggested distribution channels and promotional methods to promote your product.
Follow these steps, and you'll be well on your way to creating success for your music.
Got questions? Ping me on Twitter.