Need to promote a brand, but you're new to marketing? No worries, that's still doable.
In this article, you will find 15 tried and tested marketing tactics that don't require experience in marketing.
Organic traffic from Google is one of the best kinds. It's consistent, passive, and you don't need to pay for each click. And this SEO tactic is probably the fastest way to tap into that traffic source.
You will need three things:
Low competition keywords relevant to your business.
SEO content to rank for those keywords.
Backlinks to increase your chances for ranking. But here's the thing—you likely won't need many to rank because they are low-difficulty keywords.
Let's say you're running a personal finance app. What you'd do is take a bunch of broad terms related to your business, e.g., "budgeting, credit card score, retirement." You can brainstorm them, source them from your competitor's website, or even ask ChatGPT. Next:
Paste them into a tool like Ahrefs' Keywords Explorer.
In Ahrefs, go to the Matching terms report.
Filter for keywords below 20 KD (Keyword Difficulty).
Look for ideas.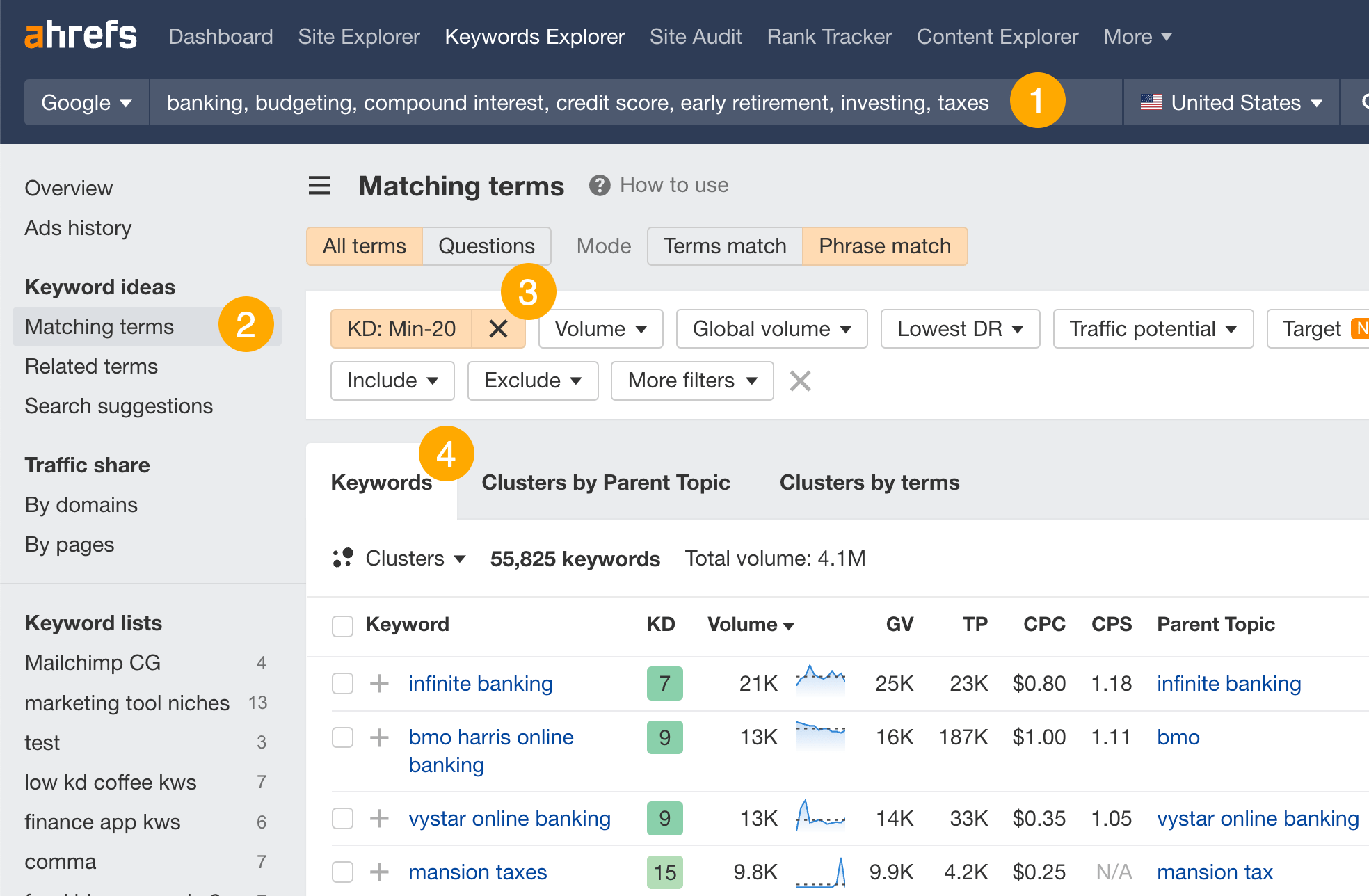 And if the list is still too big to manage, you can further decrease Keyword Difficulty or set a minimum Traffic Potential to filter out the least popular keywords.
For instance, here are a few interesting keywords. Relevant to a personal finance product, good traffic potential (TP) and low difficulty (KD):

From here, it's just a case of creating content about the topic and (possibly) building a few links to rank. Read the articles below to learn how:
Social media loves short videos—even if they look amateurish. According to a study of over 700k profiles across different social media platforms, short-form videos are the most engaging type of content.
The best part? People are okay with these videos not being visual masterpieces.
Want proof? Duolingo's meme-like videos went viral on TikTok and Instagram. They're short, entertaining, and look like they were shot on a phone.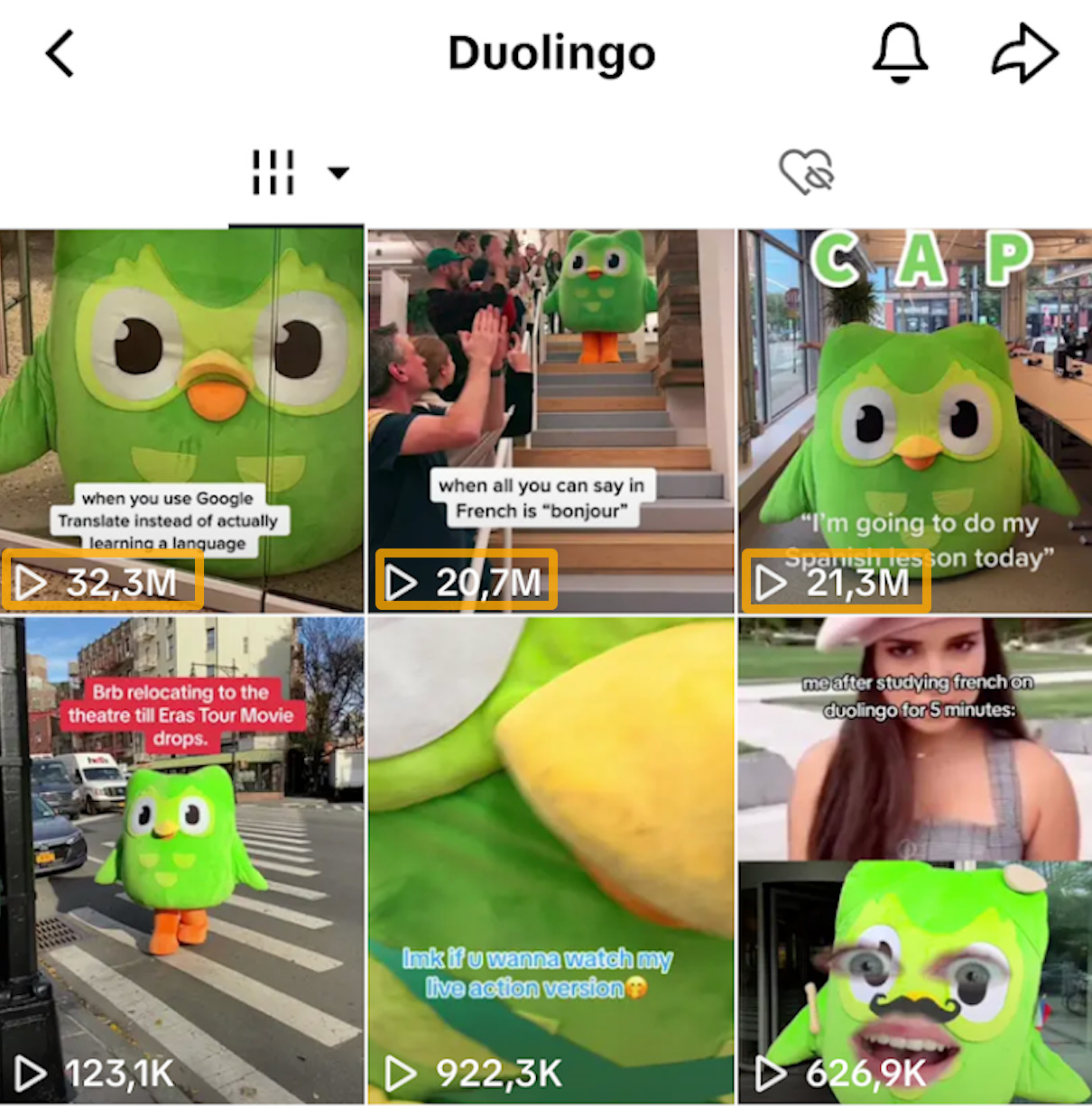 If what Duolingo does isn't really your style, there are other ways to use videos. For example, if your company just reached a milestone, why not share that?
A quick product hack you can share? Go for it.
This works for tech brands, too:
As long as your videos aim to educate, inspire, or entertain your audience, you're on the right track. So, for example, your videos can be about:
Short product demos and feature highlights
Your brand's journey to stardom
Behind the scenes
Tips, tricks, and how-to's
Upcoming product sneak peeks
Hot takes on industry news
Important company news and milestones
Answers to FAQs
How to get started? You can avoid some rookie mistakes with guides like this one. But let's face it—your first videos won't be an instant hit. There's no other way around it than making more videos.
So stop overthinking and start uploading. Then, if an idea takes off, double down on it.
People often trust independent creators. Their endorsement can put your brand on the map and raise its profile.
If you've got an interesting story to tell or a topic you're an expert on, you can do marketing for your brand by just talking about it.
If you do enough of them, you won't need to pitch; you'll be regularly invited, just like my colleague Patrick.
But before that happens, here's what you can do:
Target shows that align with your expertise.
Start with smaller podcasts to gain experience.
Send a clear email outlining your value to the show.
If you don't hear back, send a polite follow-up within two weeks.
After appearing, promote the episode on your platforms to benefit both you and the host.
You probably won't have trouble finding shows to pitch through Google, Apple podcasts, Spotify podcasts, or curated lists you'll stumble across. But here's what you also can do:
Ask your network for any good shows they've seen or watched lately.
Use matchmaking services like PodcastGuest or Podmatch.
Use SparkToro to see where your audience hangs out. You can find shows directly through YouTube or podcast criteria or see which influencers host their own shows.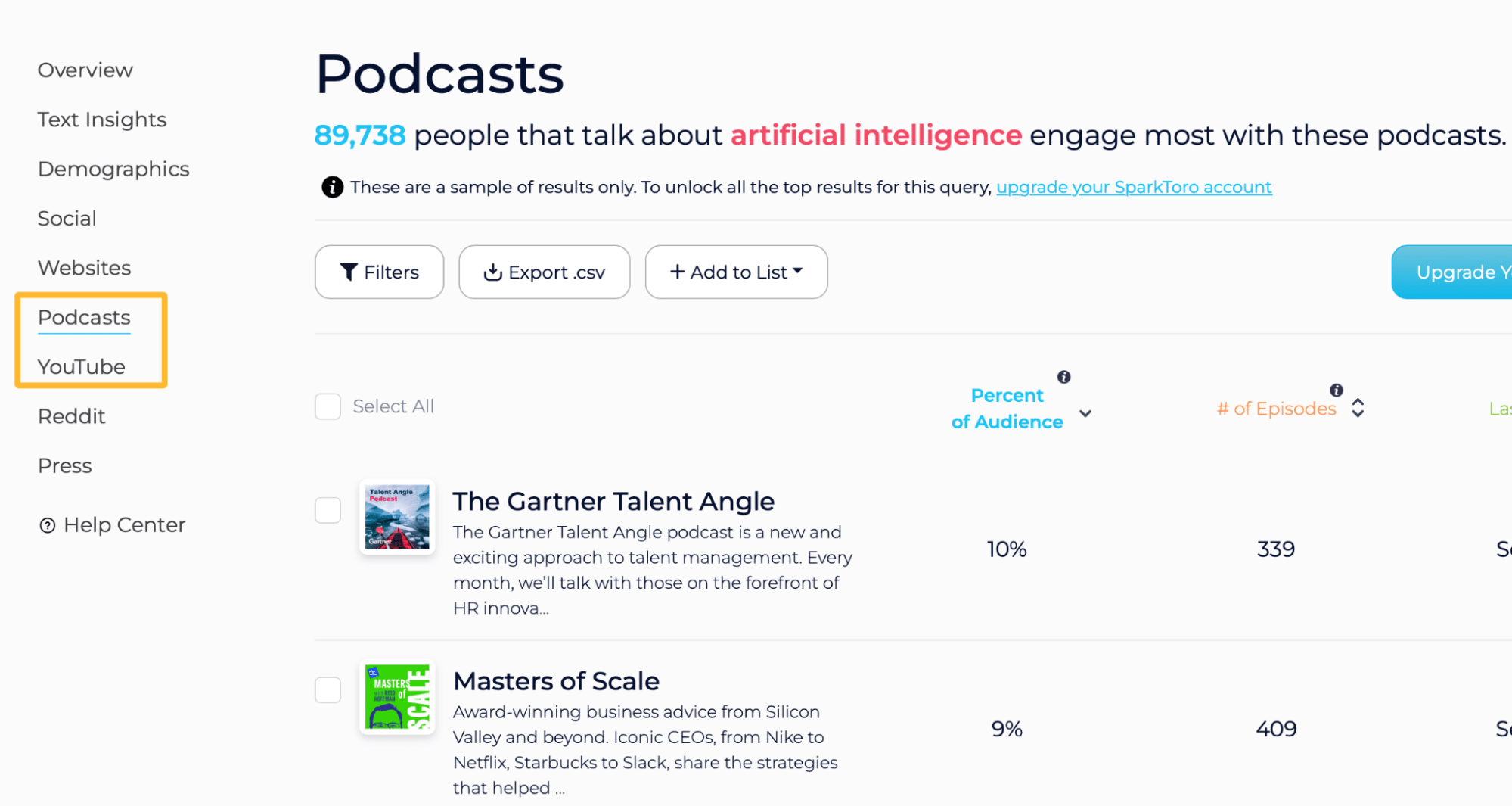 HARO stands for Help A Reporter Out. It's a feed of requests from journalists, bloggers, and other writers who need information for pieces they're working on.
It's basically a shortcut to free publicity on a reputable site. Plus, it's a good way to land a quality backlink (which can help SEO).
Your credentials and the value of the information you provide matter the most, not your actual website or content on it. And this makes HARO a great PR technique for projects in their infancy.
To illustrate, here's the journalist's query on HARO: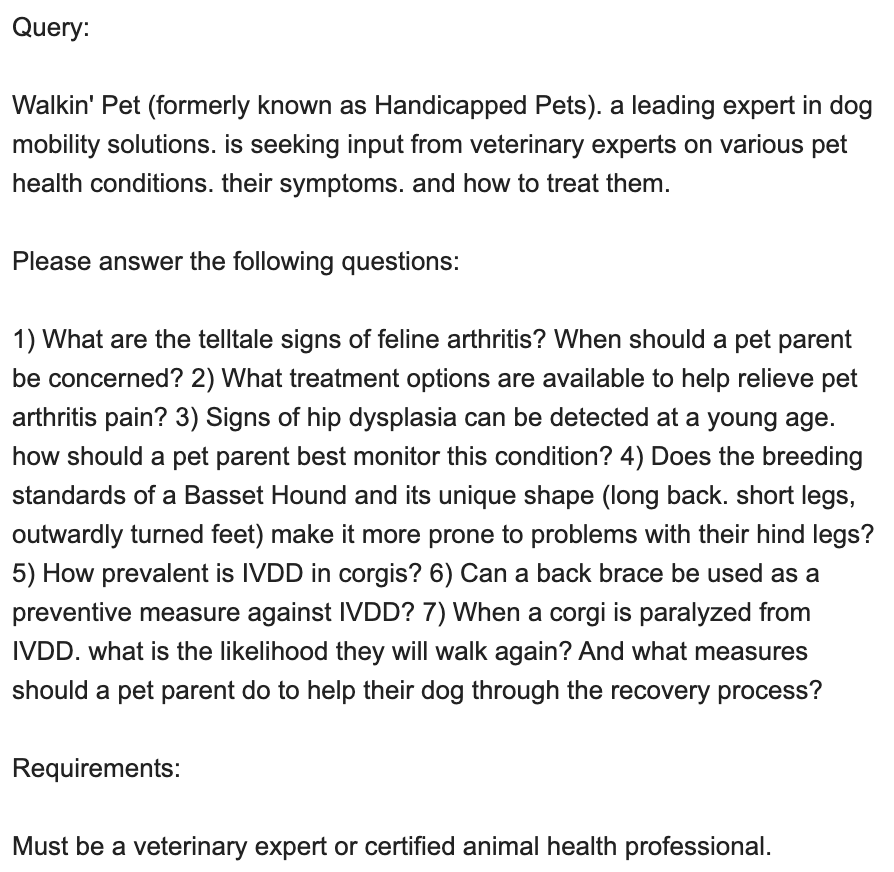 And here's the answer published on handicappedpets.com with the link to the author's site.

All you need to do is sign up for HARO, monitor the requests in your category, and respond with valuable information as fast as possible whenever you see a good opportunity.
Want a few tips from our experience with this tactic?
Avoid publications that aren't authoritative.
Only respond to requests where you can truly provide great information.
Don't deviate from the format the author is requesting.
Don't hesitate to bring colleagues on board if they're more qualified to answer.
If you already have content that's performing well, you can repurpose it for other marketing channels. This allows you to reach new audiences without creating something from scratch.
Here's an example. Our SEO checklist video has more than 230k views: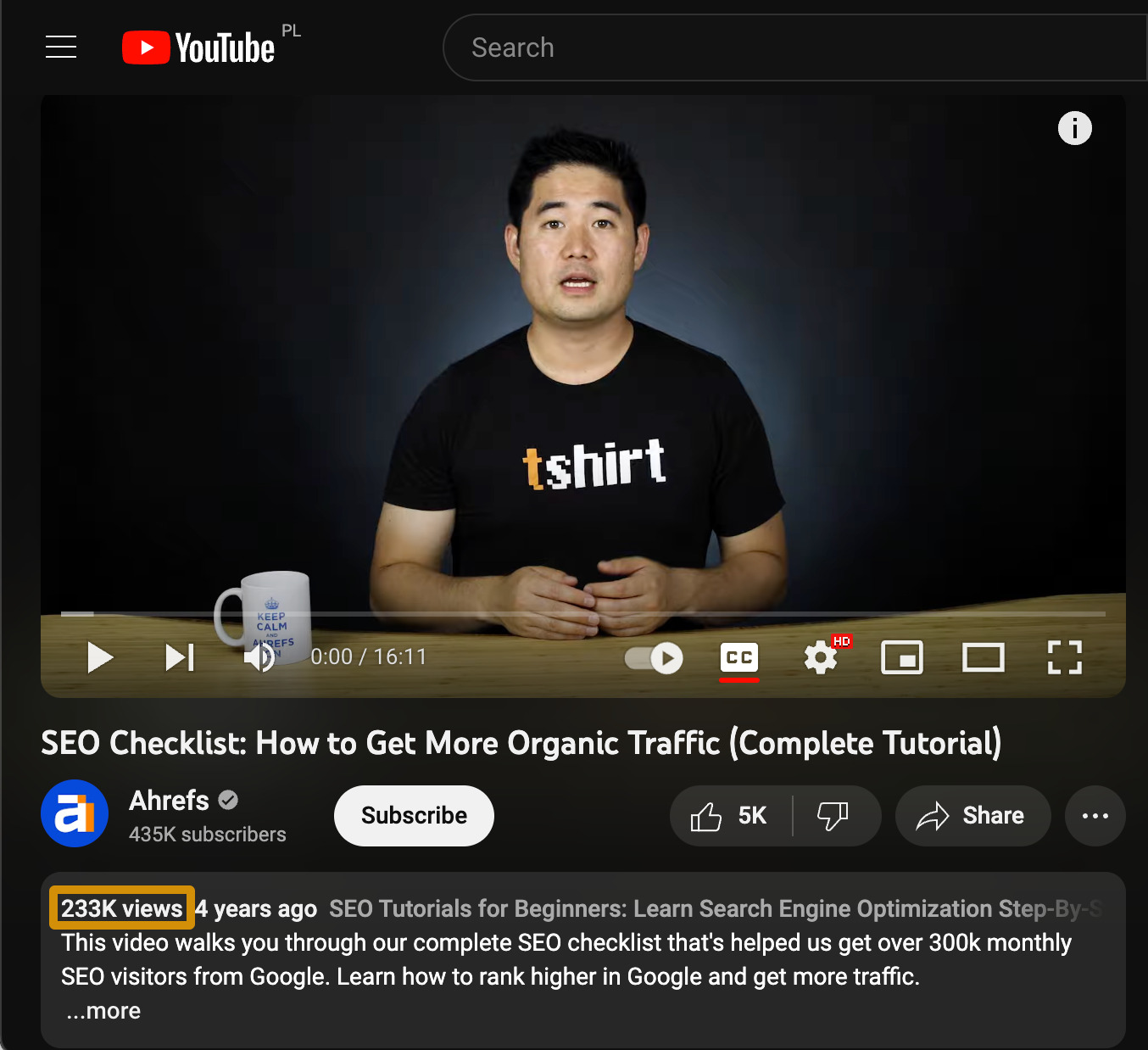 But we also published it as an article that drives an estimated 9.5k clicks from organic search every month:

There is more than one way to do it. Learn more in our list of 13 ways to repurpose content.
This is probably the quickest way to drive potential customers to any website.
Google Ads is a shortcut to some of the premium spots on Google Search and Google Maps. You may know them from the first thing you see when you Google something.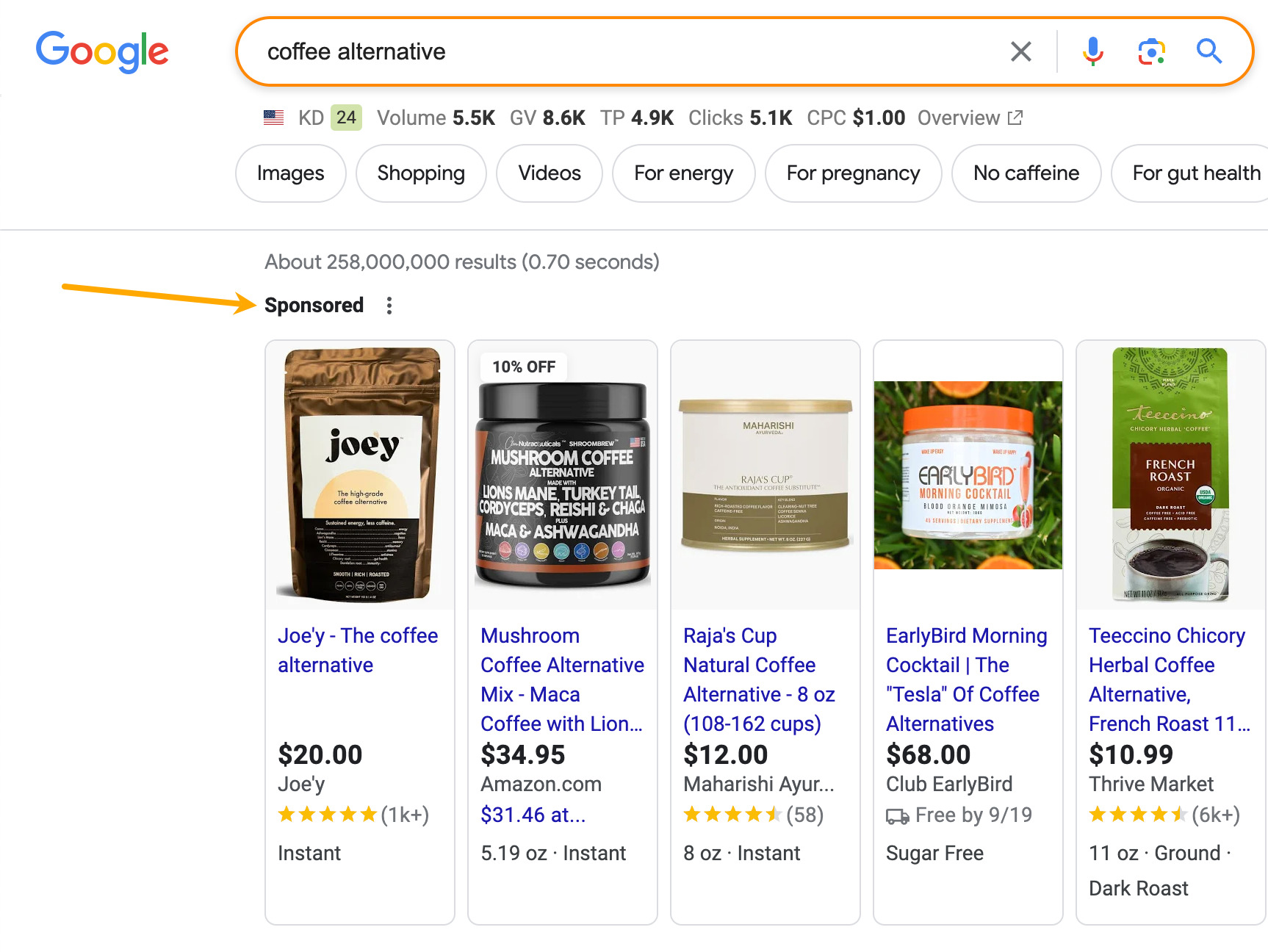 They basically work like this: you choose keywords relevant to your business, set up the ads, and declare how much you're willing to pay for ads to show up on Google. Then Google runs an auction to decide which advertisers' ads should be shown. You pay for the ad only if someone clicks on it.
The cool thing about this channel is that once you grasp it, you can scale it almost instantly by bidding on more keywords and increasing your budget.
Measuring return on investment is fairly easy here, too. You're earning money if the ads bring more revenue than they cost.
Before you set up your first campaign, check our 6 tips for Google Search Ads.
Affiliates promote your product or service in return for a commission on the sales they generate.
For example, if you want to spread the word about your life insurance app, an affiliate might recommend it through a review. When a reader clicks through to buy your product, it tracks where the sale came from so you can pay a commission.
You can attract affiliates to your brand in a few ways. Joining an affiliate network is a good starting point. These connect you to publishers who might want to promote your product and take care of the technical side. You only pay a small setup fee and share commissions only if you get paid first.
Each affiliate network is unique, so make sure to do some research on them before you sign up.
Many businesses send email newsletters, but their newsletters are boring and provide little value.
At the same time, newsletters are undergoing a renaissance, which proves that people like to get newsletters—just not bad ones.
So start a newsletter, but don't send out boring self-promotional company news week after week. Instead:
Make it personable and fun.
Share useful stuff from others, not just your company.
If you're linking to other sites, give a quick overview of the content; don't just send links.
And we talk from experience here. We're a B2B brand, but every Ahrefs' Digest kicks off with a meme: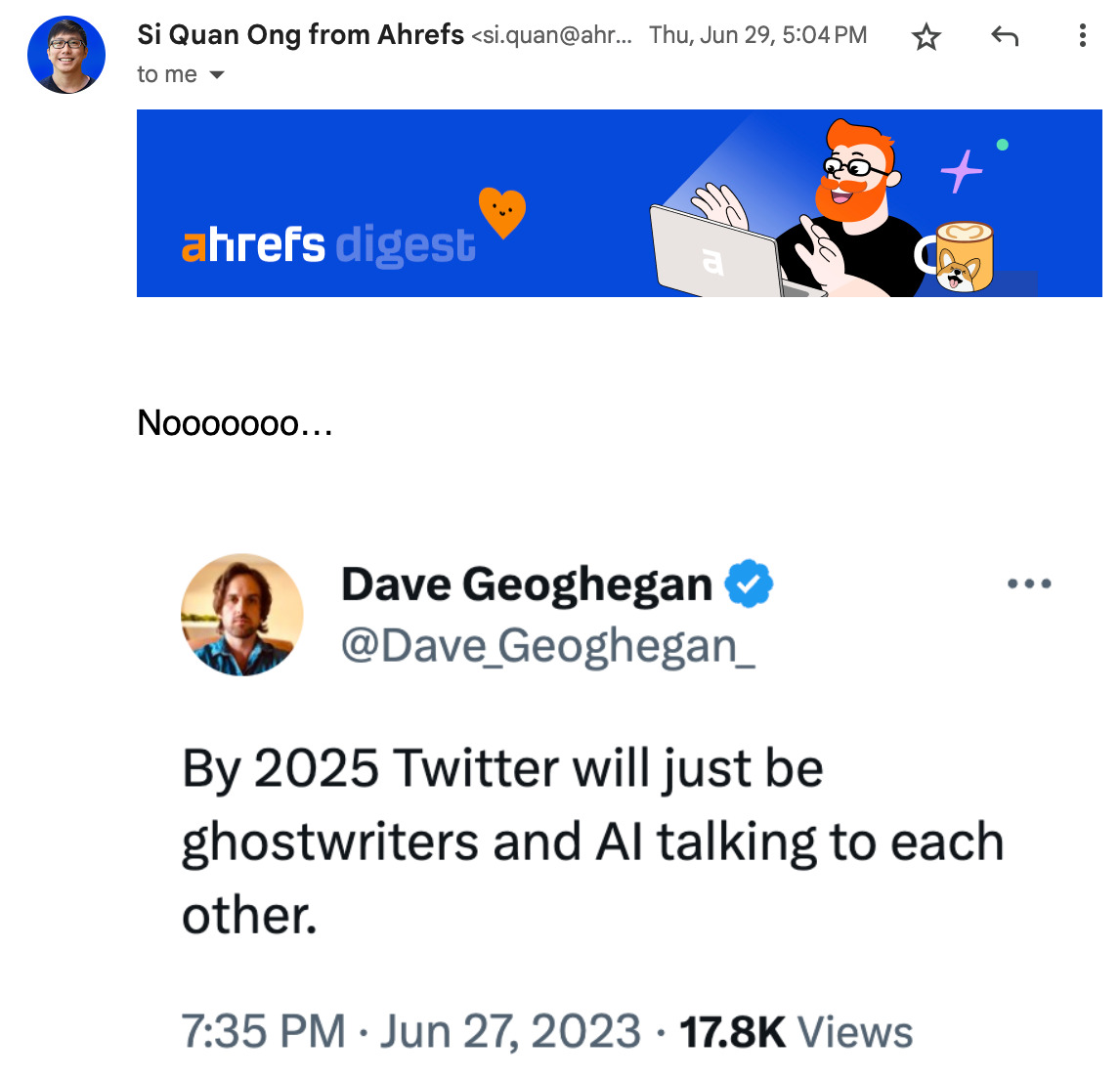 We then group "news" by topic and write a quick blurb for each to save people time: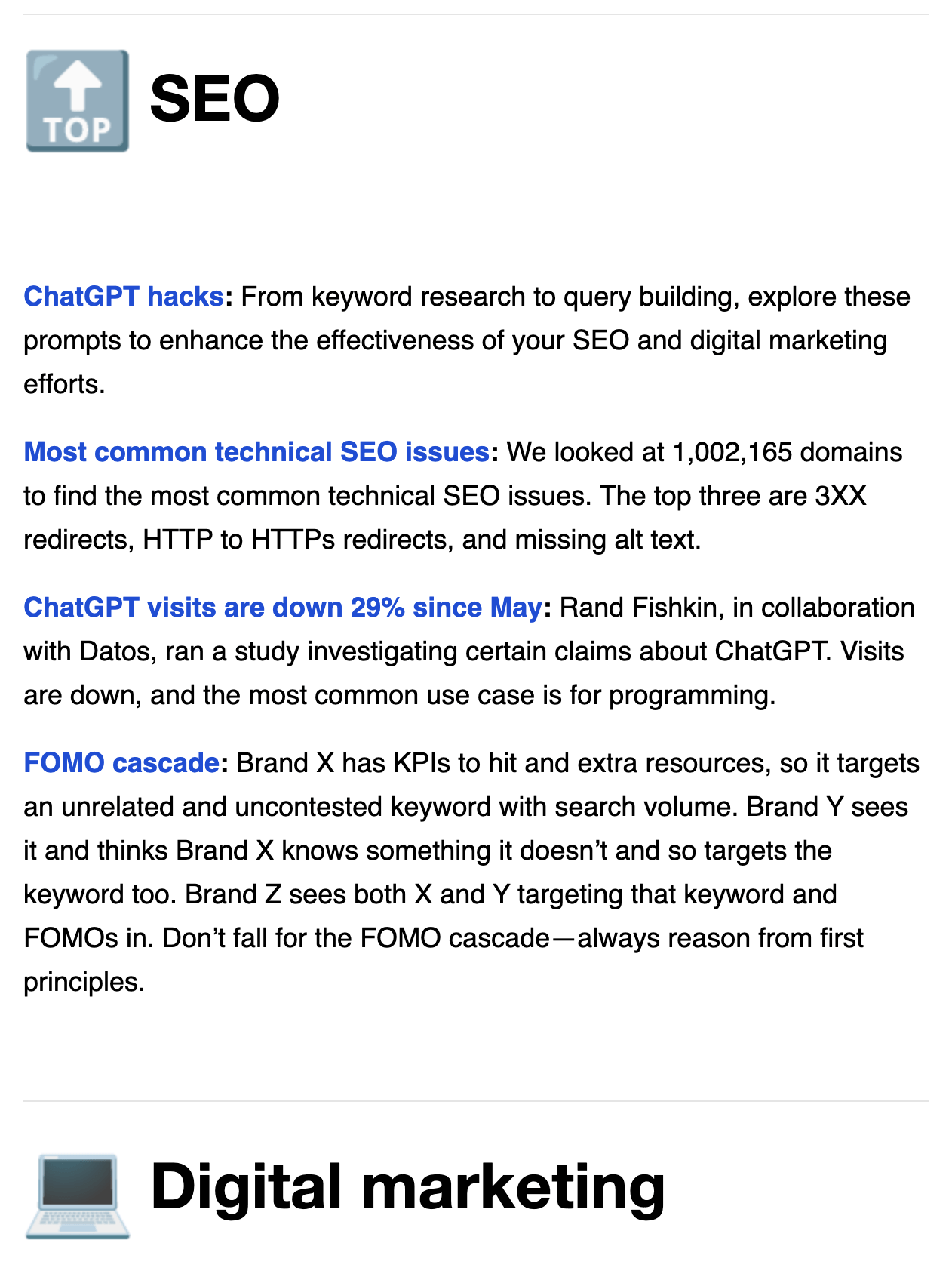 That's it. It's simple, but our readers love it.
@ahrefs is really the only marketing newsletter you need today. https://t.co/aifL2f7nUg

— Gaetano 🇺🇦 (@gaetano_nyc) July 20, 2021
You can start for free with tools like Mailchimp or ConvertKit, and it's less technically complicated than you think. But to send out your first email, you need to start building your list. Here's how.
A lead magnet is a marketing tactic where a brand offers a free resource (ebook, tool, discount, etc.) in exchange for a visitor's contact information.
For example, this lead magnet offers a time-saving set of press release templates: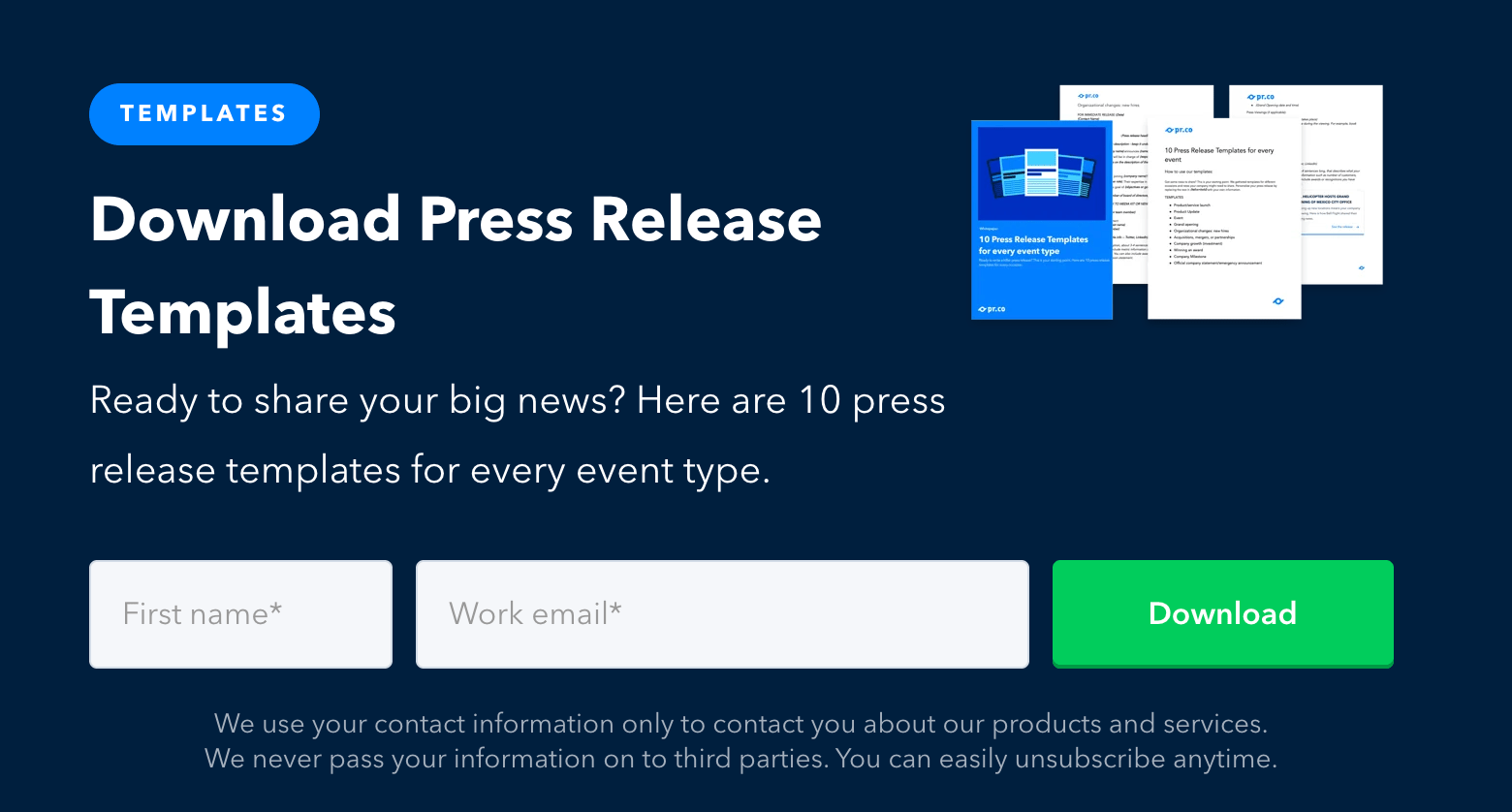 Once that company collects the email, they can start a conversation.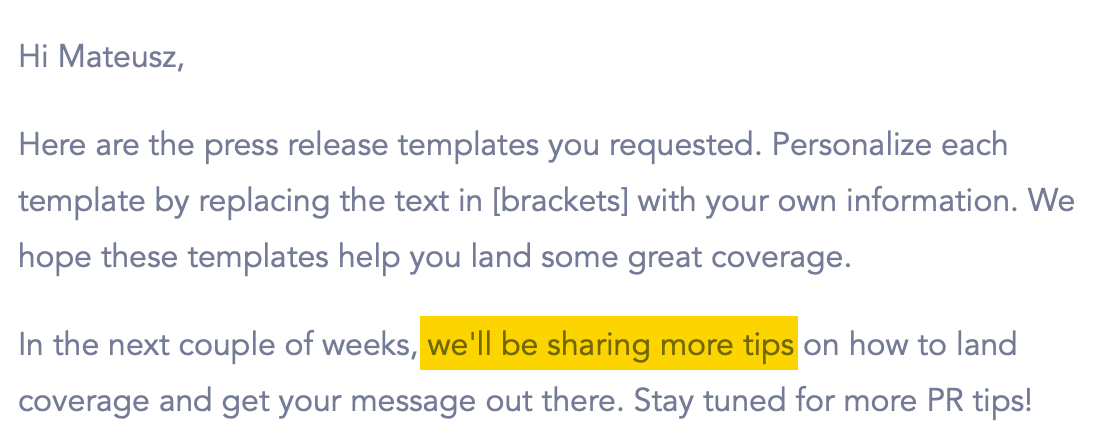 Now, some people will get what they want and unsubscribe. But some will stay and read the next emails. Out of that group, some will be interested in checking out what you offer—and some will eventually become your customers.
When creating lead magnets, make sure not to go it alone. There are tools that will help you create the magnet itself, create a lead capture form, and distribute your freebie.
User-generated content (UGC) is any form of content, such as reviews, photos, videos, or social media posts, created by consumers rather than by the brand itself.
This marketing tactic leverages the authentic experiences of existing customers to build trust and credibility. And it works because customers are likely to trust other customers.
You can encourage UGC by running contests or asking for short testimonials. Then, you can share it on your social media, landing pages, and newsletters and use it for all sorts of campaigns.
Here, you can see the idea in action. Pakker Trousers uses UGC in all of its channels. Below is their website's footer and a screenshot from their Instagram feed (real customers, no models).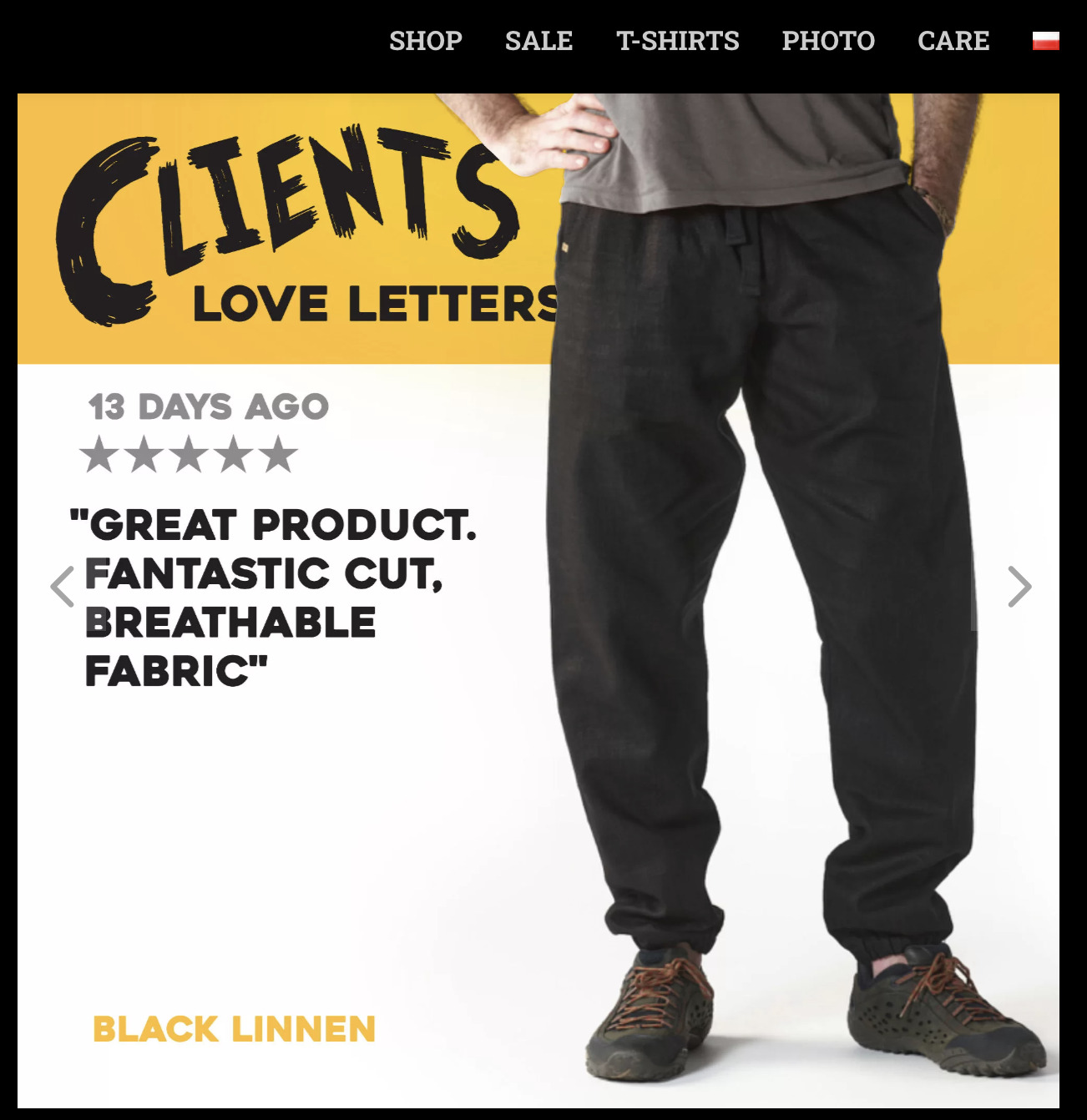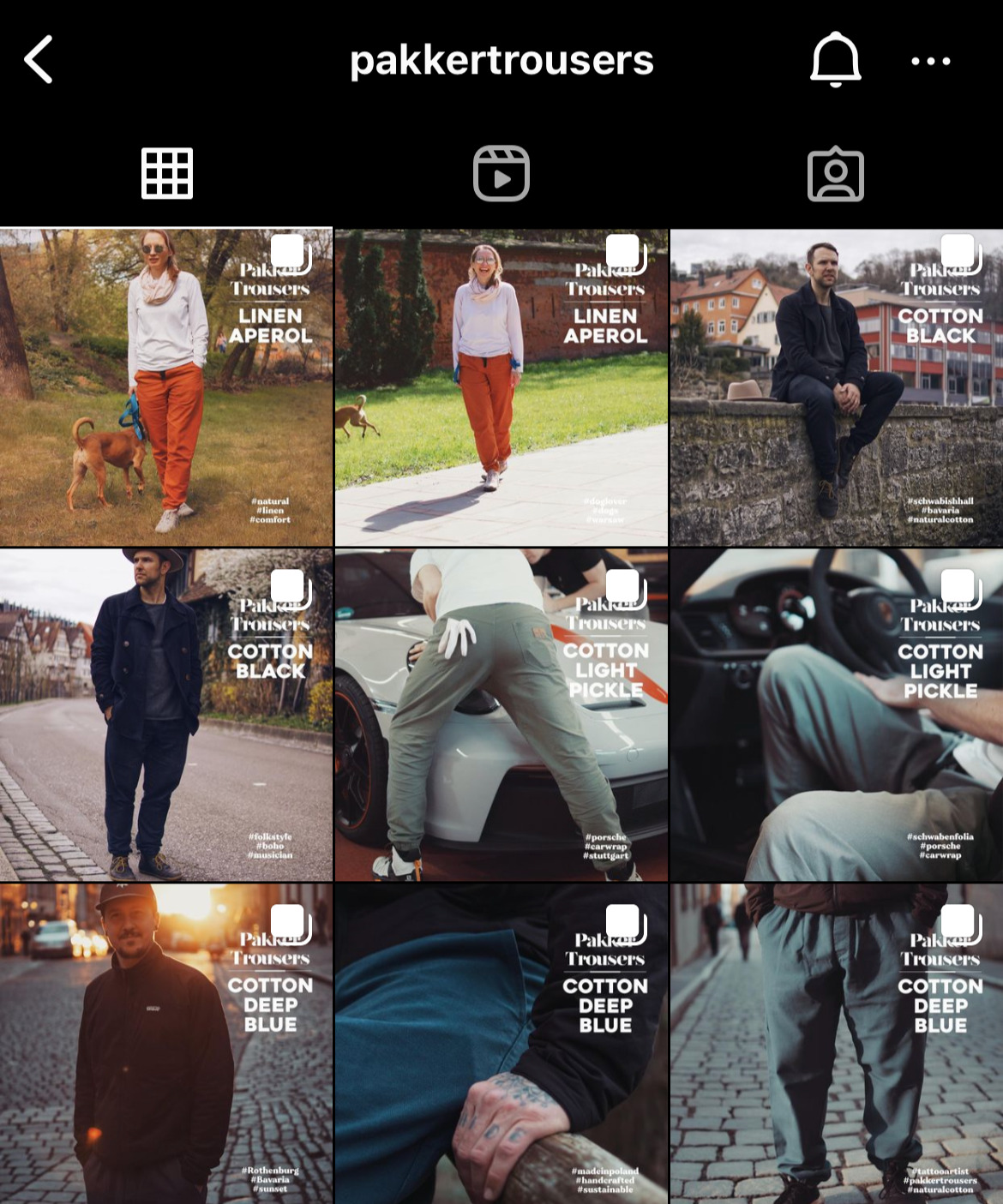 The beauty of UGC is that it requires minimal work; you're essentially letting your satisfied customers do the marketing for you. This enriches your brand's content strategy and deepens engagement with your community.
This strategy positions you as an authority in your industry, builds credibility, and directly connects you with potential clients or partners.
The key is to offer something useful and engaging to encourage people to explore your products or services further. Think insights, case studies, or original research.
This tactic needs less "marketing" than you may think. All you need is a few contextual mentions of your brand, no more, so don't overdo it.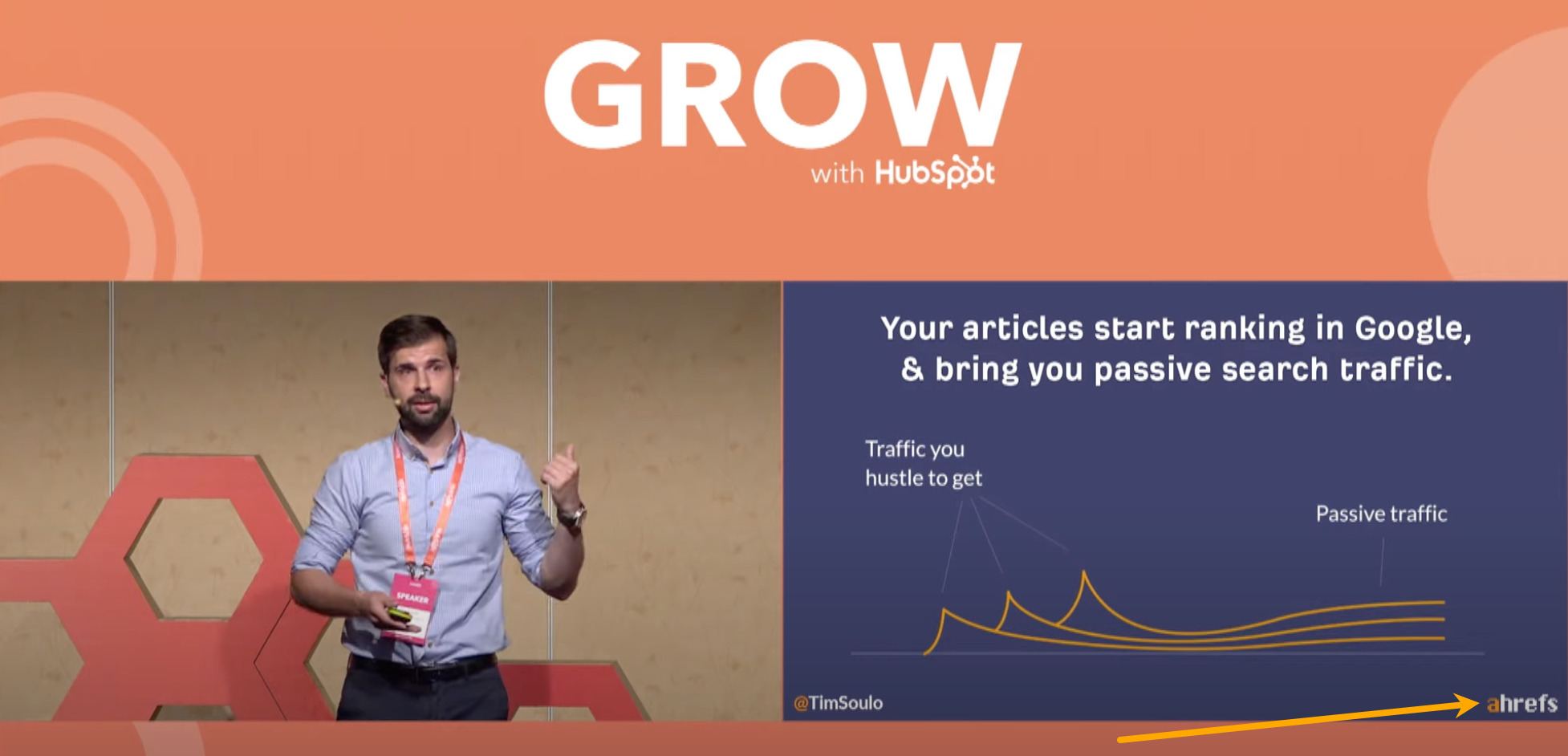 Many people look for solutions on Google, be it a new tool they can use for work or service to get something done. For instance, "marketing tools" is a phrase that gets 3.2k searches each month.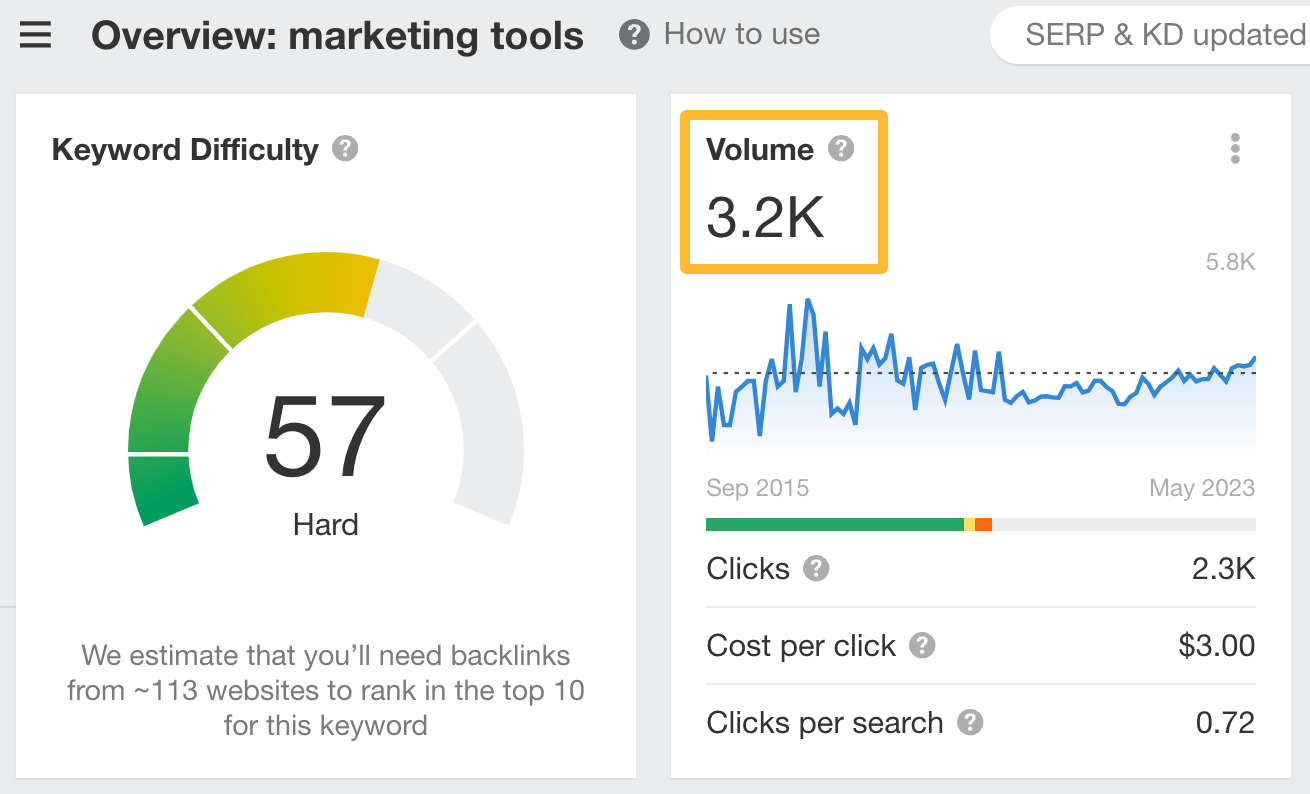 What people find this way is typically curated lists.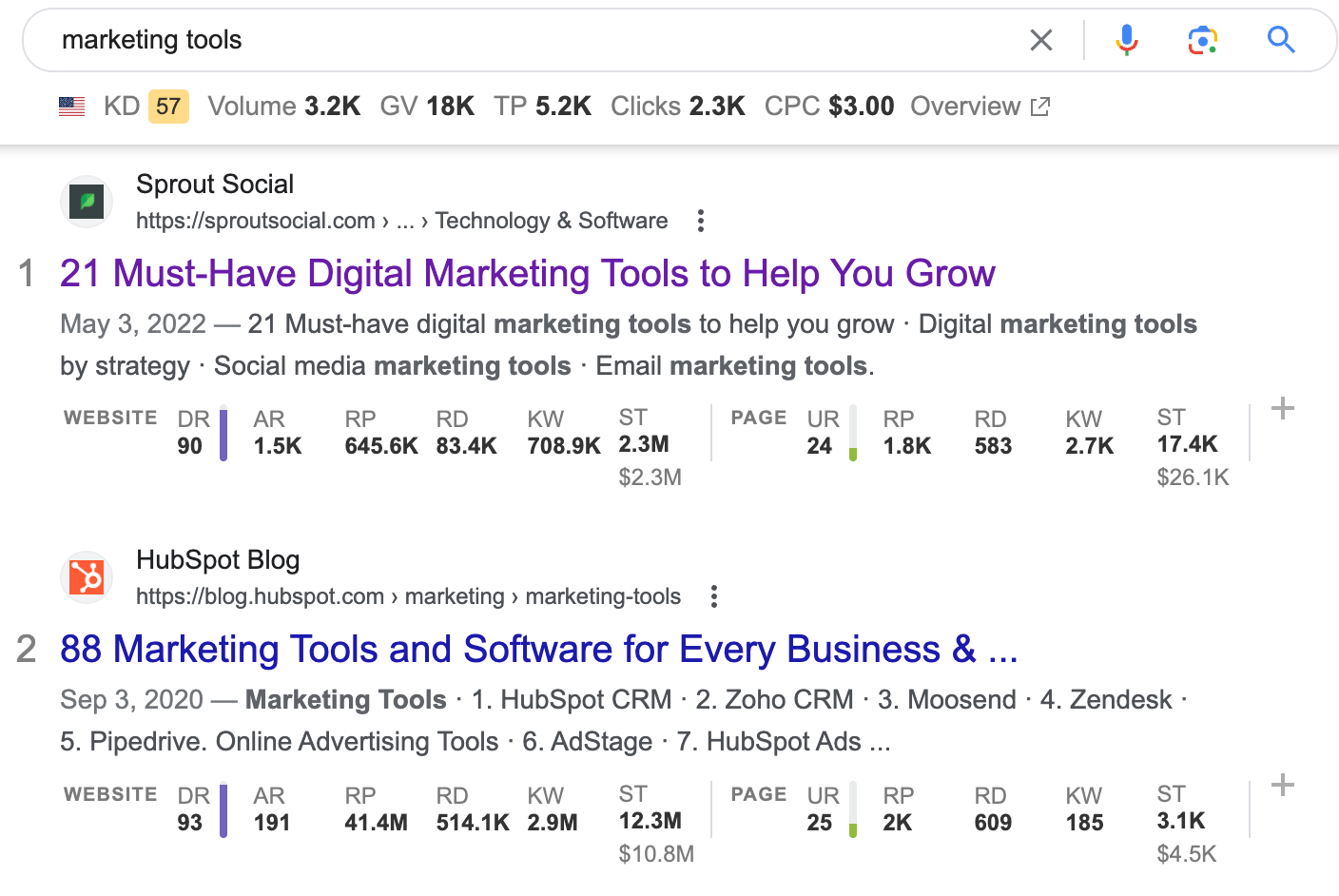 Of course, getting featured in them all would be perfect—but that can be challenging for newcomers.
But here's a tip: try to pitch to the more specific lists. Yes, these will be less popular, but that may actually work to your advantage:
People looking for something specific are usually closer to making a purchase.
Tools that cater to a very specific audience are harder to find; you're basically helping out the authors of those lists.
Get featured in some of those lists, and the next thing you know, you will be featured in more and more lists organically.
You can use a keyword tool like Ahrefs' Keywords Explorer and study how people may be looking for a product/service like yours.
Enter the type of your product or service.
Go to the Matching terms report.
Open the Clusters by Parent Topic tab (this will help to organize your keyword results).
Find parent topics that fit the functionality of your product.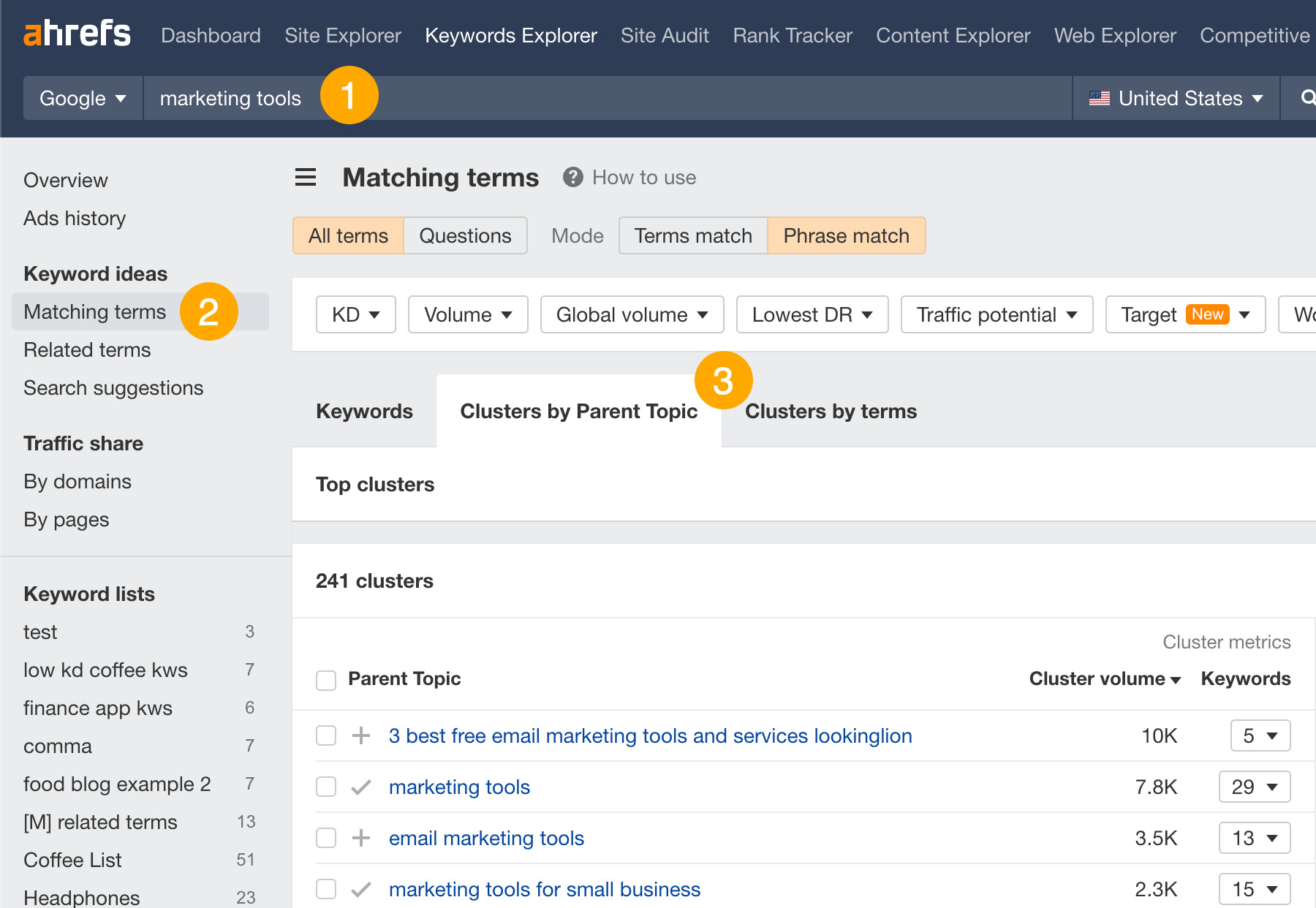 Once you find a good topic, click on the SERP button to see which sites rank - these will be your prospects to pitch.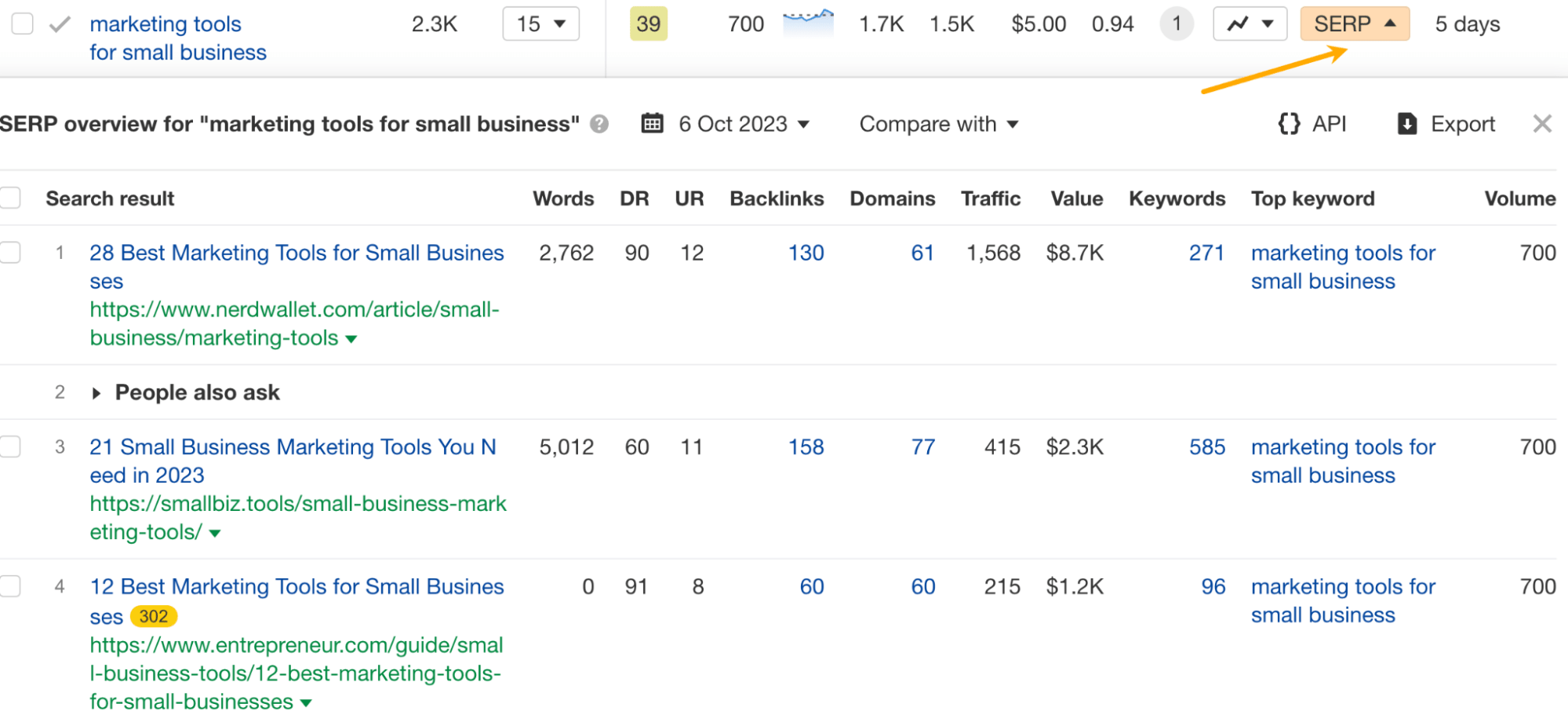 To illustrate, here are some tool niches I found this way. Naturally, you won't need to tick all of the boxes, just find a few that make sense for your business.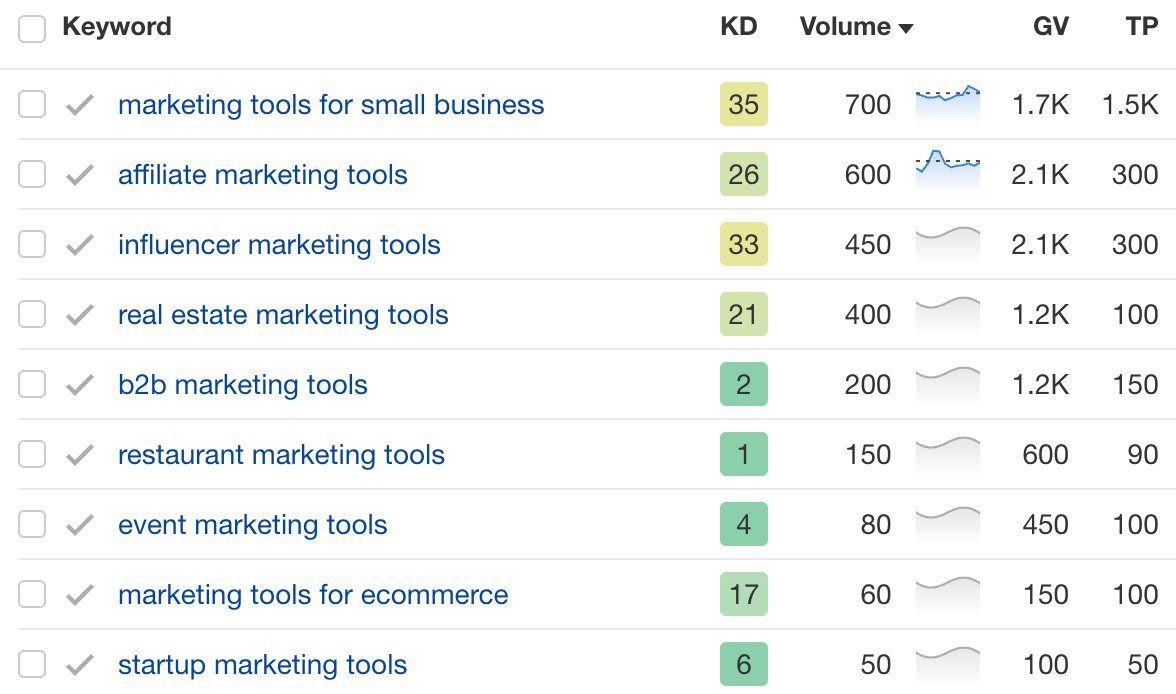 Something that can help get featured is helping the content creator do their homework:
Make it clear why their audience needs to hear about your product/service.
Show them you're the real deal. Show user testimonials, links to sites where you've already been featured, mention VCs that backed you… you get the idea.
Give them a kit full of pictures, videos, and details about your product. If you can, offer to hop on a call and do a live demo.
Guest posting is when you publish content on another website.
You're giving away good content, but in return, you get:
Brand exposure to someone else's audience.
A backlink.
New connections in the industry.
A bit of referral traffic.
If there's a website you love that you want to pitch, go for it. Even if they don't say they take guest posts, they might be interested in what you've got.
But to make the best out of this tactic, prioritize sites that get traffic from Google (an indication they're potentially quality sites) and are open to featuring new writers in the field. You can find these sites with Ahrefs' Content Explorer.
Enter a broad keyword or phrase related to your niche. If you'd like to use more than one, separate them with the OR operator.
Select In title from the drop-down menu.
Set the Domain Rating filter to "30 to 80", website traffic from 20,000, and Only live mode. You can also set the preferred language.
Run the search.

On the results page, exclude homepages and subdomains.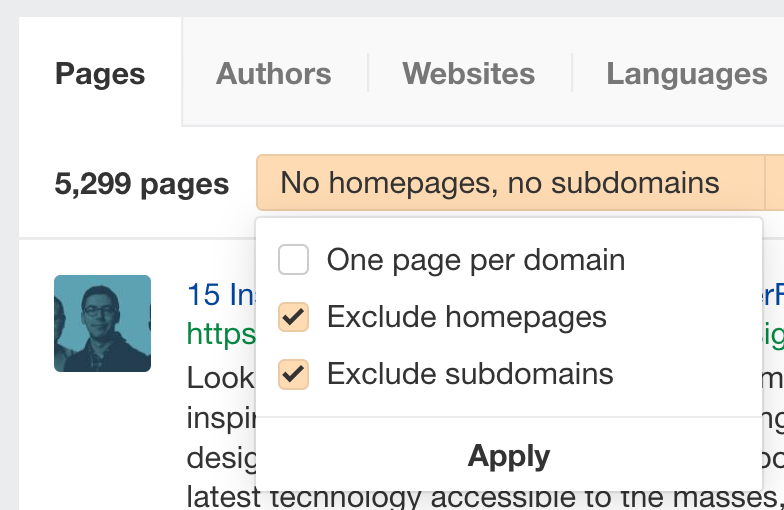 Then open the Websites tab.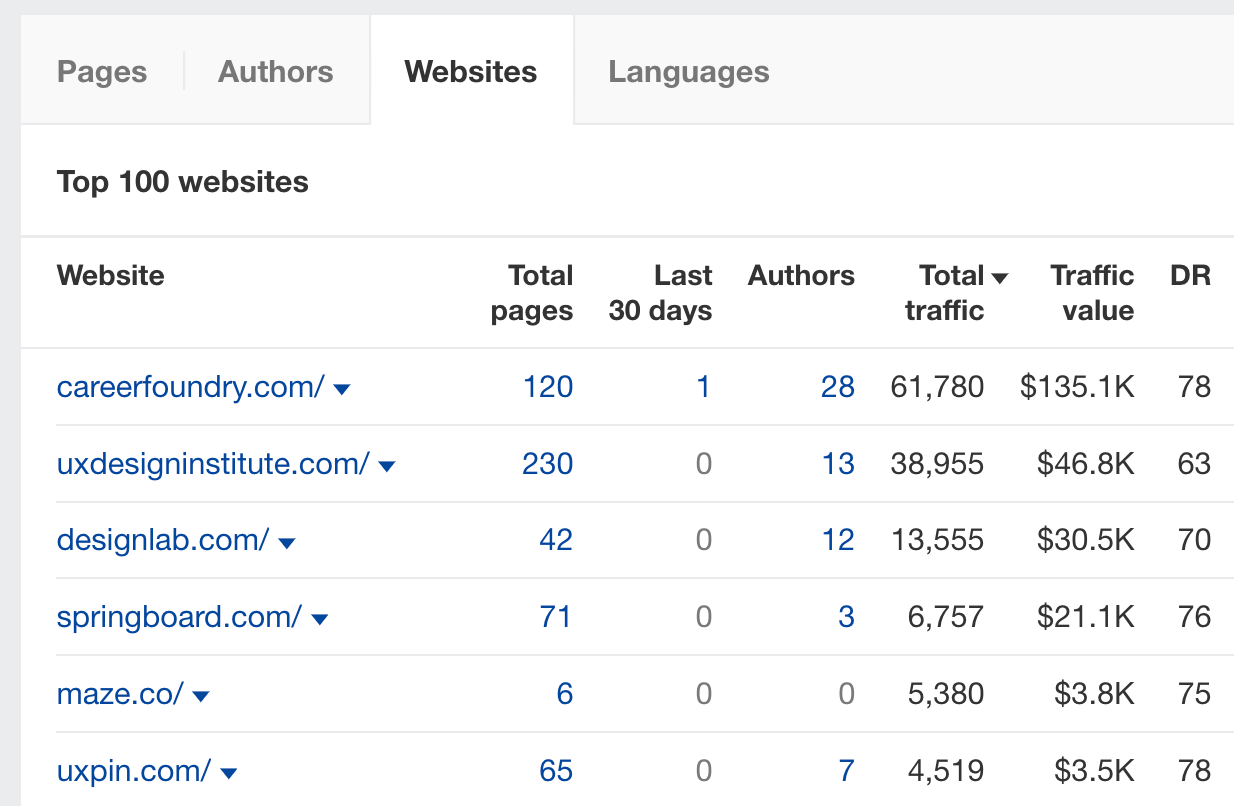 Finally, pitch your idea. That will be the hardest part of the entire process, but lucky for you, we've done a fair bit of guest blogging, and we're sharing our lessons in this guide to guest blogging for SEO.
Reviews in your Google Business Profile (GBP) can help you rank higher in Google Maps and "map pack" results in Google search. Google relies on them to determine local ranking, and they're one of the strongest local ranking factors, to our knowledge.
So, for example, people looking for a local vet will first discover recommended GBPs.
But here's the thing about reviews. You can encourage them, but you should never pay for them. And it's probably not a good idea to incentivize reviews with prizes, discounts, etc.
So step 1: provide great service. You're not going to get positive reviews unless you do this.
Step 2: remind customers to leave a review. Kindly. You can put a QR code with a special link in visible places like your receipts, packaging, email, chats, or even put up a hand-made sign like this one: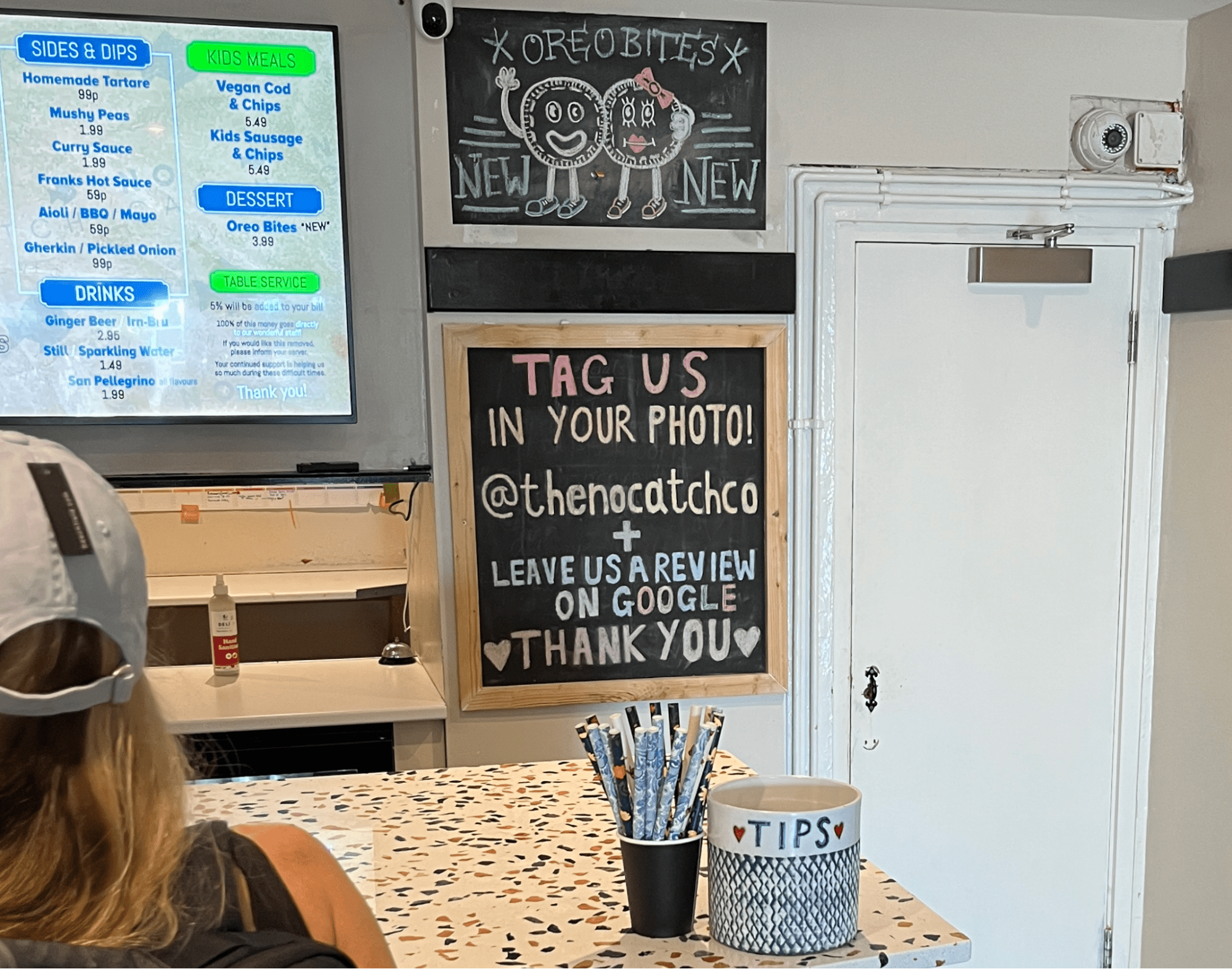 Old content may lose rankings in Google for reasons that are often easy to fix.
For example, when we refreshed our article on SEO statistics, we jumped in rankings and got more organic traffic, as shown in the screenshot below. Why? Simple. People wanted up-to-date statistics.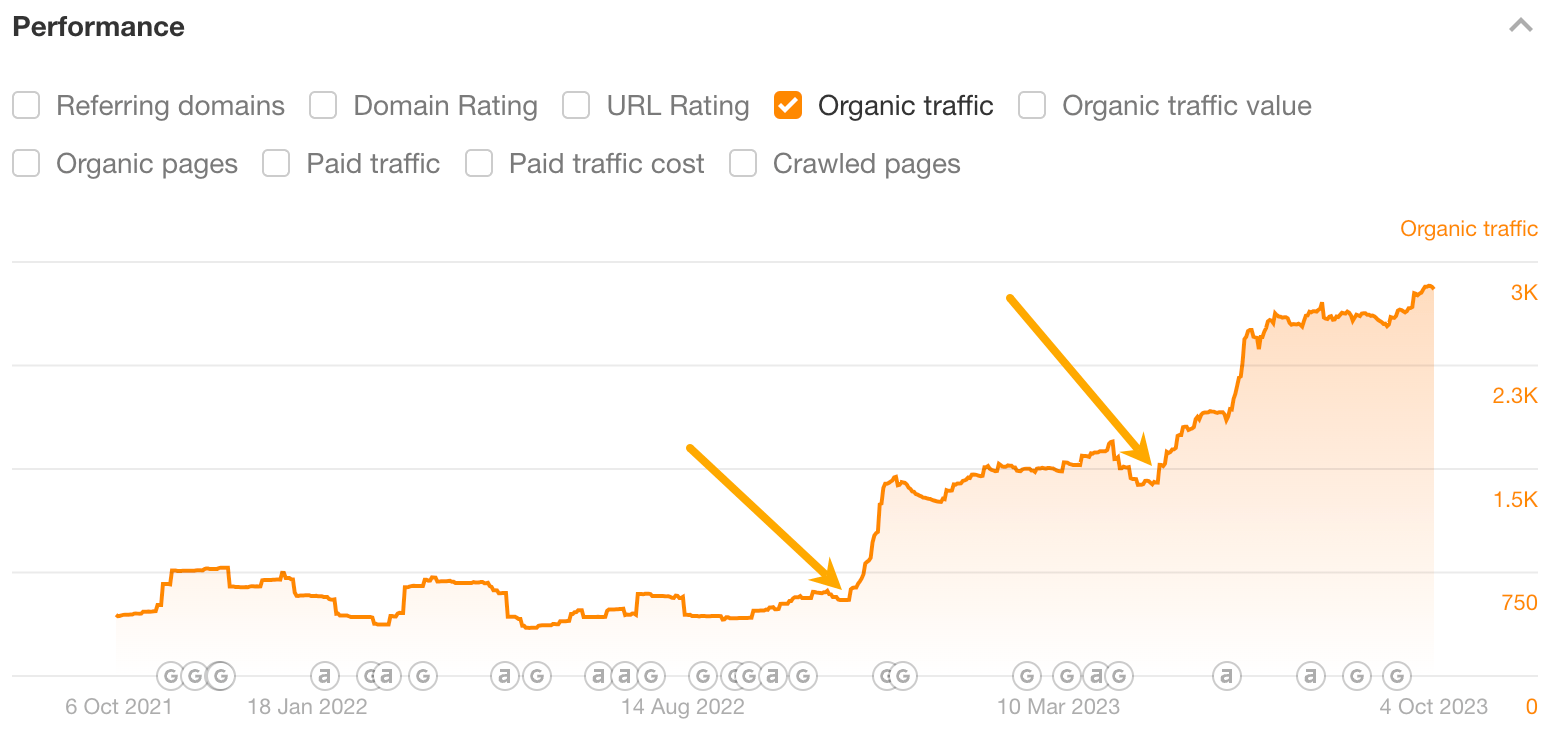 But the question is, how do you find content that's ripe for a refresh in the first place?
Enter your site into Ahrefs' Site Explorer.
Go to Opportunities and open the Content with declining traffic report.

You will see pages that have lost the most traffic in the last six months and could likely use a refresh. Read our guide to republishing content to learn how to do that.
Final thoughts
These tactics are one of the easiest, but they're still a lot of work. So here's how you can go through that list and stay sane:
Treat them as ideas. You don't need to do all of them, and you don't need to use them all at once.
Start with the ones that make the most sense for your business.
If you've already tried any of those tactics and it didn't work before, see the guides we recommended - maybe they'll help you look at the problem with fresh eyes.
Once you start seeing results, start scaling and/or outsourcing.
Finally, after some time, gather your best tactics. They will lay the foundation for your marketing strategy.
Got questions or comments? Ping me on X.