I'm not sure if you were aware of this or not, but up until last week Ahrefs' crawlers were unable to save a "chain of redirects" from start to an end.
So whenever someone (someone.com) was linking to your site (yoursite.com) via a redirect (bit.ly) we would only show that:
someone.com links to bit.ly
bit.ly links to yoursite.com
…but obviously you were interested to see that "someone.com links to yoursite.com via a bit.ly redirect".
Which is why we have started…
Tracking Redirect Chains
Here's a little test.
A few weeks ago a well known marketing blog called "FirepoleMarketing" changed it's name to "Mirasee".
Which obviously resulted in a 301 redirect from firepolemarketing.com to mirasee.com
Go put "mirasee.com" into Ahrefs' Site Explorer, and you'll see this:

We're yet to catch up with all ~2000 referring domains that firepolemarketing.com has, but our crawlers are on it: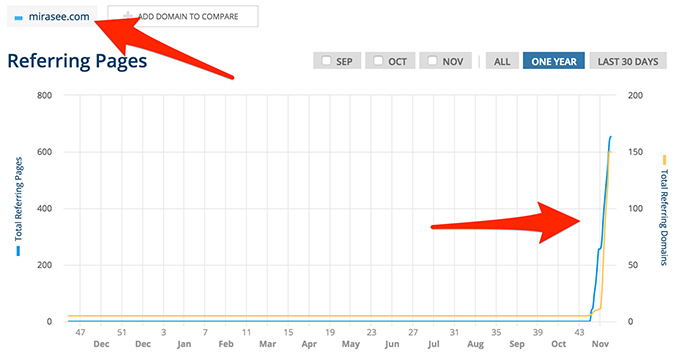 And since redirects are pretty common around the web, please don't be surprised if you see a sudden increase in your referring domains and referring pages: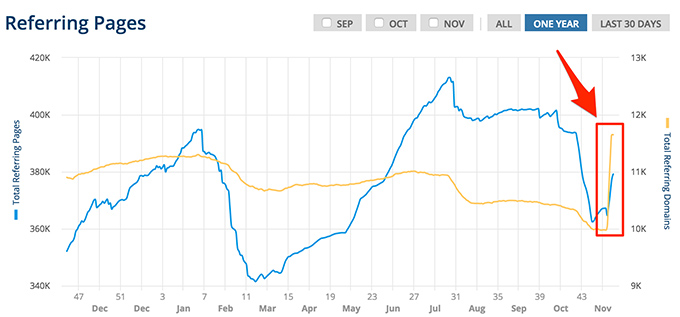 So in the nearest time you can expect us to release a few new cool filters related to "redirect chains".
I'm sure affiliate marketers will love them, as we're currently saving the full "redirect chain" in our database (cough*affiliateID*cough).
And that's it for last week. Come back next Monday.