What is local search marketing?
Local search marketing is the process of improving a local business's search visibility online. A local business is any business that serves its customers in person. This can include a storefront location or a service area where you travel to customers.
Why is local search marketing important?
Local search marketing is important because your customers are almost certainly searching online for what you do. The following statistics back this up:
What's even more important is that people performing these searches aren't just window shopping. They are actually looking to buy what you have to offer.
In fact, 76% of people who use their smartphone to search for something nearby visit a business within a day.
Another statistic shows that 28% of searches for something nearby ends in a purchase.
Best practices for local search marketing
If you want to take advantage of local search marketing, knowing and implementing best practices is important. There are numerous optimizations for local search, so we don't have time to cover them all in this article. But, we'll cover a few best practices to give you a starting point for your local search optimization.
1. Do local keyword research
Without local keyword research, you don't know what terms and phrases people use when searching for what you do. This makes it challenging to optimize your online presence and market your local business to those people.
The easiest way to get started with keyword research is to brainstorm and write down all the services you offer. Then, paste those words into a keyword research tool like Keywords Explorer. This will give you a rough sense of which services are most popular.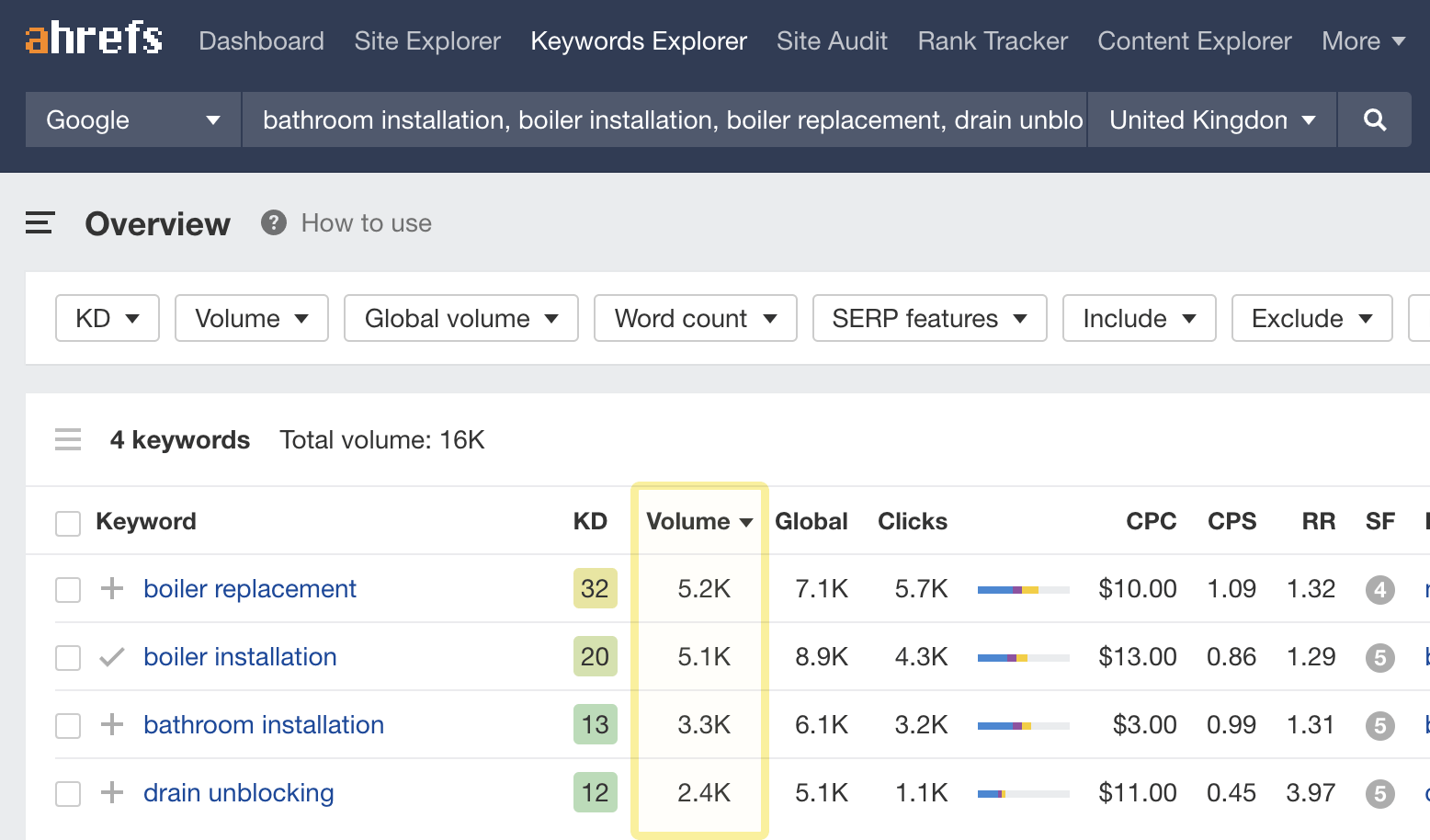 It's worth noting that the search volumes you'll see here are national volumes. But since all you're looking for right now is how popular your services are in search, that's not a big problem. These numbers help you understand what to focus on first in your local search marketing efforts.
You can also see if there are any related services you've missed by checking the Matching Terms report.
For example, if you do this for the "seed" keyword "boiler installation" in the UK, you can see people are also searching for similar services such as:
combi boiler installation
gas boiler installation
electric boiler installation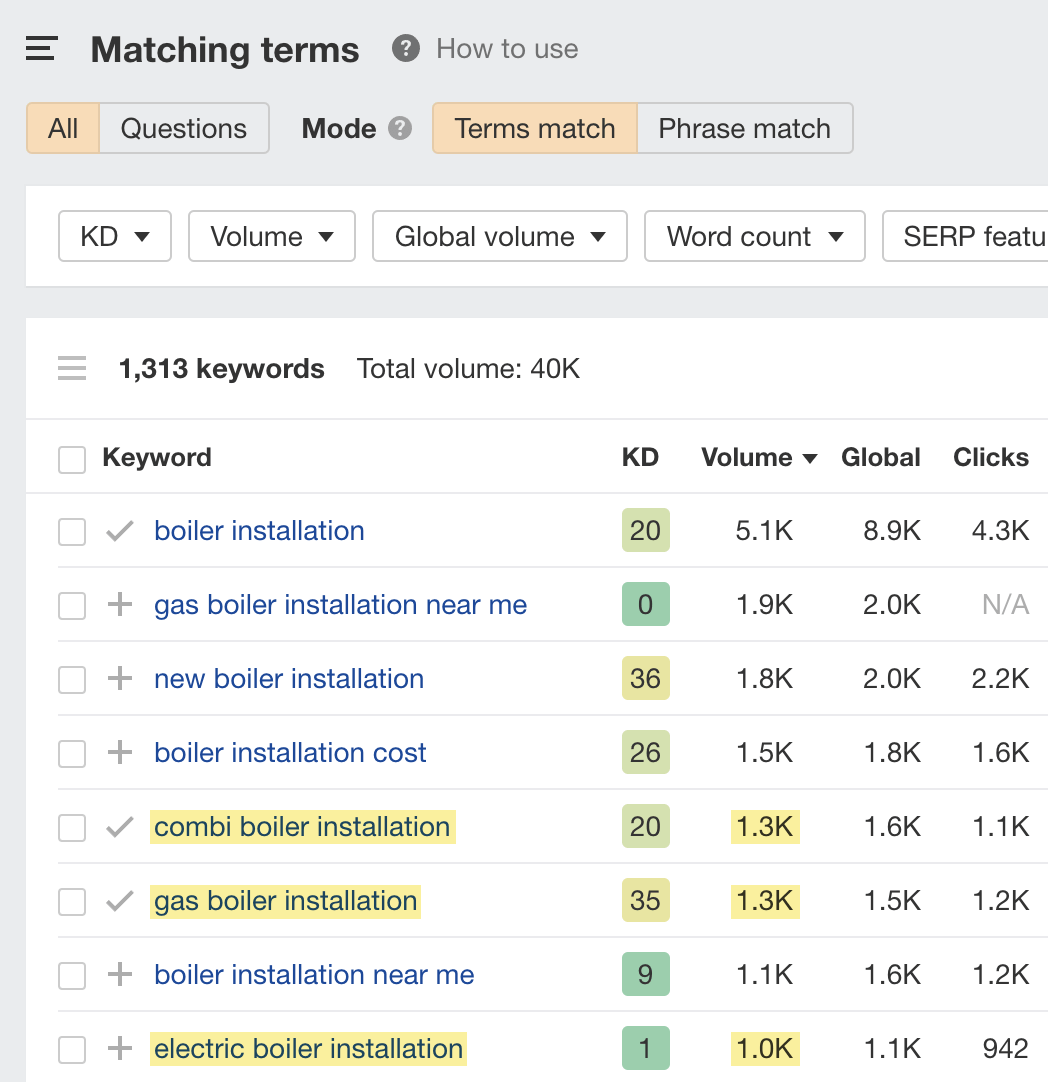 You can then create landing pages for these services on your site. They can increase the chances of your website showing up as a relevant result in organic search.
2. Optimize your Google Business listing
A Google Business listing is a free local listing from Google that shows information about your business. If you want to show up in Google Maps and in the map pack results in Google search, you need a Google Business listing.
You can create, claim, and manage your Google Business profile quickly with a free tool from Google, Google My Business. Then, all you have to do is fill out all the information as accurately as you can.
Learn more: How to Optimize Your Google Business Profile in 30 Minutes
3. Get relevant citations
Citations are web pages that mention your business NAP information: name, address, and phone number. Business directories are the most common source of online citations.
Many SEO professionals used to recommend creating as many citations as possible for your business, as they played an important role in local SEO back in the day. The importance of their role is undoubtedly diminishing these days, but they still deserve some attention.
Specifically, we recommend listing your information with the big data aggregators. These will distribute your information to hundreds of other smaller websites.
There are only a few big data aggregators so getting listed on them is pretty simple:
You might also consider a few other big players such as Bing, Apple Maps, Facebook, Yelp, Yellowpages, Dunn & Bradstreet, TomTom.
Beyond this, it's often worth submitting your business to any relevant local or niche directories that could send business your way. The easiest way to find local and niche citations is to look for sites linking to multiple competitors using Site Explorer:
Go to Site Explorer
Enter your homepage
Go to the Link Intersect report
Enter the homepages of 2-3 similar local businesses
Switch all URLs from "domain" to "URL" mode
Click Show link opportunities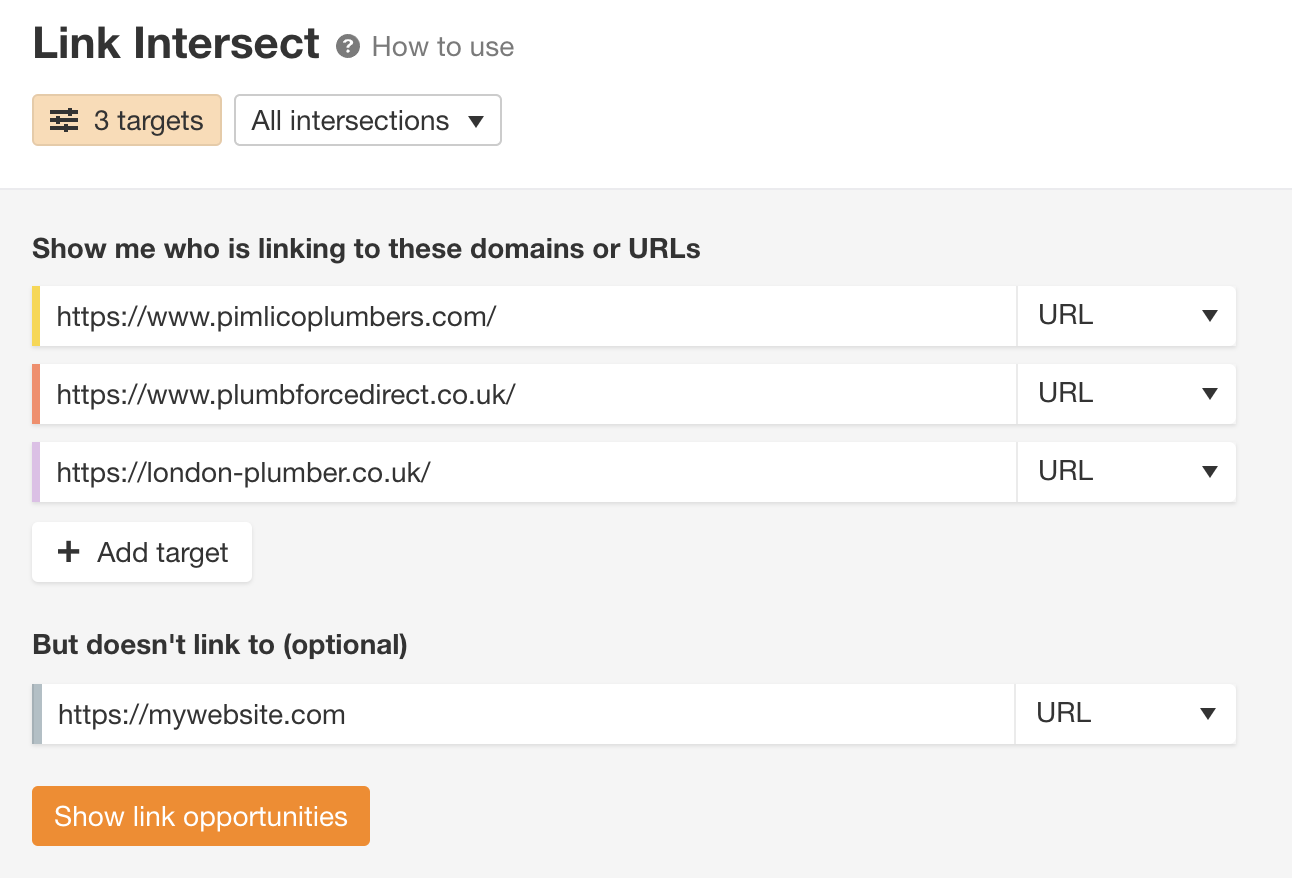 You'll see a list of websites linking to one or more of your competitors but not to you.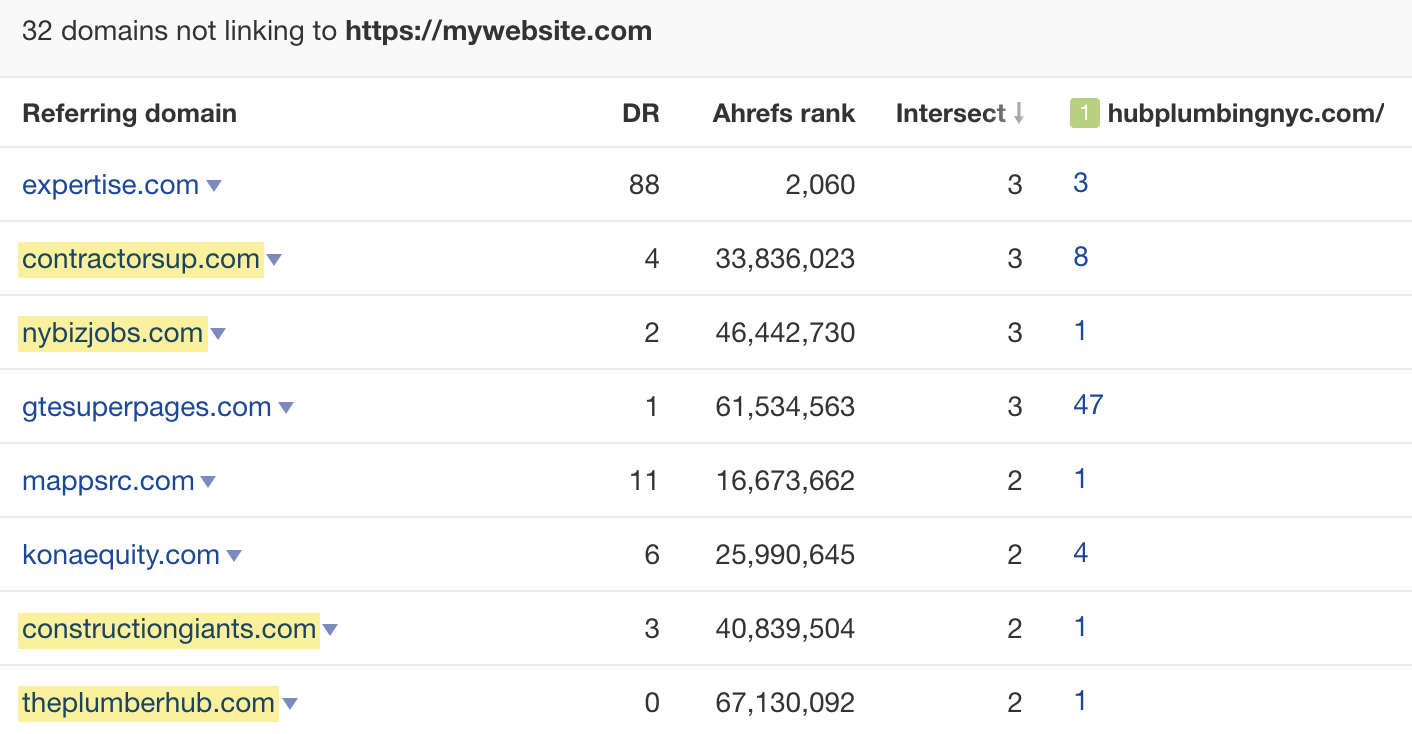 Many of these websites are more than likely local and niche directories that you can check out and decide if they're relevant. If they are, submit your business information.
TIP
Be sure to use consistent NAP information across all your listings, so don't list one phone number in one directory and a different one in another.
4. Bid on lucrative keywords
Local search marketing is more than just local SEO. You can take advantage of paid search to show up at the top of Google and attract more customers to your business.
Here's how paid search works in a nutshell:
You place a bid on keywords that you want to show up for.
You tell Google what your ad should say.
Google shows your ad when someone searches for your keywords.
Google charges you a fee when someone clicks your ad.
Most local businesses already have some idea for keywords they'd like to bid on. For example, if you're a plumber in New York, then it makes sense to bid on terms like "new york plumber" or "plumber in new york." People using those search terms are clearly looking for your services.
If you want to explore other potentially lucrative keywords, search for what you do and note the ad results. If you see local businesses paying for ads, enter their domain into Site Explorer and check the PPC keywords report to see what keywords they're bidding on.
For example, this New York plumber is bidding on keywords like:
mule kick drain cleaner
nyc licensed plumbers
driveway drain clogged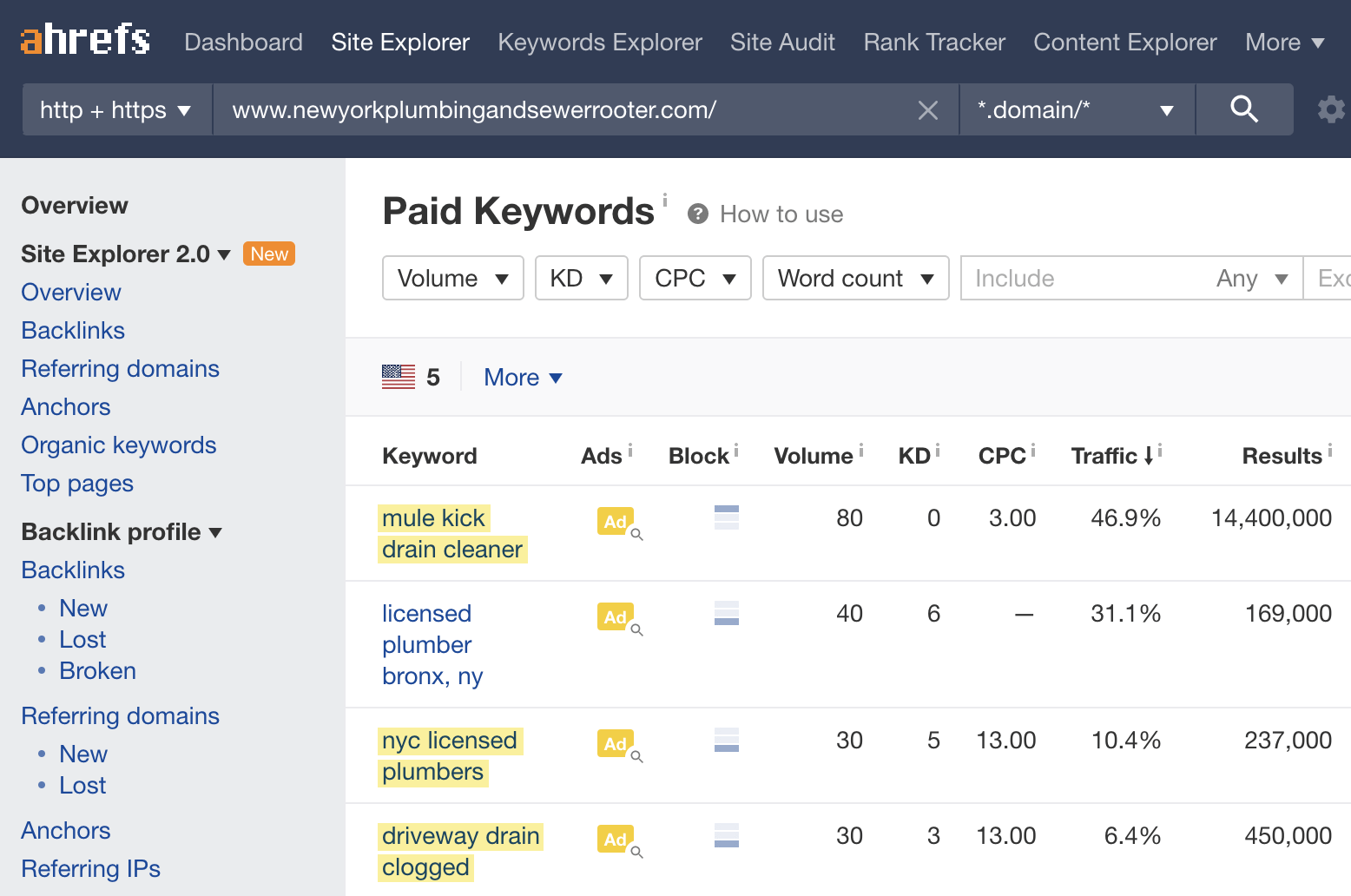 FAQs
How can you track your organic local search rankings?
Use a rank tracking tool like Rank Tracker. It allows you to track keyword rankings by country, state, city, and zip code.